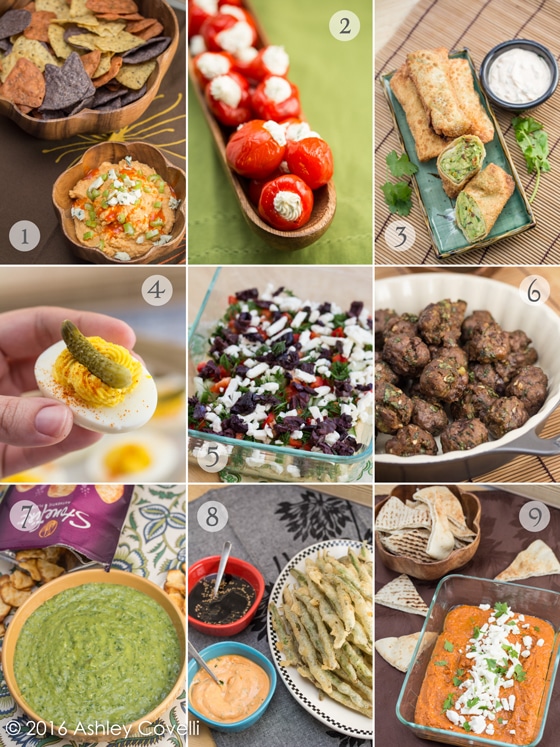 Game Day Appetizer Roundup
No Super Bowl party is complete without some killer snacks. Here are 9 of our faves to get your party started!
I'm not really into sports, but something I'm totally on board with is a crazy delicious snack spread.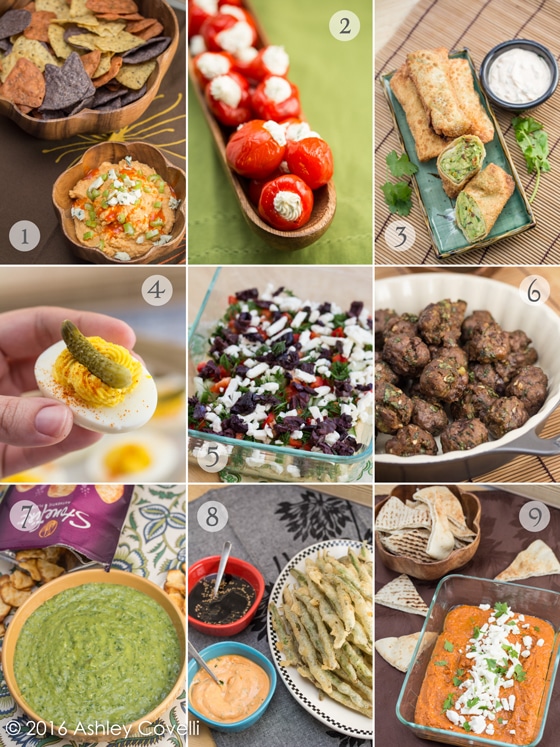 1. Buffalo Chickpea Dip – Two of the most in demand Superbowl snacks have to be Buffalo wings and hummus. But why pick between spicy and smooth when you can have the best of both worlds?
2. Garlicky Goat Cheese + Herb Stuffed Peppadews – Sweet and a little spicy, these addictive stuffed peppers are the perfect accompaniment to any appetizer spread!
3. Avocado Egg Rolls with Chipotle Ranch Dipping Sauce –  These are nice and crispy on the outside and incredibly creamy on the inside. The slightly spicy chipotle ranch dipping sauce is awesome.
4. Dressy Deviled Eggs – Sweet, tangy and addictive – I've put a modern twist on my Grandma's classic deviled eggs. Guaranteed to be a hit at any party!
5. 5 Layer Greek Dip – Simple, colorful and delicious!
6. Hoisin Cocktail Meatballs – Incredibly moist and flavorful, and the dipping sauce is perfect alongside.
7. Top Chef All Star Marcel Vigneron's Chimi-Verde Dip – Tomatillos, fresh herbs and avocado are blended together in this silky-smooth, spicy dip.
8. Tempura Green Beans with Sriracha Aioli + Soy Ginger Dipping Sauces – Looking for a fun alternative use for seltzer? Just add flour and salt to turn it into a beautifully light and fluffy tempura batter!
9. Muhammara – This is unlike any other dip we've had – it's nice and garlicky, and the richness that the pomegranate molasses adds is really wonderful.
What are you making for the big game? I'd love to hear about it in the comments below!