This post may contain affiliate links, which won't change your price but will share some commission.
I have a confession...I've never made spinach dip. Sure, I've made things that are dips with spinach in them (like this one with caramelized onions), but I never made the standard, amazingly delicious spinach dip that I've had at so many parties. So when my friend Chris (of Little Guy Productions) and his wife brought spinach dip in a bread bowl to a party recently, I asked her what recipe they used (after I ate about half of the dip haha!). Kristen said she used the one on the back of the Knorr mix, so I decided to give it a try for our Superbowl party. It was perfect! I picked up a fresh loaf of bread from the local bakery and hollowed it out, filled it up with dip, and dug in! In my opinion, the water chestnuts are not optional - they're required. They give the dip that awesome crunch. If you've never made this before, you really should...it's sooooo good!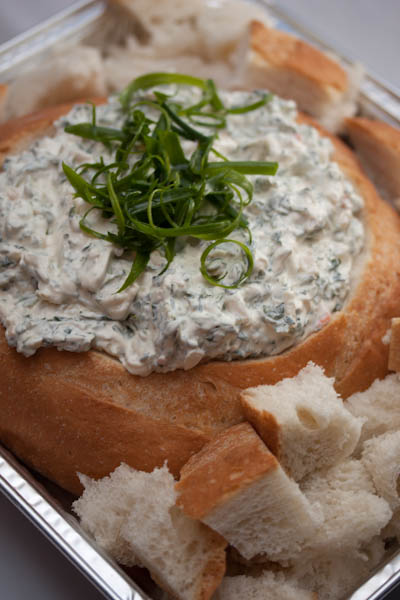 Knorr Spinach Dip
Knorr
MAKES 4 cups dip
PREP TIME: 10 Minute(s)
CHILL TIME: 2 Hour(s)
INGREDIENTS
1 package (10 oz.) baby spinach, chopped or 1 package (10 oz.) frozen chopped spinach, thawed and squeezed dry
1 container (16 oz.) sour cream
1 cup Hellmann's® or Best Foods® Real Mayonnaise
1 package Knorr® Vegetable recipe mix
1 can (8 oz.) water chestnuts, drained and chopped (optional)
3 green onions, chopped (optional)
PREPARATION
Everyone Loves Our Dip! Here's How We Make It:
Combine all ingredients and chill about 2 hours. Serve with your favorite dippers to your favorite people.
A new serving idea: Hollow out cucumber slices and cherry tomatoes. Fill vegetables with Knorr Spinach Dip and garnish with a sprig of dill.
NUTRITION INFORMATION per 2-Tbsp. serving
Calories 80, Calories From Fat 70, Saturated Fat 2.5g, Trans Fat 0g, Total Fat 8g, Cholesterol 10mg, Sodium 160mg, Total Carbohydrates 3g, Sugars 1g, Dietary Fiber 1g, Protein 1g, Vitamin A 10%, Vitamin C 4%, Calcium 2%, Iron 3%
Big Flavors Rating: 5 Stars