This post may contain affiliate links, which won't change your price but will share some commission.
3 types of cheese, prosciutto, and pickled grapes make this sweet & salty burrata pizza recipe served with freshly broken burrata a luscious app or main course!
This post may contain affiliate links.
I'm very excited to be sharing this recipe with you today.
This burrata pizza recipe is something that I created when I participated in my first ever cooking competition last year.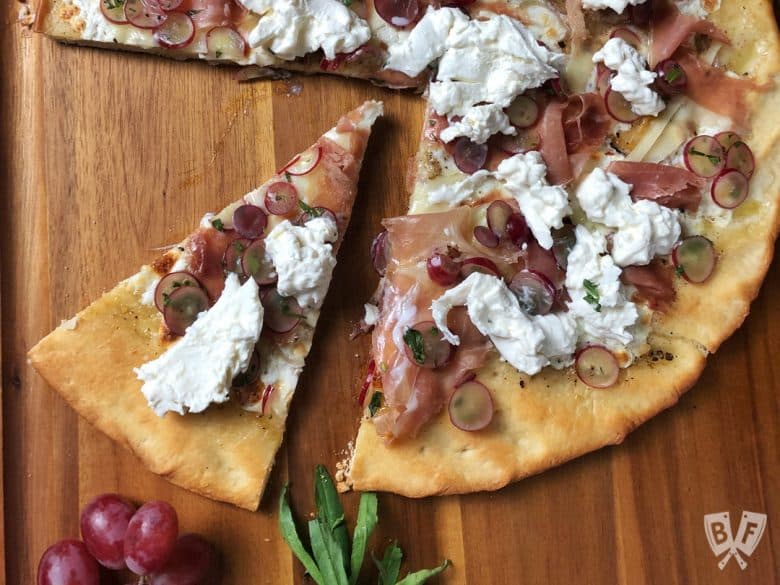 If you've been around these parts for a while, you may recall my trip up to the Finger Lakes region of New York last fall. I wrote about the whole experience in this post: New York Dairy Tour 2018 (AKA I'm Relocating to a Cheese Cave).
And now I'm sharing the recipe for this absolutely luscious Burrata Pizza with Prosciutto and Pickled Grapes that was my entry into the American Dairy Association North East's Undeniably Dairy Cooking Competiton.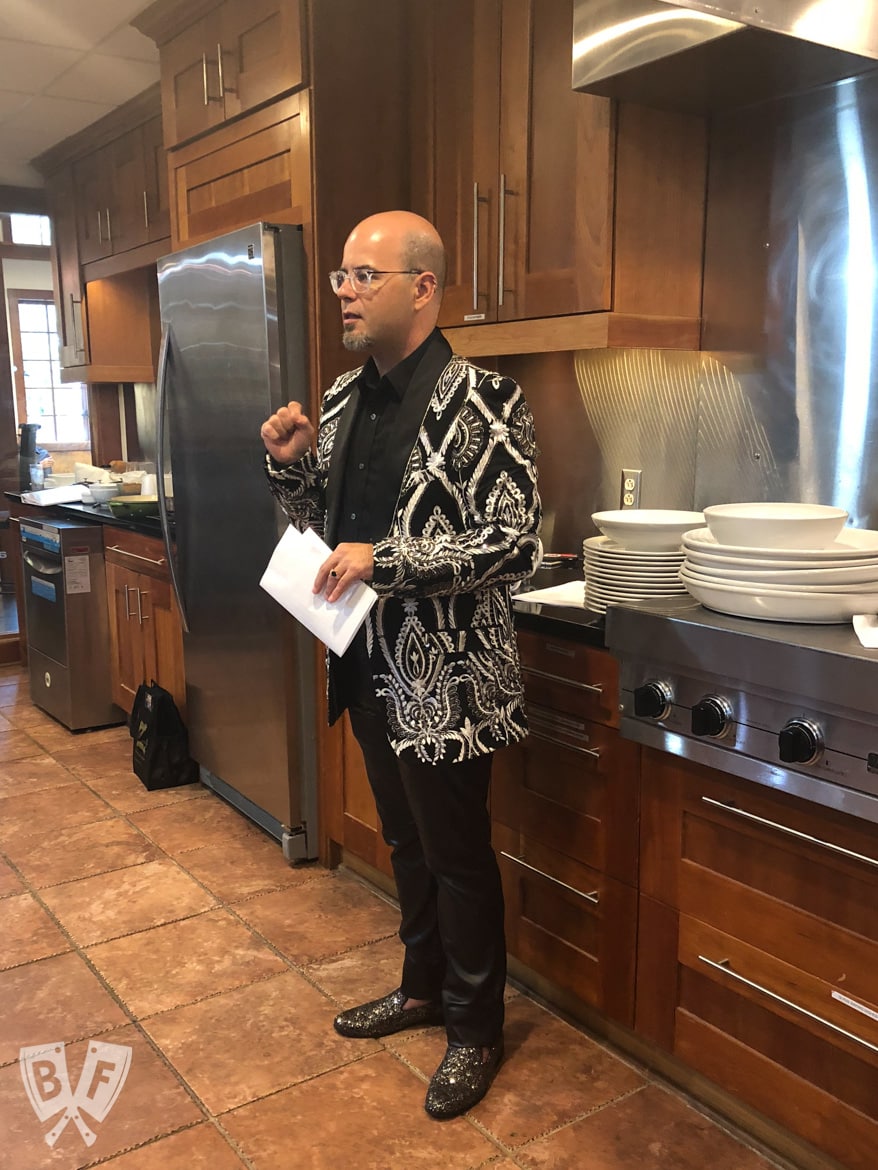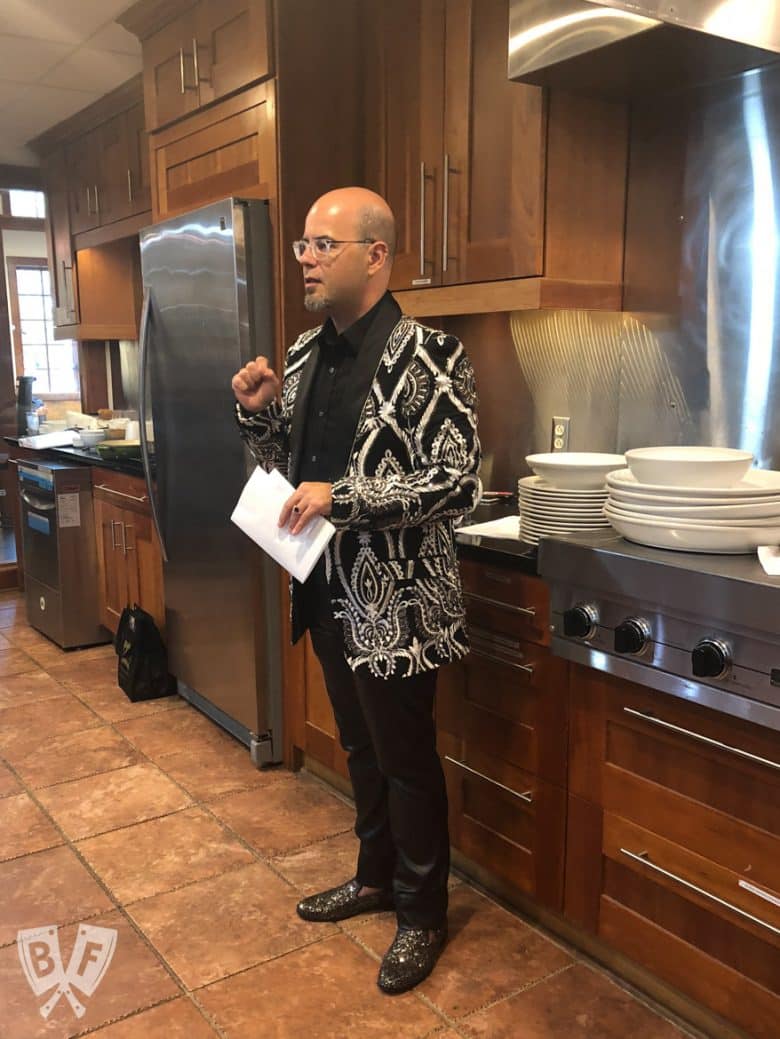 To make the competition even more exciting, we had a special guest judge to taste our culinary creations.
Food Network Star Jason Smith joined us in our mozzarella-making earlier in the day in all his bedazzled glory, then walked around the kitchen while we were preparing our competition recipes.
ADANE posted a fun video of him interviewing us during the cooking portion of the competition. You can see my part around the 4:30 mark, and again around the 22-minute mark.
When I was assigned cheese as my secret ingredient, I knew I wanted to go BIG. So I loaded my pizza with 3 different types of cheese: Parmesan, fresh mozzarella, and burrata.
What is burrata cheese?
Burrata is one of my all-time favorite types of cheese. I get SO excited when people haven't tried it and they decide to give it a whirl.
Their reactions are always of the eyes-rolling-back-in-the-head, oh-my-goodness-this-is-soooo-good variety.
According to Wikipedia:
Burrata is a fresh Italian cow milk cheese (occasionally buffalo milk) made from mozzarella and cream. The outer shell is solid mozzarella, while the inside contains stracciatella and cream, giving it an unusual, soft texture. It is typical of Apulia. It is usually served fresh and at room temperature.
From the outside, it looks like a ball of fresh mozzarella. But burrata has a flair for the dramatic. When you cut or break into a ball of burrata cheese, the creamy center kind of... pours out slowly.
Its center is similar to the texture of ricotta cheese, and it really is a thing of beauty.
Where to find burrata cheese
Many grocery stores and supermarkets now carry burrata cheese over in the specialty cheese section.
Burrata is stored in water, so it's usually in a deep container with a lid. Keep that liquid in the container until your burrata is gone - it helps keep the texture right while it's in the fridge.
If you strike out at the grocery store, specialty food stores usually carry burrata. If you have a cheese shop in your area, they're highly likely to carry burrata.
The last place I would recommend to check for burrata would be an Italian deli or market. I know that near where I live, there are several Italian delis and most of them carry it or will order it for you if you ask.
However you go about getting your burrata, it's worth the effort!
What type of pizza crust/dough should be used?
When it comes to the type of pizza crust or dough to use for this burrata pizza recipe, I go with a pre-cooked, store-bought crust. It saves time, and they come in all sorts of shapes and sizes.
For the Facebook LIVE demo I'm doing of this recipe, I'm going to use some mini naan bread to make them into appetizer-sized portions.
You can absolutely use uncooked/raw pizza dough if you like. You'll just need to plan some extra time to accommodate the additional baking and shaping time.
There are a few options when working with pizza dough.
If you're up for it, you can make your own. We love this Lazy Pizza Dough recipe from Smitten Kitchen.
Many grocery stores sell refrigerated pizza dough nowadays. In my local stores, it's usually located in the same aisle as the tubes of refrigerated biscuit and cookie dough.
If you live near an Italian pizzeria, oftentimes you can purchase dough straight from them. Just ask at the counter - in my experience, they're happy to help you out!
All of this being said, I've only ever made this recipe with already prepared crusts, and it's worked out beautifully. I'll do some experimenting with homemade dough, though, and will be sure to report back.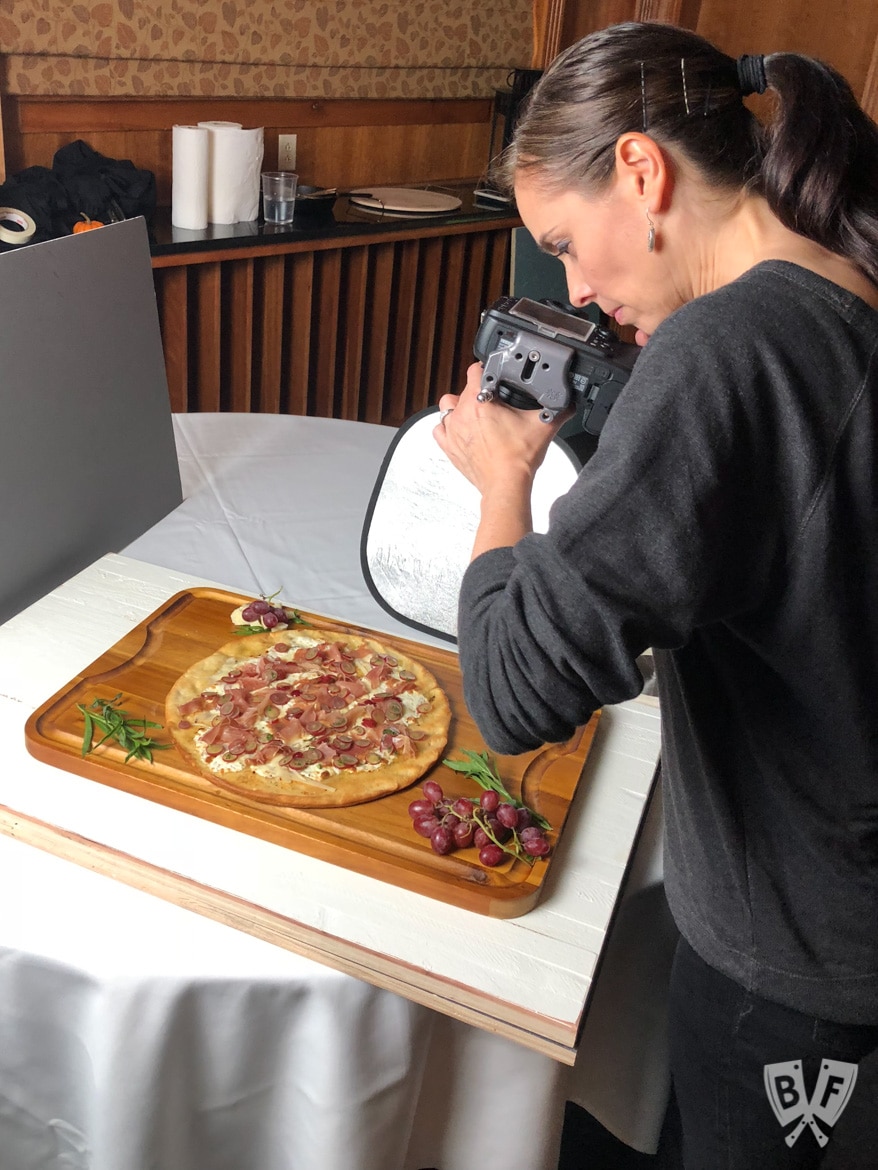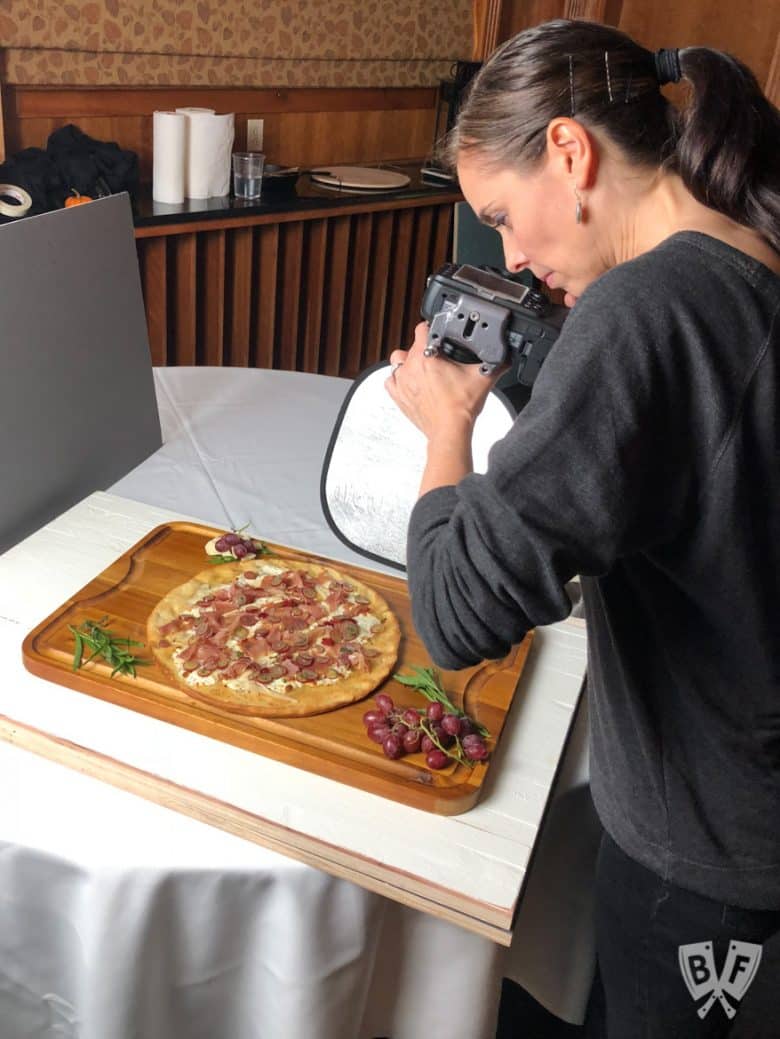 How to use burrata cheese
Burrata is such a versatile cheese. I like using it on top of salads. I break it open and drizzle it with a bit of olive oil and balsamic vinegar and use that as the "dressing" for my salads.
This Red, White & Blue Spinach Salad with Fresh Burrata is one of my favorites. We also love this Baby Arugula Salad with Nectarine and Burrata. It's also great in this Yellow Doll Watermelon and Burrata Caprese Salad.
I made the Pea Pesto and Burrata Crostini from Gaby Dalkin for my Supper Club earlier this year and it was a HUGE hit! I used the version from the What's Gaby Cooking: Everyday California Food cookbook, but there's a similar version on her website if you want to try it out.
Burrata is a great topping for pasta and pizza. The way that the textures contrast the rest of the dish is just really, really fun and unique. I can't recommend it enough!
I just love how ooey-gooey fresh burrata is inside. I knew it would add a real wow factor when added to the top of my hot pizza right before serving it to the judges.
So let's dig into the specifics on how to make this pizza, shall we?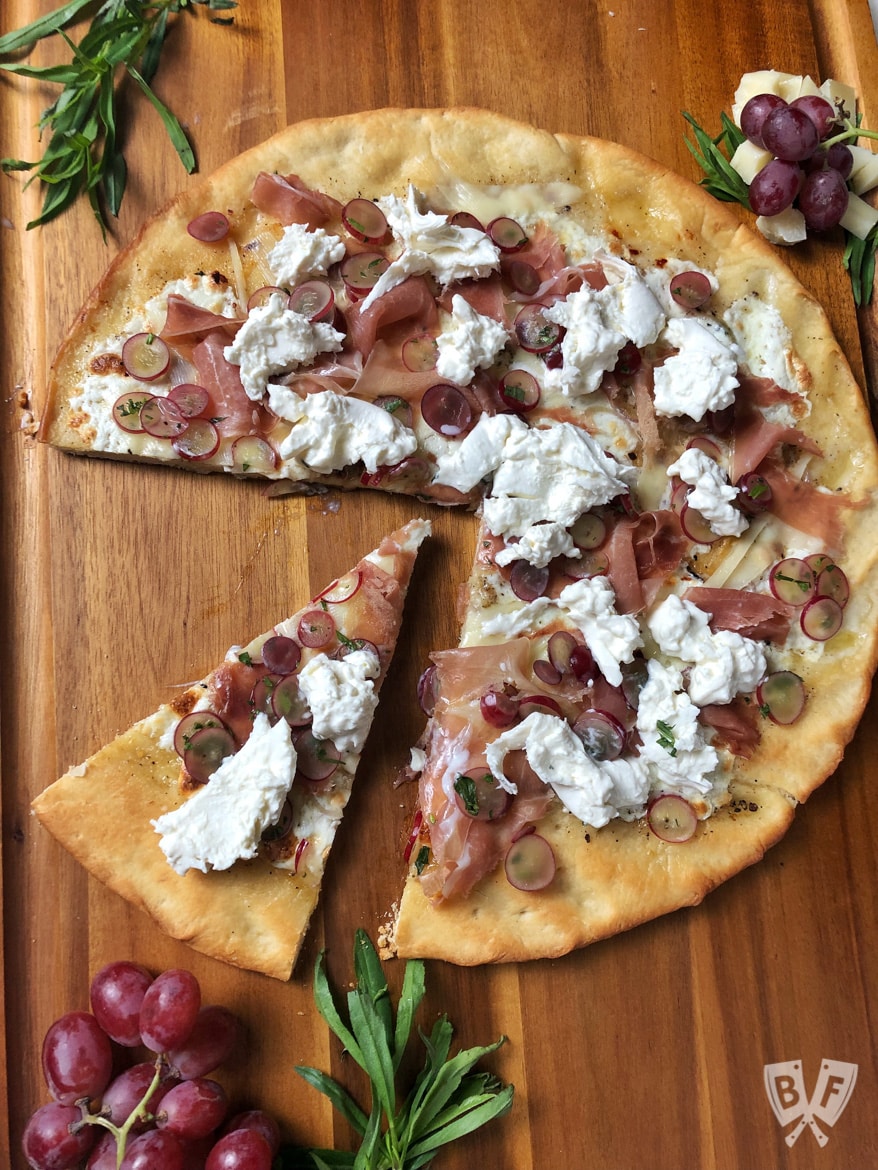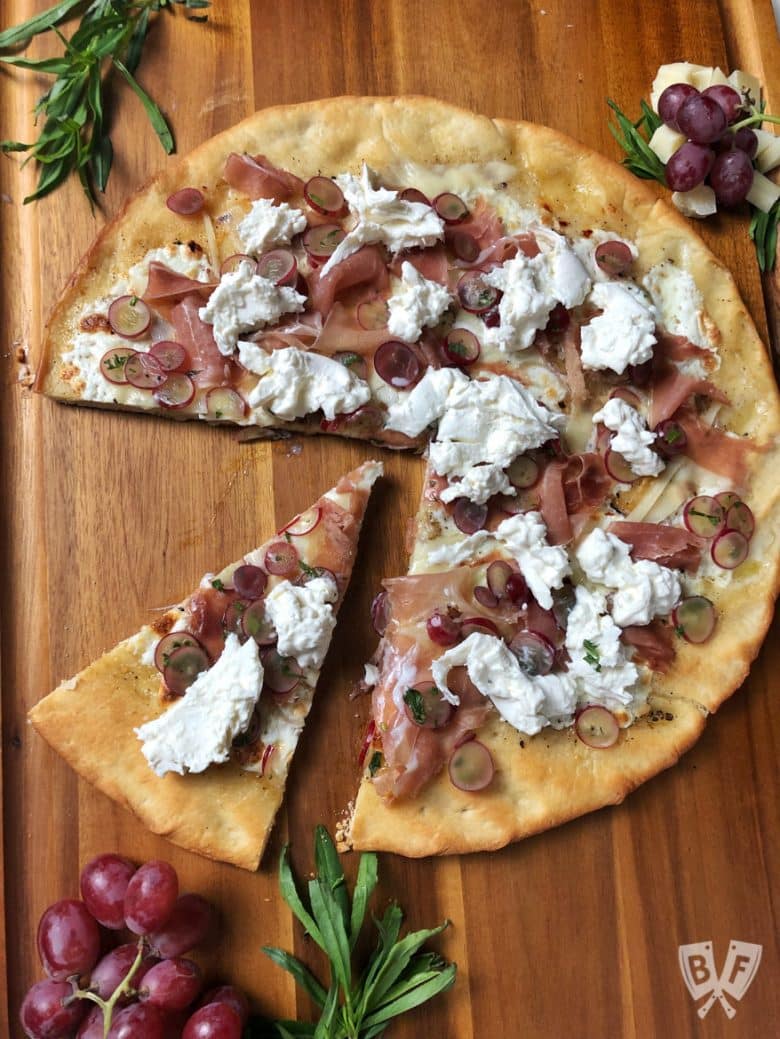 How to prepare Burrata Pizza with Prosciutto and Pickled Grapes
Make the pickled grapes
The pickled grapes add a nice sweet-tart tang to the topping of the pizza. First, dissolve the sugar and salt in a mixture of white wine vinegar and water. Once it's fully dissolved, pour it over thinly sliced grapes.
I like using red grapes here for that pop of color.
Set the grapes aside for 10 minutes, stirring occasionally. This lets the pickling liquid do its job easily. The liquid then gets drained, they get another sprinkle of salt and some fresh tarragon. Stir it all together and pop it in the fridge until you're ready to top your pizza.
I really like the flavor of the grapes once they've had a little time to chill in the refrigerator. You could totally make this part a day or two in advance if you want to as well. Super simple!
Make the garlic Parmesan butter
I like starting with softened, unsalted butter here. If your butter isn't soft enough to work with or you're short on time, feel free to use the microwave to speed things up.
I typically use 50% power in short 10- to-15-second bursts until the butter is soft but not fully melted.
Stir in some grated Parmesan, garlic powder, salt, and red pepper flakes and you're good to go!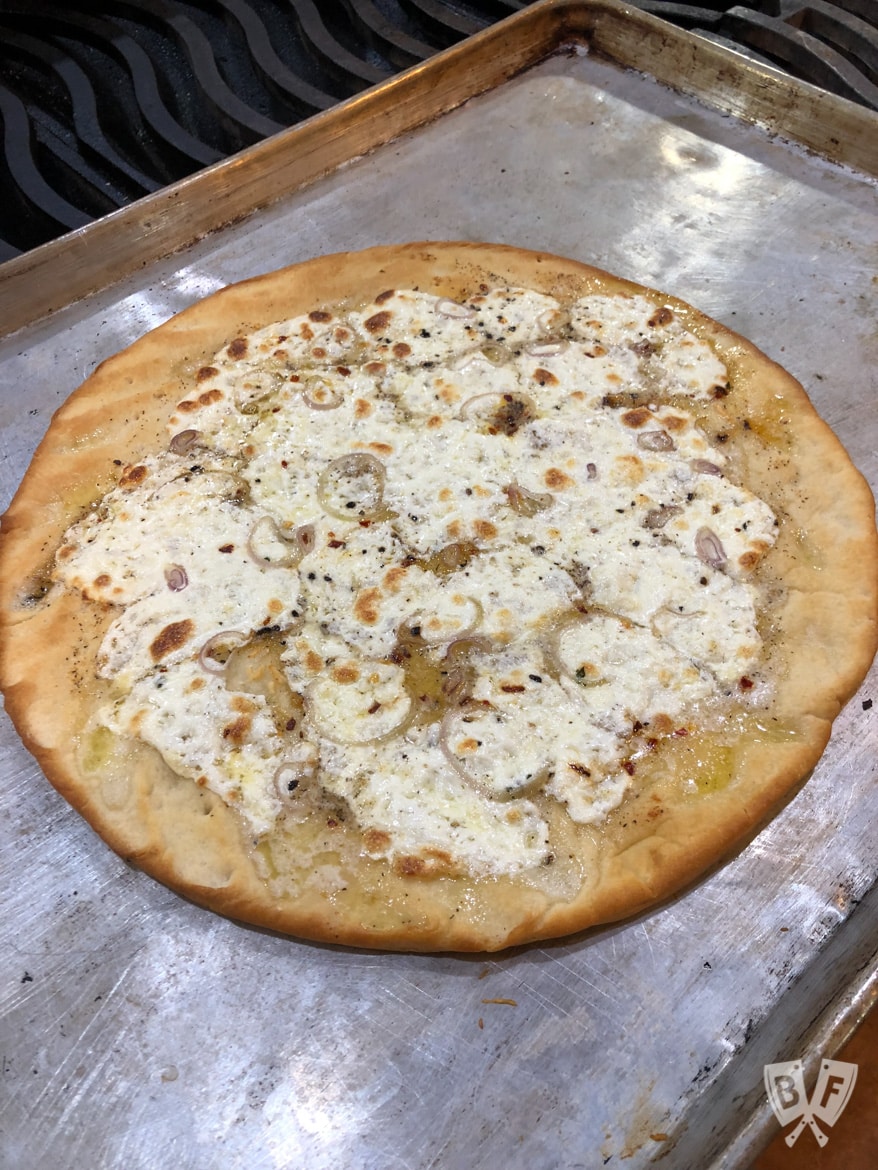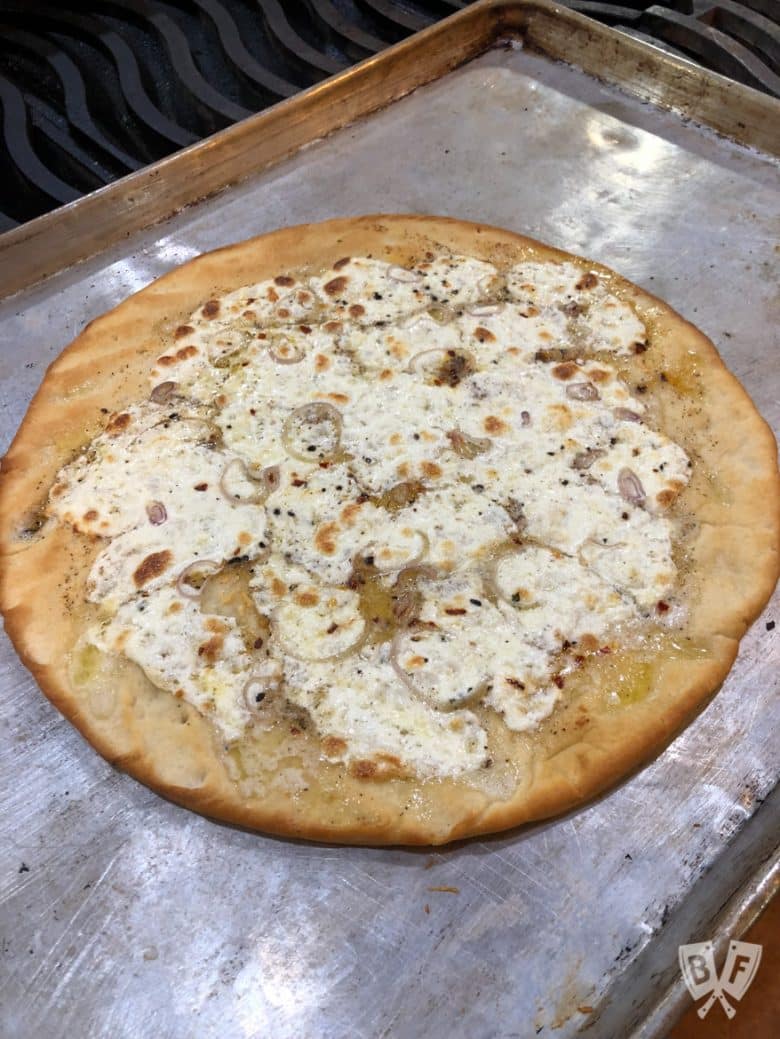 Bake the pizza
Now that the components are together, it's time to bake!
Slather the garlic Parmesan butter onto the pizza crust. Top it with mozzarella, scatter with shallots, and add a bit of fresh cracked pepper over top.
Bake it in the preheated oven until it's nice and bubbly. You may end up needing to transfer it to the broiler if you have a hard time getting the cheese to brown on top.
I tend to put the crust on top of a baking rack on my sheet, too, which helps keep it from getting soggy if the butter runs off a bit. It also makes the crust cook up a bit nicer.
Top the pizza
Now that the pizza is nice and golden, transfer it to a cutting board or pizza peel. Sprinkle it with some shaved Parmesan cheese, prosciutto, and the pickled grapes.
Right before serving, tear the burrata cheese and scatter it all over the pizza.
Prepare to wow the judges!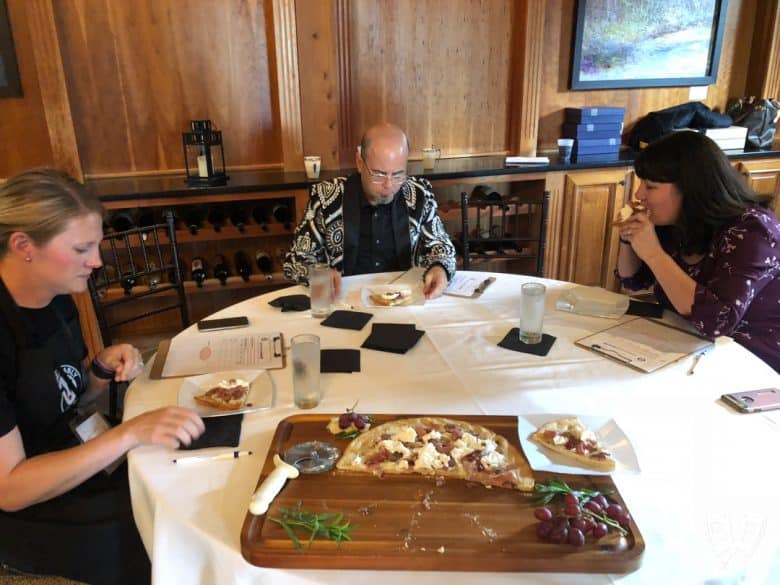 This Burrata Pizza with Prosciutto and Pickled Grapes was a BIG hit with everyone who tried it.
Special thanks to the friends who helped me taste test the trial runs of this recipe before the competition. Your feedback was super helpful!
I've made this for several dinner parties since. It always goes over well and is a nice change of pace from the traditional pizza toppings.
What's the most unique pizza you've ever tried? I'd love to hear about it in the comments section below!
Looking for more pizza and flatbread favorites? Check out these 5-star recipes:
Doing some online shopping? Check out my Amazon Shop page for recommendations!
Recipe for Burrata Pizza with Prosciutto and Pickled Grapes
If you try out this recipe, please come back and give it a star rating and comment below. It helps other people find my recipes, and I'd love to know what you think of it!
Print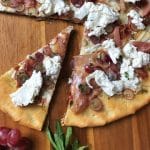 Burrata Pizza with Prosciutto and Pickled Grapes
Author:

Prep Time:

20 minutes

Cook Time:

10 minutes

Total Time:

30 minutes

Yield:

8

Slices

1

x

Category:

Pizza

Method:

Oven

Cuisine:

Italian
---
Description
3 cheeses, prosciutto, and pickled grapes make this sweet & salty burrata pizza recipe served with freshly broken burrata a luscious app or main course!
---
For Pickled Grapes:
For Garlic Parmesan Butter:
For Pizza:
1

pre-made pizza crust (12-inch round)

8 ounces

fresh salted mozzarella cheese, sliced into

¼

-inch thick pieces

½

small shallot, thinly sliced (about

1

-

2

tablespoons total)

¼ teaspoon

freshly cracked black pepper
For Serving:
Freshly shaved Parmesan cheese

4

slices prosciutto di Parma (about

3

-

4

ounces total)

4 ounces

fresh burrata cheese
---
Instructions
Position an oven rack in the upper third of your oven and preheat to 450°F.
Make the Pickled Grapes: In a small saucepan, combine white wine vinegar, 1 tablespoon kosher salt, sugar, and water. Bring to a simmer and heat until salt and sugar completely dissolve. Place sliced grapes in a heatproof bowl and pour the pickling liquid over them. Set aside, stirring occasionally, for 10 minutes. Drain pickling liquid from grapes, stir in ¼ teaspoon kosher salt and chopped tarragon and transfer to the refrigerator until ready to serve.
Make the Garlic Parmesan Butter: In a small bowl, mix together softened butter, 1 tablespoon grated Parmesan, garlic powder, ¼ teaspoon salt, and red pepper flakes.
Place pizza crust on a baking sheet and spread the butter mixture in an even layer over the top, leaving an inch or so around the perimeter of the crust. Tear mozzarella slices in half and place over the top of the butter, leaving a little space between each piece. Top with a scattering of sliced shallots and freshly cracked black pepper.
Bake pizza in preheated oven until the cheese melts, about 7-10 minutes. Switch to broil and cook until cheese is bubbly and browned, about 1-2 minutes more, rotating the baking sheet if the cheese isn't browning evenly.
To serve, transfer pizza to a pizza peel or cutting board. Sprinkle with freshly shaved Parmesan cheese, torn pieces of prosciutto, and the pickled grapes. Tear fresh burrata cheese over top right before serving.
Notes
You may end up needing to transfer it to the broiler if you have a hard time getting the cheese to brown on top.
I tend to put the crust on top of a baking rack on my sheet, too, which helps keep it from getting soggy if the butter runs off a bit. It also makes the crust cook up a bit nicer.
Nutrition
Serving Size:
Calories:

294

Sugar:

6.3 g

Sodium:

1504.1 mg

Fat:

8.9 g

Saturated Fat:

4.6 g

Carbohydrates:

29.5 g

Fiber:

2.3 g

Protein:

24.3 g

Cholesterol:

36.6 mg
Keywords: burrata pizza, pickled grape, 3 cheese
Recipe Card powered by