This post may contain affiliate links, which won't change your price but will share some commission.
Restaurant-style guacamole is super simple to make at home! 2 ripe avocados + a few ingredients and you have the perfect Mexican appetizer!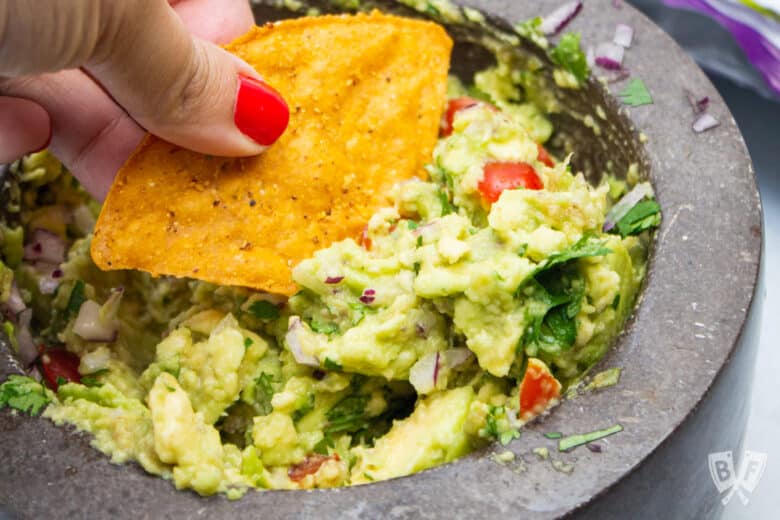 Why we love this restaurant-style guacamole recipe
It reminds us of our favorite Tex-Mex restaurants.
Smashing the garlic and spices with the mortar & pestle makes the flavors blend together beautifully.
Making your own guacamole is significantly less expensive than ordering it from a restaurant!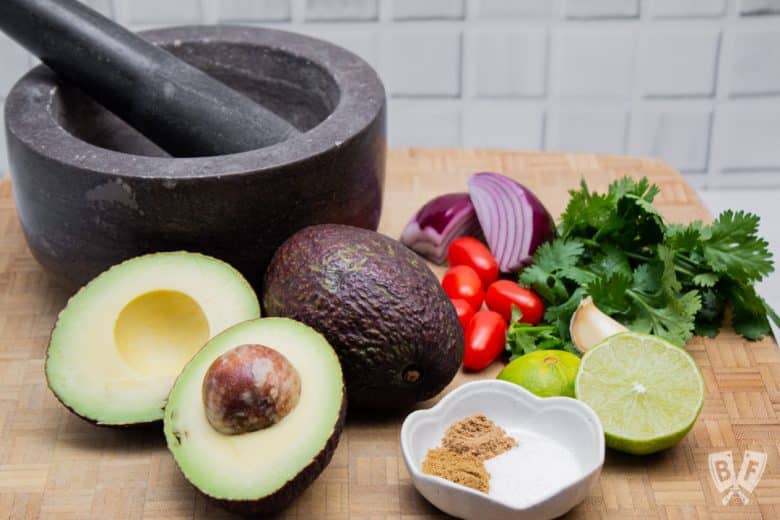 Have you ever been to a Mexican restaurant and ordered the kind of guacamole that they make tableside?
It's so fun to see the fresh ingredients all come together in a Molcajete (a large, stone mortar and pestle that's used in traditional Mexican cooking).
It's such a treat, but depending on the price of avocados, it can be quite pricey to buy when you're dining out. Whether you enjoy it as an appetizer or as a condiment/dip for some homemade baked taquitos, you can never go wrong with guac!
But restaurant-style guacamole is seriously simple to make at home!
🥑 Ingredient Spotlight: Avocado
This recipe uses ripe avocados which are a fruit that can be found in the produce department at your local grocery store.
Finding a perfectly ripe avocado can be tricky, but I have a few tips that can help you on your quest.
Ripe avocados tend to have a darker color than unripe avocados. They should feel slightly soft but not too squishy or mushy when pressed gently with your fingers.
If you have a Latin or Asian market in your area, they tend to have avocados that are perfectly ripe already out on the shelves.
If you are buying avocados a few days before you need to use them, buy firmer, less-ripe ones so they don't get too soft before you plan to use them.
To help speed up the ripening process of an unripe avocado, you can place it in a paper bag with a banana or apple. Seal it and let it sit out on the counter for 2-3 days.
On a similar note, I tend to avoid storing bananas and avocados together in the same bowl in my kitchen. They can easily soften too quickly.
Avocado flesh oxidizes and turns brown fairly quickly once it's been cut into and exposed to air. It's best to use avocados soon after cutting into them. A squeeze of lime juice can help slow down this process.
If using half of an avocado for a recipe, save the half with the pit still in it for later use. This helps keep oxidation to a minimum. You can also rub the exposed flesh of the portion you're storing with a little olive oil (or avocado oil!) to help add an extra barrier.
Store unused avocados that have been cut open in an airtight container in the refrigerator. I like putting unused avocado halves in a snack size stasher bag.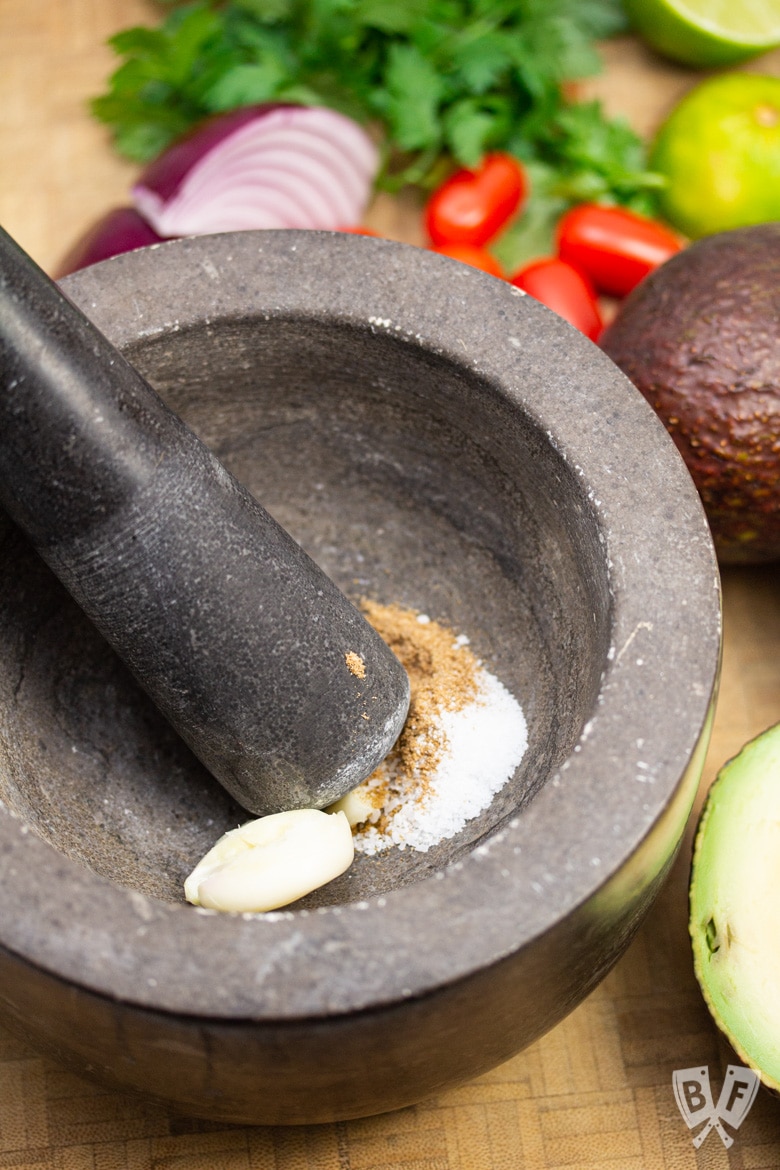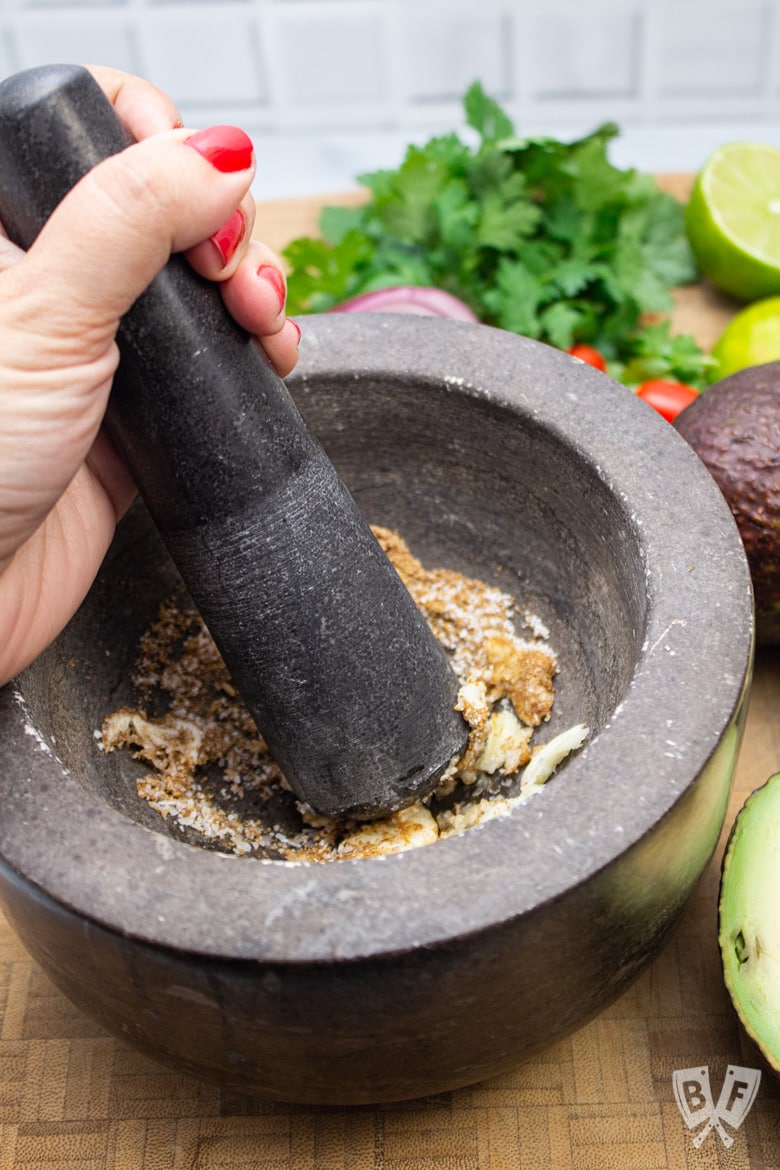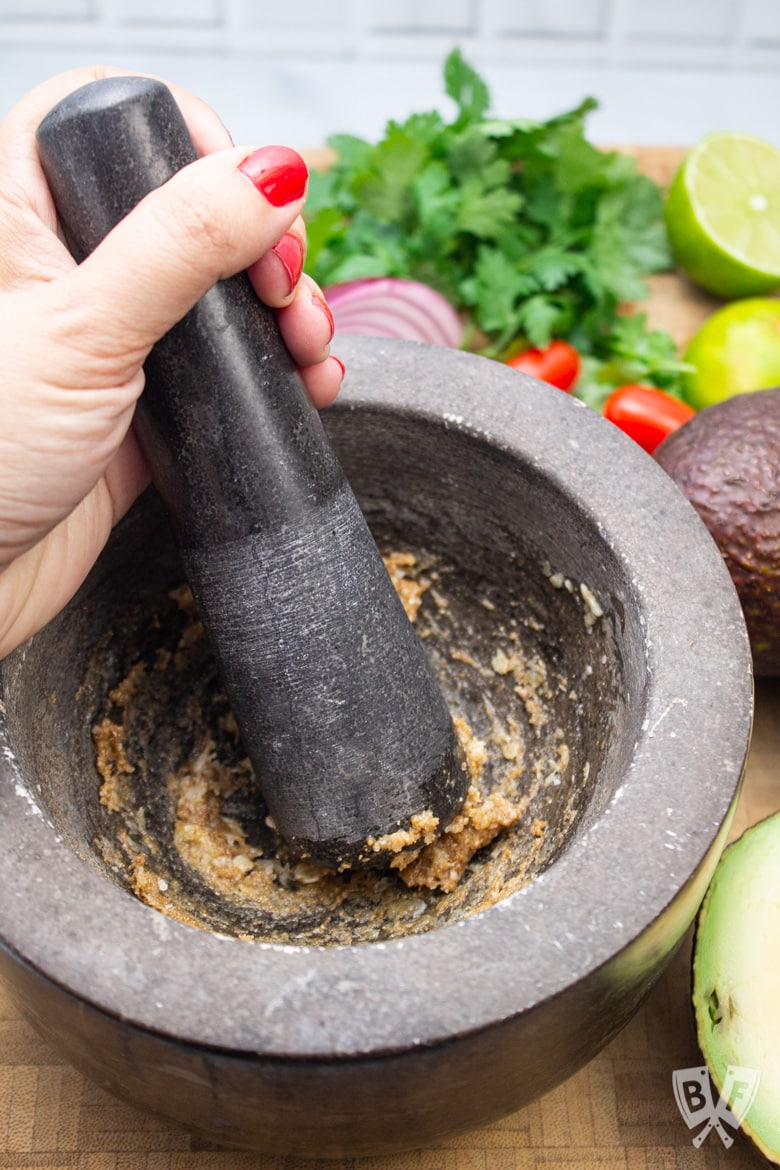 How to make the best homemade guacamole
Smash the garlic, salt, cumin, and coriander using a mortar and pestle until they form a paste.
Add in the avocados, cilantro, lime juice, tomatoes, and red onion.
Taste for seasoning and add more salt or lime juice if needed.
Grab a tortilla chip and dive on in!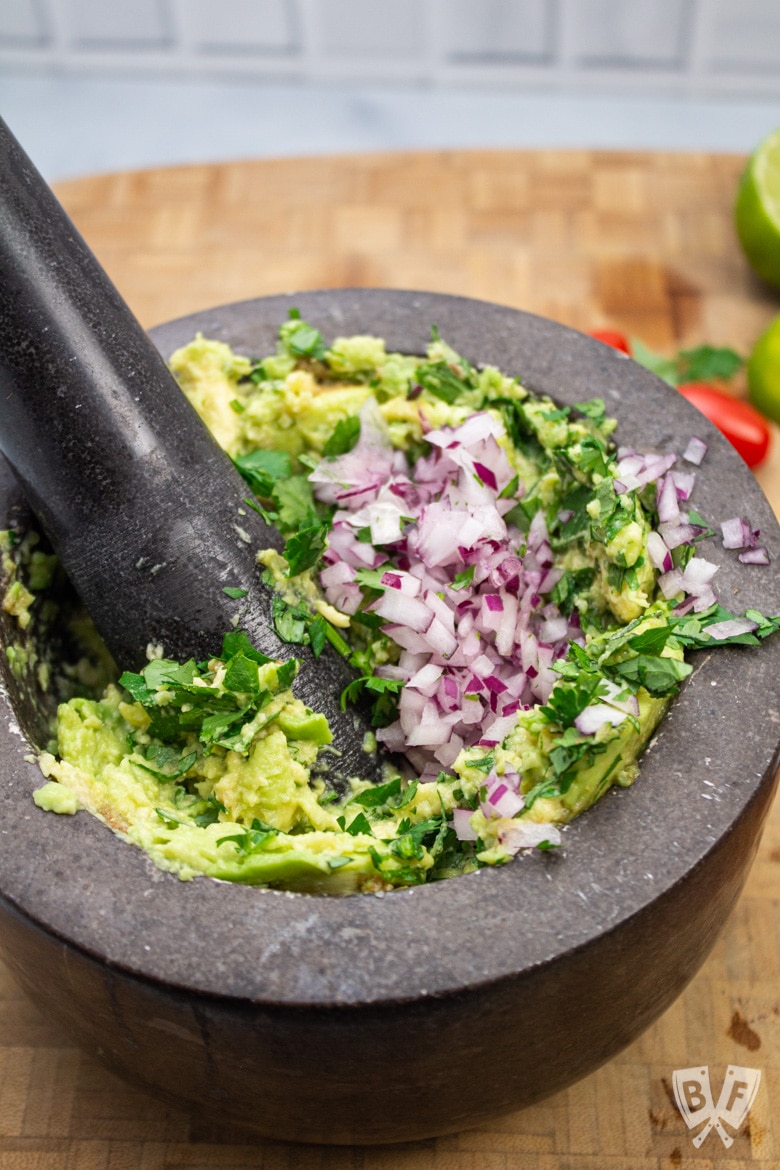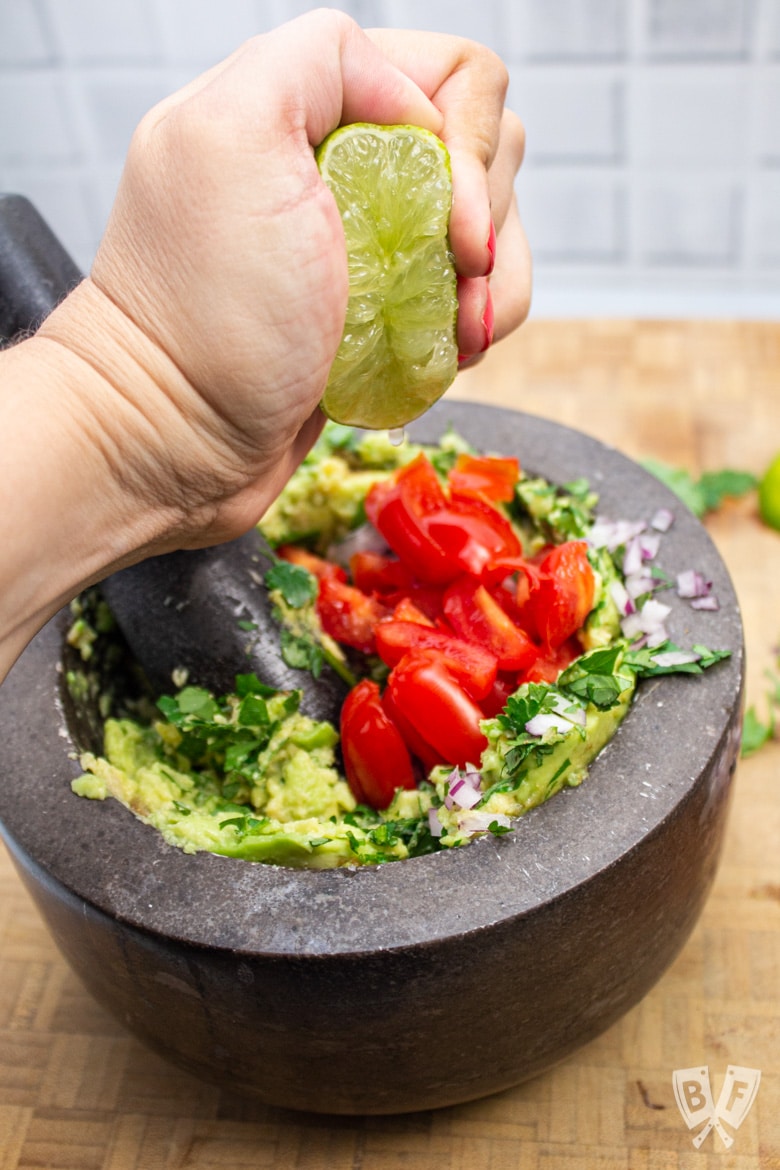 I did a demo of this recipe in the middle of a Facebook LIVE a while back while my mashed potatoes were cooking in the Instant Pot.
I've embedded the video below. It should jump to the start of the guacamole portion, but if not, feel free to fast forward to 20:57.
Tips for making guacamole
You don't need a Molcajete to make restaurant-style guacamole at home, but a mortar and pestle is pretty key.
The rough edges of the mortar are perfect for grinding your garlic and spices into a beautifully fragrant paste.
If you need your guacamole fix but don't have a mortar and pestle, you could chop your garlic, then smash it together with the salt into a paste on your cutting board using the back of your knife.
Use a potato masher, pastry cutter, or a fork to mash up the other ingredients until they reach the consistency you like. I've even used a meat chopper in a pinch and it works great!
Keep smashing the avocados until they reach the texture that you prefer. My family enjoys it fairly chunky, but sometimes we want it nice and smooth. There's no wrong way to do it!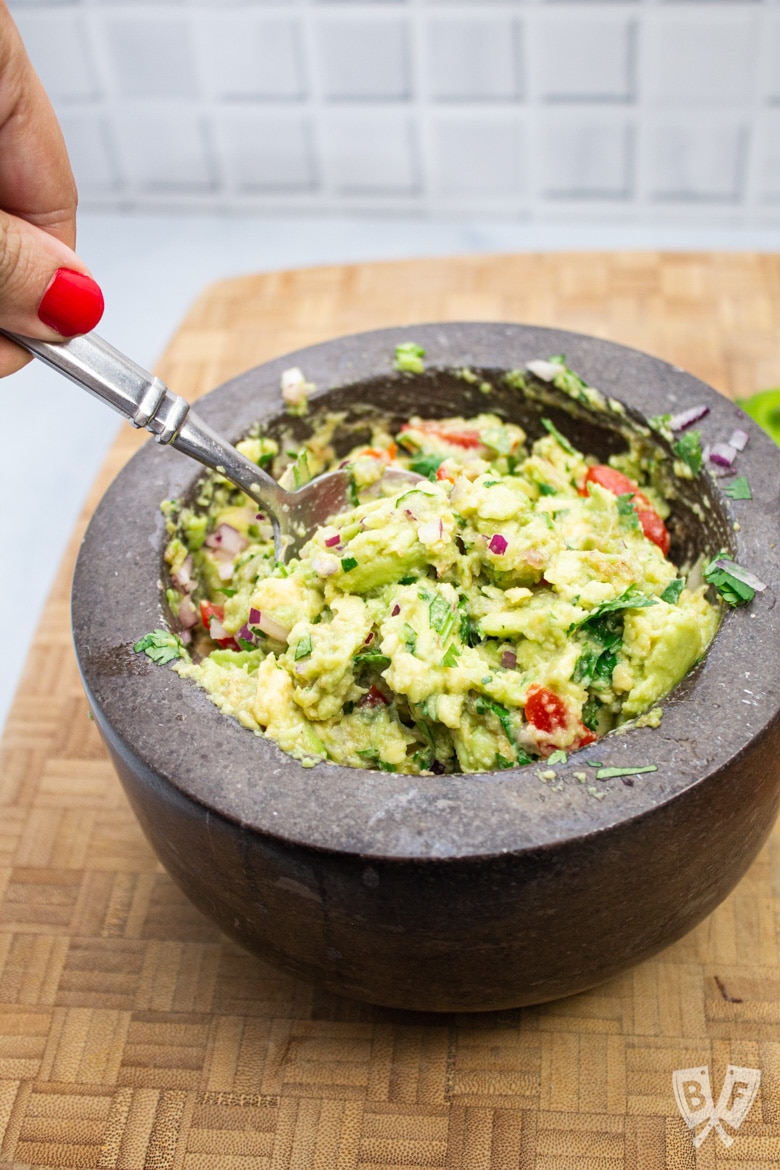 Customizing this homemade guacamole recipe
There are several ways that you can tweak and adjust this restaurant-style guac to your liking. Here are a few suggestions:
No limes? No problem! Use a bit of vinegar instead. I made this guacamole yesterday to use up some avocados that were super ripe, and I realized I was out of lime juice. I used 1 ½ teaspoons of white wine vinegar instead, and it worked out beautifully! (If you follow me on Instagram, you may have seen my excitement over that very fact)
Don't like cilantro? Leave it out! Feel free to substitute parsley if you still want some fresh herb flavor.
No tomatoes? Leave 'em out! They're totally optional. I tend to add more of them to my guac than my husband does when he makes it because I really love them.
Raw onion a bit too strong for you? Use some green onion instead. Alternately, you could soak your red onion in cold water for 5-10 minutes before you mix it into your guac. Just drain it and add it in. Soaking it will mellow the sharpness of the flavor quite a bit. You could do the same with shallots.
Prefer smaller bits of cilantro? Add it in with the garlic and spices and smash it into that paste. The pieces will be smaller, and the flavor will still be there.
Like it spicy? Add some fresh minced jalapeño or serrano peppers. Use as little or as much as you like!
Making guacamole for a crowd? Feel free to scale the ingredients up as much as you like. I'd suggest making all of the paste first, then moving it to a bowl and smashing your avocados in batches. Then just stir everything together for one big vat-o-guac!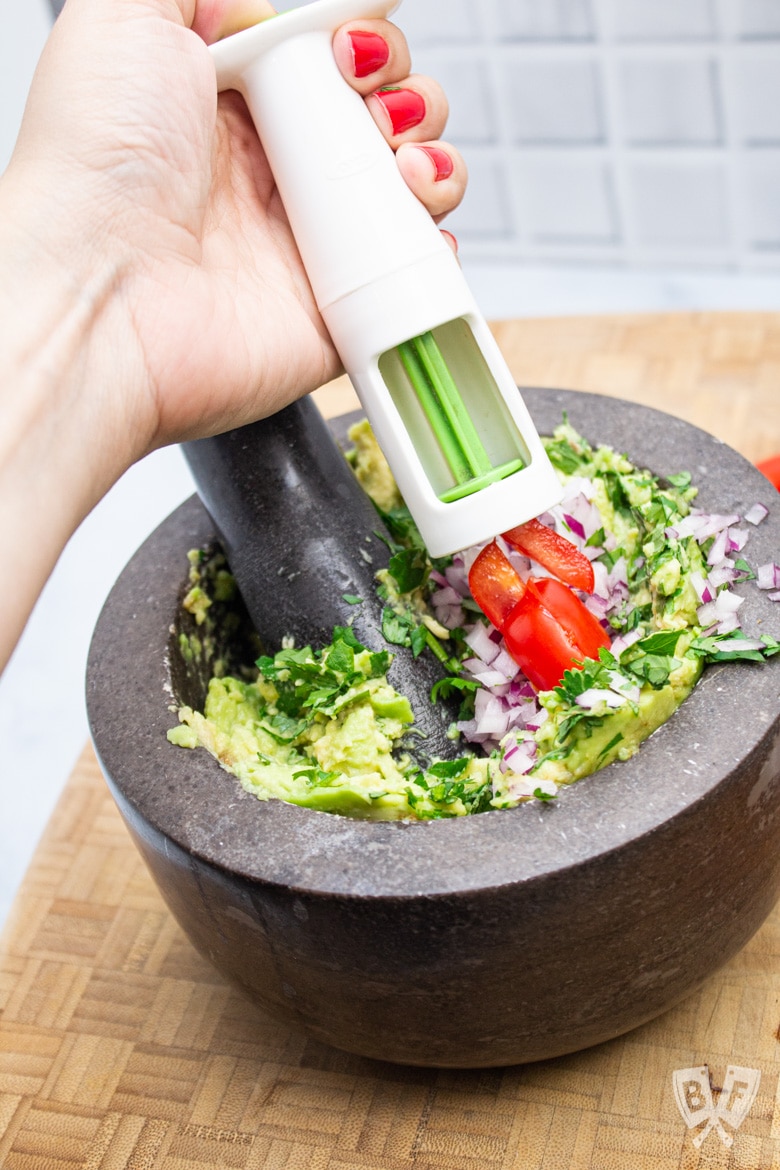 I've had this OXO grape cutter for years, and what I use it for most often is quickly quartering grape or cherry tomatoes.
It's perfect for cutting tomatoes for taco night or for quickly adding a few directly into your bowl of guacamole.
This guacamole is always a hit at my house. It's one of our very favorite appetizers, snacks, and side dishes.
How do you like your guac?
If you're looking for more recipes that use cumin, check out this post that showcases 21 of our favorite cumin recipes.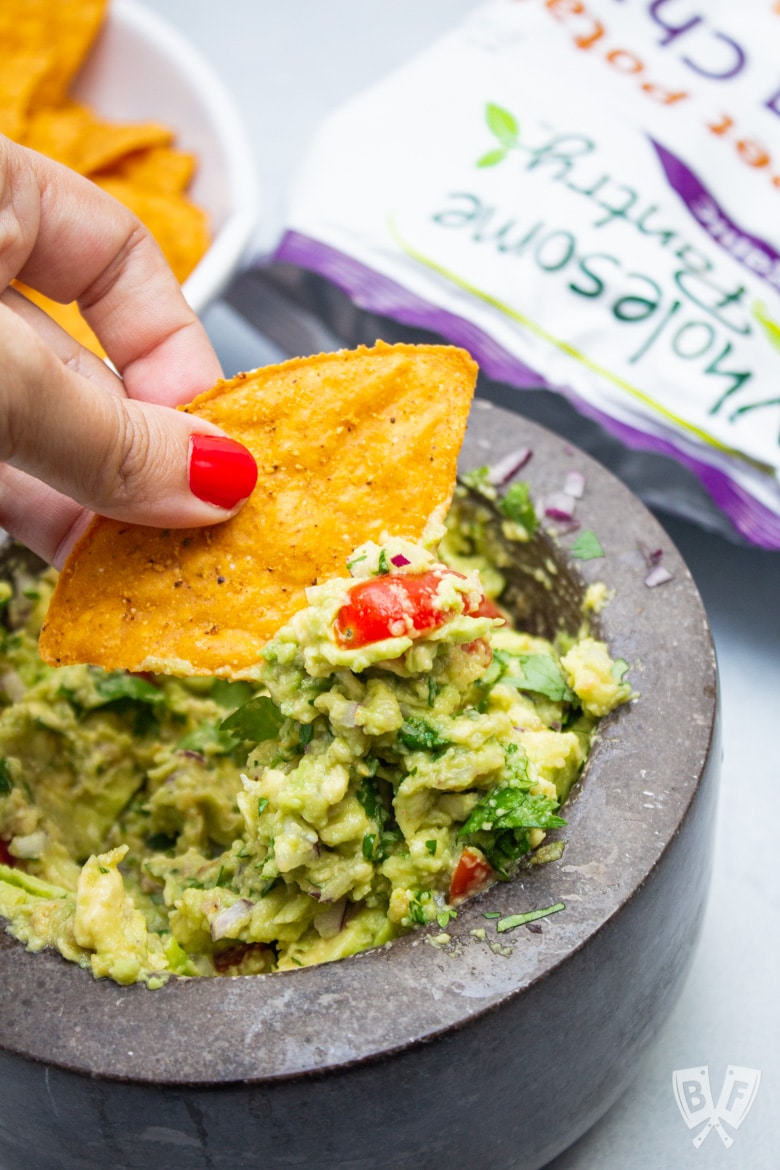 Still hungry? You may also like...
Doing some online shopping? Check out my Amazon Shop page for recommendations!
Print
📖 Recipe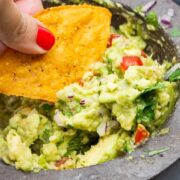 Dino's Guacamole
Author:

Prep Time:

5 minutes

Cook Time:

0 minutes

Total Time:

5 minutes

Yield:

4

Servings

1

x

Category:

Appetizers

Method:

No Cook

Cuisine:

Mexican
---
Description
Restaurant-style guacamole is super simple to make at home - just 2 ripe avocados and a handful of ingredients and you have the perfect Mexican appetizer!
---
1

garlic clove

½ teaspoon

kosher salt

¼ teaspoon

ground cumin

¼ teaspoon

ground coriander

2

medium-sized ripe Haas avocados, pitted and peeled

¼ cup

fresh cilantro, roughly chopped

1 tablespoon

freshly squeezed lime juice (about

½

lime)

4

-

6

grape tomatoes, quartered

2 tablespoons

minced red onion (about

¼

of a small red onion)
Special equipment:
---
Instructions
In a mortar, add the garlic, salt, cumin, and coriander. Use the pestle to smash and crush the garlic and mix everything together to form a paste.
Add the avocados, cilantro, lime juice, tomatoes, and red onion and mix until well combined. Taste for seasoning and add more salt or lime juice if needed.
Equipment
---
Notes
You can add the cilantro in with the garlic and spices if you prefer smaller pieces of cilantro in your guacamole.
If you don't have limes, 1 ½ teaspoons of white wine vinegar can be substituted.
Nutrition
Serving Size:
Calories:

122

Sugar:

0.9 g

Sodium:

162.5 mg

Fat:

10.6 g

Saturated Fat:

1.5 g

Carbohydrates:

7.7 g

Fiber:

5 g

Protein:

1.7 g

Cholesterol:

0 mg
Keywords: mortar and pestle, Mexican, guacamole
Recipe Card powered by
Check out my latest posts...