This post may contain affiliate links, which won't change your price but will share some commission.
I've made these bars several times, and they're always a big hit! They're a nice change of pace from Rice Krispie Treats. Let me warn you though - don't use the wax paper. Just spray your pan well. That wax paper has caused me major headaches in the past!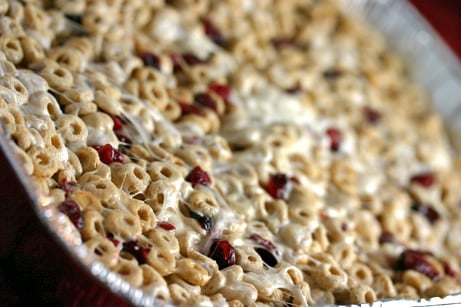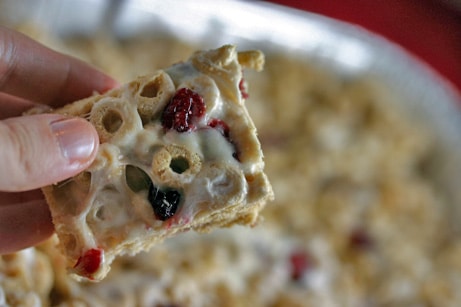 Cranberry-Oat Cereal Bars
Everyday Food September 2006
Makes 24
Prep Time: 15 minutes
Total Time: 1 hour 15 minutes
nonstick cooking spray
4 tablespoons unsalted butter
1 bag (10 ounces) marshmallows
½ teaspoon salt
6 cups toasted oat cereal
1 cup dried cranberries or raisins
1. Spray a 10-by-15-inch rimmed baking sheet with cooking spray. Line with waxed paper; spray paper with cooking spray, and set aside.
2. In a large saucepan, melt butter over medium heat. Add marshmallows and salt; cook, stirring occasionally, until marshmallows have melted, about 5 minutes. Remove from heat, and stir in cereal and dried cranberries.
3. Immediately transfer mixture to prepared baking sheet. Using a spatula (or your fingers) coated with cooking spray, press in quickly and firmly. Let cool, about 1 hour; cut into 24 bars (3 rows lengthwise by 8 rows crosswise). Store in an airtight container up to 2 days.
Nutritional notes:
Per bar: 97 calories; 2.4 grams fat; 1.1 rams protein; 19.3 grams carbohydrates; 1.2 grams fiber
MacGourmet Rating: 5 Stars