This post may contain affiliate links, which won't change your price but will share some commission.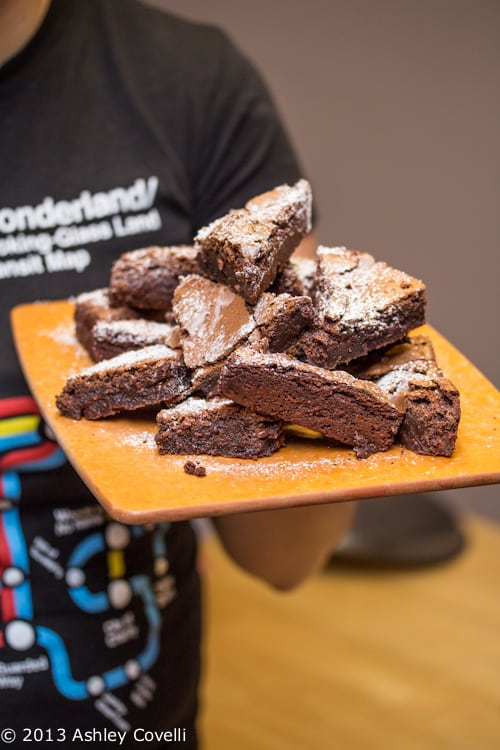 The first thing that came to mind when we picked this month's Supper Club theme (Restaurant Recreations) was the espresso brownies from Starbucks. I worked there for a few months after college, and maaaaan was I hooked on those bad boys. I couldn't find a recipe that looked exactly like theirs online, but this one was the closest. We added ½ cup of bittersweet baking chips to the batter at the very end, since Starbucks had little chunks of chocolate in their brownies, and it was an almost perfect match. We loved these, and I'm finally over my brownie making phobia! I always thought that box mixes trumped homemade, since I haven't made anything better than a box mix version at home...until now. Hooray! I laughed out loud when I saw the word "optional" next to the Kahlua. I think it's definitely necessary! I sliced them into triangles to mimic the ones at Starbucks. The only liberty I took was to dust them with powdered sugar...because it just looked so much prettier 😉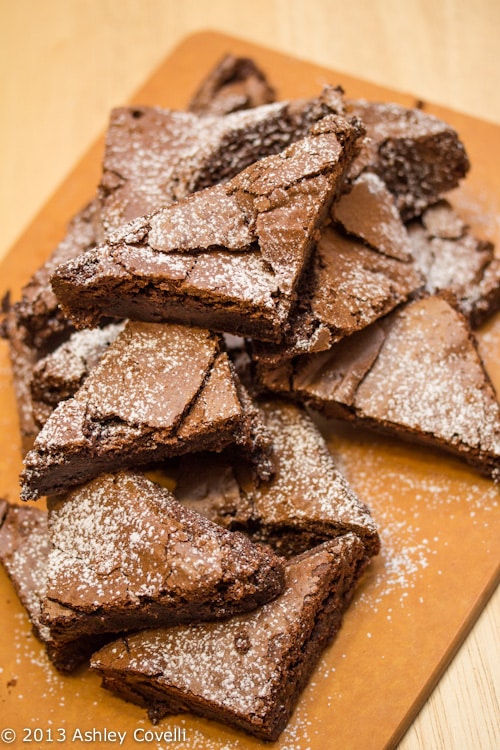 Espresso Brownies
Fun and Food Café
1 cups semisweet chocolate chips
¼ cup bittersweet dark chocolate – chopped
½ cup butter (1-stick)
1 cup all purpose flour
3 tablespoon cocoa powder
1 teaspoon baking powder
½ teaspoon salt
2 tablespoon instant espresso
1 tablespoon kahlua liqueur (optional)
1-¼ cup sugar (or adjust to your taste)
2 eggs
2 teaspoon vanilla extract
confectioner's sugar(optional)- for dusting
Preheat oven to 350°F. Grease a 11 x 7-inch (or 10″ square) non-stick baking pan and set aside.
Melt the chocolates and butter over a double boiler & stir until smooth to make a ganache. Then remove from heat and keep aside.
In a large bowl, sift together the flour, cocoa powder, baking powder, salt and espresso. In another mixing bowl, beat sugar, egg and vanilla on medium high until light colored, about 2 minutes.
Beat in the chocolate until well combined. Add the flour mixture slowly into the egg mixture until well blended. Finally stir in the Kahlua liqueur. If you like your brownies a bit fudgy, leave it like this; but if you need a more cake-like texture, beat the mixture for another 1 min, to aerate it even further.
Pour the mixture into the prepared baking pan and bake for 30-35 minutes or until a toothpick inserted 2 inches from the side comes out clean.
Cool completely, then cut into 8-10 rectangles. To make clean cuts of the brownie, allow it to cool entirely (about 45-60 mins) once out of the oven. Then use a plastic knife to cut into even slices.
Variations: You can use amaretto instead of kahlua; use any flavored coffee instead of plain espresso if you like.
Dust the Espresso Brownies with a sprinkling of powdered (confectioner's) sugar, and eat your way to heaven!
Big Flavors Rating: 5 Stars