This post may contain affiliate links, which won't change your price but will share some commission.
Hot cocoa and cookie lovers unite! Peppermint hot chocolate cookies are a festive treat perfect for winter holidays and cookie exchanges.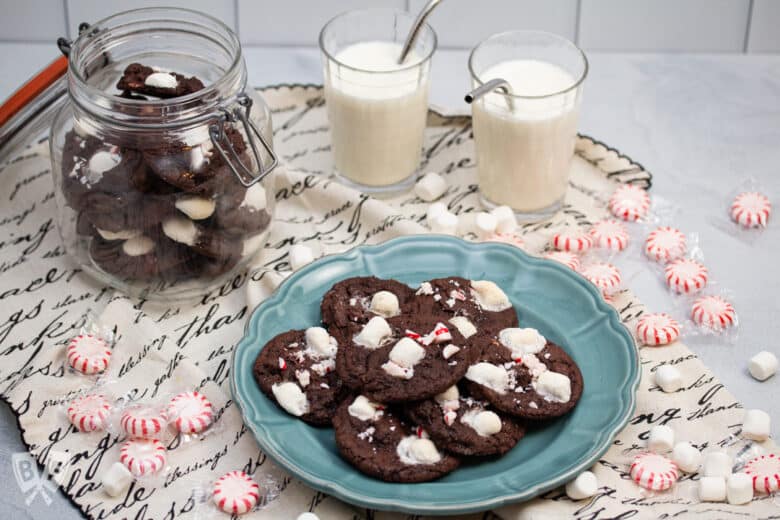 Why we love this cookie recipe
It's the best part of a peppermint hot chocolate beverage but in cookie form!
Chocolatey cookies get a major upgrade with peppermint candy and mini marshmallows.
You can use any mix of milk, dark, semi-sweet, and white chocolate chips - a great excuse to clean out your pantry!
They're fun to make with kids and great for holiday cookie exchanges.
Peppermint hot chocolate cookie dough freezes beautifully. You can freeze some of it to have freshly baked cookies another day.
Crushing the candy canes or peppermint candies for these cookies can be seriously cathartic.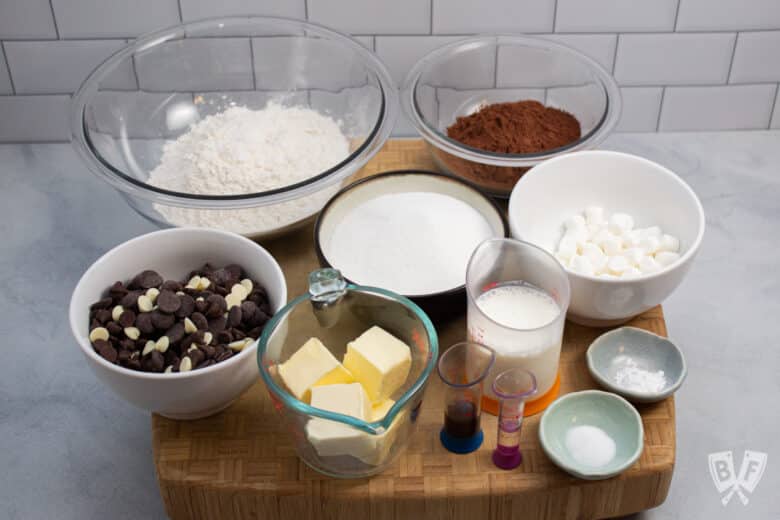 I came up with these cookies as a fun Christmas-y spin on my Melt-in-Your-Mouth Buttermilk Chocolate Cookie recipe.
Rich and chocolatey, these peppermint-infused sweets are perfect for the winter holidays but are equally delicious for the rest of the year.
I've made these several times in my virtual cooking classes, and they've gone over extremely well.
I even have a pancake version that has been going strong in my virtual classes. Stay tuned for that recipe soon, too!
🍫 Ingredient Spotlight: Cocoa Powder
This recipe uses Dutch-process cocoa powder which can be found in your grocery store located in the baking aisle.
There tends to be some confusion around the two different types of cocoa powder available to purchase, so let's dive a little deeper!
Dutch-process vs. natural cocoa powder
These two types of cocoa powder have different chemical properties and therefore serve different purposes when used in recipes.
Dutch-process cocoa powder has gone through a process that neutralizes its acidity.
This means that it's most often paired with baking powder as a leavening agent in recipes since it doesn't react with baking soda.
Dutch-process cocoa powder tends to be smoother and has a more mellow flavor than natural cocoa powder.
Natural cocoa powder is an acidic type of cocoa powder with an intense cocoa flavor. It's often paired with baking soda as a leavening agent, where the two react and cause your baked goods to rise.
Be sure to use the type of cocoa powder that a recipe calls for, as it will have likely taken the acid/base reactions into account.
If the recipe doesn't specify which type of cocoa powder to use, you can usually assume that you should use Dutch-process cocoa powder if there's baking powder in the ingredient list and natural cocoa powder if it calls for baking soda.
A general rule of thumb is that you can use either type of cocoa powder if your recipe doesn't call for any leavening agents (such as frosting).
You can get much more in-depth information on Dutch-process vs. natural cocoa powder on this post from Sally's Baking Addiction.
---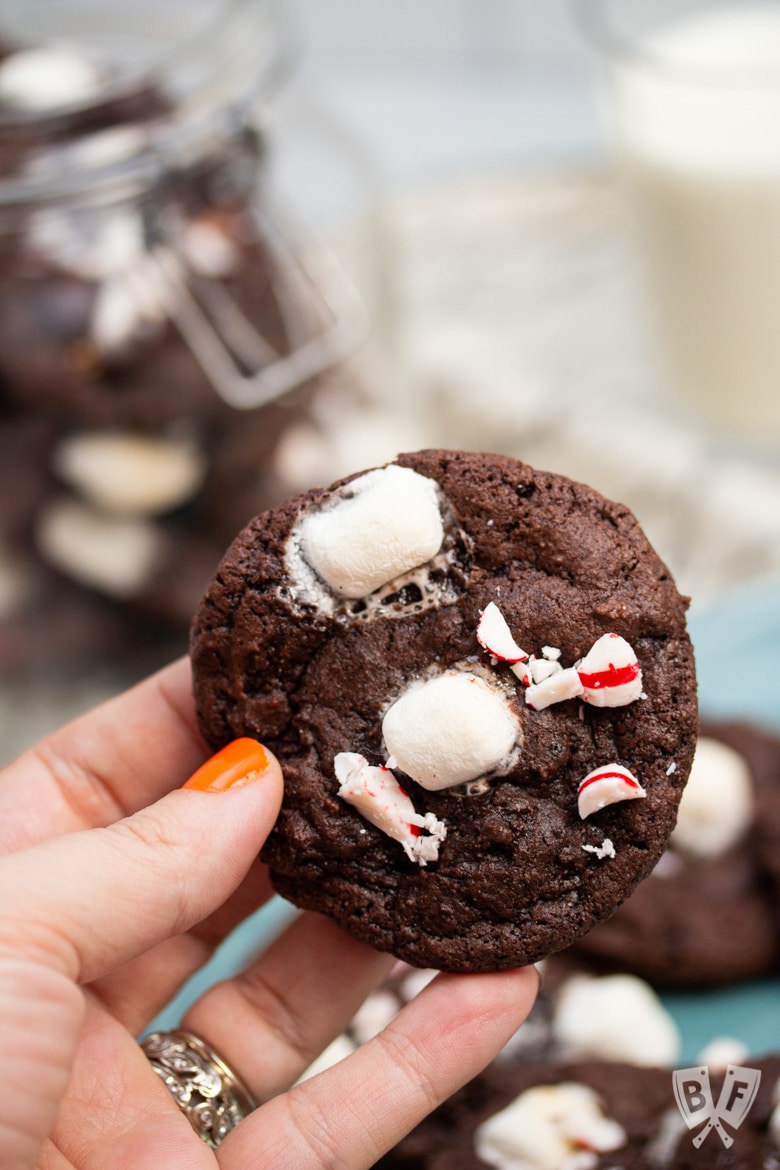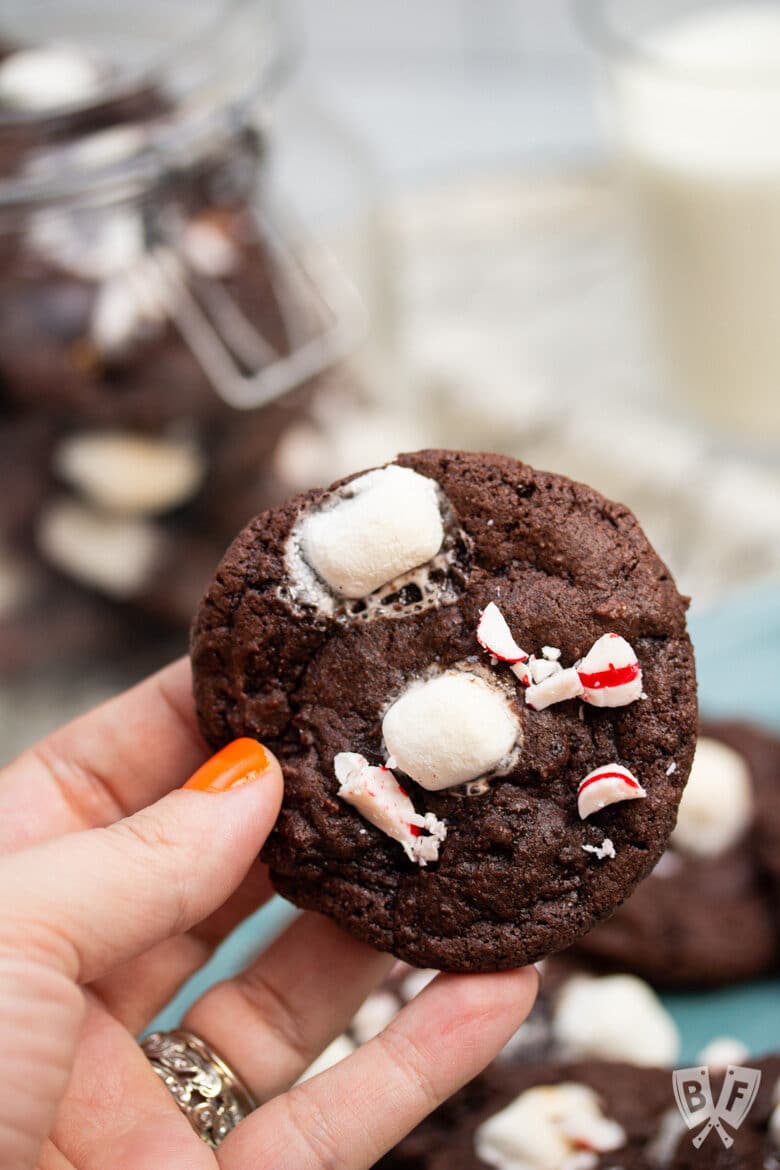 ---
How to make this recipe
Whisk together dry ingredients in a medium bowl.
Whisk in Dutch-process cocoa powder into warm melted butter until smooth.
Add vanilla, sugar, mint extract, and buttermilk.
Stir in the dry ingredients into the wet ingredients, working in batches (about ⅓ of the mixture at a time).
Stir in chocolate chips (and definitely QC a few of them while you're at it!).
Place dough balls onto baking sheets that have been lined with a silicone baking mat or parchment paper.
Press a few mini marshmallows into the top of each ball of cookie dough, then bake at 350°F for 10-14 mnutes.
While the cookies are still hot, sprinkle crushed peppermint candies or candy canes on top, then let them cool on the baking sheet for 3-5 minutes before transfering them to a wire rack to fully cool.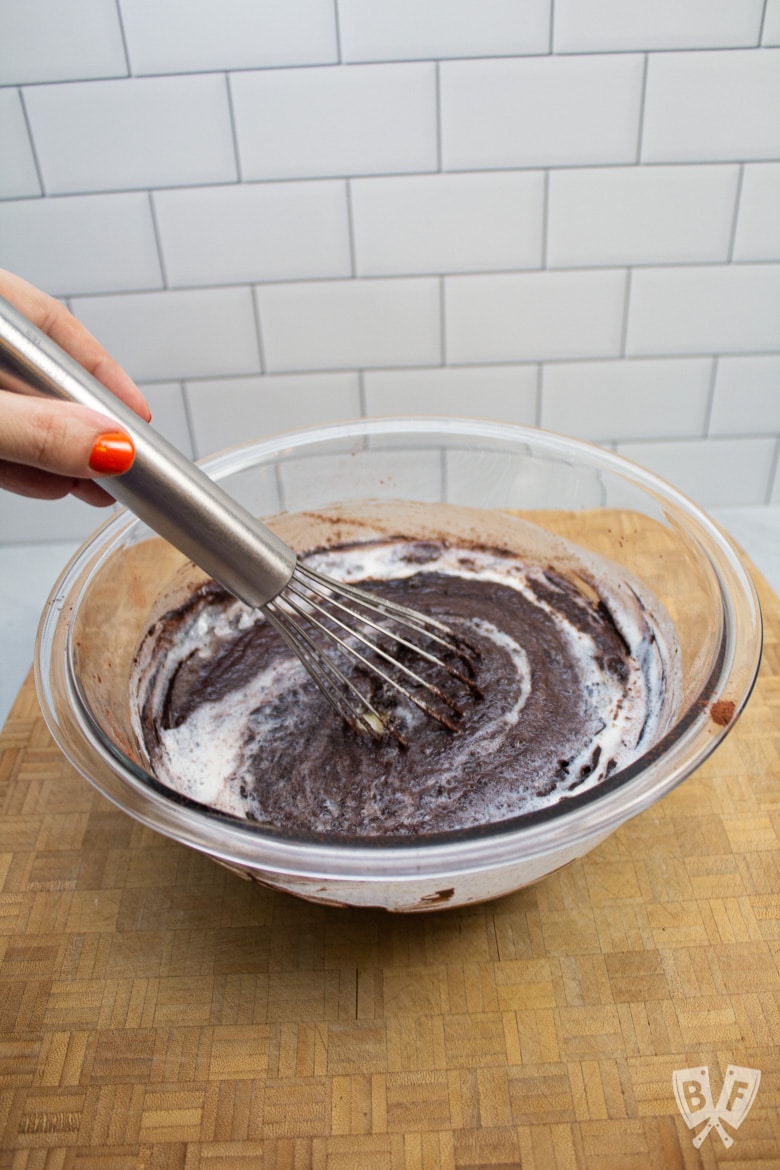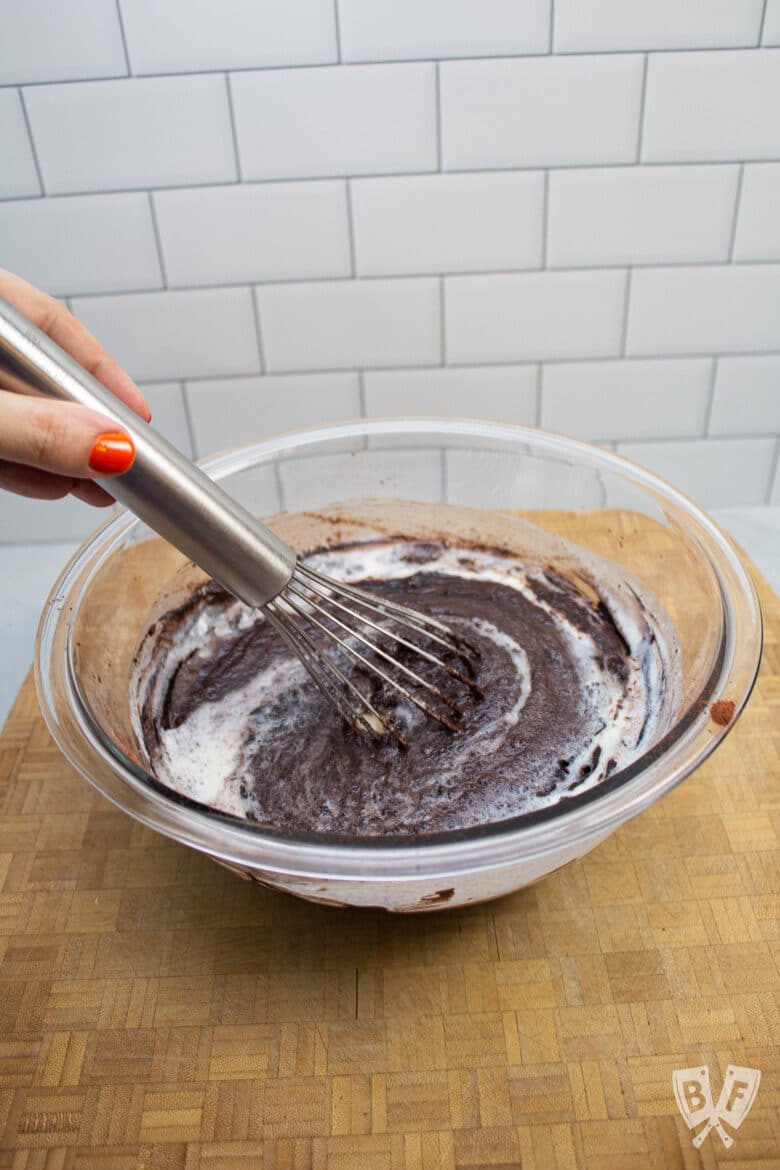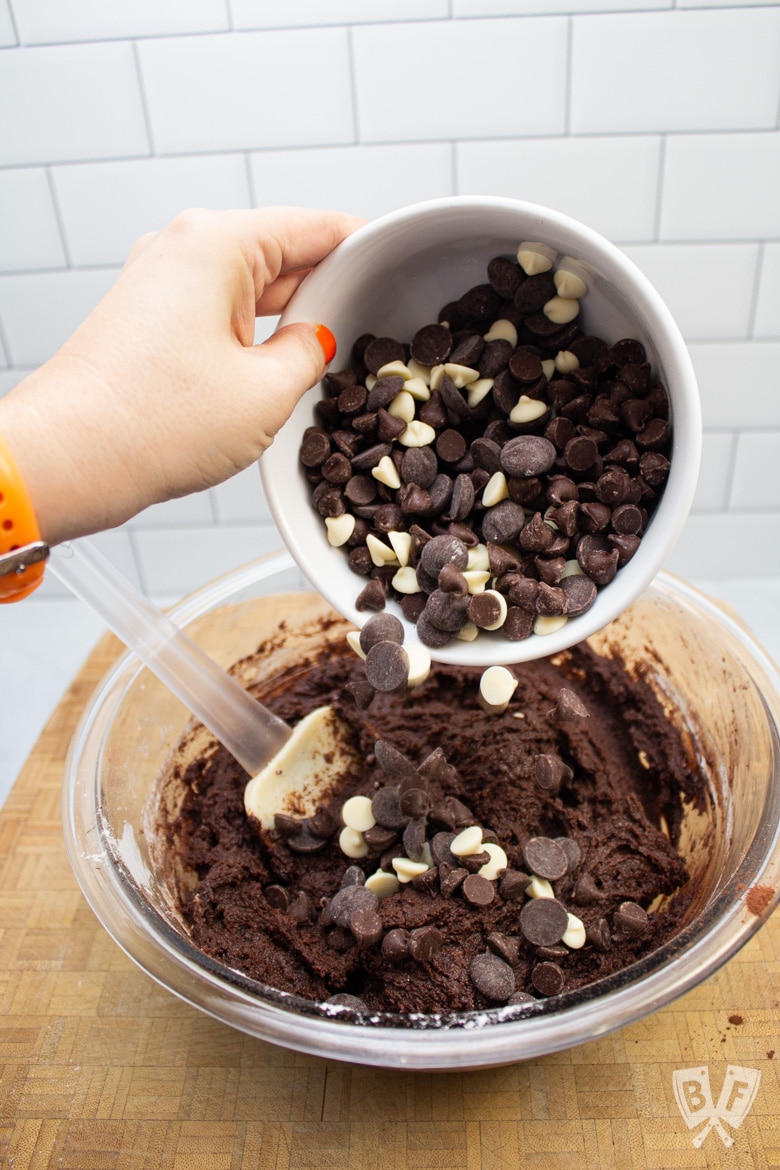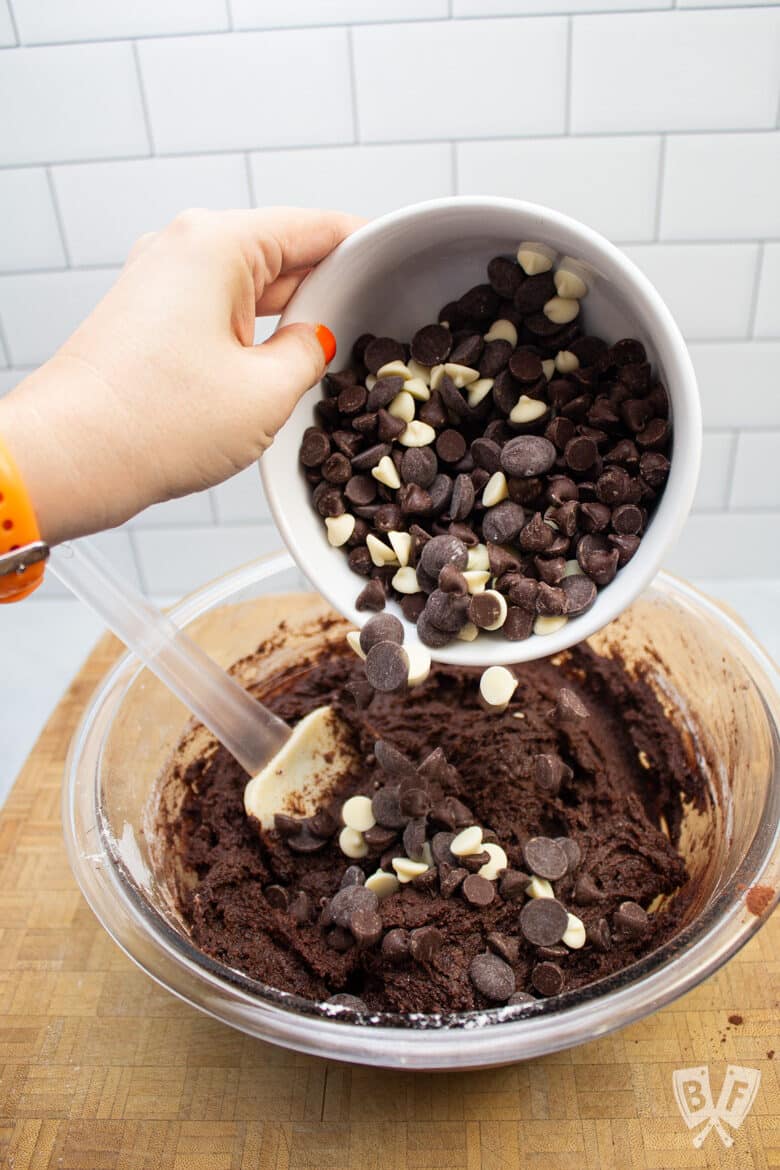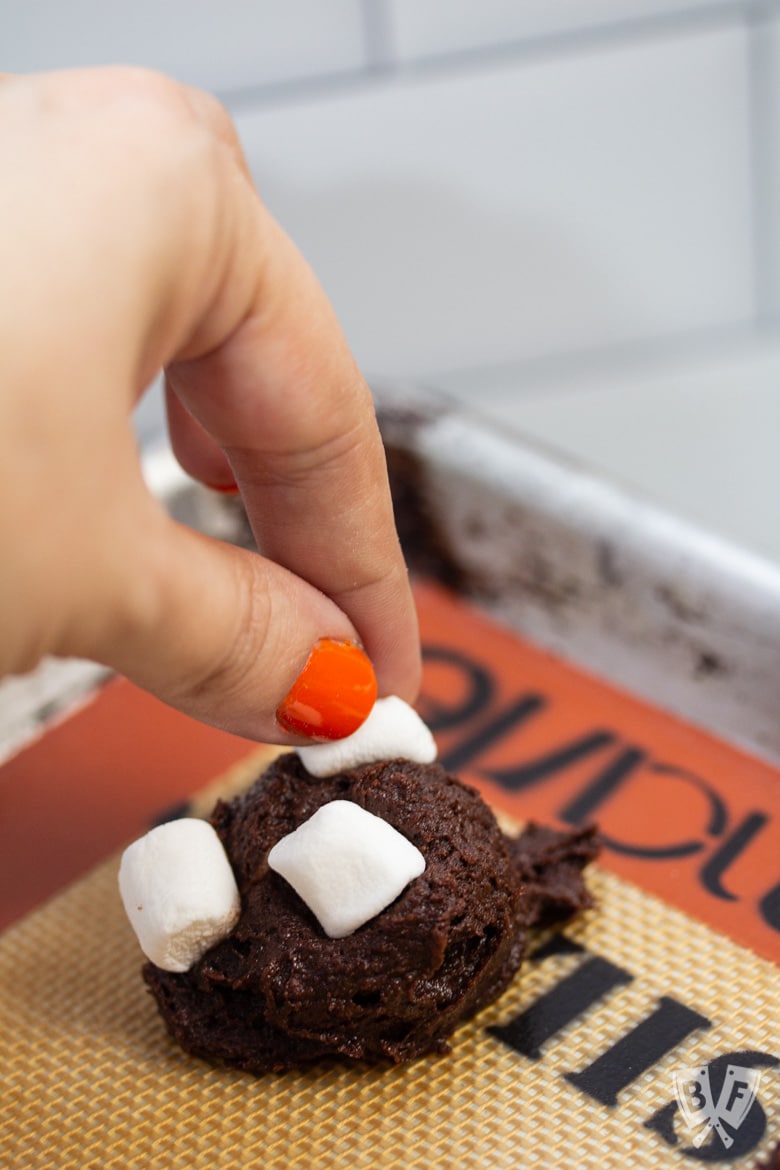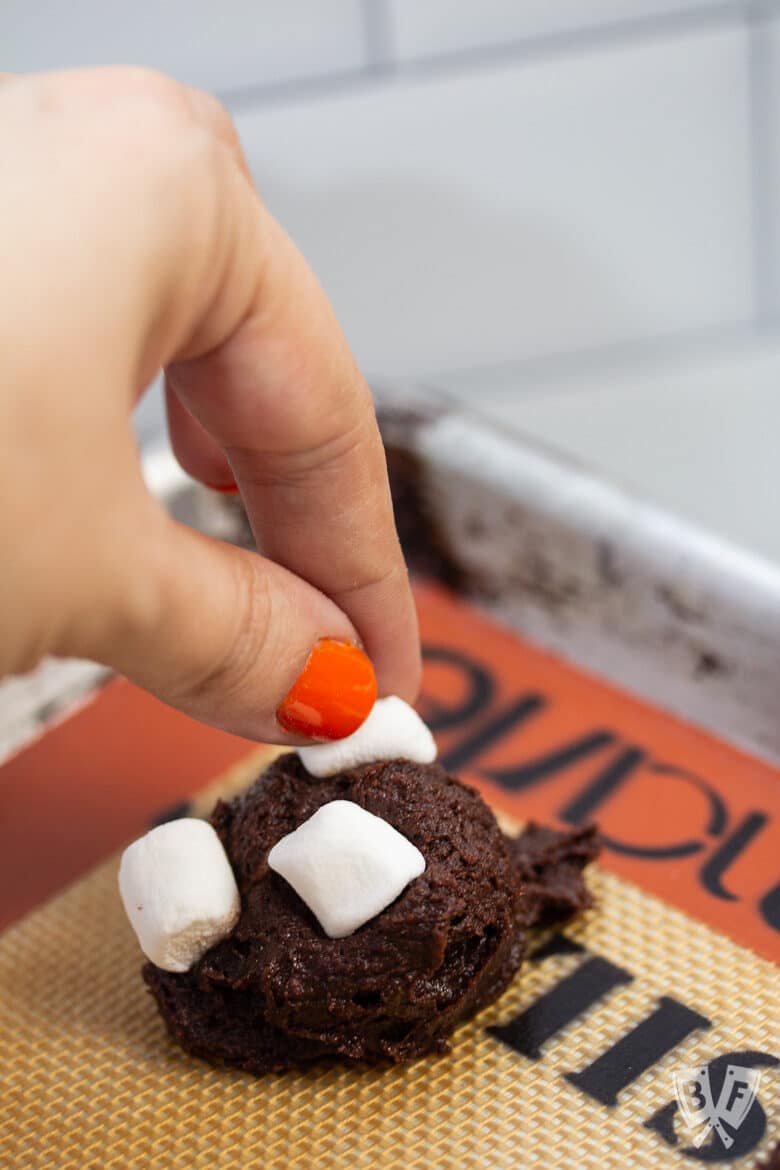 ---
📝 Pro Tip: Use Cookie Scoops for Perfect Portions
There's nothing at all wrong with using a regular kitchen spoon to portion out cookie dough. Your cookies will vary a bit from cookie to cookie, but they'll still be delicious.
But if you want to take your cookie game to the next level, you'll want to ensure that all of your cookies are the same size.
Having consistently sized portions of cookie dough is key for helping your cookies bake at the same rate.
And that's where a cookie scoop comes in handy.
Cookie scoops come in a variety of sizes, and they have a handy lever that you can squeeze to release the dough from the scoop itself.
If you take a peek inside the cookie scoop, you'll often see a little number engraved in the metal "swiper" piece that releases the cookie dough from the scoop.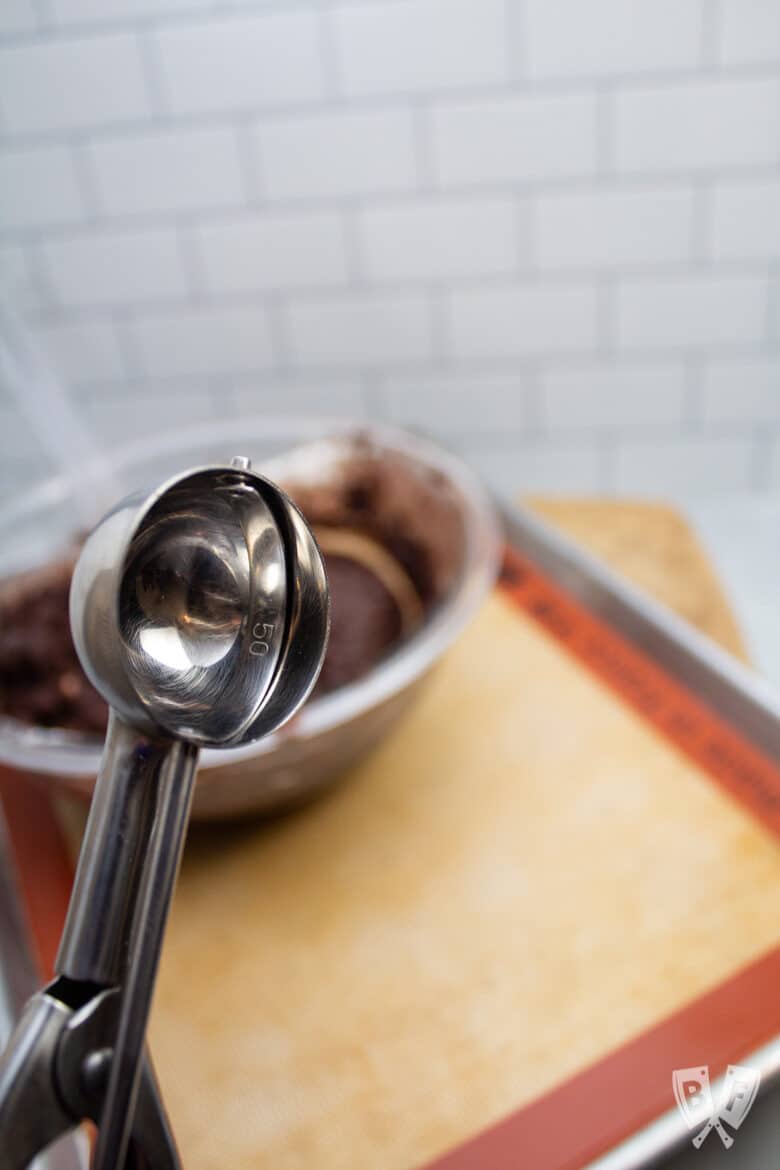 In the photo above, you can see that this is a #50 scoop, which holds about the same as a heaping tablespoonful of cookie dough. This is the size I use most often in cookie recipes.
You could certainly weigh your cookie dough with a kitchen scale to be absolutely certain that each portion of dough is exactly the same size, but I find that a scoop works just fine for picture-perfect baked goods.
Aside from portioning out cookie dough, you can also use this style of scoop to measure out meatballs, falafel patties, frosting, or filling for stuffed pasta.
We use a large scoop for portioning ice cream.
Metal scoops are a great tool to keep in your cooking arsenal!
Mint extract vs. peppermint extract
When I was out shopping for this recipe I noticed that the store sells both mint extract and peppermint extract.
Either will work here, but in case you're curious (I know I was!), there's a difference between those 2 products.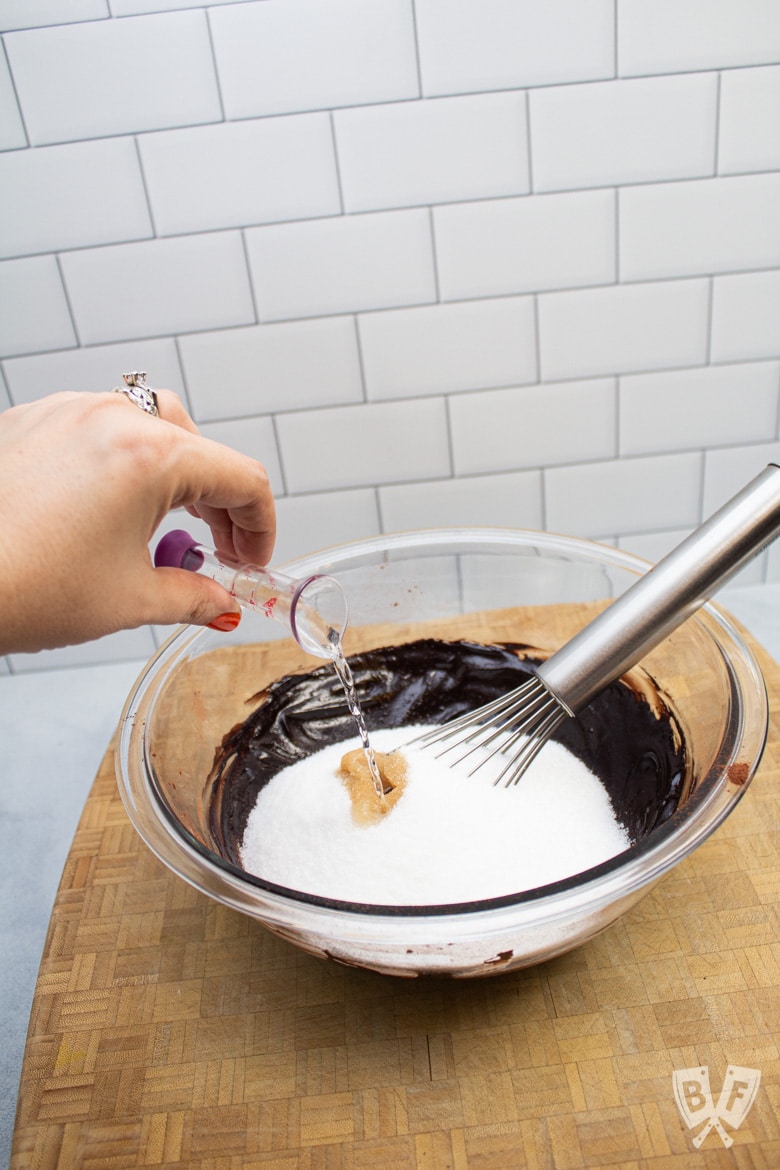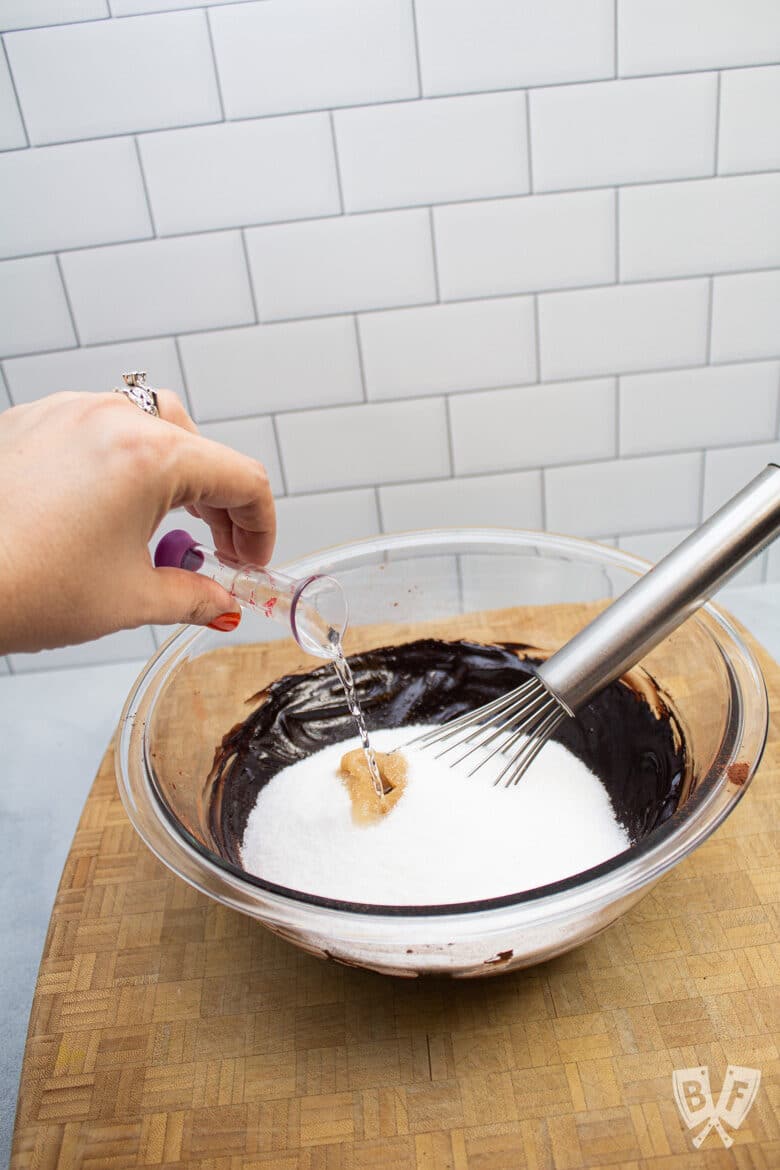 Mint extract is usually a mix of peppermint and spearmint extracts. Peppermint extract only contains peppermint.
I have a friend who can't stand the taste of spearmint, so in that case, I'd recommend looking specifically for peppermint extract.
The price at my local grocery store for both types of extract was the same. Not sure if that's always the case, but I thought it was worth noting.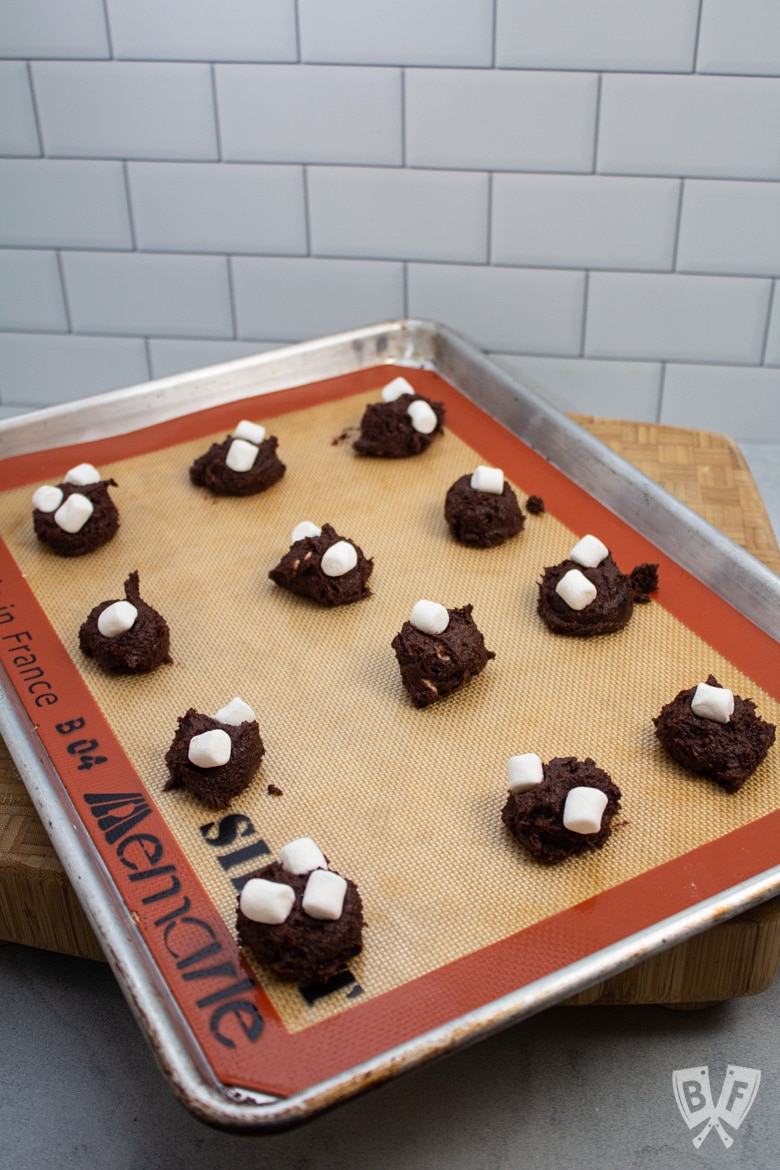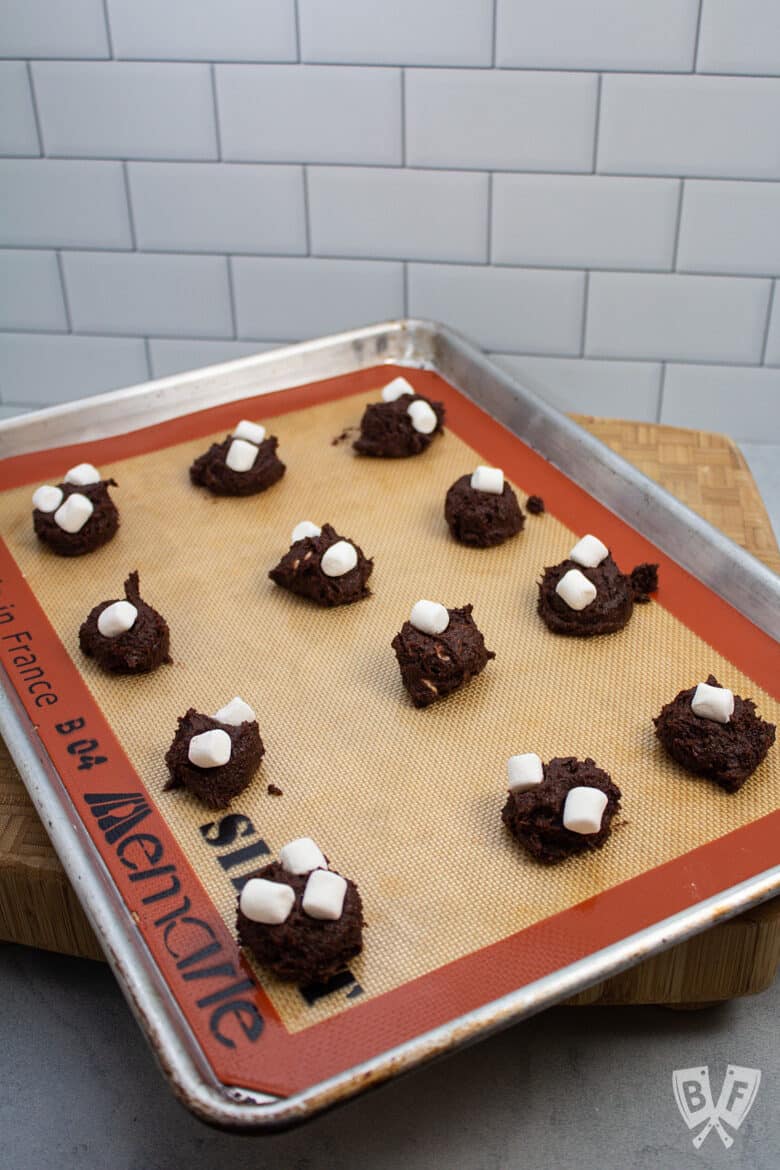 Don't feel like you need to use the same exact number of mini marshmallows on each piece of cookie dough.
I find that 3 is the maximum that will work, but I often make these with just one or two as options, too.
When it comes to the candy topping, I think candy canes work better from an aesthetic perspective, because they tend to have more red bits than round peppermint candies.
But the good thing about some peppermint candies is they're already wrapped, so you can easily crush them right in their wrappers.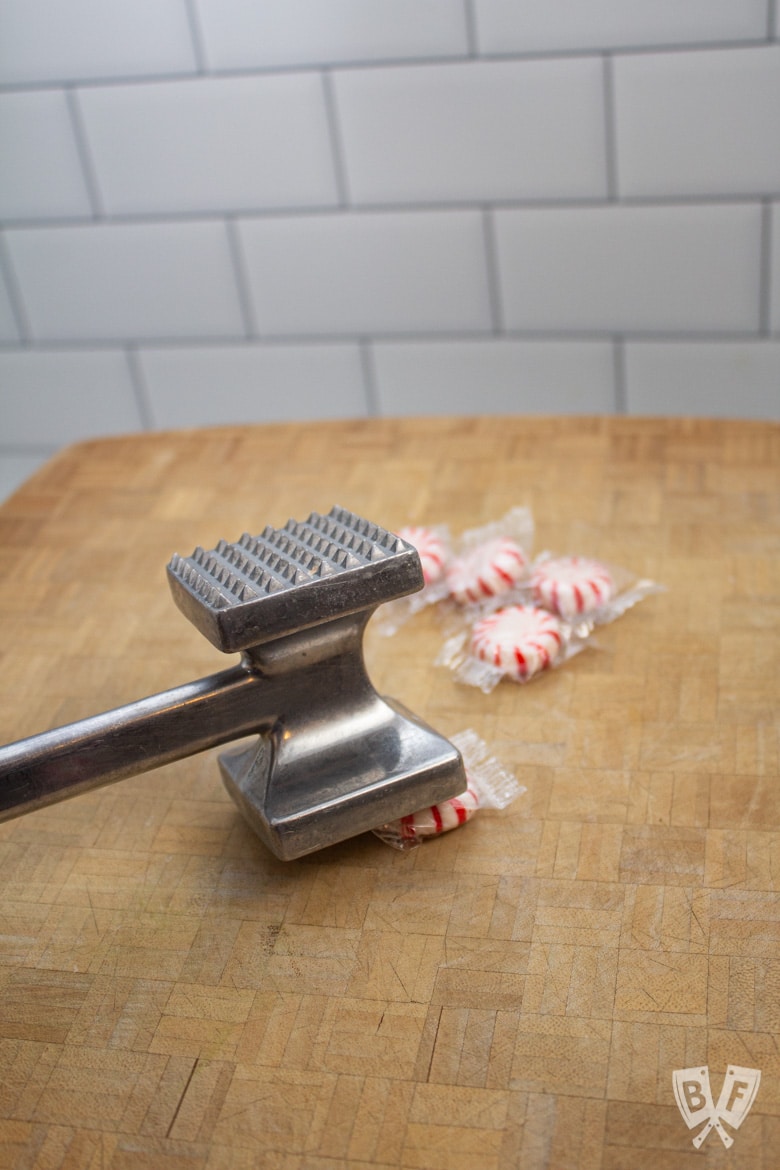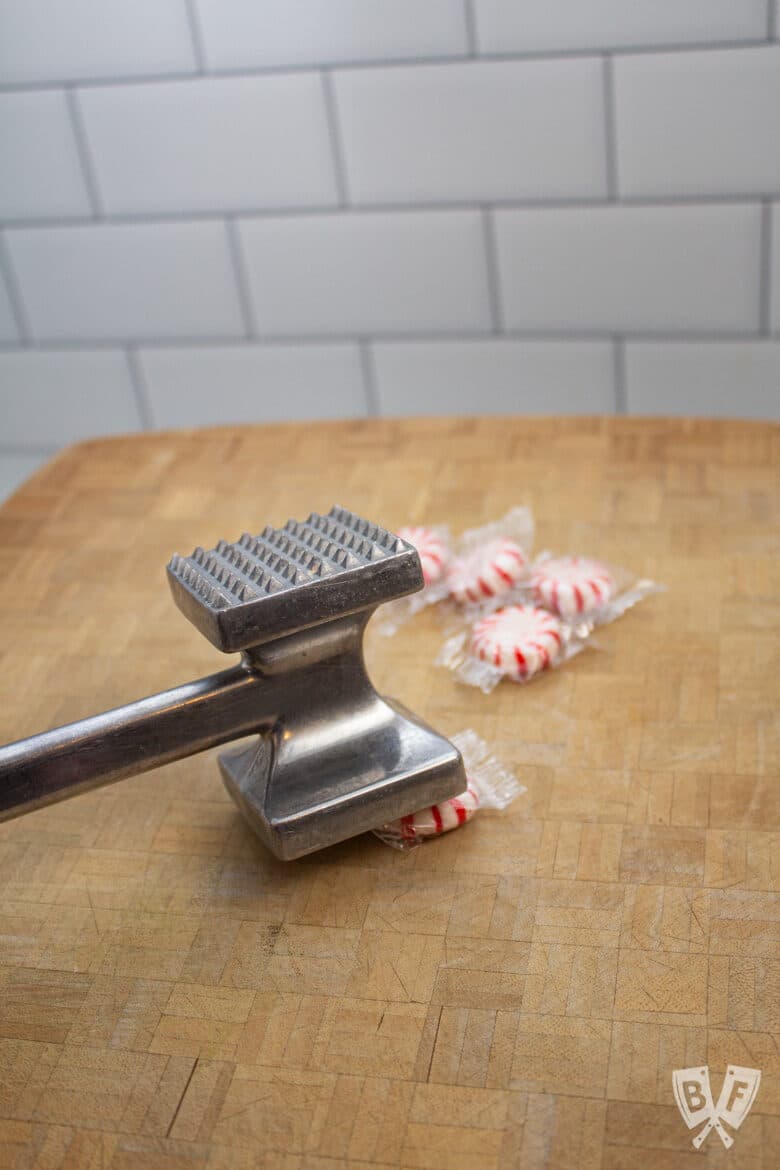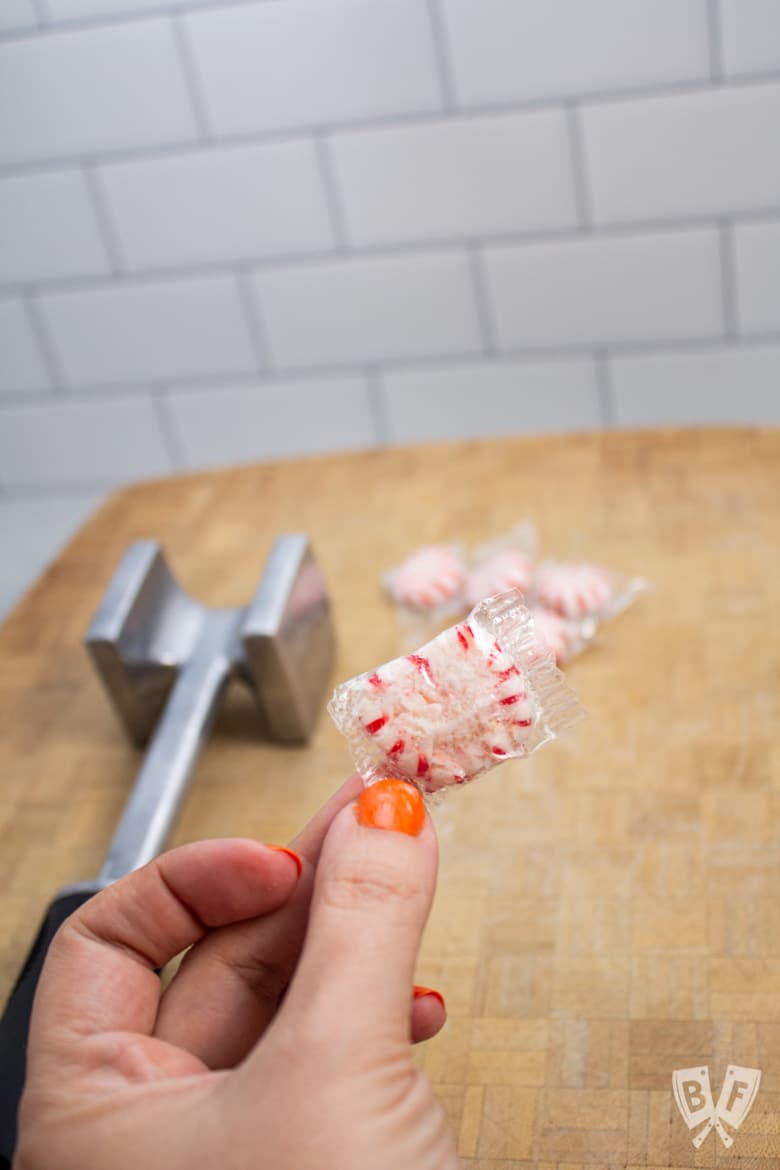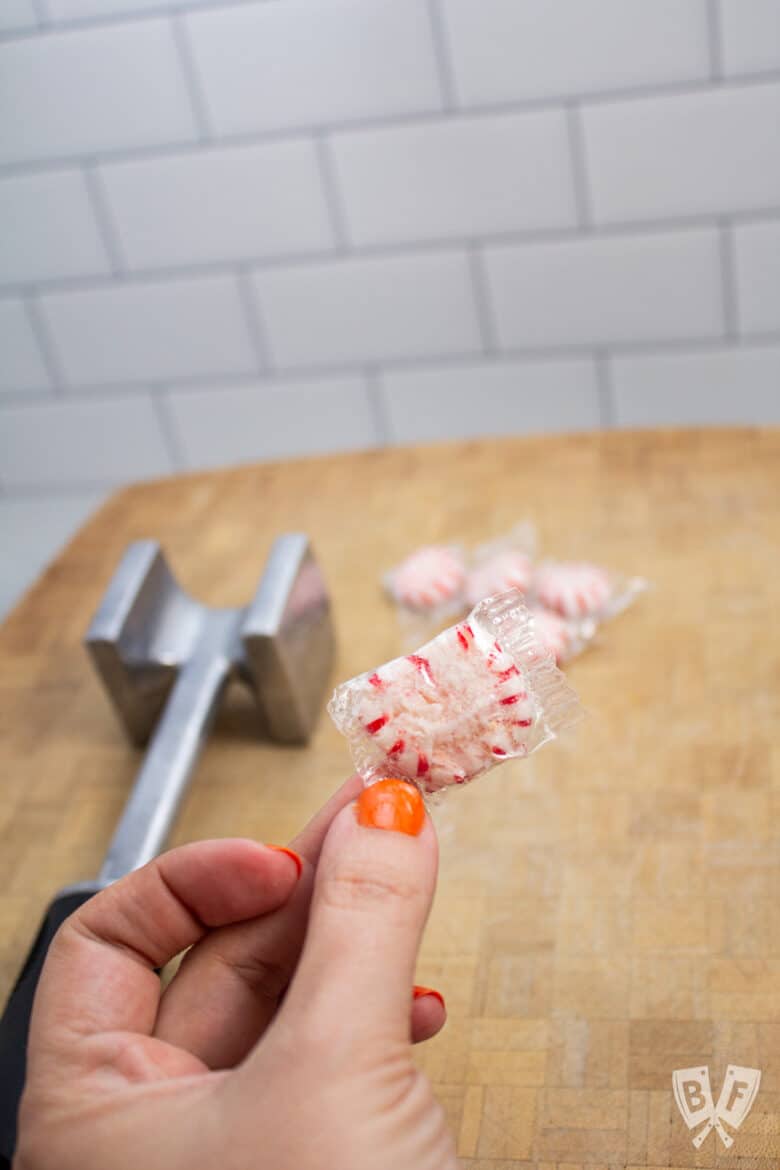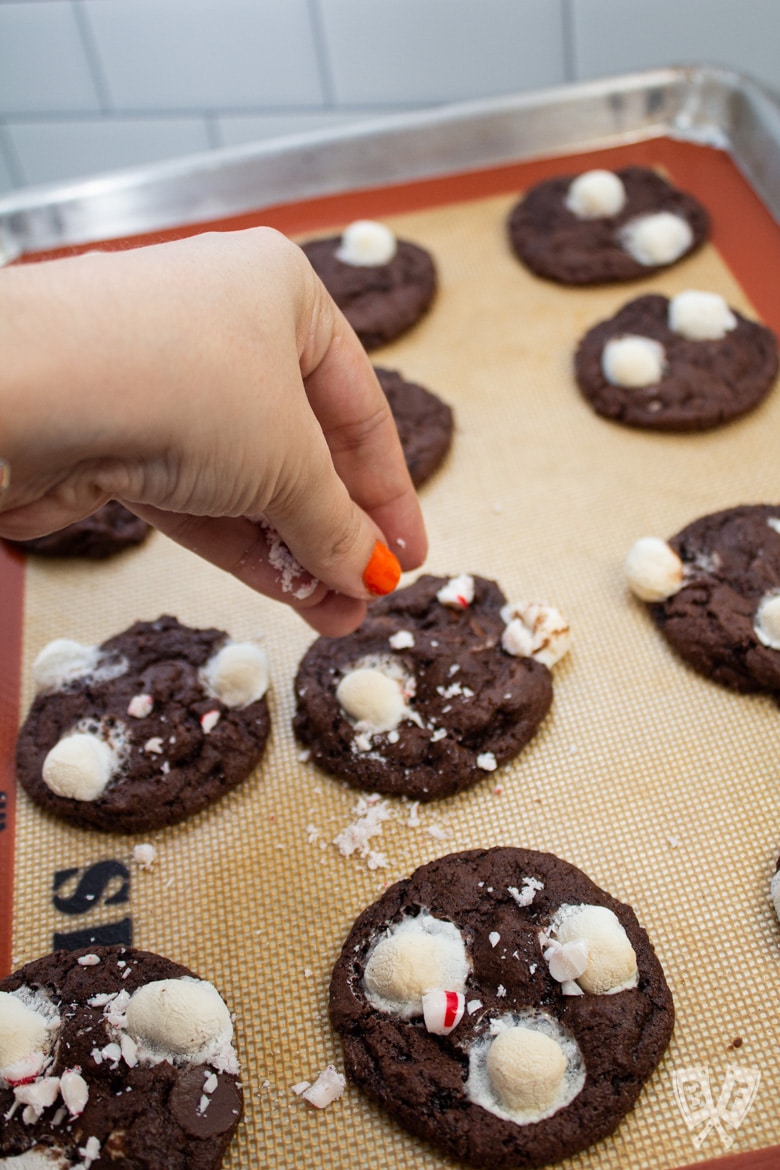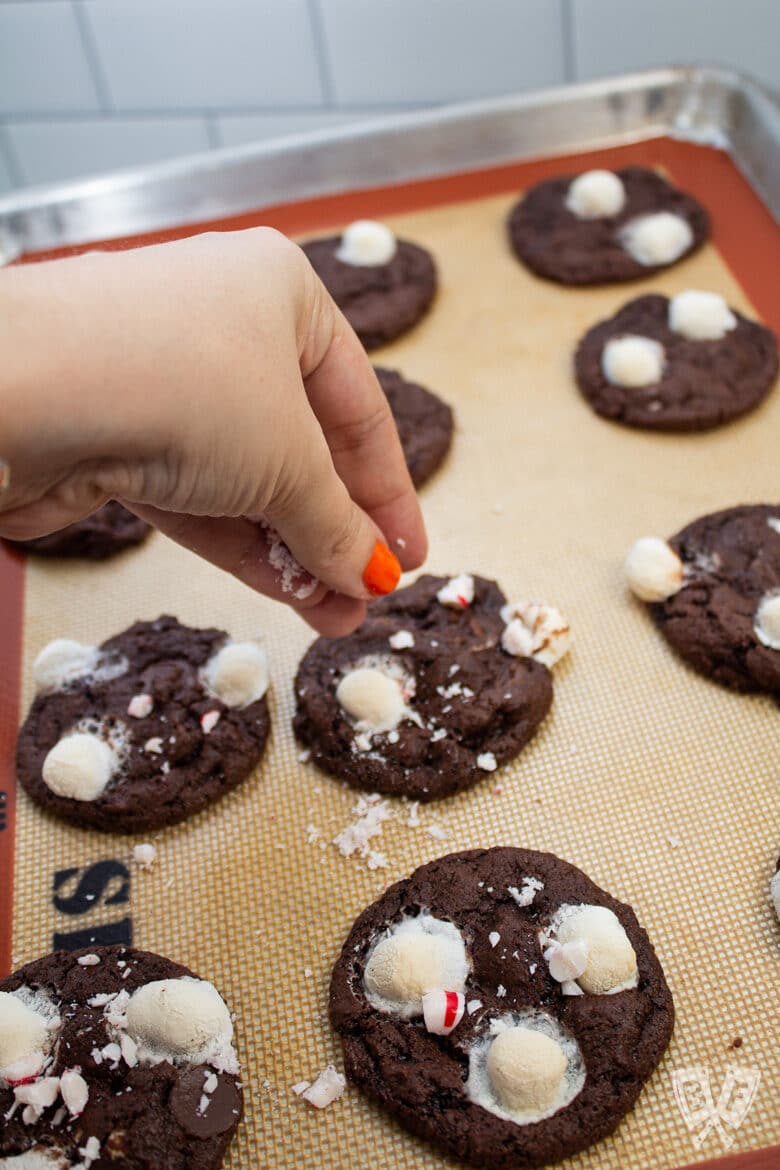 You can also unwrap your peppermints or candy canes and place them inside a zip-top bag.
Then just whack them with a meat tenderizer, rolling pin, or heavy-bottomed skillet to crush them into smallish pieces.
I like to start by tapping lightly - if you smash too hard you may end up with shards of peppermint candy all over your kitchen.
This is super fun for kids to do, and it's a nice way to take out your frustrations as an adult, too.
Tap, tap, tap...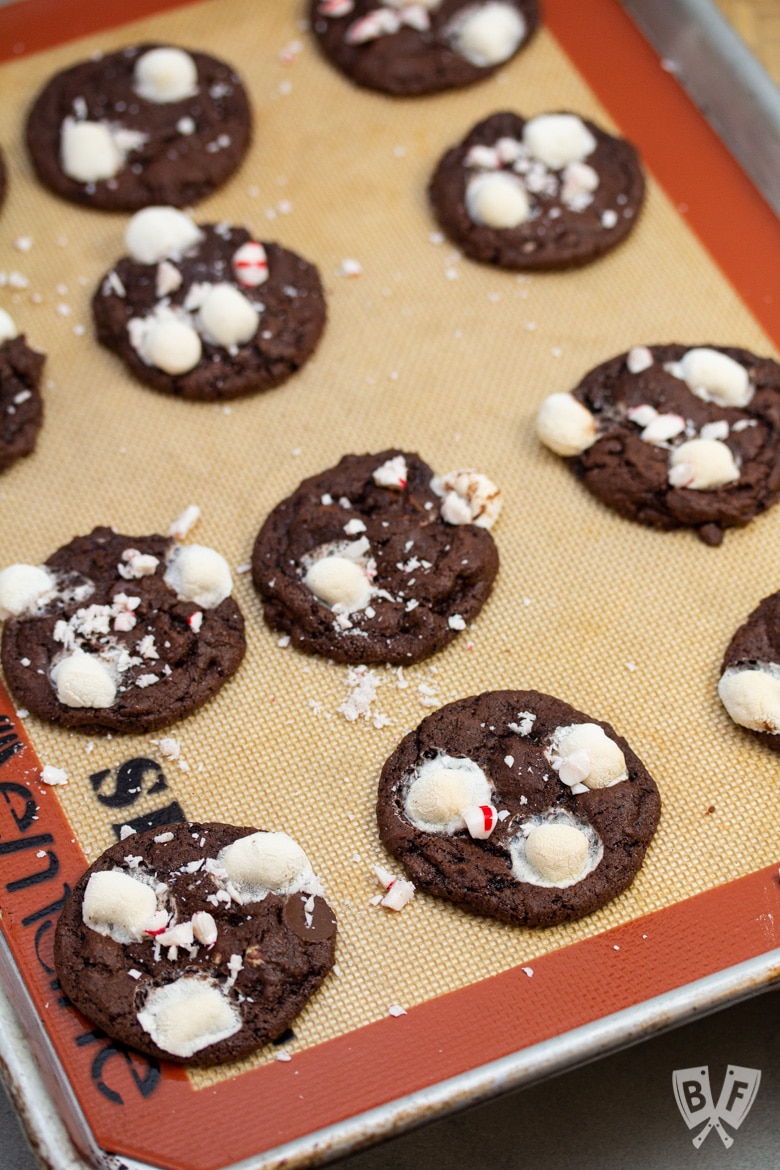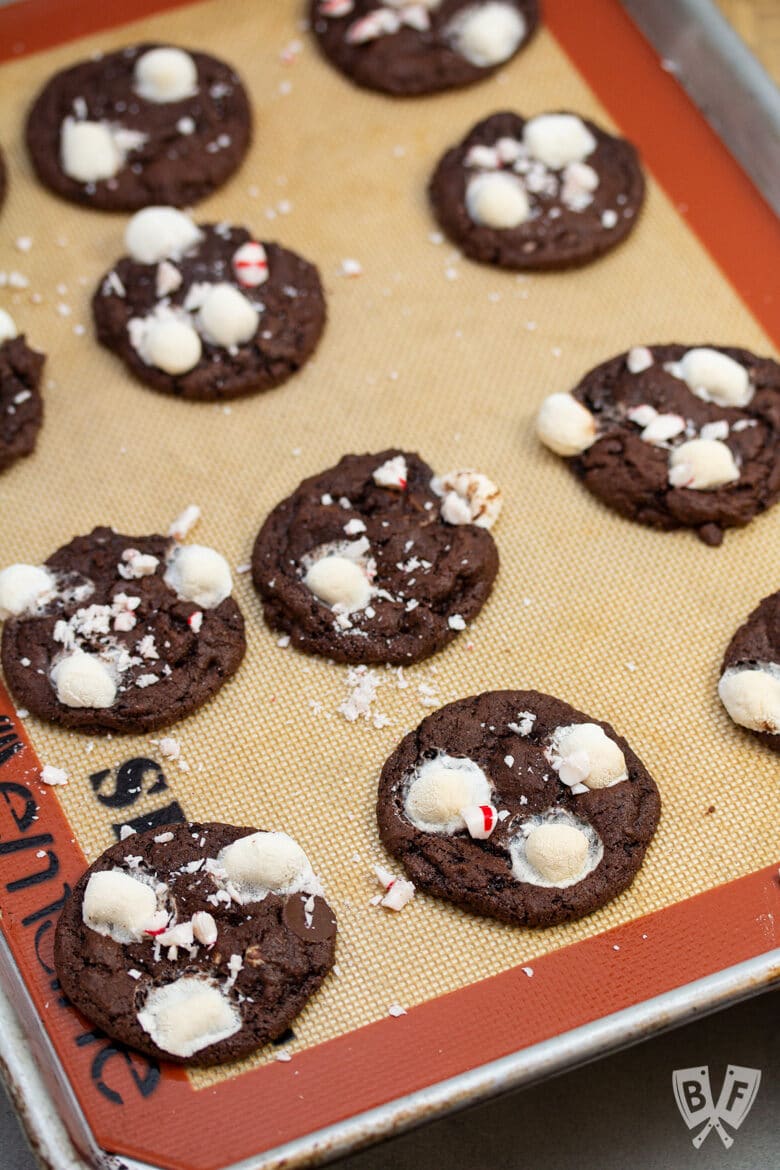 I tested this recipe a few times to see which method of adding the peppermint worked best.
Sprinkling the peppermint on before baking the cookies made it melt and get kind of funky. The striped look didn't really hold up, and the texture got weird.
I landed on sprinkling the peppermint pieces onto the cookies right after they came out of the oven.
Since the cookies are still piping hot and not yet set, the cookie welcomes the toppings and kind of seals them in as the cooling process takes place.
I like to let them sit for a few minutes on the baking sheet to firm up a little bit before transferring them to a metal cooling rack to completely cool.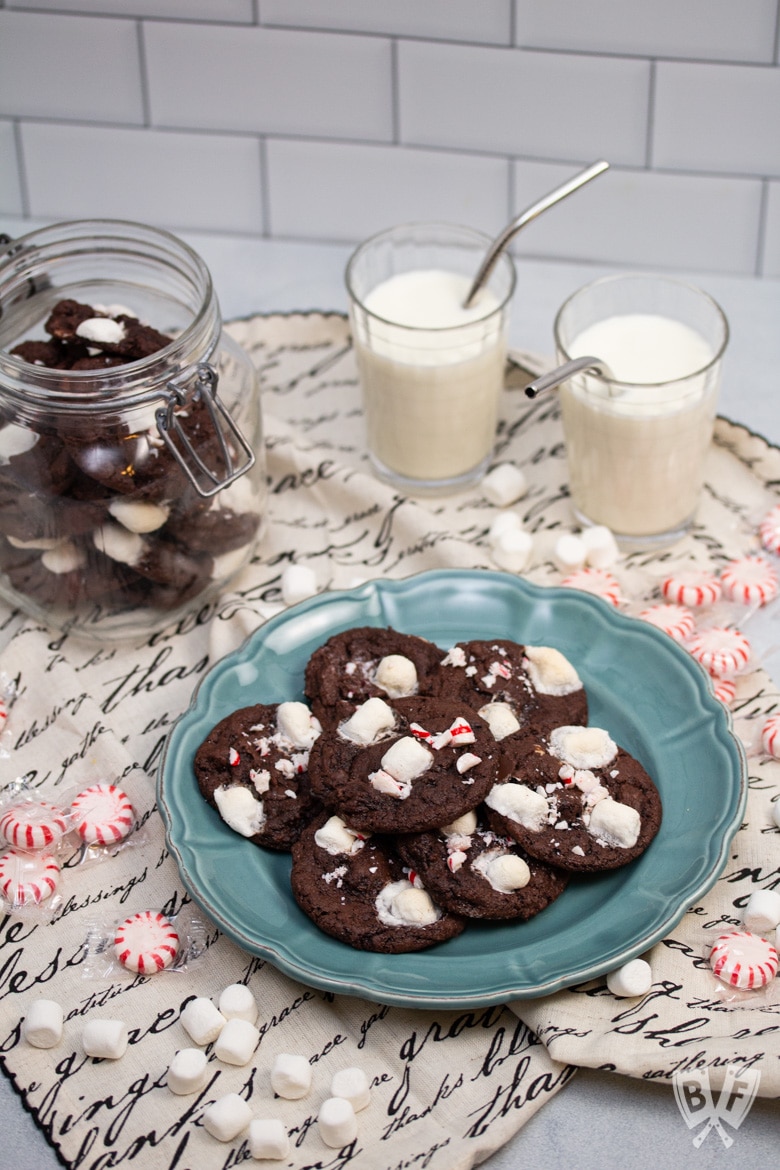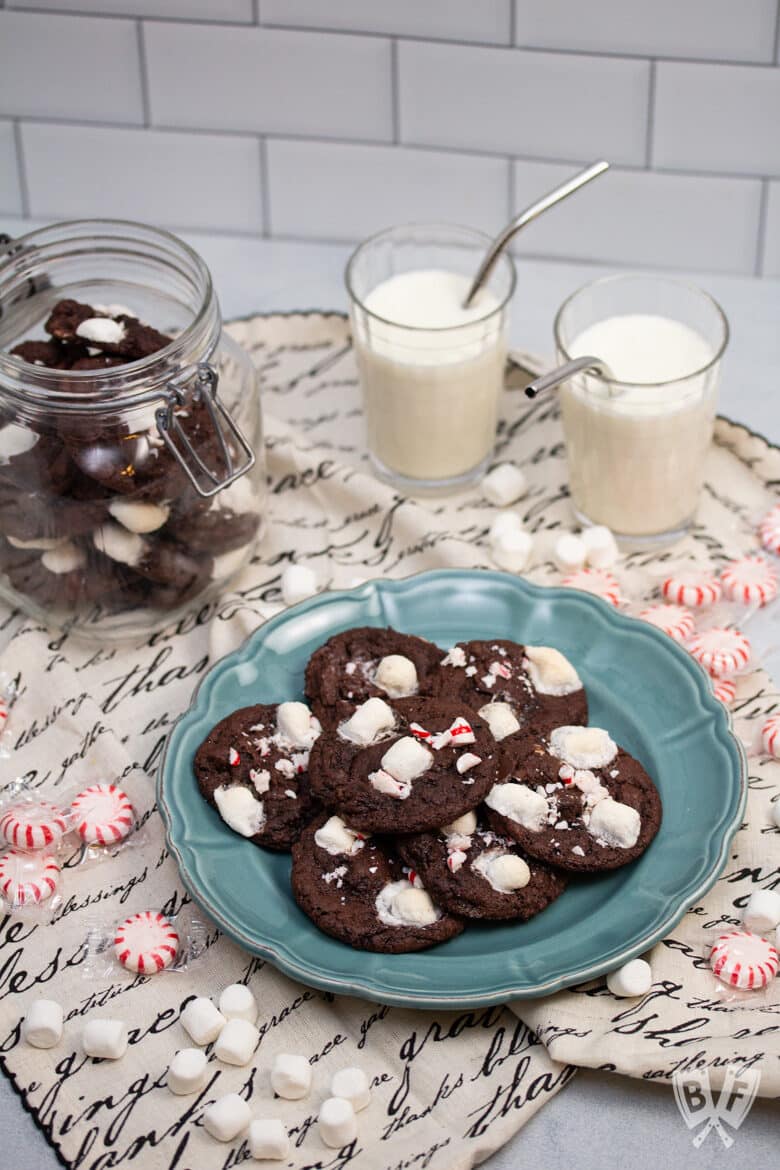 A thin metal spatula works well for transferring the cookies from the baking sheet to the cooling rack.
I find that the thin one works best to get under delicate cookies without ripping them. Just make sure they have set for a few minutes before you go to transport them.
Those spatulas are also great for moving cookie dough for cutout cookies. I use one to transfer my grandma's Christmas cookies from the counter to the sheet pan.
You know how sometimes the dough is tricky to move if you haven't properly floured your work surface? A thin metal spatula is a great tool to get underneath without ripping your cutout designs.
Storing peppermint hot chocolate cookies
These cookies store well in an airtight container for several days.
Make sure the cookies are fully cool before you store them. This helps prevent any residual heat from causing steam and excess moisture inside of your container.
Freezing peppermint hot chocolate cookie dough
This dough freezes beautifully!
If freezing peppermint hot chocolate cookie dough, I recommend portioning individual cookie scoops first.
Place your scoops of dough on a flat surface. You want to use something that is flat and can fit in your freezer easily.
A quarter sheet pan works well, but you can also use something like a cutting board or a plate.
Let the cookie dough freeze solid (give it at least an hour). Then transfer the frozen cookie dough portions into an airtight container, removing as much air as possible before sealing it.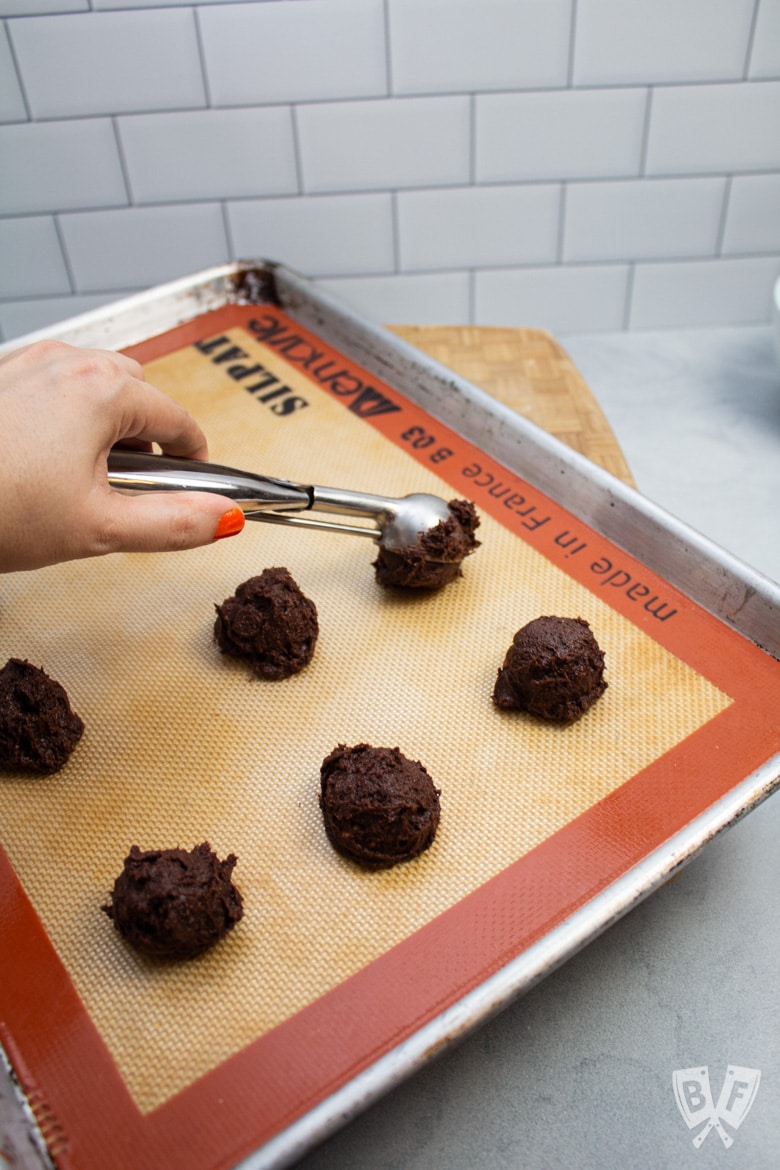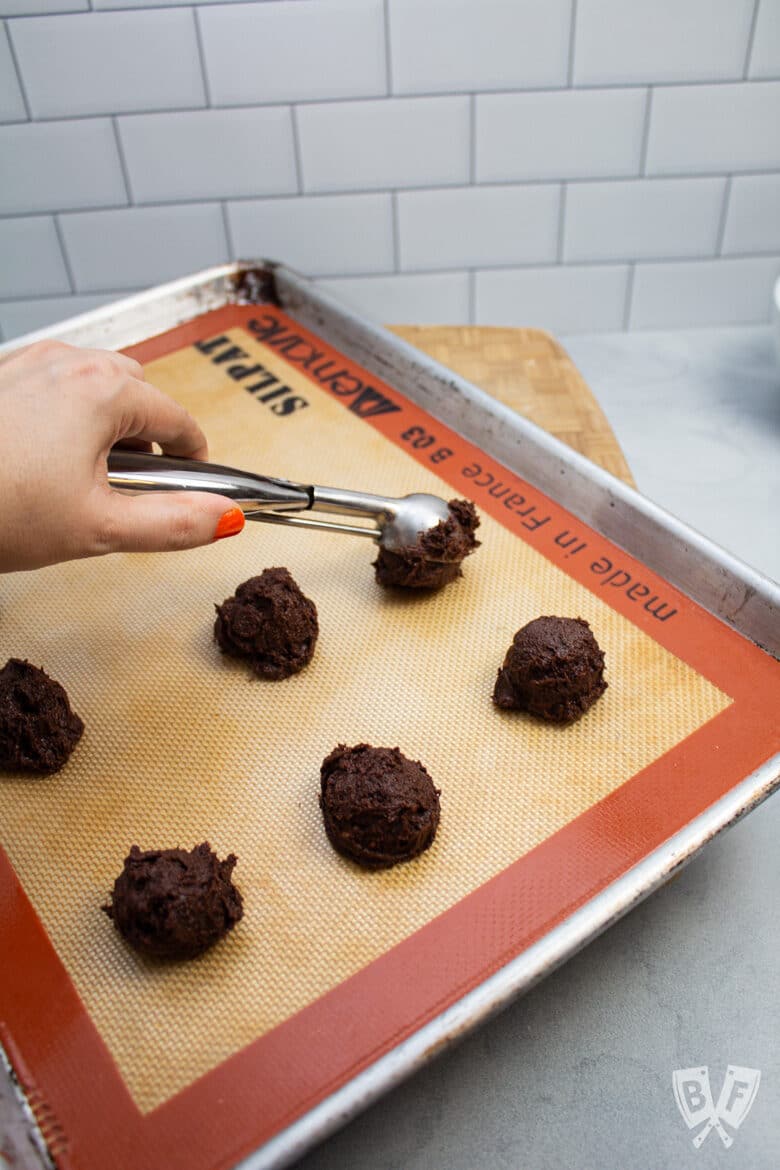 Baking frozen cookie dough
To bake this recipe using frozen cookie dough, place the frozen dough balls onto your prepared baking sheets.
Press your mini marshmallows in as directed in the recipe. You likely won't be able to press them in as far down into the dough as if it wasn't frozen. But don't worry - it'll still work!
Add an additional 2-3 minutes to your bake time if working with frozen dough.
Easy peasy!
Still hungry? You may also like...
Doing some online shopping? Check out my Amazon shop page for recommendations!
---
Print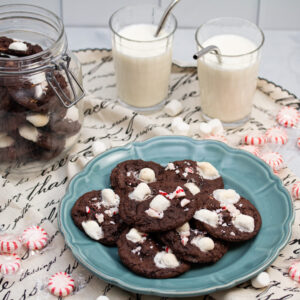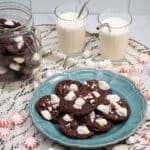 Peppermint Hot Chocolate Cookies
Author:

Prep Time:

15 minutes

Cook Time:

10 minutes

Total Time:

25 minutes

Yield:

About

4

dozen cookies

1

x

Category:

Dessert

Method:

Oven

Cuisine:

American
---
Description
Hot cocoa and cookie lovers unite! Peppermint hot chocolate cookies are a festive treat perfect for winter holidays and cookie exchanges.
---
---
Instructions
Preheat the oven to 350°F. Line a baking sheet with a silicone baking mat or parchment paper.
In a medium bowl, whisk together flour, baking soda, and salt and set aside.
In a large microwave-safe bowl, melt the butter (I like to do this in 15-second increments at 50% power, but you can also do it in a small saucepan on the stovetop and transfer it to a bowl afterward). While the butter is still warm, add the cocoa powder to the butter and whisk until very smooth. Whisk in sugar, vanilla, peppermint extract, and buttermilk.
Gradually add the flour mixture and stir until no streaks of flour remain (I like to stir in about ⅓ of the mixture at a time to fully, evenly incorporate it). Gently stir in the chocolate chips.
Drop dough by heaping tablespoons (I like using a #50 scoop) onto prepared baking sheet, leaving a few inches in between each cookie to allow for spread. Press a few mini marshmallows into the surface of each cookie.
Bake for 10-14 minutes, until cookies are set around the edges. Remove from oven and sprinkle with crushed peppermints while they're still hot.
Let cookies cool for 3-5 minutes on the baking sheet, then use a spatula to gently transfer them to a wire rack to cool completely.
---
Notes
Use any mix of milk, dark, semi-sweet, and white chocolate chips that you like. I find that using a variety of chocolate chips works best and results in a more chocolatey flavor.
To freeze cookie dough, form scoops and freeze on a flat surface until solid. Transfer to an airtight container, removing as much air as possible.
To bake from frozen add 2-3 minutes to the bake time.
Nutrition
Serving Size:

1 cookie

Calories:

173

Sugar:

20.4 g

Sodium:

42.4 mg

Fat:

7.7 g

Saturated Fat:

4.8 g

Carbohydrates:

26.9 g

Fiber:

1.9 g

Protein:

2.3 g

Cholesterol:

5.5 mg
Keywords: peppermint hot chocolate, hot cocoa, chocolate cookies
Recipe Card powered by
Check out my latest posts...