This post may contain affiliate links, which won't change your price but will share some commission.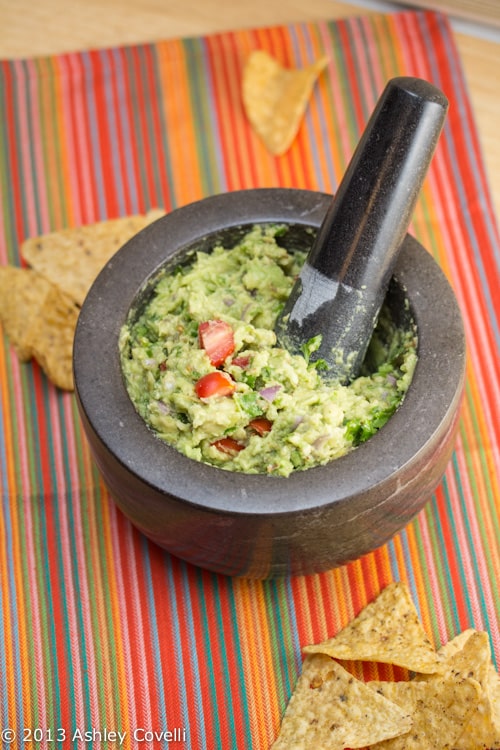 When the folks at ProCook asked me to try out some of their kitchen goodies, the first thing I wanted to get my hands on was a good mortar and pestle. We have had one for years, but it's not very sturdy. So when I saw this gorgeous Chocolate Marble Pestle & Mortar on their site, I just knew it would be perfect. Let me tell you - the first time I tried it out, back when I was grinding some toasted sesame seeds for a bunch of Korean dishes, it practically turned them into tahini in no time! I was super impressed. It's nice and heavy and works so much better than what I was used to working with for the last several years.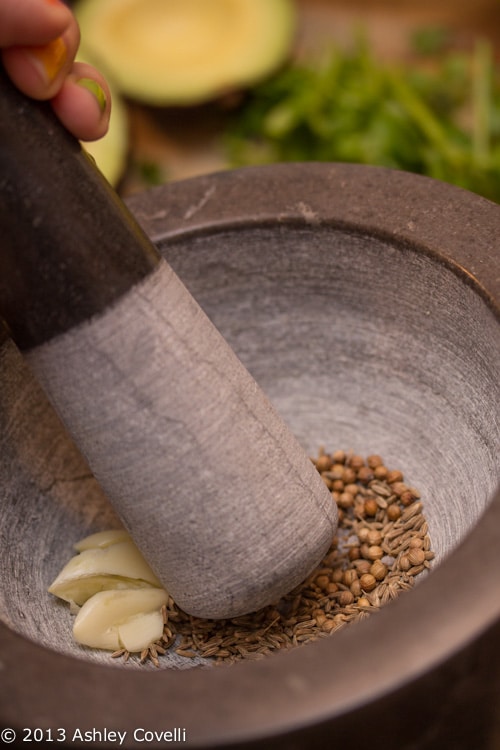 So, let's get down to one of the main reasons I wanted to have a great mortar and pestle in my kitchen - guacamole. I adore good guacamole, and it always tastes best when it's made fresh, table-side, at a good Mexican restaurant. Since I was going to be smashing everything together in there anyhow, I thought it would be fun to toast up some of the spices that I typically put in guacamole first, grind them in the mortar and pestle, and then add in the avocados and smash away. This ended up working out perfectly! The toasted spices made it much more aromatic than usual, and the texture was silky and wonderful. I will say that 2 avocados is just about the most you could possibly put into the 6.5" size, because it was jam-packed with guacamole by the time I was done with it. If you don't have a mortar and pestle, you could grind the toasted spices in a spice grinder, smash the garlic clove and salt into a paste with the back of a knife, and then add them to the avocados and mash them up that way.
*Note: I received promotional items, but all opinions are 100% my own.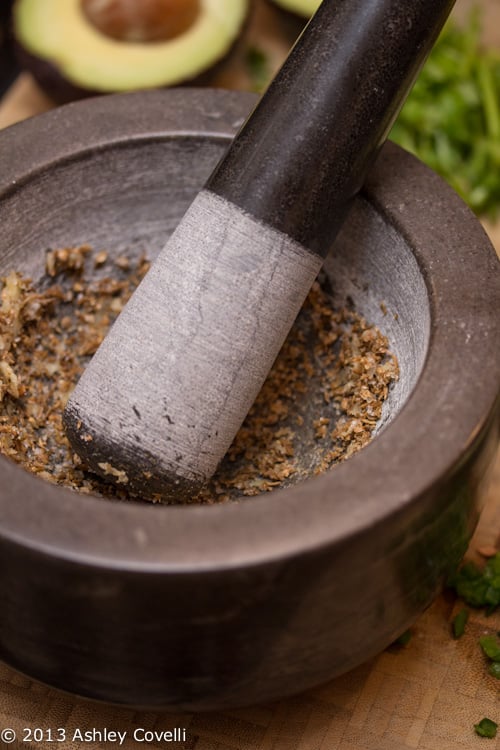 Toasted Spice Guacamole
Ashley Covelli
1 teaspoon cumin seeds
½ teaspoon coriander seeds
Pinch of coarse sea salt
1 clove garlic
2 avocados, pitted and peeled
Juice of ½ a lime (about 1 tablespoon)
2 tablespoons shallot, minced
1 tablespoon jalapeño, minced (leave seeds in if you want it spicier)
6 grape or cherry tomatoes, quartered
2 tablespoons cilantro, chopped
Add cumin and coriander seeds to a small, dry skillet. Turn the heat to medium and cook until nice and fragrant, stirring or shaking the pan periodically. This should take a few minutes. Remove from heat and place toasted spices into a large mortar. Add garlic and pinch of sea salt. Grind with the pestle until the spices and garlic are broken up and form a nice, smooth paste.
Add avocados and lime juice and stir and smash with the pestle until it reaches your desired consistency. Stir in shallot, jalapeño, tomatoes and cilantro. Enjoy!
Big Flavors Rating: 4 Stars