In a cooking rut? Let me help you make mealtime fun with a virtual cooking class! Click on one of the buttons below, or read on to learn a bit more about how my virtual cooking class offerings work.
Hi! I'm Ashley and I've been writing about food & recipes here at Big Flavors from a Tiny Kitchen since 2006. I love helping people gain confidence in the kitchen and am excited to help you find your next favorite recipe!
My classes are laid back and interactive, as I encourage people to really enjoy cooking at home for themselves and their loved ones.
I've been teaching cooking classes to kids, teens, and adults since 2018. I'd love to see you in one of my public cooking classes, or have you book a private cooking class if you'd like a more personalized experience.
If you're a librarian looking to book me to teach your patrons, check out my library cooking programs page.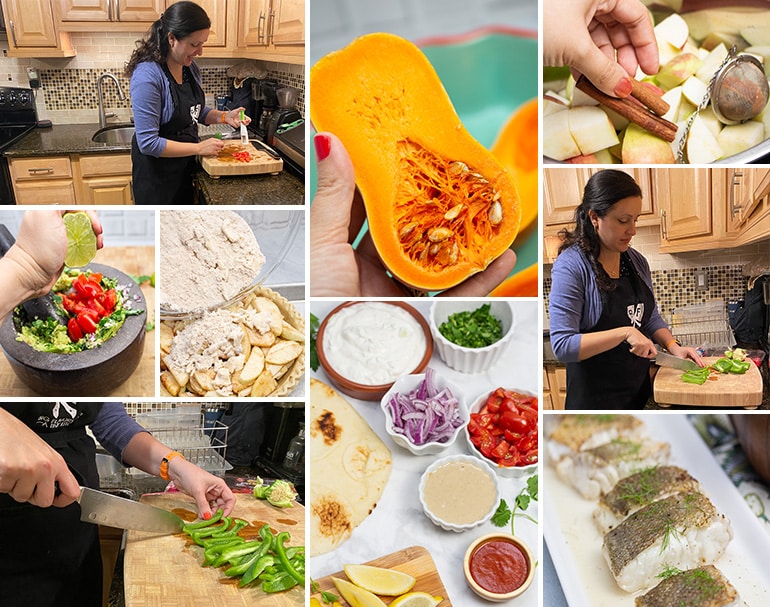 ---
5 Reasons why I know you'll enjoy taking my virtual cooking classes:
1. You're tired of the same ol' meals.
If you feel like you're in a cooking rut, these classes are sure to rekindle your fire!
We'll experiment with new ingredients, techniques, and cuisines, and get you excited to get back into the kitchen.
2. You want to cook from the comfort of your own kitchen.
Taking a class in an unfamiliar kitchen can make recreating meals at home difficult.
By taking part in my virtual classes, you'll be in that familiar spot where you do your day-to-day cooking.
Being at ease in your space and knowing where all of your tools are means one less obstacle between you and a successful meal.
3. Smaller class sizes mean a more personal learning experience.
Got questions? Ask away! I'm there with you, in real-time, to help you tackle any problems or roadblocks that you may encounter.
Interacting with you is my favorite part of our time together.
4. You can cook with friends and family members from afar (virtually)!
If you're like me and have loved ones that live far away, it can be hard to spend quality time together.
Cooking is one of my favorite things to do with people in person, and preparing and sharing a meal together virtually is the next best thing.
5. Meet new people who share a passion for cooking.
The relaxed class atmosphere allows you to get to know other home cooks from near and far. You may just make a new friend!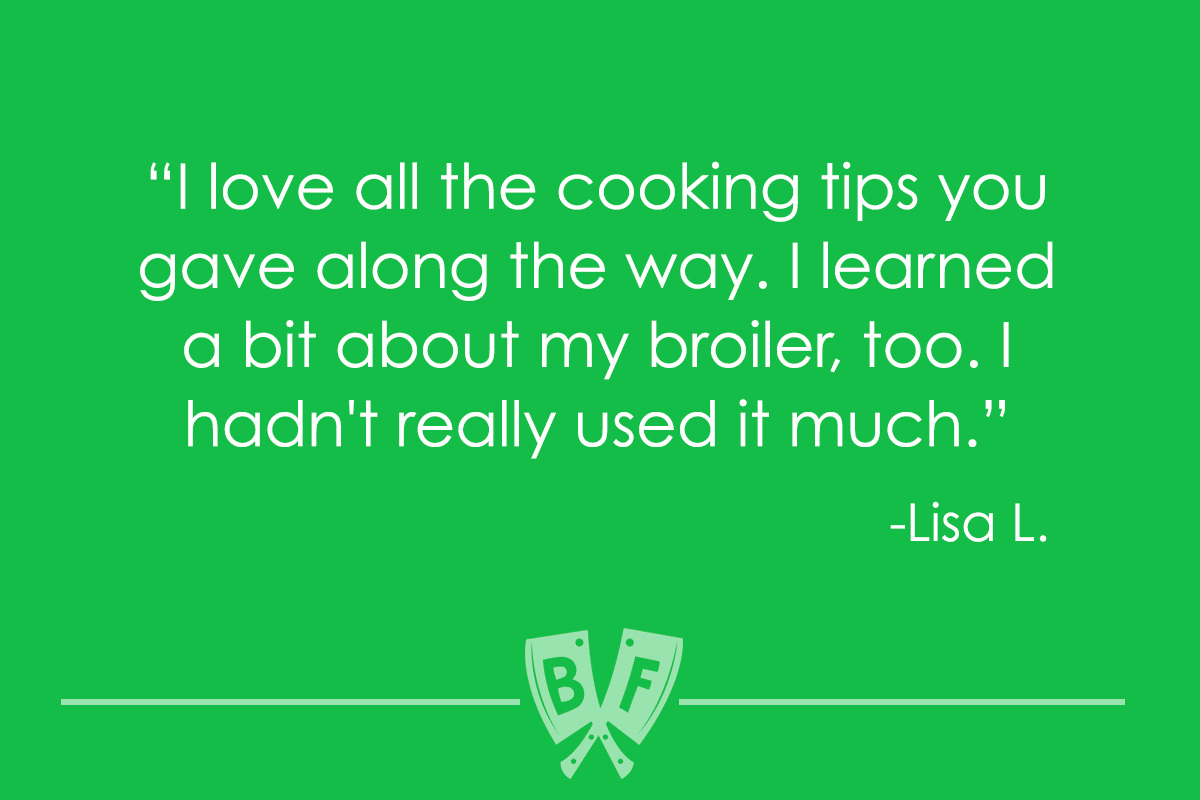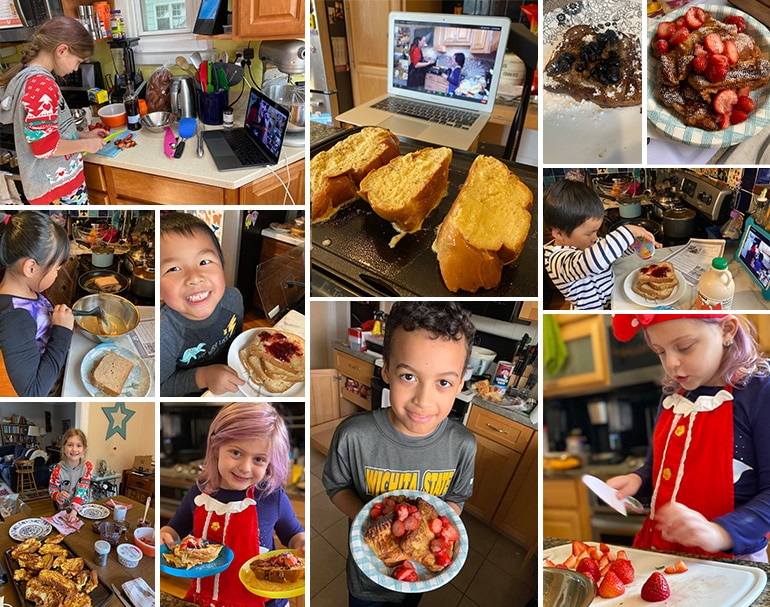 How do virtual cooking classes work?
Classes take place live via Zoom. You'll receive an email confirmation once you book a class that includes printable recipe cards, a list of any kitchen equipment/tools you may need, etc.
You can also sign up for my email newsletter to stay in the loop with all of my events and classes.
I offer a range of classes for all ages with ingredients from around the world. There should be something for everyone!
I look forward to seeing you in class and exploring delicious dishes together!
---
Frequently Asked Questions:
Do I have to cook along with the live class?
Nope! You're welcome to join in and cook alongside me, but you can absolutely watch live and cook later. It's fun either way and I'm happy to answer any questions you have, regardless of whether you're cooking live!
Do I need to prep the ingredients ahead of time?
No! Have all of your ingredients and cookware/tools out. A full list and printable recipe cards will be provided upon signup. We'll prep everything together!
How do I see your full class schedule?
Head over to the class schedule page to see my current class lineup!
Can you do a cooking program for my library?
I love working with libraries! Check out my library programs page to learn more about how we can work together.
Do you have sample class menus that I can see?
Yes! There are examples listed on my private cooking class page. I have plenty more, but that will give you an idea of what types of classes I've offered in the past. You can also check out my current events schedule to see what public classes I have lined up.
Do you teach in-person classes?
No. At this time I am only offering virtual cooking classes. There are many reasons why I feel that these work better, from being in your own kitchen space to being able to work with me regardless of where you live. You don't have to take my word for it - I have plenty of testimonials from former virtual class participants.
I've been having so much fun inviting people from all over into my tiny kitchen virtually! If you have any questions at all, don't hesitate to reach out to me.
Thanks again for stopping by - I hope to see you soon!
---