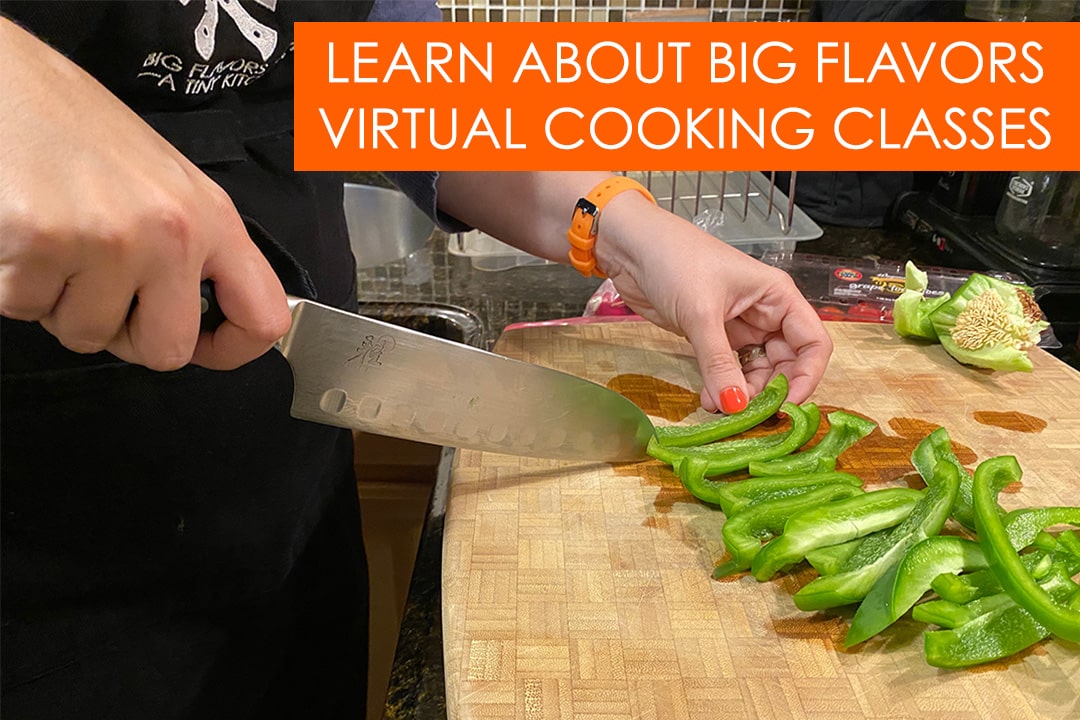 Big Flavors Cooking Classes
---
In a cooking rut? Let me help you make mealtime fun! Check out my current live cooking class schedule and book a spot, or read on to learn a bit more about how my virtual class offerings work!
---
Hi! I'm Ashley and I've been writing about food & recipes here at Big Flavors from a Tiny Kitchen since 2006.
I love helping people gain confidence in the kitchen and am excited to help you find your next favorite recipe!
I've taught cooking classes to kids, teens, and adults locally here in Ossining, NY for several years now.
I'm thrilled to be able to bring these classes online to cook with people beyond my home base of Westchester County.
Let's dig into the details…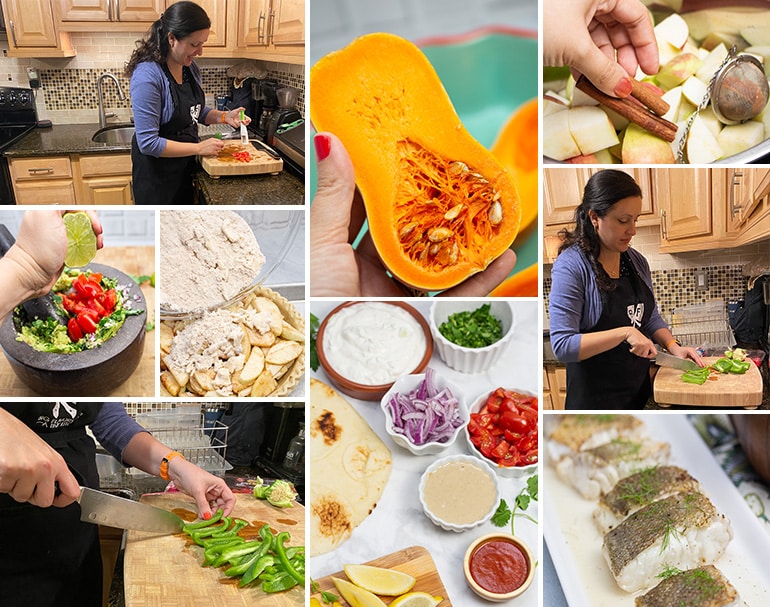 5 Reasons why I know you'll enjoy taking my virtual cooking classes:
1. You're tired of the same ol' meals.
If you feel like you're in a cooking rut, these classes are sure to rekindle your fire!
We'll experiment with new ingredients, techniques, and cuisines, and get you excited to get back into the kitchen.
2. You want to cook from the comfort of your own kitchen.
Taking a class in an unfamiliar kitchen can make recreating meals at home difficult.
By taking part in my virtual classes, you'll be in that familiar spot where you do your day-to-day cooking.
Being at ease in your space and knowing where all of your tools are means one less obstacle between you and a successful meal.
3. Smaller class sizes mean a more personal learning experience.
Got questions? Ask away! I'm there with you, in real time, to help you tackle any problems or roadblocks that you may encounter.
Interacting with you is my favorite part of our time together.
4. You can cook with friends and family members from afar (virtually)!
If you're like me and have loved ones that live far away, it can be hard to spend quality time together.
Cooking is one of my favorite things to do with people in person, and preparing and sharing a meal together virtually is the next best thing.
5. Meet new people who share a passion for cooking.
The relaxed class atmosphere allows you to get to know other home cooks from near and far. You may just make a new friend!
Teaching from my kitchen to yours has been one of the most rewarding parts of 2020.
This year has had many ups and downs, and I'm beyond thrilled to have been able to bring good food and fun to so many people.
I love seeing your smiling faces!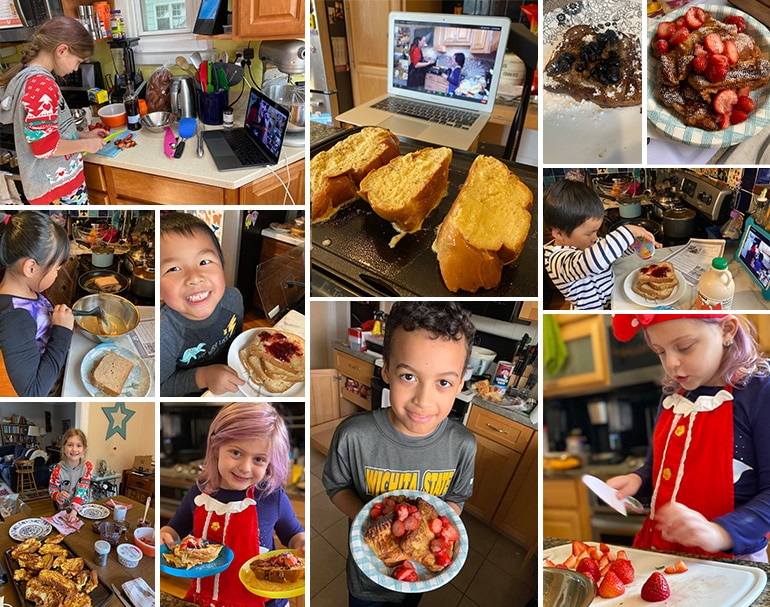 How do virtual cooking classes work?
Classes take place live via Zoom. You'll receive an email confirmation once you book a class that includes printable recipe cards, a list of any kitchen equipment/tools you may need, etc.
You'll get a reminder email before class starts as well. All you need is a device with an internet connection! Don't be shy – I'm here to answer your questions and help you out along each step of the way.
After class is over, I'll send out an email that includes resources and more information on the things we discuss during class, as well as some other recipes that you may like.
You can also sign up for my email newsletter to stay in the loop with all of my events and classes.
I'll be offering a range of classes for all ages with ingredients from around the world. I try to include a range of days and times to accommodate people in other time zones and with different schedules. There should be something for everyone!
I've also set up a Big Flavors Virtual Cooking Classes list over on my Amazon shop page (affiliate link) that includes tools/products we talk about during classes in case you need to do any shopping.
I look forward to seeing you in class and exploring delicious dishes together!
---
What are people saying about Big Flavors virtual cooking classes?
"We have been stuck in a rut lately with meals so it was great to try something new."
"This was awesome. Nora loved it. Couldn't stop talking about how she made us all lunch. And made us sit and wait while she served us. So proud of herself! This was the best. I will keep an eye out for what else you're doing! Thank you."
"I love the convenience of the Zoom format. Ashley's instructions were easy to follow, and her demonstration of each step of the recipe was visible and clear. I am trying to eat less meat, and what stands in my way is not knowing how to make vegan/vegetarian meals taste great. This was perfect."
"It was really cute they really enjoyed it. And the French toast is so amazing!"
"Truly loved it. Fun, easy to follow and now I have a great staple for an easy and delicious weeknight dish."
"I loved all the cooking tips you gave along the way. I learned a bit about my broiler, too. I hadn't really used it much."
"This was, by far, my best webinar experience – it felt like we were almost really hanging out cooking together!"
"Thank you so much for the class. Ayun and Ajun had so much fun and the youngest one kept eating. 😆"
"Took a cooking class from Ashley tonight and OMG it was so super delicious!!!! Wow!!!!!! Sweet potato and black bean tacos with chimichurri sauce and guac!!! YUM!!! And with friends so super special!!"
"Ashley is so wonderful a teacher. A pleasure to watch… but not only are the recipes great but all the attention to detail are phenomenal… I learn so much in that hour…I hope she continues for a long time…. looking forward to her next week…"
"Wonderful menu, I liked the laid-back nature of the class! I am a beginner, but enjoy cooking and like trying new recipes. Ashley welcomed all questions and also provided many pro-tips on not only the recipes, but also techniques for cooking, products to use, and pairings with specifics meals. I really enjoyed cooking along with everyone in the comfort of my own kitchen."
❤️❤️❤️ Chef Lucy loved every second of your cooking class. She loved the easy-to-follow instructions, tips, and sou chef Ian!
"Great recipe. Easy to follow. Very good step by step explanation. And of course big flavors!"
"I loved this class. The end result was super delicious and the class was easy, fun and 100% not intimidating. I love that I can now make this on a busy weeknight. It's quick, easy and so yummy."
"Ashley is a great teacher who explains things thoroughly and loves getting questions from the participants. While I didn't cook along with her during this class, I could almost smell the garlicky goodness! I always come away from her classes with a tip or two that was new."
"Thank you so much for this kids cooking class.. Bryce had a blast and of course.. it's his favorite breakfast / lunch / dinner to eat lol… sooo much fun!!!!"
---
Frequently Asked Questions:
Q: Do you have to cook along with the live class?
A: Nope! You're welcome to join in and cook alongside me, but you can absolutely watch live and cook later. It's fun either way and I'm happy to answer any questions you have, regardless of whether you're cooking live!
---
Q: Do I need to prep the ingredients ahead of time?
A: No! Have all of your ingredients and cookware/tools out. A full list and printable recipe cards will be provided upon signup. We'll prep everything together!
---
Q: Do I need one ticket per person?
A: You need one ticket per device. If you're cooking from your kitchen with another person (or a few!), you only need to purchase one ticket.
---
Q. How do I see your full schedule?
A. Head over to the class schedule page to see my current class lineup! Below is an example of the types of classes you may find: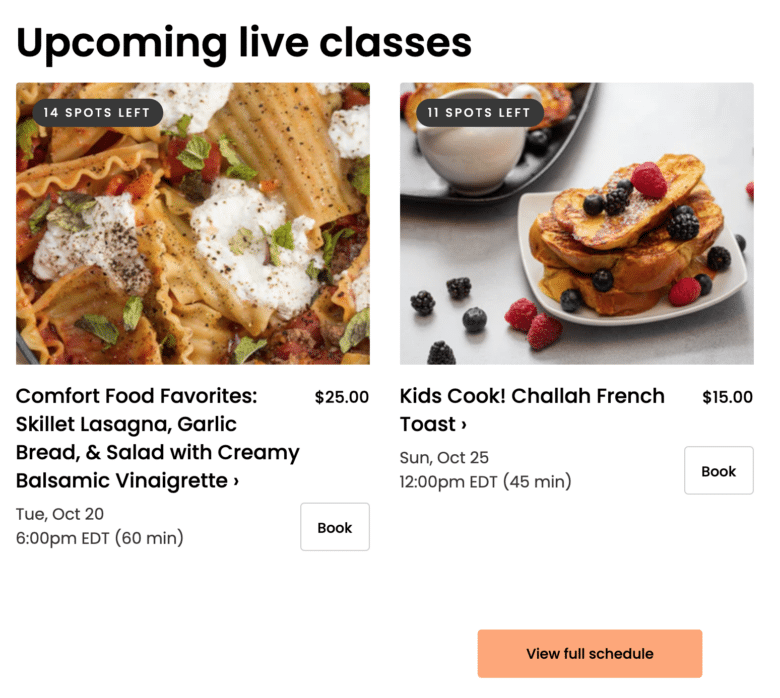 ---
I've been having so much fun inviting people from all over into my tiny kitchen virtually! If you have any questions at all, don't hesitate to reach out to me.
If there's a class you'd like to see me offer, or a topic that you're interested in learning about, I'd love to hear it!
I'm constantly adding new classes to my schedule and want to offer the types of classes that will encourage you to get in the kitchen more often!
My plan is to continue offering a variety of virtual cooking classes on an ongoing basis. Once things are safe for in-person classes again I will include those on my schedule.
Don't worry – I'll keep the virtual classes coming, too. Variety is the spice of life and I truly value the time I've spent cooking with people from near and far way too much to stop now!
Thanks again for stopping by – I hope to see you soon!
---
HELP SUPPORT OUR TINY KITCHEN WHILE SHOPPING ON AMAZON!
As an Amazon Associate I earn from qualifying purchases at no added cost to you.
This allows me to cover site-related expenses so I can keep cooking up a storm!