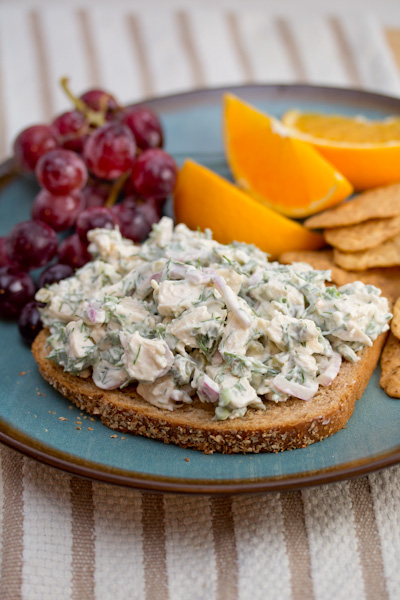 Chicken Salad with Mayo (Mayonezli Tavuk Salatasi)
This post may contain affiliate links. Thank you for supporting the brands that keep me creative in my tiny kitchen!
This is one of our favorite things to take to work for lunch. Simple and different and so very tasty!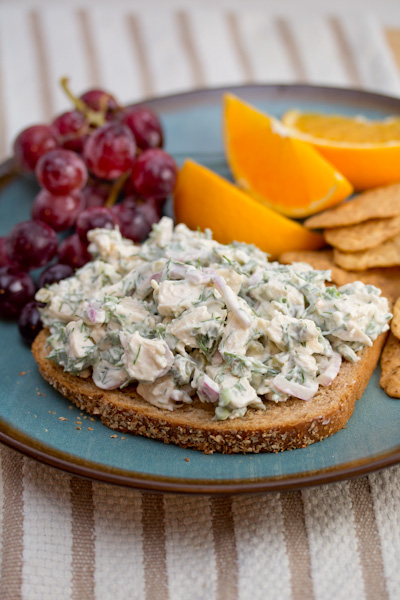 Chicken Salad with Mayo (Mayonezli Tavuk Salatasi)
Binnur's Turkish Cookbook
2 pieces of chicken breast, cooked, cut in medium size pieces
½ bunch dill, washed, drained, cut in small pieces
¼ red onion, sliced
3 fresh green onions, cut in small pieces
½ cup small pickled cucumbers (cornichons), cut in small cubes
1 cup mayonnaise
Mix all the ingredients in a medium sized cup, then transfer onto the serving plate. You may garnish with black olives. Serve any kind of meal as a salad on the side. Or it's perfect for a sandwich using the corner of Turkish Bread.
MacGourmet Rating: 5 Stars
Dill Chicken Salad with Mayo
This post may contain affiliate links. Thank you for supporting the brands that keep me creative in my tiny kitchen!
Fresh dill, cornichon pickles, and both red & green onions flavor this easy mayo-based chicken salad recipe. One of our favorite sandwiches!
Background content: is this popular at certain times of the year? Special holidays?
This was inspired by my other recipe (LINK) on this site, and pairs well with this amazing side dish recipe (LINK). Contextual, in-content links are far more valuable than a group listed at the bottom of the post.
Advanced Jump To
Why we love this recipe
---
Ingredients
Ingredient 1
Ingredient 2
Ingredient 3
See recipe card below for quantities.
🌱 Ingredient Spotlight: Dill
This recipe uses fresh dill which is an herb that can be found in the produce department of your grocery store.
Dill is super versatile and one of my very favorites to use in the kitchen.
When buying fresh dill, look for bunches that have fresh, vibrant green leaves. Dill leaves are wispy and delicate and therefore bruise and wilt very easily.
If fresh dill isn't available (or doesn't look good), freeze dried dill is a great substitute. It's often found in jars right next to the fresh herbs.
With freeze dried herbs, I generally use the same amount that I'd use with fresh.
I use dried dill in many recipes as well. That can be found in the spice aisle in your supermarket.
Dried herbs tend to have a more concentrated flavor than fresh. So if substituting dried herbs, use about 1/3 to 1/2 of the amount of fresh herbs called for in the recipe.
Some of our favorite recipes using dill:
How to make this recipe/Instructions
Use this section for process shots, alternating between the step and image showing the step. Users don't like seeing process shots cluttering up the recipe card, so include your process shots here.
Be sure to…
Stir or chill…
Etc.
See recipe card below for full instructions.
Combine all spices into a large bowl and mix thoroughly into lean ground beef.
Remember that image SEO is important: file names should reflect the recipe + step they represent, but only use alt text as a screen reader description.
Substitutions
If you know how to make the recipe fit a certain diet, let the reader know here. Don't fake it – only provide guidance on topics you have actual experience with.
Lettuce – instead of iceberg lettuce, you can use romaine lettuce or spinach.
Bun – use gluten-free buns instead of white bread buns to make this gluten-free.
Vegetarian – the beef hamburger can be replaced with a plant-based burger to make this vegetarian.
Variations
Giving the visitor ideas on how they can change this recipe to better suit their dinner guests or their cultural cuisine is a great way to increase the chances they make the recipe.
Spicy – add chili pepper flakes or banana peppers while cooking to imbue heat into the dish
Deluxe – add guacamole, crispy onions, or
Kid-friendly – add crushed potato chips (ketchup chips!)
See this spicy version of this recipe (LINK) on my website! (placeholder for in-content link)
Equipment
Equipment can have a big impact on how a recipe turns out. Stone bakeware takes longer to heat up than metal pans and also retain heat for longer, which could make the recipe more watery or burnt on the outsides.
Tell your visitors what equipment you use and how to adjust the recipe if they use something different, and link to your affiliate link to purchase the equipment.
Storage
Store the wet ingredients (lettuce, tomato, onion) separately from the dry ingredients (buns) in the fridge, and recombine when ready. Good for 2-3 days.
These ingredients don't stand up well to freezing.
---
📝 Pro Tip
This recipe uses this ingredient which can be found in your grocery store located in the baking aisle.
You'll want to be sure to store it in an airtight container.
[Share something here that you think is key to making this recipe well such as: Don't overcook the burgers! Sear the outside and cook to a minimum internal temperature but they should still be juicy for best results.]
Still hungry? You may also like…
Doing some online shopping? Check out my Amazon shop page for recommendations!
---
Check out my latest posts…
---
Note: This post includes affiliate links for items that I genuinely enjoy. Big Flavors will receive a tiny commission from purchases made through affiliate links on this site at no added cost to you. This allows us to cover site-related expenses and helps to keep us cooking up a storm!