This post may contain affiliate links, which won't change your price but will share some commission.
Move over, margaritas! This refreshing watermelon cocktail made with fresh mint, lime, and tequila is the perfect way to cool off this summer.
The combination of sweetness with a chili lime-spiced Tajín rim makes this tequila cocktail seriously delicious!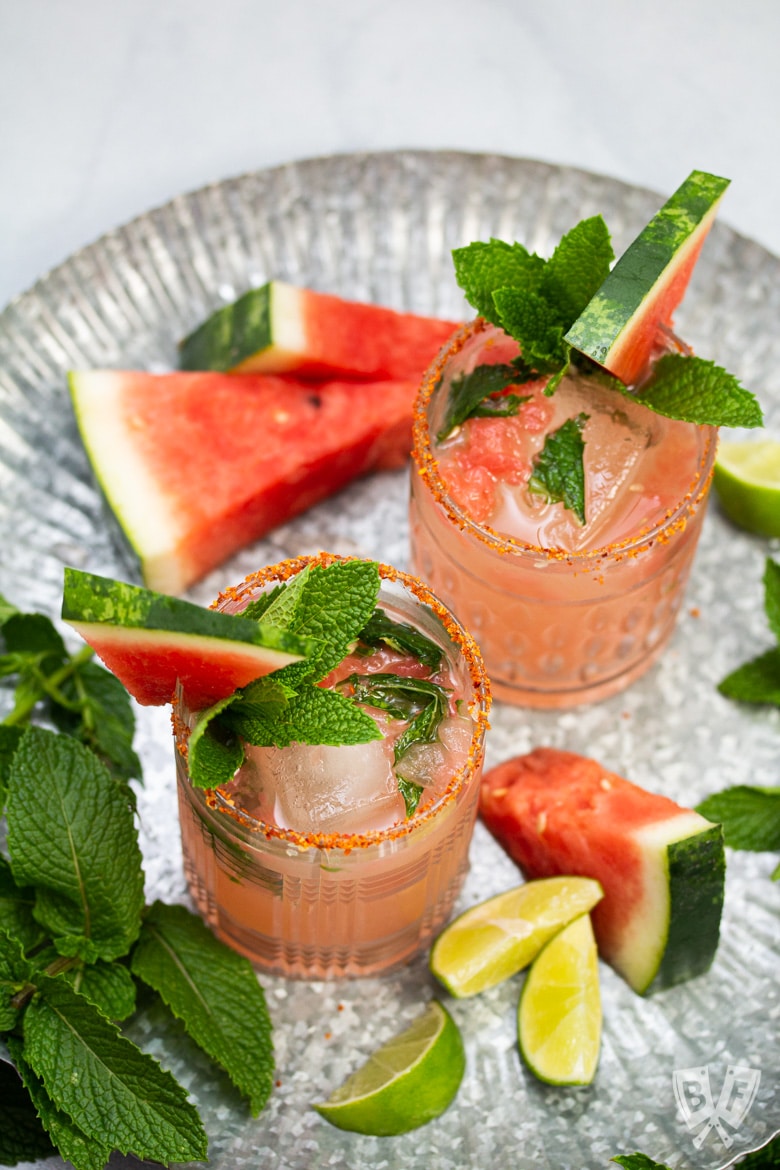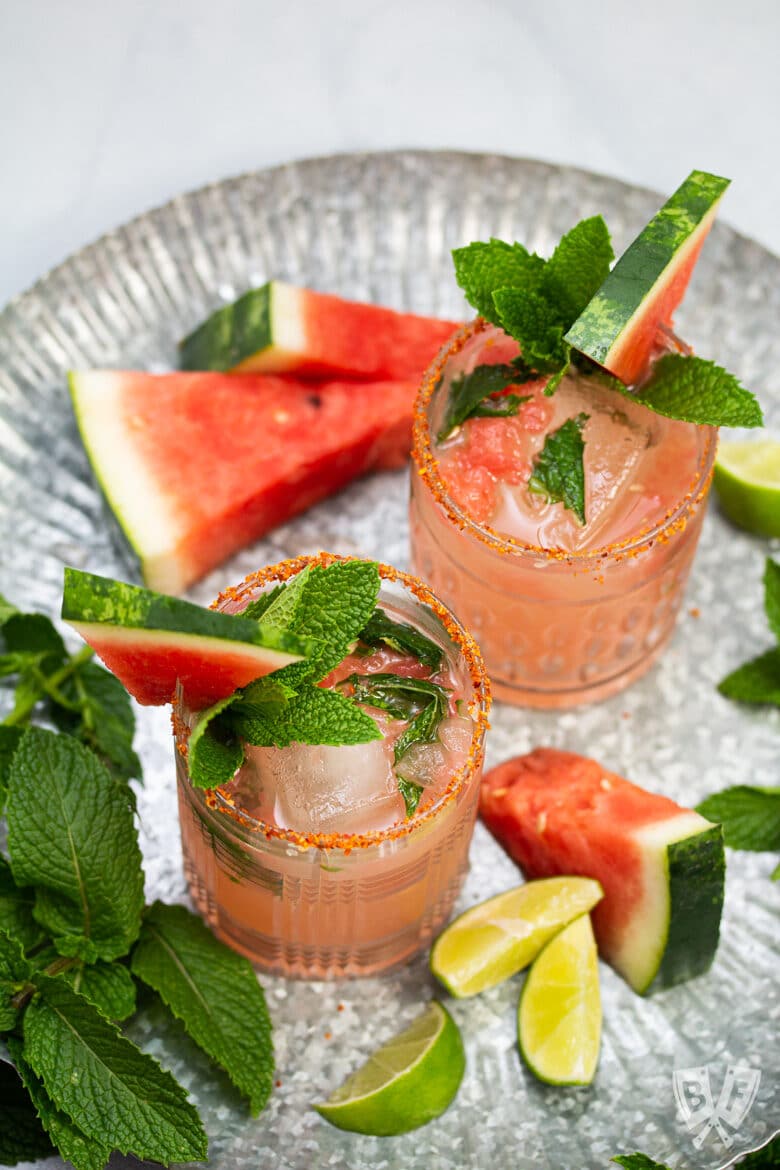 Why we love this cocktail recipe
It was inspired by a cocktail we had at a restaurant for our 14th anniversary dinner.
Fresh watermelon and mint are a ridiculously refreshing combination, perfect for summertime gatherings.
Rimming the cocktail glasses with Tajín (or other chili lime seasoning blend) gives us the best of both salty and spicy to balance the sweetness of this watermelon cocktail.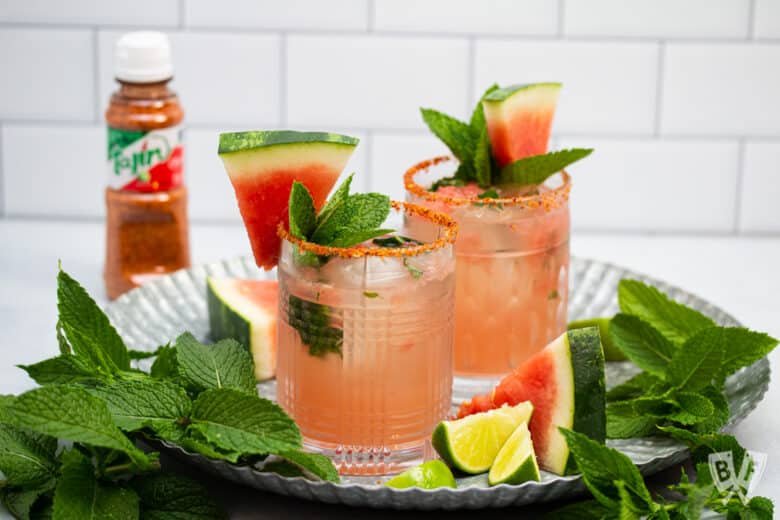 For our first date night out in about 15 months, me and my husband went to Stone Fire Restaurant in Mount Kisco, New York.
Their cocktail menu was really interesting, and the one that jumped out to me was the Watermelon Sugar-Hi, a mix of tequila, fresh watermelon, mint, agave, fresh lime juice, and a Tajín sugar rim served on the rocks.
Not only was the name catchy (come on, it's impossible not to get Watermelon Sugar by Harry Styles stuck in your head!), but it was absolutely delicious.
I knew that we could recreate this refreshing summer cocktail at home.
I had a few things that I wanted to change up with the cocktail - having it lean a little more toward the salty side vs. sweet, so we got to experimenting.
And let me tell you - this watermelon cocktail knocked our socks off! It's ridiculously tasty, and it's versatile! I'll share a few variations below, as well as a non-alcoholic version that our son absolutely loved.
🥃 Ingredient Spotlight: Tequila
This recipe uses tequila blanco which can be found in your local liquor store.
Tequila is a distilled spirit made from the agave plant that is produced in only 5 areas of Mexico.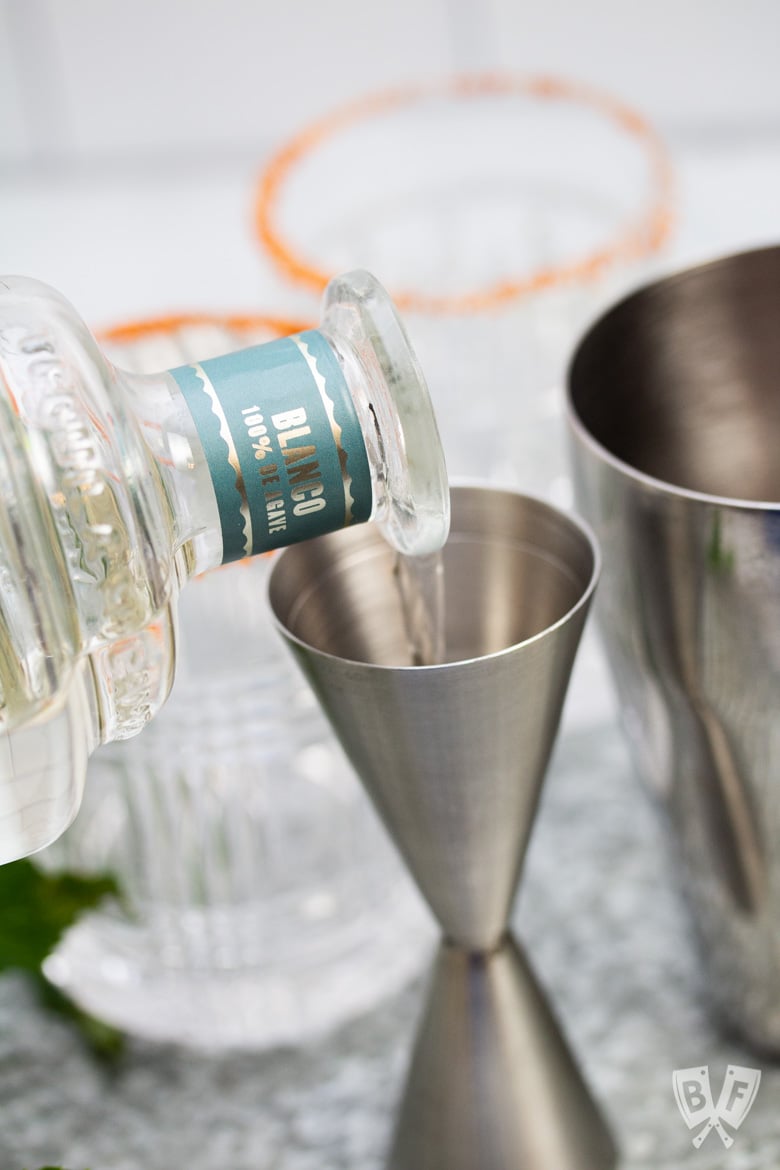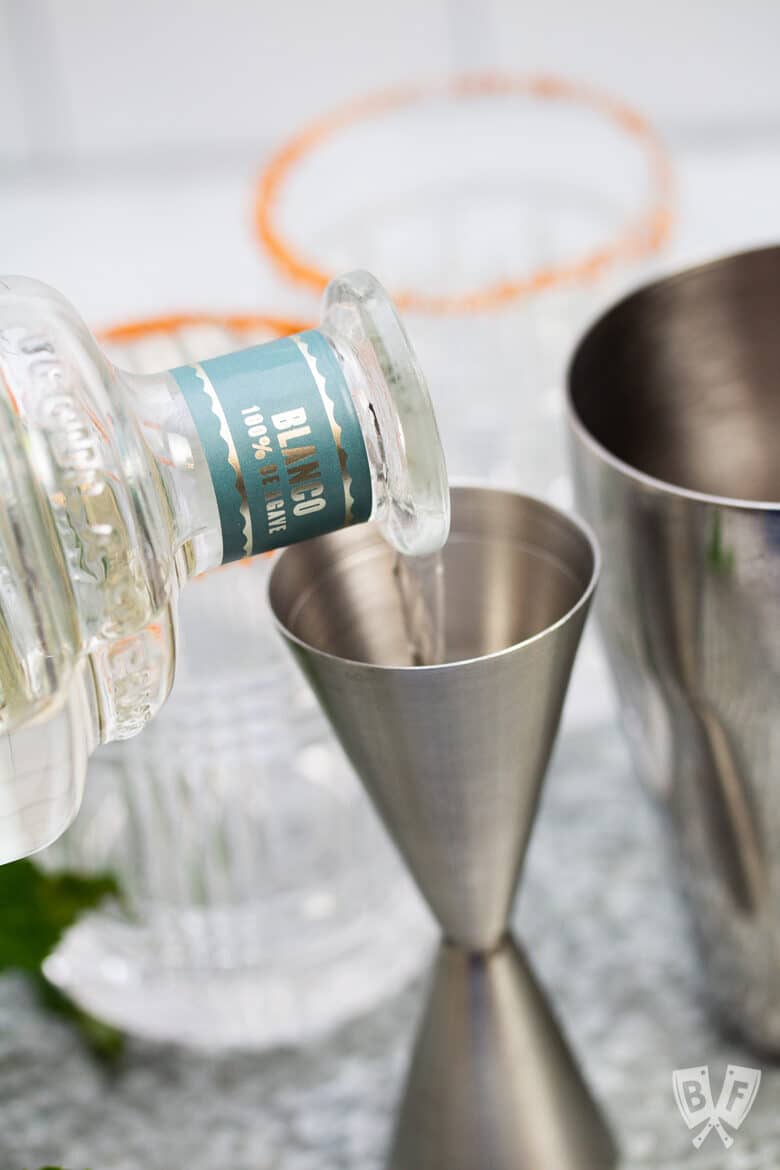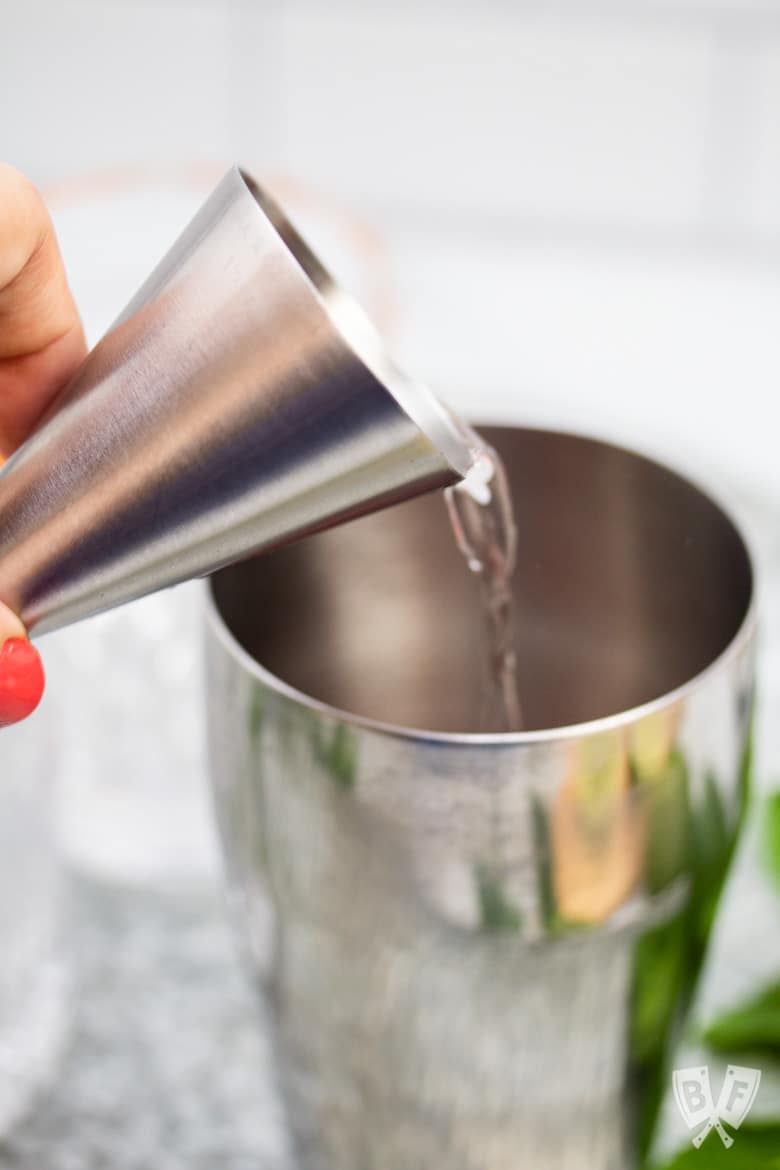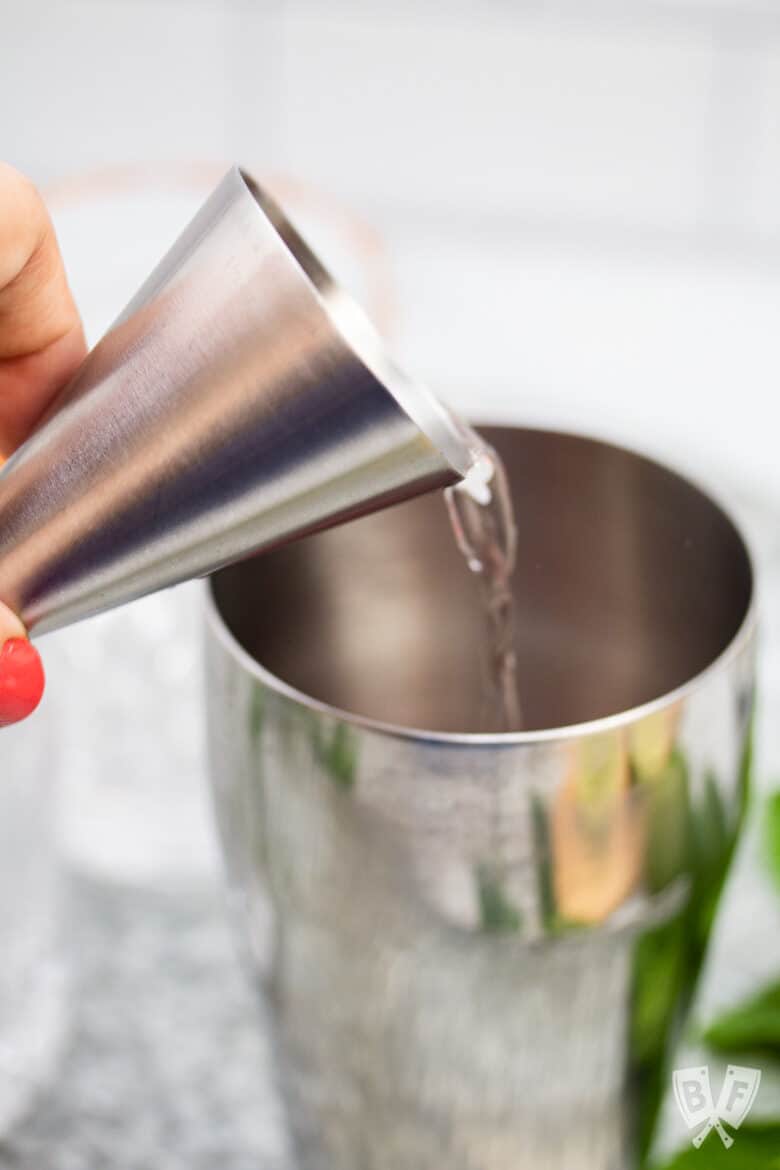 Depending on the aging process, tequila is bottled and sold in a few different styles:
Blanco (white) – Tequila that is unaged or slightly aged (less than 2 months). Some distillers call tequila blanco "the essence of tequila". Great for mixing into cocktails.
Joven (young) – Usually made from a blend of aged tequila and unaged tequila.
Reposado (rested) – Tequila that has been aged for at least two months, and up to a year. This tequila is darker and has a deeper flavor.
Añejo (aged) – Tequila that has been aged for at least a year but less than 3 years, traditionally in oak barrels. It has a deep golden color and complex layers of flavor from the aging process.
Extra Añejo (very aged) – Tequilas that have been aged for at least 3 years. This is a growing category of tequila that has a lot of complexity of flavor, depending on the types of wood used in the aging barrels.
Here are a few resources if you'd like to learn more about the different varieties and styles of tequila: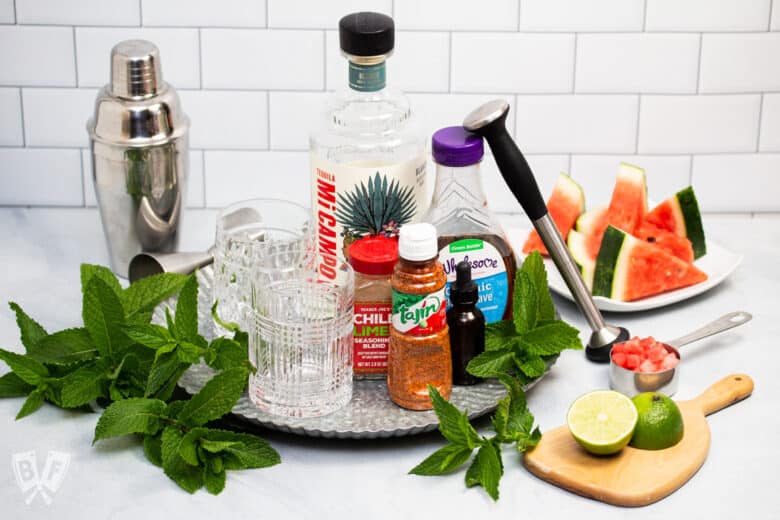 How to make this watermelon cocktail
In a cocktail shaker, muddle together fresh watermelon and mint leaves.
Add freshly squeezed lime juice, agave syrup, saline solution (or salt), fill with ice, then shake together.
Rim cocktail glasses with Tajín or other chili lime seasoning.
Strain mixture into a double rocks glass over a large ice cube, spoon in some of the watermelon and lime with a bar spoon, and give it a stir.
Garnish with a mix of watermelon, fresh mint, and/or lime, if desired.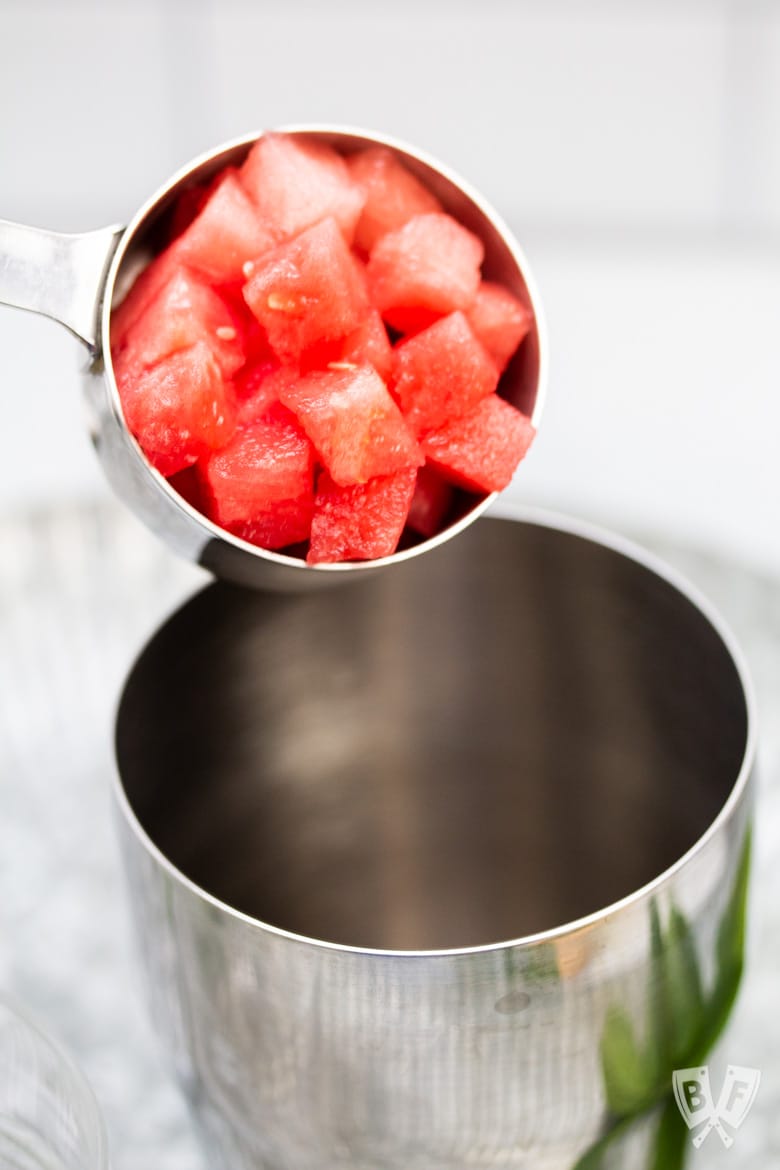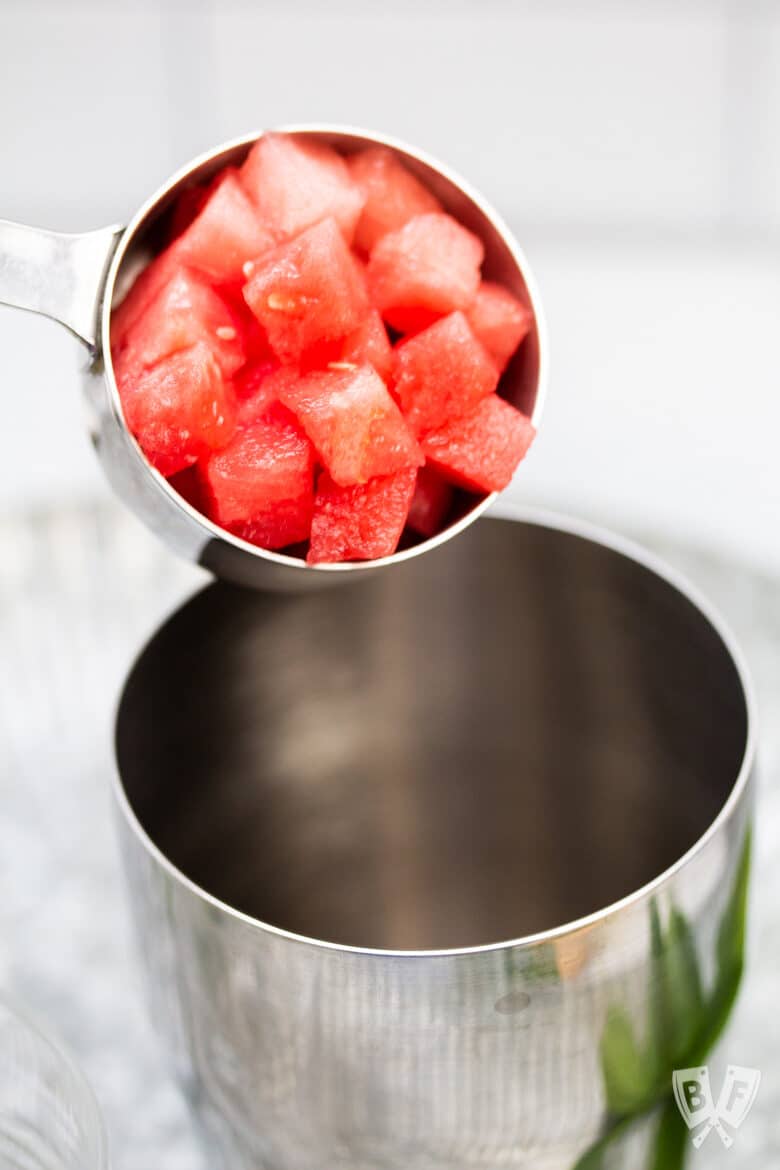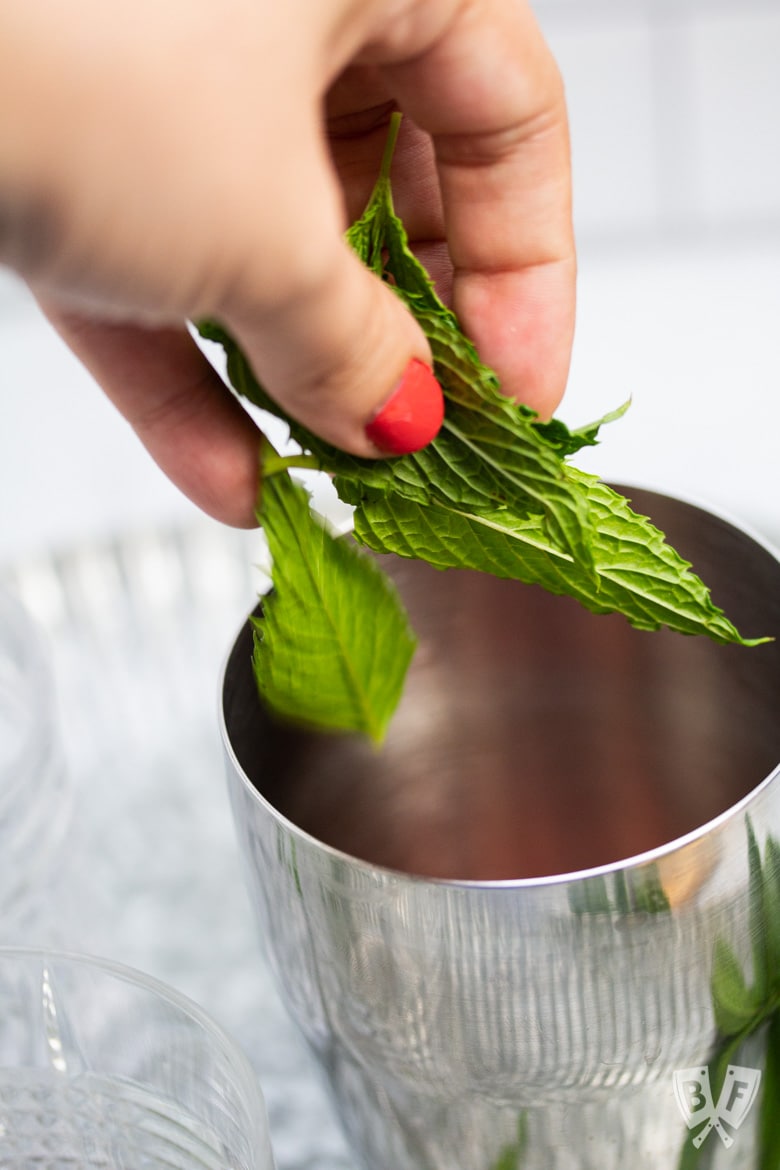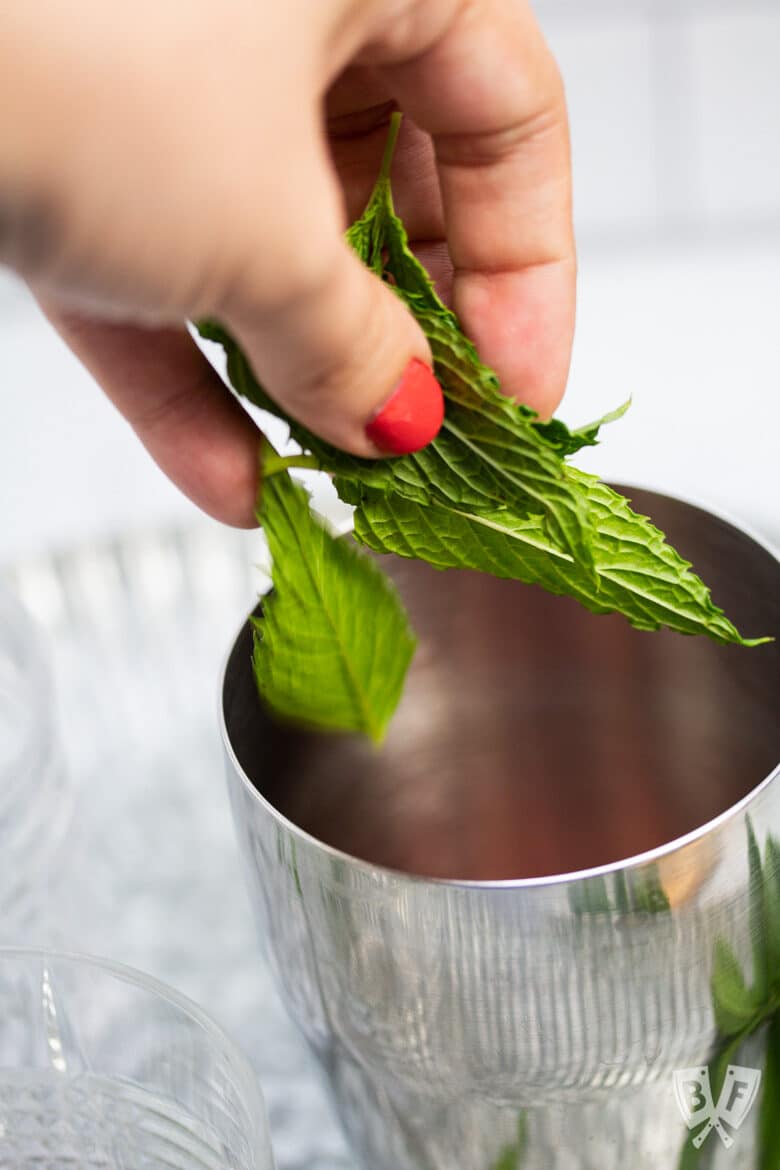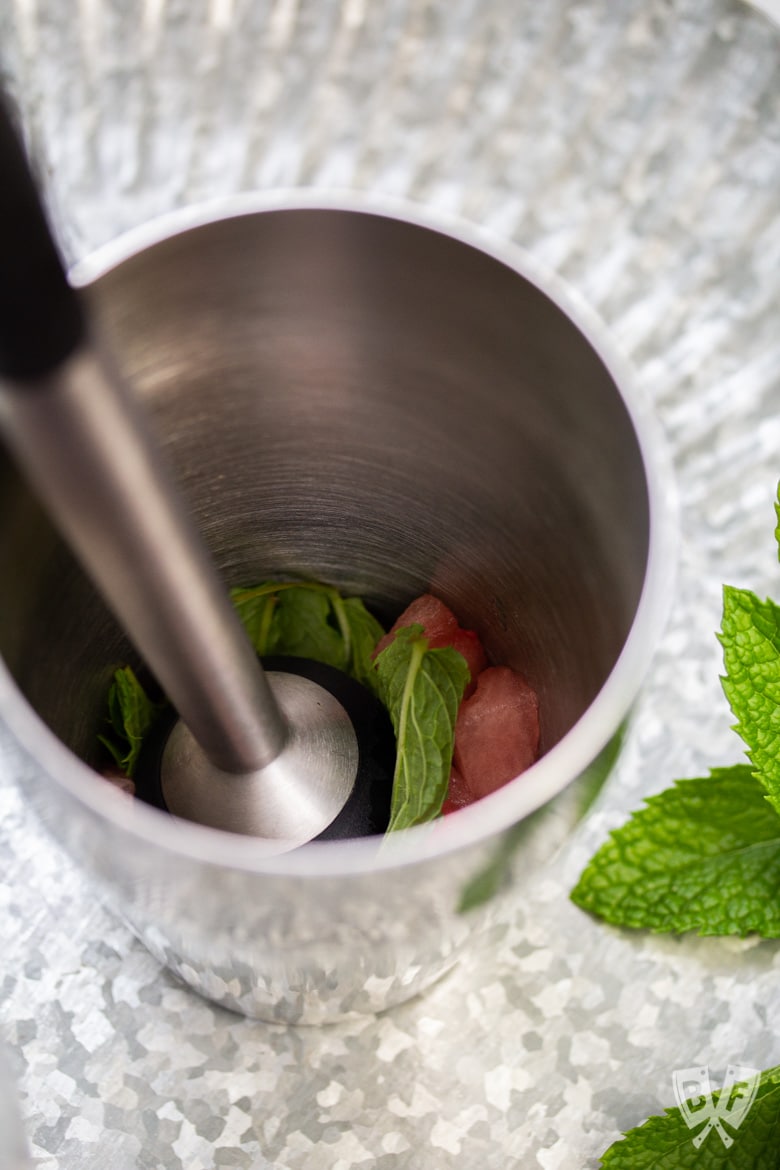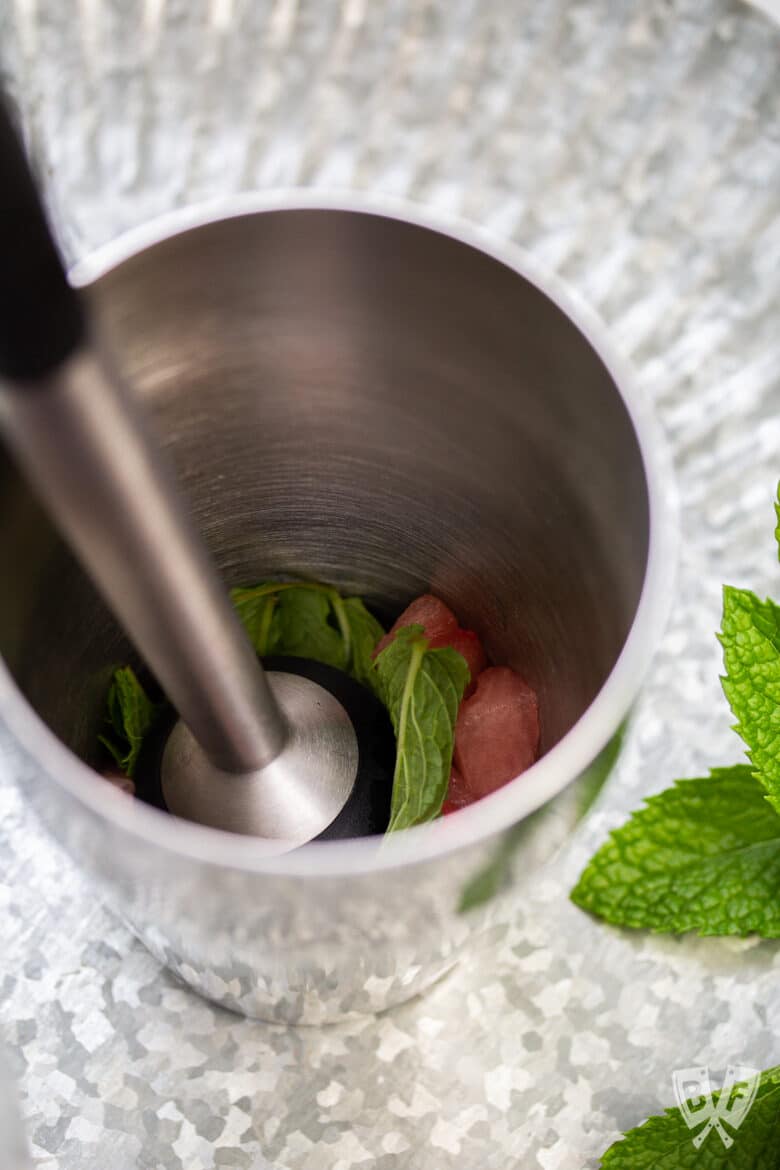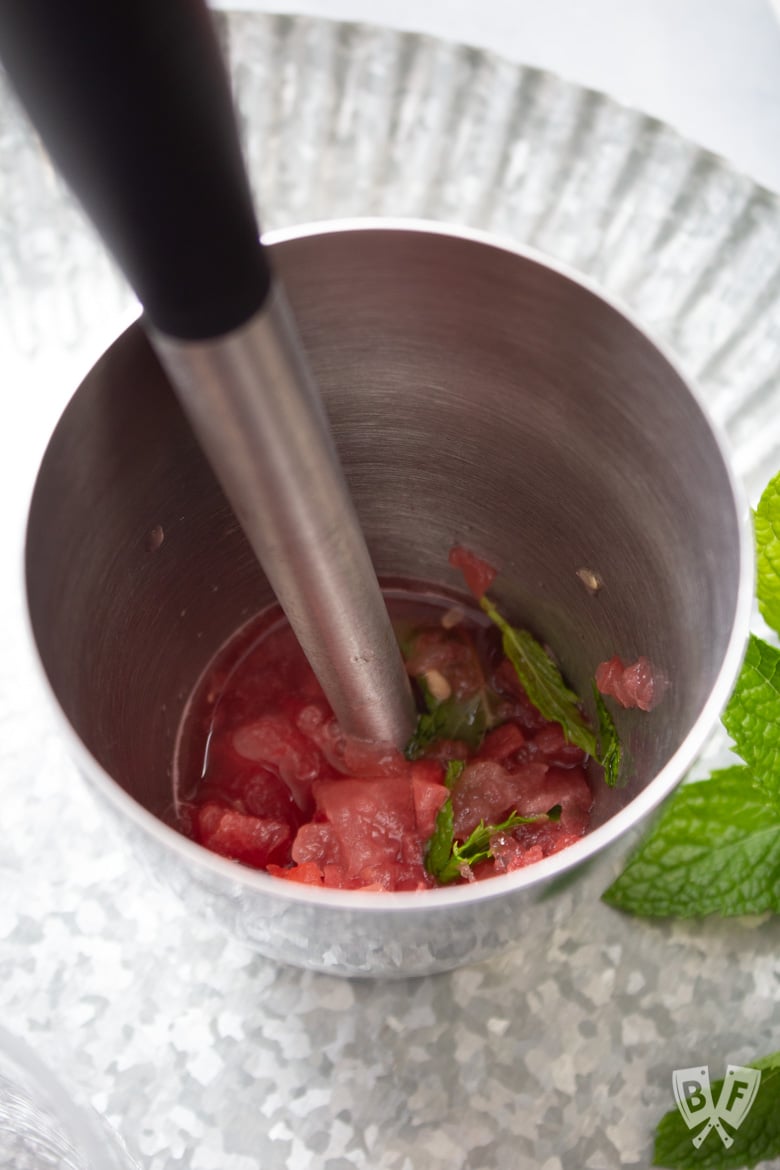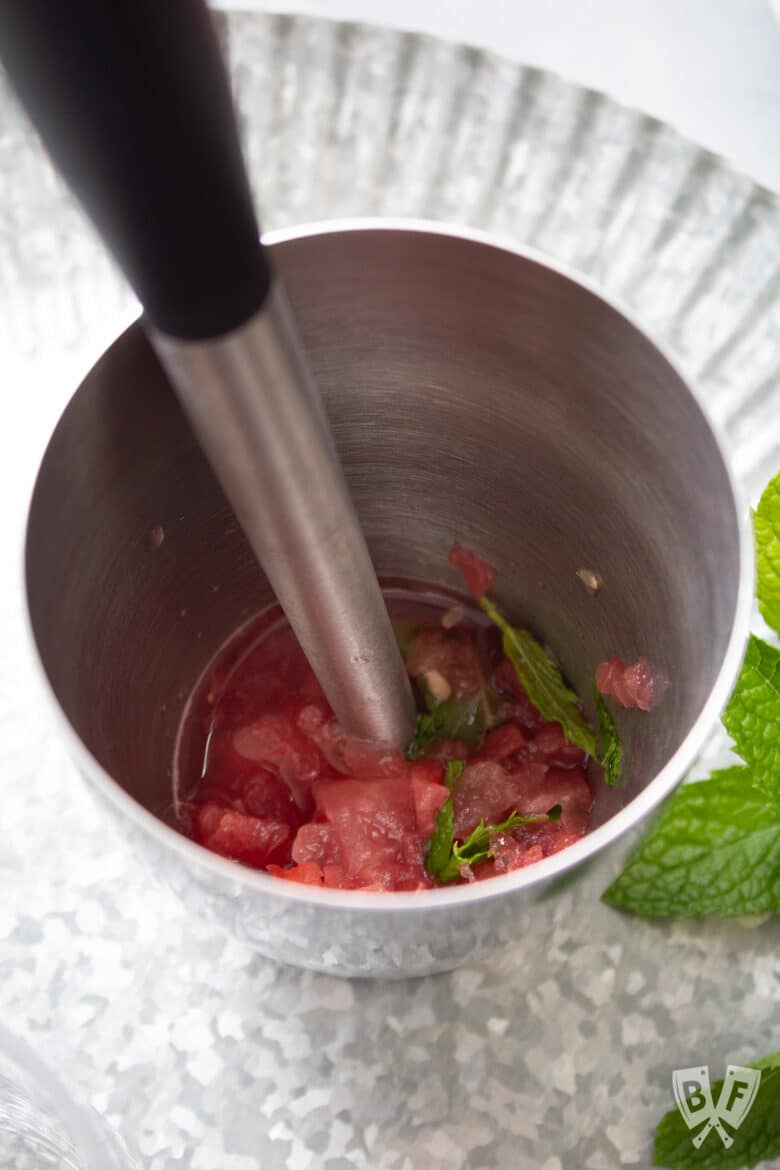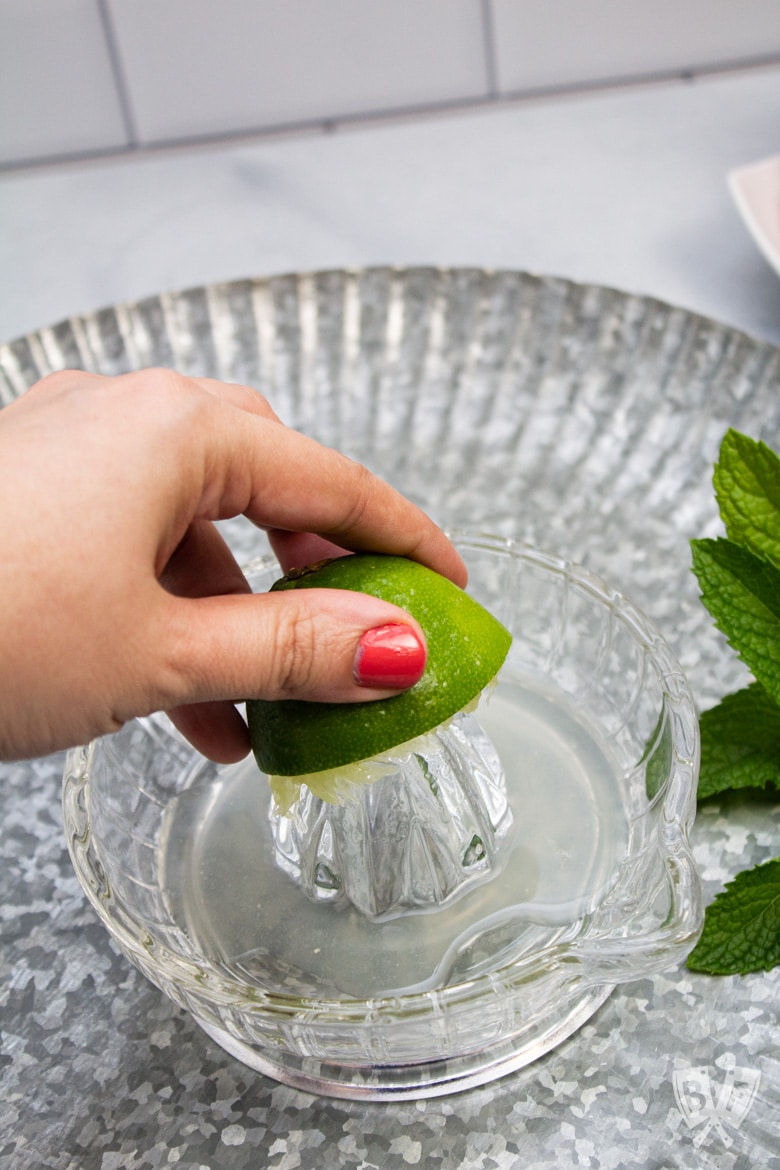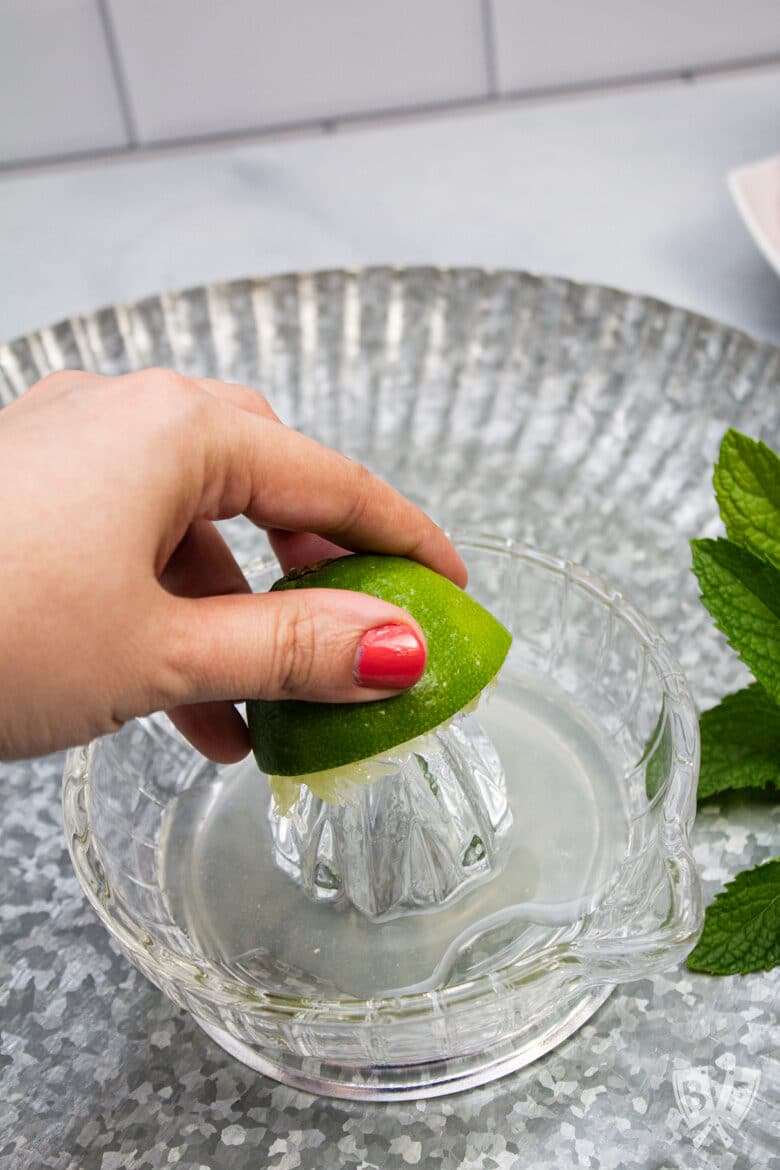 🍉 Pro Tip: Picking a Ripe Watermelon
This summer cocktail recipe uses fresh watermelon which can be found in the produce department of your grocery store.
If you have access to a local farm or farmers' market, you can get some incredibly delicious fresh watermelons in the summertime.
You want to use a seedless watermelon for this recipe. If you buy a seeded watermelon, you will need to remove the seeds. Here's an article from Kitchn on the difference between seedless and seeded watermelons.
A few things to look for when selecting a watermelon:
Uniform shape. Watermelons can be round or oblong - both can be delicious. Look for one that's firm and symmetrical without any irregular bumps or cuts.
Pick it up! A ripe watermelon should feel heavy for its size.
Look for the field spot. Watermelons usually have a yellow field spot (or ground spot) on their underside indicating where they were resting in the field before they were harvested. A large, yellow spot indicates that it was left to ripen and will likely be sweeter than one with a smaller, whitish field spot, which was likely harvested before it reached peak ripeness.
Give it a thump! Pick up the watermelon and thump/tap. A deep sound is a good indicator of ripeness.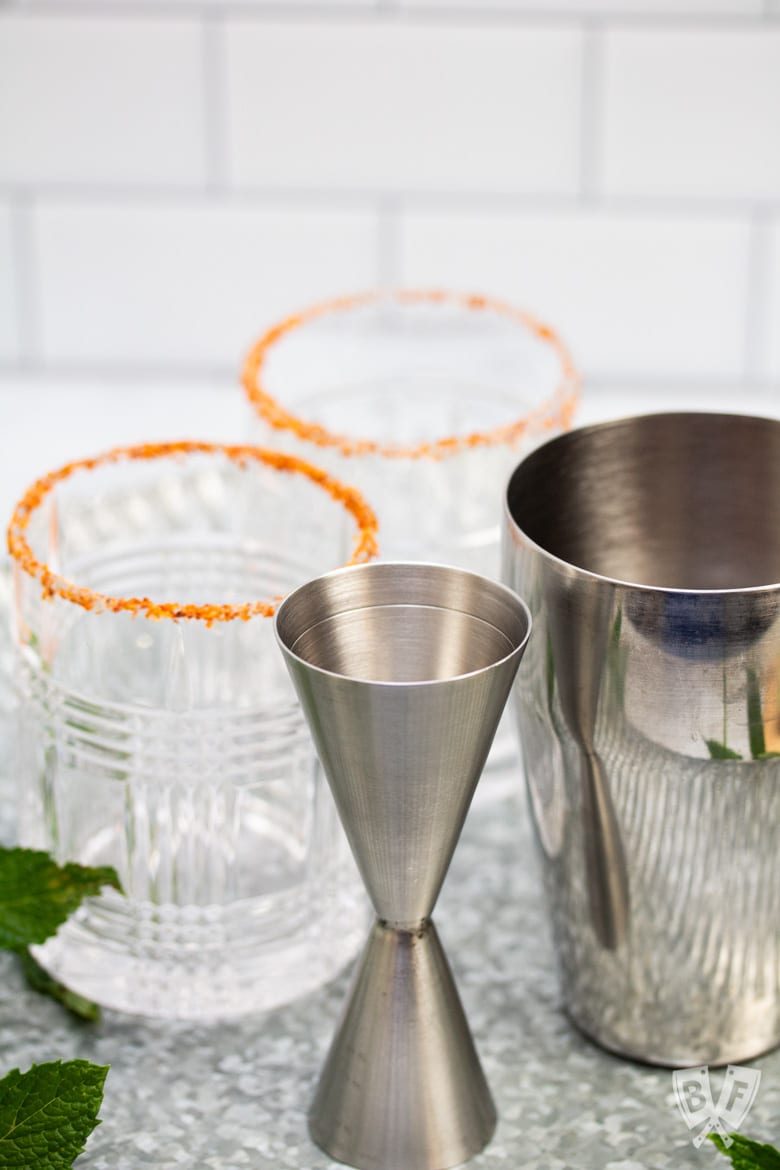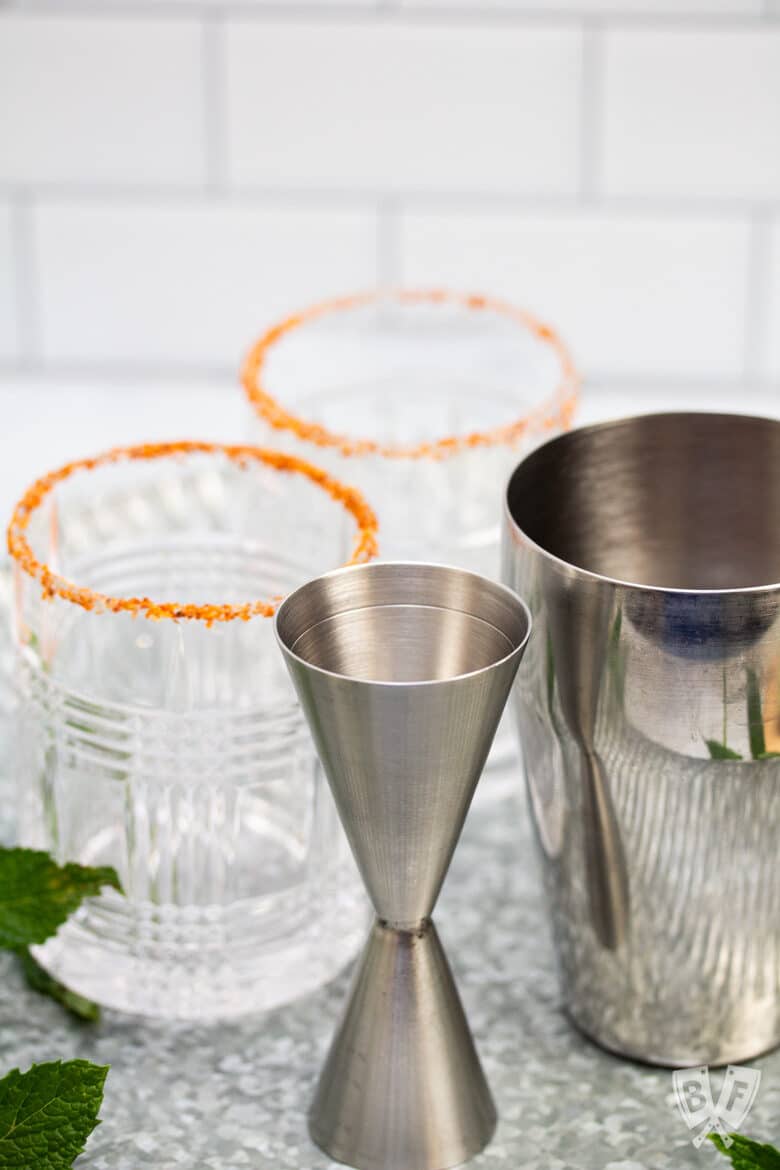 Rimming your cocktail glass
The restaurant that inspired this cocktail used Tajín, a Mexican spice blend made of chili pepper, lime, and salt. I love sprinkling Tajín on sweet fruit like mango and watermelon, or even on slices of crisp, refreshing jicama.
A good alternative to Tajín seasoning is Trader Joe's Chile Lime Seasoning Blend. And, if you have your own homemade chili lime seasoning blend, you can absolutely use that as well. I'm planning to work on one sometime soon.
If you're in the market for a fun gift assortment, there's a Tajín Fan Pack that has 6 different varieties of this iconic seasoning.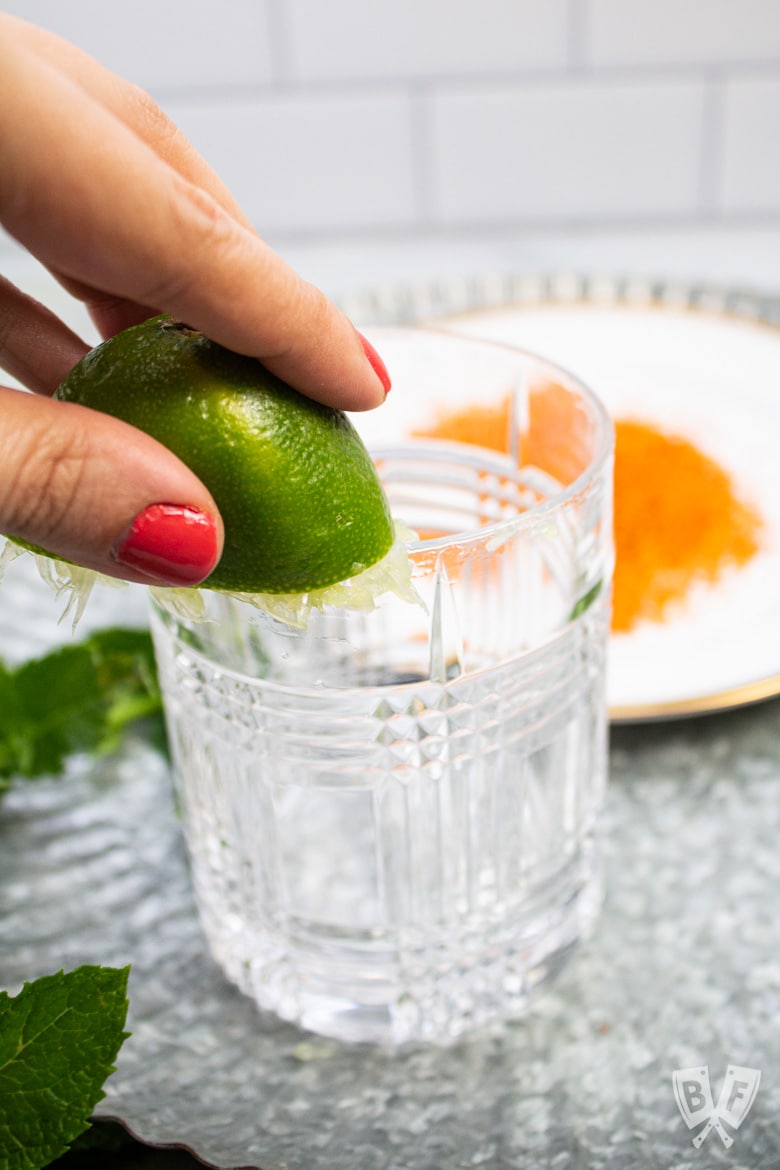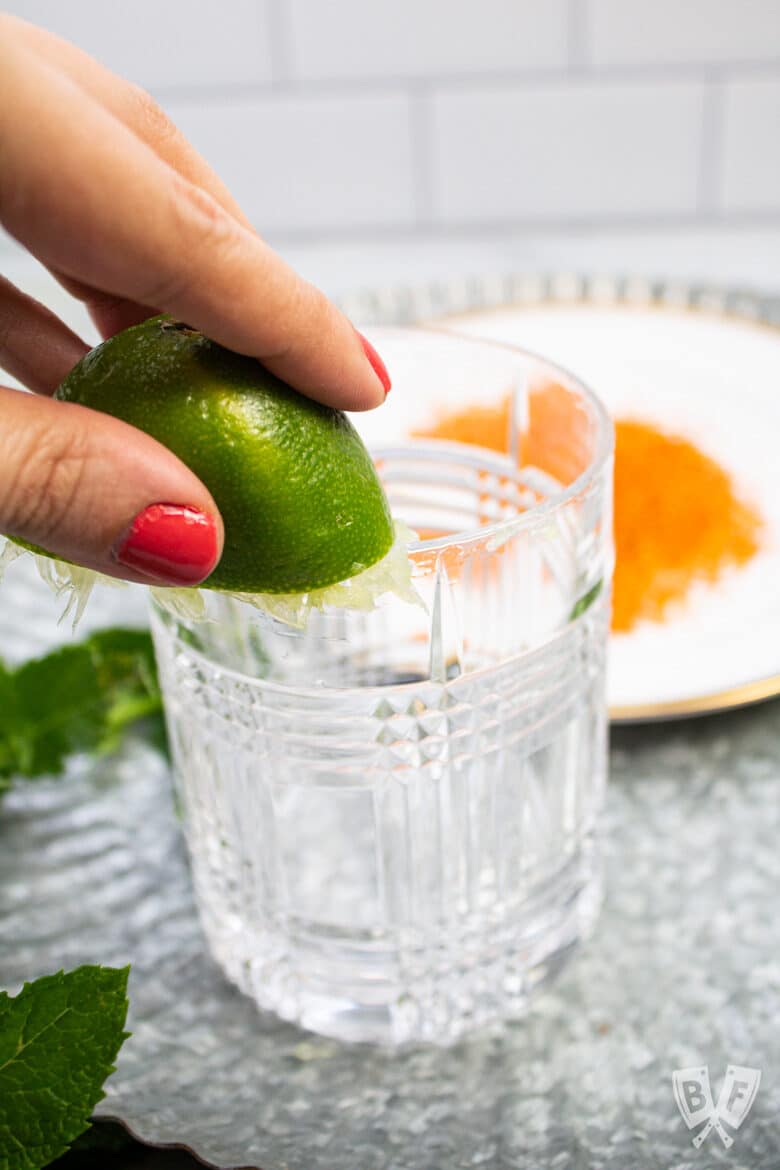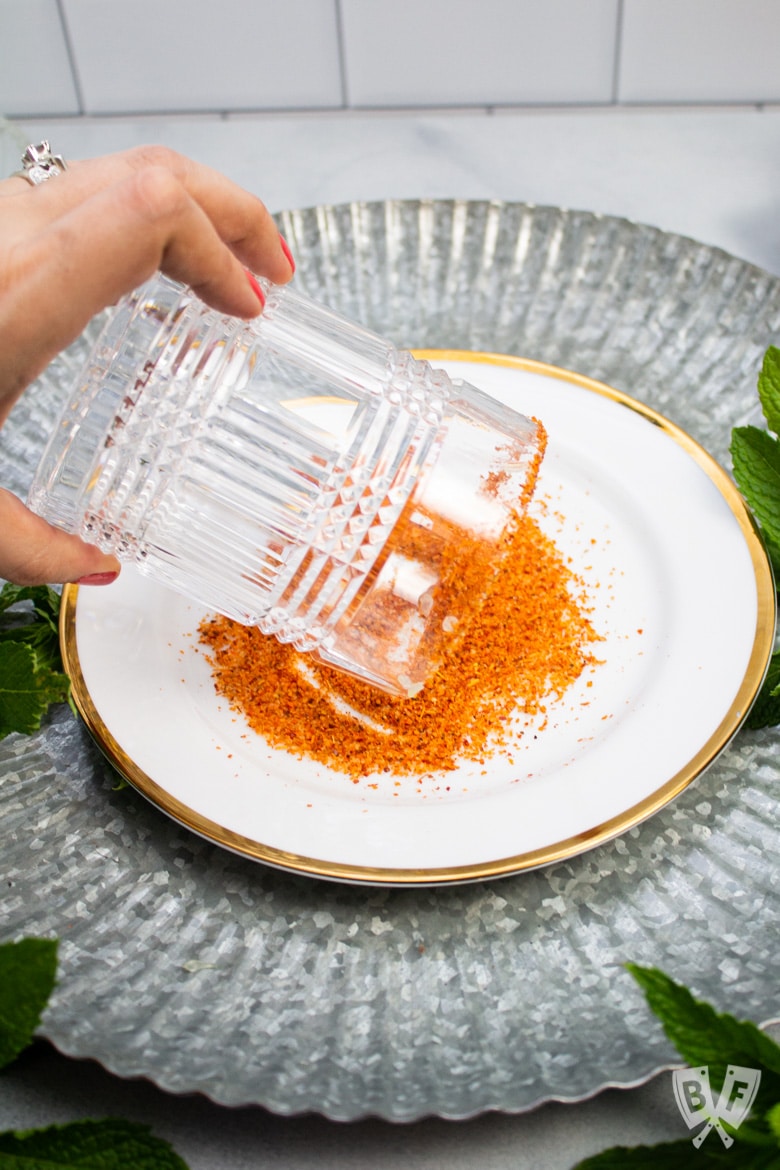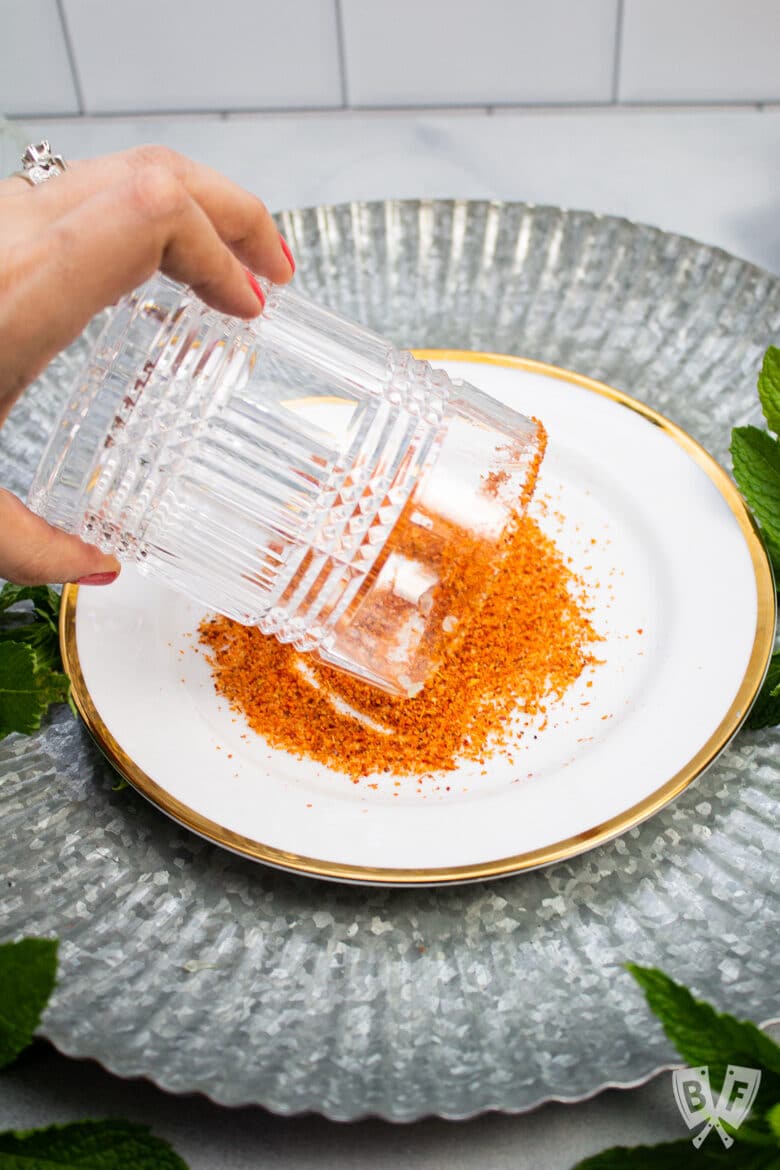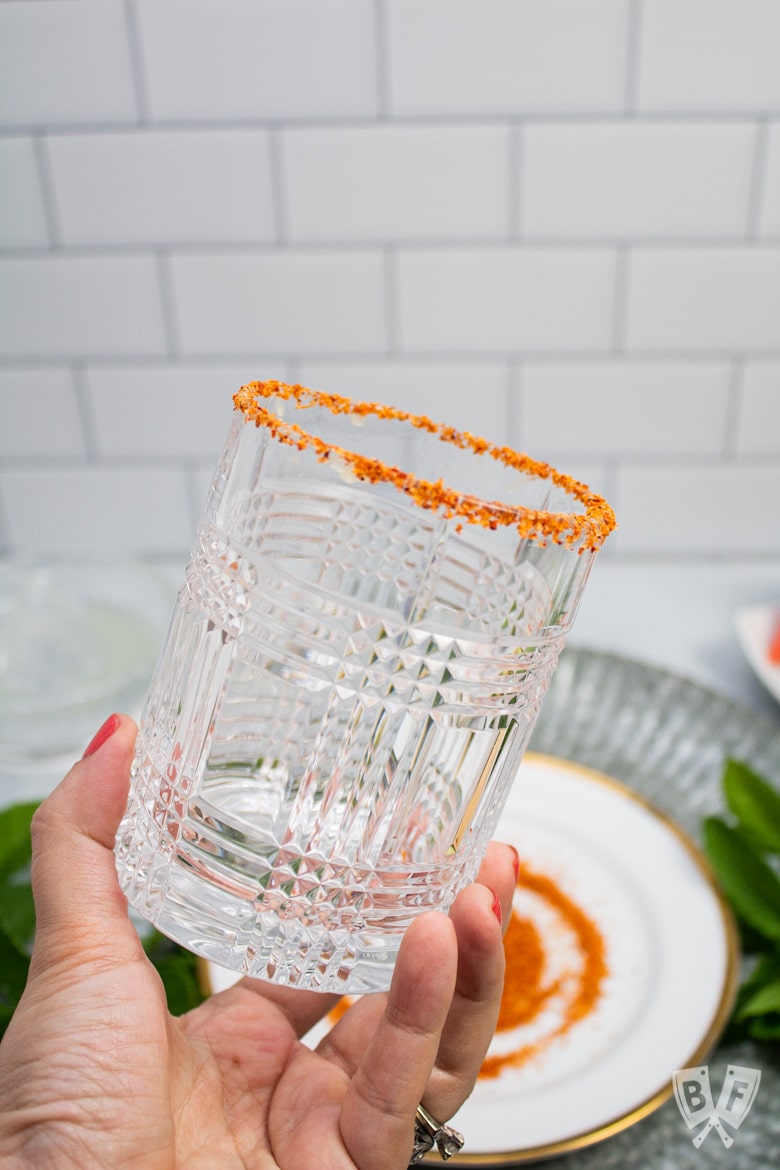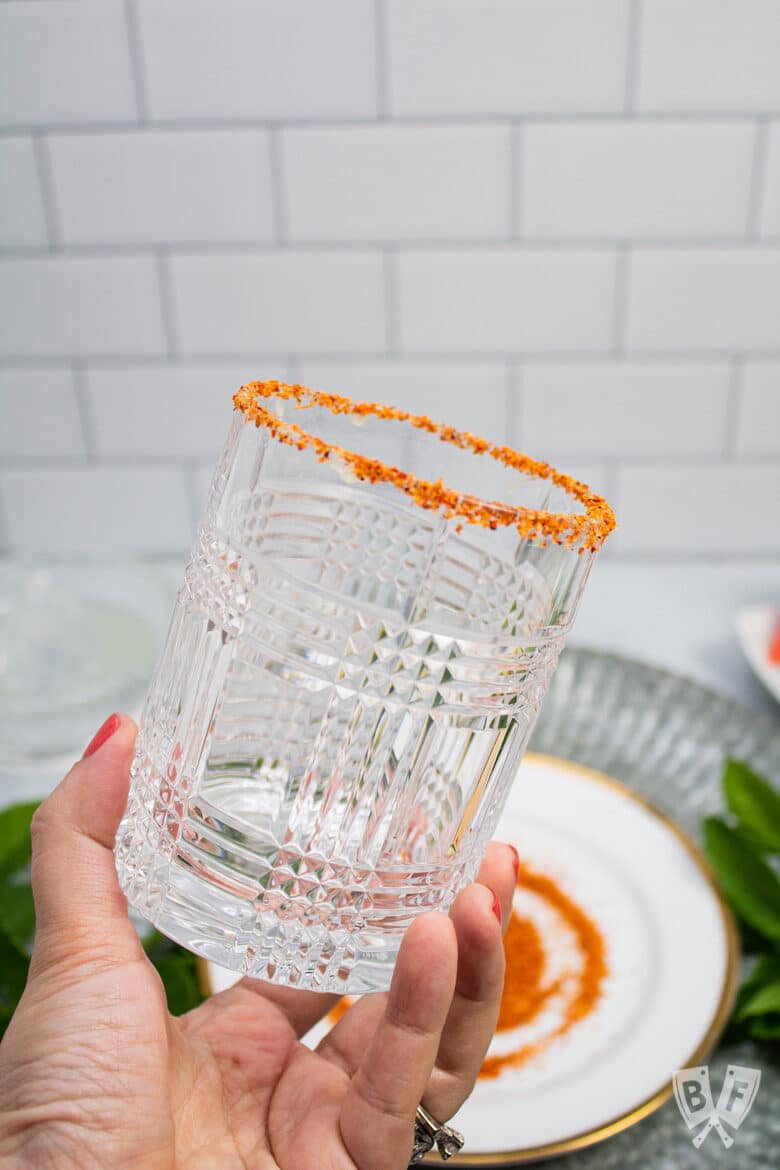 To adhere the seasoning to your cocktail glass, you'll need to wet the rim. I like using one of the limes that I juiced for the cocktail mixture. Just rub the cut-side around the edge of the glass.
Pour your chili lime seasoning of choice onto a plate or other flat surface wide enough to fit the diameter of your glass. Invert the lime-coated glass and gently press it into the seasoning to adhere.
Stone Fire used sugar mixed in with their Tajín rim mixture, but I prefer it without the added sugar. Feel free to experiment and see what flavor profile you like best.
Pssst - If you're looking for another fun, refreshing summer cocktail recipe this guava cocktail with tequila is another excellent choice!
🧊 Ice, Ice Baby 🧊
This cocktail calls for two different types of ice. While not necessary, it's nice to be able to pick the right type of ice cube (or sphere!) for different parts of your cocktail mixology process.
For the cocktail shaker, use regular ice cubes from your freezer. We like using ice made in a small square ice cube tray that makes cubes around one-inch in diameter.
This size is great for both stirred and shaken cocktails, and won't dilute your cocktail mixture too quickly. They also fit into almost any glass you may be serving up your beverages in!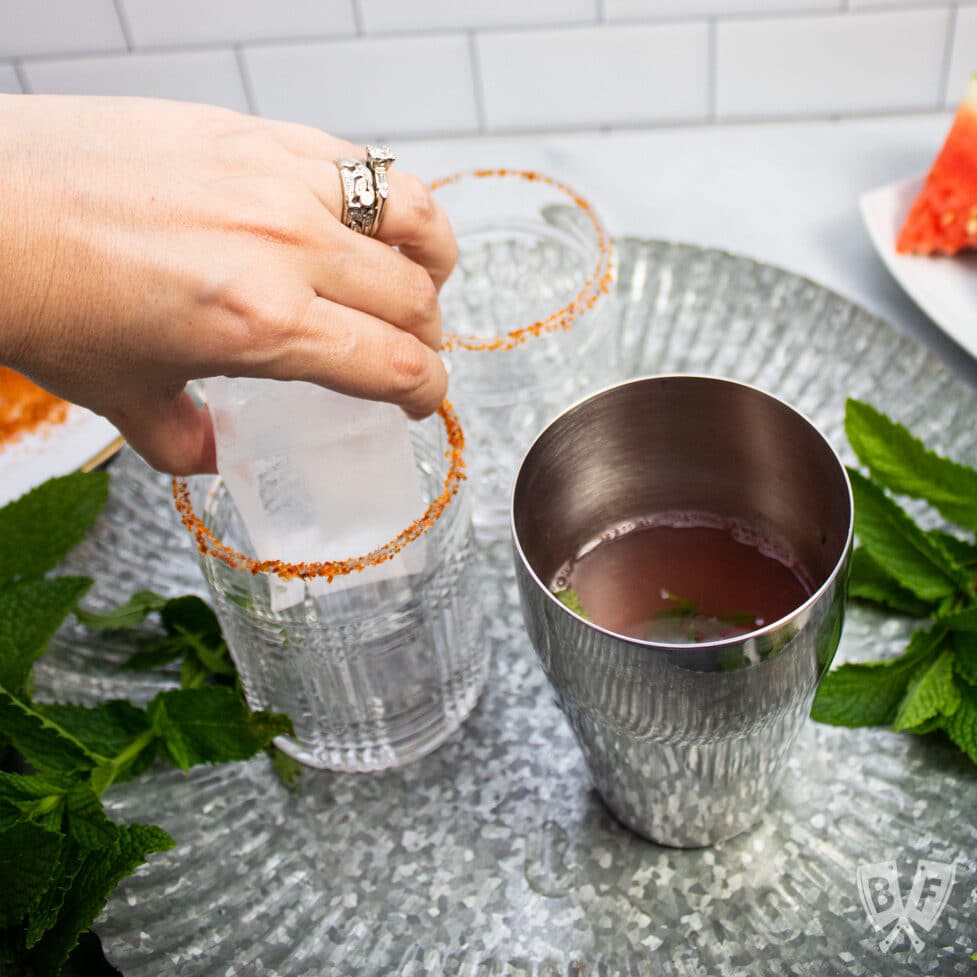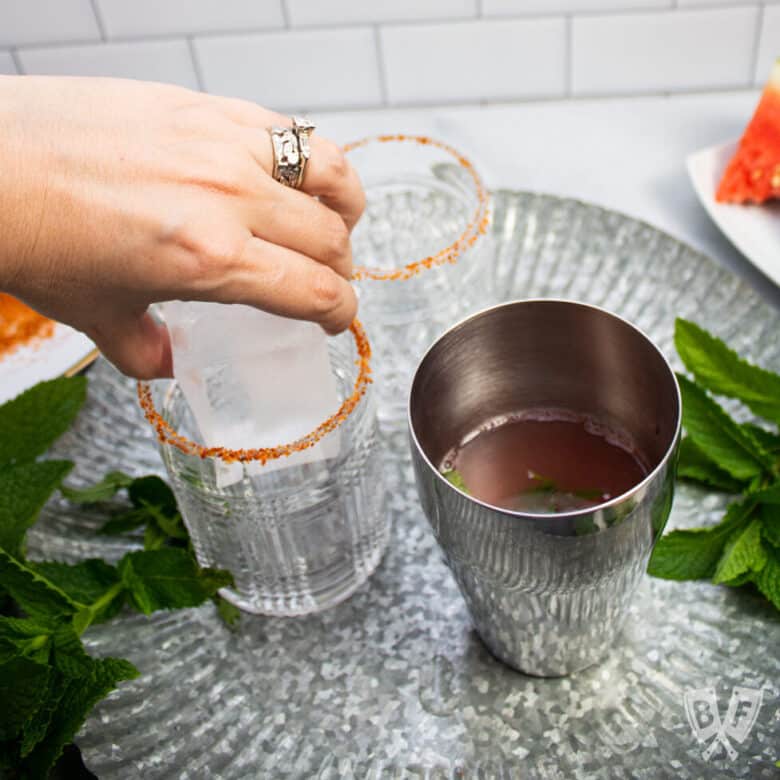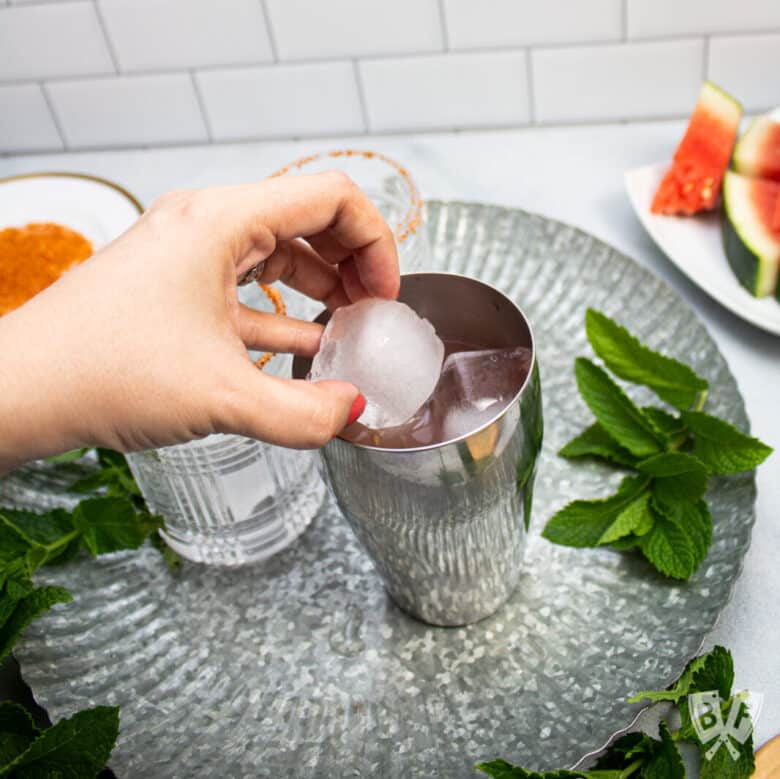 To serve the Watermelon Sugar High, I recommend pouring your mixture over a larger ice cube, such as one made in a king cube ice cube tray, that measures about two-inches in diameter.
Not only do king cubes look pretty cool, but they keep your drink nicely chilled while reducing the amount of dilution. They're also useful for shaking some cocktails, as they change the final texture.
There's some great info on different types of ice used for mixing up cocktails in this article from Tasting Table: A Guide to Ice for the Home Bartender.
This resource over on Difford's Guide is also really interesting: Shaking cocktails: advanced myths, tips and lessons.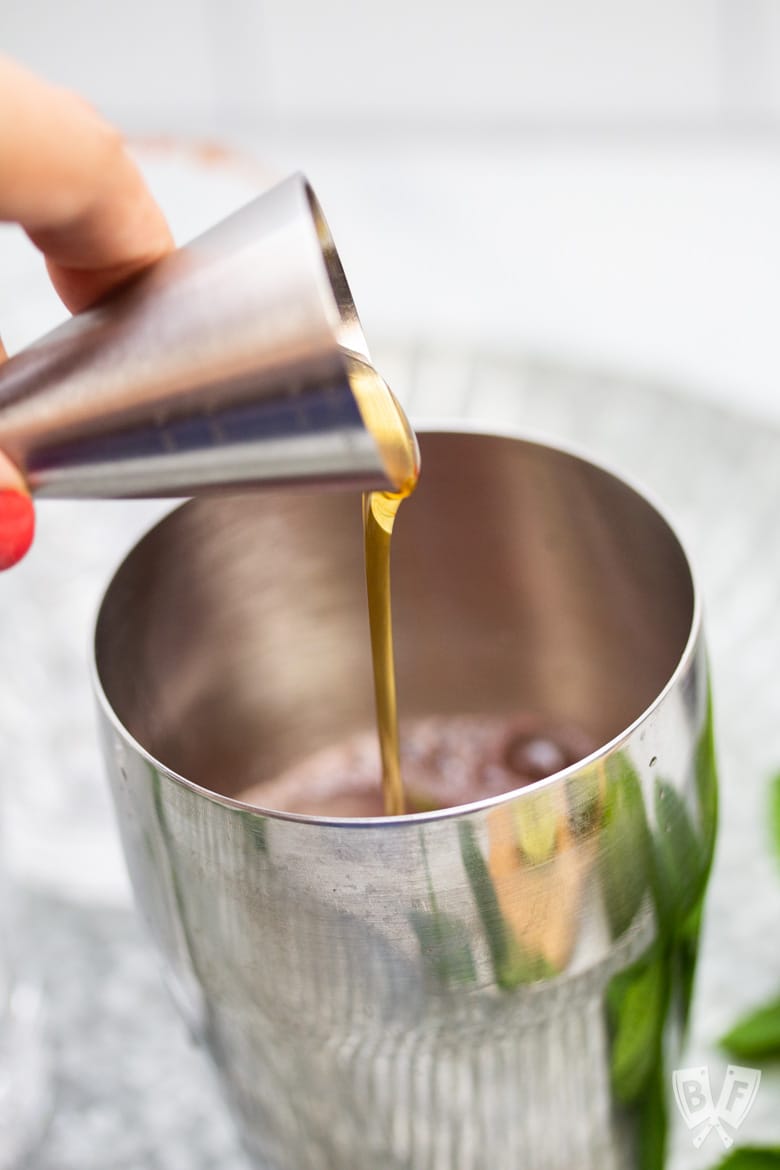 Mezcal variation on this watermelon cocktail
Looking to take this cocktail to the next level? Our favorite variation swaps the tequila blanco for reposado, and replaces the other half with mezcal.
The smoky flavor from the mezcal is such a lovely addition to this spicy-sweet beverage.
Since the smokiness of mezcal can be overpowering, we took a tip from Death & Co. and tamed that flavor by adding reposado tequila.
I highly recommend giving it a try!
This cocktail would likely be delicious with other spirits, such as light rum, too, but I haven't tried it out yet. Please let me know what you think in the comments section below if you do try it out!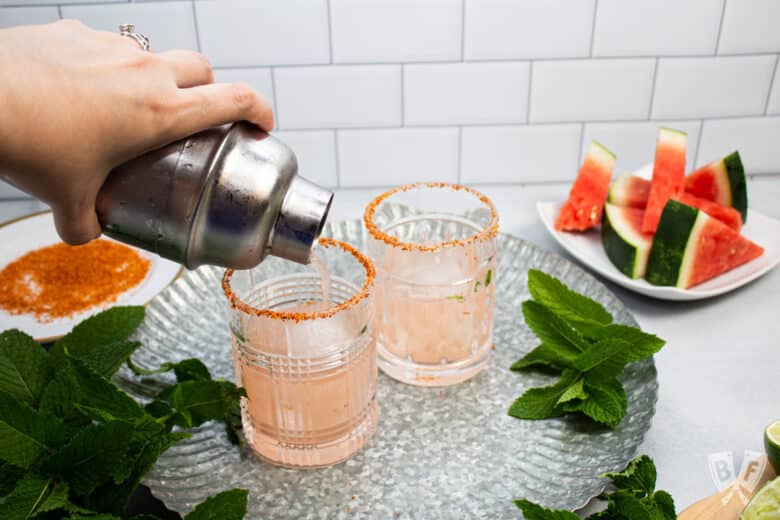 Nonalcoholic "mocktail" version
We like trying to find alternatives to alcohol beverages so our son can enjoy a "fancy drink" with us. It's also great for those who either choose not to drink alcohol or aren't able to imbibe.
To make this an alcohol-free watermelon "mocktail", simply replace the tequila with 1 ounce of coconut water and 1 ounce of pineapple juice. Once everything is in your glass, top it with a splash of sparkling water.
I tried this nonalcoholic variation and it was seriously delicious! It makes for a nice, refreshing drink that's appropriate for any time of the day.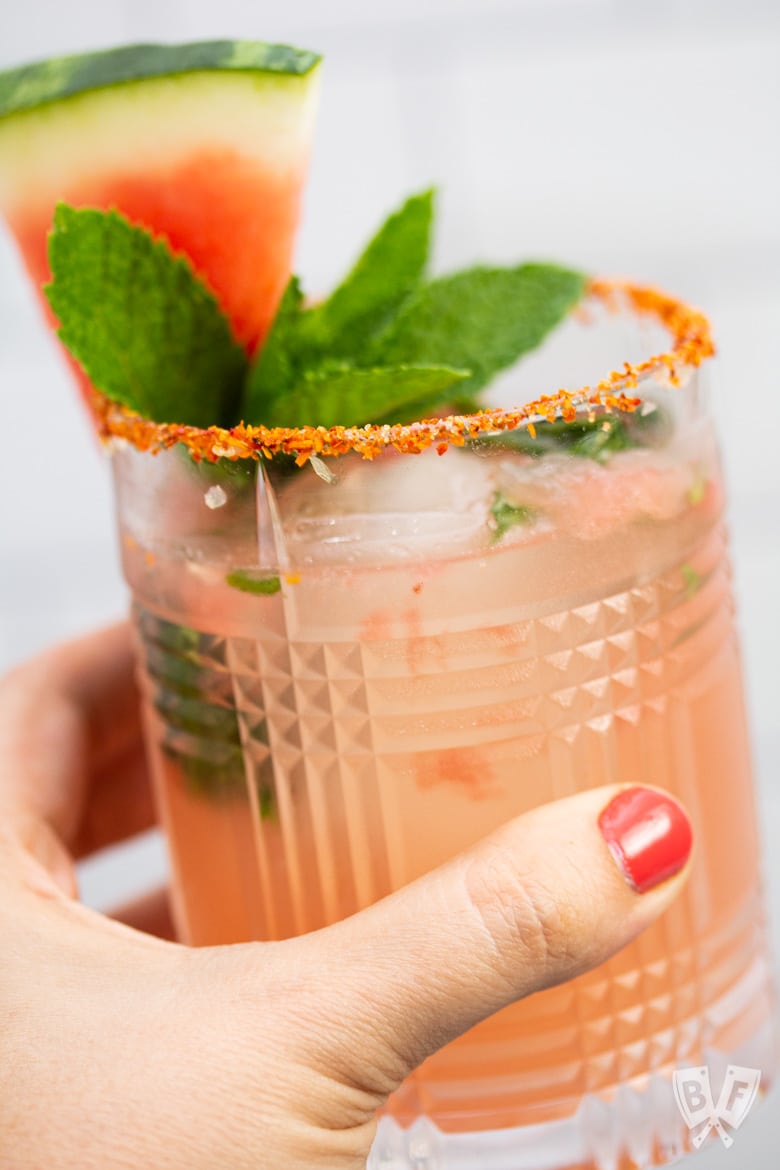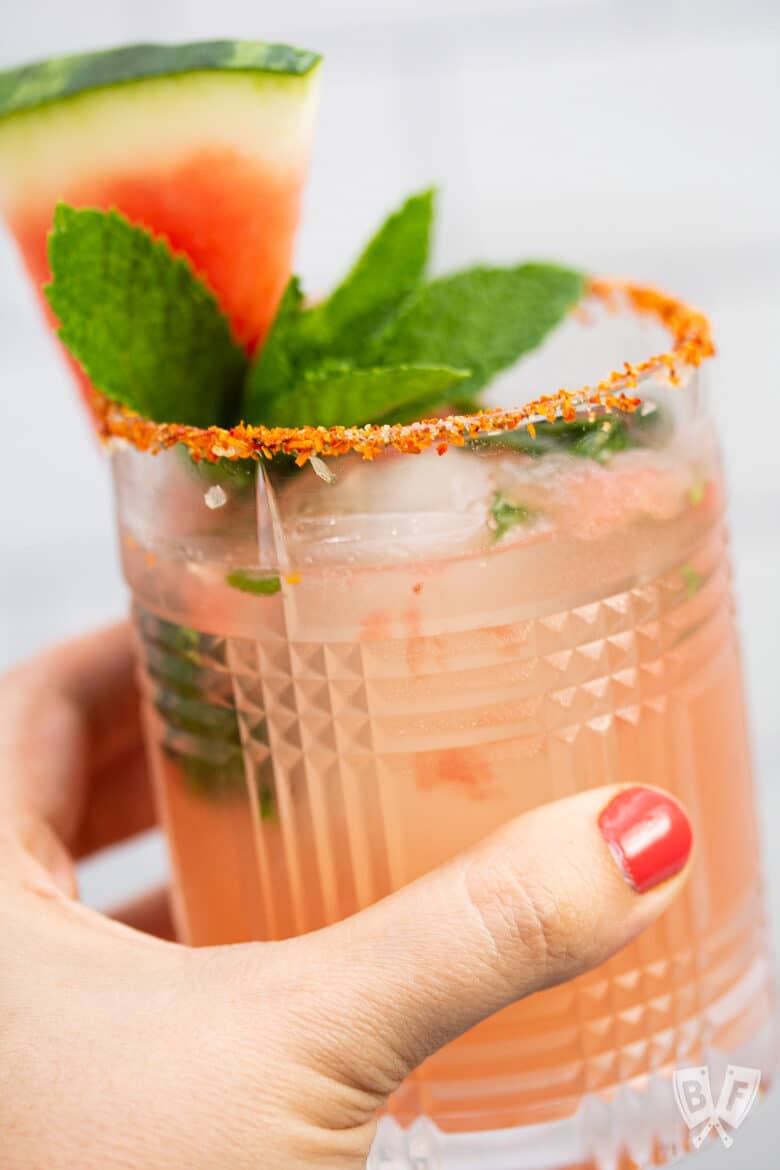 Still thirsty? You may also like...
Shopping for cocktail supplies? Check out the Mixology and Cocktail Supplies list of my Amazon Shop for recommendations!
Print
📖 Recipe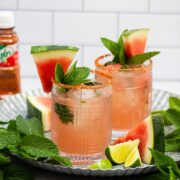 Watermelon Sugar High Tequila Cocktail
Author:

Prep Time:

5 minutes

Total Time:

5 minutes

Yield:

1

cocktail

1

x

Category:

Beverage

Method:

Cocktail Shaker

Cuisine:

Mexican
---
Description
Move over, margaritas! This refreshing watermelon cocktail made with fresh mint, lime, & tequila is the perfect way to cool off this summer.
---
For the cocktail:
1 ½

ounces

seedless watermelon, (about ¼ cup of ½-inch diced watermelon)

6

fresh mint leaves

2

ounces

tequila blanco

¾

ounce

freshly squeezed lime juice (reserve the juiced limes for rimming the cocktail)

¼

ounce

agave syrup

5

drops saline solution, or a small pinch of fine-grain table salt
Ice
For the glass:
Garnishes (optional):
Watermelon slice
Fresh mint sprig
Lime wedge
---
Instructions
In a cocktail shaker, muddle together watermelon and mint leaves. Add tequila, lime juice, agave syrup, and saline solution (or fine-grain table salt). Fill the shaker past the top of the liquid with ice, close, and shake together.
Rub the cut side of one of your juiced limes around the edge of a chilled double rocks glass and coat the rim with chili lime seasoning.
Place a large ice cube into the glass and strain the watermelon mixture over the cube. Use a bar spoon to scoop the pieces of watermelon and lime into the glass and give a quick stir.
Garnish with any mix of watermelon, mint, and lime, if desired.
Equipment
---
Notes
Recipe inspired by Stone Fire Restaurant in Mount Kisco, NY.
See post above for notes on different types of tequila, how to rim a cocktail glass, reasons for using different sizes of ice, variations using mezcal, and how to make this a nonalcoholic "mocktail".
Nutrition
Serving Size:

1 cocktail

Calories:

170

Sugar:

7.8 g

Sodium:

157 mg

Fat:

0.1 g

Saturated Fat:

0 g

Carbohydrates:

10.5 g

Fiber:

0.3 g

Protein:

0.4 g

Cholesterol:

0 mg
Keywords: summer cocktail, watermelon cocktail, tequila cocktail
Recipe Card powered by
Check out my latest posts...