This post may contain affiliate links, which won't change your price but will share some commission.
This month's Supper Club theme was Dim Sum. I had taken a Dim Sum class over at the Institute of Culinary Education a little while back, so two of the recipes that I chose for our event were from that class.
These hoisin meatballs are incredibly moist and flavorful, and the dipping sauce is perfect alongside. I mixed everything together in a bowl in the morning, and then covered it and left it in the fridge until we were ready to cook for the evening, and it worked out great.
These would be great for any dinner party, don't limit it to Dim Sum!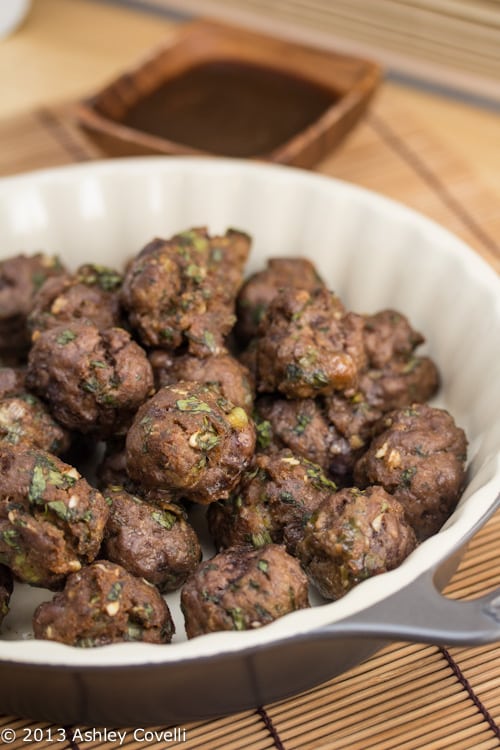 Hoisin Cocktail Meatballs
Taste of Home
TOTAL TIME: Prep: 20 min. Bake: 20 min.
Yield: 32 appetizers.
Meatballs
2 tablespoons hoisin sauce
1 tablespoon reduced-sodium soy sauce
1 teaspoon sesame oil
¼ cup dry bread crumbs
3 tablespoons chopped green onions
3 tablespoons minced fresh parsley
2 garlic cloves, minced
1 teaspoon minced fresh gingerroot
1-½ pounds 90% Lean Ground Beef
Sauce
¼ cup rice vinegar
¼ cup hoisin sauce
2 tablespoons water
2 tablespoons sesame oil
2 tablespoons reduced-sodium soy sauce
1 tablespoon honey
2 garlic cloves, minced
1 teaspoon minced fresh gingerroot
1. In a large bowl, combine the first eight ingredients. Crumble beef over mixture and mix well.
2. Shape into 32 meatballs. Place in a 13-in. x 9-in. baking dish coated with cooking spray. Bake, uncovered, at 350° for 20-25 minutes or until meat is no longer pink.
3. Meanwhile, in a small saucepan, combine the sauce ingredients; heat through. Serve with meatballs.
Big Flavors Rating: 5 Stars