This post may contain affiliate links, which won't change your price but will share some commission.
One of my friends makes a killer mango salsa every year for his annual BBQ and bocce ball festival in PA. It's addictive, so I asked him to share his recipe with me. YUM!!! The only issue I had was that I have no clue how to pick mangoes, so not all of mine were very ripe. I ended up pureeing it a little bit with an immersion blender later on to make it easier to scoop up.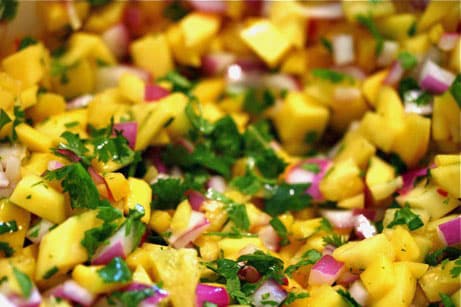 Mango Salsa
Jason Zampino
6 ripe mangoes, diced
½ of a pineapple, cored and diced
1 small or medium red onion (depending on how much heat you like)
½ bunch of cilantro
Juice of 2 limes
IMPORTANT:
I highly recommend mixing the mangoes, pineapple and red onion in a glass bowl and storing overnight in the fridge. This cuts down on the potency of the red onion. Add the cilantro and lime about an hour or two before your guests arrive and stick it back in the fridge for the flavors to mix. Also, for smaller gatherings or if you want to use the salsa as a chutney on top of chicken or fish, just halve the recipe (3 mangoes, ¼ pineapple, less onion and cilantro, one lime).
MacGourmet Rating: 5 Stars