This post may contain affiliate links, which won't change your price but will share some commission.
These soft, chewy peanut butter cookies are a dessert recipe that my family has been baking for years. Easy to make with kids & guaranteed to be a hit!
What was your favorite childhood cookie recipe?
While I love the classics like chocolate chip cookies or my grandma's Christmas cookies, there's just something about a freshly baked batch of peanut butter cookies that brings me right back to being a kid.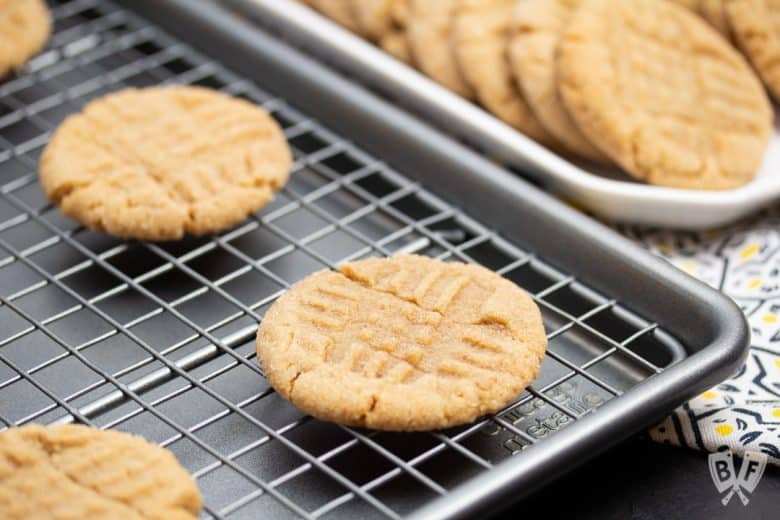 I used to bake these peanut butter cookies with my mom. We always used store-bought peanut butter, but lately, I've been loving using my homemade peanut butter instead. I love it because I'm still using deliciously creamy pb, but without any additives.
Either way you do it, they turn out super soft with just a bit of chewiness. They taste amazing when they're piping hot, fresh from the oven.
These cookies are so soft and dreamy - they really are one of my very favorites.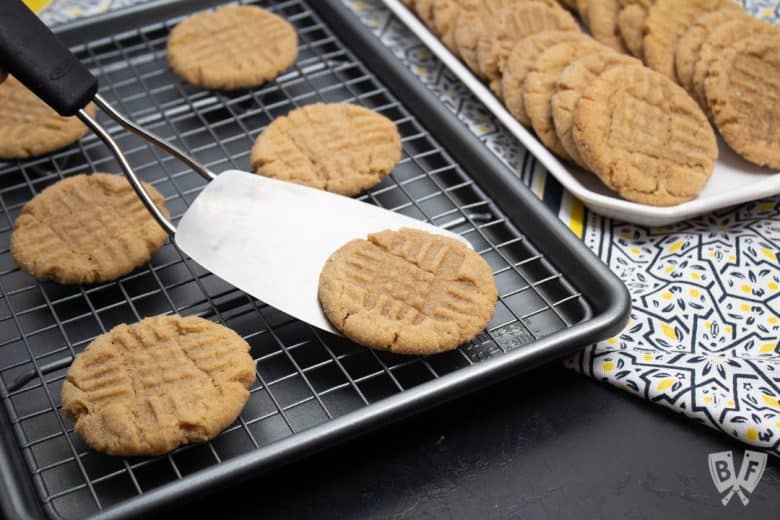 This recipe is one of the first things I ever made at my in-laws' house back when me and my husband were dating. I was visiting New York from Wisconsin and I wanted to bake a batch of cookies to bring over to a friend's house.
I was so excited to prepare a recipe that I know and love - one that I had been making for years and just knew it would turn out well.
But it didn't.
For some reason, the cookies were super dry and heavy. I couldn't figure out where I could have possibly gone wrong. My husband asked what ingredients I used and I showed him all of the items. He asked his mom if somehow the flour was old or something and she said, "oh that's not flour - it's pancake mix!"
That's right... she had put a box of pancake mix into a canister that was labeled FLOUR.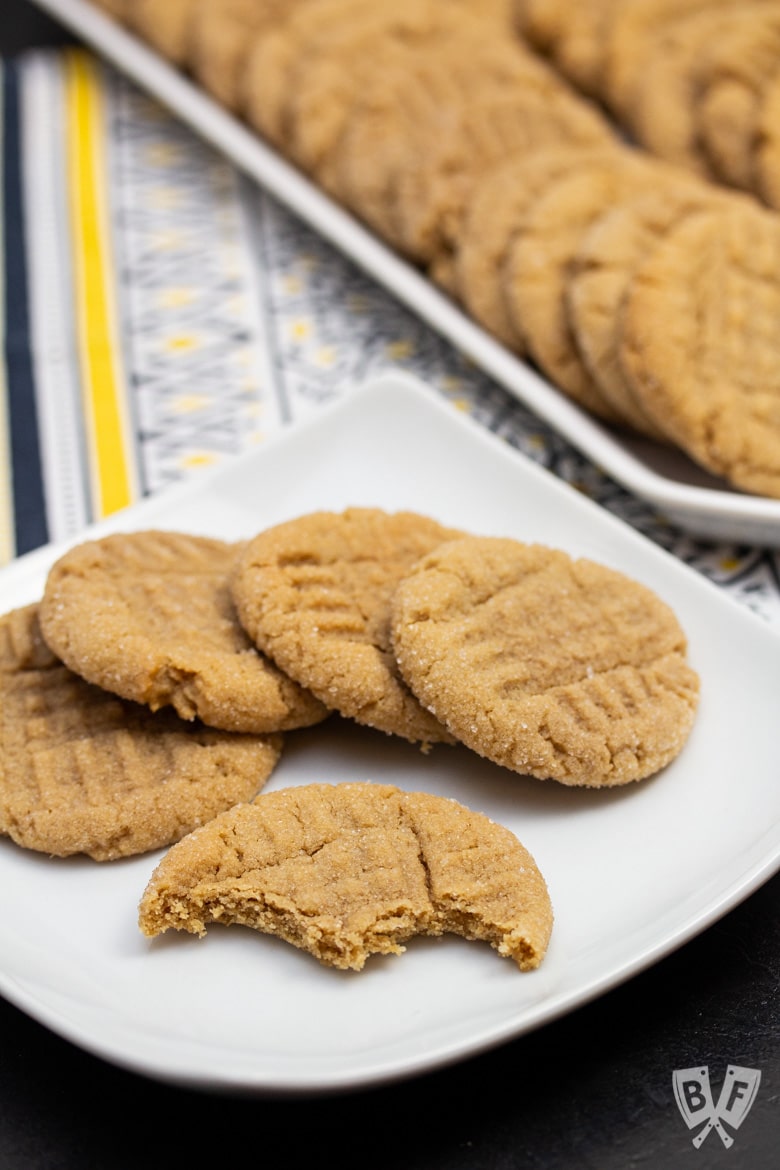 After he grilled her for why on earth she would put a different ingredient in a canister labeled as something else, we all had a good laugh as I set off to bake another batch.
My father-in-law insisted that he would eat all of the first batch because, "they aren't bad at all!".
Ohhhhh but they were.
I compared them to door stoppers. I had to basically pry that container of cookies away from him.
That was my FIL - always looking at the bright side and smiling. I really miss him, and this recipe makes me think of him and smile, and that's really part of the power of food, isn't it?
The moral of the story is whatever you do, don't substitute pancake mix for flour here. Ever.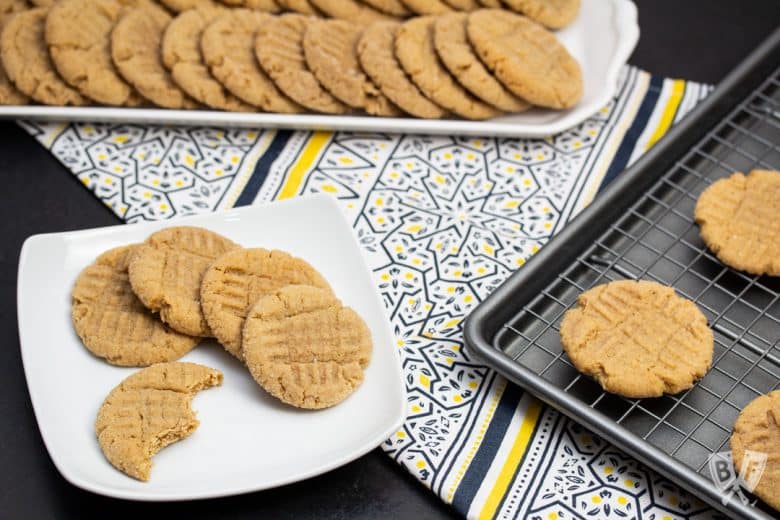 I was craving a batch of peanut butter cookies and a cold glass of milk big time recently, so I asked my mom if she had the recipe.
I'm not totally sure where the original version of this recipe came from, but I've adapted it a bit and made the instructions a bit more user-friendly.
When I was a kid, most recipes said things like, "make the dough" instead of specifying what order to do things in. It seemed to work out OK back then, but it's a lot easier when recipes actually specify things like needing to have certain ingredients at room temperature, how long to bake, which types of sugar to use, etc.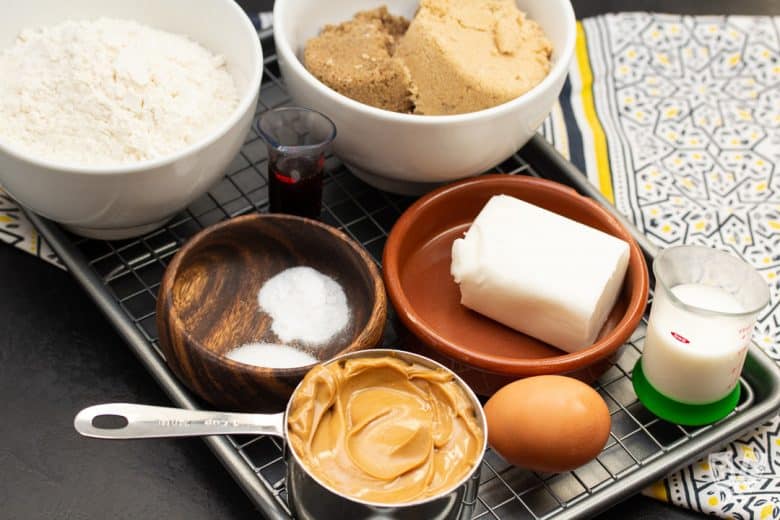 This peanut butter cookie recipe has a few ingredients that come together to form the most perfect, delicious, soft cookie. And as a bonus - the ingredients are all things that I tend to have on hand in my pantry and refrigerator.
We used to always keep a tub of vegetable shortening in our pantry, but I love the stick form of shortening that's available in stores nowadays. The sticks have measurements printed right on them like butter, and it makes it easy to cut off the amount that you need.
And it's a lot easier than having to clean out a greasy measuring cup. Ha!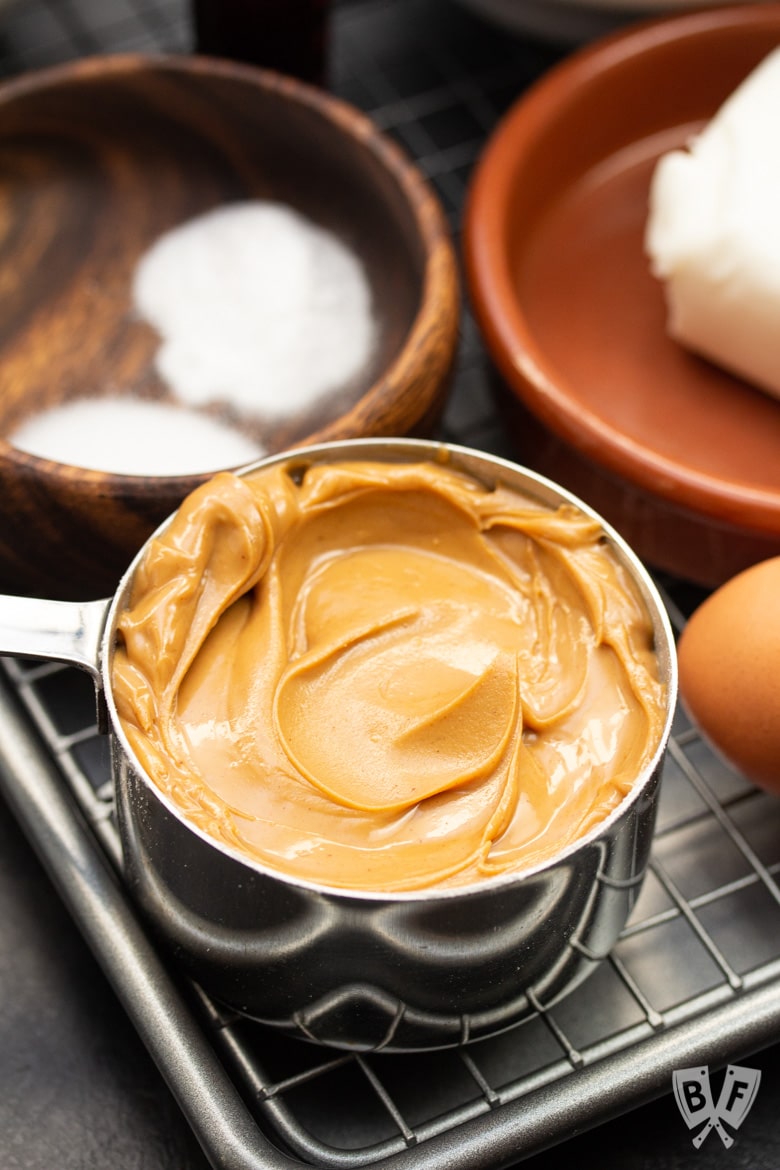 You'll need creamy peanut butter for these cookies. While my family does enjoy natural peanut butter (and the homemade stuff made from only peanuts!), for this particular recipe, I like using store-bought peanut butter that has added sugar.
I tend to use Skippy Natural because it's emulsified so it doesn't need to be stirred. I'd have to do some experimenting if I wanted to make this recipe using chunky peanut butter, a non-emulsified type of natural peanut butter, or one without added sugar.
Any of these changes would likely change the taste and texture of the final cookies. And I want these to taste just like they did when I was a kid. Yum.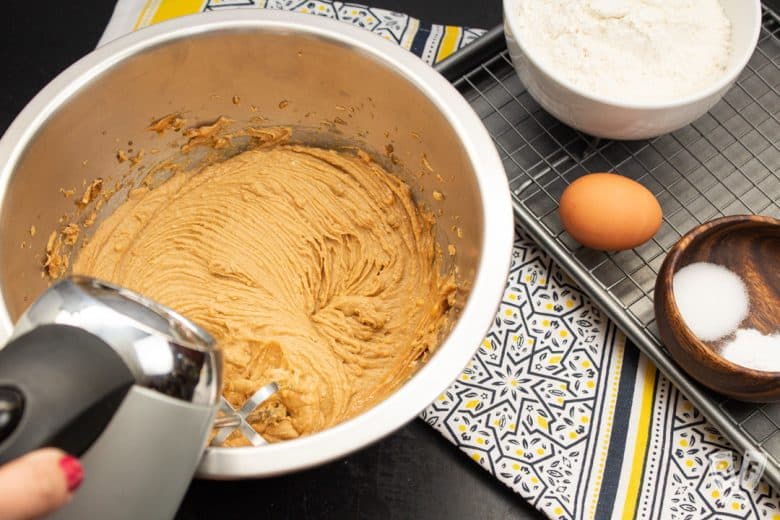 An electric mixer is key for really creaming the ingredients for these peanut butter cookies. You could use a stand mixer, but I usually take out my hand mixer for these cookies.
When I use the hand mixer, I usually either put a bowl onto a silicone potholder or use a mixing bowl that has a built-in grip so the bowl doesn't slide around on the counter while the mixer is going.
Be sure to scrape the inside of the bowl with a spatula to make sure you got all of the ingredients incorporated into the cookie dough. Sometimes little pockets of flour or other ingredients like to hide out on the bottom of the bowl.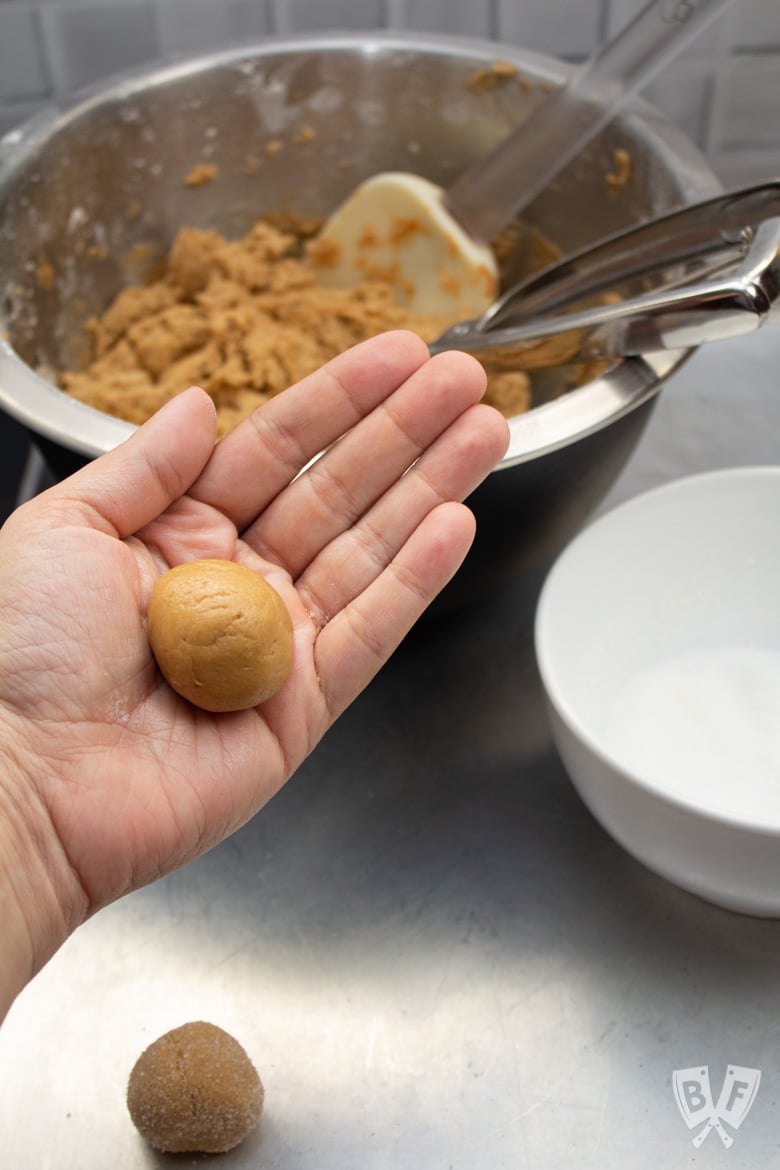 Cookie scoops (also called metal dishers or ice cream scoops) are one of my absolute favorite kitchen tools, especially when it comes to baking cookies. By portioning your dough out with a scoop, you ensure that all of your cookies are exactly the same size. They bake evenly, and they look consistent.
Metal dishers come in lots of different sizes. You can usually find the size engraved on the inside of the piece of metal that swipes across the scoop when you squeeze the handle.
For this peanut butter cookie recipe, I like using a #50 scoop. If you don't have a cookie scoop, don't worry! This size is about a heaping tablespoon. You can totally make them bigger or smaller, too, just be sure to adjust your baking time accordingly.
There's a great chart to show you the equivalents for each of the different scoop sizes over on the Chef's Resources site. I use this reference pretty often.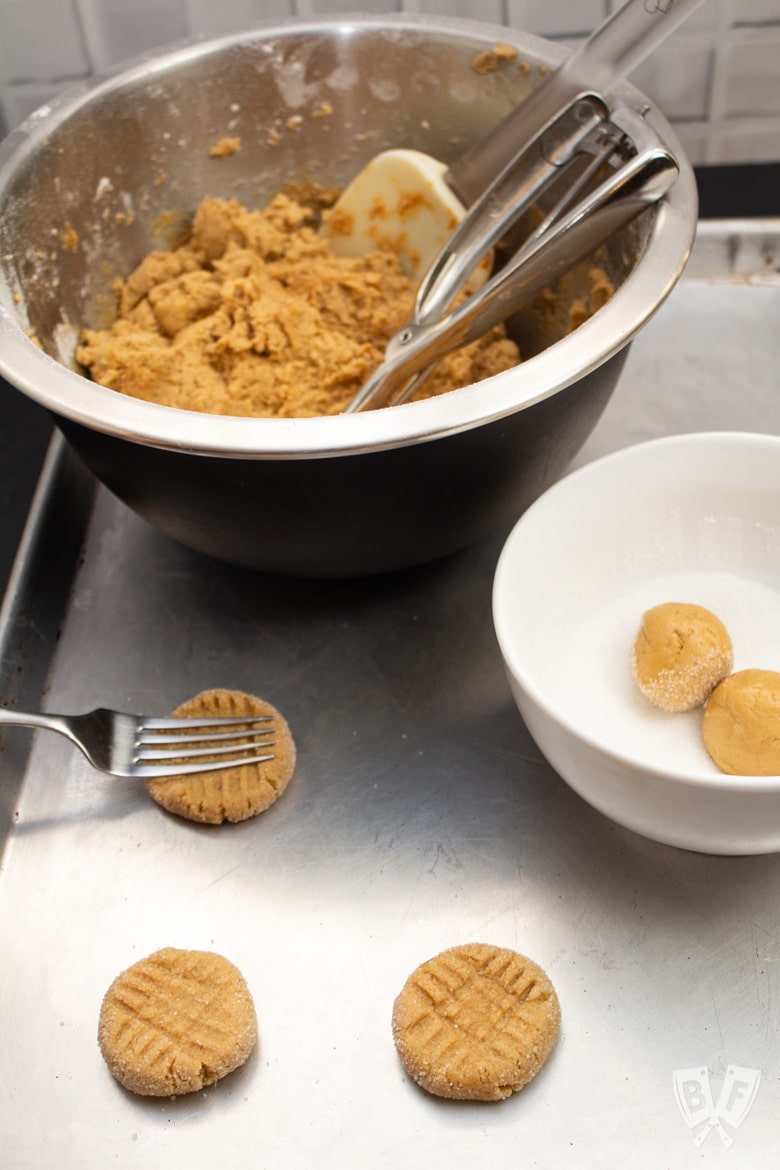 One of the most distinctive parts of any peanut butter cookie is the iconic crisscross pattern on top. This is made by pressing the tines of a fork into the top surface of the cookie dough balls, then rotating the fork 90 degrees and doing it again.
Some recipes have you dip the fork in sugar to keep it from sticking to the dough, but I like to roll each of the cookie dough balls in granulated sugar first. I then line them up on the baking sheet and press the pattern into each cookie before popping them into the oven.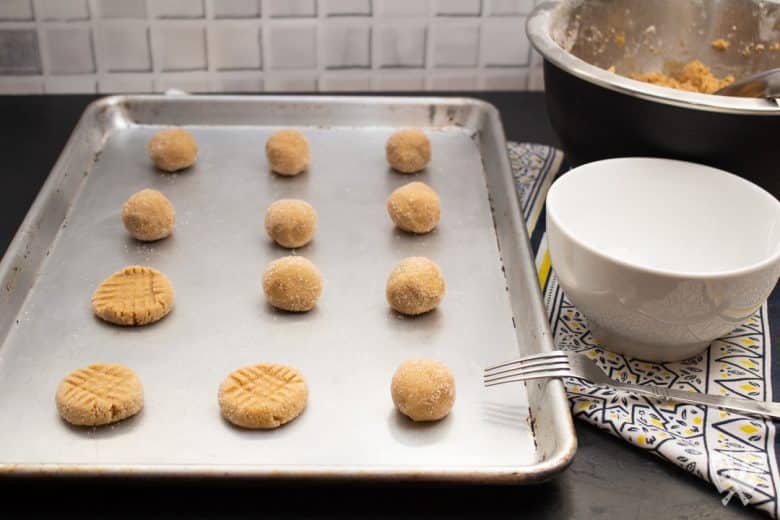 The cookies are very soft (swoon!!), so they need to sit on the baking sheet for a minute or two when they come out of the oven before they're transferred onto a cooling rack. This helps prevent them from tearing apart when transporting them between the sheet and the rack.
Because they're so delicate, I like using a very thin metal spatula for transferring the cookies. This spatula is also great for transferring cut-out cookies from the counter onto baking sheets because it's so super thin that it can slide underneath really easily.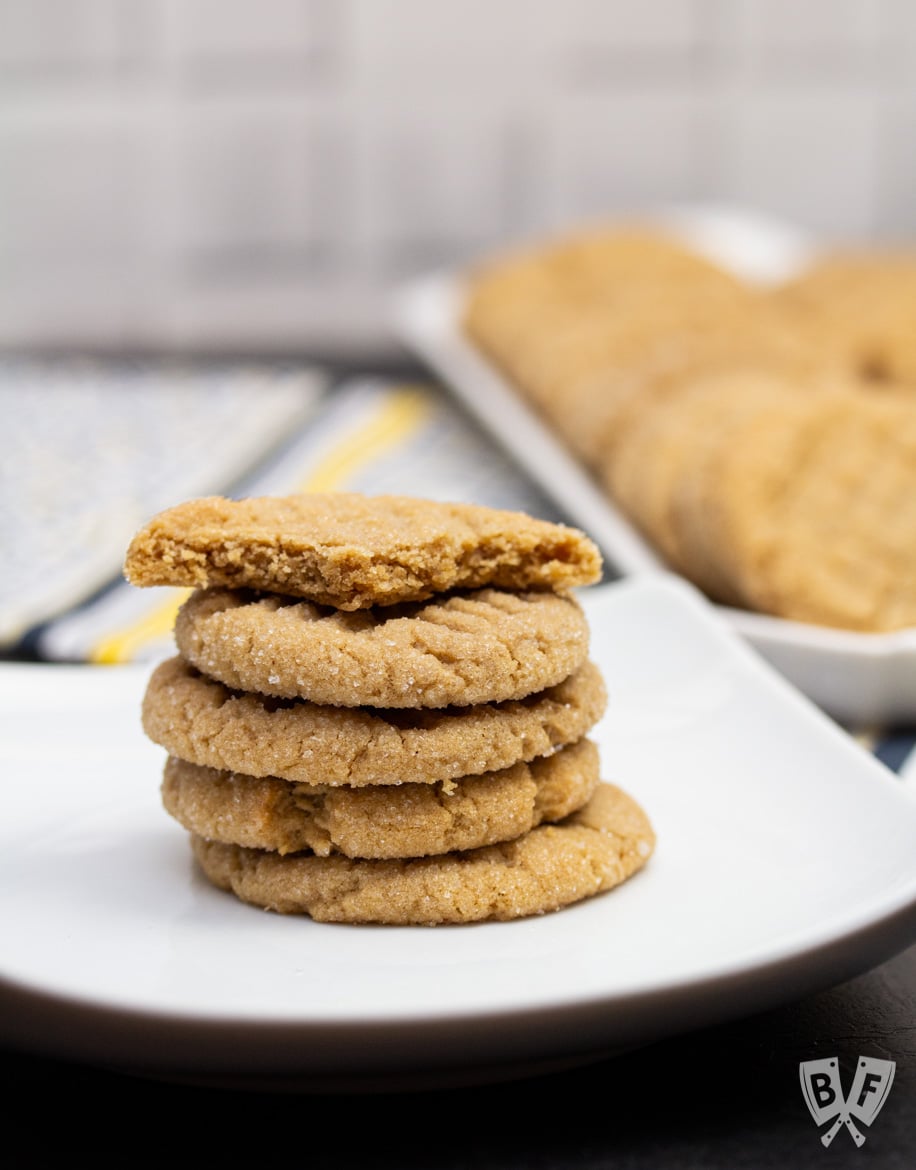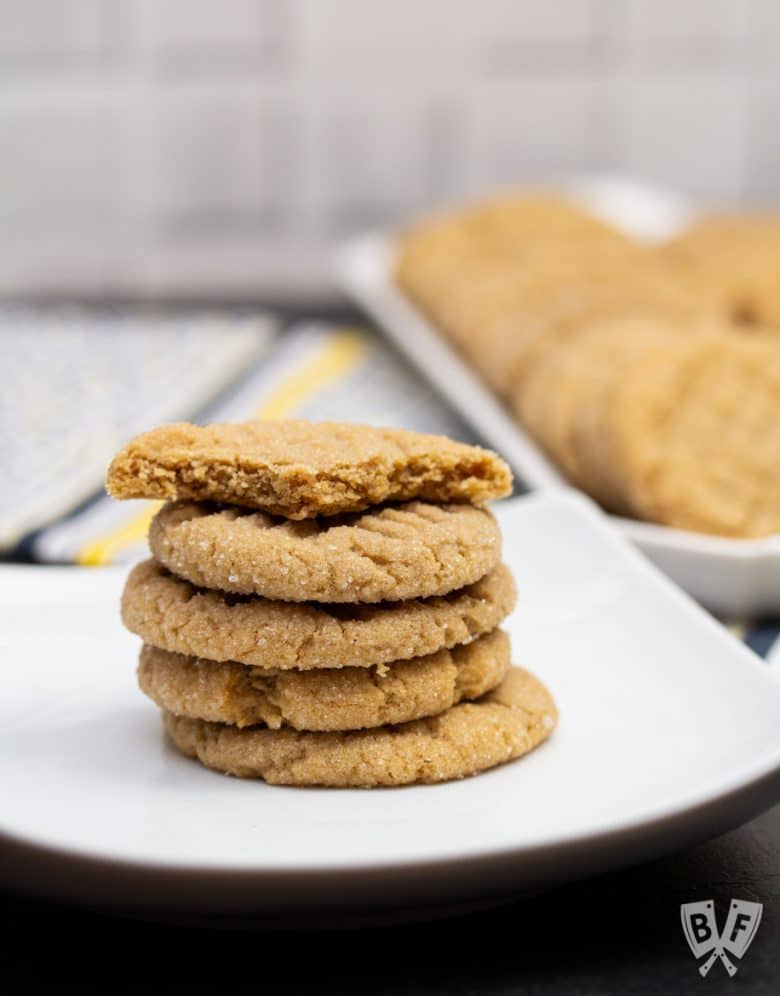 Looking for more cookie recipes? Check out some of our favorites:
Doing some online shopping? Check out my Amazon Shop page for recommendations!
Recipe for Classic Peanut Butter Cookies
If you try out this recipe, please come back and give it a star rating and comment below. It helps other people find my recipes, and I'd love to know what you think of it!
Print
📖 Recipe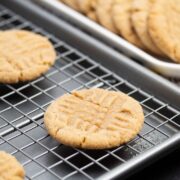 Classic Peanut Butter Cookies
Author:

Prep Time:

5 minutes

Cook Time:

7 minutes

Total Time:

12 minutes

Yield:

About

3

dozen

1

x

Category:

Dessert

Method:

Oven

Cuisine:

American
---
Description
These soft, chewy peanut butter cookies are a dessert recipe that my family has been baking for years. Easy to make with kids & guaranteed to be a hit!
---
---
Instructions
Preheat oven to 375°F.
Place peanut butter, shortening, dark and light brown sugars, milk, and vanilla in large bowl. Beat with an electric mixer at medium speed until well blended.
Add egg and beat until just blended.
Add flour, salt, and baking soda, and blend until just incorporated. Scrape down the sides and bottom of the bowl with a spatula to ensure no large pockets of dry ingredients remain.
Place the granulated sugar in a small bowl that's large enough to roll the cookie dough balls around to coat.
Scoop dough using a #50 metal scoop (about 1 heaping tablespoon). Roll each dough ball gently in your hands to smooth, then place in the bowl of sugar and roll around to coat evenly. Place coated cookie dough balls onto an un-greased baking sheet, leaving a few inches in between each.
Using the tines of a fork, lightly press down into the top of each cookie and then lift, rotate the fork 90 degrees, and press down again to form a cross-hatch pattern.
Bake in preheated oven for 7-8 minutes. Let sit on the baking sheet for a minute or two before removing to wire racks too cool.
Notes
You can use 1 ¼ cups total of light OR dark brown sugar, but I like the flavor that a mix of the two adds to the cookies.
The cookies are very soft, so they need to sit on the baking sheet for a minute or two before they're transferred onto a cooling rack to prevent them from tearing apart. Because they're so delicate, I like using a very thin metal spatula for transferring the cookies.
Nutrition
Serving Size:
Calories:

1378

Sugar:

108.5 g

Sodium:

1214.5 mg

Fat:

69.6 g

Saturated Fat:

15.8 g

Carbohydrates:

172.1 g

Fiber:

5.2 g

Protein:

24.5 g

Cholesterol:

62.3 mg
Keywords: peanut butter, cookie, dessert
Recipe Card powered by