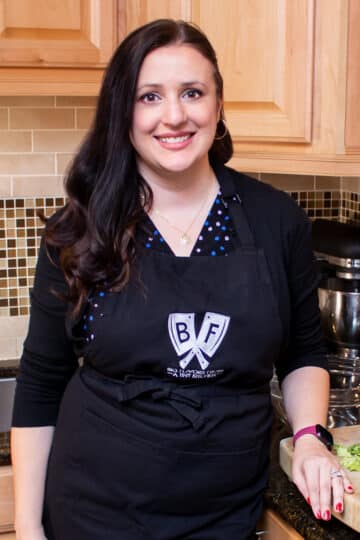 Hi! I'm Ashley and I've been writing about food & recipes here at Big Flavors from a Tiny Kitchen since 2006. I want to help you (yes, you!) gain confidence in the kitchen so you are excited to cook at home for yourself and your loved ones.
My goal is to encourage you to cook delicious food at home no matter what your skill level. I'm here to walk you through the process in whatever format best suits you and your current lifestyle. Cooking can be daunting, but it doesn't have to be!
My legitimately tiny kitchen is located in Ossining, New York– a short train ride from NYC. My professional background is in graphic design + fine art, and I bring that aesthetic to my culinary creations.
I've taught in-person cooking classes to kids, teens, and adults locally for several years now. I'm thrilled to be able to bring these classes online to cook with people beyond my home base of Westchester County. You can check out my current virtual cooking class offerings here, or click on the "Events" tab in the site navigation bar above.
I'll be offering a range of classes for all ages with ingredients from around the world. I look forward to seeing you in class and exploring delicious dishes together!
Big Flavors started out as a place for me to record the meals that I cooked at home and share my successes (and failures!) with my friends and family. As my confidence in the kitchen grew, I began experimenting with new ingredients and flavors, and eventually started developing my own recipes. What started as a hobby has turned into a fairly extensive online resource filled with recipes for every occasion.
Some of my most popular posts are:
I am fortunate enough to have been able to turn my passion for cooking and feeding people into a career. I get to work with a wide variety of brands to create unique, delicious recipes that I feed to my own family and share with my readers. I have created delicious content for clients such as Stonyfield Organic, Barlean's, General Mills, REBBL, The Kellogg Company, Bob's Red Mill, Drizly, King Arthur Flour, Genova Seafood, The Coca-Cola Company, Stubb's Legendary Bar-B-Q, Tyson Foods, Inc., Le Creuset, Stoneridge Orchards, Nature's Path Foods, OXO, OXO Tot, ShopRite, JCPenney, The Valley Table, UncommonGoods, and many more.
Click here to see examples of my sponsored work. If you'd like to work with me, head over to my Contact page and let's talk – I love getting into details, especially when it comes to food!
My work has been featured on Foodgawker, Tastespotting, Huffington Post Taste, Sweet Dreams Magazine, FeedFeed, Foodista, and Mamavation. Head over to my Press page for more.
You can find Big Flavors from a Tiny Kitchen online at bigflavorstinykitchen.com, or connect socially on Instagram, Pinterest, Facebook, Twitter, LinkedIn, YouTube, or TikTok.
Site powered by WordPress and Ashe Pro theme. Front end development and technical assistance provided by Dino Covelli.