This post may contain affiliate links, which won't change your price but will share some commission.
This post has been compensated as part of my partnership with Moscow Muled. As always, all opinions are 100% my own.
Homemade cucumber-infused vodka is a deliciously cool addition to this spicy ginger cocktail, served in a copper mug. Cheers to the Cucumber Moscow Mule!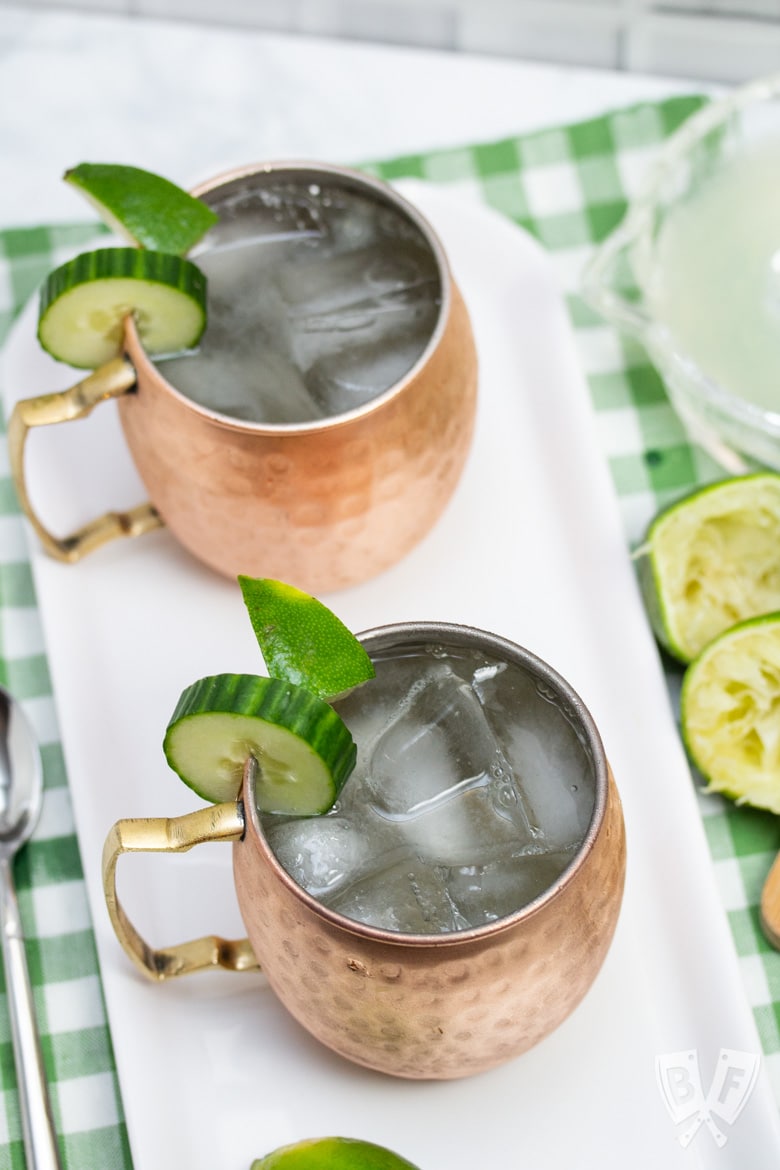 If you've ever been to a bar and seen someone with a cocktail served in a beautiful copper mug, it was likely a Moscow Mule.
The Moscow Mule is a seriously refreshing beverage that will quench your thirst - and it packs a spicy ginger kick!
It's a perfect summertime cocktail since the copper mug will stay nice and cold as you sip away.
And if you're looking for some other summertime cocktail favorites, I'd recommend this guava cocktail with tequila, this watermelon sugar high cocktail, or this refreshing gin cocktail.
What is a Moscow Mule?
A Moscow Mule is a vodka-based cocktail.
There are many different variations on the classic Moscow Mule cocktail, but they usually start with a simple mix of vodka, lime juice, and ginger beer.
According to the brief history lesson over on the Moscow Muled website:
The creators of the mule drink eventually settled on naming the new cocktail the "moscow mule", which was a reference to vodka's Russian roots and the "kick" of flavor added by the ginger beer.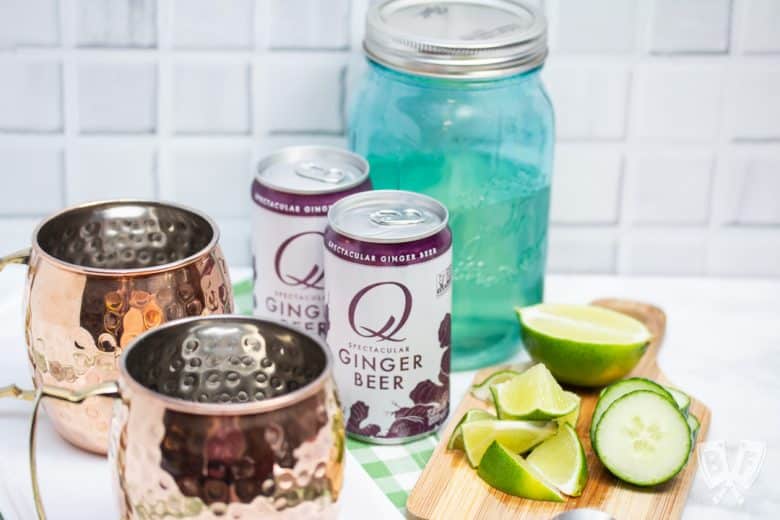 Why Serve Moscow Mules in Copper Mugs?
Copper mugs, also known as mule mugs, are the ideal serving vessel for any Moscow Mule variation.
Sure, a Moscow Mule will still taste good out of a regular cocktail glass, but there's something about the copper mug that really makes them special.
Part of it, for me, is that the mug keeps your beverage so very cold for so very long that it makes it feel much more refreshing than any other cocktail.
I mean, seriously, look at that frosty interior!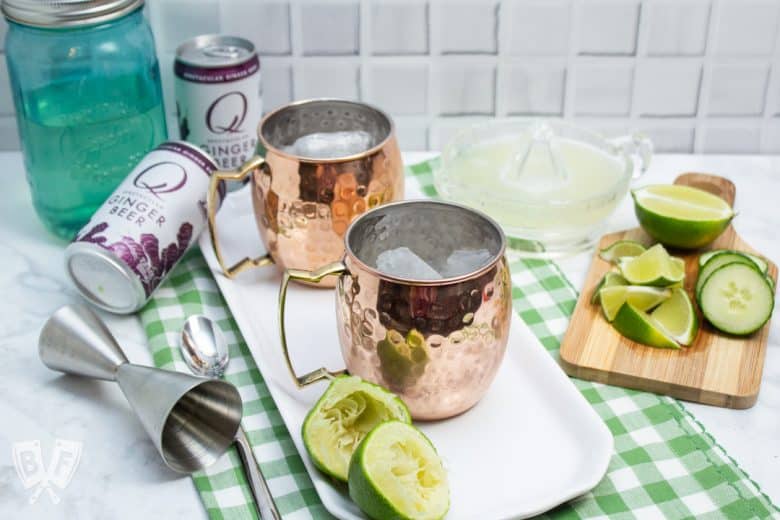 Take the Moscow Mule mugs from Moscow Muled, for instance.
These metal mugs are handcrafted from 100% pure high-grade, food-safe copper.
They're plated with nickel on the interior, which is necessary since copper reacts to acids like lime juice.
The mule mugs are hammered by hand for that beautiful, mottled texture.
One thing that sets these particular mugs apart from other copper mugs that I've come across is that the handles are actually welded onto the mug rather than riveted.
This ensures a water-tight, leak-free handle for your beverage of choice.
Hand washing is recommended, so don't be tempted to throw them into the dishwasher.
The mugs come with cleaning instructions plus tips for keeping that copper nice and shiny.
If you prefer, you can let it form a patina over time.
Either way, copper mugs are a beautiful way to serve any beverage - boozy or not!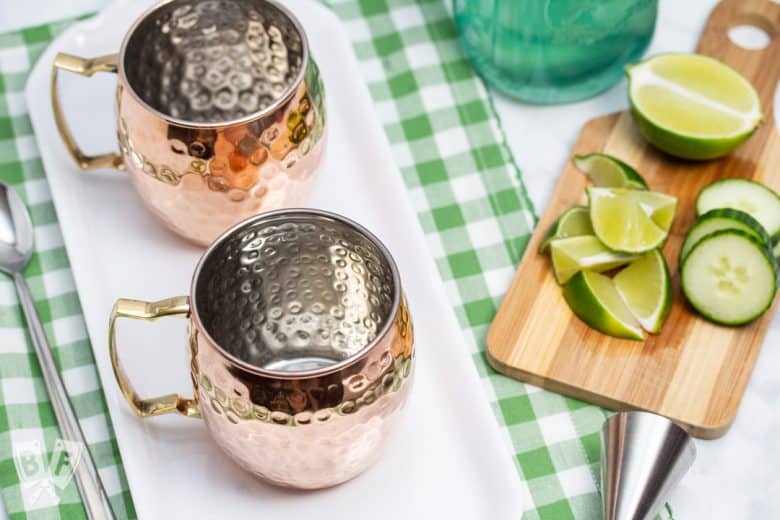 Another thing that I like about Moscow Muled is their social enterprise mission.
They donate 15% of their profits to non-profit organizations that work to stop impaired driving.
This is huge! I enjoy a cocktail or 3 now and then, but one thing that I am never on board with is an impaired driver.
Have a good time but be responsible, people!
If you have the funds to go out drinking, be sure to save a little for a ride home if you don't have a designated driver.
Stay safe out there - don't risk your life and safety or that of others because you overindulged.
OK... I'll get off my soapbox now, but seriously. Don't drink and drive. Life is worth living!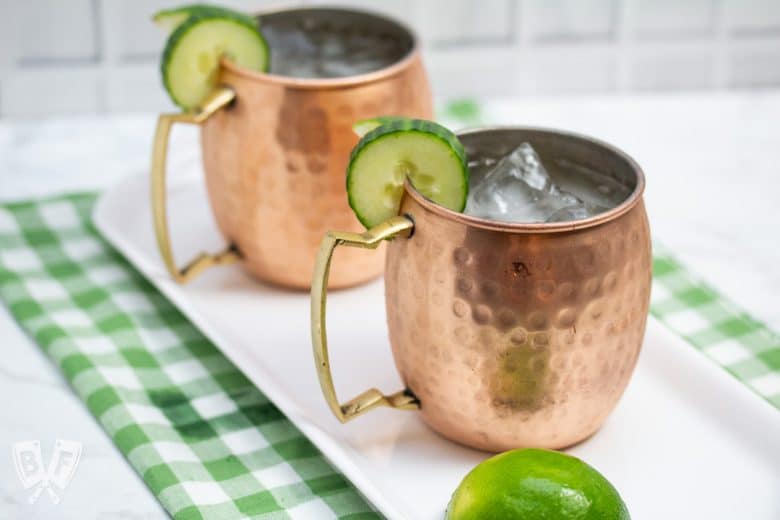 Cucumber Moscow Mule Ingredients
Since the basic Moscow Mule is so simple, the quality of ingredients is really important here.
You'll be able to taste the quality, so go with your favorite vodka, ginger beer, and freshly squeezed lime juice.
Don't try substituting the bottled lime juice - juice your own limes. Trust me!
I found an awesome ginger beer from Q Drinks that is specifically made for mixing into cocktails.
It's spicier, more carbonated, and less sweet than other ginger beers I've tried.
It's sweetened with just a touch of agave, and my husband and I really enjoyed it.
I also love that they come in little slim 7.5-ounce cans, so you can use one can for 2 cocktails and you're good to go!
And now, the vodka. I used Tito's Handmade Vodka for this recipe, but feel free to use your favorite brand.
I love Tito's for the quality and taste, and the price point is more than fair.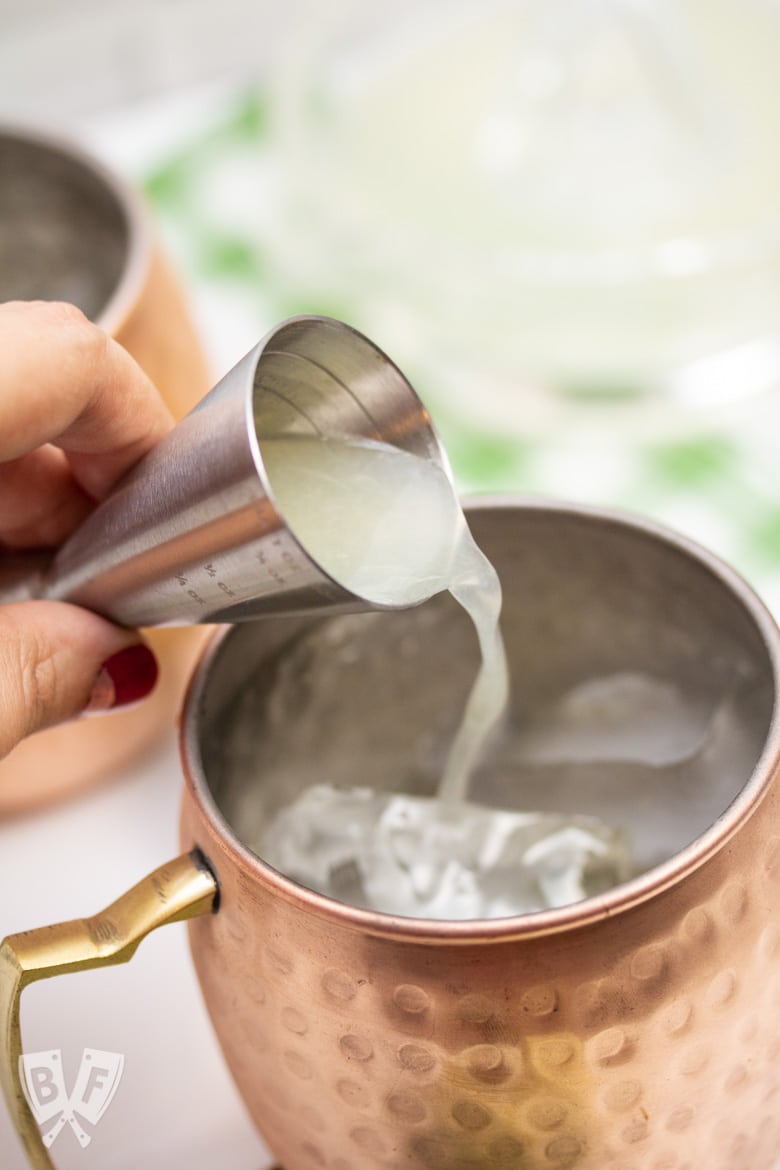 Making Homemade Cucumber-Infused Vodka
This recipe calls for homemade cucumber-infused vodka.
If you have a brand of cucumber vodka that you already love, feel free to try it out in this recipe. But infusing your own cucumber vodka is seriously simple!
All you need is a cucumber, some vodka, and a glass jar with a lid.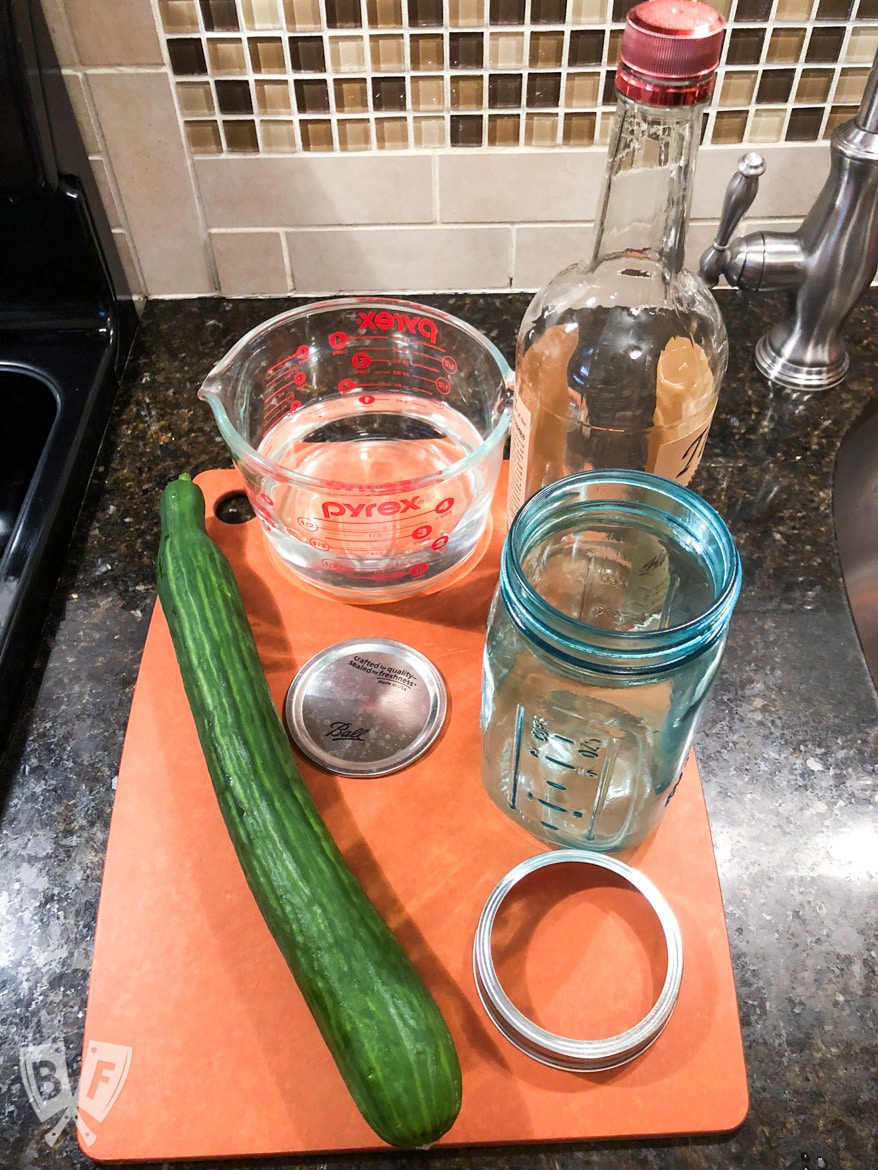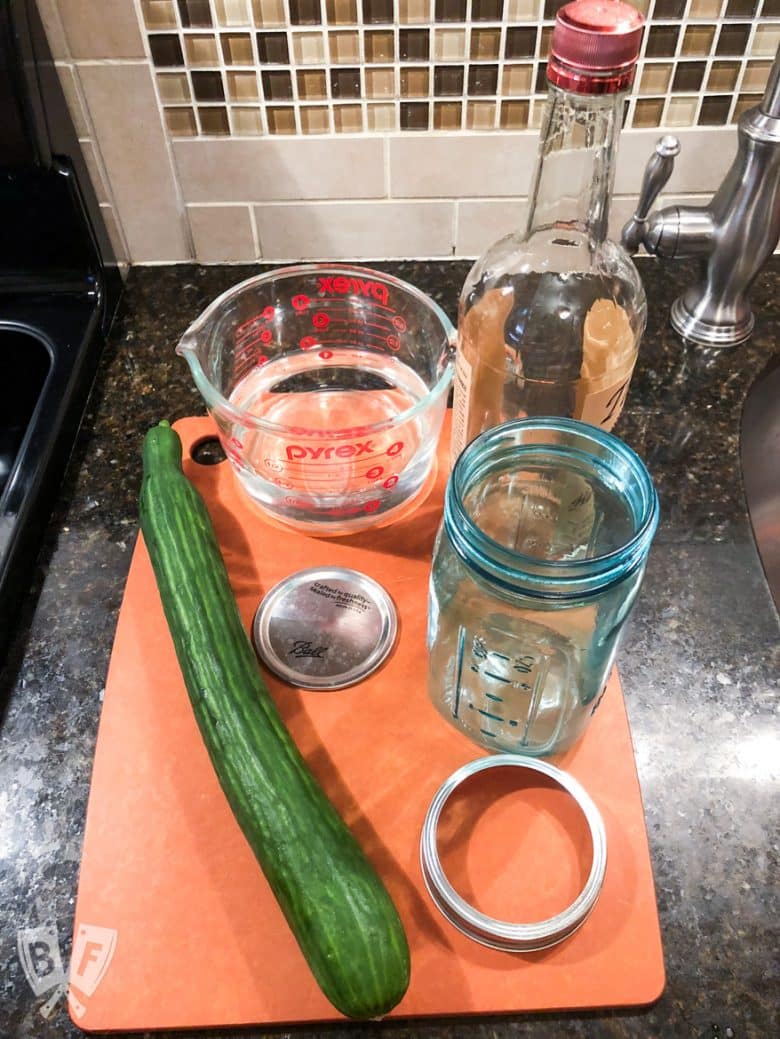 Peel your cucumber and cut it in half lengthwise. Scoop out the seeds, then chop it into 1-inch slices.
Pour the vodka over top, seal it, and stash it somewhere cool for 3-7 days, depending on how strong you want the cucumber flavor to be.
You won't want to leave it in the jar for too much longer than a week, or it'll start to get bitter.
I like to store my cucumber vodka in the fridge to keep it nice and cold after it's done infusing, but you don't have to.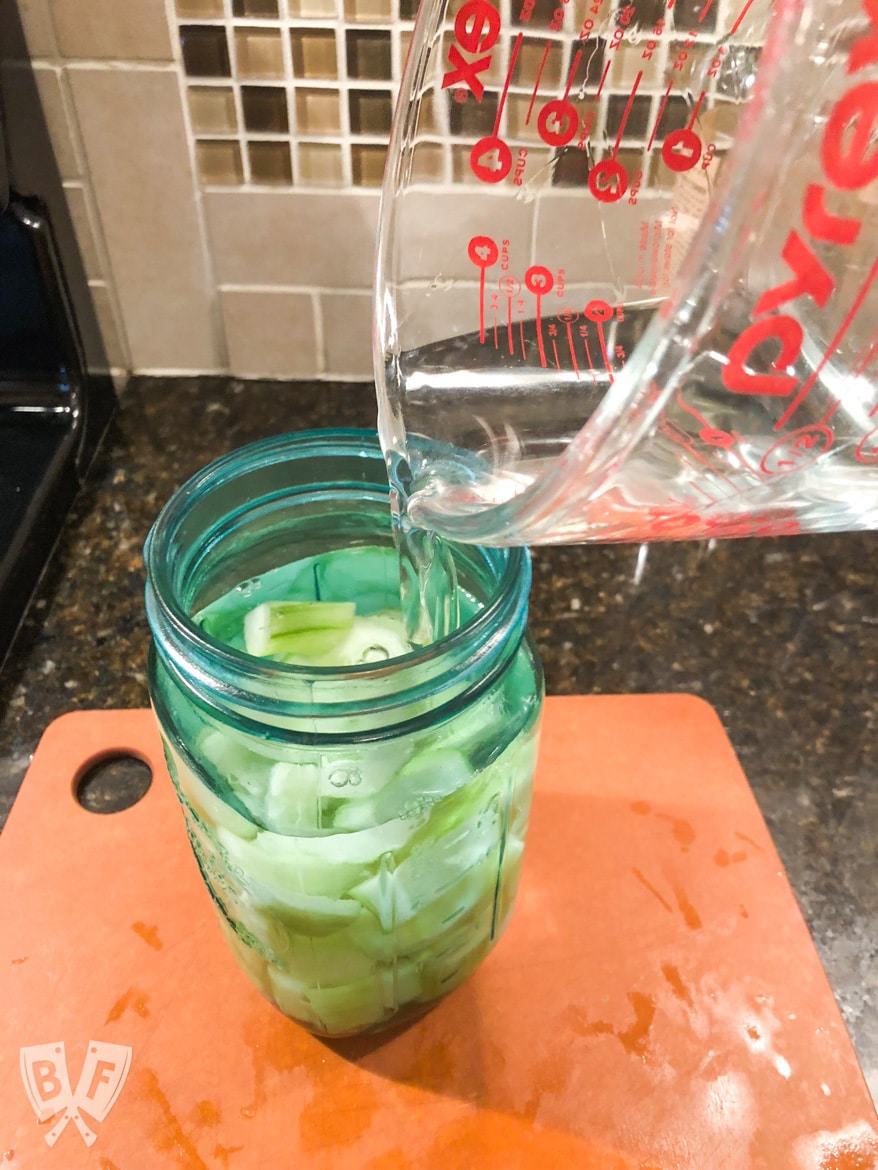 I actually wanted to infuse my vodka quickly, so I tried out a sous vide method and let me tell you - it worked out beautifully!
I'll be posting a more in-depth tutorial for how to make sous-vide cucumber infused vodka in the very near future, but the basic gist of it is to vacuum-seal it in a jar and cook it in a 140°F water bath for 2 hours before cooling it down.
It seriously only takes 2 hours and it tastes like something you've been infusing for days.
It was so easy, and I already have more infusion plans in the works.
I love that it's quick enough that you can decide to make it in the afternoon and it's ready in time for happy hour!
I used this wide mouth jar sealer attachment for my FoodSaver to give my cucumber-vodka mixture an airtight seal.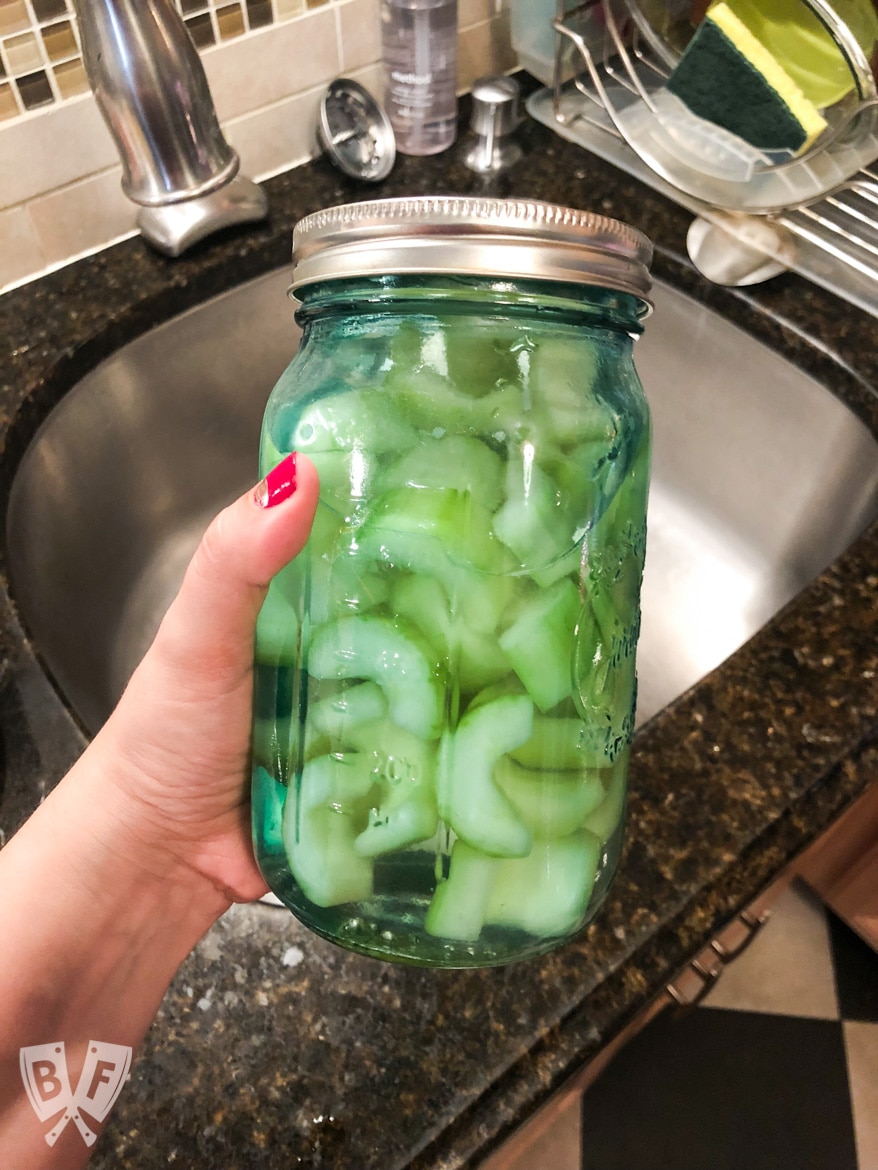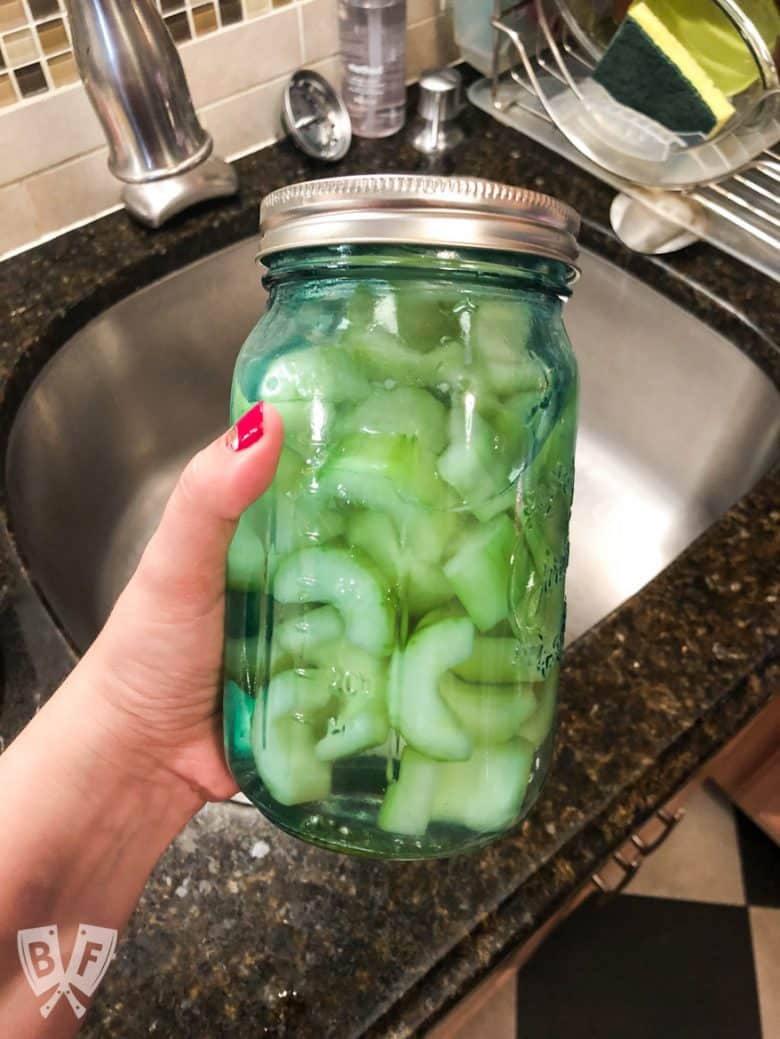 Either way you choose to infuse your vodka, make sure you put a bowl underneath your jar when you strain out the cucumber solids.
I've heard too many stories of people accidentally straining their infused alcohols right down the drain because they spaced out on the fact that they needed to keep it. D'oh!
Now that you've been properly introduced to the Moscow Mule, along with my Cucumber Mule variation, it's time to get mixing!
What flavors do you enjoy in your mules? Drop me a line in the comments section below to let me know!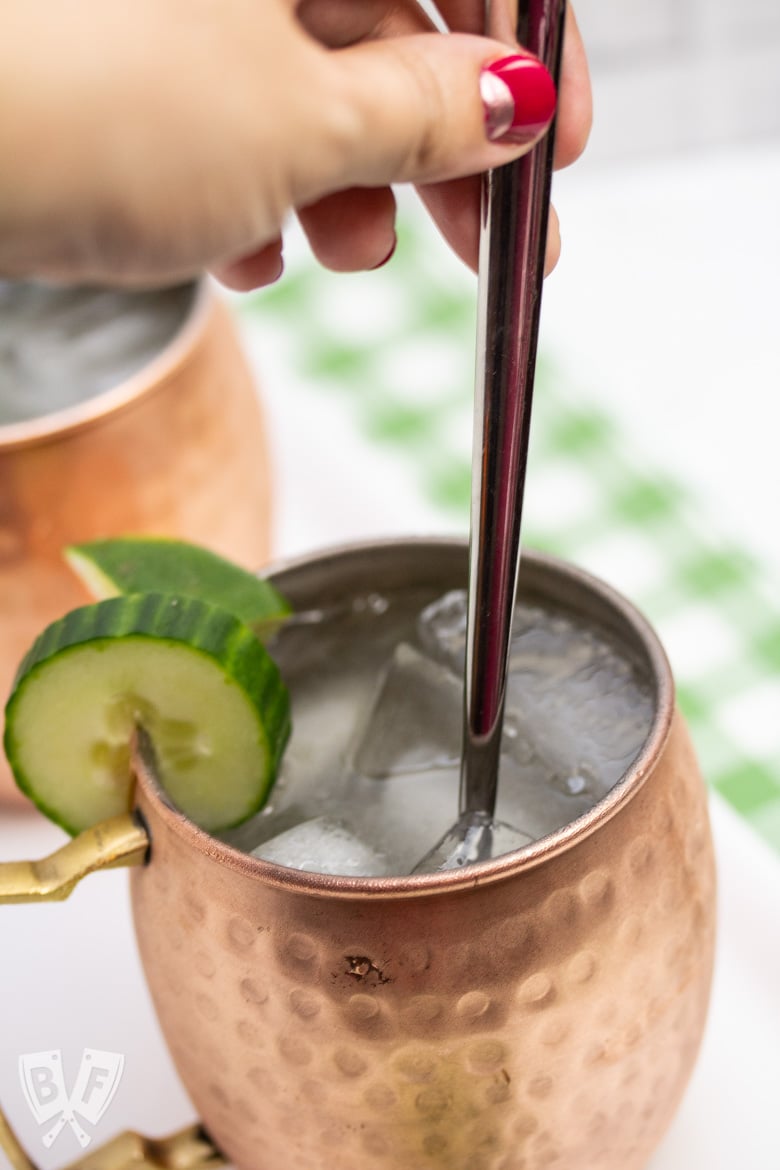 Love cucumber recipes? Check out some of our very favorites in this roundup: 25+ Must-Try Cucumber Recipes
Recipe for Cucumber Moscow Mule
Print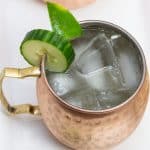 Cucumber Moscow Mule
Author:

Prep Time:

2 minutes

Cook Time:

0 minutes

Total Time:

2 minutes

Yield:

1

1

x

Category:

Cocktail

Method:

Stir

Cuisine:

American
---
Description
Homemade cucumber-infused vodka is a deliciously cool addition to this spicy ginger cocktail, served in a copper mug. Cheers to the Cucumber Moscow Mule!
---
1 ½ ounces

cucumber-infused vodka, preferably homemade

½ ounce

freshly squeezed lime juice

3

-

4

ounces ginger beer (I used Q Drinks)
Lime wedge, for garnish
Cucumber wheel, for garnish
---
Instructions
Fill a copper mug with ice. Pour in cucumber vodka, lime juice, and ginger beer to taste. Stir, garnish with lime wedge and cucumber slices, and enjoy!
---
Notes
See post above for tips on making your own homemade cucumber vodka, or feel free to use your favorite store-bought brand.
Nutrition
Serving Size:
Calories:

199

Sugar:

24.7 g

Sodium:

20.2 mg

Fat:

0 g

Saturated Fat:

0 g

Carbohydrates:

25.7 g

Fiber:

0.1 g

Protein:

0.1 g

Cholesterol:

0 mg
Keywords: moscow mule, how to make a moscow mule, moscow mule recipe
Recipe Card powered by