This post may contain affiliate links, which won't change your price but will share some commission.
This air fryer chicken wing recipe turns a few ingredients into perfectly crispy, juicy wings coated in a garlicky parmesan butter. Perfect for game day!
This post may contain affiliate links.
I don't have a ton of space in my kitchen (hence the "tiny kitchen" portion of my site name!), so I try not to add new gadgets or appliances unless I know that they'll get used often. They need to be worth the countertop/cabinet real estate to make the cut to get added to my kitchen.
Kind of like Alton Brown's thoughts on "unitaskers".
So when I heard about air fryers a while back, I was intrigued but didn't want to find a place to store yet another kitchen appliance. I mean, I'm obsessed with my Instant Pot and it can cook SO many things... why would I need an air fryer?
But then I won this Ninja air fryer in a giveaway and figured I'd at least give it a shot before most likely giving it to someone else.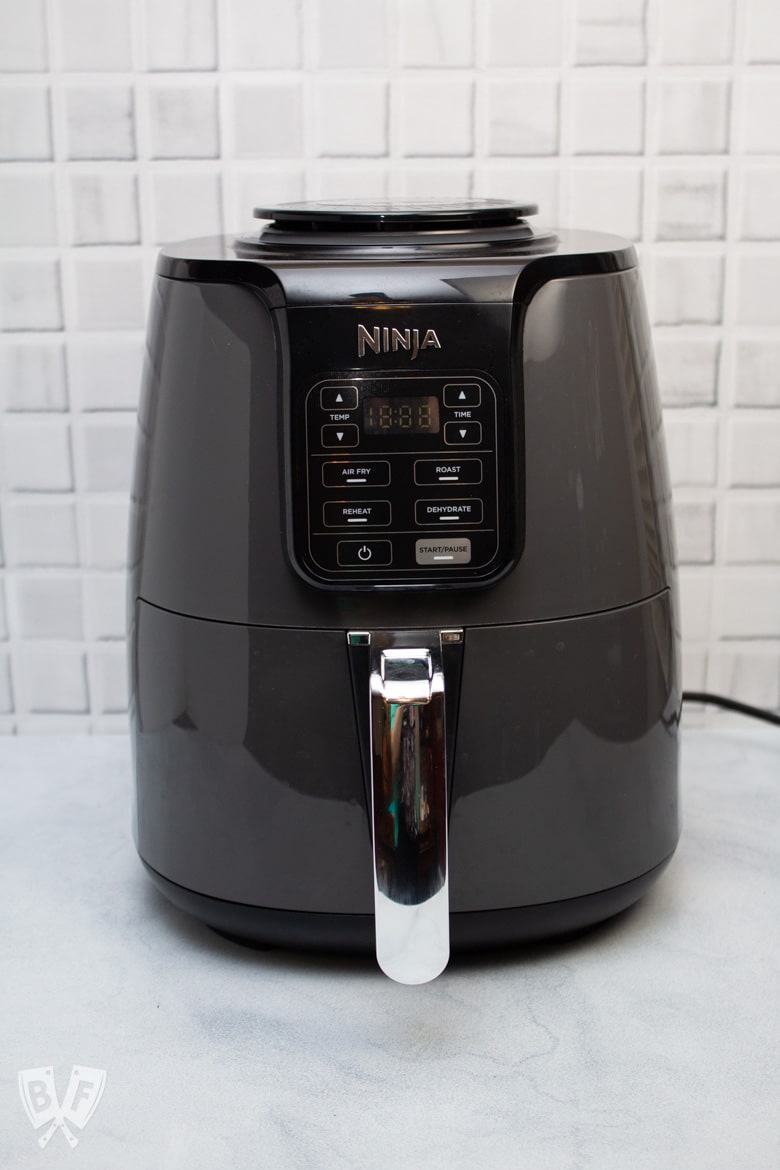 What exactly is an air fryer?
An air fryer is basically a small-scale convection oven. Air fryers circulate the air around the food so they cook evenly all around. That means no hot spots or patches of food that cook slower than others (as long as you keep things in an even layer inside).
I figured that since we have a convection oven at home, an air fryer wouldn't be much different. But boy was I wrong!
After doing a lot of reading on air fryers to figure out the best types of things to cook with them, I was surprised to see how versatile they really are. And since they're much smaller than a standard convection oven they heat up very quickly, making them perfect for getting dinner on the table quickly.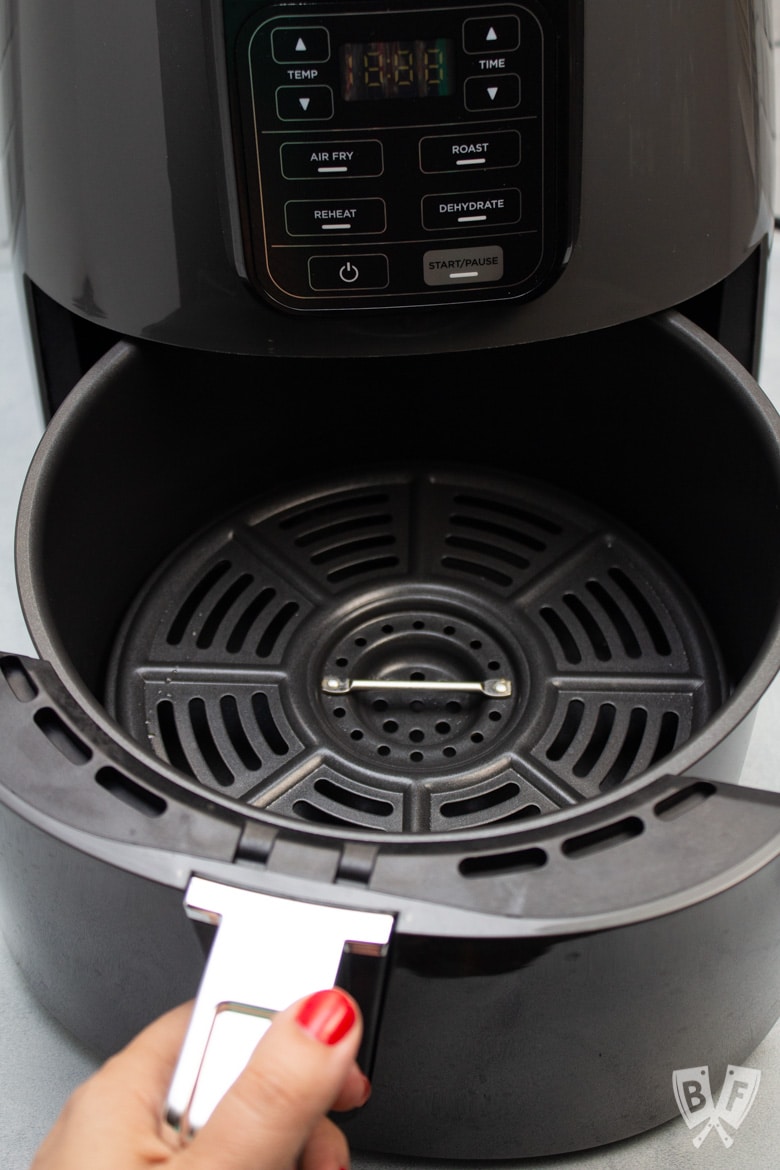 What types of things can you cook in an air fryer?
Since getting this air fryer, it's been used almost daily in my house. Some of the ways we've used our air fryer so far:
Cooking frozen tater tots
Reheating pizza
Roasting Brussels sprouts
Reheating chicken strips & french fries
Cooking frozen fish sticks
Air-frying falafel
Air-frying chicken wings
Reheating quiche
Reheating French toast & bacon
Cooking frozen veggie burgers
Air-frying asparagus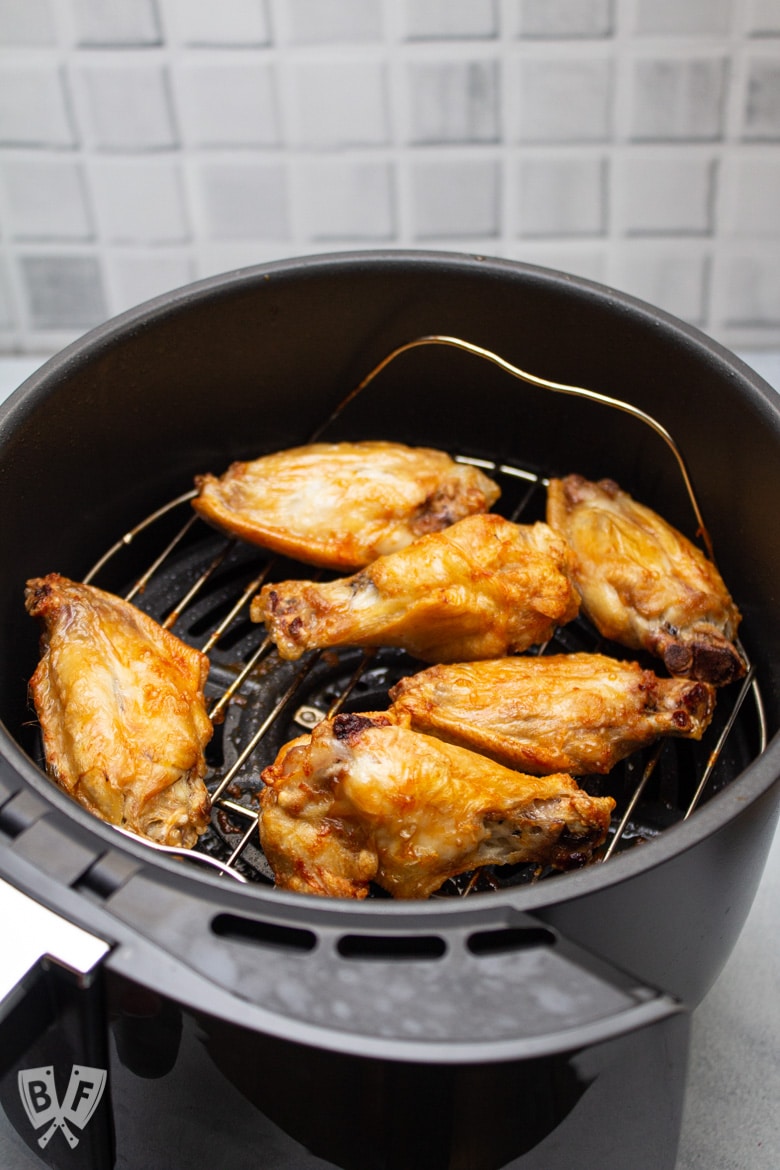 Since the Ninja air fryer is so small, it only takes 3 minutes to preheat. I'm able to get crispy food like tater tots and chicken wings without the need for inches of oil for deep-frying.
We use it to reheat leftovers often - it does the job so quickly and brings things like pizza back to life and gets them nice and crispy.
I also love that I can throw a mix of frozen tater tots and chicken nuggets or fish sticks in it for my son while I'm cooking something on the stovetop for me and my husband. I just have to stop and shake the tray every few minutes to make sure they get golden and crispy all over. Super easy.
One thing I haven't tried yet but plan to soon is the dehydrate function. I've never bought a dehydrator because they're so bulky and I really don't have the storage space for one, so this is a great way to try that out on a smaller scale.
Luckily for me, the air fryer that I won ended up being one of the highest-reviewed ones out there. If you check out the air fryer search results page on Amazon, you can see lots of options, and the overwhelming praise for this particular model.
I will say that it's on the smaller side. There is a Max XL 5.5-quart model that's a bit larger, but this one suits my family's needs just fine.
For things like chicken wings, I'm able to cook a pound (about 6 wings) at a time. Since they cook quickly, it's not really an issue for me, but if we were entertaining and I wanted a big batch of wings it may not be the best way to cook them.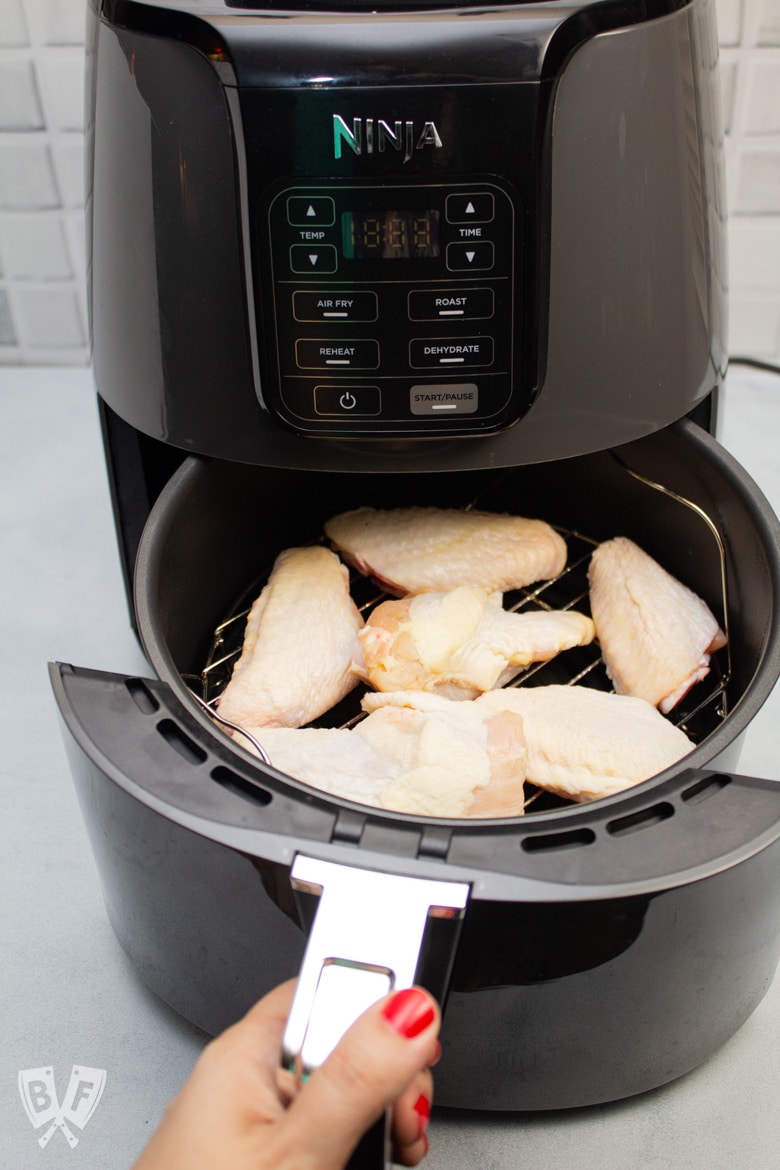 I've been finding more and more ways to use my air fryer and absolutely love it. My husband is obsessed, too. We've really been enjoying it and I love that I don't have to always turn on my stove or oven and heat up the kitchen to cook something quickly.
The very first thing that came to my mind when I got my air fryer was chicken wings. I could have gone with standard Buffalo-style chicken wings, but I wanted to do something a little different.
There's a local restaurant that makes garlic Parmesan chicken wings, and they bring the plate out with a pile of Parmesan cheese on top. They're messy and delicious, and I knew that it was just the thing for me to try out with my air fryer.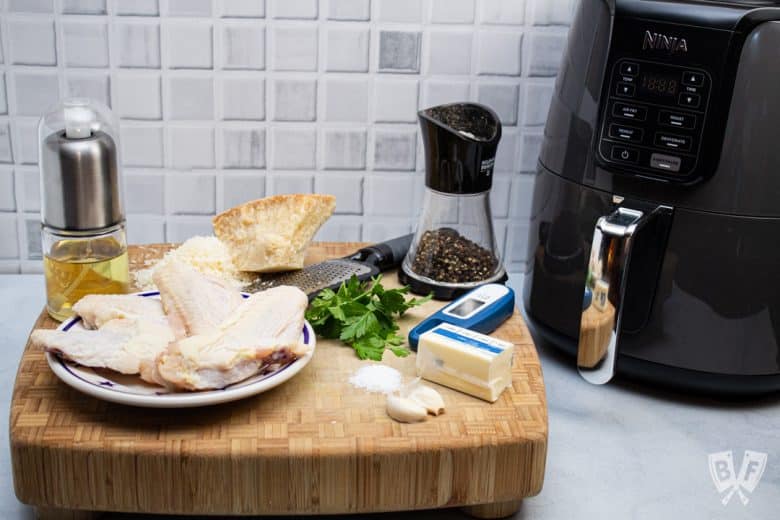 Handy tools for making air-fried chicken wings
This recipe doesn't require many ingredients, but you do need a few items to make things go easier when it comes to the cooking process.
Aside from an air fryer, I highly recommend using an instant-read thermometer. This model has a magnet so it can fold up and hang out on your refrigerator so it's always at the ready when you need it. They also have a pro-level one that has a backlit display and ambidextrous display, which would come in handy for the 2 lefties that I live with. But I've had the basic model for several years now and the battery is still going strong.
Instant-read thermometers come in handy for so many kitchen tasks and this one is very reasonably priced. I like using it for things like chicken wings to really ensure that the meat is cooked through. I also use mine for checking the temperature of milk when foaming for lattes, and when making candy or tempering chocolate.
Luckily, when cooking in an air fryer, the convection fan helps keep the meat juicy even if you do "overcook" it. But a thermometer really does come in handy.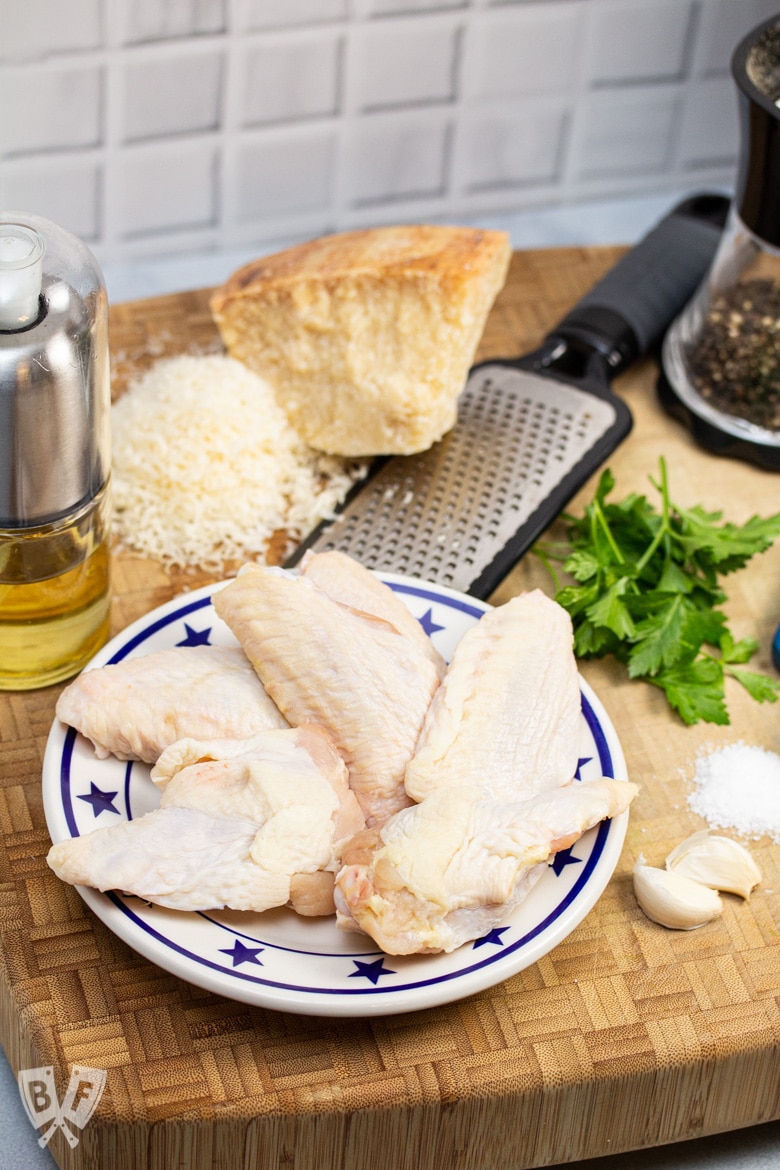 It's true that you don't need a lot of oil for deep-frying when using an air fryer, but it can be helpful to occasionally spritz the things that you're frying with a little bit of oil. After using a refillable oil mister that kept clogging, I switched to this glass oil mister a few years ago and haven't looked back. I like that I can put any type of oil I want in there, and it's great for recipes like this where I want to lightly oil the cooking rack so the food doesn't stick to it.
If you haven't tried shredding your own Parmesan cheese, it really does make a big difference when it comes to recipes, especially those with only a few ingredients. I keep a chunk of Parmesan in my fridge at all times and use a Microplane to grate it as needed. You can buy pre-grated Parmesan if you like, but it really does taste better if you're able to do it fresh.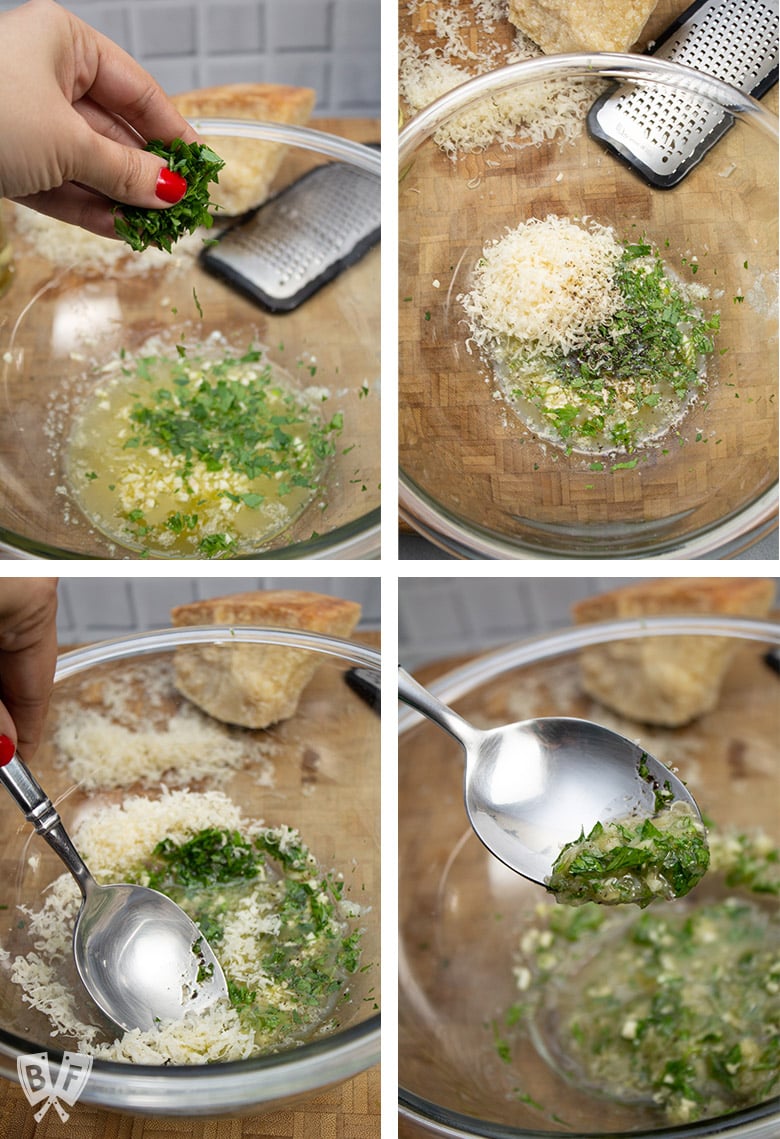 How to make garlic Parmesan butter for chicken wings
Making the garlic Parmesan sauce to toss the chicken wings in is super simple.
Just melt some butter - this can be done on the stovetop or in a microwave-safe bowl. I like using a bowl that has a lid, that way I can just add the chicken to the sauce, close the lid, and shake it up to coat the wings in the sauce. It's easier and less messy and totally something kids can help with!
The sauce is the melted butter, freshly grated Parmesan cheese, some chopped parsley, and a little black pepper.
Once it's all mixed together It can hang out in the bowl on the side until your wings are finished cooking.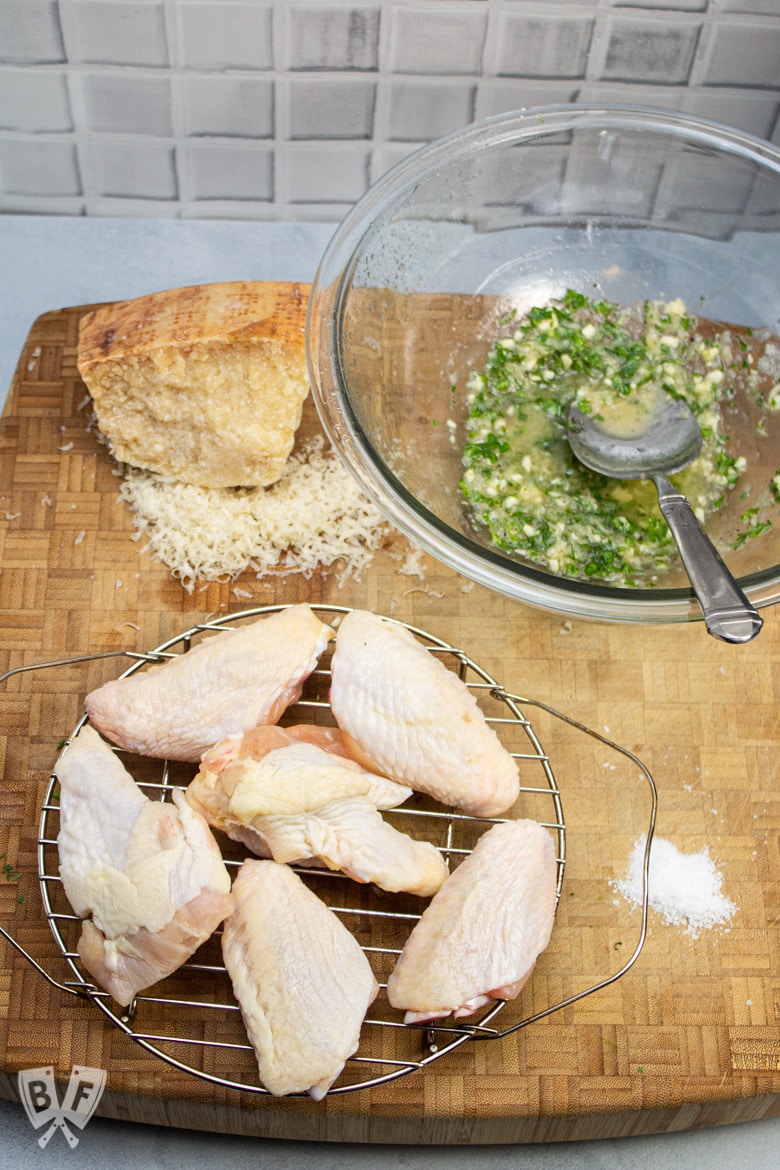 How to cook chicken wings in an air fryer
If your air fryer has a rack like mine does, you can spray it with oil and arrange the chicken wings on top, then carefully place the rack inside your air fryer once it's preheated.
I like to pat my wings dry and put them in the air fryer with no seasoning at all while they cook. Flip your wings after 10 minutes and let them cook another 6-10 minutes or until they're crispy and the internal temperature of the biggest chicken wing reaches at least 165°F.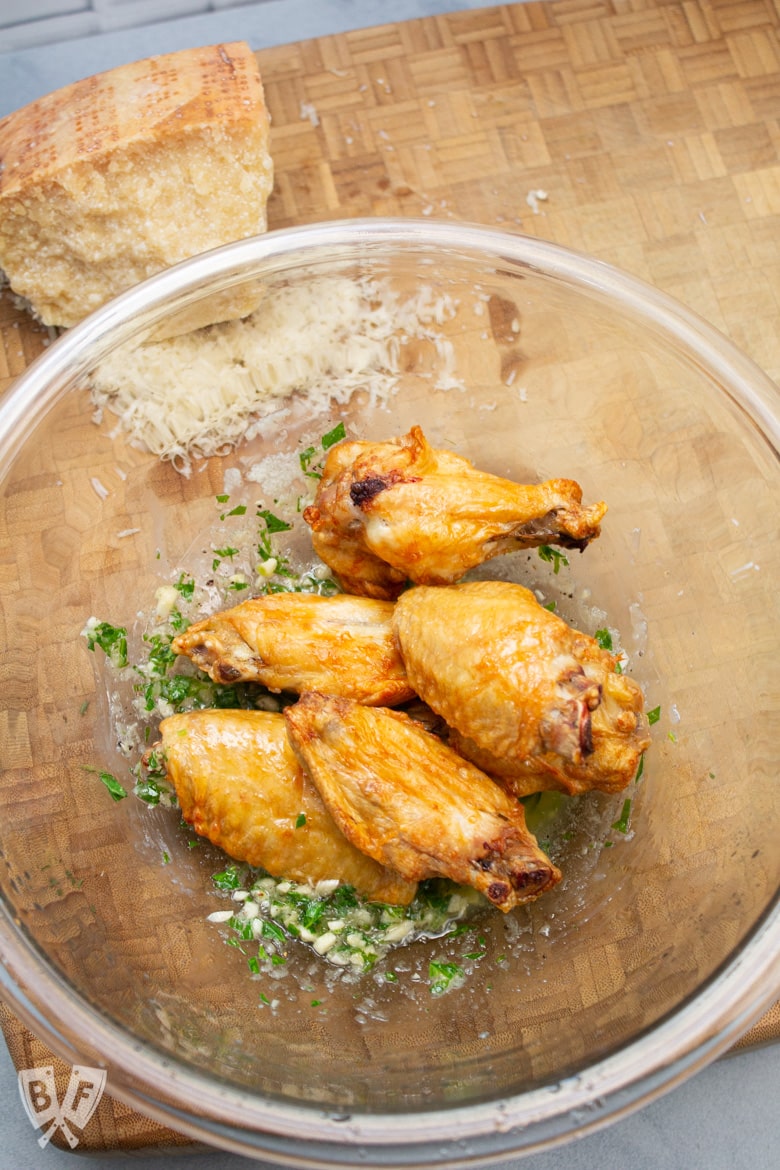 Remove them to the bowl of sauce, add some salt, and toss it until well coated (or shake if you have a lid on your bowl).
You may need more salt (or more Parmesan) depending on your taste and the size of your salt grains.
After the wings are adequately sauced, put them on a plate and pile on some more Parmesan cheese.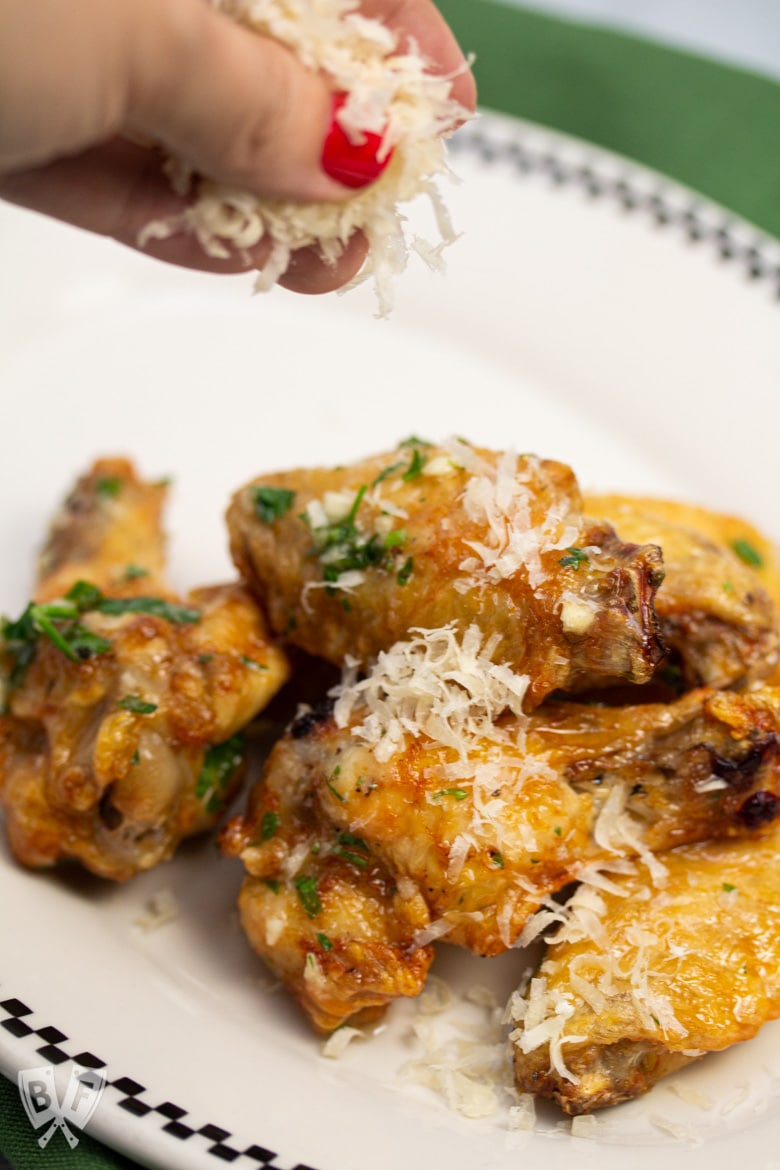 While these chicken wings aren't necessarily healthy due to all of the butter, they're certainly less fatty than ones that have been deep-fried and coated in melted butter.
The first time I made air-fried garlic Parmesan chicken wings I did one batch with this sauce and one batch tossed with Frank's Red Hot wing sauce.
When we have hot wings we usually dip 'em in blue cheese dressing, but for the garlic Parmesan ones, they're great with no additional sauce or dippers.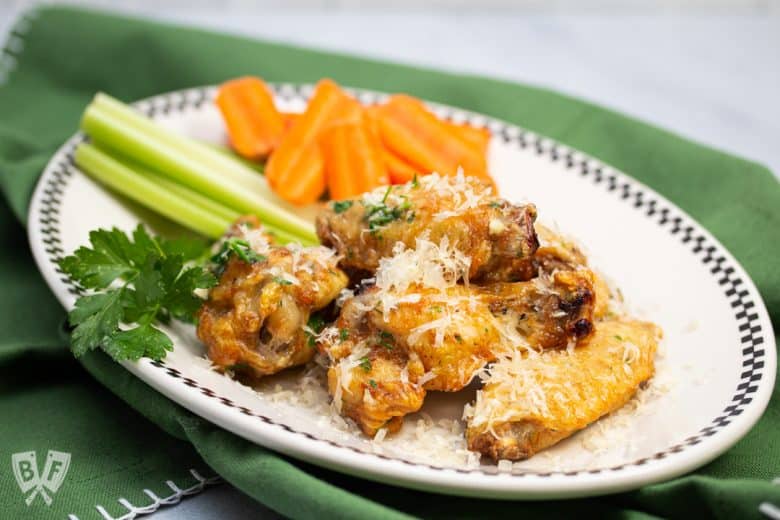 I always enjoy having some crispy veggies alongside, and carrots and celery are great choices.
If you find your wings a little bland, just sprinkle a bit more salt on top and you should be good to go.
I'm obsessed with these air-fried chicken wings and hope they're a hit for you and your family, too!
Some other party food favorites include this easy classic hummus that uses canned chickpeas (no soaking required!), these mayo-free deviled eggs, this buffalo chickpea dip, and this layered taco dip.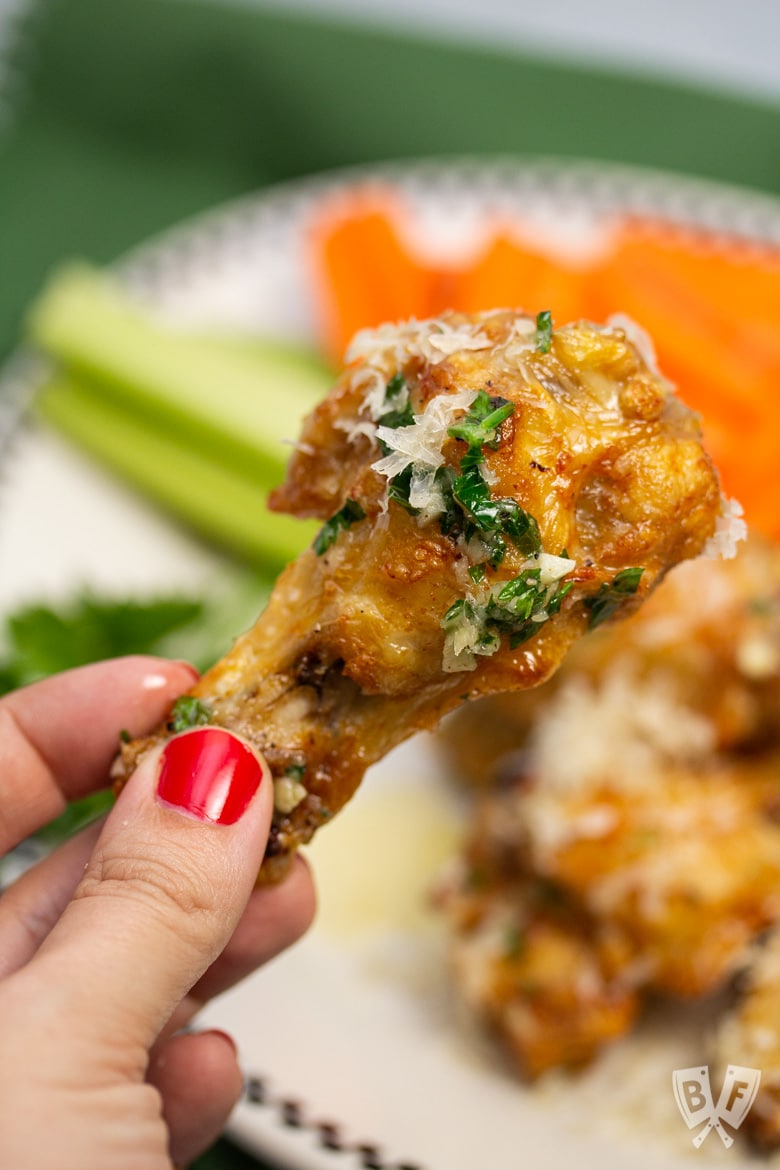 Looking for more appetizer favorites? Check out these 5-star recipes:
Doing some online shopping? Check out my Amazon Shop page for recommendations!
Recipe for Air Fryer Garlic Parmesan Chicken Wings
If you try out this recipe, please come back and give it a star rating and comment below. It helps other people find my recipes, and I'd love to know what you think of it!
Print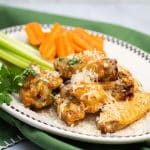 Air Fryer Garlic Parmesan Chicken Wings
Author:

Prep Time:

5 Minutes

Cook Time:

16 Minutes

Total Time:

21 minutes

Yield:

2

Servings

1

x

Category:

Appetizer

Method:

Air Fryer

Cuisine:

American
---
Description
This air fryer chicken wing recipe turns a few ingredients into perfectly crispy, juicy wings coated in a garlicky parmesan butter. Perfect for game day!
---
1

pound chicken wings

4 tablespoons

(

¼ cup

) unsalted butter

2

cloves garlic, minced

1 tablespoon

fresh parsley, finely chopped

⅓ cup

freshly grated Parmesan cheese, divided

⅛ teaspoon

freshly ground black pepper

¼ teaspoon

kosher salt
---
Instructions
Pat chicken wings dry with paper towels. Once air fryer is preheated, arrange wings in a single layer on the rack so they aren't touching. Place wings in the air fryer and cook for 10 minutes. Flip the wings over and continue cooking until an instant read thermometer reads at least 165°F, about 6-10 minutes longer.
While the chicken is cooking, melt the butter. In a large bowl, stir together melted butter, garlic, parsley, half of the Parmesan, and pepper.
Place the cooked wings on top of the mixture, sprinkle with salt, and toss it all together. Sprinkle remaining Parmesan over the top of the wings and serve.
Notes
For my Ninja air fryer, preheating takes 3 minutes.
I like using wingettes (flats) and drumettes. If you buy full chicken wings you can cut them at the joint and remove the wing tips.
If you have a bowl with a lid, close the lid and shake to get the sauce to coat the wings easily.
The wings may need more salt, so feel free to add more kosher salt or Parmesan cheese at the end.
Cook time may vary depending on your air fryer and the size of your wings. Be sure to test the internal temperature of your wings.
If you have a larger air fryer, you can use a rack to do multiple layers of wings and scale the recipe. You can also cook more wings in batches if needed.
Nutrition
Serving Size:
Calories:

550

Sugar:

0.2 g

Sodium:

569.3 mg

Fat:

34.7 g

Saturated Fat:

18.8 g

Carbohydrates:

1.7 g

Fiber:

0.2 g

Protein:

55.3 g

Cholesterol:

199.8 mg
Keywords: air fryer chicken wings, garlic parmesan wings, air fryer wing recipe
Recipe Card powered by