This post may contain affiliate links, which won't change your price but will share some commission.
Thank you BJ's Wholesale Club for sponsoring this post.
Celebrate all things brunch with an epic spread of breakfast favorites on a big ol' board. Your guests will never know you put it together on a budget! Plus get my tips for making the most out of a wholesale shopping trip.
I am excited about today's post for a number of reasons.
First of all...BRUNCH! I'm a sucker for breakfast foods at any and all hours of the day.
And presenting them on the biggest cutting board I own made a huge impact for the birthday brunch party I threw for my in-laws (whose birthdays are 2 days apart).
And secondly, I'm excited to introduce you to one of my absolute favorite one-stop shops for stocking my kitchen and pantry on a budget.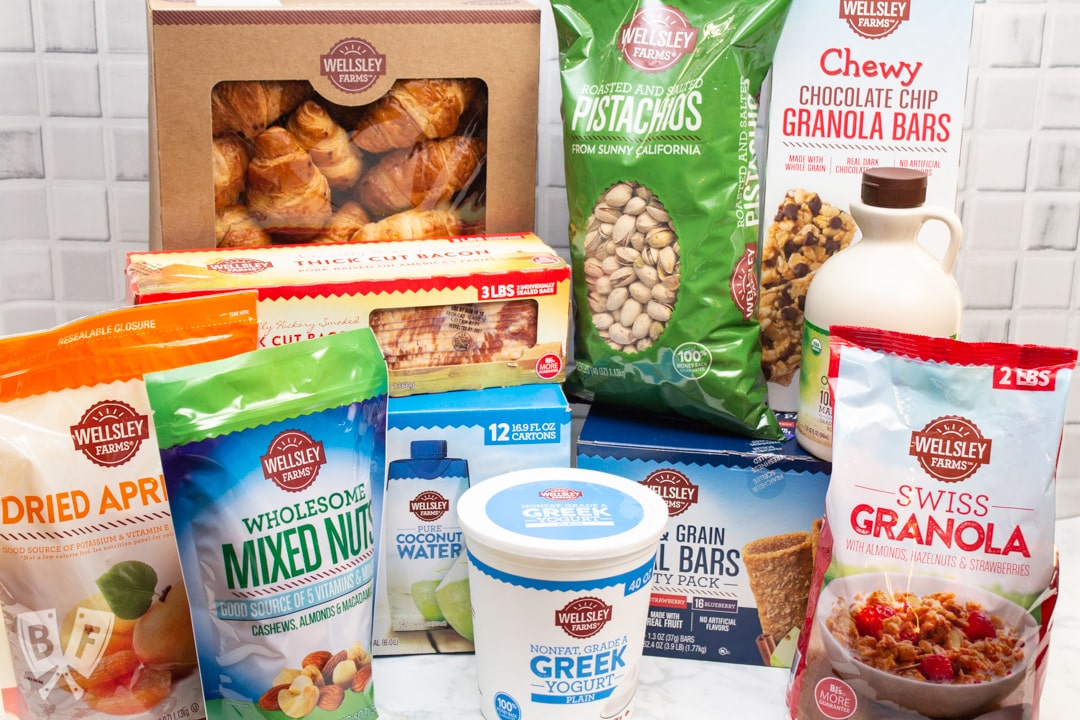 I remember the first time I stepped foot into BJ's Wholesale Club. It was 2005 and I had just moved into my current home with my then-fiancé, now-husband.
We were planning to throw a big engagement/housewarming party and I needed to stock up on food to feed a pretty big crowd.
Although I'm super comfortable cooking for a crowd now, way back then, I had ZERO experience with it.
So my mother-in-law told me we could go stock up on party supplies, fresh food, and frozen hors d'oeuvres at BJ's Wholesale Club.
I remember being blown away by the selection at the store, and I've been a member ever since.
We managed to throw the whole party at a fraction of what it would have cost if we had shopped elsewhere.
Fast forward 13 years (!!) and BJ's Wholesale Club has become my go-to place to stock up for so many household necessities, school snacks, paper goods, pet food, and more.
I've bought everything from bacon to patio furniture while shopping there. I even scored a great deal on my son's current car booster seat.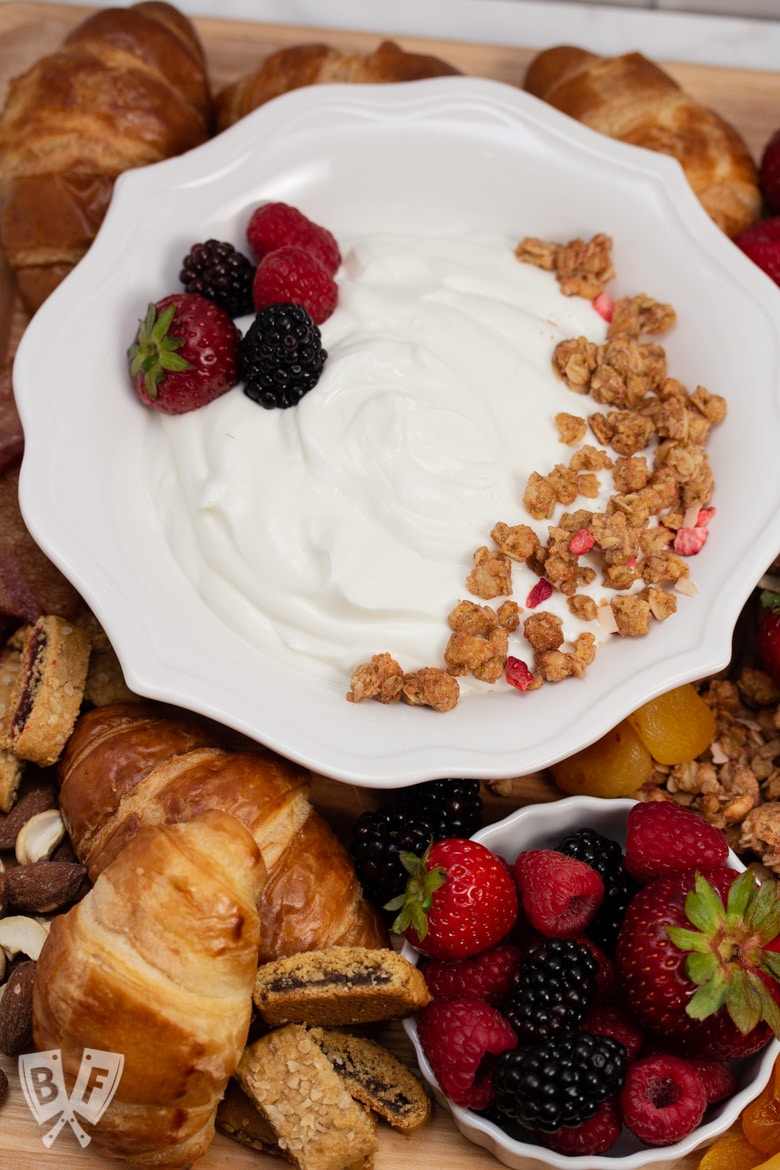 More recently, I have come to rely on the wide variety and quality of organic products and fresh produce available at affordable prices.
It really allows my family to enjoy the items we love more often without breaking the bank.
And my local club recently added a gas station, which is just one more reason to get everything done in just one trip!
I'm someone who appreciates a streamlined shopping experience - not hitting up multiple stores or driving all over the place whenever I head out.
One of the things I like most about shopping at BJ's Wholesale Club is the vast product selection for their exclusive Wellsley Farms and Berkley Jensen brands.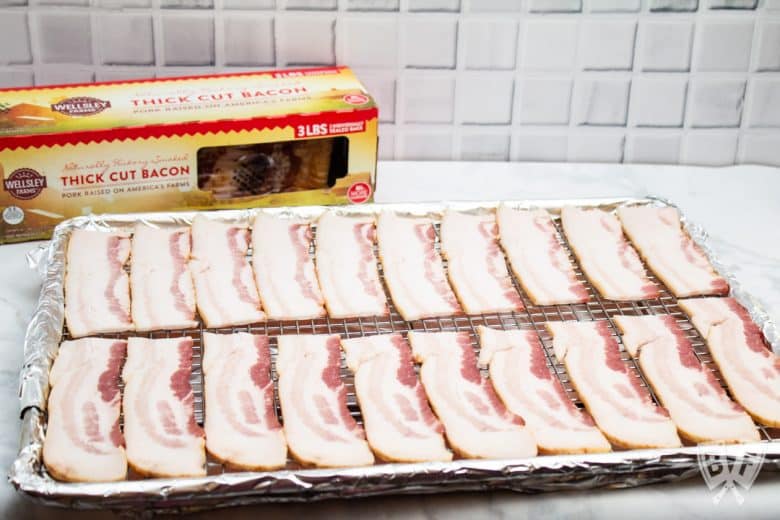 I'm able to find so many Wellsley Farms and Berkley Jensen items to replace the national brand products that I used to buy.
They offer products in so many different categories - everything from food and beverages to housewares, pet items, personal care, and cleaning products - all at superior quality and great prices.
Wellsley Farms is my faaaavorite. They offer a large selection of natural and organic products from the best sources around the world (and locally!) at seriously great prices.
I feel like I find more and more of their products every time I shop at BJ's Wholesale Club, and I love it!
The quality and value of the products within both these brands is superb, and many of these items have become staples that I buy every time I shop.
My tiny kitchen is always stocked with their capers, coconut water, and organic pure maple syrup. Always!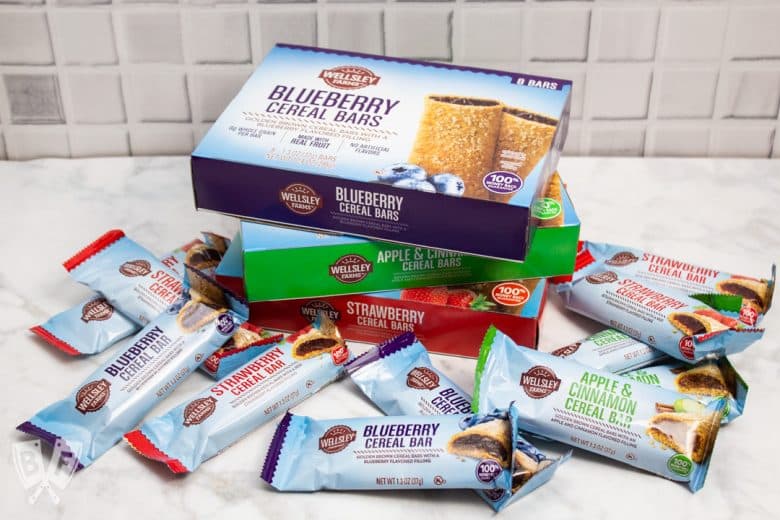 Here's my plan of attack for whenever I'm headed to BJ's:
Items That I Shop for Wholesale:
Paper goods (toilet paper, napkins, paper towels, facial tissue)

Personal care (shampoo, conditioner, soap, shave gel, razor blades, moisturizer, makeup remover, feminine hygiene, wipes, diapers, training pants)

Pantry (raw sugar, chocolate chips, brownie mix, flour, oils, cereal, canned tuna, peanut butter, jams, spreads, pasta, canned beans)

Fresh produce (organic fruits, veggies, prepared roasted beets, salad greens)

Meat (ground meat, whole chickens, hot dogs, thick-cut bacon, sausage, steak, pork tenderloin, ribs, lamb)

Snacks (dried fruit, nuts, chips, crackers, granola, snack bars, hummus)

Bakery (bread, muffins, croissants, cornbread, cakes)

Dairy (cheese, milk, eggs, yogurt, cottage cheese, butter)

Deli (cold cuts, dried/cured meats, smoked salmon)

Frozen (chicken, shrimp, tilapia, lobster tails, pre-made appetizers, ice cream, frozen yogurt)

Household (batteries, water filtration supplies, dish soap, cleaning supplies, dishwasher detergent, laundry detergent, garbage bags, pet food, appliances, cookware, serveware, toys, books, clothing)

Seasonal (sunscreen, beach towels, greeting cards, wrapping paper, garden tools, plants)

Gas (this is new to my local BJ's Wholesale Club, they have the best gas prices around and I absolutely love the deep discount!)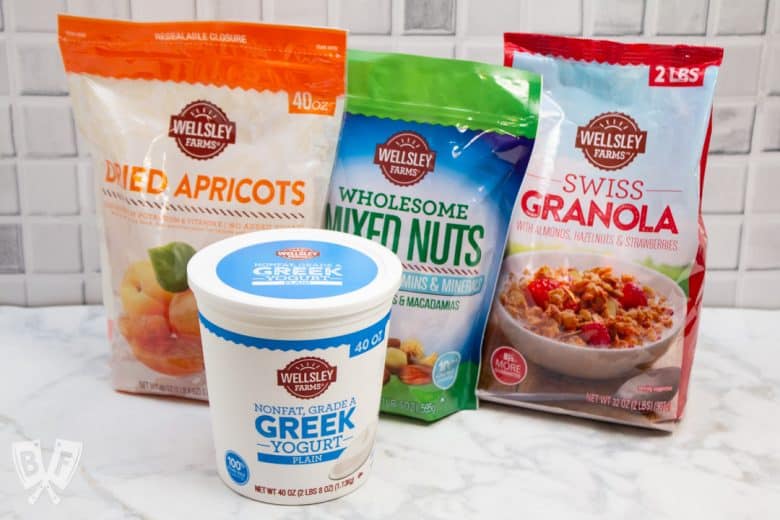 It seems like a lot but I'm able to stock up in just one trip and I'm set for quite some time.
It has been a total game-changer when it comes to packing school and camp lunches and snacks for my son.
And I'm able to load up my freezer with lots of meat and seafood options to cook from for weeks. It makes meal planning so much simpler for me!
Shopping wholesale allows me to get my big shopping done in one shot, and spend less time on my smaller weekly shopping trips.
That means more time spent with my family and entertaining without as much work. Score!
BJ's Wholesale Club also sends out mailers with the absolute best coupons! The last time I shopped there, I saved over $40 just by using their coupons. You can also shop on BJs.com, the BJ's mobile app, and with the Shop BJs.com – Pick up in Club service.
They're also the only membership warehouse club to accept manufacturer's coupons!
OK, enough gushing. Let's get to this epic brunch board!
My family eats parfaits for breakfast a few times per week. So the idea for this board started as a parfait-board of sorts.
But then I figured... why stop there? There are so many other delicious breakfast items that we love (helloooooo, eggs and bacon!), so why not go all out and make the most epic brunch assortment ever?
And yes, I bought every single item on this brunch board from BJ's Wholesale Club.
It was mostly Wellsley Farms items with some fresh fruit and organic eggs added in for good measure.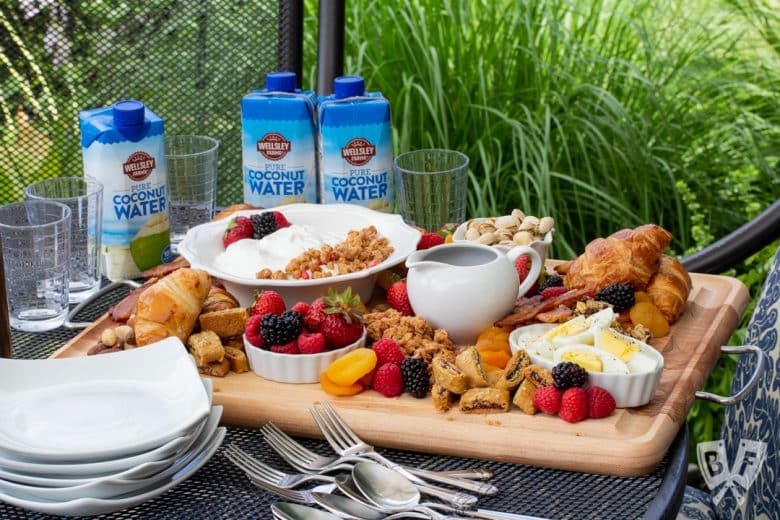 Tips for Assembling an Epic Brunch Board on a Budget:
Go for a variety of textures! Creamy yogurt, crispy granola, sticky-sweet dried fruit, pillowy soft croissants, and crunchy nuts are all great choices.
Utilize a mix of sweet and savory. Too much sweet can make this board feel like overkill.
Incorporate a few salty/savory items like bacon, nuts, hard-boiled eggs, and buttery pastries for a reprieve from all.that.sugar.
I also like using plain yogurt so people can sweeten it (or not) as desired.
Pile like items together! One of the great things about buying the ingredients in bulk is that you have plenty of extras to restock any items that may run out.
Keeping your items in groups (with a few decorative bits scattered about) helps you keep tabs on what may be in need of a refill.
Keep things colorful! Fresh and dried fruits in a variety of colors are a wonderful way to do this.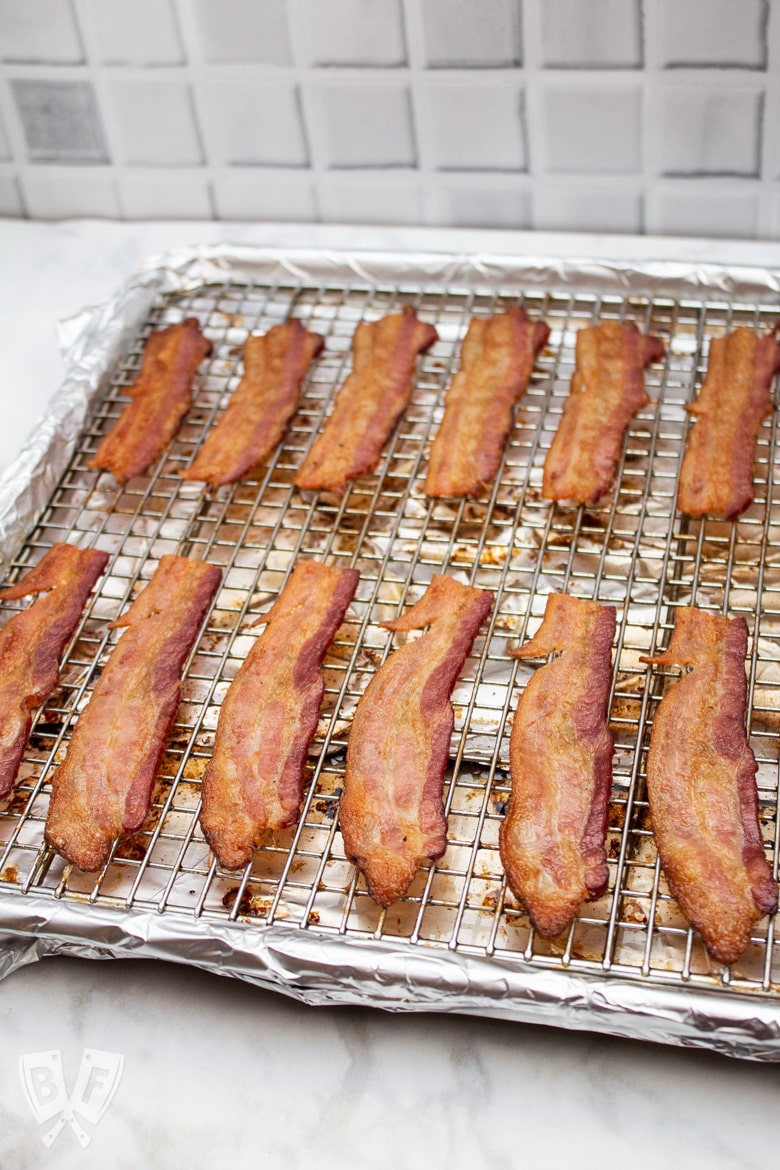 Do some work in advance. You can get the dried items piled onto your board earlier in the day, and add the fresh or refrigerated items right before your guests arrive.
I used my Instant Pot to cook the eggs the day before so they were ready and waiting for me.
Bake your bacon! Baking your bacon in the oven helps keep the slices from curling and gives you evenly crispy pieces.
Offer both hot and cold beverages to go with your epic brunch board. We had coffee as well as my favorite coconut water from Wellsley Farms.
Seriously - this stuff is so good, guys. It's not too sweet, which is an issue that I have with many other brands of coconut water.
Have fun with it! Seriously. Breakfast and brunch are supposed to be fun.
Enjoy entertaining earlier in the day, and have more time for fun with your family and friends!
We really lucked out with gorgeous summer weather the day that we threw this birthday brunch party.
My in-laws absolutely loved it, and it's something that several of my friends have already requested that I put together for them when they come visit. Thanks, Instagram. 😉
After seeing how doable and stress-free this board was, I feel confident in putting it together more often, with variations based on what I buy from the store.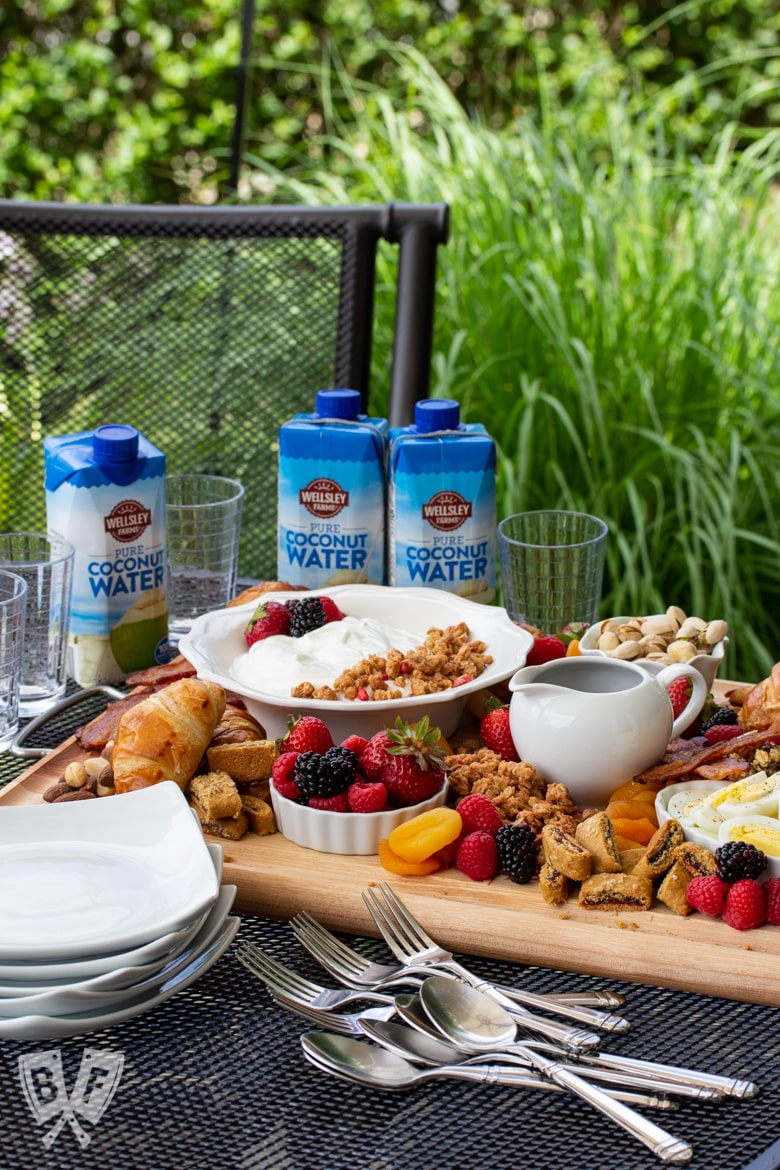 Looking for more breakfast and brunch favorites? Check out these 5-star recipes:
Recipe for an Epic Brunch Board on a Budget
Print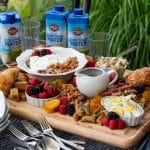 Epic Brunch Board on a Budget
Author:

Prep Time:

15 minutes

Total Time:

15 minutes

Yield:

4 or more

Category:

Breakfast

Method:

Board

Cuisine:

American
---
Description
Celebrate all things brunch with an epic spread of breakfast favorites on a big ol' board. Your guests will never know you put it together on a budget!
---
Wellsley Farms Nonfat Plain Greek Yogurt
Wellsley Farms Swiss Granola
Wellsley Farms Fruit & Grain Cereal Bars, cut into slices
Wellsley Farms Chewy Chocolate Chip Granola Bars, cut into cubes
Wellsley Farms Roasted and Salted Pistachios
Wellsley Farms Thick-Cut Bacon, cooked
Wellsley Farms Wholesome Mixed Nuts
Wellsley Farms Dried Apricots
Wellsley Farms Organic Grade A Pure Maple Syrup
Wellsley Farms Mini Croissants
Hard-boiled eggs, quartered
Fresh strawberries
Fresh raspberries
Fresh blackberries
Wellsley Farms Pure Coconut Water, for serving
---
Instructions
Arrange everything in piles on a large board. Have fun and get creative!
---
Notes
Use as much or as little of everything as you want, based on how many people you're serving.
Pile like items together! Keeping your items in groups (with a few decorative bits scattered about) helps you keep tabs on what may be in need of a refill.
Keywords: brunch, entertaining, board
Recipe Card powered by
I was selected for this opportunity as a member of CLEVER and the content and opinions expressed here are all my own.