This post may contain affiliate links, which won't change your price but will share some commission.
This is the second time I've made this recipe, and this time they turned out even better because I used our new convection oven. They cooked perfectly - they were super light and fluffy and delicious. I think using Penzey's cinnamon really adds a lot to the flavor, too. Dino and I both brought some in to work and our coworkers all loved them. Success!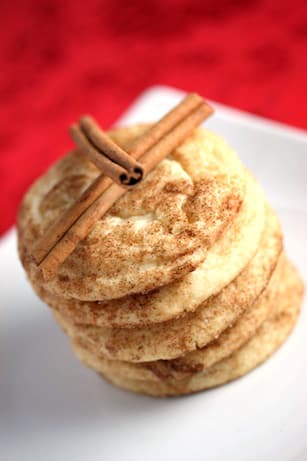 Mrs. Sigg's Snickerdoodles
allrecipes.com - Beth Sigworth
"These wonderful cinnamon-sugar cookies became very popular with my friends at church. My pastor loves them! You will too! Crispy edges, and chewy centers; these cookies are a crowd pleaser for sure!"
PREP TIME 20 Min
COOK TIME 10 Min
READY IN 1 Hr
Original recipe yield 4 dozen
½ cup butter, softened
½ cup shortening
1 ½ cups white sugar
2 eggs
2 teaspoons vanilla extract
2 ¾ cups all-purpose flour
2 teaspoons cream of tartar
1 teaspoon baking soda
¼ teaspoon salt
2 tablespoons white sugar
2 teaspoons ground cinnamon
1. Preheat oven to 400 degrees F (200 degrees C).
2. Cream together butter, shortening, 1 ½ cups sugar, the eggs and the vanilla. Blend in the flour, cream of tartar, soda and salt. Shape dough by rounded spoonfuls into balls.
3. Mix the 2 tablespoons sugar and the cinnamon. Roll balls of dough in mixture. Place 2 inches apart on ungreased baking sheets.
4. Bake 8 to 10 minutes, or until set but not too hard. Remove immediately from baking sheets.
MacGourmet Rating: 5 Stars