This post may contain affiliate links, which won't change your price but will share some commission.
Homemade crispy, baked pita chips and an easy sumac vinaigrette add Middle Eastern flair to this veggie-packed fattoush salad recipe.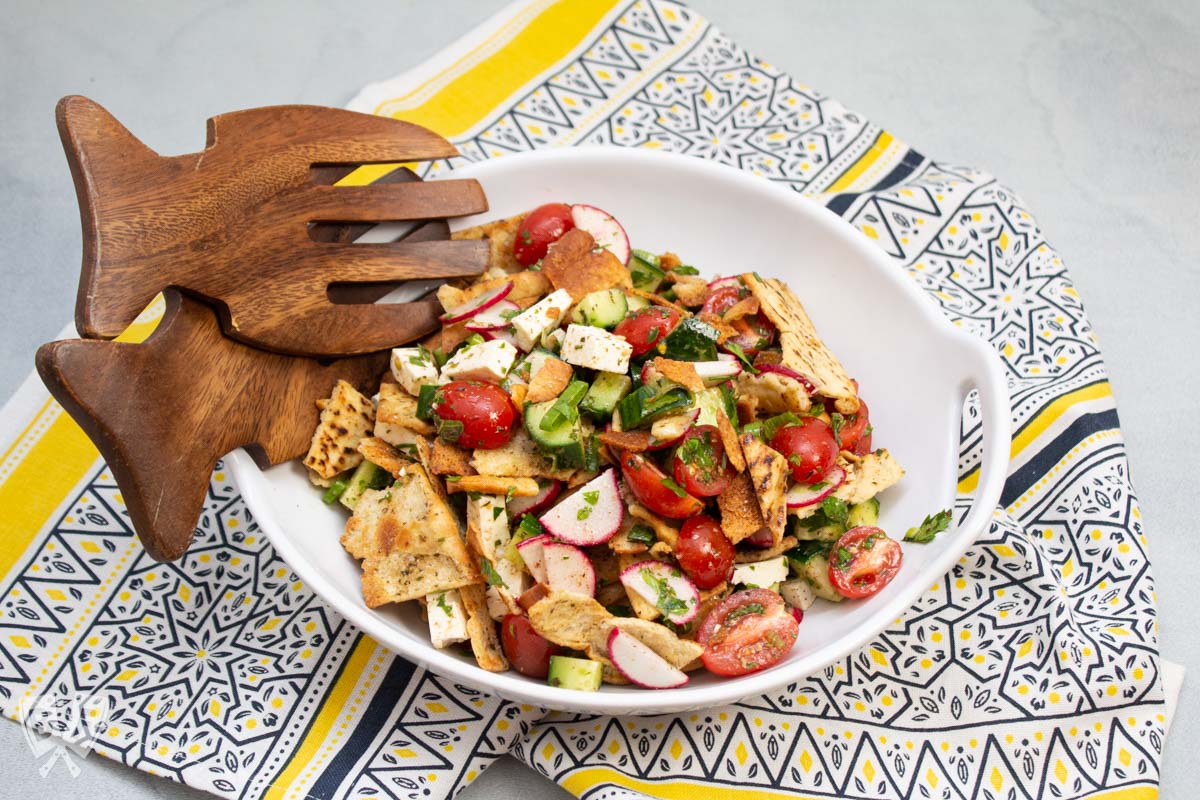 I came up with this fattoush salad recipe as a way to use up some of my leftover baked pita chips.
The results, paired with my homemade sumac vinaigrette, wound up quickly joining the regular recipe rotation in my house.
The components of this salad can all be prepped in advance, and you can toss it all together right before serving. Keep reading for more info, tips, and tricks for fattoush salad success!
Jump To:
🧡 Why we love this recipe
This salad is super crisp and refreshing! Perfect for warm weather and picnics.
It's a great way to use up odds and ends that are hanging out in your produce drawer.
Colorful food is always a welcome addition to the table.
Fattoush is great on its own as a meal, or as a side to other dishes like my broiler kebab, Persian meatloaf, or Persian Beef and Celery Stew (Khoreshe Karafs).
It's easily made vegan by omitting the feta or using a vegan substitute.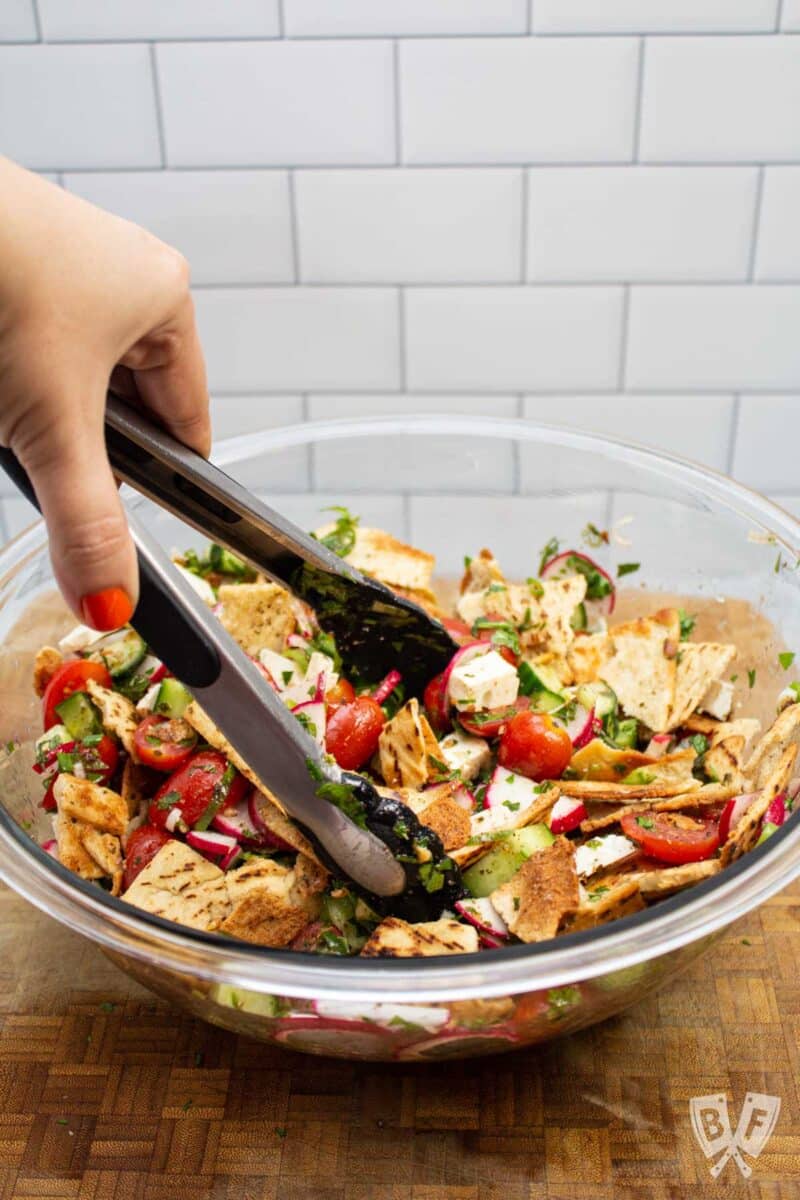 🫓 What is fattoush?
When people ask me to describe fattoush salad, I usually liken it to a Middle Eastern version of an Italian panzanella salad.
Instead of stale bread, fattoush uses crumbled, seasoned pita bread. In the case of this recipe, it uses baked pita chips.
There aren't any strict rules on what types of veggies you use here. Feel free to add your favorites, along with any salad greens that you enjoy!
Basically, making fattoush entails mixing up a big salad, packed with fresh veggies, and breaking up the pita chips over top of it. A quick mix, and the pita chips start to soak up the flavors of your salad, but still retain their crispiness.
It's key with fattoush to only add the pita chips right before you plan to serve your salad. the longer they sit, the soggier they'll get.
And nobody wants a soggy salad!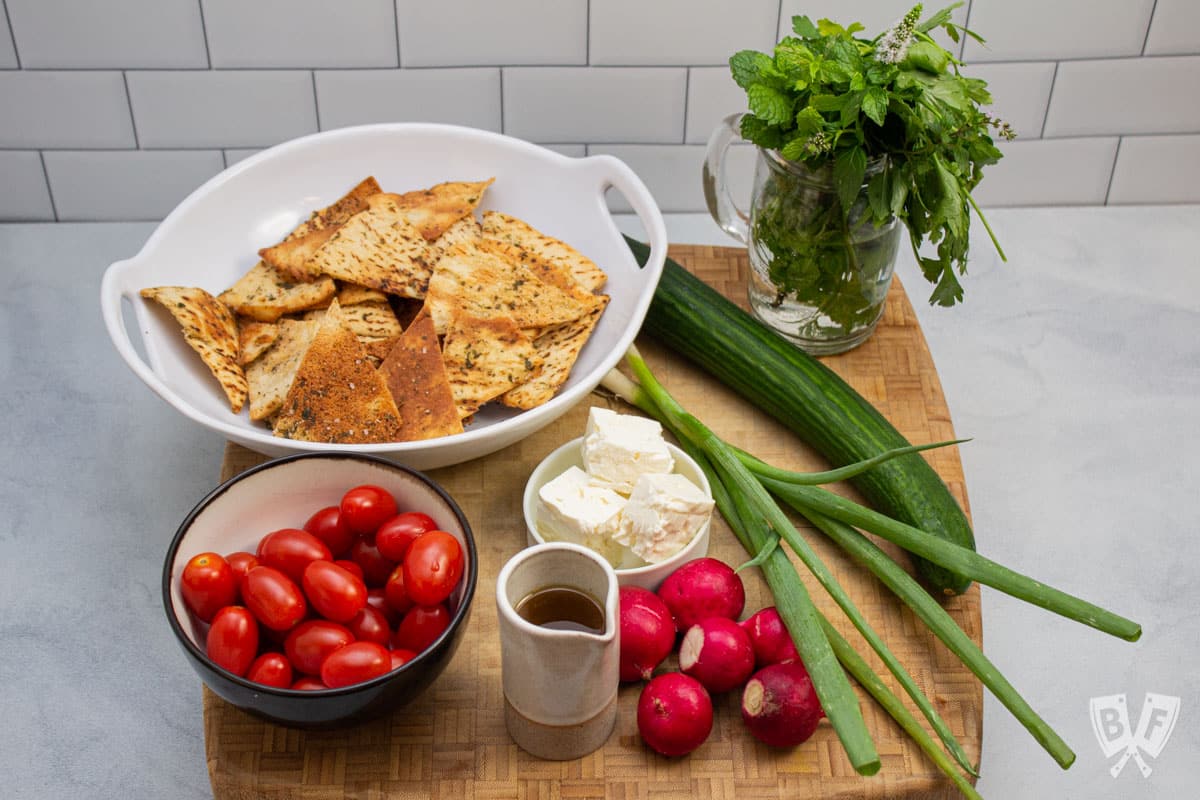 📝 Ingredients
Here's everything you need to make this fattoush salad (see recipe card below for ingredient amounts and full directions):
Tomatoes - I like using grape or cherry tomatoes. The multi-colored mixes are especially lovely in this recipe!
Cucumber - I tend to buy English cucumbers, but whatever type you prefer is fine. If using a smaller variety, like a Persian cucumber, use 3-4 instead of just one.
Radishes
Flat-leaf parsley
Fresh mint
Green onions (also called scallions)
Feta cheese (optional)
Pita chips (preferably homemade, but storebought is absolutely fine!)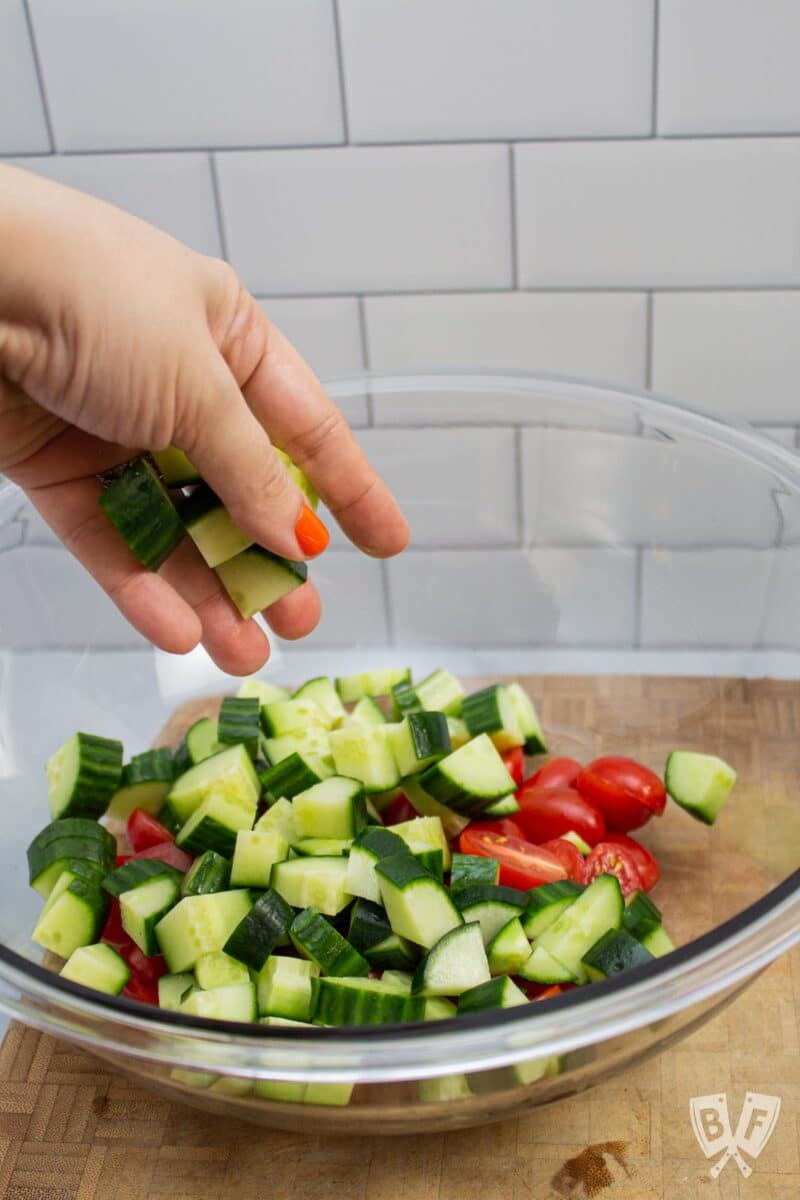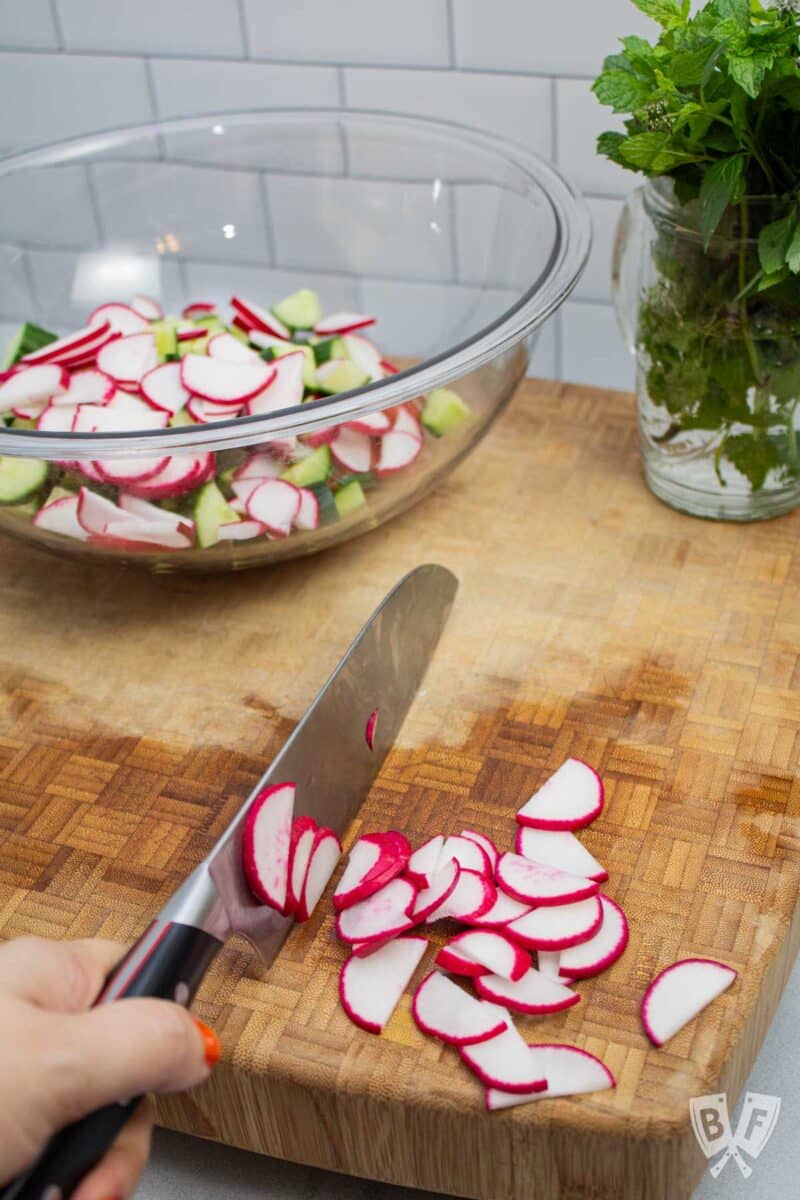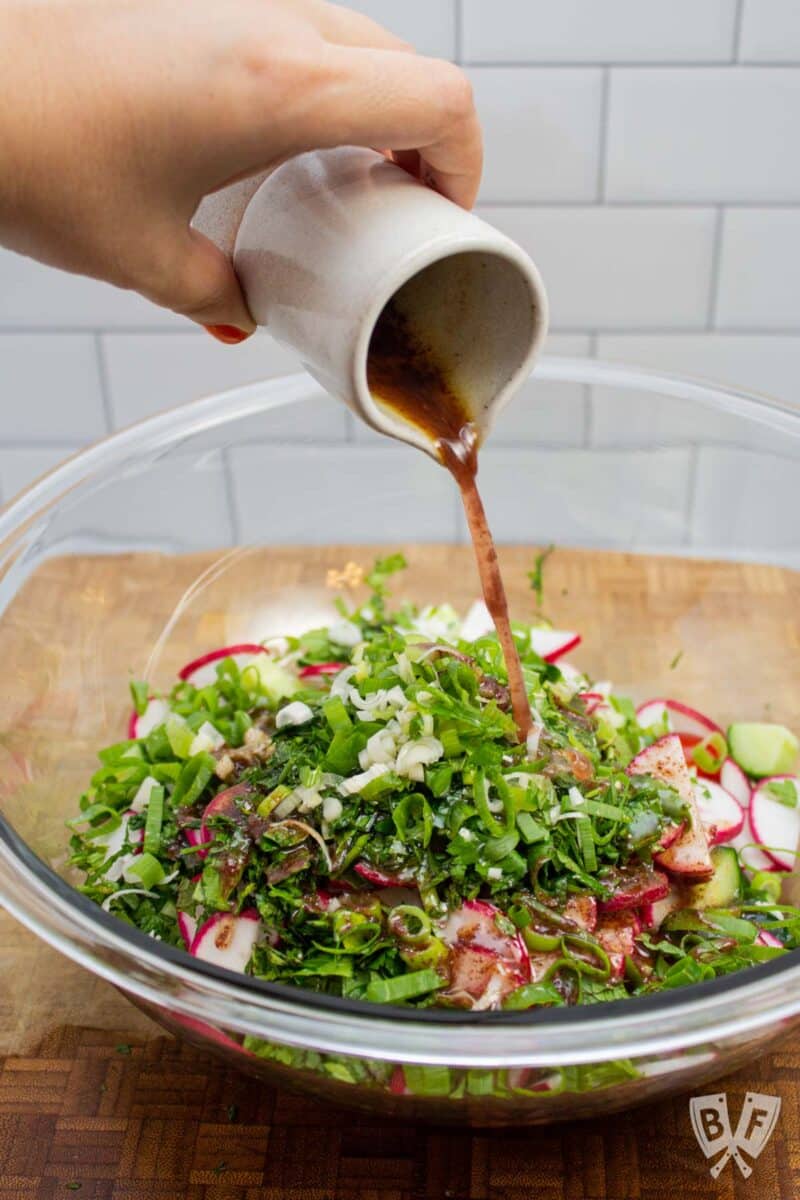 🔎 What is sumac?
This recipe uses ground sumac which is available at most specialty spice shops and Middle Eastern markets. It can also sometimes be found at organic/health food markets or grocery stores with a big selection of international foods.
If you don't have any of those options nearby, it's readily available online.
Culinarily speaking sumac is a crimson-colored spice that is made from ground sumac berries. It is not the same thing as the poisonous sumac plant.
Ground sumac is often found in a shaker next to the salt and pepper in Persian restaurants. It's delicious when sprinkled over grilled meat and seafood, kebabs, vegetables, rice, or hummus.
Sumac is a lovely addition to anything you'd like to lightly dust with its tart flavor and deep red hue.
👅 What does sumac taste like?
The flavor of sumac is tart and a bit lemony with a slightly astringent flavor. It's a bit sweet, and a bit sour.
Sumac is often mixed with salt, so I recommend leaving out any additional salt in recipes that call for more than a pinch of sumac until you're able to taste it for seasoning.
📌 Substitutions for ground sumac
Sumac is a tricky spice to substitute, but you can get in the ballpark, flavor-wise.
If you don't have ground sumac, you can omit it and add a little fresh lemon zest and kosher salt, to taste, for seasoning.
Many brands of za'atar also have sumac mixed in, so that's another option. It won't be exact, but it'll be tasty!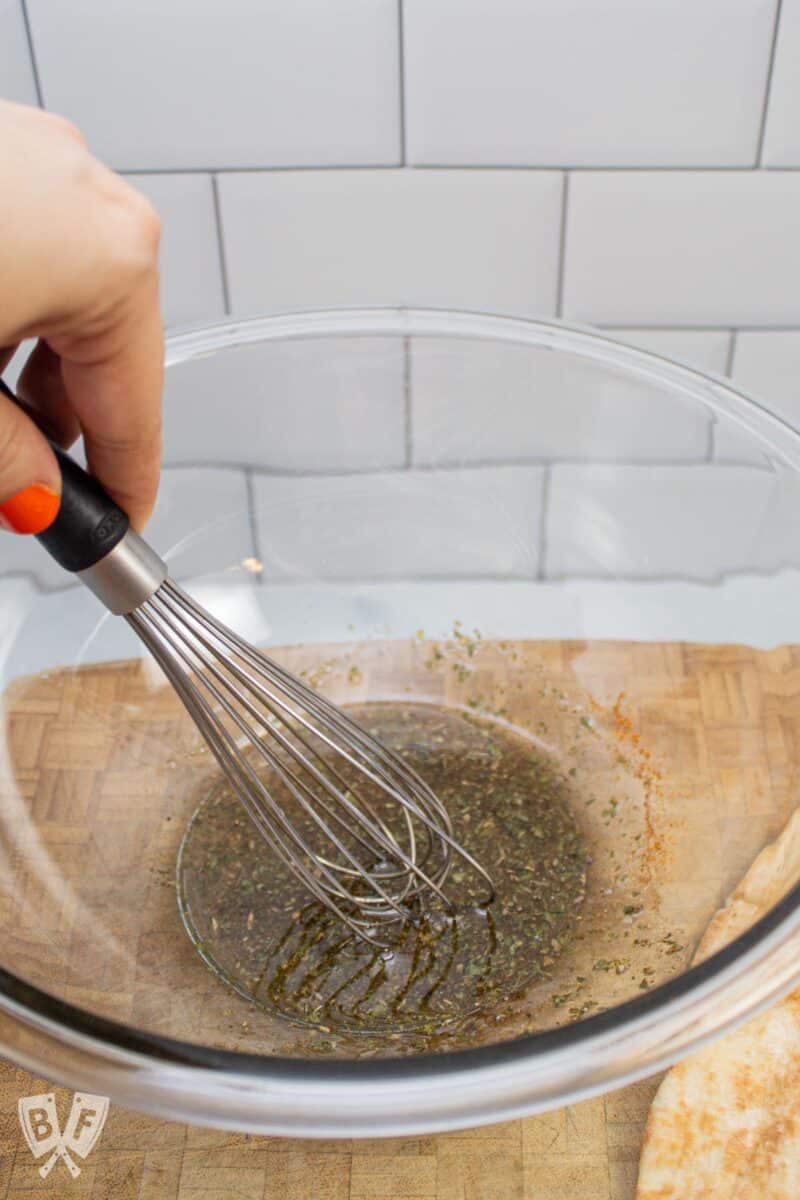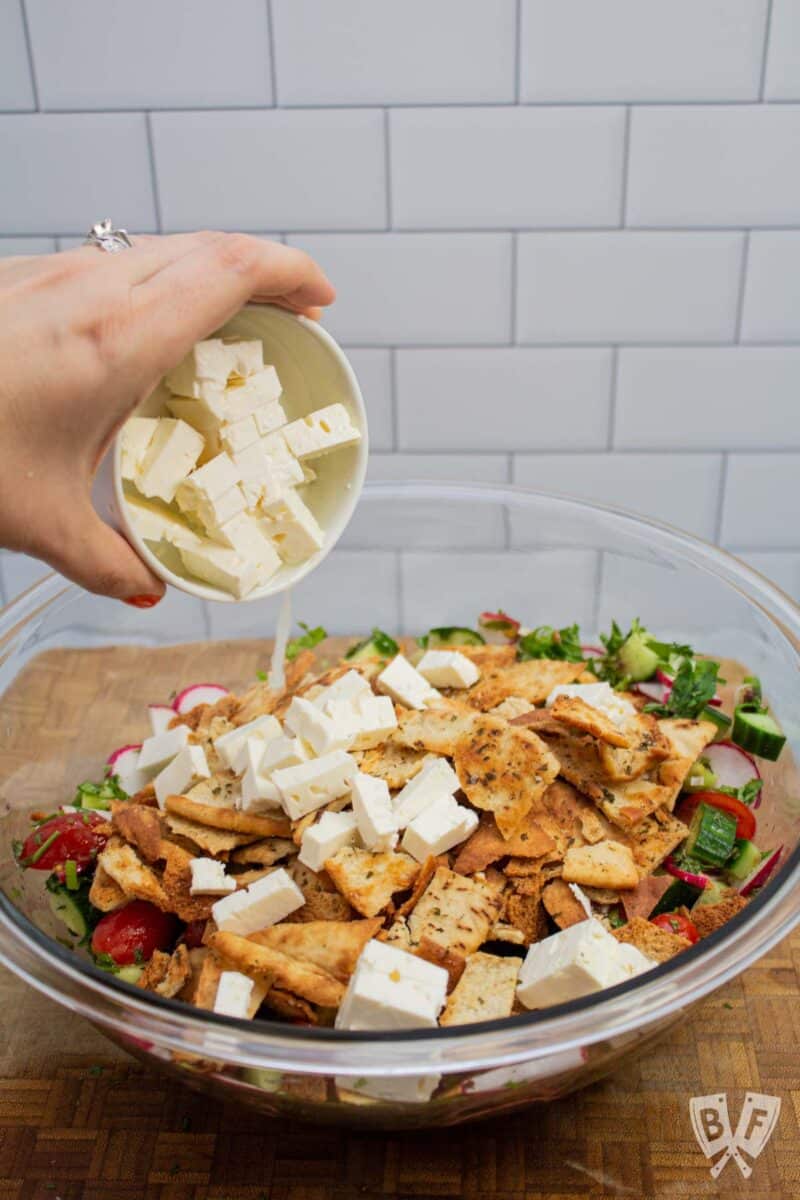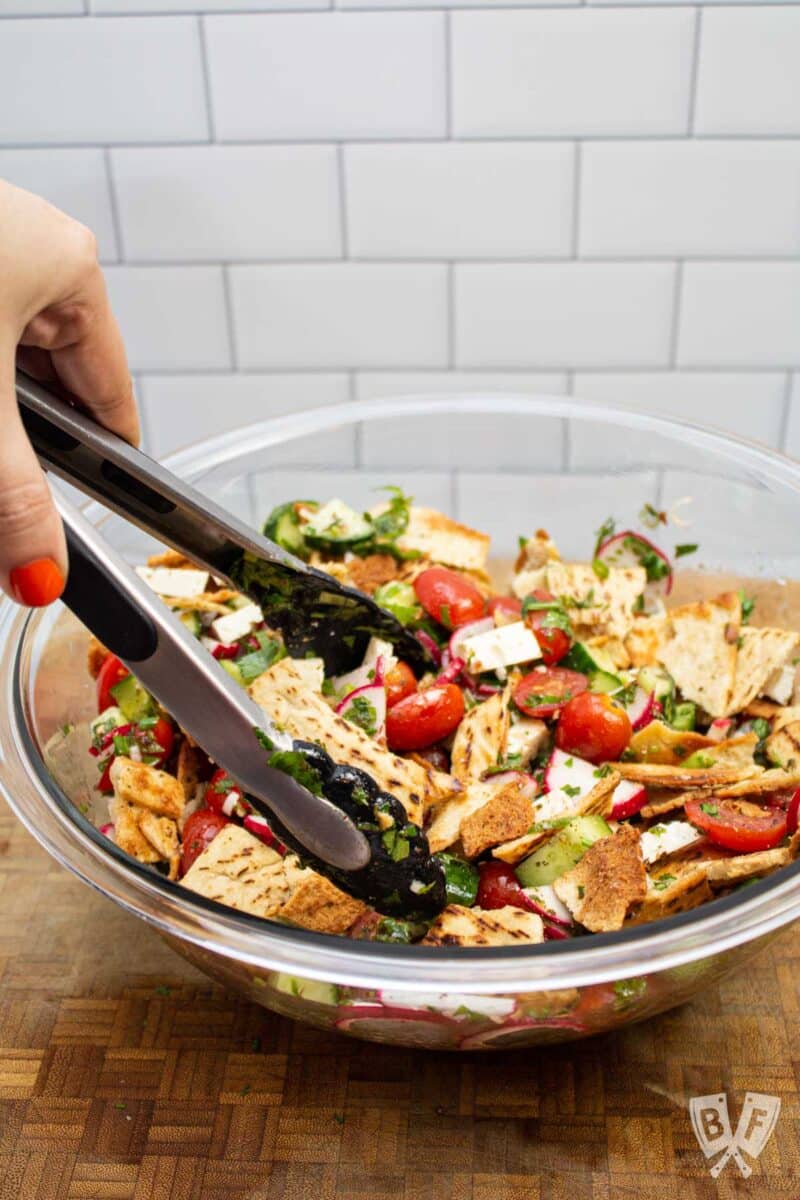 ✅ How to make this recipe
This recipe has 3 components, but they all come together fairly quickly. I like to get the pita chips into the oven first and work on the other parts while they're baking to streamline the prep.
If you're making your own pita chips, prep the pita bread and bake it. See my homemade baked pita chip recipe here. You can also use storebought pita chips.
While the pita is in the oven, whisk together the vinaigrette. You'll need ⅓ cup of it for this salad. See my sumac vinaigrette recipe here.
Chop all of your veggies and put them in a large bowl.
Add feta, if using, and the vinaigrette and toss well to combine.
Once your pita chips are fully cool, crumble them over the rest of the ingredients, give them a gentle toss, and serve!
See recipe card below for full instructions.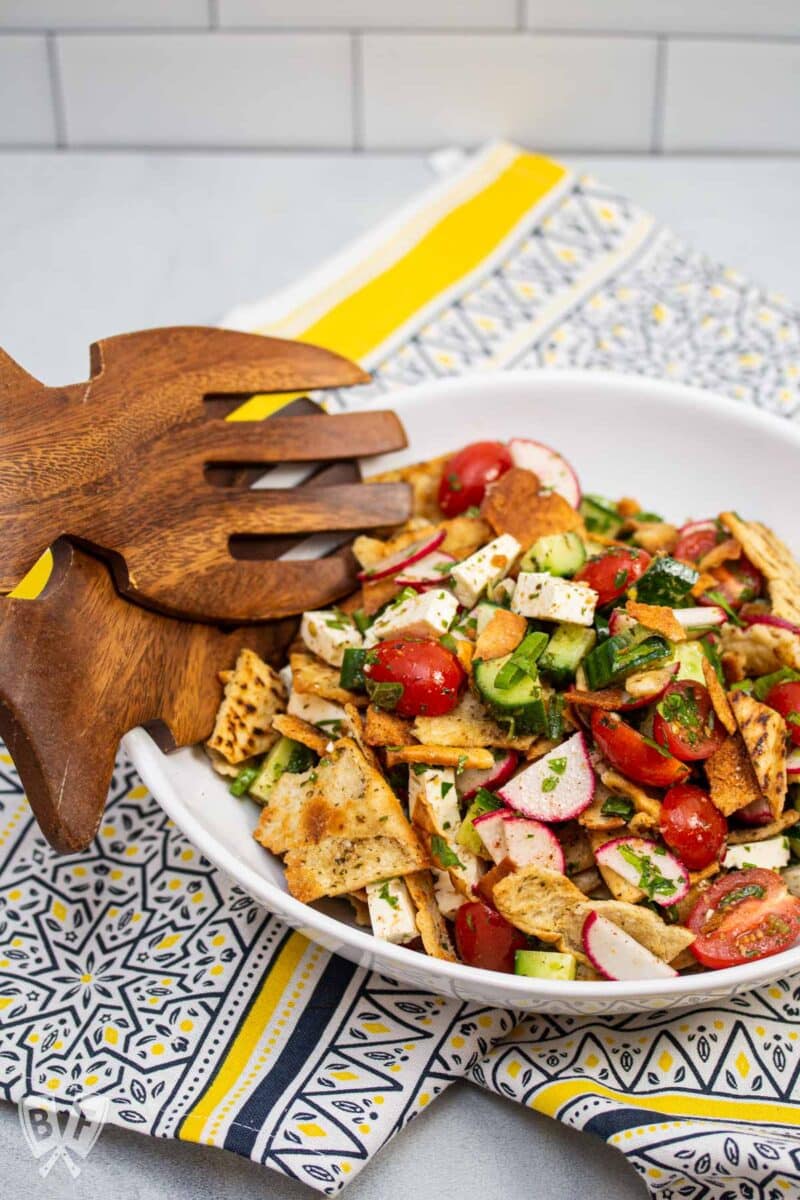 🍅 Quick tip: the fastest way to slice tomatoes
I learned this tip yeeeeears ago, and it was a total game-changer. I believe I originally saw it on one of Rachael Ray's cooking shows.
It never fails to blow minds in my virtual cooking classes, so I'm sharing it here for you, in case you haven't seen it yet.
You'll need 2 lids - the type you find at the deli, or when you get something like soup from a restaurant takeout or delivery order.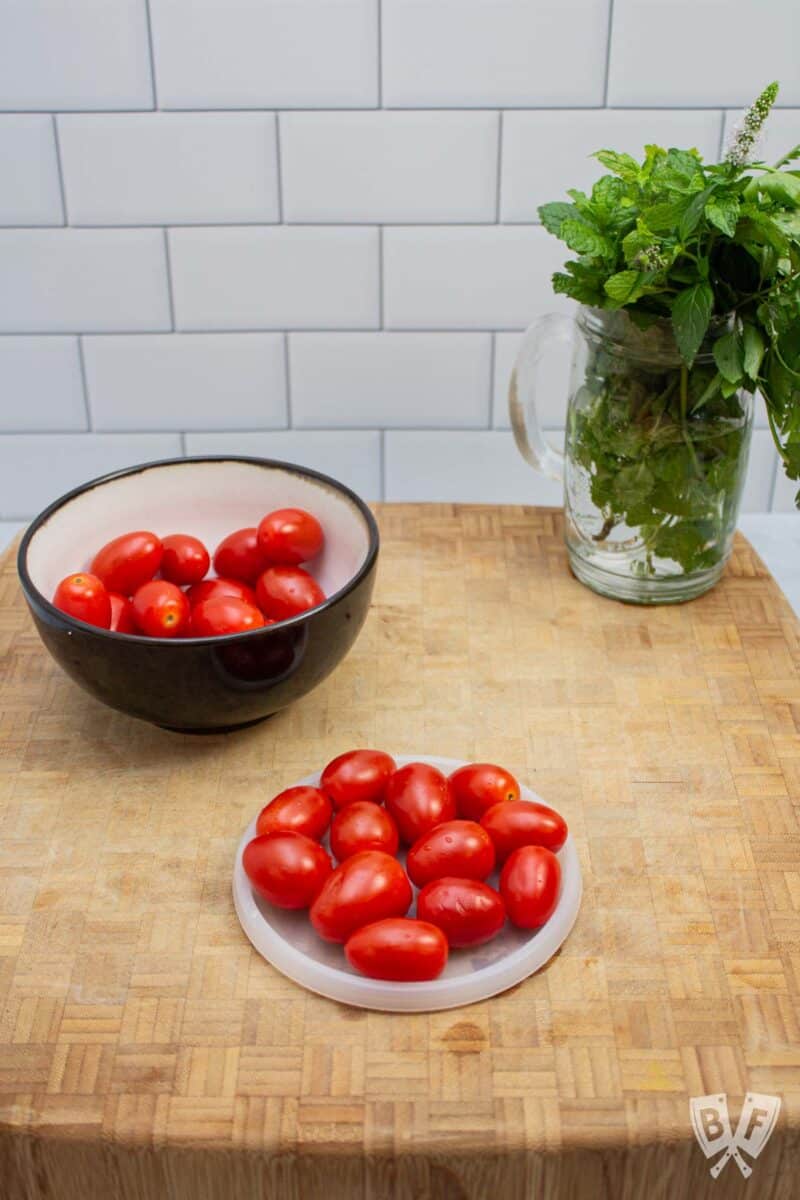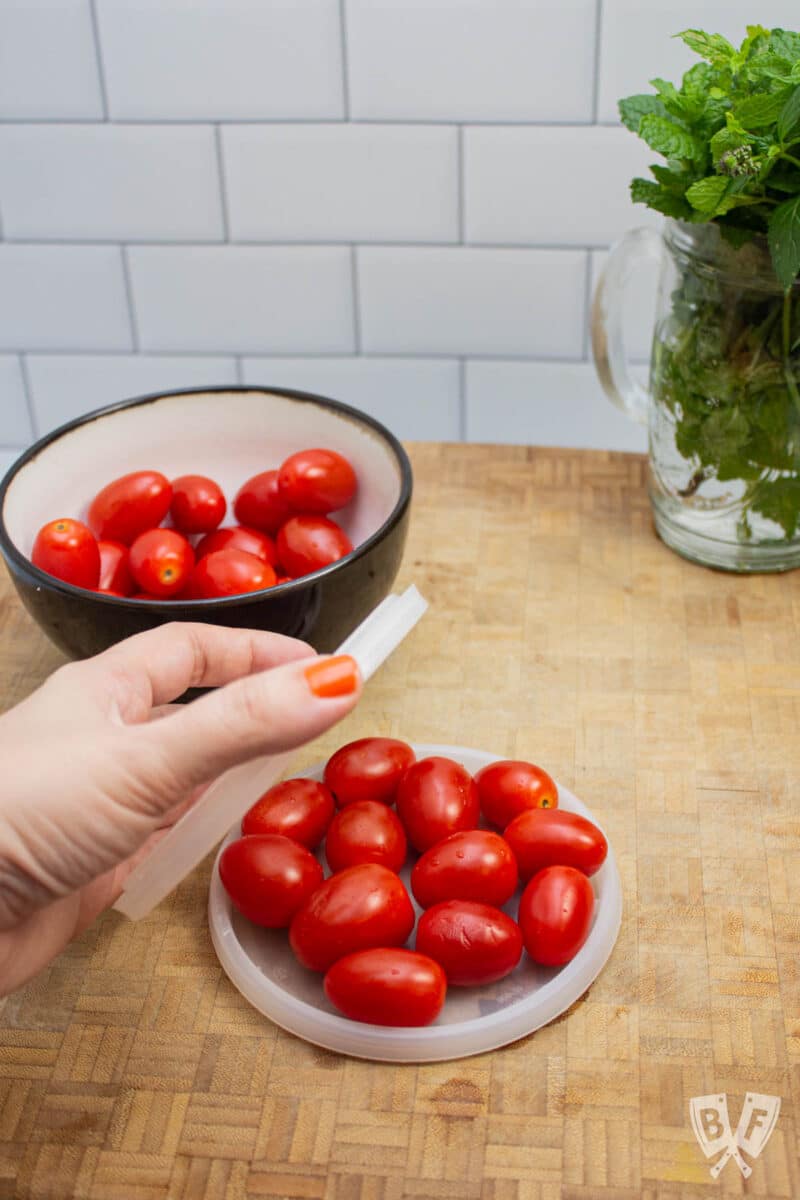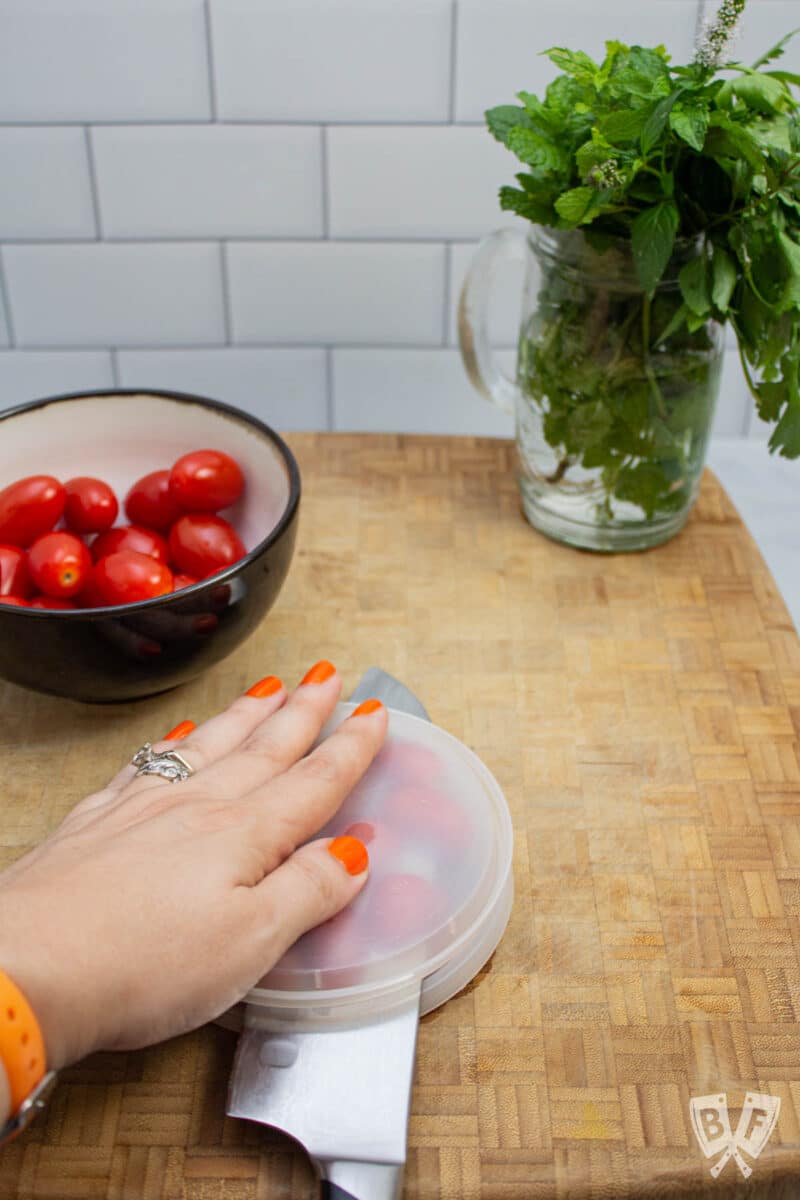 Be sure to use the "lip" of the lid (the raised edge/rim) to secure your tomatoes. It should be facing up on your bottom lid, and down on the top lid so that the two lids cradle the tomatoes.
Use gentle pressure with one hand to secure the tomatoes while you use your chef's knife to slice through the tomatoes.
You'll use the space between the two lids as a guide, and your knife will do all the work for you!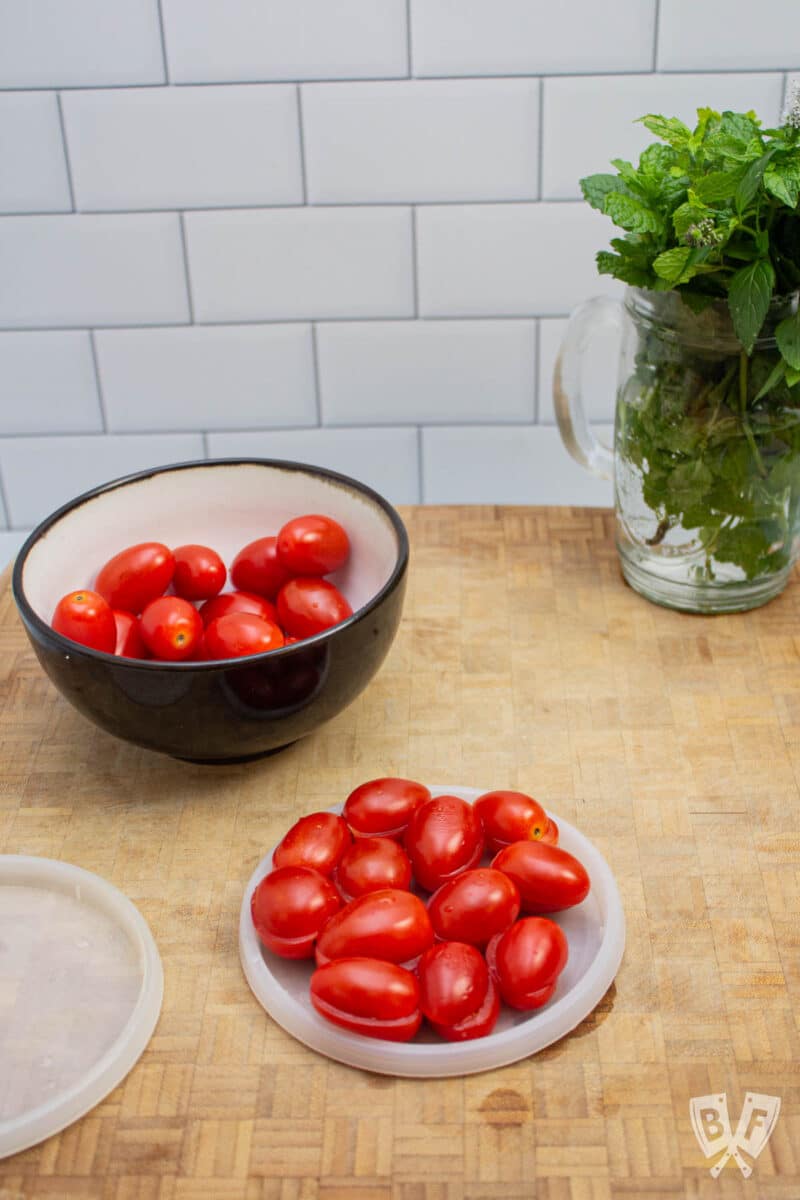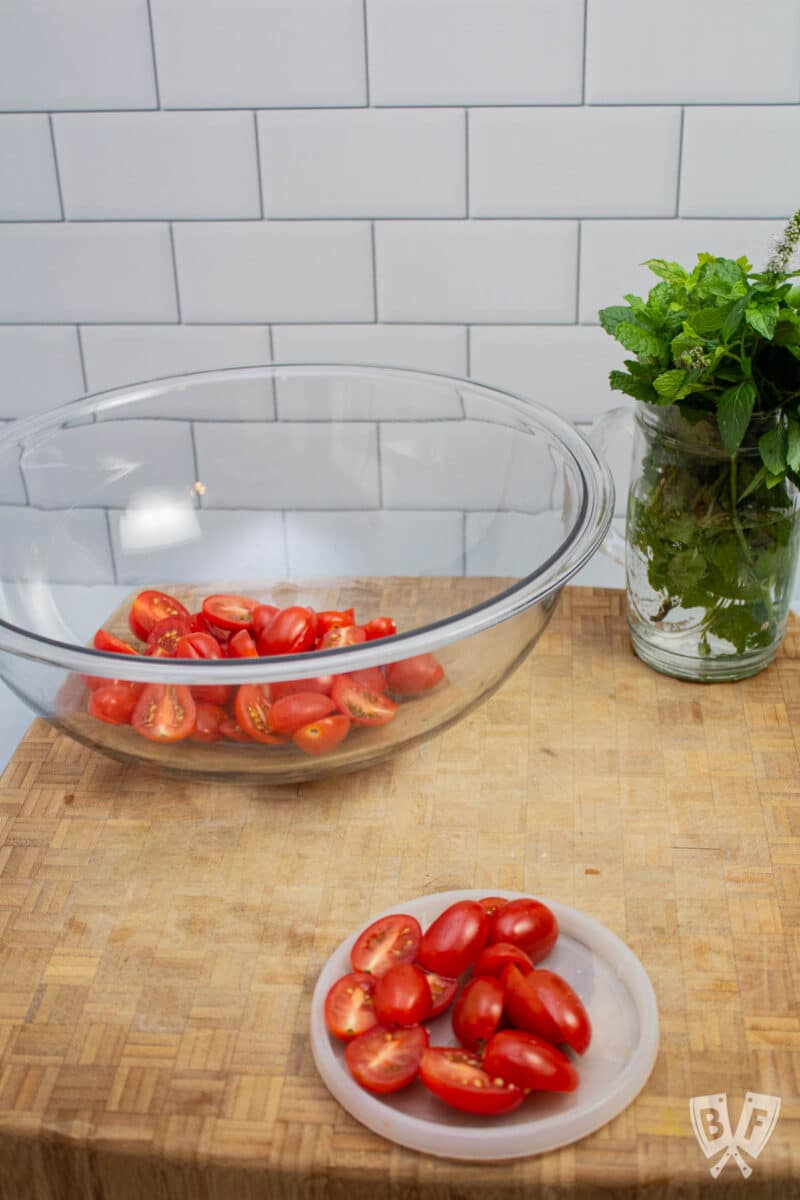 This works beautifully with grape tomatoes, cherry tomatoes, pitted olives, grapes, or anything else that's small and round like this.
It makes super quick work of slicing, and it's a kitchen hack I use often!
This method comes in handy for salad prep, quickly chopping toppings for tacos, and more. I hope it finds a place in your cooking arsenal, too.
🥡 Storage recommendations
The components of this salad can be made in advance. If you don't plan to eat it within 30 minutes or so, I strongly recommend storing the pita chips in a separate container.
You can also store the sumac vinaigrette separately if you'd like, but the salad does hold up pretty well after it's been dressed.
Alternately, you could put the vinaigrette on the bottom of your serving bowl, add all of your veggies on top, and refrigerate it like that. Then, when you're ready to serve, toss it together before adding your pita chips and gently mixing.
Your homemade seasoned pita chips will stay nice and crispy for several days (if they last that long!) stored in an airtight container.
The most important thing is to make sure the chips are completely cool before moving them into your storage vessel of choice.
The sumac vinaigrette will keep well in a sealed container in the refrigerator for several days.
Because of the oil, it may solidify when chilled. You may need to take it out of the refrigerator to let it warm up a bit before using it again.
Fattoush salad will hold up well in a sealed container in the refrigerator for several days, again, as long as you keep the pita chips separate.
I reeeeeally can't stress that enough.
I made that mistake the first time I made it and the leftovers were full of sad, soggy pita bread instead of deliciously crispy pita chips.
---
Still hungry? You may also like...
Doing some online shopping? Check out my Amazon shop page for recommendations!
---
Print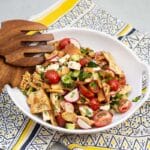 Middle Eastern Fattoush Salad with Homemade Pita Chips
Author:

Prep Time:

10 Minutes

Cook Time:

0 minutes

Total Time:

10 minutes

Yield:

4

Servings

1

x

Category:

Salad

Method:

Chop & Drop

Cuisine:

Middle Eastern
---
Description
Homemade crispy, baked pita chips and an easy sumac vinaigrette add Middle Eastern flair to this veggie-packed fattoush salad recipe.
---
1

(12-ounce) package grape tomatoes, halved

1

English cucumber, halved and chopped (about

3 cups

)

6

radishes, halved and thinly sliced (about

½ cup

)

½

cup

chopped fresh flat-leaf parsley

½

cup

chopped fresh mint

4

green onions, thinly sliced (about

½ cup

)

2

ounces

feta, cut into chunks or crumbles (optional)

⅓

cup

sumac vinaigrette

1

batch seasoned pita chips, cooled (see notes)
---
Instructions
In a large bowl, combine tomatoes, cucumber, radishes, parsley, mint, green onions, and feta. Pour sumac vinaigrette over top and toss well to combine.

Crumble cooled pita chips over top and toss gently to combine.
---
Equipment
---
Notes
Note that this recipe does not use the full amount of sumac vinaigrette (see recipe here). You'll have some leftover. It can be stored, covered, in the refrigerator.
One batch of seasoned pita chips is equal to 2 full-size pocket pitas, which is about 32 chips (see recipe here). You can also use store-bought pita chips.
If making salad in advance, wait to add the pita chips until just before serving.
To keep this recipe vegan, simply omit feta or use a plant-based substitute.
Nutrition
Serving Size:

¼ of recipe

Calories:

349

Sugar:

4.7 g

Sodium:

492.8 mg

Fat:

26.5 g

Saturated Fat:

3.7 g

Carbohydrates:

25.3 g

Fiber:

4.3 g

Protein:

6.7 g

Cholesterol:

12.6 mg
Keywords: Middle Eastern recipes, ground sumac, chopped salad
Recipe Card powered by
Check out my latest posts...
---