This post may contain affiliate links, which won't change your price but will share some commission.
I've put together a list of holiday gift ideas + stocking stuffers for people who enjoy spending time cooking & entertaining. These 26 items will seriously rock your world!

This post contains affiliate links.
Earlier this week I shared a list of White Elephant Funny Holiday Gift Ideas for Foodies. It was a ton of fun to put together, but I also wanted to put together a super solid list of tried & true items.
The following items are all things that I actually own and absolutely LOVE, and would recommend without hesitation to anyone looking for holiday gift ideas.
These gift ideas are perfect for people who love to cook, people who love to eat, people who love coffee and/or wine, or any combination of the aforementioned.
If you need even more inspiration, check out my full roster of gift guides by clicking here.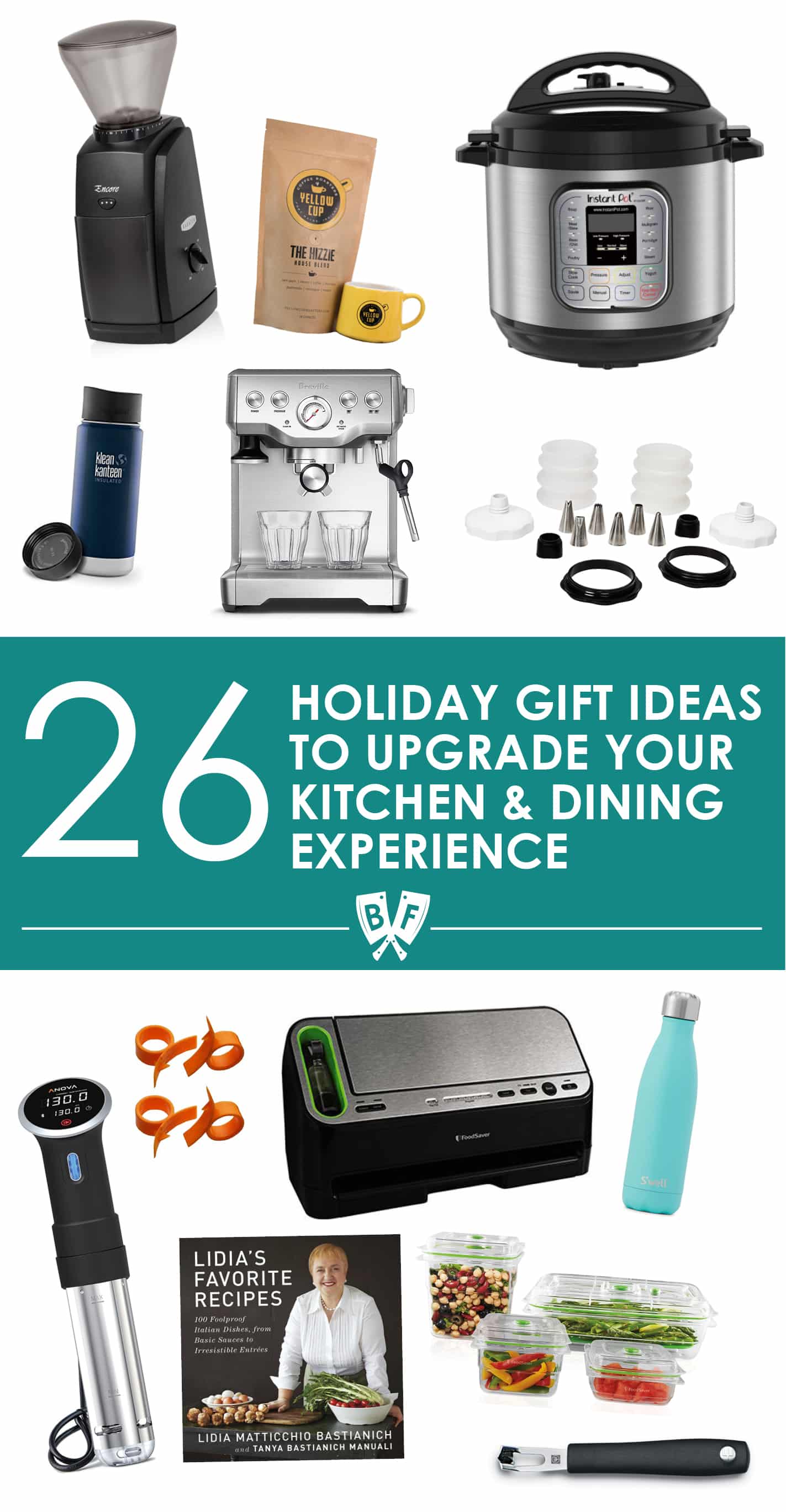 1. Baratza Encore Conical Burr Coffee Grinder - one of the best things I did to improve my home coffee game was to invest in a burr grinder. It has 40 different grind settings, allowing you to get everything from super fine to really coarse. We use a few different settings regularly in my tiny kitchen - one for espresso, one for drip coffee, and one for cold brew. It grinds the beans perfectly evenly every.single.time.
2. Yellow Cup Coffee Roasters (Update for 2023: Yellow Cup has closed their doors. They will be forever missed!) - speaking of coffee, I recently happened upon some phenomenally delicious coffee that would be perfect for any coffee lover on your holiday shopping list. My brother lives out in Fort Wayne, Indiana, and his coworker, Mitch Smith, has started up a small-batch coffee roasting business. He is incredibly passionate about brewing that perfect cup of coffee and has perfected several blends to showcase that passion. I bought a bag of The Hizzie (House) Blend (a blend of organic coffee from Guatemala, Nicaragua and Mexico) last week and had my brother bring it out here to New York for me when he came to visit. It is incredibly smooth, and I've been savoring each and every cup. And the good news is that Yellow Cup is now shipping! They have several types of beans available as well as cups & equipment.
3. Instant Pot - oh yes, the Instant Pot is back on the gift guide for another year! If I could only recommend ONE thing on this list, it would be the Instant Pot. The model I have is the Instant Pot DUO60 6 Qt 7-in-1 Multi-Use Programmable Pressure Cooker, Slow Cooker, Rice Cooker, Steamer, Sauté, Yogurt Maker and Warmer. We just got one for my father-in-law. This thing is a total workhorse in the kitchen - I use it several times a week. You can sear right in it, then pressure cook items in a fraction of the time they'd take in an oven or slow cooker. I use it for cooking rice, hard and soft boiling eggs, making steel-cut oats, pot roast, soups, mashed potatoes... you name it, I'll try it in my Instant Pot. You can check out all the recipes I've written up for the Instant Pot by clicking here. I have a LOT more in the works, especially after the rockin' Thanksgiving dinner we had this year. It's a total game changer. Pinky promise.
4. Klean Kanteen Coffee Set - I (clearly) love a good cup of coffee. And having my coffee able to be well-insulated in a portable mug is key for when I'm on the go. My husband got me one of these Klean Kanteen mugs from a coffee shop in NYC a few years ago, and it's been my go-to travel mug ever since. Its double walled design insulates hot beverages up to 6 hours and iced drinks up to 24 hours. And the mouth piece just feels right. What can I say? I enjoy an ergonomically sound coffee mug.
5. Breville Infuser Espresso Machine - our old (and not very good) espresso machine bit the dust a while back, and we wanted to upgrade. I did a lot of research and found this to be the best home espresso machine I could get without spending over a thousand dollars or getting a dedicated water line put into my kitchen. We've been loving it for over a year now, and combined with the Baratza from #1 above, our kitchen can crank out some seriously delicious lattes.
6. OXO Baker's 8pc Silicone Decorating Bottle Kit - if you've ever caught one of my Instagram Stories, chances are you've seen me use this set. I most frequently use it for piping the filling into my deviled eggs (like these No Mayo Deviled Eggs or these French-Inspired Deviled Eggs), frosting cupcakes, and making Garlicky Goat Cheese + Herb Stuffed Peppadews.
7. Anova Culinary Sous Vide Precision Cooker Bluetooth, Immersion Circulator - this is a kitchen gadget that we went back and forth on for a while before we finally took the plunge this past Amazon Prime Day. We haven't done a ton with it yet, but it's definitely saved us time and frustration for several meals. The Anova is able to be put into any container to create a temperature controlled water bath. You can cook things like chicken at the exact temperature it needs to be cooked at, and it will be incredibly juicy and tender, because it literally can't get overcooked. And I'm going to have to do a post on the reverse-sear method for steak. Holy moly.
8. Citrus Fruit Peelers - this one looks a bit odd, I know. My husband put a few of these in my Christmas stocking last year. They make peeling oranges (and other citrus fruit) super simple! My son gets a kick out of them, too.
9. FoodSaver V4440 2-in-1 Automatic Vacuum Sealing System - I had been eyeing a vacuum sealer for many many years, but just got it this past Prime Day. It works so well for freezing portions of meat, and is a great companion for the Anova Sous Vide. It has helped me really cut back on waste - my food doesn't get freezer burn when I seal it properly using the FoodSaver. I like buying bulk meat, portioning it out into smaller bags, sealing them with the FoodSaver and freezing them.
10. S'well Vacuum Insulated Stainless Steel Water Bottle - again, I love beverages. I usually have a hot and a cold with me at my desk at all times. And I love having a nice double walled bottle to tote water around with me when I'm out and about. This is my most recent favorite - it keeps beverages cold for 24 hours, hot for 12. And apparently it also keeps carbonated beverages fresh. I've only used mine for water, but I do love it!
11. Lidia's Favorite Recipes - I grew up watching Lidia Bastianich cook incredible Italian food on TV. Her cookbooks are ALL solid, but this is my most recent favorite. And total fangirl brag moment here - I met her at the Summer Fancy Food Show here in NYC this year and she was somehow even sweeter in person than on TV. I have never had a recipe from her that was anything less than incredible.
12. FoodSaver Vacuum Sealed Fresh Containers - we use this set of 4 canisters for things we want to seal air-tight. Since we're coffee nerds in my house, we use 2 of them for coffee beans (one regular, one espresso), and we use another for my husband's homemade peanut butter. These work with the retractable handheld sealer that's part of the FoodSaver.
13. Wüsthof Silverpoint Channel Knife - this is key if you want to make those long, gorgeous strips of citrus to garnish beverages like a pro. You can see an example in our Bourbon Rouge.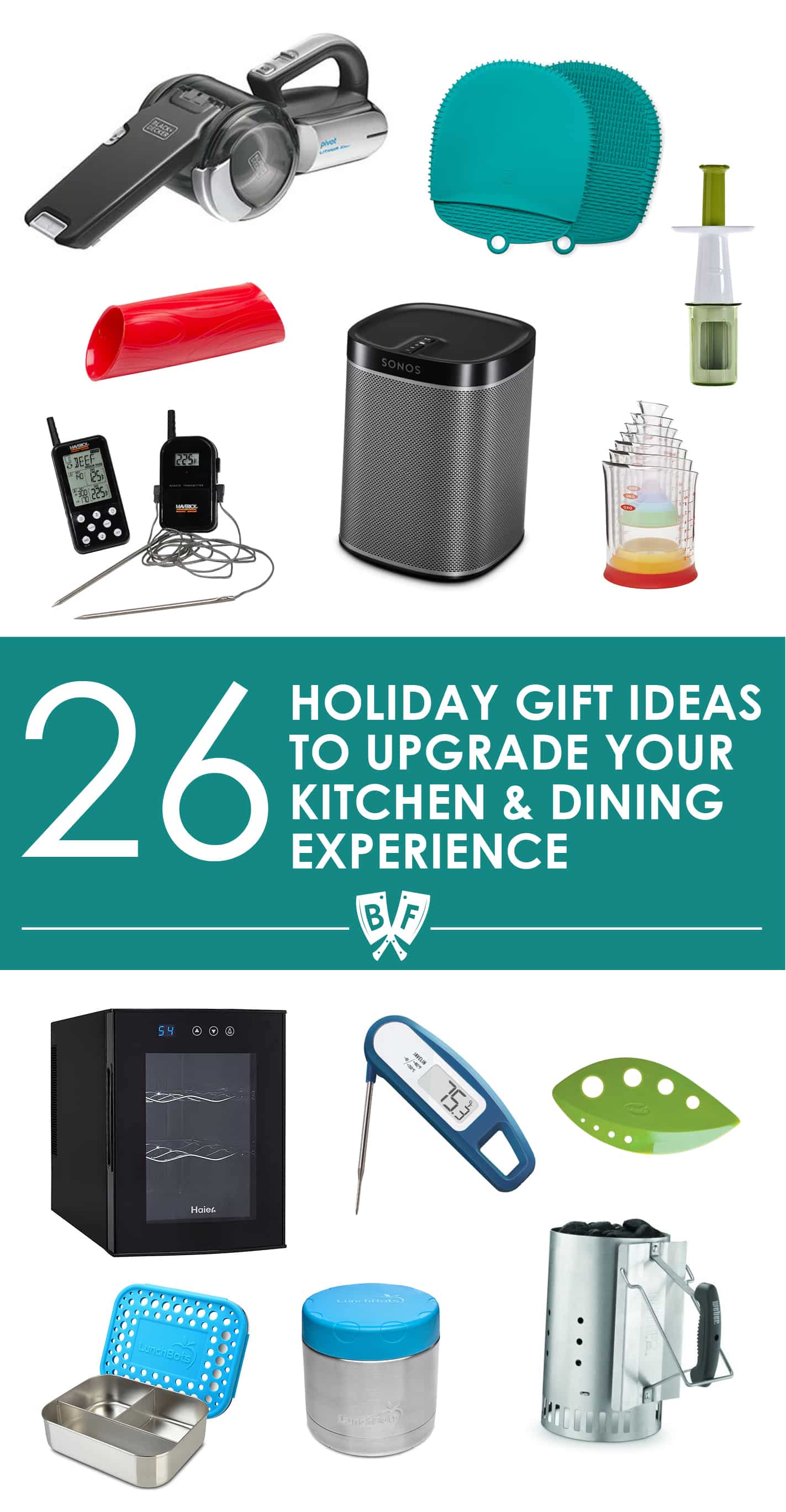 14. BLACK+DECKER BDH2000PL MAX Lithium Pivot Vacuum - OK this one may seem out of place here, but hear me out. Cleaning up is an inevitable part of cooking, eating, and entertaining. And I'm all for making it easier whenever possible. This thing has been a godsend - we keep it docked in the living room and do a quick once-over after every meal. And trust me, when you have a kindergartener eating anything at the dinner table, there will be crumbs and grains of rice everywhere. EVERYWHERE! The Pivot makes cleaning it up SO simple. Plus, it has almost 7,000 reviews on Amazon with a 4.5 star average. That's huge! And yes, I think of that PIVOT scene from F.R.I.E.N.D.S every time I use it.
15. The Ultimate Silicone Oven Mitts / Pot Holders - my old pot holders recently bit the dust, so I replaced them with these beauties. They're heat proof up to 500°F, made of 100% silicone, are able to be cleaned in the dishwasher or washing machine, and are super flexible. I've been loving them so far!
16. OXO Tot Grape Cutter - this tool makes super quick work of quartering grapes. I use it to cut up grape tomatoes for taco night really often. It's quick and easy to use and is one of the few gadgets I actually use on a regular basis.
17. Zak Designs E-Z-Roll Garlic Peeler - I laughed when I saw this in my Christmas stocking last year, but it's actually awesome! If you peel a lot of garlic in your kitchen, this tool makes it super simple. You just pop a few cloves in the tube and press down a little while rolling it. The skins pop right off!
18. Maverick ET-738 325 Ft Long Range Wireless Dual Probe BBQ Smoker Meat Thermometer - my husband uses this a LOT. It's awesome for grilling or smoking meat where you want to monitor the temperature of 2 different types of meat that need to cook to different temperatures (like white and dark meat in a turkey). You pop the probes in the meat, set the base next to the grill, and take the wireless piece with you. It'll alert you when your meat has reached the proper temperature, which gives you more time to do literally anything else!
19. Sonos Play:1 Compact Wireless Speaker - this is another one that has been a total game changer in my tiny kitchen. This small speaker will fill your kitchen or dining room with rich, deep sound. You can control it from your phone, laptop, or Alexa. You can be in one room of the house and Rick Roll your husband while he's doing dishes. Or so I hear. Ahem. You can stream music from online services like Spotify or use your phone's music library. You can dance and cook at the same time! You can even stream internet and local radio stations. I absolutely looooove it.
20. OXO Good Grips 7-Piece Nesting Measuring Beaker Set - these are just adorable, and come in really handy when measuring out and prepping ingredients. I love the nested storage, too, since I'm working with minimal space in my tiny kitchen. They'd be a great stocking stuffer for the baker in your life. Bonus points for them being dishwasher safe!
21. Haier Wine & Beverage Center - because sometimes mama needs some wine, and she'd like it to be at the proper temperature without taking up precious refrigerator storage space. This holds 6 bottles, and fits perfectly in a little corner in our dining room. I try to keep an assortment of red, white, and bubbly at all times.
22. Lavatools PT12 Javelin Digital Instant Read Meat Thermometer - my go-to tool for checking meat temperatures. I love that it folds closed and has a little magnet on the back. I keep mine on my refrigerator so I never have to scramble to find it hidden in a kitchen drawer.
23. Chef'n LooseLeaf Kale, Chard, Collard Greens and Herb Stripper - I thought this tool might be overrated when I first got it, but I've actually used it a LOT! It has different sized holes to accommodate different herbs and leafy greens. You pull them through the holes and it de-stems them with ease!
24. Lunchbots Trio Stainless Steel Food Container - this has been my go-to lunchbox to send to kindergarten with my son. I like taking it for snacks at the park, too. It's durable and comes in several colors. I wrote a bit more about it in my post on Falafel-Spiced Chickpea Salad with Tahini-Lemon Vinaigrette.
25. LunchBots Wide Thermal All Stainless Steel Bowl Insulated Food Container - once I started sending cold lunches to school with my son, I realized he needed a thermal container, too. This one is perfect for sending soup, pasta, and oatmeal in with him. It keeps his food nice an hot until lunchtime (which is at 1:15pm for his class!).
26. Weber 7416 Rapidfire Chimney Starter - a lot of people are hesitant to use charcoal grills because they think they take too long to warm up. A chimney starter will help with that! You load it up with coal, ball up some newspaper underneath, and light it on fire. It concentrates the flames so the coals heat up in a fraction of the time. Mu husband uses it every time he fires up the grill!
Well, there you have it! I hope this has helped you make your holiday shopping go a bit smoother.
Need a cocktail to go with your online holiday shopping? Here are a few recommendations: