This post may contain affiliate links, which won't change your price but will share some commission.
This one-crust rhubarb custard pie has been a mouthwateringly sweet-yet-tart family favorite for decades. A classic that's sure to impress!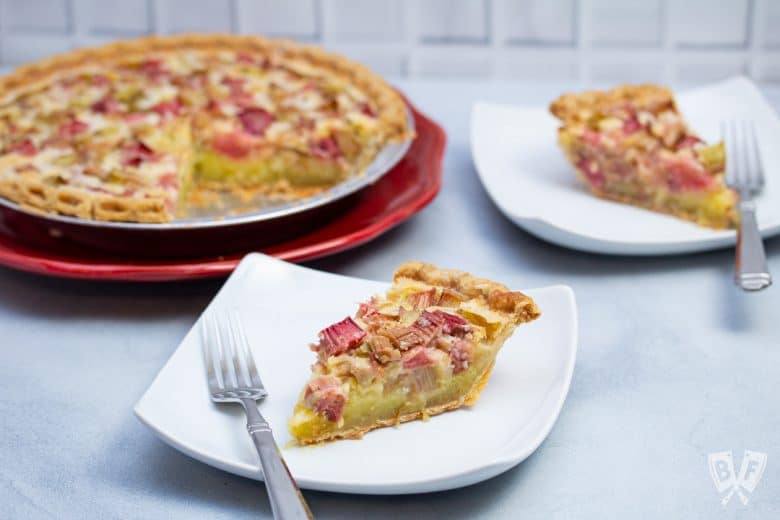 Most people have had strawberry rhubarb pie, but not many that I have met have had my favorite pie of all time – rhubarb custard pie.
I had been telling my husband about this pie for yeeeeears, and he had no idea what he was in for the first time he finally tried it. It's such a unique flavor combination, and the texture is just lovely!
Growing up in the Midwest, my family always had a deliciously decadent assortment of homemade pies at every family gathering. I didn't realize how spoiled I was!
This dessert recipe holds a special place in my heart, along with this classic Dutch apple pie and my grandma's classic cut-out sugar cookies. They're childhood favorites that I still make to this day.
My aunts always made this rhubarb custard pie (and lots of other delicious pies) with the Betty Crocker standard pastry pie crust recipe. The combination of that crust with this pie filling is truly magical!
That being said, over the years I have tried out several different pie crust recipes. I also quite often use storebought pie crusts (usually ones bought from the freezer section of the grocery store).
This pie is a great way to use fresh or frozen rhubarb, and I hope you love it as much as we do!
Jump To:
🧡 Why we love this rhubarb pie recipe
It can be made with either fresh or frozen rhubarb.
This pie tastes best served chilled, so it's a perfect candidate for a make-ahead dessert.
There are only a handful of ingredients.
You can use a homemade pie crust or a store-bought one. And you don't have to blind-bake it before adding the filling!
The recipe makes enough filling for one deep dish or two standard pies. I usually go the deep-dish route.
It's different from the typical strawberry-rhubarb combination that people are familiar with.
The sweet-tart flavor is truly magical!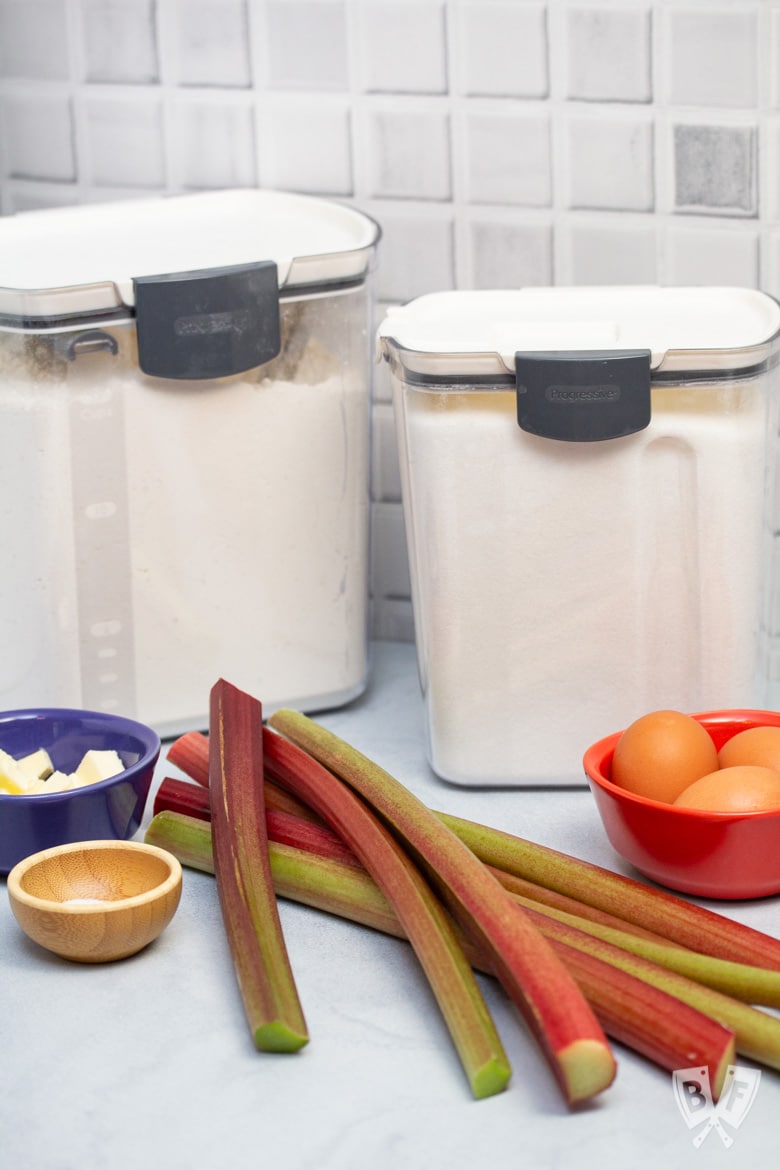 ---
📝 Ingredients
Here's everything you need to make this rhubarb custard pie (see recipe card below for ingredient amounts and full directions):
Fresh rhubarb
Unsalted butter
Eggs
One unbaked deep-dish pie shell (or two standard-sized ones)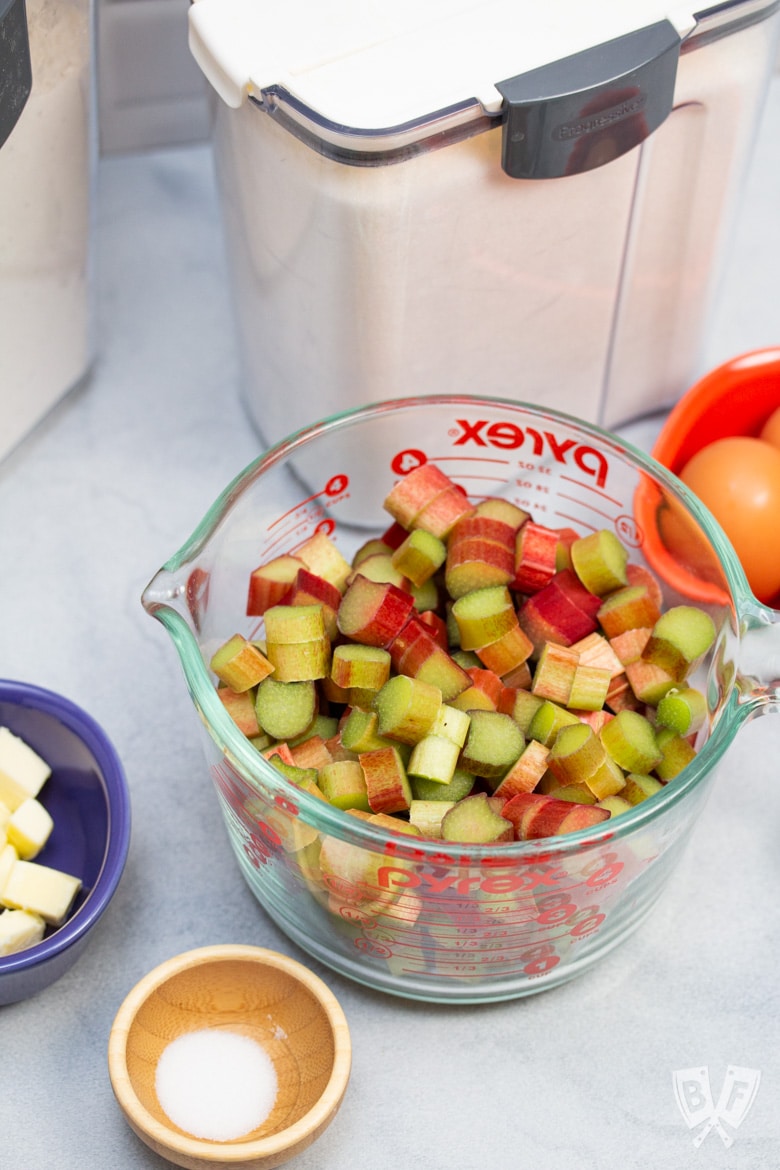 Slice your rhubarb evenly. I like ⅓- to ½-inch thick pieces.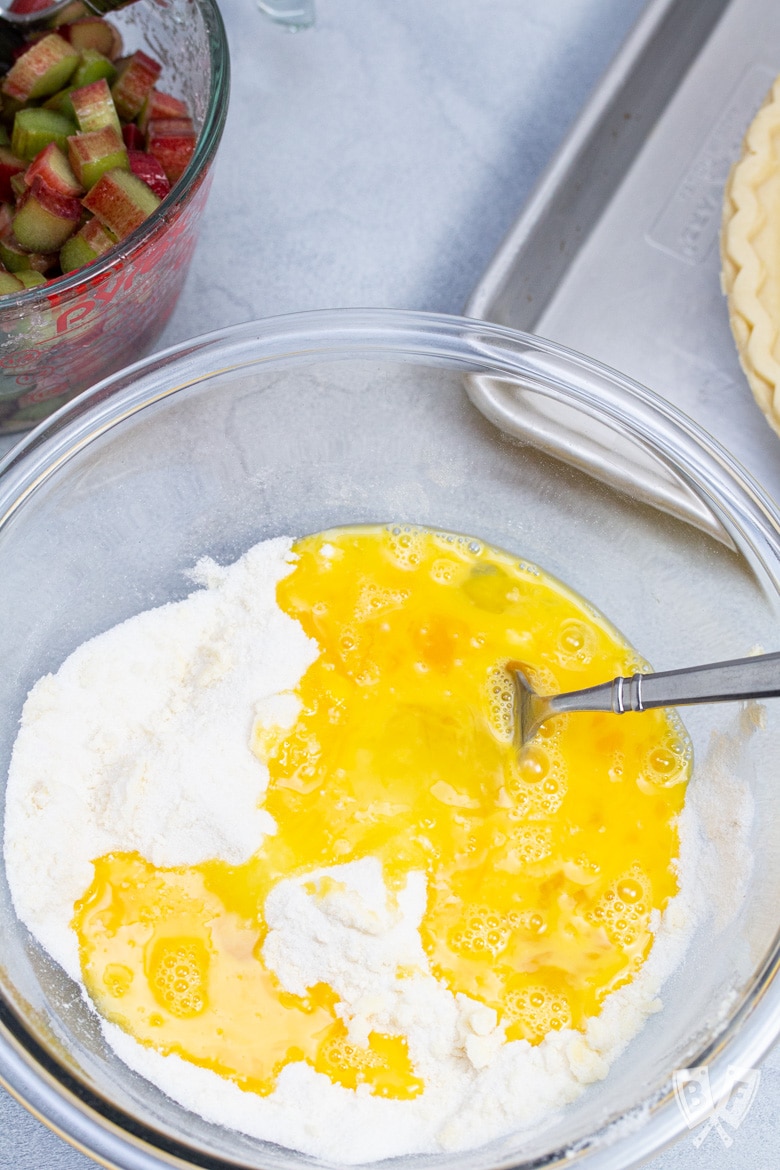 Beat the eggs in a bowl before adding to the dry ingredients.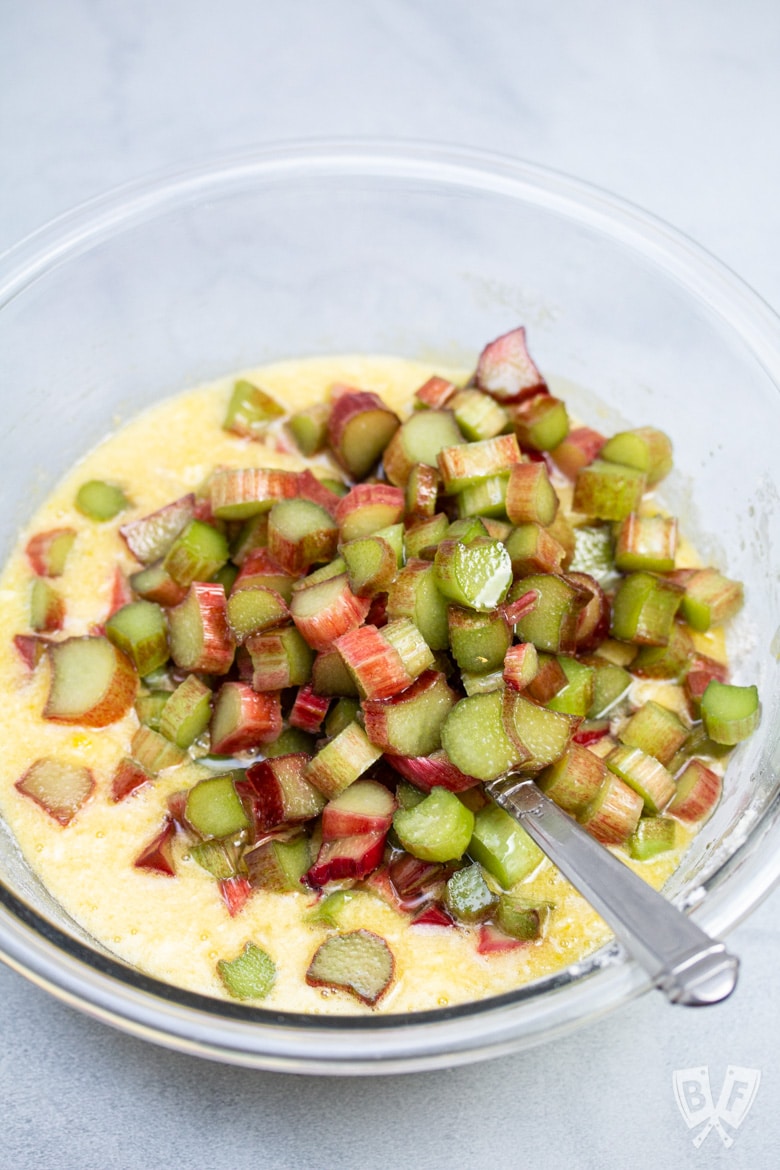 Strain out the liquid from your rhubarb before adding it to the custard mixture.
🥧 Ingredient spotlight: store-bought pie crust
This recipe uses a pre-made pie crust. There are a few different options when buying these from the store.
Frozen, pre-made pie crusts can be found in the frozen food aisle. In the stores I've been to, they're usually near the frozen whipped topping, berries, and cans of frozen juice.
If your store has a section with frozen pies and puff pastry, the pie crusts may be there also.
You can usually find both standard and deep-dish frozen pie crusts, so be sure to get the right size for the recipe you're making.
A bonus about this type of pie crust is that a disposable baking dish is already included, so you don't even need to own a pie plate in order to bake with them.
Another benefit of these pre-formed pie crusts is that they're already rolled out and shaped into the pie pan. The edges of the crust are crimped beautifully for you, saving you from having to do it yourself.
I tend to keep frozen pie crusts on hand in my freezer so I always have one handy if I'm in the mood to bake a pie or quiche.
You can also often find refrigerated pie dough at the grocery store. It's usually in the dairy/egg department near the cans of refrigerated biscuits, croissants, etc.
Refrigerated pie dough is usually sold in pre-rolled sheets, so you'll need to fit them into a pie plate at home.
The dough sheets are rolled up and sealed in a bag, then tucked into a box, which is nice because they don't take up too much room in your refrigerator.
Of course, if you have time and are so inclined, you can make your own pie crust. My go-to pie crust recipe is this standard pastry recipe. The buttery all-purpose crust in this pie recipe is also delicious, as is this whole wheat pie crust.
You can even make your own pie crusts in advance and freeze them for later use. There are some great tips for this in Teeny's Tour of Pie, a cookbook that I reviewed years ago with lots of great recipes.
Whatever route you take, pie crusts are a versatile item to use in the kitchen. They're used in many sweet and savory dishes.
Some of our favorite recipes that use a pie crust are: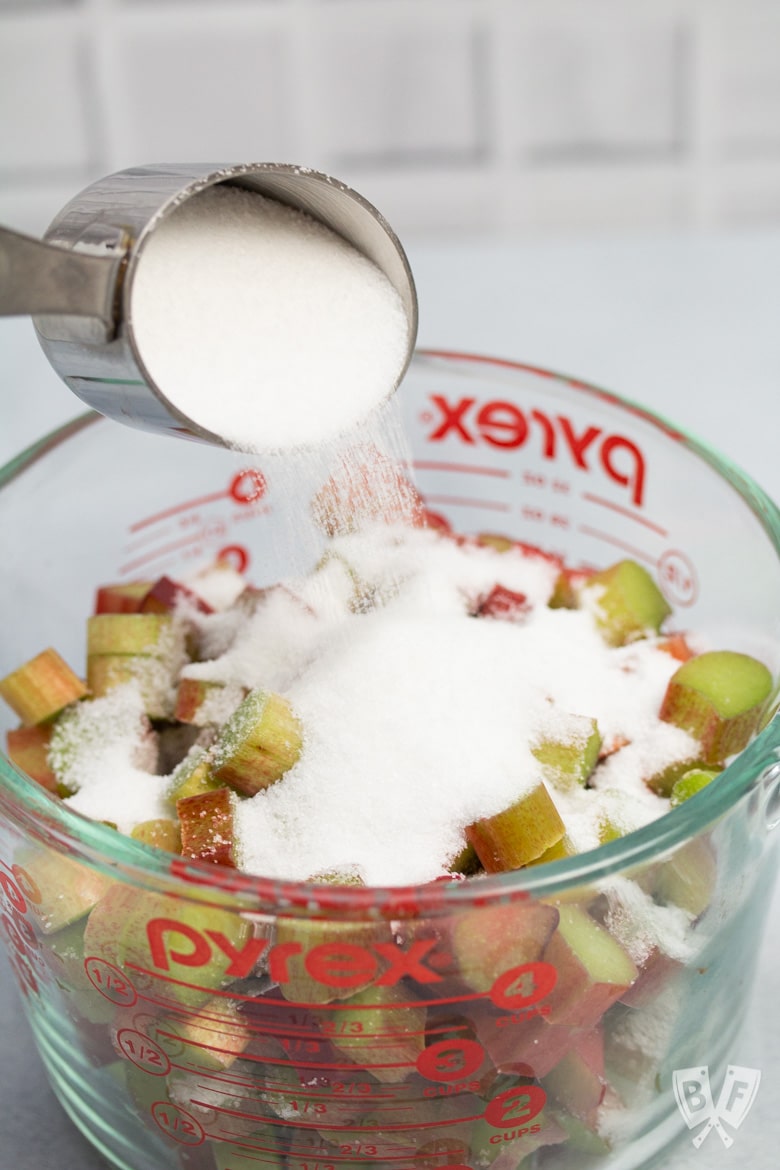 Pour granulated sugar over the sliced rhubarb.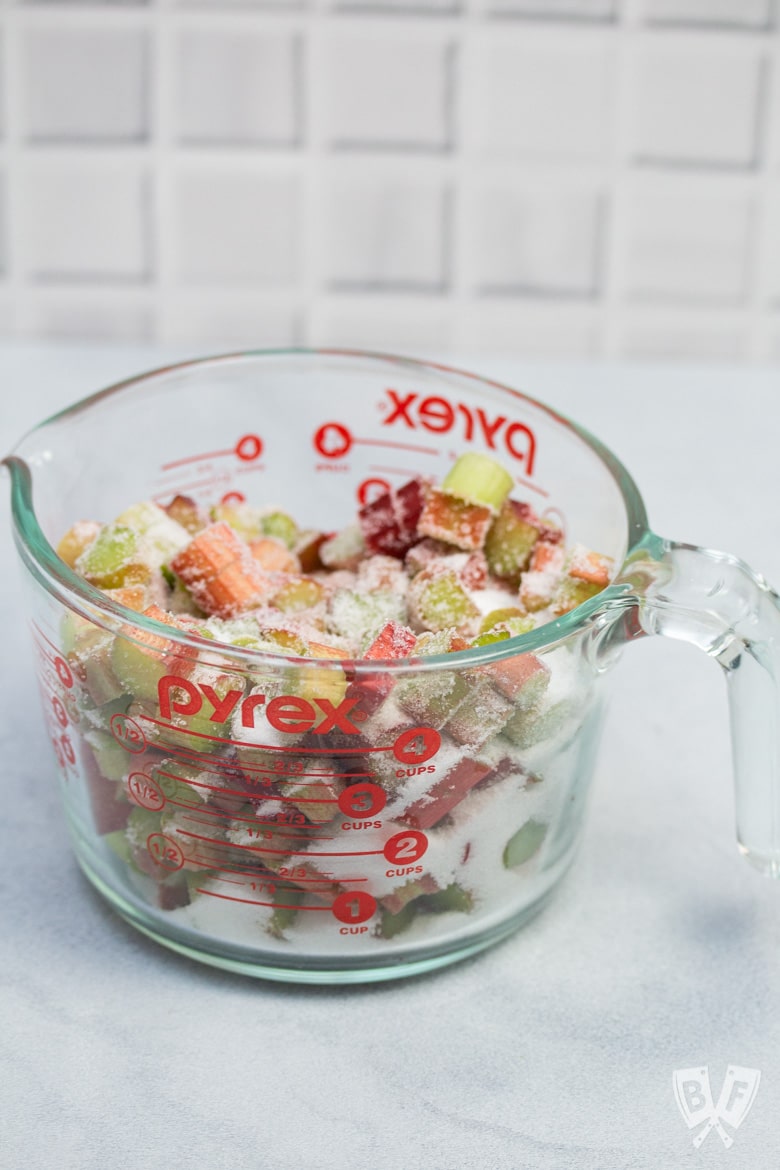 Stir to combine and let it sit, stirring occasionally.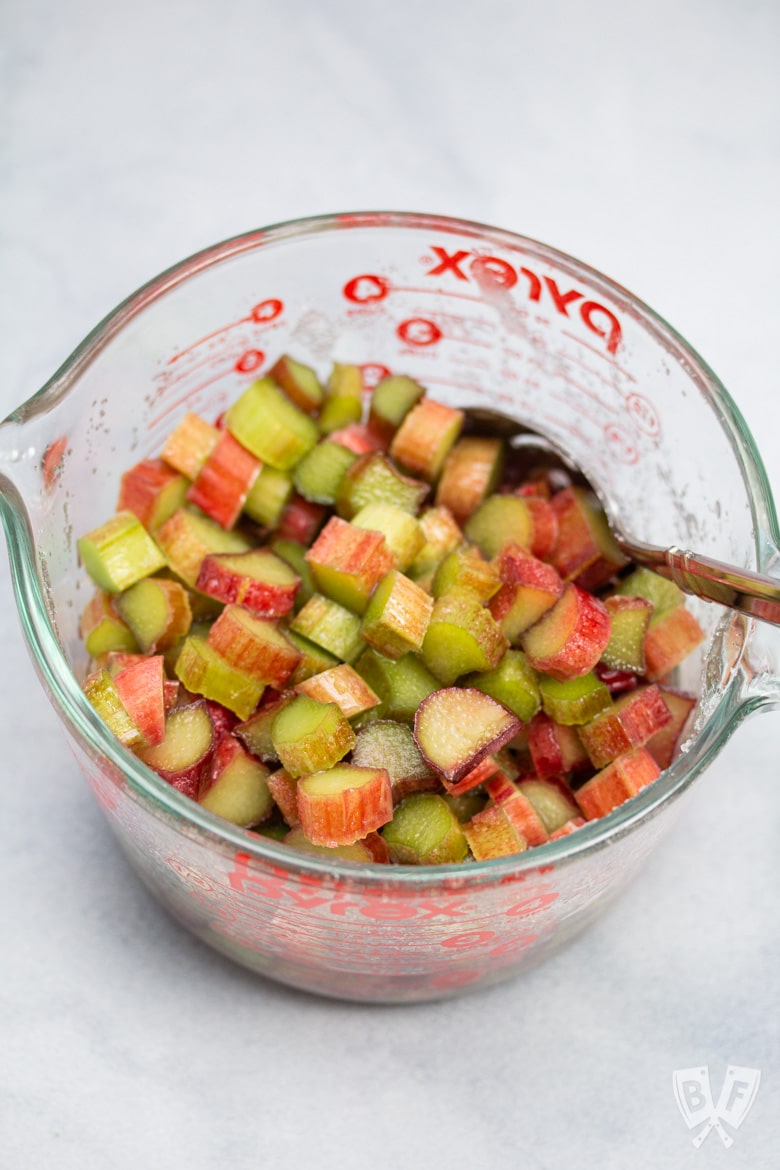 The sugar will dissolve and liquid will collect at the bottom of your container.
✅ How to make this recipe
This rhubarb custard pie is shockingly simple to make. You need to give yourself a little time to let the rhubarb sit in sugar before assembling, as well as chilling time in the fridge if you plan to serve it cold.
Combine the sliced rhubarb with ¾ cup of the sugar in a bowl. Let it sit, stirring occasionally, until it releases liquid that collects in the bottom of the bowl.
Preheat your oven to 400°F.
Combine the remaining sugar, flour, and salt in a large bowl.
Cut in the cubed butter using a pastry cutter or fork.
Stir in the beaten eggs until combined, then stir in the rhubarb.
Pour the mixture into your unbaked pie shell, then bake for 15 minutes.
Lower the heat to 325°F without opening the oven door and bake for another 45-60 minutes.
Transfer the baked pie to a cooking rack until it reaches room temperature, then cover and refrigerate.
See recipe card below for full instructions.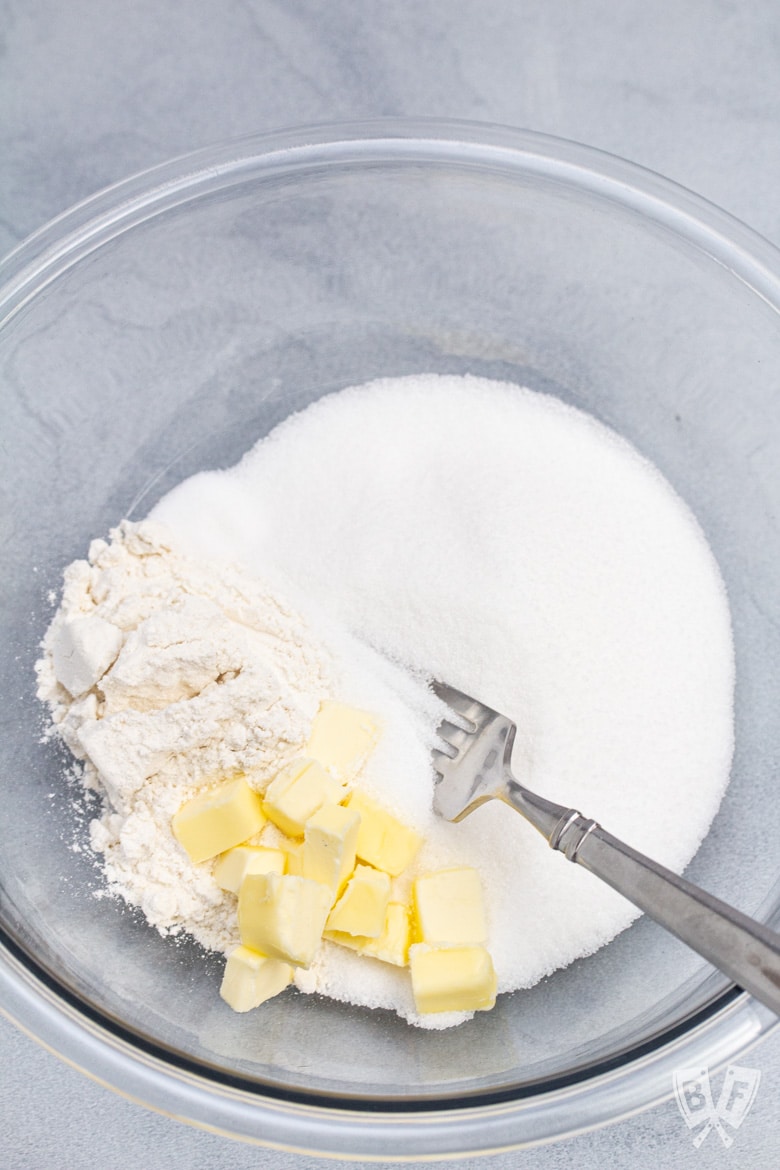 Cut the butter into the dry mixture with a pastry cutter or fork.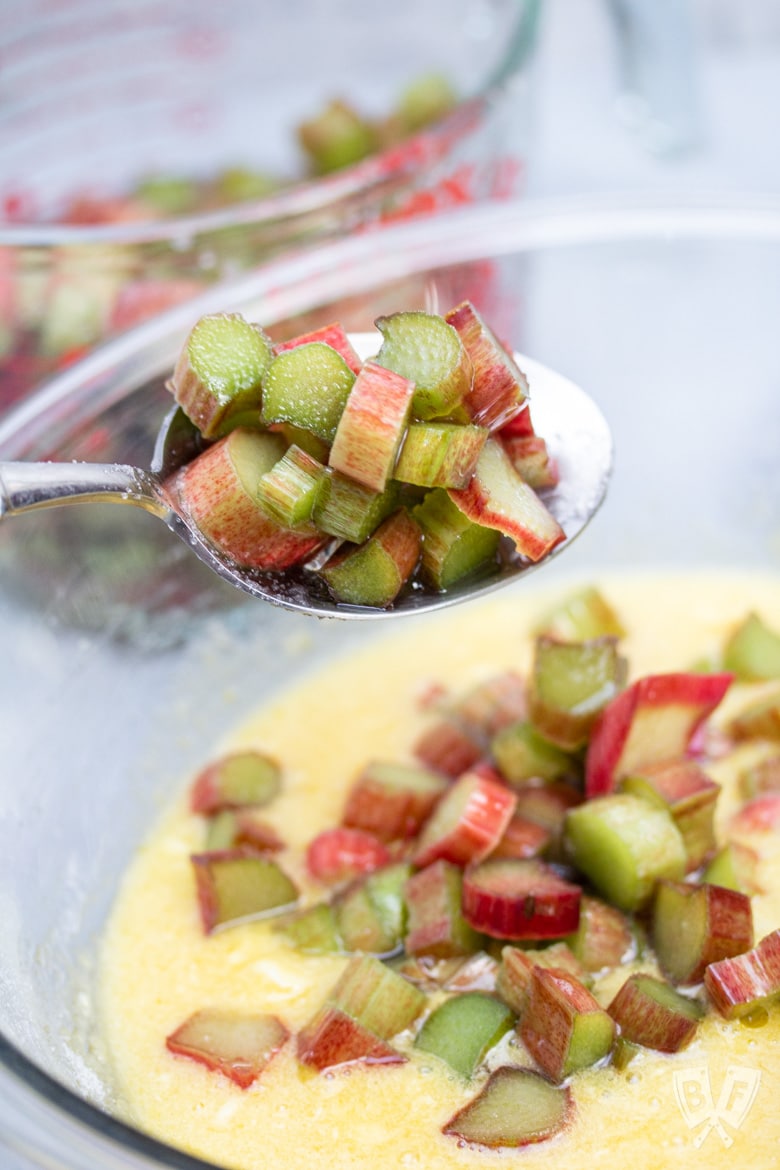 Stir the sugared rhubarb (minus the liquid) into the custard mixture.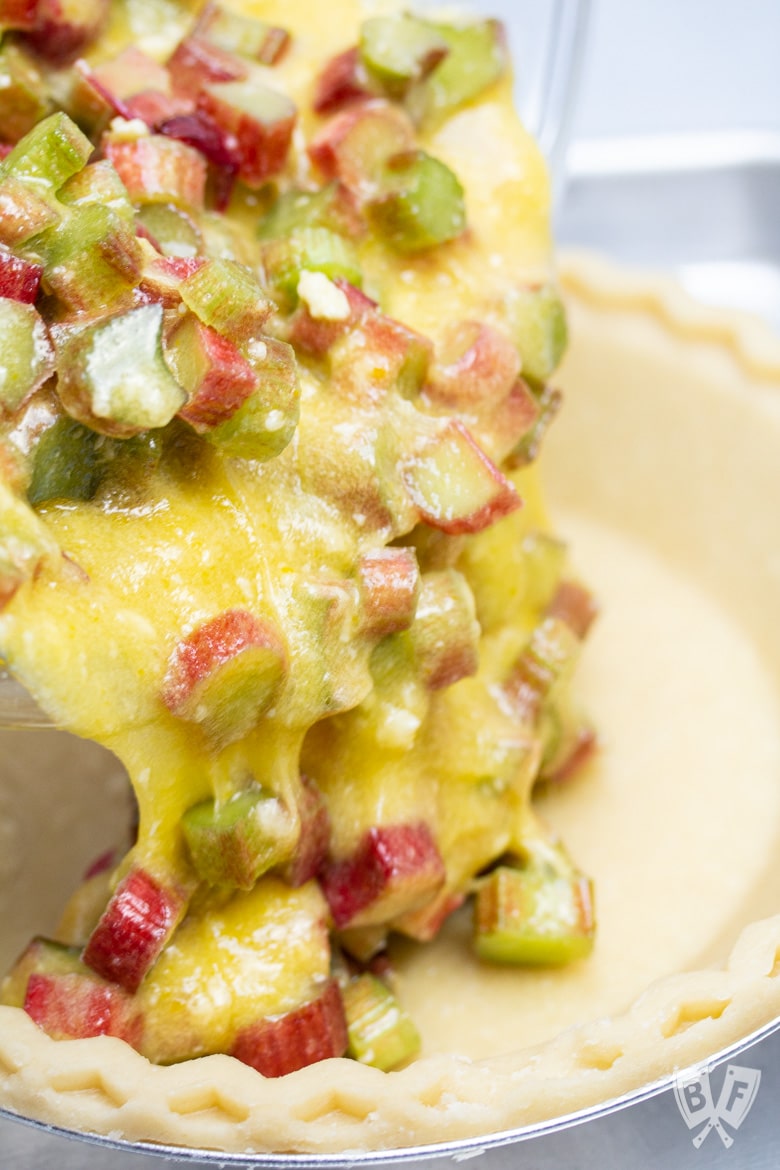 Pour the mixture into an unbaked deep-dish pie shell on a baking sheet.
📌 Tips
Slice rhubarb into consistently-sized pieces to ensure even cooking. I usually aim for around ⅓- to ½-inch thick.
You can use fresh or frozen rhubarb for this recipe - both are fantastic! If using frozen, let it thaw, pour off the water, and then toss with the sugar before proceeding to add it to the custard mixture.
A fun tip for reducing kitchen waste: save the "rhubarb liquid" that you drain and use it as a simple syrup for cocktails, mocktails, and more - recipes coming soon!
I use iodized table salt in this recipe - I have yet to try it with kosher salt, but I think either would work out OK in this recipe.
You can use the filling to make 2 standard-sized (vs. deep-dish) pies. You'll need to reduce the baking time but it should fill 2 pie shells easily.
I like to place pie pans on a quarter sheet pan (or half sheet pan if making 2 pies) to help catch any potential overflow and make transferring to and from the oven easier.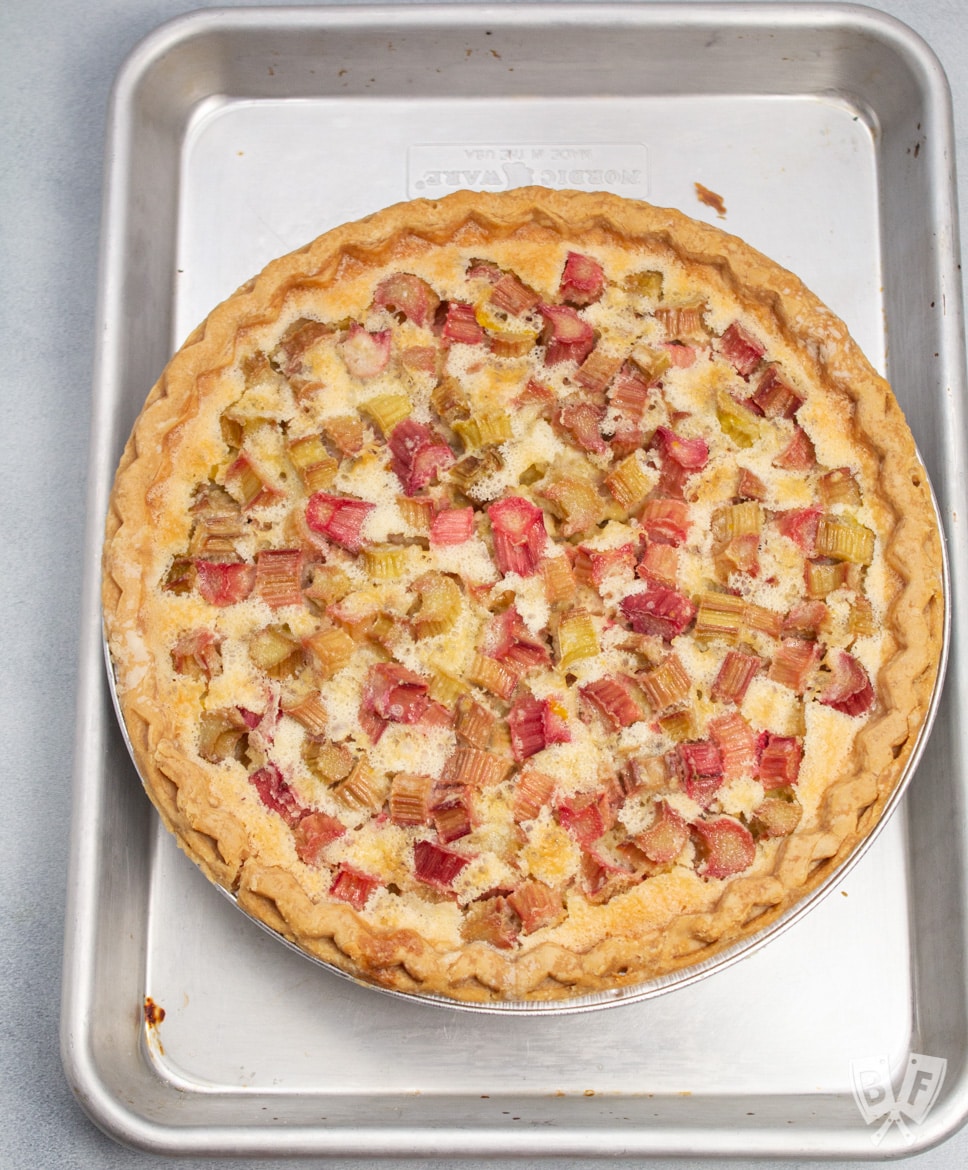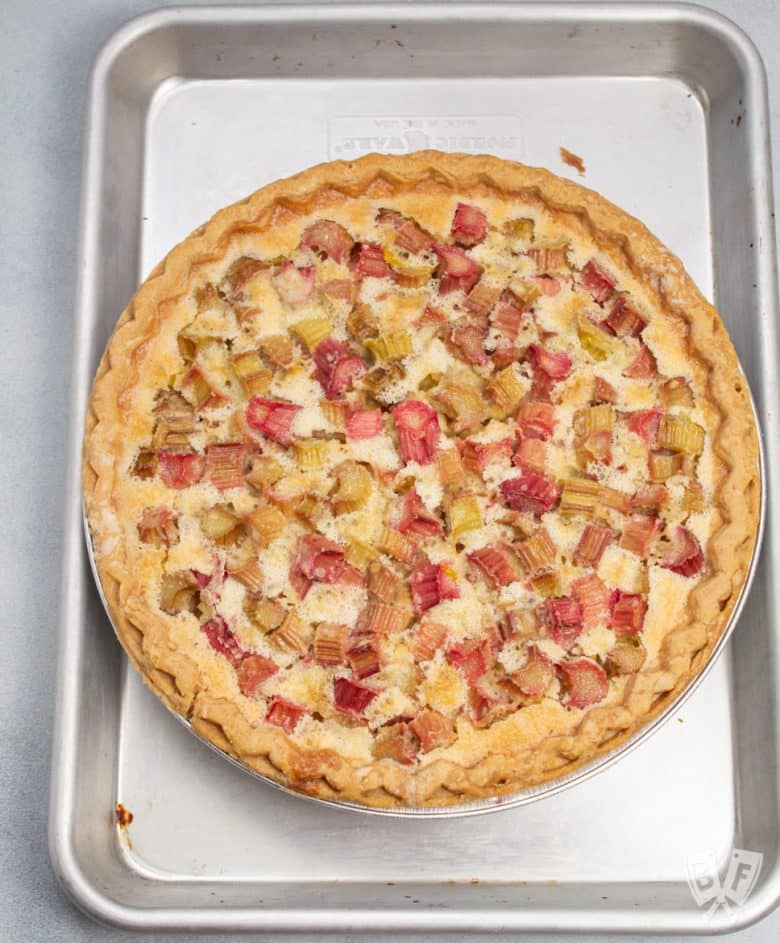 🙋🏻‍♀️ Frequently Asked Questions
Is rhubarb a fruit or a vegetable?
Rhubarb is technically a vegetable, though it is often used as a fruit. There's an interesting article on Food Network that touches on why the USDA decided to classify it as a fruit back in the 1940's.
What does rhubarb taste like?
Rhubarb is quite tart, which is why it's often paired with sugar for balance. It can be eaten raw but is most often cooked in some way - roasted, baked, simmered, sautéed, etc.
Is part of the rhubarb plant poisonous?
The leaves of the rhubarb plant are poisonous. You can touch them, but do not ingest them. There is more information on what makes rhubarb leaves poisonous in this article over on Healthline.
Can you freeze rhubarb?
Yes! Freezing rhubarb is a great way to enjoy it, even once rhubarb season is over. If I'm freezing it for pie, I go ahead and cut the fresh rhubarb and freeze it in 4-cup portions so I have the perfect amount for pie-making!
Can I use frozen rhubarb in my pie?
Yes! You'll need to thaw the rhubarb, pour off the liquid, then toss it with sugar and proceed with the recipe as written if using it for rhubarb custard pie.
What can I do with the sugary macerating liquid that comes from rhubarb?
We love saving the sugar liquid in beverages! Pour the liquid into a small saucepan and cook, stirring, until the sugar has dissolved. You can then use it as a sweetnener for cocktails, mocktails, and homemade sodas.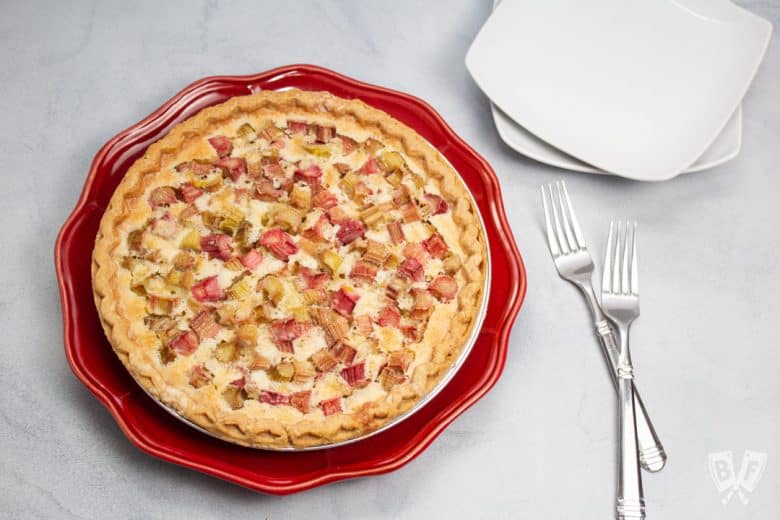 🔪 Equipment
You don't need anything fancy to make this pie - it's likely all stuff that you already have in your kitchen: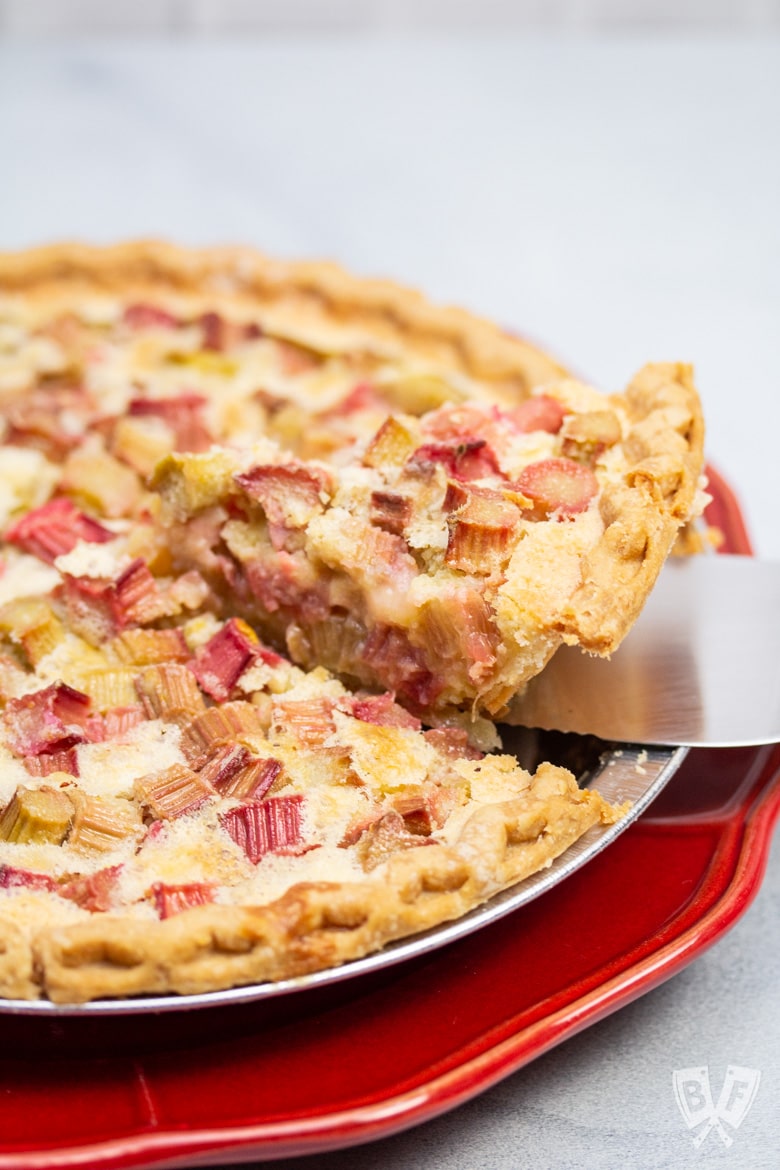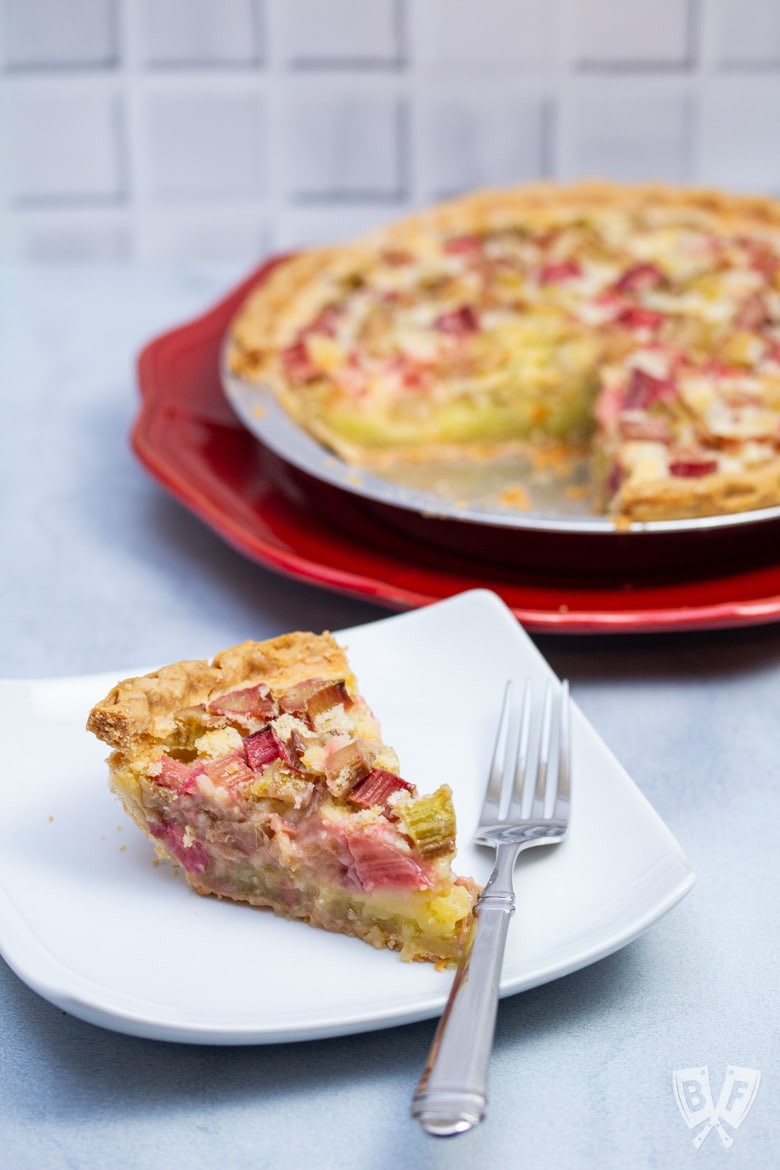 🥡 Storage recommendations
Leftover rhubarb custard pie should be stored, covered, in the refrigerator. I usually just place a layer of aluminum foil or beeswax wrap over the top of the pie plate and seal it.
I've seen some fun products for pie storage, like this pie saver with individual slice holders, this pie keeper with hinged lid, and this hi-dome covered pie pan.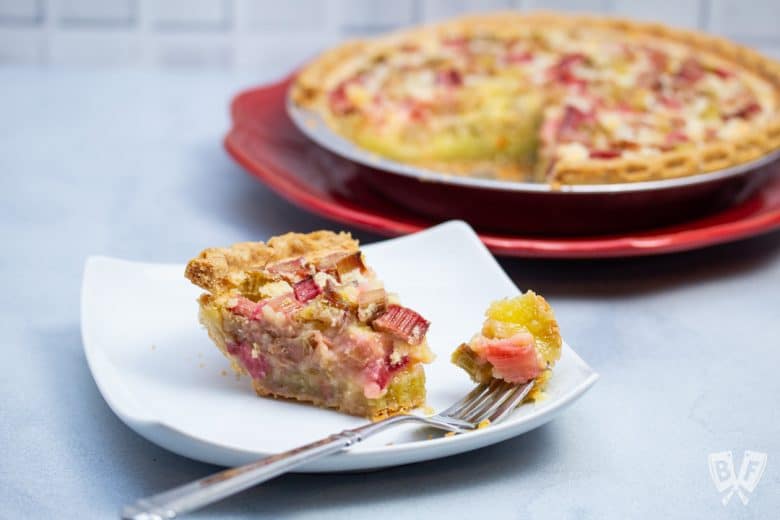 ---
Still hungry? You may also like...
Doing some online shopping? Check out my Amazon shop page for recommendations!
---
Print
📖 Recipe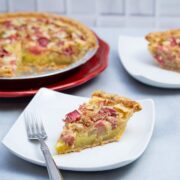 Rhubarb Custard Pie
Author:

Prep Time:

40 minutes

Cook Time:

1 hour

Total Time:

1 hour 40 minutes

Yield:

8

1

x

Category:

Dessert

Method:

Oven

Cuisine:

American
---
Description
This one-crust rhubarb custard pie has been a mouthwateringly sweet-yet-tart family favorite for decades. A classic that's sure to impress!
---
---
---
Equipment
---
Notes
See the tips and notes in my full post above for more info on working with rhubarb including how to use frozen rhubarb, how to store your pie, what to do with the liquid left from macerating your rhubarb, and more!
Recipe adapted from Mrs. Willis W. (Magdalena) Lehman's contribution to Our Swiss Pantry
Nutrition
Serving Size:

1 slice

Calories:

404

Sugar:

50.7 g

Sodium:

274.7 mg

Fat:

12.9 g

Saturated Fat:

4.7 g

Carbohydrates:

69 g

Fiber:

1.6 g

Protein:

4.9 g

Cholesterol:

77.4 mg
Keywords: rhubarb pie, custard pie, summer desserts
Recipe Card powered by
Check out my latest posts...