This post may contain affiliate links, which won't change your price but will share some commission.
A collection of some of our favorite gift ideas for food and beverage lovers of all ages. Includes ideas for stocking stuffers and main gifts.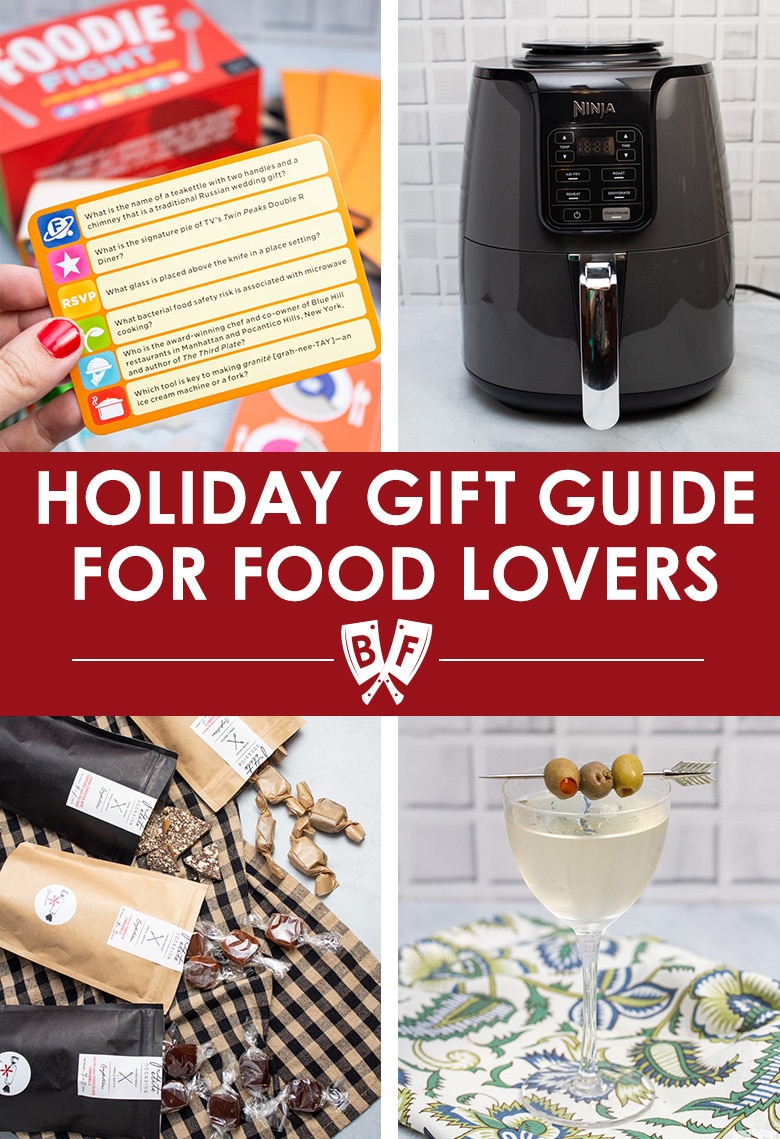 This post contains affiliate links.
The holiday shopping season is (already!) upon us, and I for one am.not.ready. My son turned 8 last week, and I tend to like to wait until after the Black Friday craziness is over to do my holiday shopping.
But I know that many of you are already in full-on holiday shopping mode, and I wanted to get my top gift suggestions for this year out for those hoping to catch some Cyber Monday sales.
This year my roundup of gifts includes a range of items from both large brands and smaller, local producers.
Whether you're looking to satisfy your sweet tooth, upgrade your home coffee game, or get a new kitchen appliance, this list has you covered!
And if you're looking for more gift ideas, you can check out all of my past gift guides. I still stand by those recommendations - and you KNOW I'm still all about my Instant Pot - although now I also have an Instant Pot Ultra and love it, too!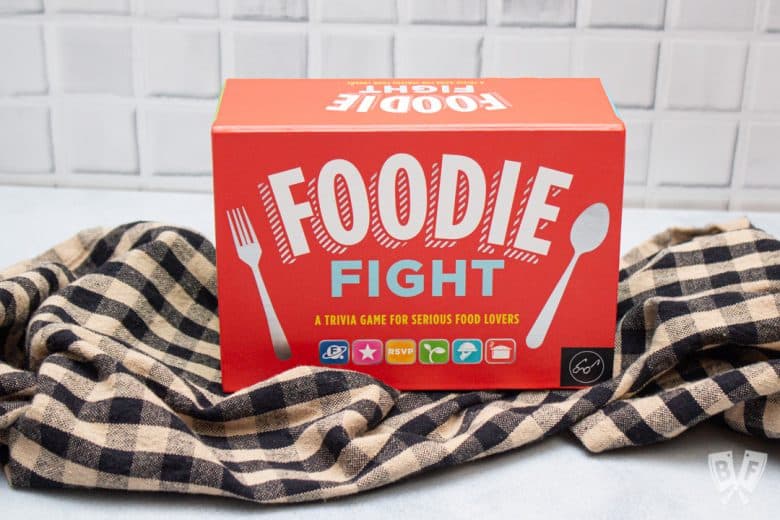 Foodie Fight: A Trivia Game for Serious Food Lovers
This Foodie Fight is a trivia game that is SO much fun! My stepsister got it for me for Christmas last year and I've had hours of fun playing it.
In fact, this game holds a special place in my heart now because when my father-in-law was in the hospital at the beginning of the year, I brought the cards with me so we could quiz each other to keep his mind off of how sick he was.
We had a lot of laughs and found out that we didn't know as much about some aspects of food as we thought we did, and vice versa.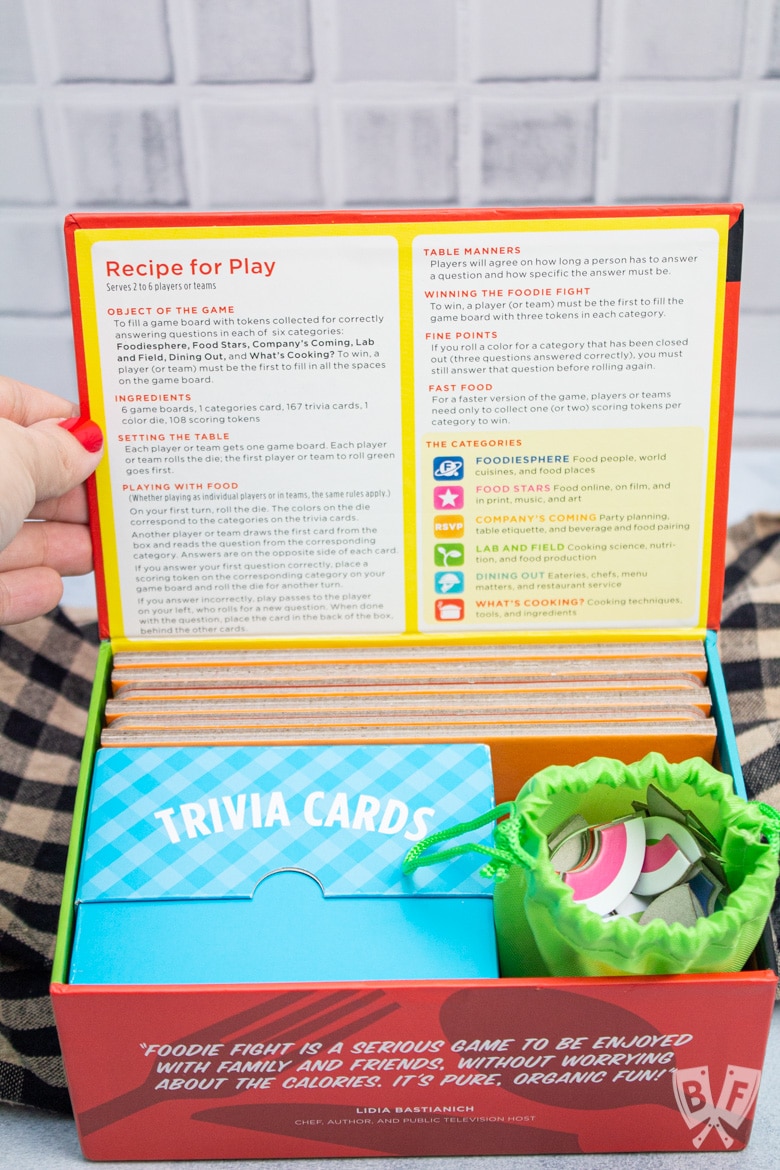 Foodie Fight is kind of like Trivial Pursuit, except instead of collecting wedges, you're collecting scoring tokens to fill up your game board. And your game board looks like a restaurant menu.
I feel like there was a bit of a missed opportunity to make "piece of the pie" style of game pieces, but the menus are definitely adorable.
This version of the game is updated from the original, and I love how bright and playful the design is.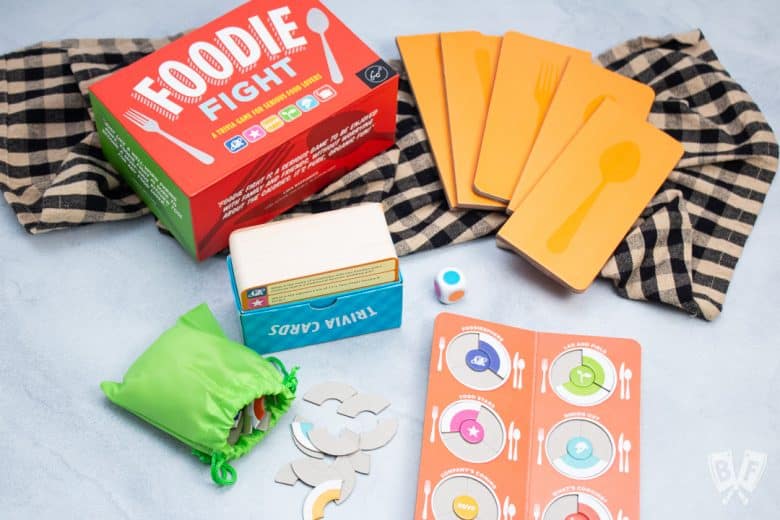 The categories in Foodie Fight are:
Foodiesphere: Food people, world cuisines, and food places
Food Stars: Food online, on film, and in print, music, and art
Company's Coming: Party planning, table etiquette, and beverage and food pairing
Lab and Field: Cooking science, nutrition, and food production
Dining Out: Eateries, chefs, menu matters, and restaurant service
What's Cooking? Cooking techniques, tools, and ingredients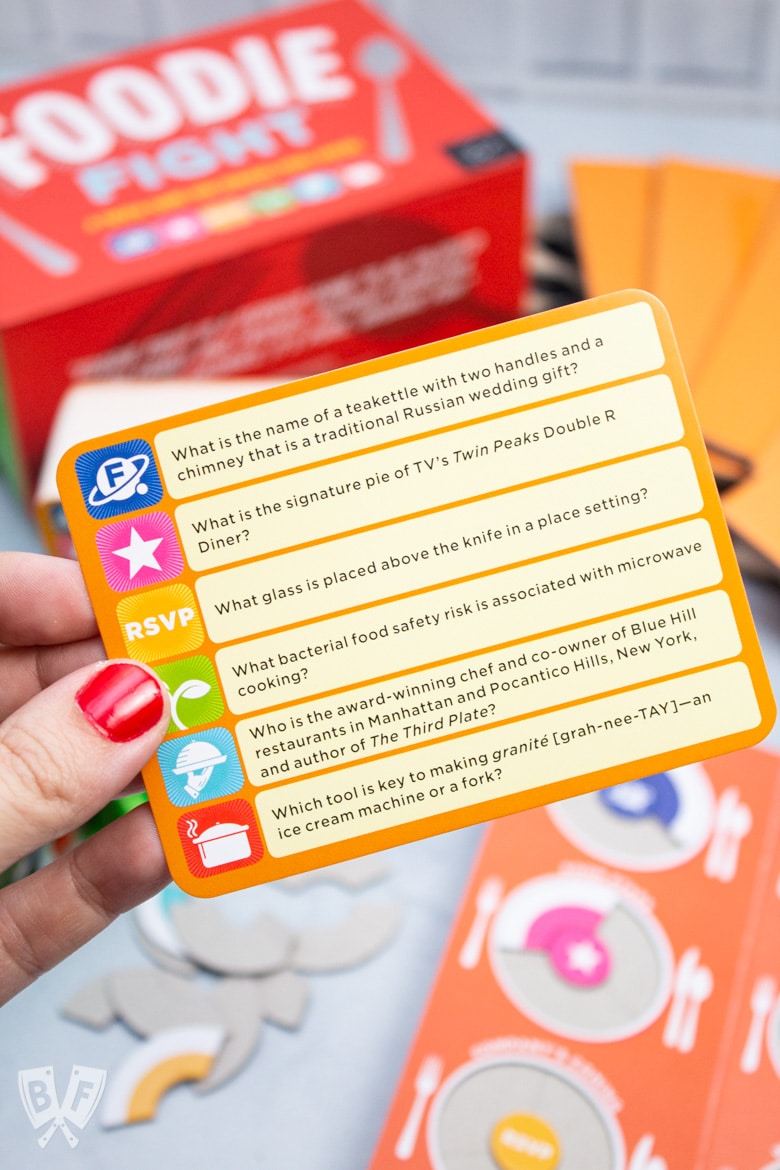 Foodie Fight is a great game for people who love food, cooking, and drinks. You don't need to be an expert in any particular area - there's quite a broad range of information covered on the trivia cards. You'll seriously learn a lot from playing it!
I've played this game both with the menus trying to fill them up to win and have also brought the cards out and about with me to kill time while waiting on other things. It's fun any way you play!
Foodie Fight is one of the most entertaining gifts I've received in a long time, and I highly recommend it! Get your own copy of Foodie Fight over on Amazon!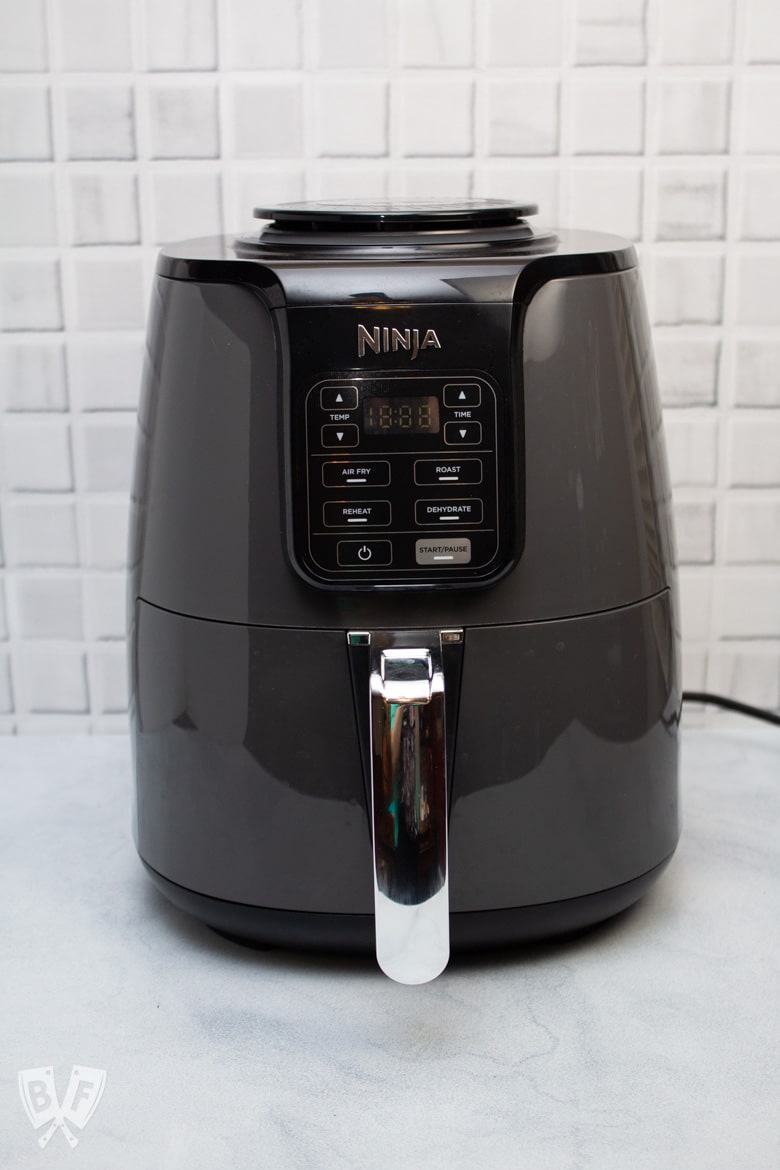 Ninja Air Fryer
I didn't think I'd ever encounter a kitchen appliance that I'd use as much as my beloved Instant Pot. I mean, I use my Instant Pot a few times a week - how could anything else be that versatile?
When I won this Ninja Air Fryer a few months ago and figured I'd give it a try and end up stashing it in a closet, but boy was I wrong!
An air fryer is basically a small-scale convection oven. Air fryers circulate the air around the food so they cook evenly all over.
That means no hot spots or patches of food that cook slower than others (as long as you keep things in an even layer inside).
I absolutely love this particular model of air fryer. Not only is it fairly small (great for tiny kitchens like mine!) but it's super efficient. It only takes 3 minutes to preheat and you can use it for SO many different things!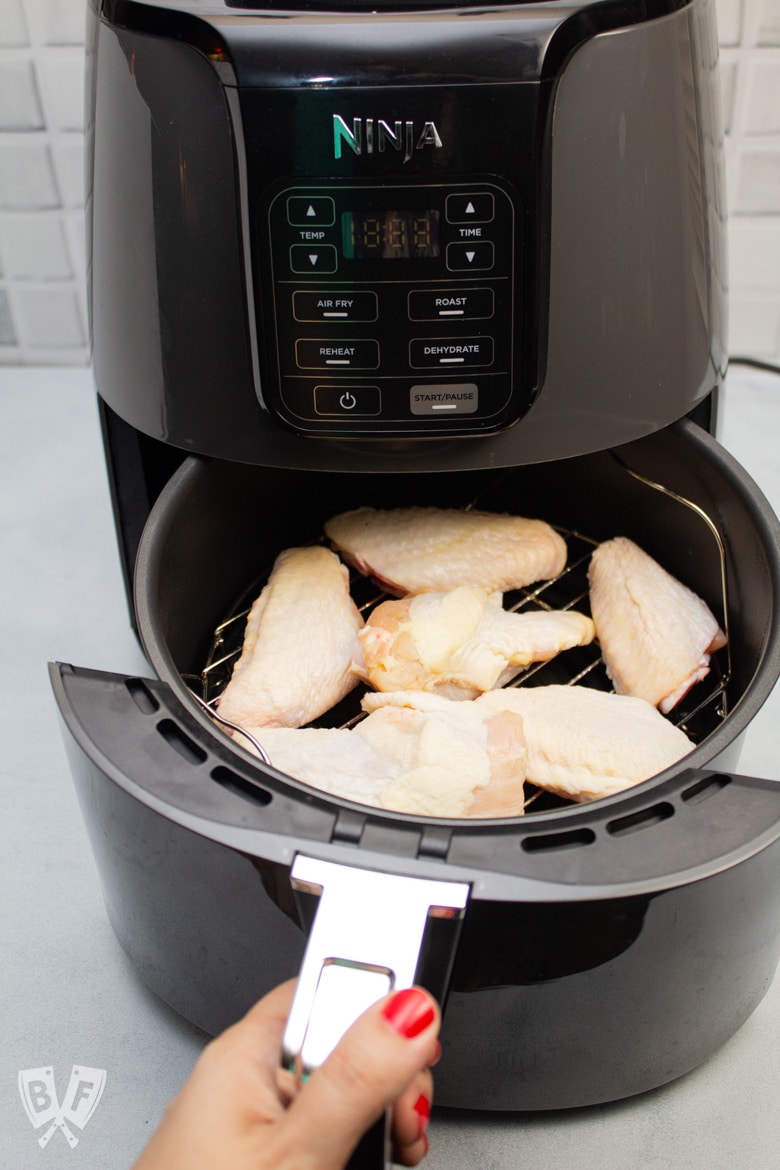 Since getting this air fryer, it's been used almost daily in my house. Some of the ways we've used our air fryer so far:
Cooking frozen tater tots
Reheating pizza
Roasting Brussels sprouts
Reheating chicken strips & french fries
Cooking frozen fish sticks
Air-frying falafel
Air-frying chicken wings (like these Air Fryer Garlic Parmesan Chicken Wings)
Reheating quiche
Reheating French toast & bacon
Cooking frozen veggie burgers
Air-frying asparagus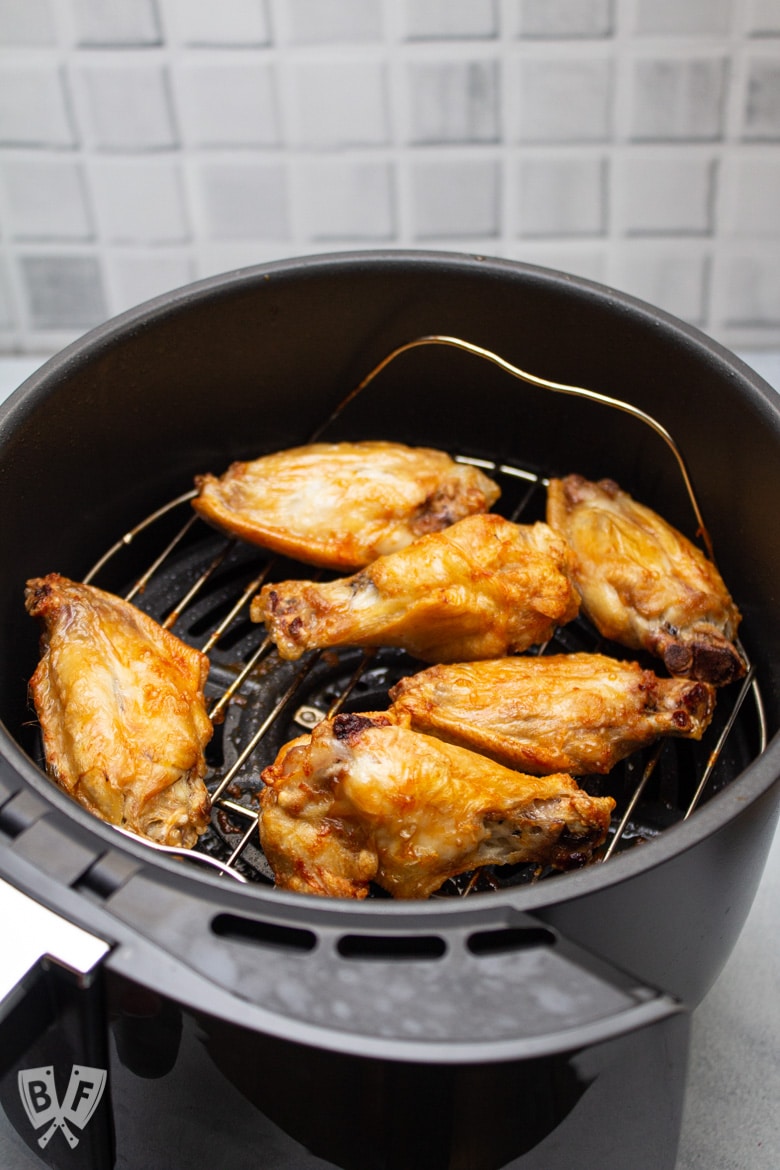 Wings are probably my favorite thing to make in the air fryer right now because they cook so quickly and the skin gets so crispy. And because of the convection fan circulating air all around while they're cooking, the meat stays nice and juicy.
I'm also excited to try out the dehydrator function on my air fryer. I've never bought a dehydrator because they're so bulky and I really don't have the storage space for one, so this is a great way to try that out on a smaller scale.
There is also a Max XL 5.5-quart model that's a bit larger, but this smaller size suits my family's needs just fine.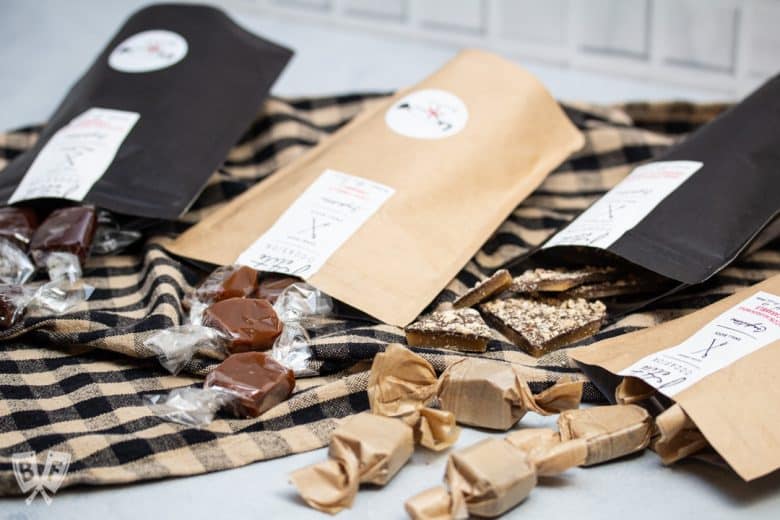 Delicious Artisan Caramels + Toffee Made in the Hudson Valley
If you're looking to satisfy your sweet tooth with some insanely delicious, small-batch caramels and toffee made right here in the Hudson Valley, look no further!
My friend Michele Kim of La Petite Occasion handcrafts a variety of confections in Chappaqua, New York.
I joined her in her kitchen a few weeks ago for a toffee-making demo (post + recipe coming soon!) and got a behind-the-scenes peek at her process.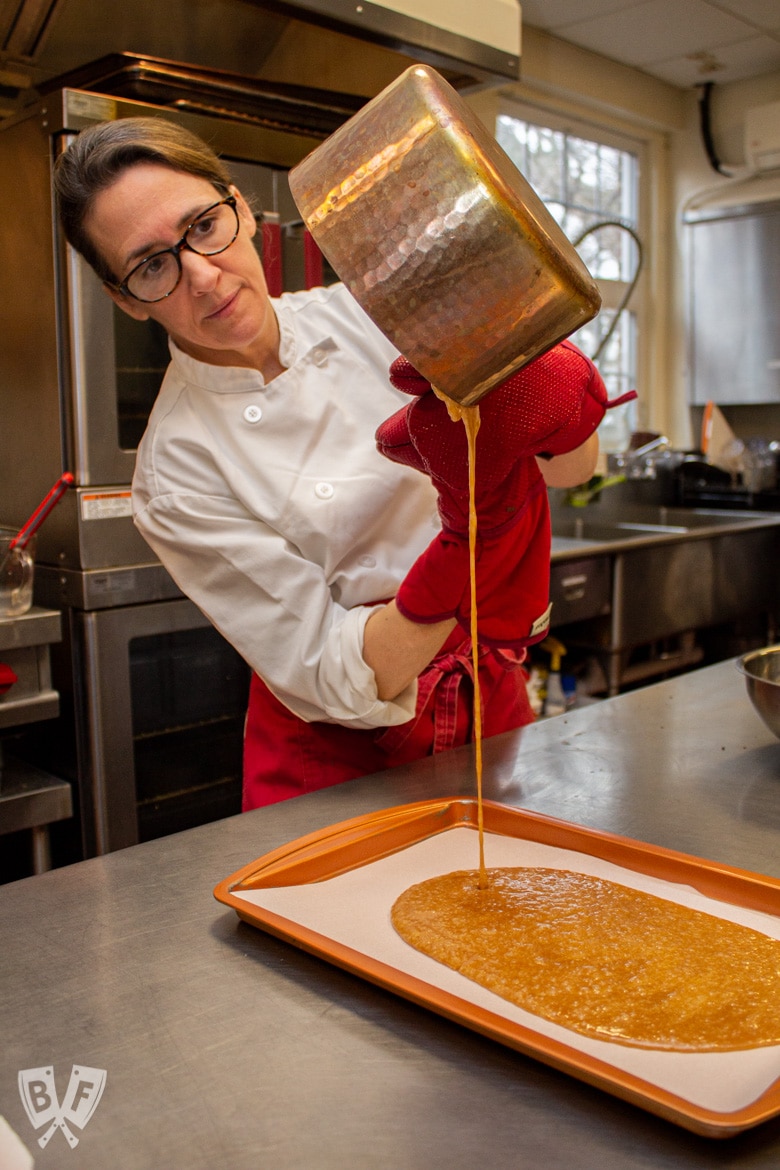 La Petite Occasion products are a staple on the counters at local cafés, farmers' markets, and specialty shops all over New York. In addition to their regular flavor offerings, there are also limited-batch seasonal specials (the cider caramels are seriously swoon-worthy!).
These sweets have been featured in the prestigious Best of Westchester awards and have graced the tables of many weddings, showers, and birthday parties.
Because we all know that edible, small-batch treats are the best kind of party favors!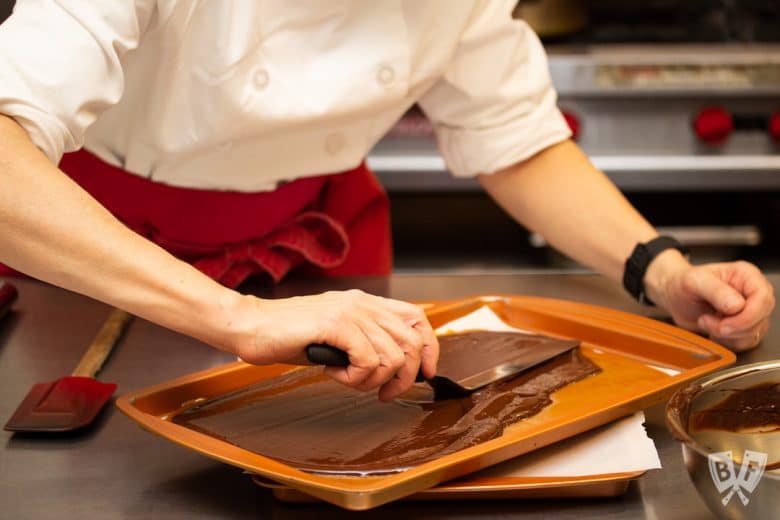 Michele puts a lot of love into her products. She works with ingredients sourced right here in the Hudson Valley and balances the flavors in each bite perfectly.
I brought home a sampling of her Salted Dark Chocolate Caramels, Classic Vanilla Caramels, Dark Chocolate Toffee with Pecans, and Bacon Bourbon Maple Caramels.
I can't decide which I like best - they're all SO good!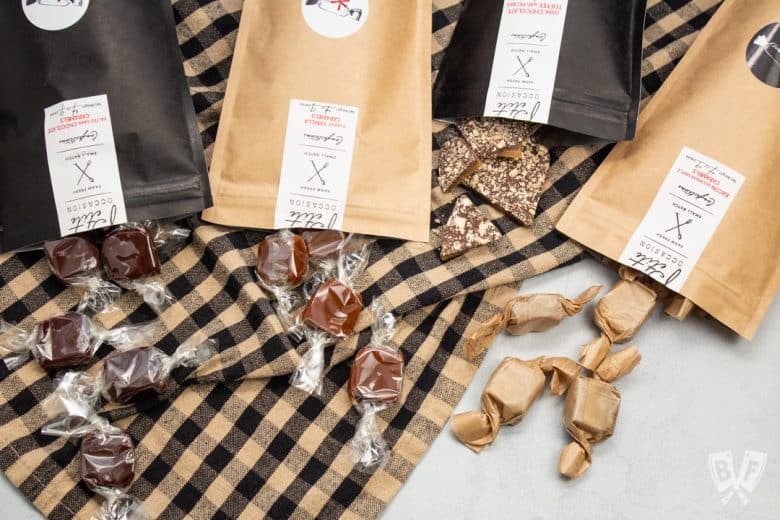 The texture of the caramels is the perfect balance of soft and chewy. They would make perfect stocking stuffers!
Michele is offering a  20% discount off all orders made in the La Petite Occasion store for Big Flavors fans through Monday, December 2, 2019. Simply use code BIG20 at checkout to get in on this deliciously awesome deal!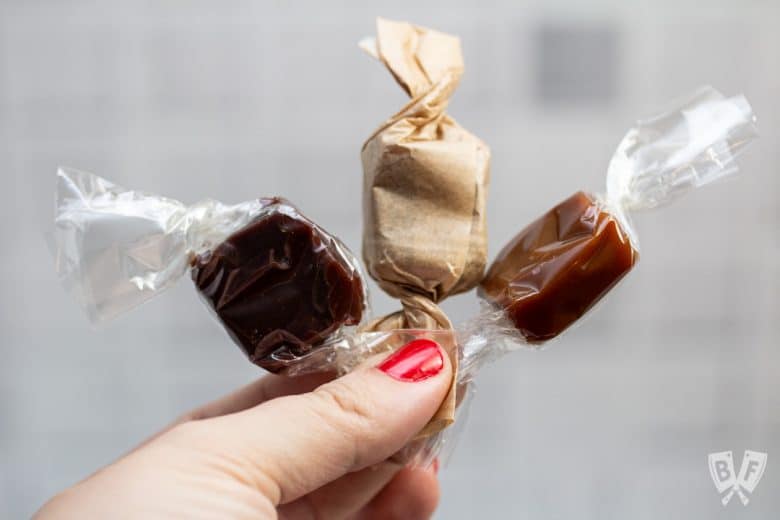 If you pick some of these up, I'd love to hear what your favorite flavor is.
And stay tuned for a tutorial on toffee-making. It's easier than you think as long as you have a few tools ready to go in your kitchen.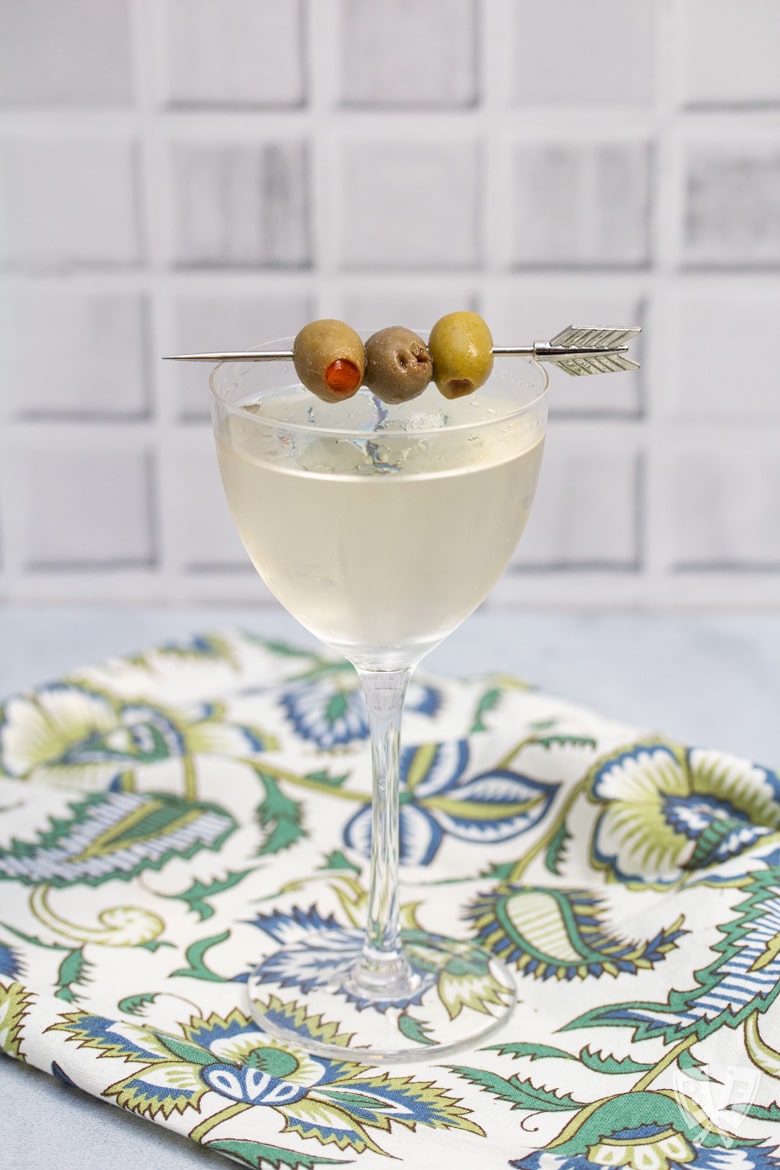 Craft Cocktail Supplies
I have a whole Mixology & Cocktail Supplies section in my Amazon shop, but there are a few items that I thought I'd call out for the cocktail enthusiasts on your holiday shopping list.
These Nick and Nora coupe glasses have been on heavy rotation in our house. They're the perfect size for my favorite dirty martini, as well as Manhattans and aperitifs.
The smaller size is how the original martini was supposed to be served - it doesn't get warm before you finish drinking it like some of the giant martini glasses that are common out in restaurants and bars.
I like using these arrow-shaped cocktail picks to serve up a hearty amount of olives with my martinis. They're also great for cherries and other garnishes, but olives are definitely how they get used most often in my house.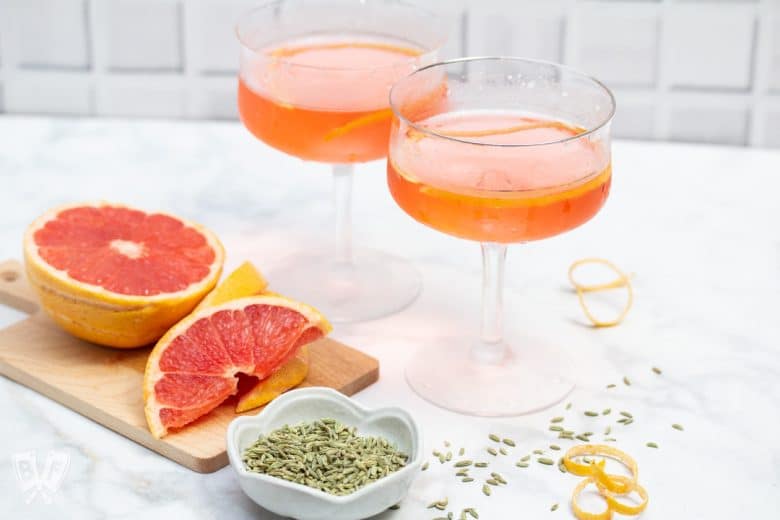 On the garnish front, if you want to get those gorgeously long strips of citrus, you'll need a channel knife.
If you want to use some insanely delicious cherries for your cocktails, we love both Fabbri Amarena cherries and Luxardo Maraschino cherries.
And if you're looking for cocktail books to really level up your home cocktail game, some of our favorites are Death & Co.: Modern Classic Cocktails, Smuggler's Cove for exotic/tiki drinks, Cocktail Codex: Fundamentals, Formulas, Evolutions, A Proper Drink for the history of the craft cocktail revival, and The Dead Rabbit Drinks Manual.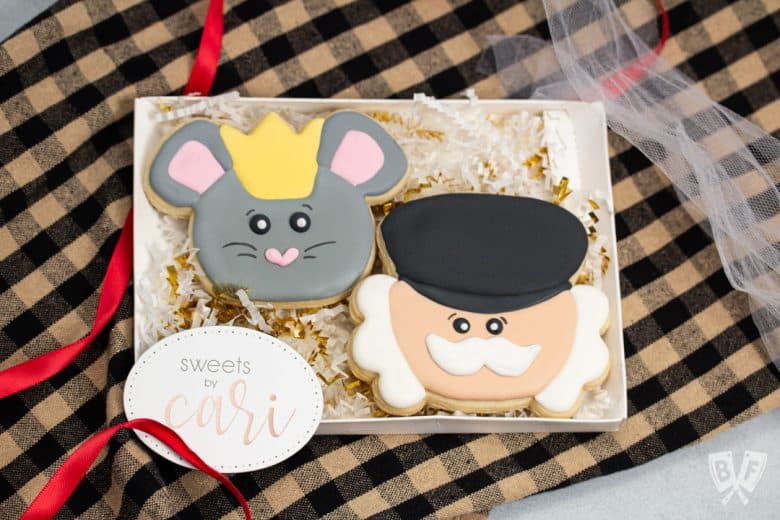 Beautiful Custom Handmade Cookies
OK - back to sweets for a moment. Another local friend of mine, Cari, makes and decorates the most gorgeous cookies!
Sweets by Cari has been baking (and icing!) up a storm here in Ossining for over 7 years now. Her creations are fun and festive, and she now ships nationwide!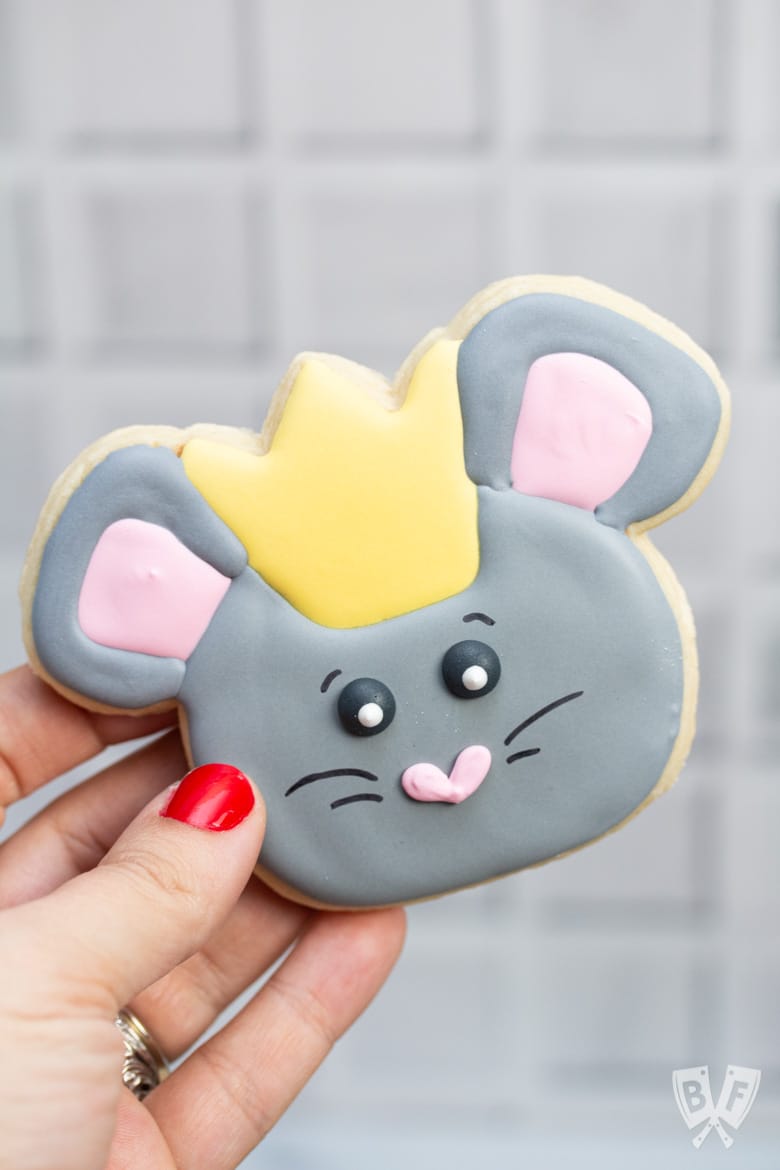 All of her items are so beautifully decorated. With lots of predetermined options and the ability to work with her on custom designs, there's something for everyone on your list!
For the holidays, Cari is offering cookie sets (2 in a box) which can be used as gifts for teachers, bosses, hostess, etc. She's also making minis, which are perfect to use as stocking stuffers.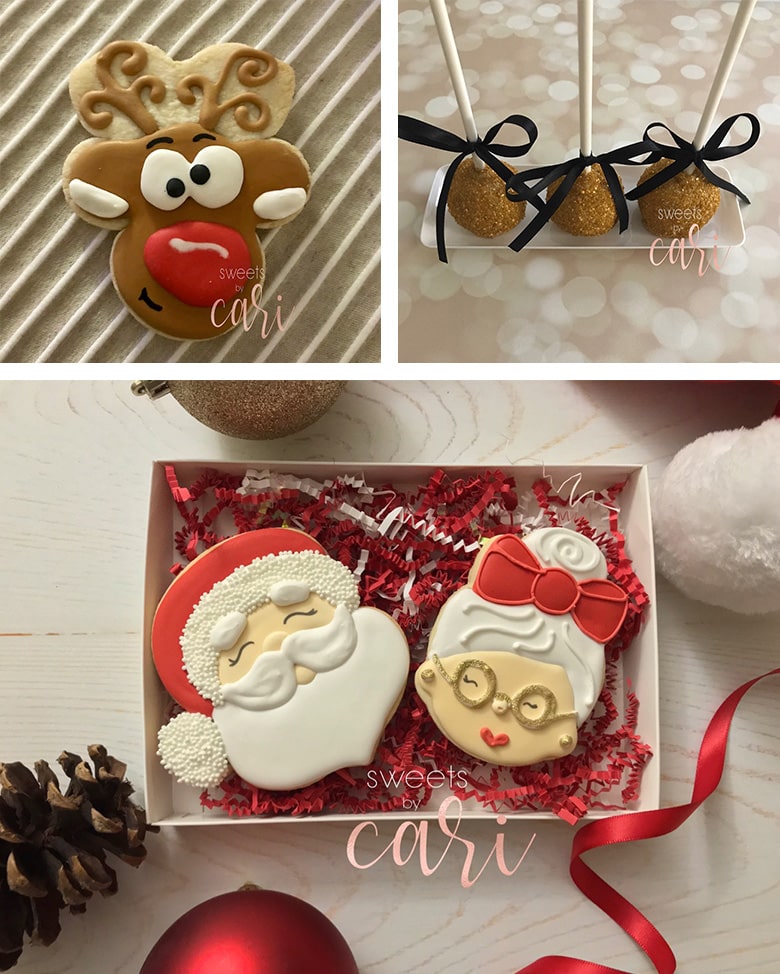 In addition to decorated cookies, Cari has cake pops and Oreo platters. The Oreo platters are covered in chocolate and topped with snowflakes and drizzles. The platters are great for putting out when hosting an event, or to bring with you to give as a host/hostess gift.
These would also pair well with gift cards for teachers. Just a little something sweet to go with some cold hard cash.
View this post on Instagram
Sweets by Cari also has paint-your-own cookies that are ridiculously cute. And who doesn't love interactive food?
If you're looking for more sweet treat inspiration, check out her Instagram page - I'm constantly impressed with her skills!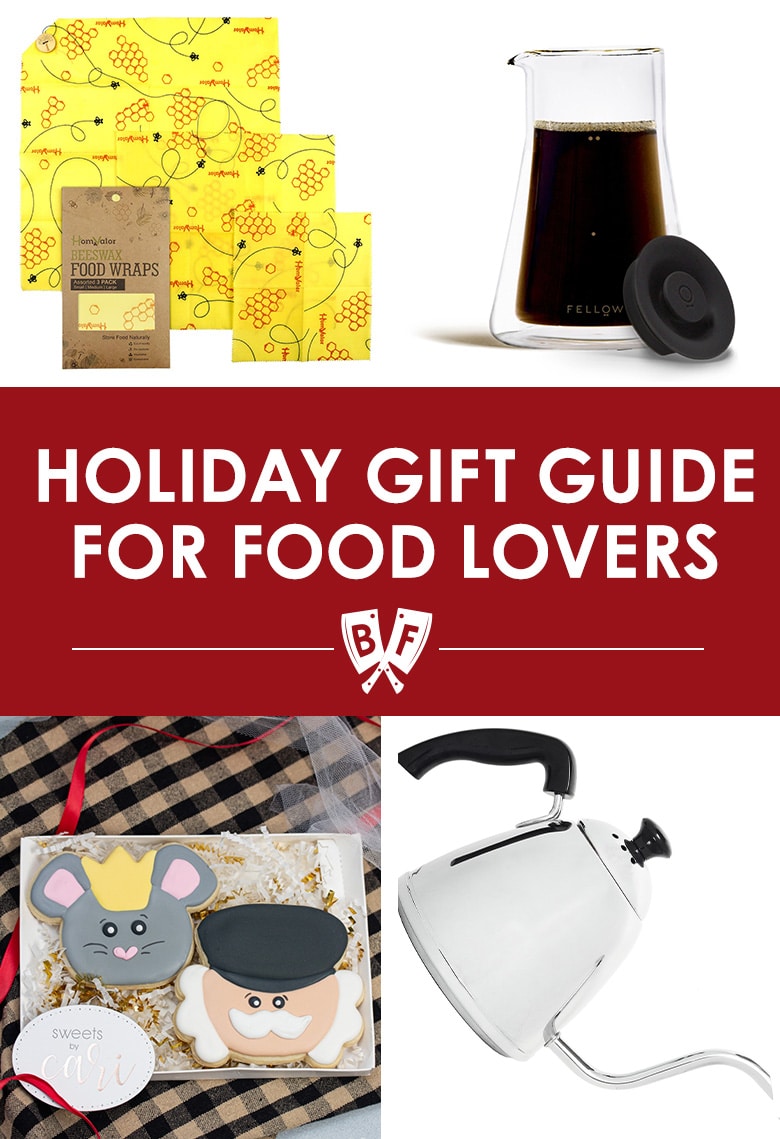 Reusable Beeswax Wrap
If you're looking for ways to reduce kitchen waste like I am, you'll appreciate beeswax wrap.
Beeswax wrap would be a fun stocking stuffer for the eco-friendly foodie in your life. I have this 3 pack of reusable beeswax wrap and absolutely love it!
Basically, you use it in the same way you'd use plastic wrap (but without the struggle to get it to stick!) or aluminum foil when covering food items.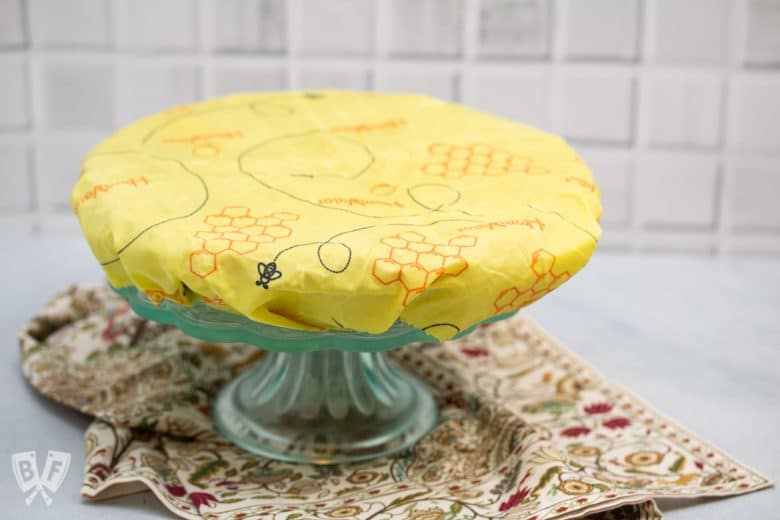 I like the variety of sizes - you can use the small one for covering things like partial pieces of produce (cut lemons, oranges, apples, etc.).
I've also used my beeswax wrap to cover pints of berries when packing them up for a picnic.
You use the heat of your hands to help mold and seal the wrap around any item you need to seal or store. They're very flexible and much sturdier than plastic wrap.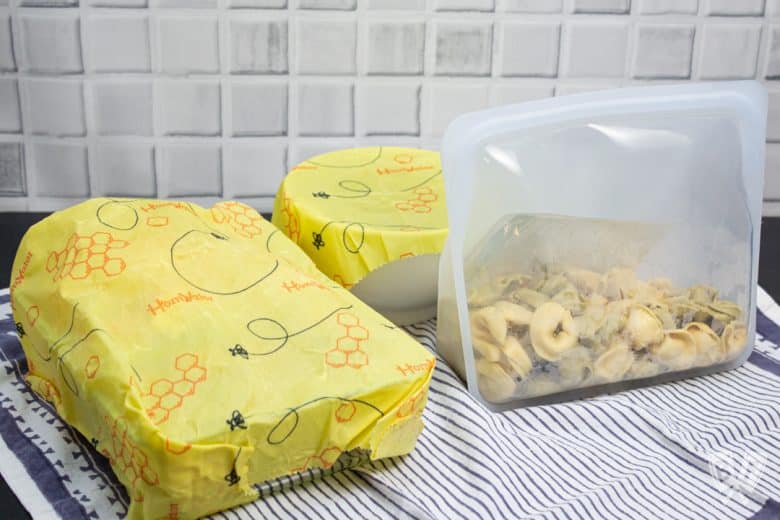 Between these wraps and my reusable stasher bags, I've been using much less single-use plastic.
If you're looking for more ways to reduce waste in the kitchen, check out my post on 30 Tips for Reducing Kitchen Waste.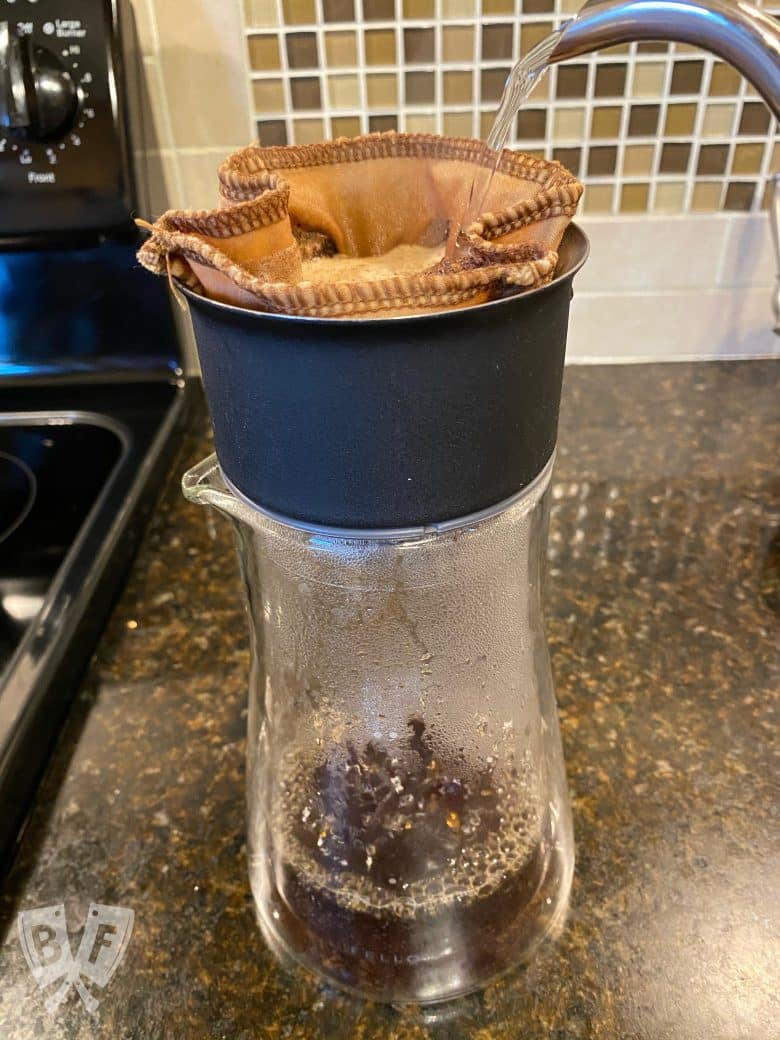 Pour-Over Coffee Setup at Home
Finally, let's talk coffee! Much like the cocktails & mixology section above, I also have a section of my Amazon shop dedicated entirely to your home café.
If you follow me on Instagram you may have seen the following items pop up fairly often.
My husband originally got me this Fellow Stagg Pour-Over Brewing Set for Coffee with 10-ounce Tasting Glass for our anniversary. I became a pour-over coffee convert and started using it every.single.day.
I absolutely love the way that coffee tastes when prepared this way. We picked out this steel pour-over gooseneck kettle to help assist us in making the perfect pour-over.
The shape of the neck helps you have more control over the flow of water, and there are a few holes in the lid for inserting a thermometer.
The only thing I didn't love about the pour-over set was the disposable paper coffee filters. I make coffee 1-2 times per day and all of those paper filters started to add up.
I had switched to a reusable coffee filter for my drip coffee maker a while back and wanted to find a similar solution for the pour-over setup.
After a lot of searching, I finally landed on a CoffeeSock reusable coffee filter. They come in several sizes, and that's the one that fits in the Fellow Stagg setup. You can reuse them over and over - you just need to boil them for 10 minutes about once a month to get rid of any residual oils from the coffee beans.
Since I accidentally broke the tasting glass a while back *moment of silence*, I decided to get this double-walled carafe so I could make more than one cup of pour-over coffee at a time.
I like that it has a pour spout and that I can make enough for myself and my husband to each have a pretty big cup of coffee each morning all at once.
The double-wall design of both the tasting glass and the carafe help keep the coffee insulated, so you can let it sit for a while with the cover on and it'll stay nice and hot.
That's it for this year's gift guide. What's on your wishlist this holiday season? I'd love to hear about it in the comments section below. And as always, if you need help finding the perfect foodie gift, I'm happy to help!
I hope everyone enjoys Thanksgiving and whatever end of the year holidays you and your loved ones celebrate.
I am beyond thankful for all of the delicious conversations I've had with my readers and fans over the last 13+ years and look forward to many more!
Looking for more gift ideas? Check out all of my past gift guides:
Doing some online shopping? Check out my Amazon Shop page for recommendations!