Edible (and drinkable!) gifts are a fun, festive way to celebrate the holidays. Check out my top picks!
This year's gift guide is extra special to me, as I'm including several small batch, artisan products that have really wowed me over the past year.
There are lots of tempting items included - everything from stocking stuffers to new kitchen appliances. And they're all guaranteed to bring more deliciousness into your life!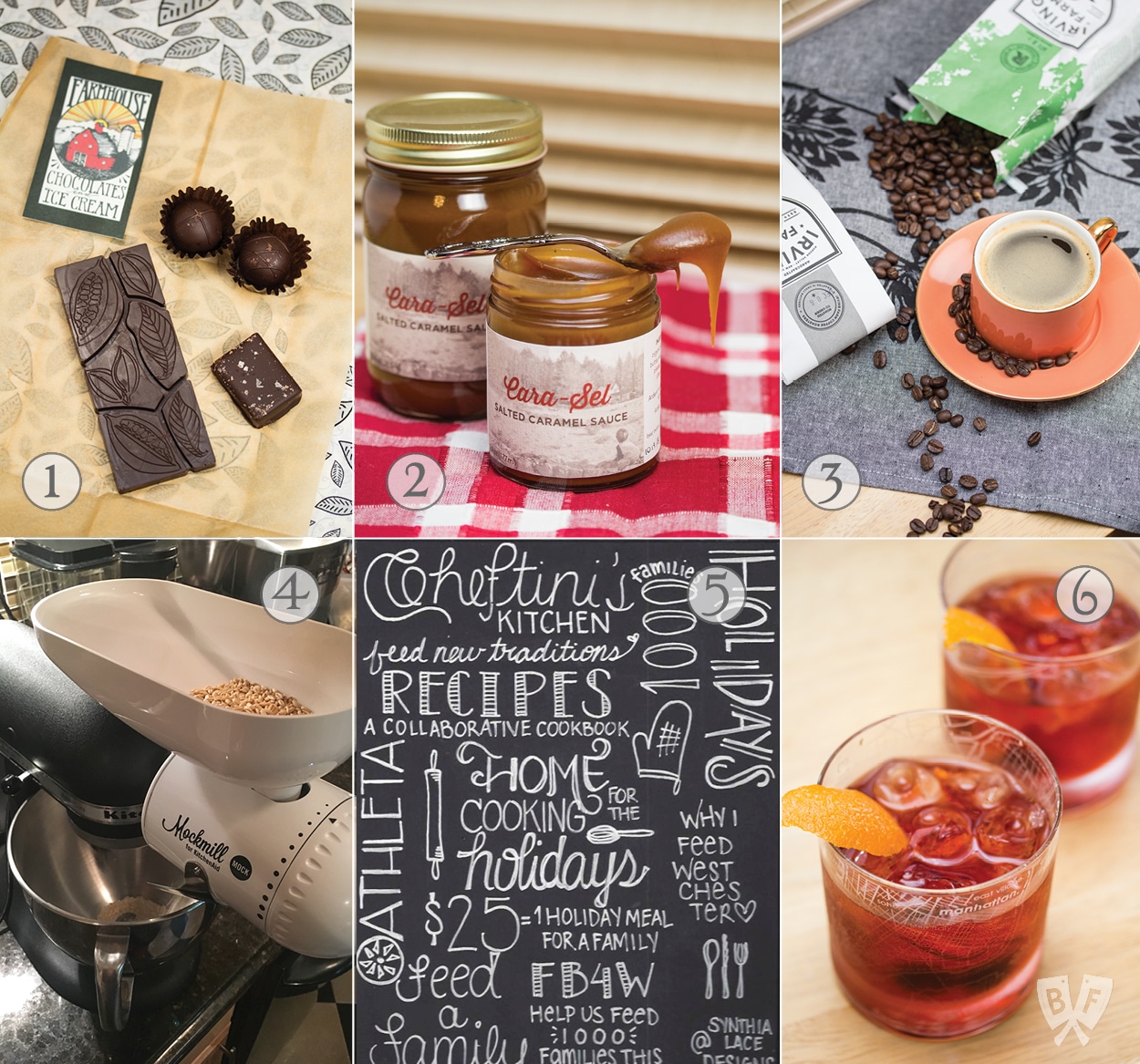 1. Give the gift of artisan chocolate! When I met Eliza & Erlé from Farmhouse Chocolates + Ice Cream at the Stowe Farmers' Market this past summer, I fell in love. Not only are all of their chocolates decadently delicious, they're also made with organic, fair trade, soy-lecithin free chocolate. They use local Vermont milk and cream, local eggs, seasonal produce, and various fresh fruits, herbs, and spices.
Everything is done by hand, packaged beautifully, and completely addictive. Dark chocolate truffles are available in flavor combinations such as cacao nib + sea salt, espresso bean, Vermont maple, and rosemary-grapefruit. Dark chocolate bars have a variety of add-in options like lavender, toasted hazelnuts, and almonds. And their chocolate covered salted caramels are nothing short of magical. Pinky swear.
2. Speaking of sweet-and-salty, the Cara-Sel Salted Caramel Sauce from The Ardent Homesteader is outrageously tasty. I had the pleasure of meeting Kristin at a local farm festival at Hilltop Hanover Farm on what had to have been the hottest day I've ever spent outside. Luckily, she had samples of her Cara-Sel, along with pretzels for dipping (swoon) and these fantastic bittersweet chocolate salted caramel bars that I may or may not have totally inhaled. And she totally beat me to this genius idea of cooling off with another vendor's espresso chip ice cream with a hearty drizzle of Cara-Sel on top.
Cara-Sel is handmade with just 5 ingredients: organic sugar, cream, Cabot butter, sea salt, and vanilla. No artificial anything. Ever. If you're in the Hudson Valley, you can find a list of shops that carry it here. Otherwise, they now have online ordering!
3. Caffeinate your loved ones! I've been a fan of Irving Farm Coffee Roasters for quite some time now. I love that they have so many varieties - you can search their catalog by region, single origin, or blend. The beans are roasted right here in the Hudson Valley, and lots of local restaurants and coffee shops brew Irving Farms coffee. I just picked up a bag of their Rainforest Foundation Project Blend from the new coffee shop in my hometown. This blend was created in tribute to their partnership with the Rainforest Foundation, is Certified USDA Organic, and $1 from each bag sold gets donated directly to the foundation.
Now I've never had a coffee subscription before, but it would be a perfect gift for a gal like me. As someone who grinds her own coffee beans (with this burr grinder) every morning, and often again in the afternoon, I really appreciate quality beans. They have options for monthly, weekly, or bi-weekly deliveries, and you can choose blends or single origin for each type of delivery.
4. Why spend lots of money on specialty flours, especially for people who are on gluten-free diets? Buy grains and legumes whole, and mill them yourself with the Mockmill stand mixer attachment. I've talked about my Mockmill before, and it really is a sleek, unique addition to my kitchen arsenal. The nutritional benefits of freshly milled flours are incredible, and items made with it have a much deeper flavor. It's easy to use and simple to clean. I also highly recommend The Homemade Flour Cookbook as an accompaniment and great starting point for getting acquainted with fresh flour.
5. I've teamed up with my buddy Tina (AKA Cheftini), the Food Bank for Westchester, and several other local Westchester businesses and food enthusiasts on Home Cooking for the Holidays, a collaborative recipe e-cookbook devoted to feeding families in need. The cost is only $5 per download, and every $25 donated provides a holiday meal for a family in need. Our goal is to provide meals to 1000 local families this holiday season.
In addition, Cheftini is doing a cooking demonstration to launch the e-cookbook this Saturday, December 10th at 11am at ATHLETA Scarsdale (Vernon Hills Shopping Center - 700 Post Rd. Scarsdale, NY). She'll also be streaming it to Facebook LIVE. I also heard that anyone who attends the event and buys the book gets 20% off one item at ATHLETA. Pretty sweet!
6. Represent your city during happy hour! I am so so in love with these City Maps Glasses from UncommonGoods. My husband and I have been mixing up a storm, representing New York City (hollaaaaaa), Chicago (I miss you!), and New Orleans (just visited there for the first time and am dying to go back!).
There are lots more options, including Detroit, Seattle, Boston, Dallas, and Cleveland. Each glass is etched with the city's distinct grid, which makes cocktail time more educational, don't you think?
Stay tuned for the part 2 of my gift guide - there was just too much awesomeness for 1 post!