This post may contain affiliate links, which won't change your price but will share some commission.
This holiday season, shop small & support local businesses with this roundup of some of my favorite gifts (including my cooking classes)! Check out part 2 here.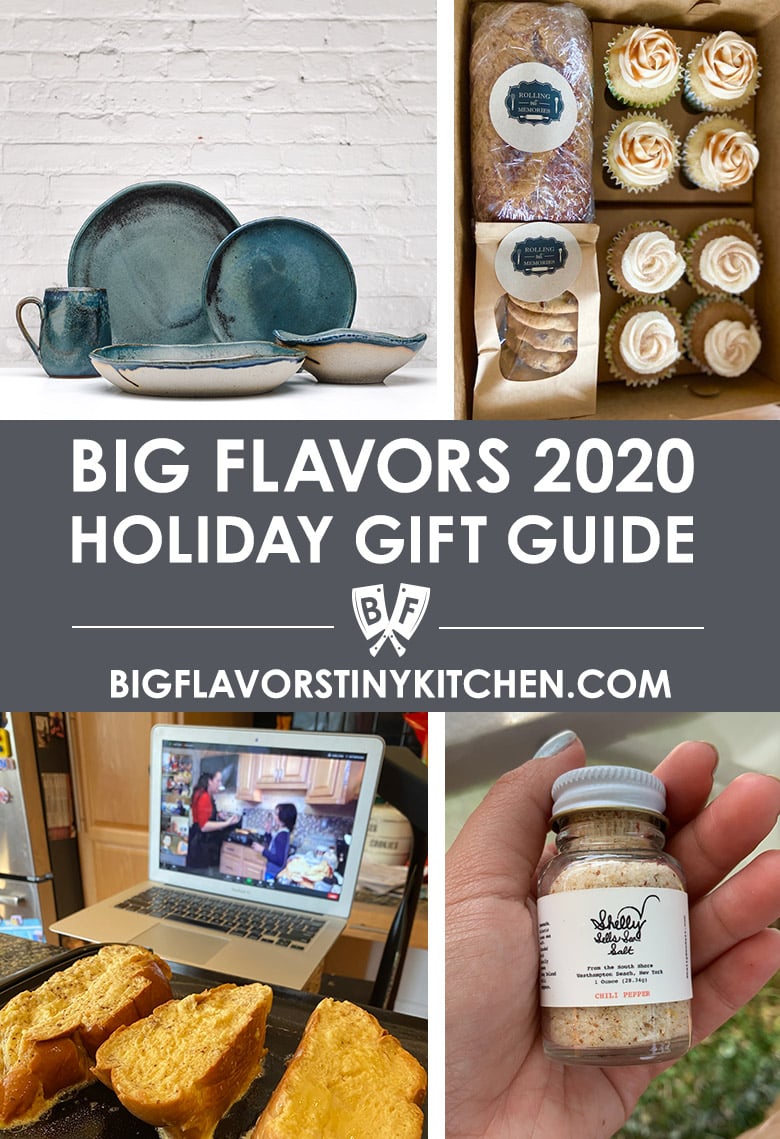 2020 has been quite... unique, to say the least. With so many unknowns out there, I've been doing my best to support small businesses whenever I can. Especially local ones here in and around Ossining, NY.
I have so much fun putting together gift guides each year, and I usually include a few small, local businesses. But for this year's holiday gift guide, I'm going to put a BIG focus on ways that you can shop small.
Don't get me wrong, I'm still doing some of my shopping through sites like Etsy and Amazon, but for the most part, I'm looking to shop local and support small businesses.
I'm also excited that I have the opportunity to share some of my favorites with a wider audience! I have several friends that are doing fun, delicious things, and I'm happy to help spread the word.
Note that I did receive a few sample items for review, but for the most part, I spent my own money on these items.
Because I have so many incredible items to share for my 2020 holiday gift guide. I'm going to be splitting things up into a few posts. I'll be sure to link to subsequent posts with in each post.
I also stand by all of the gift guide recommendations from previous years as well. I'm still a firm believer in giving the gift of an Instant Pot or Air Fryer for any occasion!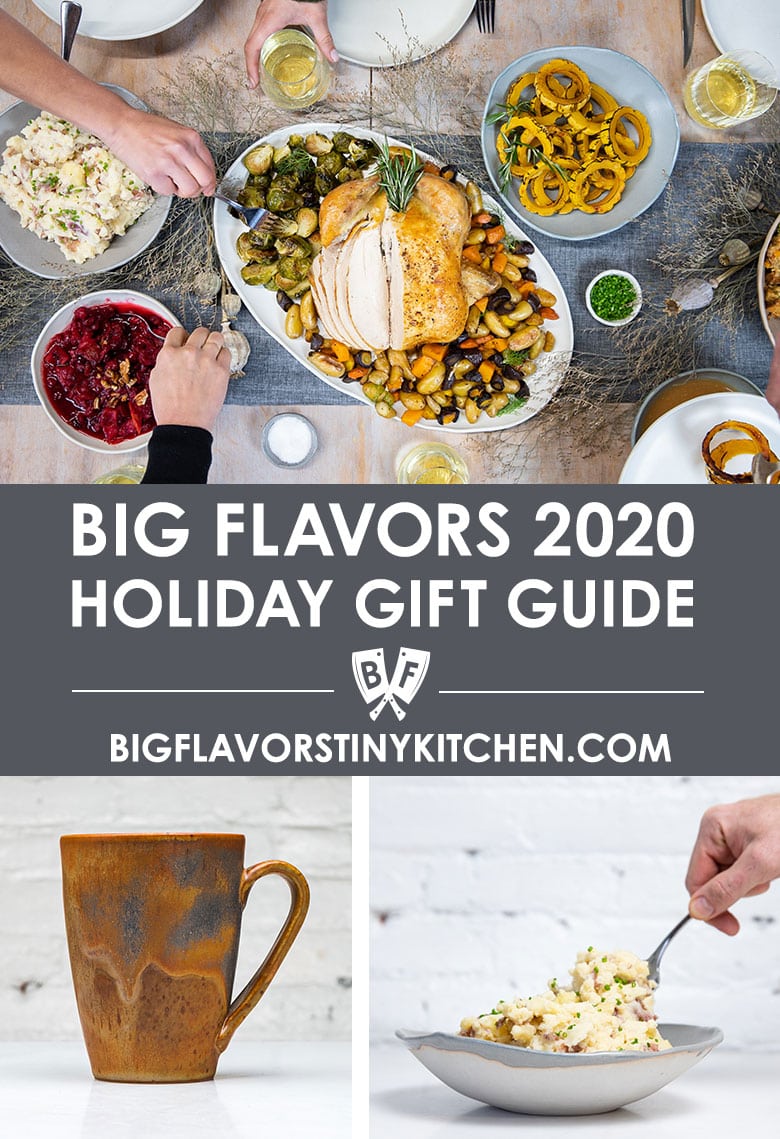 Connor McGinn Studios
First up is the breathtakingly beautiful handcrafted ceramic work from local artisan Connor McGinn.
Connor and his team create products that bring the restaurant experience into your home. They seek out eco-friendly, low-waste practices and focus on upcycling and repurposing their materials into new pieces.
Their collection was designed with the support of some of the culinary world's most incredible minds, such as local Chef Dan Barber from Blue Hill at Stone Barns.
I have been swooning over Connor's work over on Instagram for quite some time now and was thrilled to finally be able to shop for a few pieces to add to my home collection over at Makers Central in Tarrytown, NY recently.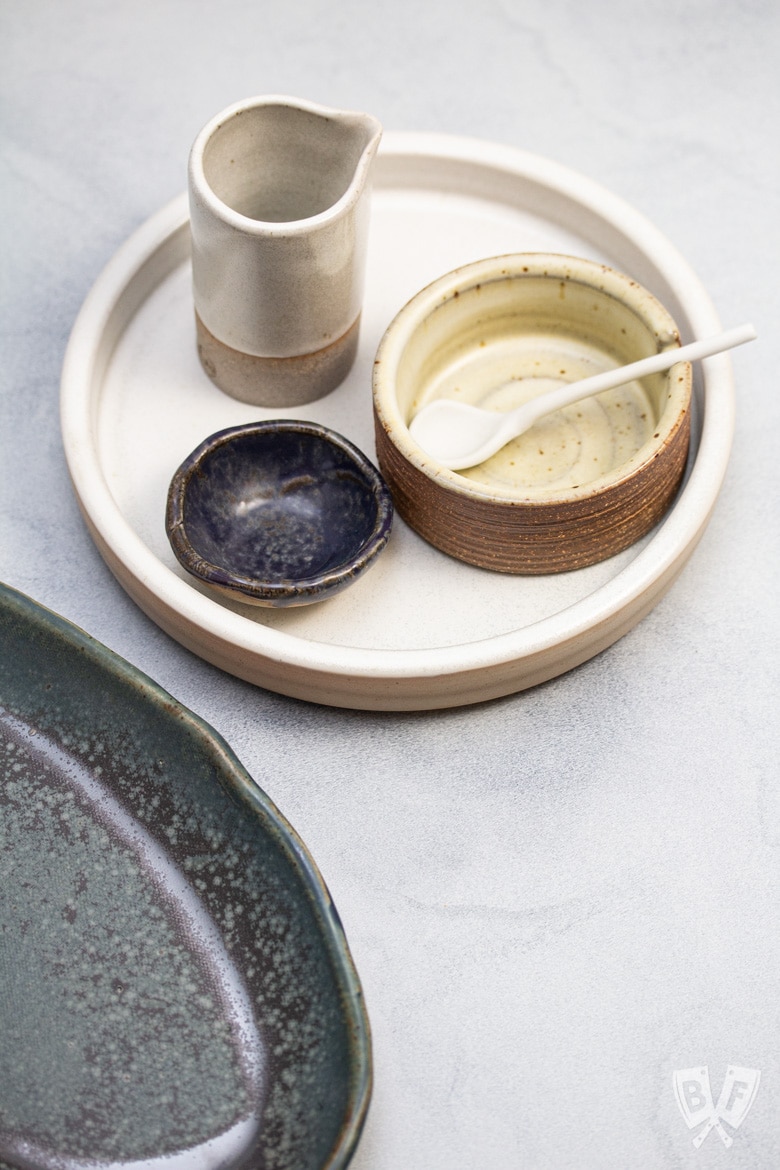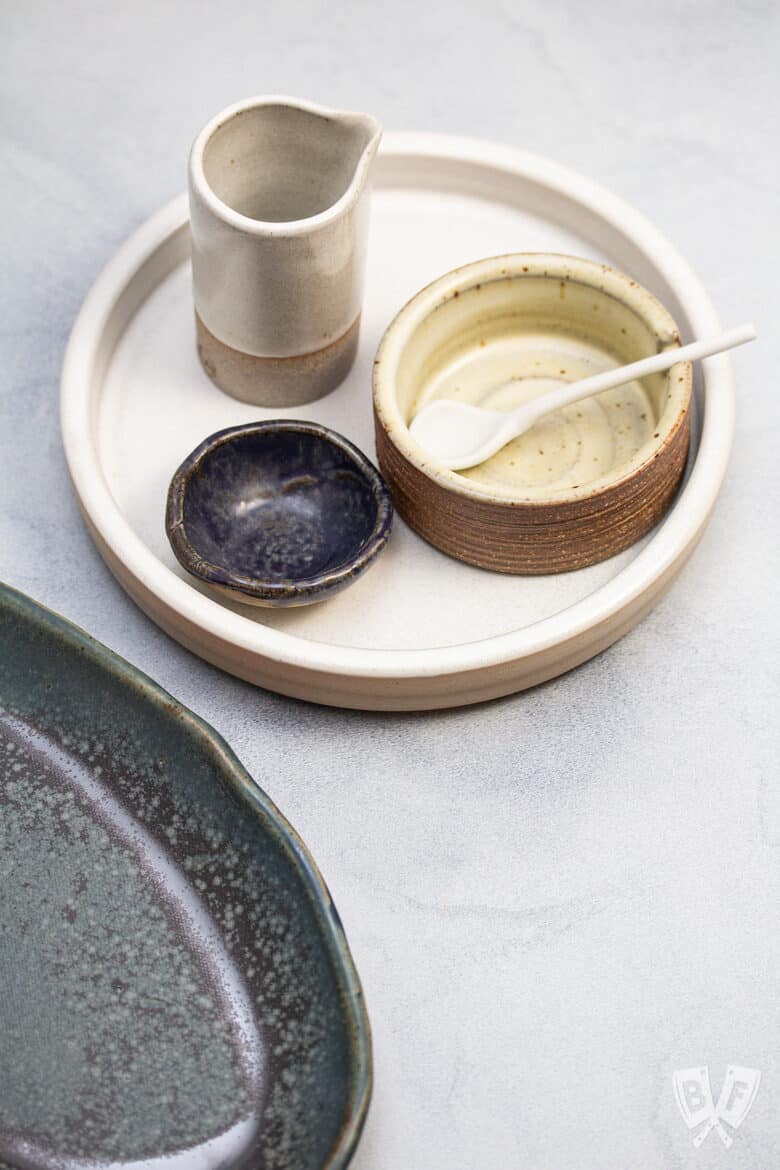 These pieces are such a welcome addition to my kitchen, and I definitely plan to use some of them on cheeseboards in the future!
I asked Connor to share a bit about his business - check out this brief interview to learn more!
Big Flavors: How long have you been in business? Tell me a bit about your background and how you got into what you do.
Connor McGinn: I've been in business about 4 years now. I had been working as a line cook at a restaurant in Armonk called Restaurant North for a few years and decided to make the transition to starting my own business making handmade flatware for restaurants after the owners had been looking to upgrade their plates and knew that I had dabbled in Ceramics in college.
I offered to make the plates for their new restaurant and after a fair amount of trial and error (mostly error) I finally made it work.
After that things started to really take off once I started making plates for Blue Hill at Stone Barns. I opened up my own studio in Tarrytown 2 years ago and have been doing this full time ever since.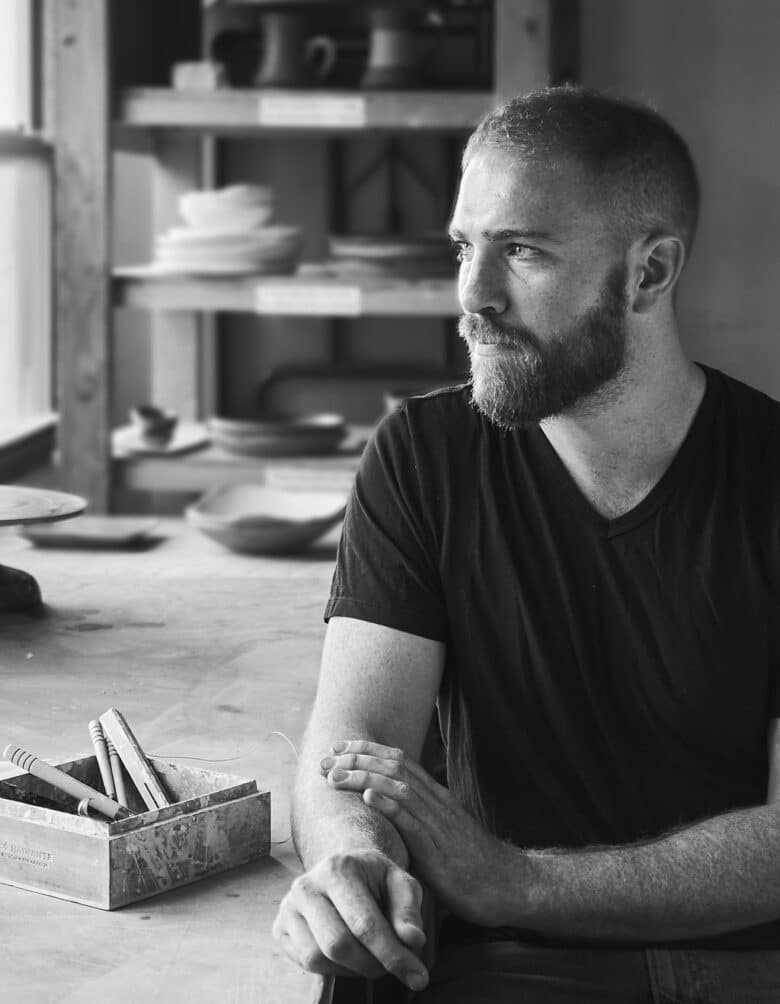 BF: What products are you currently offering?
CM: Ceramic plates, bowls, coffee mugs, platters, and serving pieces.
BF: Where can people buy your products?
CM:I have an online shop on my website connormcginnstudios.com.
I'll be hosting 2 open studio/ market events at my space in Tarrytown (Makers Central) on November 28th and December 19th & 20th.
I'll also be setting up a small pop up shop in White Plains From Dec 3rd to the 13th. It will be a Bryant Park Holiday market type event set up like a small market village in the middle of White Plains.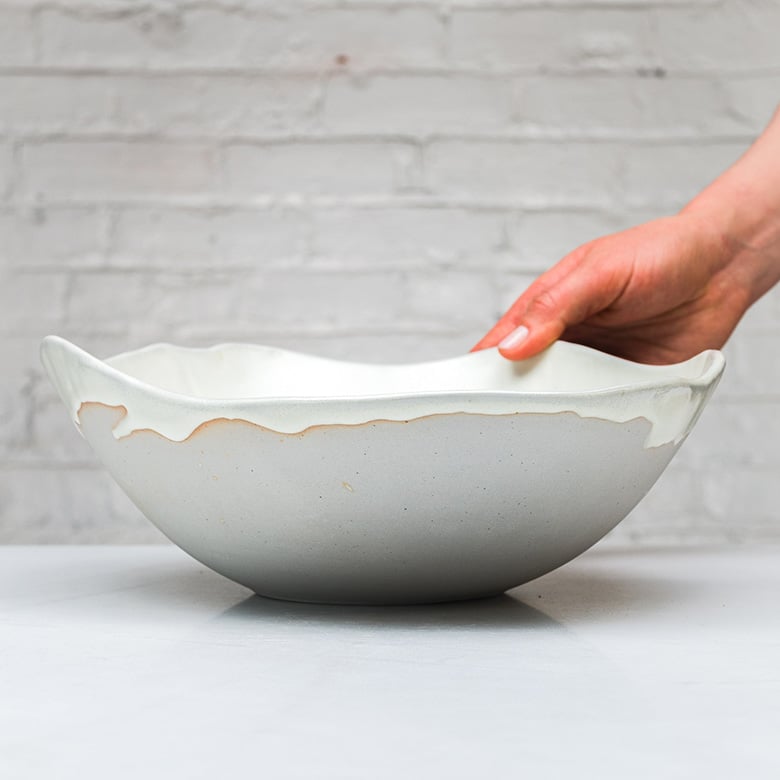 BF: Do you have any current promotions/specials?
CM: I will be periodically sending out promotions to my email subscribers throughout the holiday season for discounts on lots of great gifts.
I have lots of completely unique one-off pieces (extras from restaurant orders) that I will be selling at steep discounts only at our Tarrytown Markets on Nov 28th and Dec 19th & 20th.
BF: Where's the best place for people to connect with you?
CM: Sign up for our newsletter to get the latest on new releases and special deals! On Instagram @connormcginnstudios.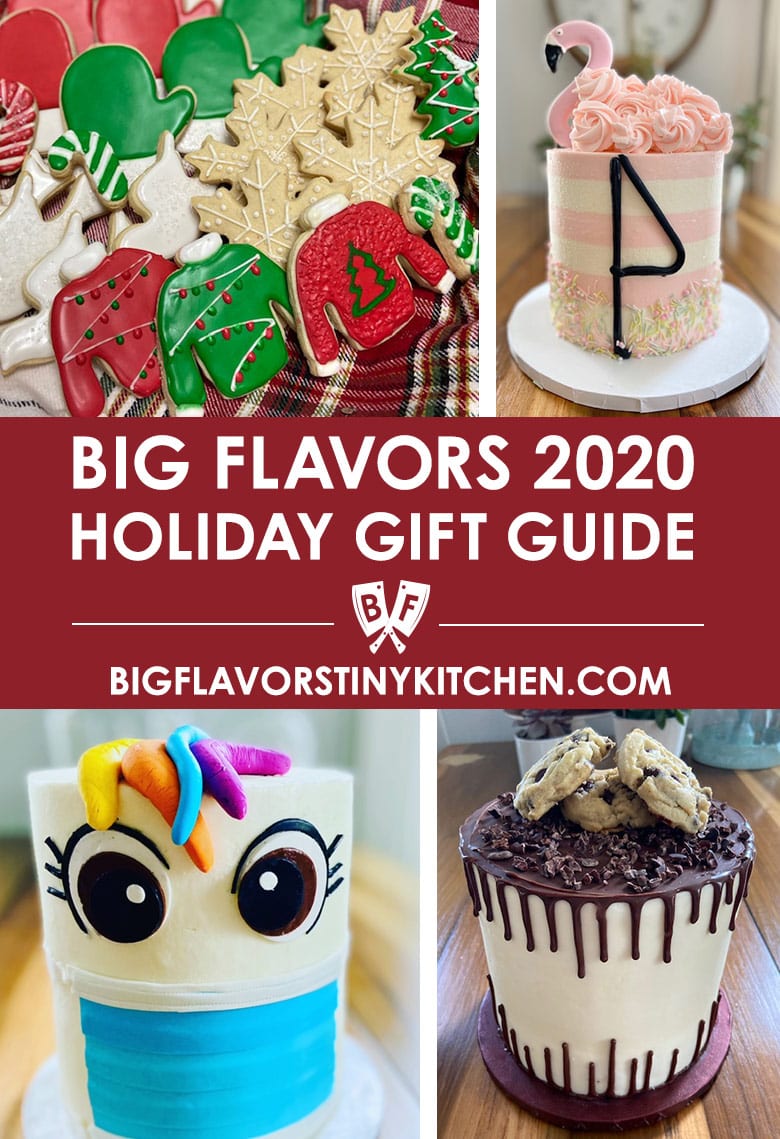 Rolling out Memories
Next is a local friend and baker extraordinaire here in Ossining, NY, Paige Chavez of Rolling out Memories.
The creativity and attention to detail that Paige puts into her baked goods brings her customers so much joy.
We ordered our Thanksgiving dessert from her this year, an apple crumble pie, and it was absolutely delicious!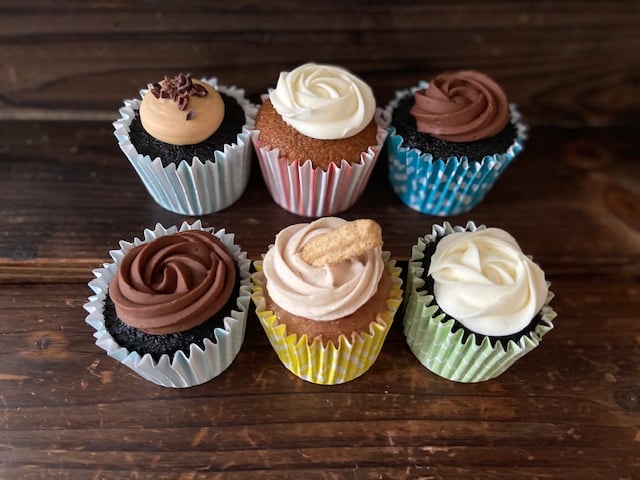 I asked Paige to give me a bit of info about her business and what offerings she has for both locals and people outside of the Westchester, NY area. Here's the lowdown:
I started baking in college with a one-bowl chocolate cake from Good Housekeeping. I've evolved quite a bit since then but those early days when I was hopped up on sugar and independence, a love was born.

I remember those infancy stages where I couldn't get the cake out of the pan and that always motivates me to keep learning, keep pushing myself to try new things. Over the years, I've baked for birthdays, bridal and baby showers, even my mom's wedding.

I've baked for countless events at this point and my absolute favorite part is hearing people's reactions and being a part of their special occasion, their memories.

In 2018, Rolling out Memories was created and has received overwhelming support from my community.

I offer custom cakes, cupcakes, iced cookies, chocolate chip cookies, banana and pumpkin breads. My lemon cake with blueberry filling is a huge hit in the warmer months, while my chocolate cake with ganache and caramel is a popular choice all year long.

I can make a variety pack where you get a little bit of everything. Cupcake kits are also a big hit with the kids. Currently, I can ship cookies and breads.

I am best reached at Facebook or Instagram @rollingoutmemories. Send me a message there and I'm quick to get back to you. We can talk through what would work best for your event.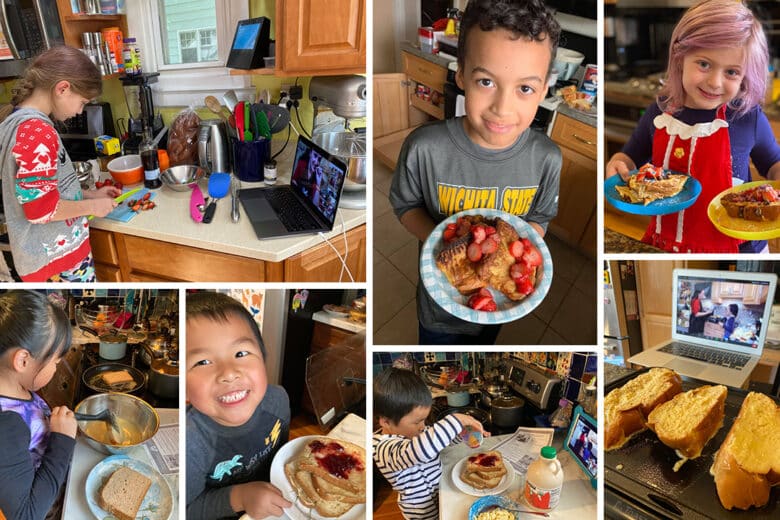 Virtual Cooking Classes
This is one that I'm particularly excited about since it's from my very own small business!
I've been teaching cooking classes locally in Ossining and the surrounding area here in Westchester County, New York, for several years now.
Due to the craziness that 2020 threw our way, I had to cancel my in-person cooking classes.
I ended up pivoting to offer virtual cooking classes, and they have been one of the brightest parts of this difficult year!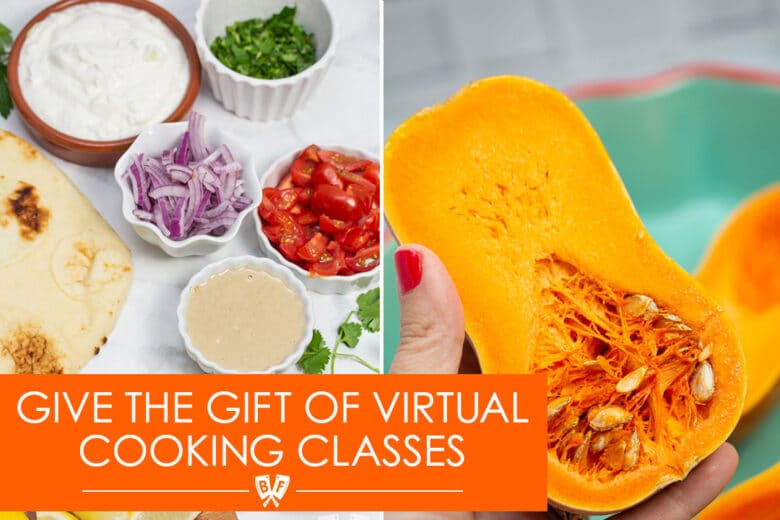 I'm teaching classes for both kids and adults, and they've been so much fun! Helping people gain confidence in the kitchen and getting them excited to cook is one of the main reasons that I love what I do for a living!
I absolutely love being able to join people live in their kitchens. The fact that I can reach people beyond my home base of Ossining has been so wonderful.
I've had people join from all over the United States and even some international participants from as far away as Germany!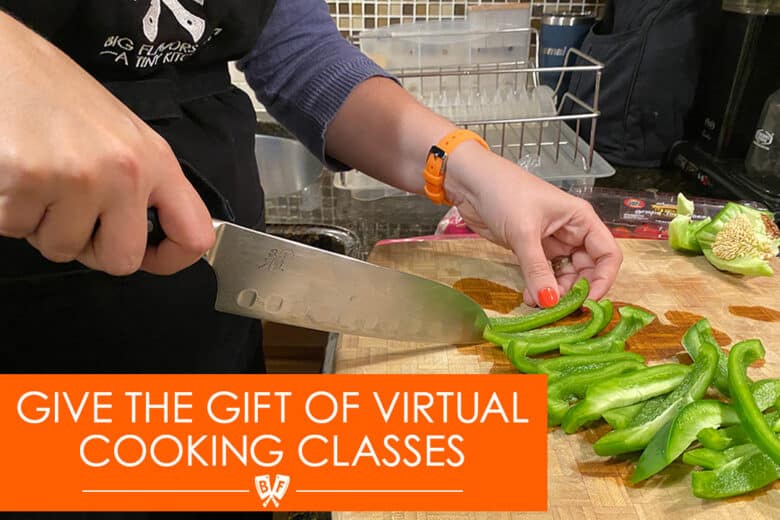 One of the biggest perks when it comes to teaching virtual classes vs. teaching in person is that everyone is in their own space.
There's just something about learning in the environment where you already do your cooking that makes things easier than taking a class in a different location.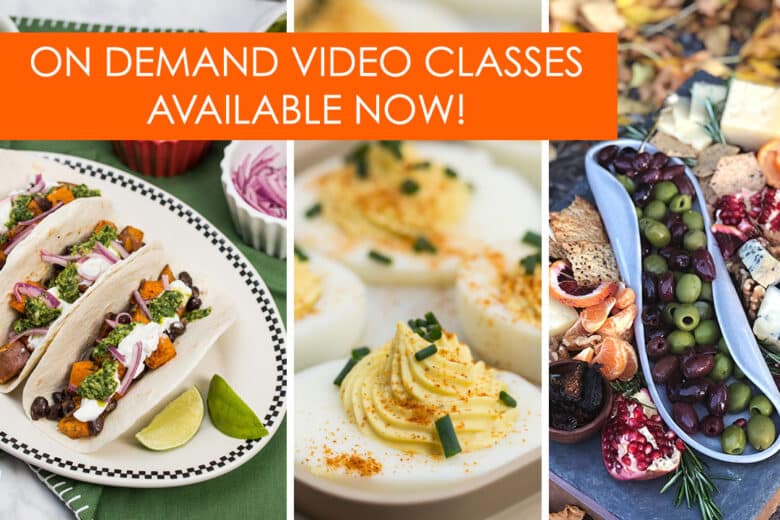 Virtual classes are a ton of fun when taken live. I'm here to help you out, answer any questions you may have, and help you troubleshoot if any difficulties arise.
I have a steady stream of classes for kids and adults that I'm adding to my schedule. Everyone who takes a class will get access to the recording afterward to watch whenever they want.
I also have on demand offerings. If my class times don't work with your schedule, you can watch them on your own time!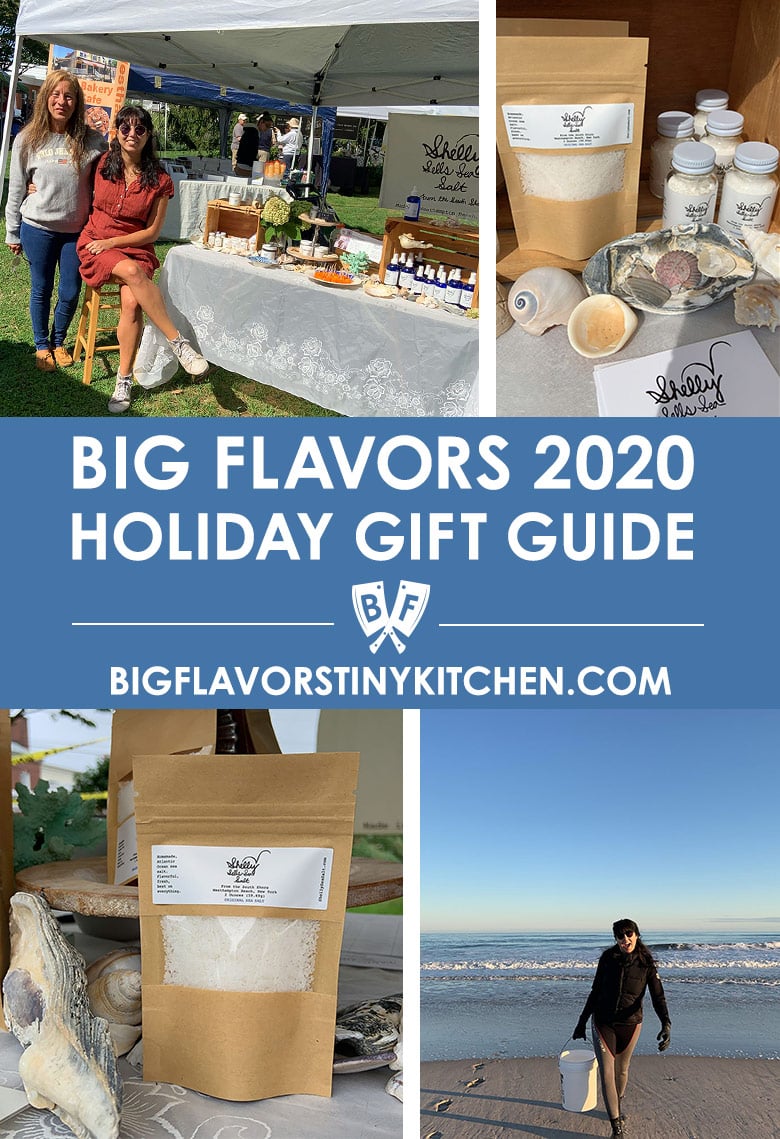 Shelly Sells Sea Salt
The last small business that I'm featuring in this installment of my holiday gift guide is a friend of a friend who has the best name for a salt company that I've ever heard.
Sorry, Morton.
Shelly Sells Sea Salt From the South Shore is based in Westhampton Beach, New York.
Michele "Shelly" Martuscello grew up steps away from the Atlantic Ocean. Like most Italians, her happiest memories occurred around the family table.
Shelly sells handmade salt for use in the kitchen as well as beauty products infused with sea salt.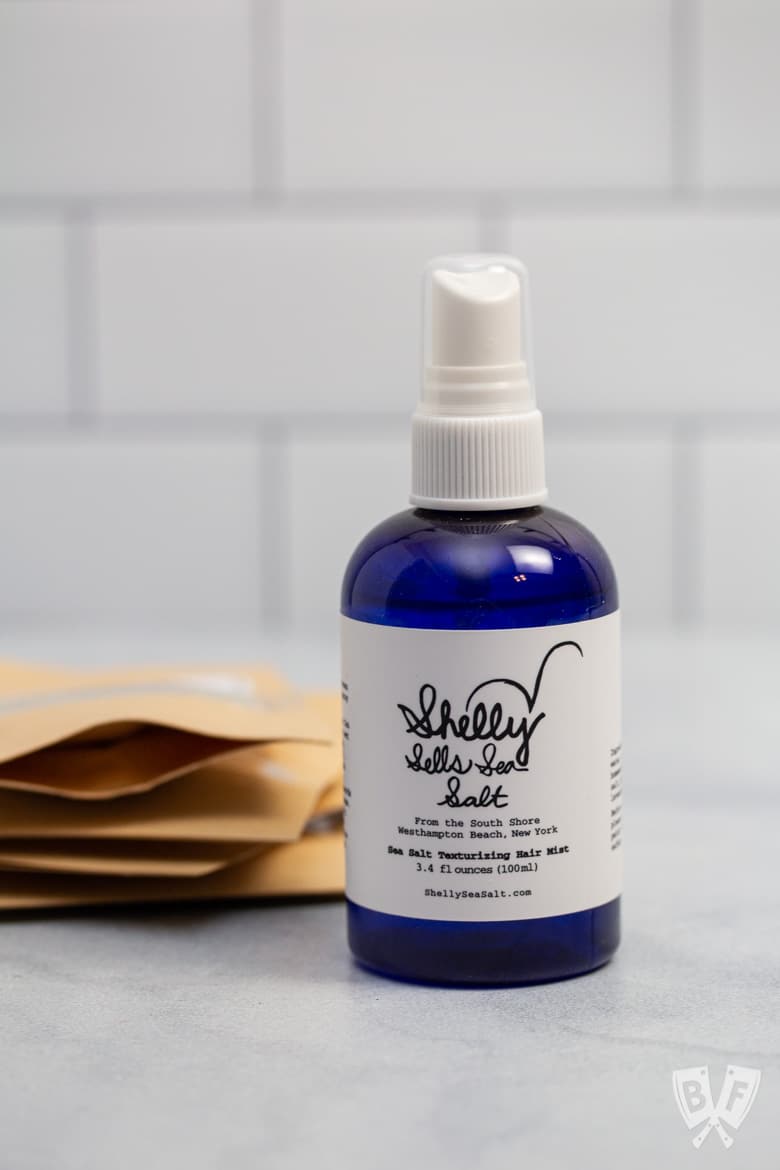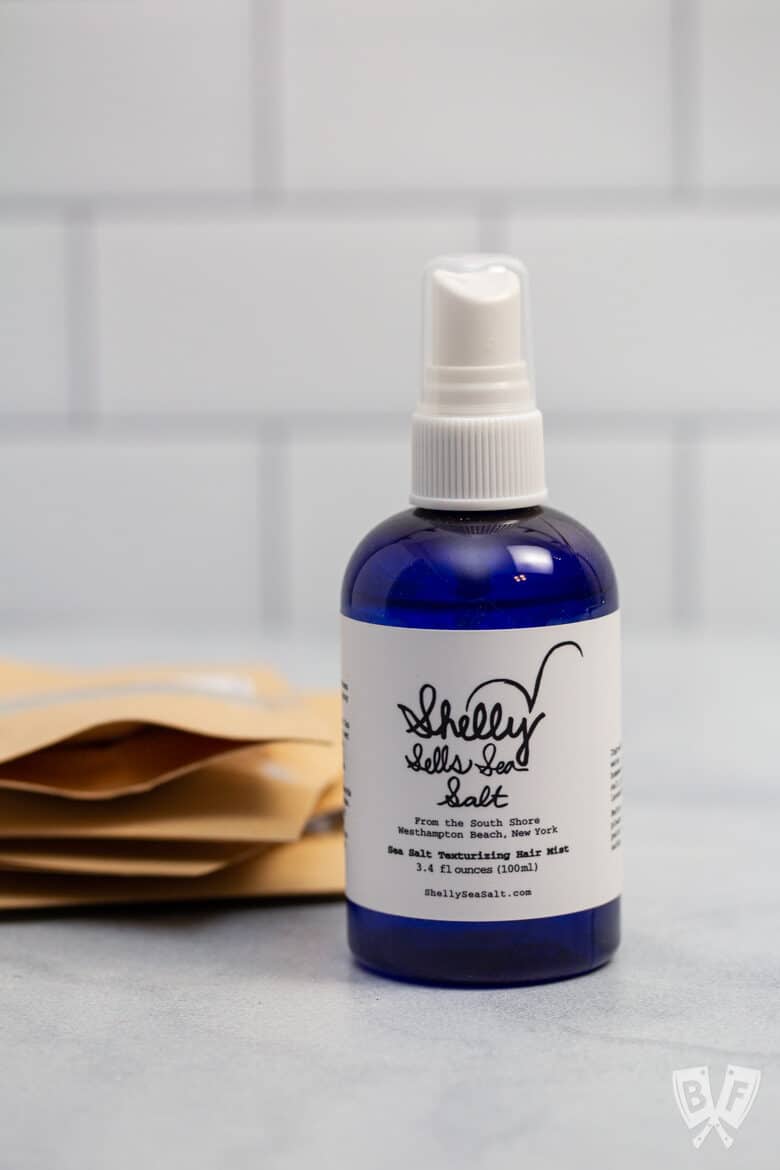 I asked Shelly to give me a bit of background on how she started handcrafting her sea salts:
I started making sea salt from the Atlantic Ocean in Westhampton beach about a decade ago. In the beginning, it was just for fun and for family/friends, but it ended up being a great meditation for me and a connection to where I was raised.

My parents were always really supportive of me making salt and eventually said we should sell this. I wouldn't have a company if it wasn't for them. My dad helped me develop the line, the business model, and experiment, but after he passed in 2015, my mom took over a big role in daily operations.

The company has my name in the title, but we definitely run it together. We started with plain sea salt, expanded into flavors, and a beauty line. The water is harvested right from our local beaches, filtered, and then dried on our property a few blocks from the beach. A real beach to table, sea to table, operation.
Shelly is currently offering the following products so you can bring a bit of the sea shore to your own home!
People can purchase Shelly's products online at ShellySeaSalt.com. If you find yourself on the east end of long island, there are a few stores that carry her products as well. You can find those on her Stockists page.