This post may contain affiliate links, which won't change your price but will share some commission.
Meet some of my favorite small & local businesses in this year's holiday gift guide for shopping inspiration that makes a big difference! Check out part 1 here.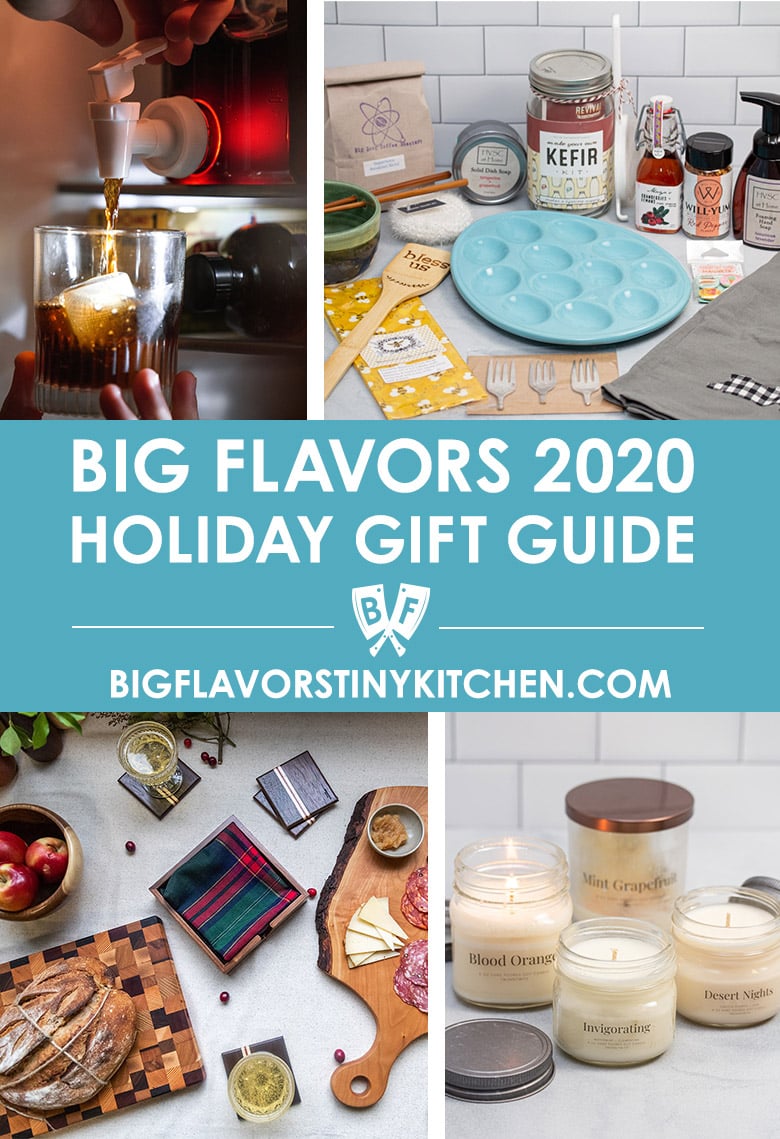 Because I have so many incredible small businesses to share for my 2020 holiday gift guide. I'm splitting things up into a few posts. This is part 2. You can find part 1 here.
I'll also be doing some of my shopping through sites like Etsy for things like unpaper towels, Luke's Diner coffee mugs (where my fellow Gilmore Girls fans at??), and hilarious handmade greeting cards.
I'll also inevitably be buying some things from Amazon (it's just so darn convenient!), but for the most part, I'm looking to shop local and support small businesses.
I also stand by all of the gift guide recommendations from previous years as well.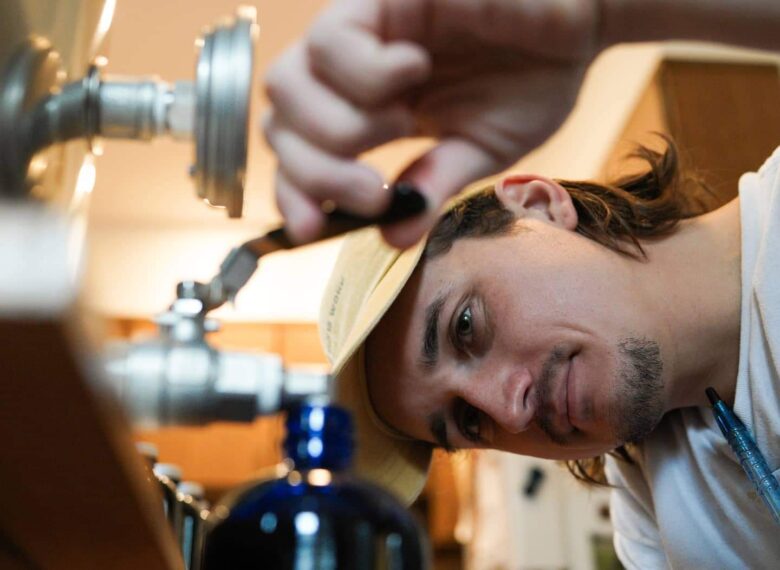 Bucci Coffee Co.
Nik Bucci has mastered the art of making a divine cup of coffee. Bucci Coffee Co., in Cortlandt Manor, NY focuses on brewing the world's finest organic specialty cold brew coffee for households and businesses.
They offer the same whole bean organic roasted coffees that they work with for customers to brew at home.
Bucci has expanded beyond the local area with his freshly roasted coffee beans and cold brew coffee and now offers mail order distribution anywhere in the United States.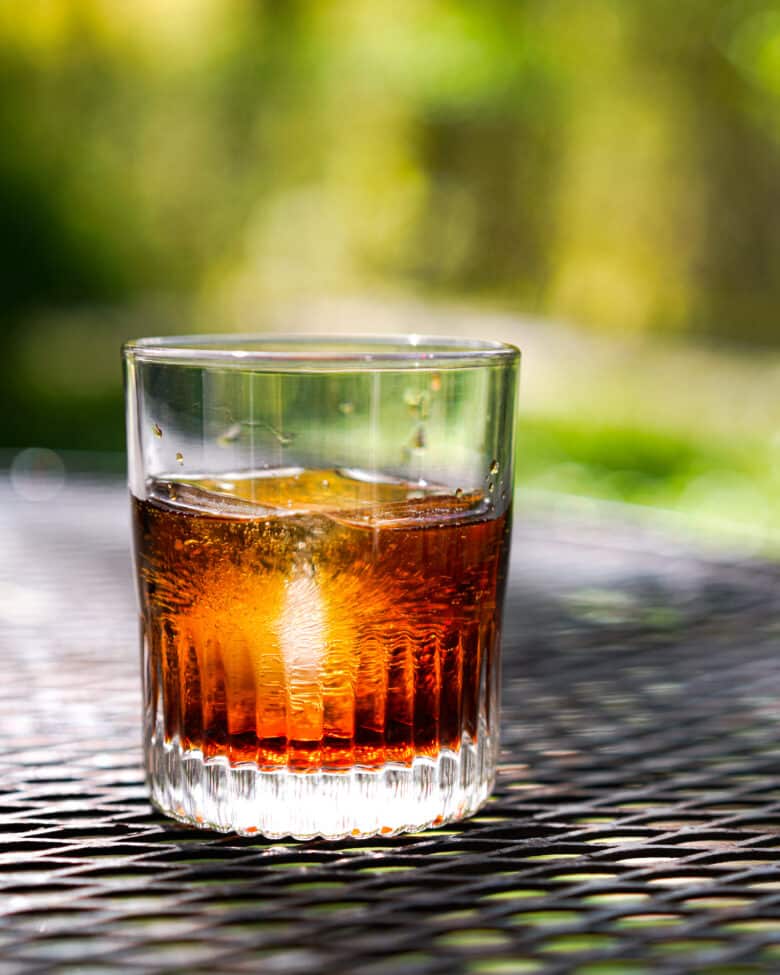 I can attest that the cold brew is super smooth and delicious, and the coffee beans make a great cup of hot coffee (especially when the beans are freshly ground in my burr grinder and it's brewed with my favorite pourover carafe and CoffeeSock reusable coffee filter).
And another small detail that I happen to absolutely love is the hand-typed labels for each of their bags of beans.
It's the little (analog) things, ya know?
I asked Nik to give me a little more background on his business and how he got into the world of creating this sweet, sweet caffeination.
Big Flavors: How long have you been in business? Tell me a bit about your background and how you got into what you do.
Nik Bucci: Just under two years. My background is in Engineering and photography, but one of my strongest passions is traveling, which is how I got into coffee.
My good friend Alessandro exposed me to the wide and beautiful world of coffee in Milan through his work as a global green coffee trader.
While I was traveling around the world in 2017, coffee shops were always a home base for me to work on my photography, ponder my next moves, and get energized.
After this three month trip I returned to the US and started working on Bucci Coffee Co.
BF: What products are you currently offering?
NB: We are excited to be offering our Specialty Cold Brew in an eco-friendly and shippable pouch dispenser. It's 1.5L which is 8~12 servings, fits nicely in your fridge, and keeps great flavor for weeks. We are shipping this anywhere in the country!
We also sell two different whole bean coffees, for those who grind fresh and brew at home. A medium roast Ethiopian coffee, and a dark roast Brazillian coffee, both fair trade and organic.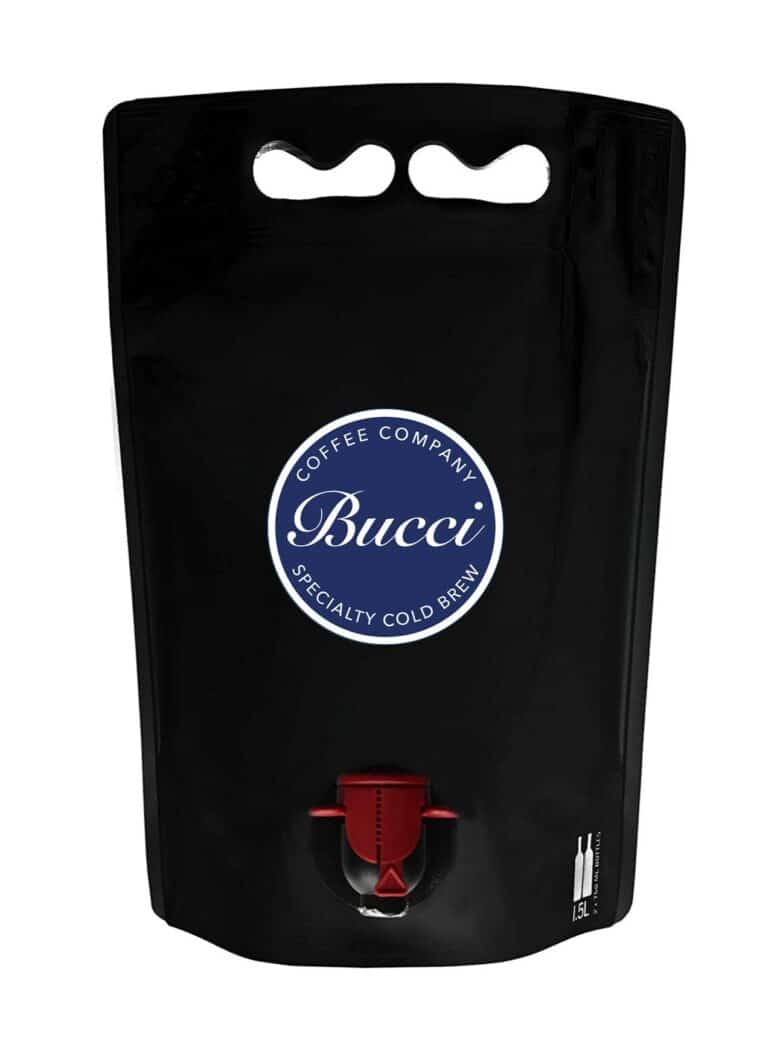 BF: Where can people buy your products?
NB: The best way to buy is through our website.
We are looking forward to getting back on some local shelves in Westchester, A&S Fine Foods in Croton for example.
BF: Where's the best place for people to connect with you?
NB: Through our email list, and through Instagram/Facebook. And soon in person, the best way!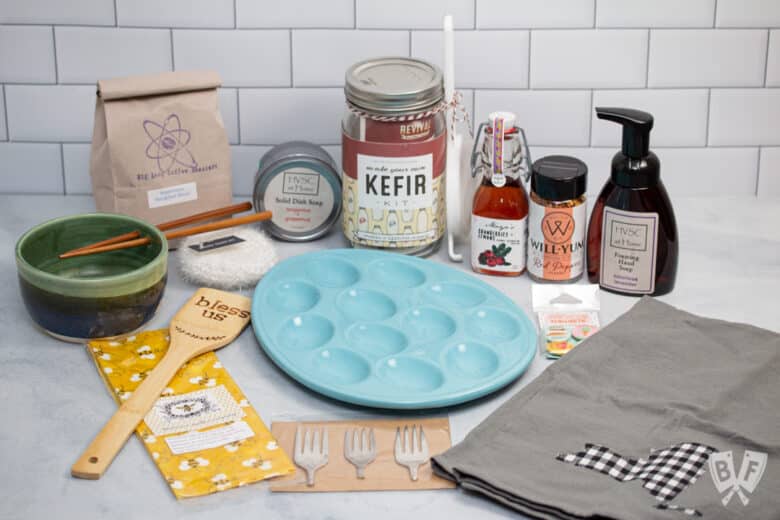 Bliss Co-op
Fellow Ossining local (who happens to have also lived in Wisconsin like me AND shares my birthday - July 30th REPRESENT!!) Dana Anders is the force behind Bliss Co-op up in Sugar Loaf, NY.
I met Dana a while back when one of my cheeseboard posts over on Instagram inspired her to reach out to me about gifting me a custom, hand-stamped vintage cheese knife.
I mean, how could I say no?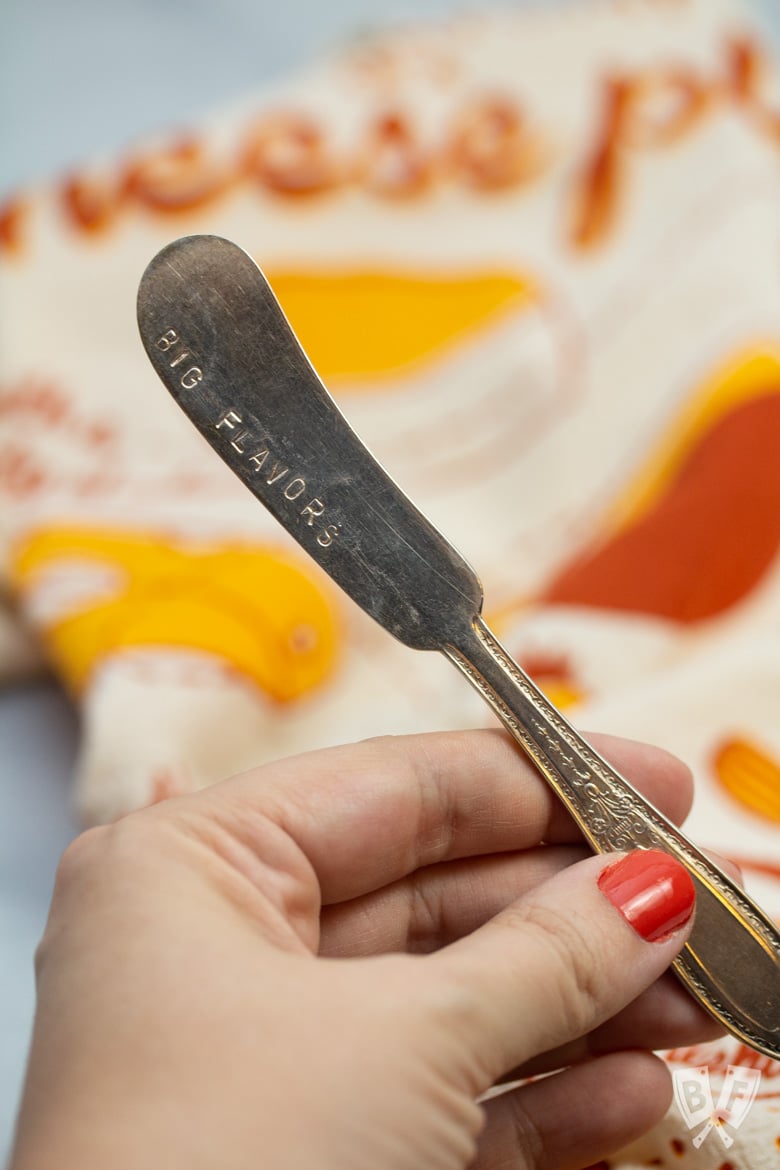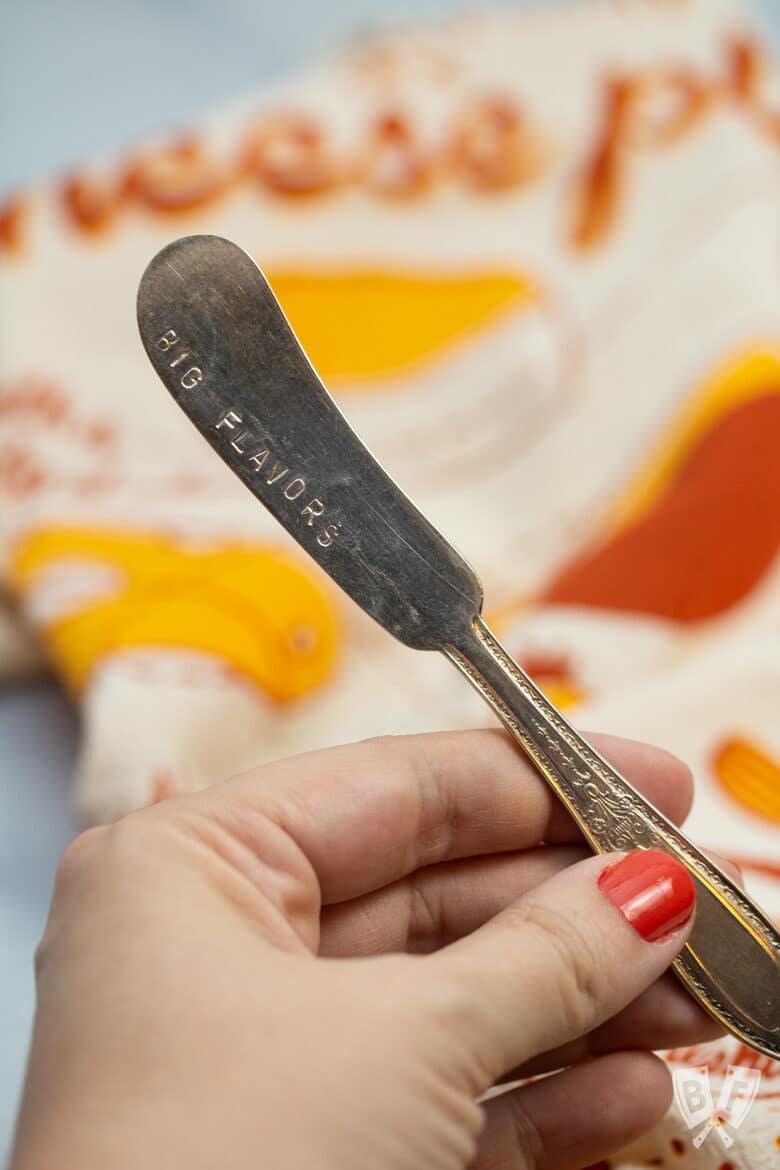 I've been itching to head up to check out Bliss Co-op in person, but due to the current... 2020-ness of this year, I have yet to make the trip.
I did, however, have the brilliant idea to have Dana take me on a virtual shopping trip to her charming shop earlier this fall, and it was beyond wonderful!
I was able to sit in bed, while recovering from surgery, and have my own personal shopper take me around all the nooks and crannies to see her wide range of offerings.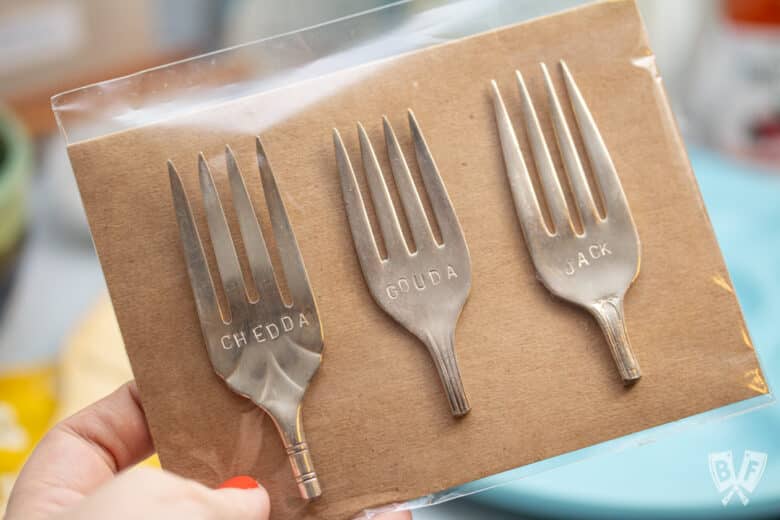 The variety of food and beverage-related offerings in her shop was seriously awesome! I bought a lot of items to add some cheer, whimsy, and usefulness to my kitchen.
One of the things that I love most about Bliss Co-op, aside from the incredibly thoughtful, personalized service, is the focus on women artisans from our local area.
Dana has done a fantastic job of curating items that are absolutely perfect for gift giving!
There are things that would be great for stocking stuffers, like the hand-stamped mini cheese marker forks pictured above or the adorable "Treat yo'self" magnets below.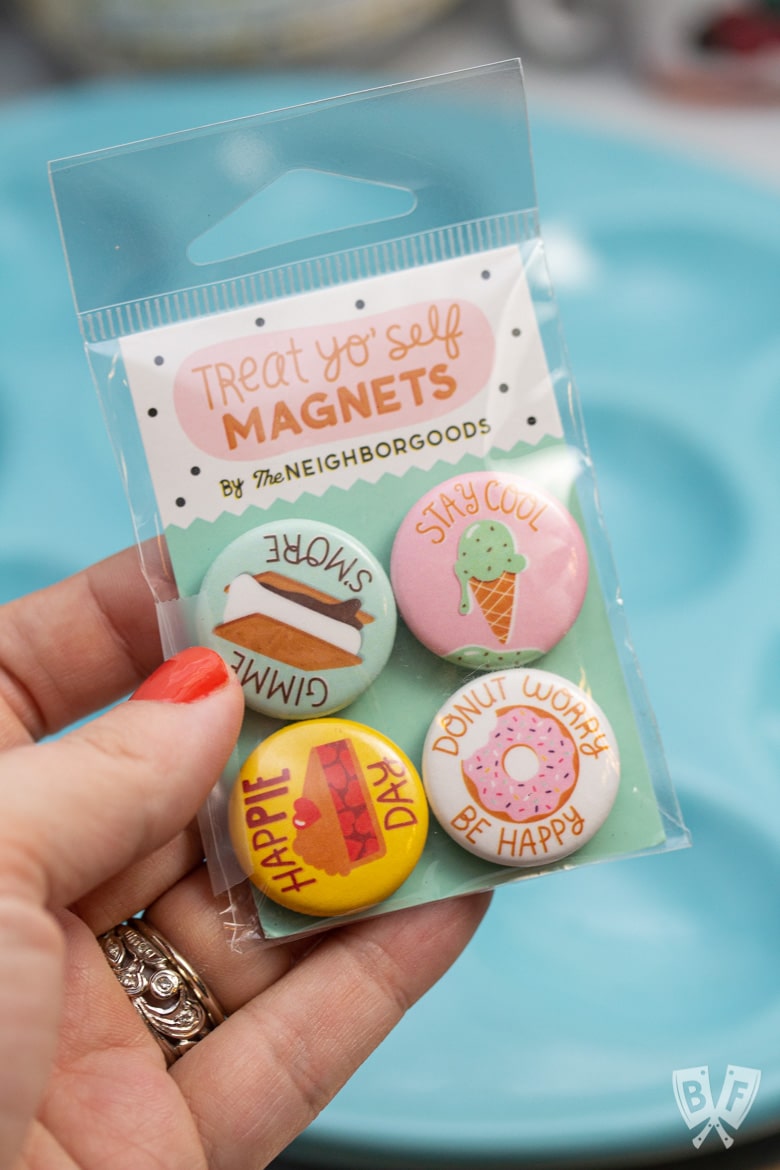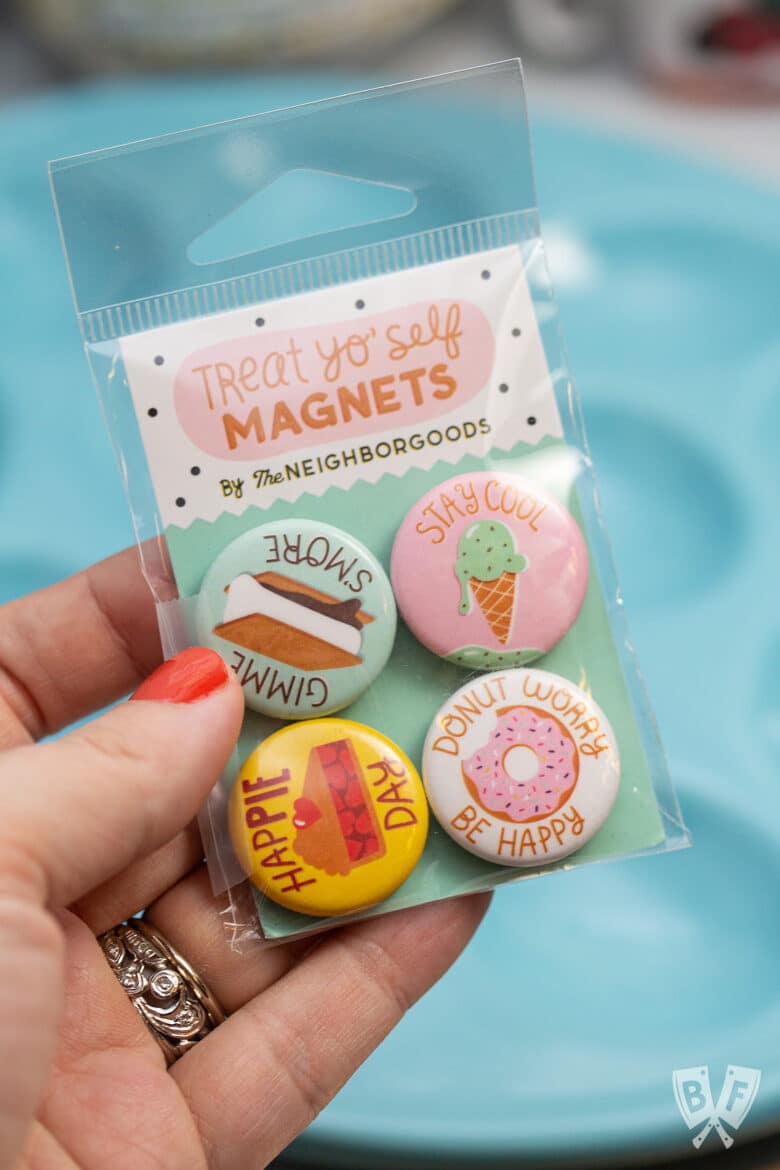 I'm also a big fan of tea towels, and there were so many to choose from that I could barely contain myself.
Anyone else get super excited about tea towels? Just me? Ha!
One suggestion I have to cut back on waste this holiday season would be to purchase a gift and use a tea towel to wrap it up. No need to waste wrapping paper or gift bags and the recipient can then use it in their kitchen!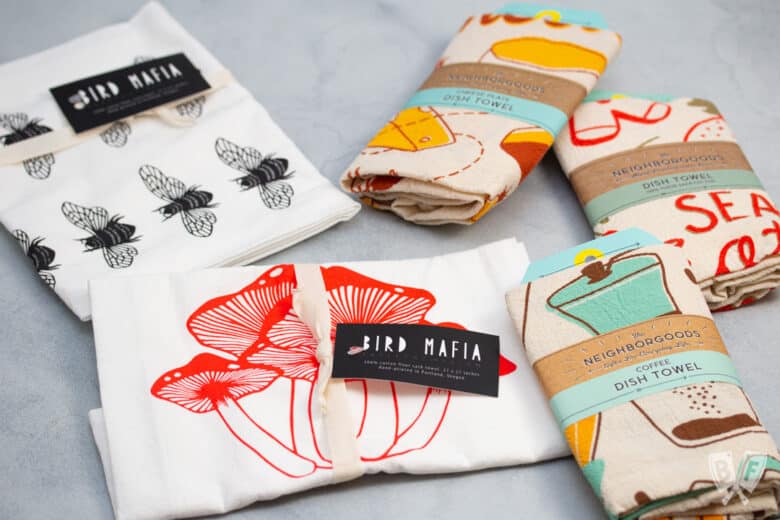 I asked Dana to share a bit about how Bliss Co-op came to be, and here's what she had to say:
Bliss Co-op opened its doors on April 1, 2011. The idea for Bliss came from me making/ selling greeting cards outside an acquaintance at the times shop in Sugar Loaf.

A storefront opened and it all began. We feature the works of woman artisans mostly from the Hudson Valley Region of NY.

Goods vary from pottery to jewelry to baby items to kitchen/ foodie goods and so much more!

Our goods are available at our Brick and Mortar Shop in Sugar Loaf. Plus, I always welcome people to message me via Instagram and Facebook if I post a product they want. We can ship or local drop off.

We will also be vendors this holiday season at the Wickham Makers Market in Warwick NY and Campwoods Holiday Boutique Ossining NY.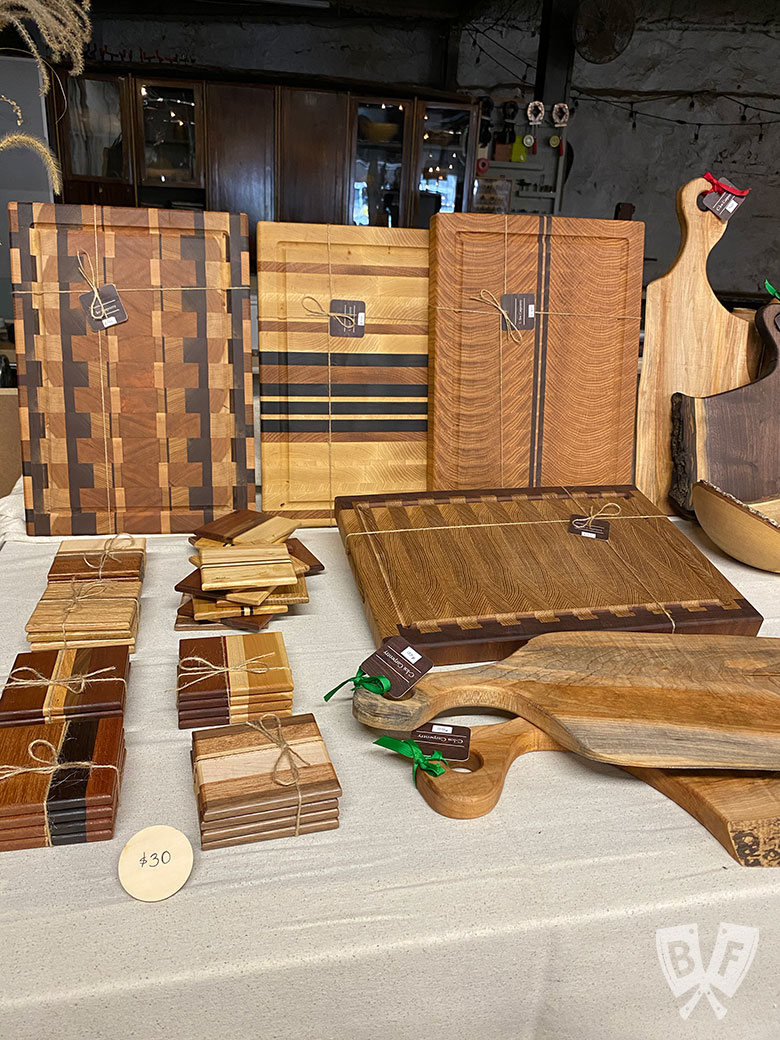 C-los Carpentry
During the Westchester Craft Crawl back in October, my first stop was Makers Central over in Tarrytown, NY.
The location is absolutely beautiful and there are several local artisans and makers who use the space as their home base, including C-los Carpentry.
I had been following Carlos and Elena's work over on C-los Carpentry's Instagram account for quite a while before finally seeing their beautiful work in person.
I was wowed by the variety of pieces they create out of wood, and it was hard to narrow down the options for what I chose to buy that day.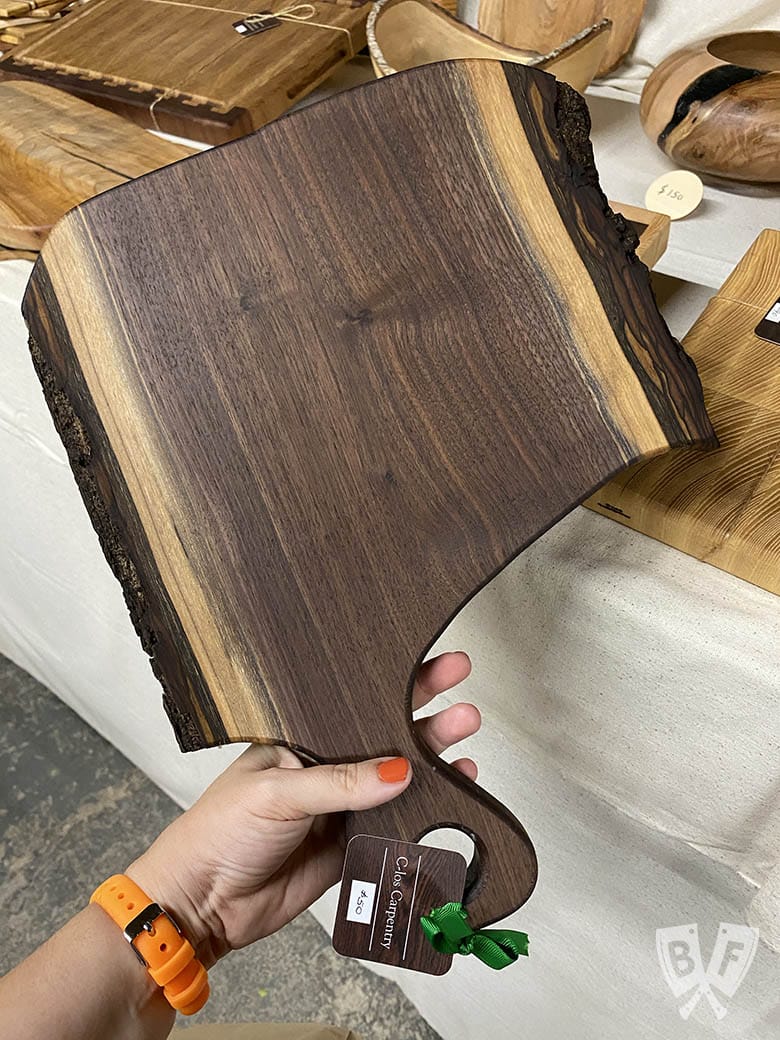 Is anyone surprised that I picked a cheeseboard?
Their collection was absolutely gorgeous and you can tel that they put a lot of love into each and every piece.
Big Flavors: Can you share a bit about you background and how C.los Carpentry came to be?
​C.los Carpentry: We have been in business as C-los Carpentry for 2 years now and have seen our business grow and evolve over this time to the point where we have expanded our shop, as well as our products.
We are a team of two: Carlos and Elena.
Carlos has a very strong background in carpentry, having started off in the field as an apprentice at a carpentry shop at the age of 12. He has been steadily working to improve his knowledge and expertise in the craft since then.
Elena has a degree in interior design and has worked for a build-and-design firm where her love of woodworking was initially sparked.
Together, we also have a long history working for fine-dining restaurants, so it seemed like a logical leap to continue working with chefs and hospitality professionals through their woodworking.
Now, we make a variety of kitchen products for the home or restaurant such as cheeseboards, cutting boards, bowls, servingware, trays, and vases.
BF: What products are you currently offering?
CC: ​We offer cutting boards in a variety of sizes and styles with each board bearing an entirely unique pattern.
Frequently, we work with salvaged wood, or wood left over from our furniture projects, to create our cutting boards, which means that no two boards are the same.
We also over cheeseboards in a variety of woods such as cherry, birch, and walnut; vases in maple, poplar, mahogany, and walnut; and salad bowls.
BF: Where can people buy your products?
​CC: People can reach out to us directly to make an appointment to stop by our woodworking studio and shop from our inventory.
We will also be hosting another market from the Makers Central Space for the holidays that will be open to the public.
A limited selection of our products is also available for purchase through our website.
This year, we are also participating in the White Plains Holiday Market which will be taking place December 3-13 and will host a variety of local makers.
BF: Where's the best place for people to connect with you?
CC: Email (Carlos, Elena) and Instagram.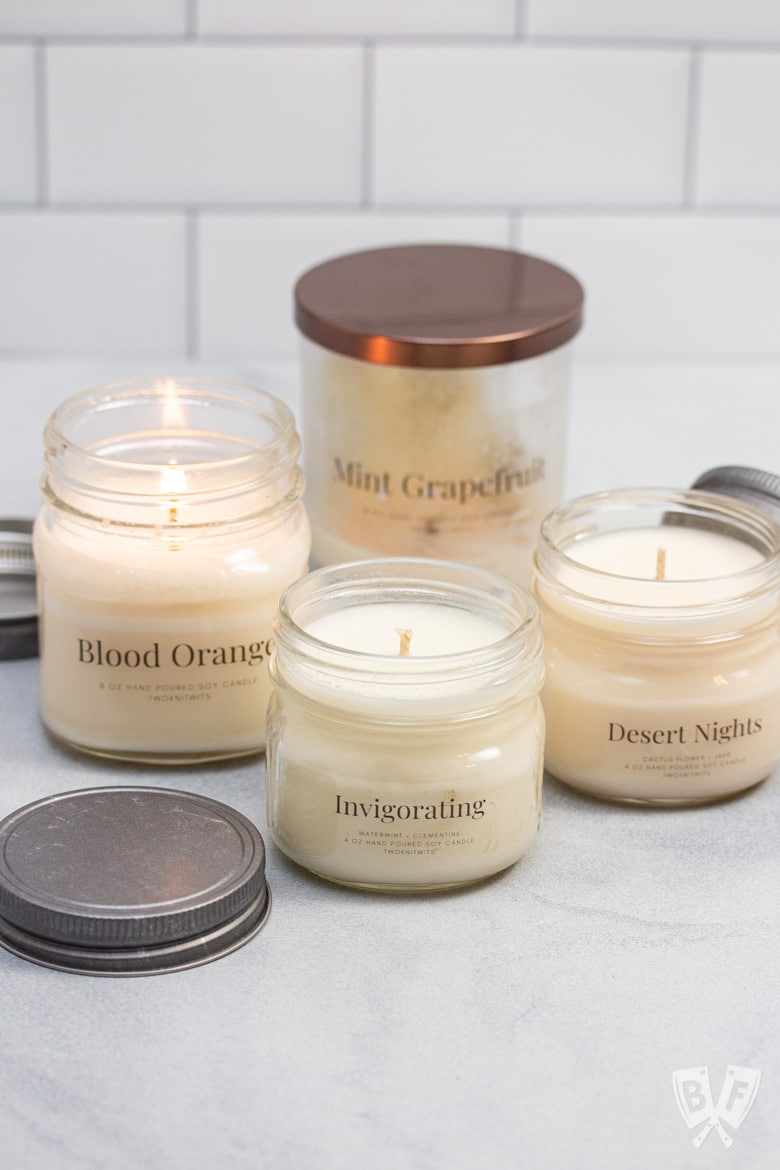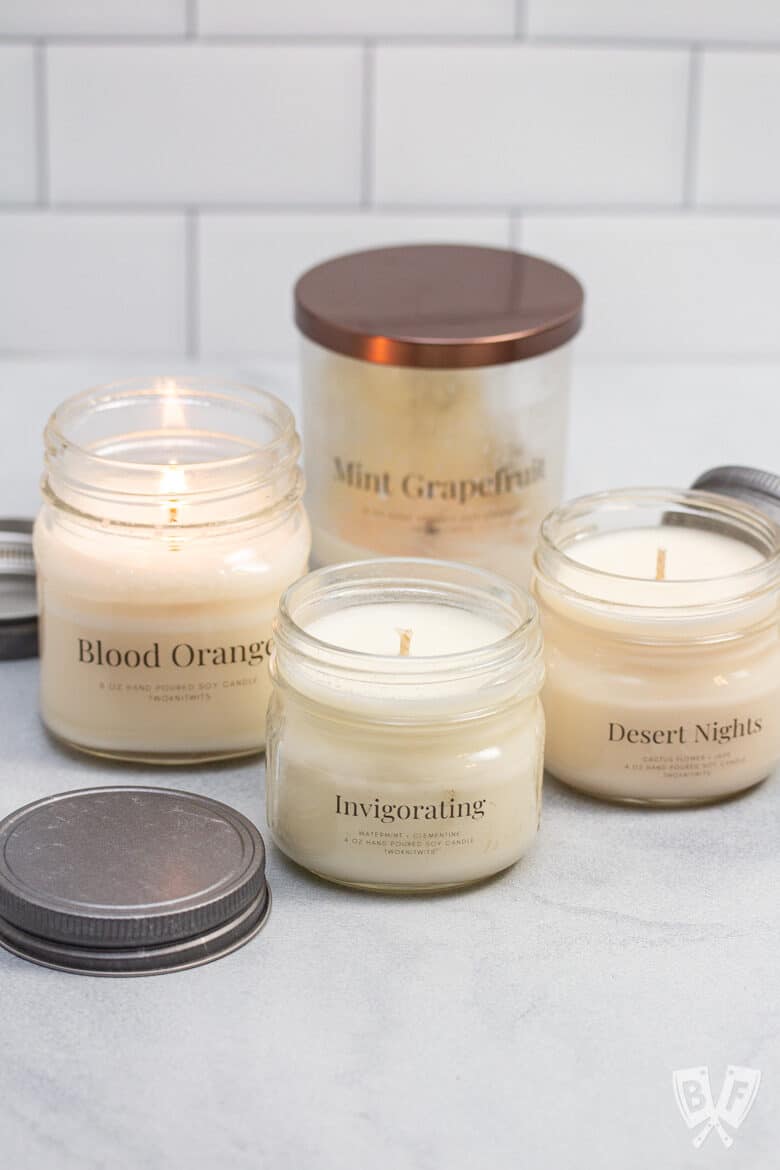 Two Knit Wits
Aimee and Janine are friends of mine who happen to make some of my very favorite gift items!
I asked Aimee how her business began, and here's what she told me:
About 3.5 years ago I started knitting as a hobby then started making things for people which turned into a bunch of requests of friends + sort of continued from there. This year I started to macrame + pour candles.
The hand-poured soy candles come in a variety of cleverly named scents. Their candles are made using phthalate free essential oil blends.
I find a lot of scented things overwhelming, but these candles are so beautifully balanced. I have thoroughly enjoyed every.single.candle that I've purchased from them.
There are a lot of food and beverage-themed scents, and I particularly enjoy the clean scents of Mint Grapefruit, Fresh Picked Cucumber, and aPEELing.
Holiday scents are in full swing now, and I'm excited to try them all! If you can't decide between all of the festive scents, check out the holiday sampler pack.
I'm excited to try one of their wood wick candles next.
I also love that you can return your empty candle vessels to get 10% off of your next purchase.
Sign up for candle of the month and you'll receive a new candle each month with a fragrance associated with that month or season.
Two Knit Wits also offers a candle care kit that includes a matte black wick trimmer and wax dipper.
Candle labels can also be customized as well, perfect for gift giving.
Aside from candles, they also offer a gorgeous assortment of knitwear and macrame.
I personally have bought these geometric triangle earrings and a big braided beanie and love them both!