This post may contain affiliate links, which won't change your price but will share some commission.
My mother-in-law gave me a loaf of challah bread, and I just knew that I wanted to make French toast with it. Challah is so eggy and delicious - it's perfect for stuff like this. I happened to have some raspberry preserves in the fridge, so I took her suggestion and added them to the top of the toast. It was really nice! I love the orange flavor that shines through, and the sweetness from the honey (I used some local wildflower honey)was great. I served it with some ham that we had leftover from New Year's Day, reheated on the griddle, and orange wedges (I hate storing citrus that I zested already - I feel like it goes bad faster). It was an awesome to have breakfast for dinner!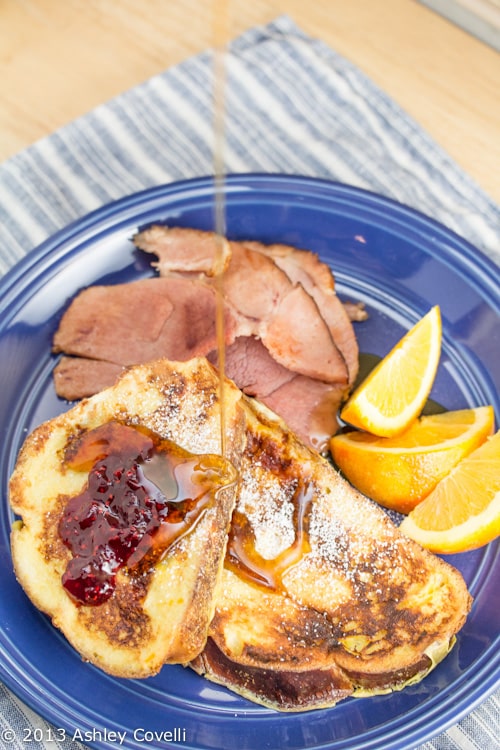 Challah French Toast
Barefoot Contessa
Total Time: 27 min
Prep: 10 min
Inactive: 5 min
Cook: 12 min
Yield: 8 large slices
6 extra-large eggs
1 ½ cups half-and-half or milk
1 teaspoon grated orange zest
½ teaspoon pure vanilla extract
1 tablespoon good honey
½ teaspoon kosher salt
1 large loaf challah or brioche bread
Unsalted butter
Vegetable oil
To serve:
Pure maple syrup
Good raspberry preserves (optional)
Sifted confectioners' sugar (optional)
Preheat the oven to 250 degrees F.
In a large shallow bowl, whisk together the eggs, half-and-half, orange zest, vanilla, honey, and salt. Slice the challah in ¾-inch thick slices. Soak as many slices in the egg mixture as possible for 5 minutes, turning once.
Heat 1 tablespoon butter and 1 tablespoon oil in a very large saute pan over medium heat. Add the soaked bread and cook for 2 to 3 minutes on each side, until nicely browned. Place the cooked French toast on a sheet pan and keep it warm in the oven. Fry the remaining soaked bread slices, adding butter and oil as needed, until it's all cooked. Serve hot with maple syrup, raspberry preserves, and/or confectioners' sugar.
Big Flavors Rating: 4 Stars