This is the first installment of a new feature here on Big Flavors from a Tiny Kitchen. Behind BF is a place to discuss things that have been going on behind the scenes in and around my tiny kitchen. Feel free to jump in and add your thoughts or questions in the comment section below.
Christmas is almost here, so I thought I'd share just a few cookbooks that I own that I would definitely recommend for gift giving. You know, for those of you who like to put off shopping till the last minute wait until you find the perfect gift for the food lover in your life.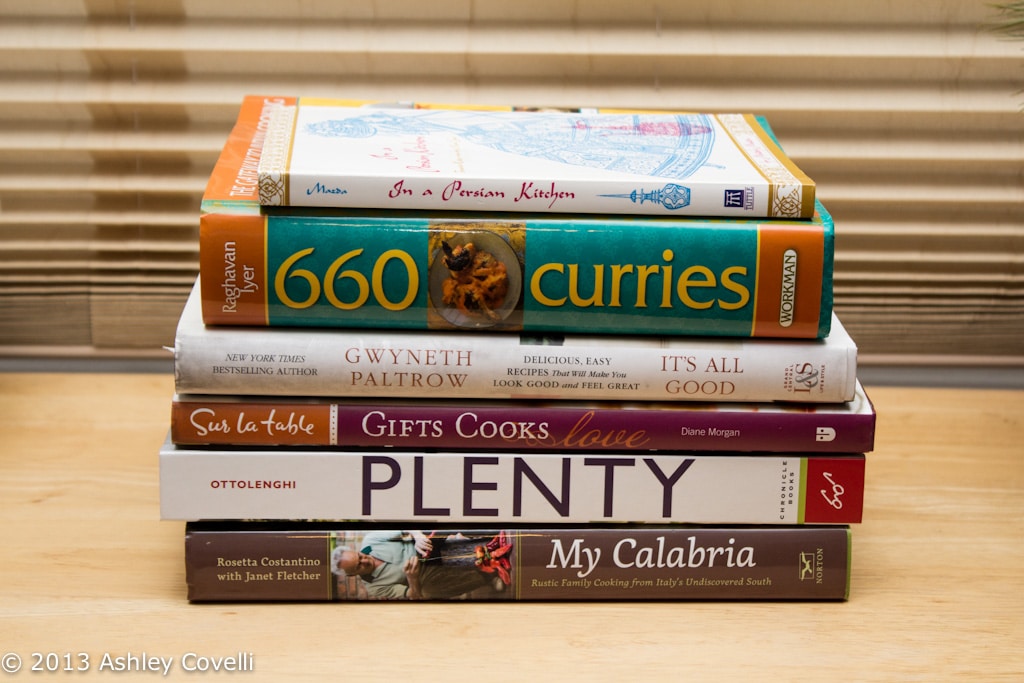 1. My Calabria: Rustic Family Cooking from Italy's Undiscovered South by Rosetta Costantino w/ Janet Fletcher - My husband found this cookbook through Rosetta's blog, which is focused on the cuisine from the region of Italy that his family comes from. He got this book for me for Christmas back in 2010, and I have tried several recipes from it over the past few years. The Zucca Gialla con la Menta and Polpette di Melanzane in particular were really great and unique selections that my family really enjoyed.
2. Plenty: Vibrant Vegetable Recipes from London's Ottolenghi by Yotam Ottolenghi - I picked this book up a few months ago, and it is hands down one of the most beautiful collections of recipes that I've seen. The food is bright and vibrant, and I ended up bookmarking almost the entire book, since all of the recipes sounded so good! So far, I've made the cover recipe, Eggplant with Buttermilk Sauce and also Roasted Parsnips and Sweet Potatoes with Caper Vinaigrette, and both were exceptional.
3. Gifts Cooks Love by Sur la table - This book is a great resource for making edible, homemade gifts in your own kitchen. They have fun ideas for making themed baskets by pairing a few of their recipes together, along with some other items to round them out. They even give you ideas for what to write on the gift tags. Super cute stuff. I've made a few so far. One of our very favorite (and highly addictive) snacks, Chipotle Chile Candied Pecans came from this book, as well as this Bollywood Coconut Curry Popcorn Seasoning.
4. It's All Good: Delicious, Easy Recipes That Will Make You Look Good and Feel Great by Gwyneth Paltrow - I was a bit hesitant to pick up a celebrity cookbook, but once I saw it at the store earlier this year, I decided to page through it and just had to buy it. The photography in this book is gorgeous, and there are a lot of recipes for various diets that are often seen as "restrictive". There are a few ingredients in some of these recipes that can be tricky to track down, but there are plenty of other options in there. I've made several recipes from this book already, and they have all been really good! My favorite is probably her Go-To Black Beans.
5. 660 Curries by Raghavan Iyer - If I had to pick just one very favorite favorite cookbook, this would be the one. I checked it out from the library back in 2009 and asked for my own copy for Christmas after trying a handful of recipes. I have made quite a few tasty meals from the pages of this book, and there are so many more tasty curries on deck! One of my favorite parts of this book is the "Spice Blends and Pastes" section, which shows you how to make a lot of the curry blends and flavor bases that are used in many of the recipes throughout the book. There's such a wide array of recipes in here, and they vary from quick and easy to more elaborate. Probably one of the most impressive recipes I've made from this book is Flaky Griddle-Cooked Breads (Malabar Parantha).
6. Last but certainly not least on my list is In a Persian Kitchen: Favorite Recipes from the Near East by Maideh Mazda. This cookbook is the only one on the list that doesn't feature photography. It's just a black and white collection of delicious recipes, originally published in the '70s. Being half-Persian, I am a big fan of Middle Eastern cuisine. This cookbook presents even the most elaborate Persian dishes in a straightforward manner so that they are easy to replicate at home. The Persian Meatloaf is one of our very favorite meals!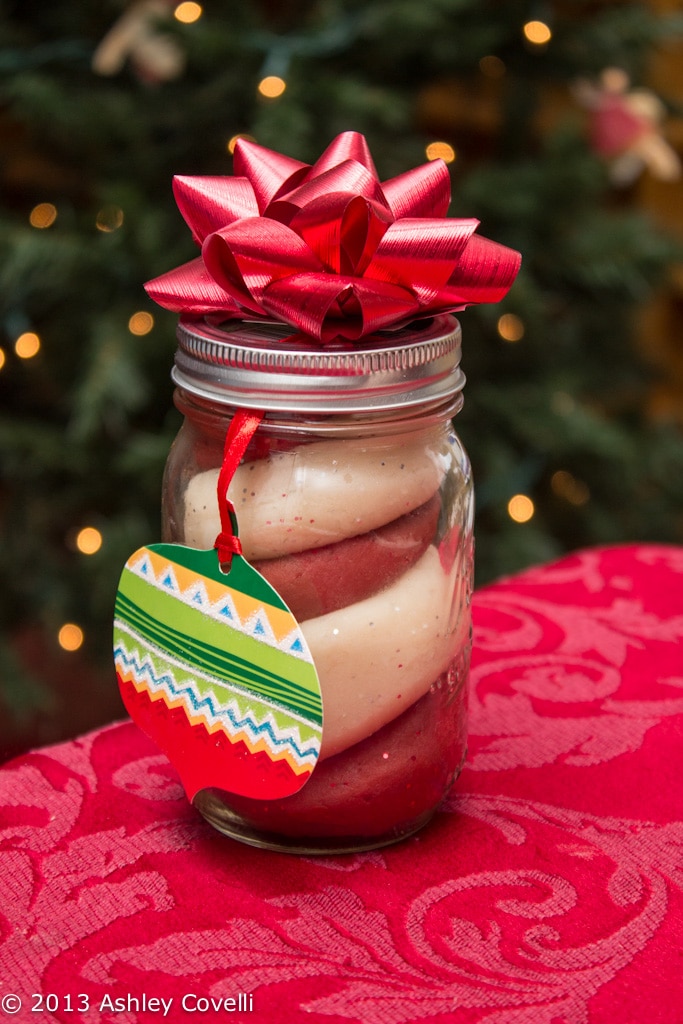 Another awesome gift idea is something that one of my friends brought over this past week for my toddler. This homemade Candy Cane Playdough is absolutely adorable, and super festive. I love the addition of glitter in it. I was seriously floored when I saw it. I'm not sure what recipe my friend used, but I found this one online that looks like it would work. I haven't made homemade playdough since I was a kid, so I'm definitely interested in trying this out sometime!
In other news, today is my Grandma's 93rd birthday! I have so many wonderful memories of cooking with her as a kid. One of my favorite things is that whenever I used to help her bake pies, she would make sure there was extra pie dough and filling so we could make a normal sized pie plus one or two mini pies just for me! It was so much fun, and really helped to kindle my love for cooking and baking. Now that my son is 2, I should try to find some mini pie pans so I can continue that tradition with him.
Happy holidays, everyone, and happy cooking!