This post may contain affiliate links, which won't change your price but will share some commission.
This is part three of my 2020 holiday gift guide. You can check out the other parts here: part 1, part 2.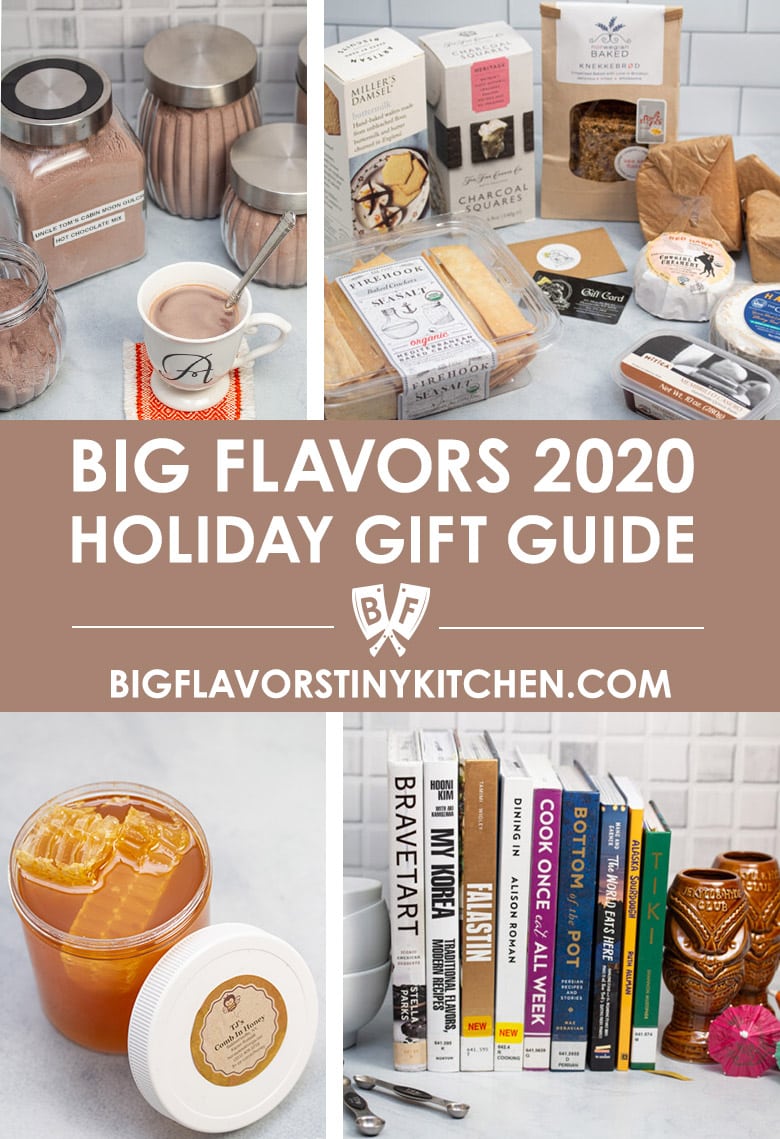 Support small, independent bookshops while shopping online
I always enjoy giving books as holiday gifts. There are so many topics and you can truly find something for anyone on your list.
One of my favorite new ways to shop for books is by using bookshop.org. Bookshop allows you to support local independent bookstores instead of big box stores and massive online companies.
I have curated several lists of books over on my bookshop profile page including cookbooks, desserts and baking, cocktails & mixology, cooking basics + techniques, breadmaking, and more.
I also have other categories such as novels, memoirs, humor, poetry, young adult, kids books, and more.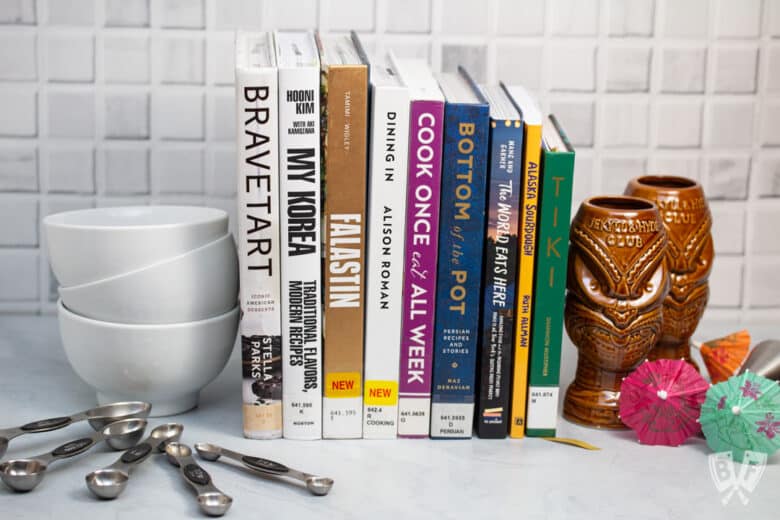 This first book is quite possibly my current favorite cookbook. Cook Once Eat All Week by Cassie Joy Garcia has completely changed the way I think about meal planning.
Most meal prep strategies that I've encountered in the past involve batch cooking loads and loads of recipes on Sunday and eating leftovers all week.
In Cook Once Eat All Week, each weekly plan focuses on using three base ingredients (such as week 6: ground chicken, bell peppers, and rice) to prep for 3 different meals at once.
Instead of cooking 3 full meals in advance, you do most of the work on your prep day and then on subsequent days spend just a few minutes finishing each recipe to transform those base ingredients into each meal.
I especially like that you're not just reheating leftovers every single meal for the entire week. Don't get me wrong - I love leftovers! But there's something about spending a little time one day cooking up 5 pounds of chicken, roasting some veggies, and making a few sauces, and then turning them into three completely different meals later in the week that has made meal prep much more exciting for me.
A lot of meal prep options that I've come across in the past don't seem to really hit on variety when it comes to repurposing a protein multiple times throughout the week.
These recipes really keep things interesting. You definitely do not feel like you're eating the same baked chicken breast three days a week when the flavor combos and ingredients for each of the 3 meals are so different.
So far I've used the weekly plans in Cook Once Eat All Week to prepare a few weeks' worth of recipes and I'm looking forward to trying out even more.
One note is that this cookbook focuses on the gluten-free diet so I tend to swap certain items such as using low-sodium soy sauce instead of coconut aminos, adding or substituting a grain, and using granulated sugar or brown sugar in place of some of the specialty sugars such as coconut sugar.
The only other note I would say is to really pay attention to the recipe selections and how much food each meal entails. I've noticed that occasionally we would really enjoy an additional vegetable or starch with the meals, so I'll grab something quick from the freezer or pantry to add to them.
Regardless it's been insanely adaptable and really enjoyed the meals that we've made from it. I'm looking forward to trying many more!
Creative Green Living
Speaking of books, my friend Carissa of Creative Green Living has a few books that would make great gifts.
I wrote a review of Beautiful Smoothie Bowls a while back, and now that winter weather has hit here in New York, cozying up with a smoothie bowl sounds like a great way to summon the tropics at home.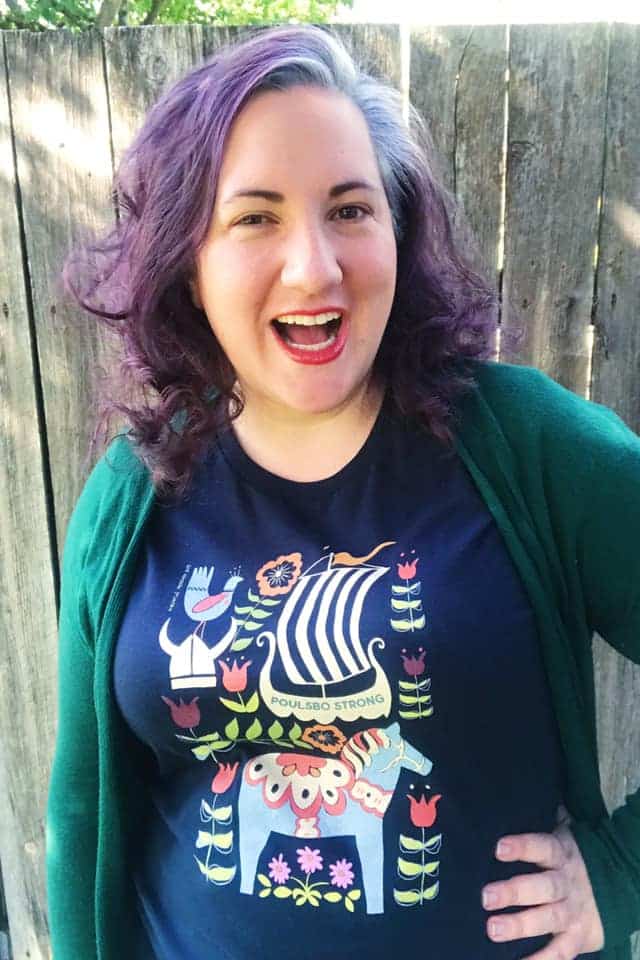 I asked Carissa to share a bit about her small business and her current offerings.
Big Flavors: How long have you been in business? Tell me a bit about your background and how you got into what you do.
Carissa Berg Bonham: I started blogging in 2006 as a way to keep up with my friends and family at home on the west coast while I was away at graduate school in Boston.
When I lost my job during the recession in 2012, I decided to really focus on turning writing into my business. I published my first hardcover cookbook in 2017 and have written three books since then.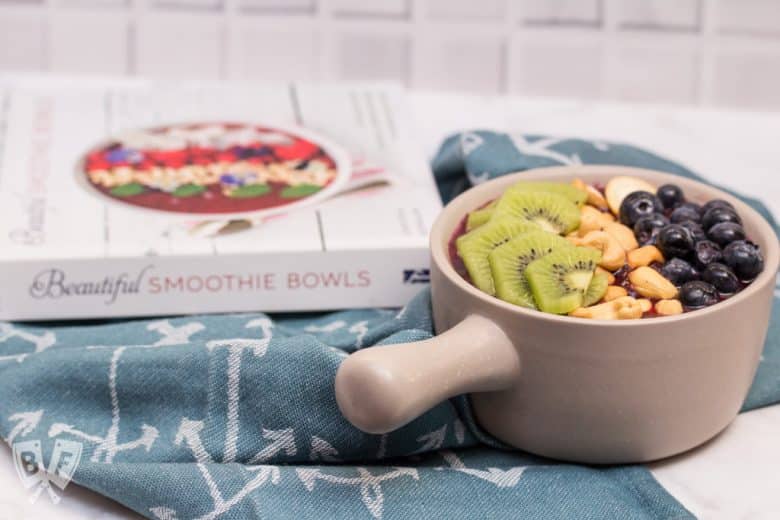 BF: What products are you currently offering?
CB: I have lots of free recipes and tutorials on my website, Creative Green Living (www.creativegreenliving.com). In my Etsy shop, I have signed copies of my books as well as a downloadable apron pattern and tutorial.
BF: Where can people buy your products?
CB: My cookbook is available at every Barnes & Noble store nationwide, on Amazon and in my Etsy shop. [Big Flavors note: you can also find it on Bookshop!]
My chicken-keeping book is available at every Tractor Supply store nationwide, on Amazon, and in my Etsy shop: [Big Flavors note: you can also find it on Bookshop!]
BF: Do you have any current promotions/specials?
CB: Your readers can use coupon code BIGFLAVORS to get 10% off anything in my Etsy shop include books and sewing patterns.
BF: Where's the best place for people to connect with you?
On my website: creativegreenliving.com - or on Etsy to purchase books.
The Essential Fondue Cookbook
The last book I'm sharing for this year's holiday gift guide is from a friend and fellow cheese lover that I met on Instagram a while back, Erin Harris AKA The Cheese Poet.
Erin shares some seriously swoon-worthy cheese-centric content over on Instagram, and if you aren't following her, you're seriously missing out!
I asked her how she got into the world of cheese, and this is what she told me:
I went to culinary school 20 years ago and worked as a chef for 10 years before taking a leap into the world of cheese! It was the best decision I have ever made. My passion for cheese continues to grow and I love how I never stop learning!
Erin's new book, The Essential Fondue Cookbook contains 75 recipes to seriously upgrade your fondue game.
It covers everything from how to pick the right fondue pot to how to select the perfect cheeses. Traditional and lesser-known fondue techniques and recipes are included.
You can purchase The Essential Fondue Cookbook on Bookshop, Amazon, Indigo (in Canada), and Barnes and Noble.
You can connect with Erin over on Instagram and be sure to check out her website at thecheesepoet.ca.
Second Mouse Cheese Shop
Speaking of cheese, one of my absolute favorite local places is Second Mouse Cheese Shop over in Pleasantville, New York.
I know what they say about Disney, but Second Mouse truly is the happiest place on earth.
Owner Ivy Ronquillo and staff are eager to help you pick out the perfect cheese, charcuterie, and accompaniments to create the cheeseboard of your dreams!
If you follow me over on Instagram or have attended one of my cheeseboard classes, there's no question that you've seen lots of items that I purchased from Second Mouse Cheese Shop.
Aside from cheese, they also offer small-batch, artisan accompaniments such as jams, crackers, chocolates, condiments, and more. They also sell tools like cheese knives, cheese storage paper and bags, and boards so you can have the perfect cheese spread at home.
I appreciate their dedication to small farms, artisans, and craftspeople. All of these goodies are perfect for gift-giving!
For locals, Second Mouse offers a variety of classes for you to get your cheese education on. I have taken a few classes both in-person and online and let me tell you they are worth every penny.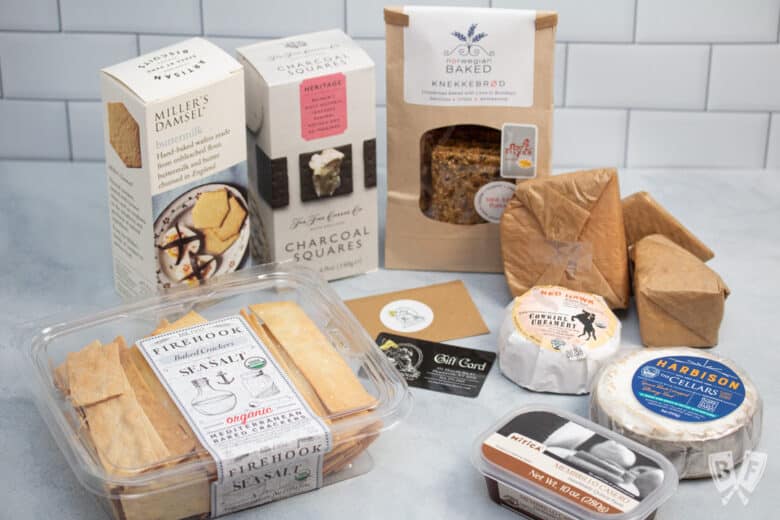 The online classes have been great during this strange year that is 2020 and I love being able to pick up the pairing items and accompanying beverages directly from the shop, then bringing them home to participate in the class from my own space, safely.
Ivy really has a wealth of knowledge and is more than happy to help educate you on any and all things cheese-centric.
I asked Ivy to share a bit more about how she got into the cheese biz, and also what types of offerings they have for the holiday season.
Big Flavors: How long have you been in business? Tell me a bit about your background and how you got into what you do.
Ivy Ronquillo: 19 months. I have spent the last 25 years (gulp.) alternating between the Advertising Industry and the Fine Foods world. It was first in mid-2017 that I made a firm, non-reversible decision to commit to what pleases my soul: food and making people happy.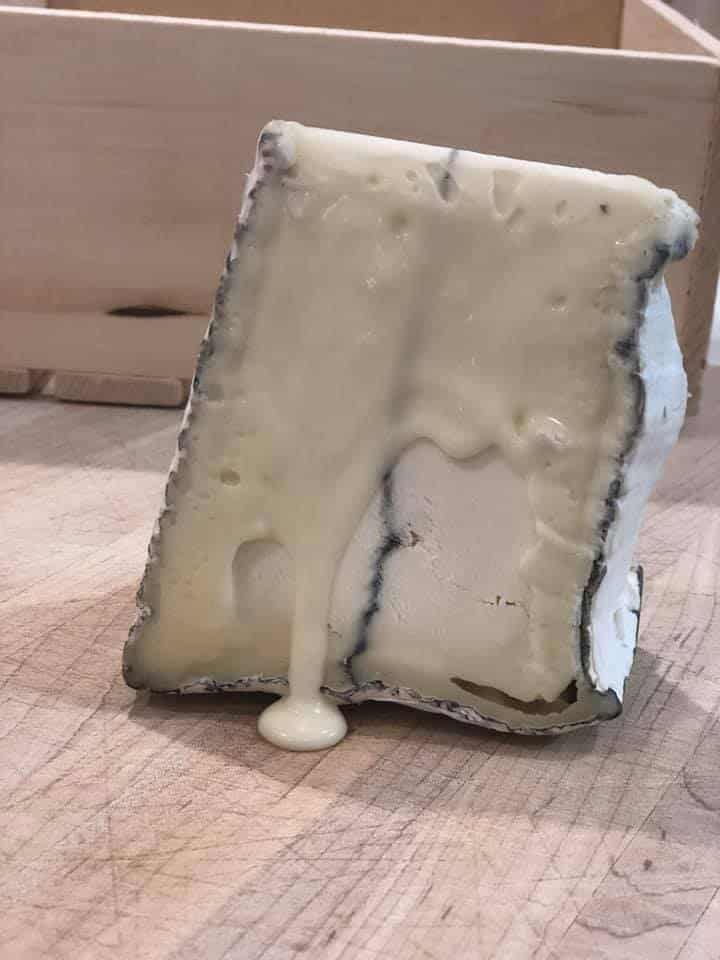 BF: What products are you currently offering?
IR: Upwards of 80 artisanal cheeses; small-batch accompaniments, like honeys and chutneys; humanely raised and ethically produced Charcuterie; Fresh local breads; Hard-to-find wine, beer, cider, crackers, dried fruit, nuts, chocolates, cookies, specialty teas, homewares, gifts; Prepared Foods; Catering; Classes all about CHEESE!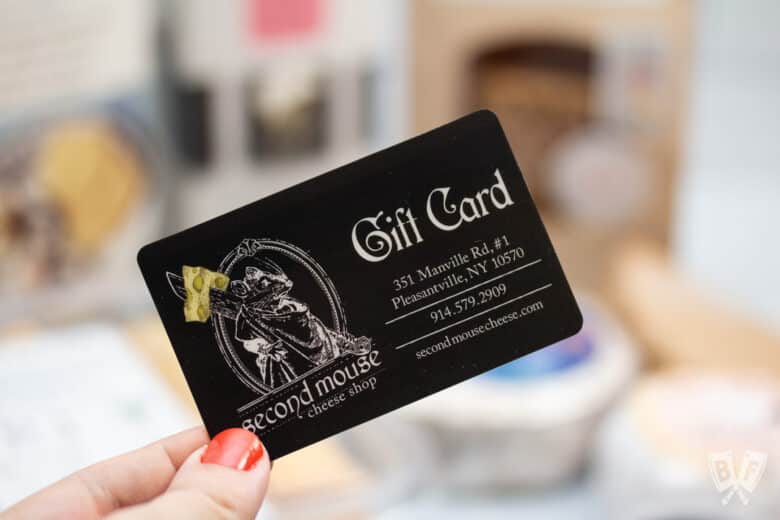 BF: Where can people buy your products?
IR: At our shop - 357 Manville Rd., Pleasantville, NY (diagonally across the street from Jacob Burns Film Center); or on-line at www.SecondMouseCheese.com for pre-orders or gift basket shipping.
BF: Do you have any current promotions/specials?
We promote the joy of shopping local and shopping small, where customer service is top priority and where transparency is evident. Although we have occasional sales, our motives rely less on volume and more on quality experiences.
BF: Where's the best place for people to connect with you?
IR: In person! We love seeing our customers. Phones are always ringing, too. But if you wanna see what's happening at the shop, follow us on Instagram (@secondmousecheeseny). We post a few of our favorite things frequently, as well as update our followers with pertinent info.
Honey & Things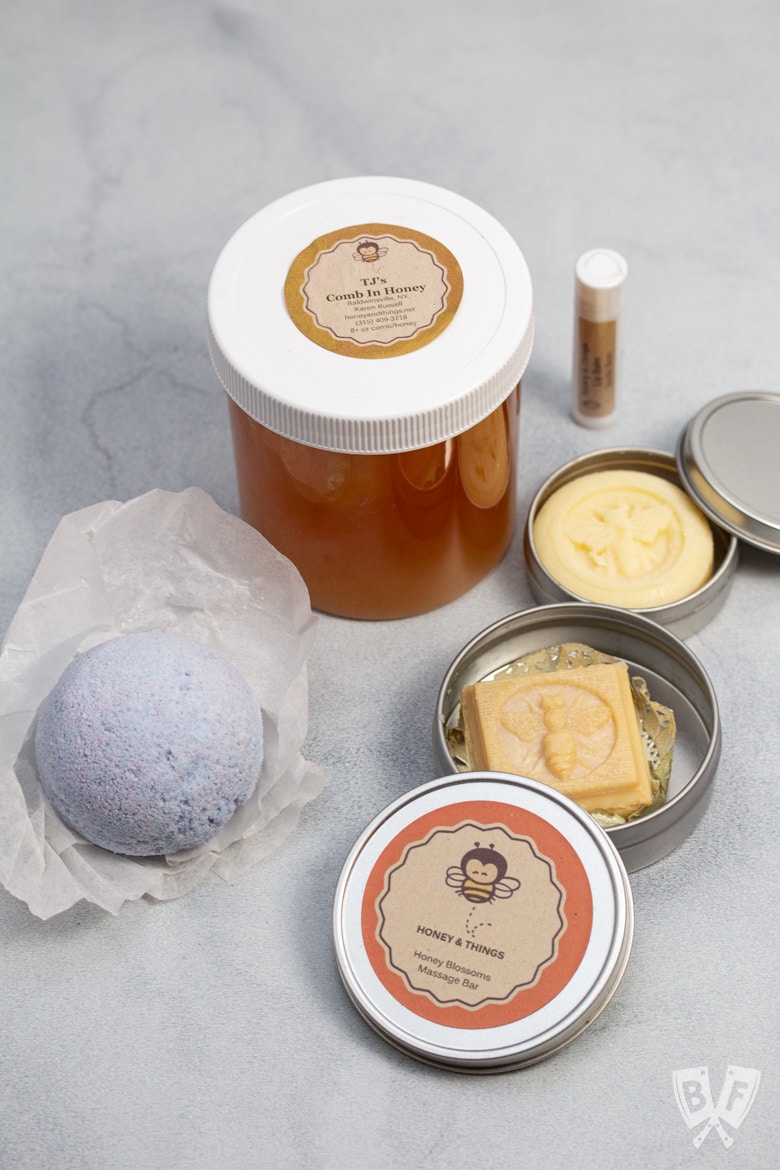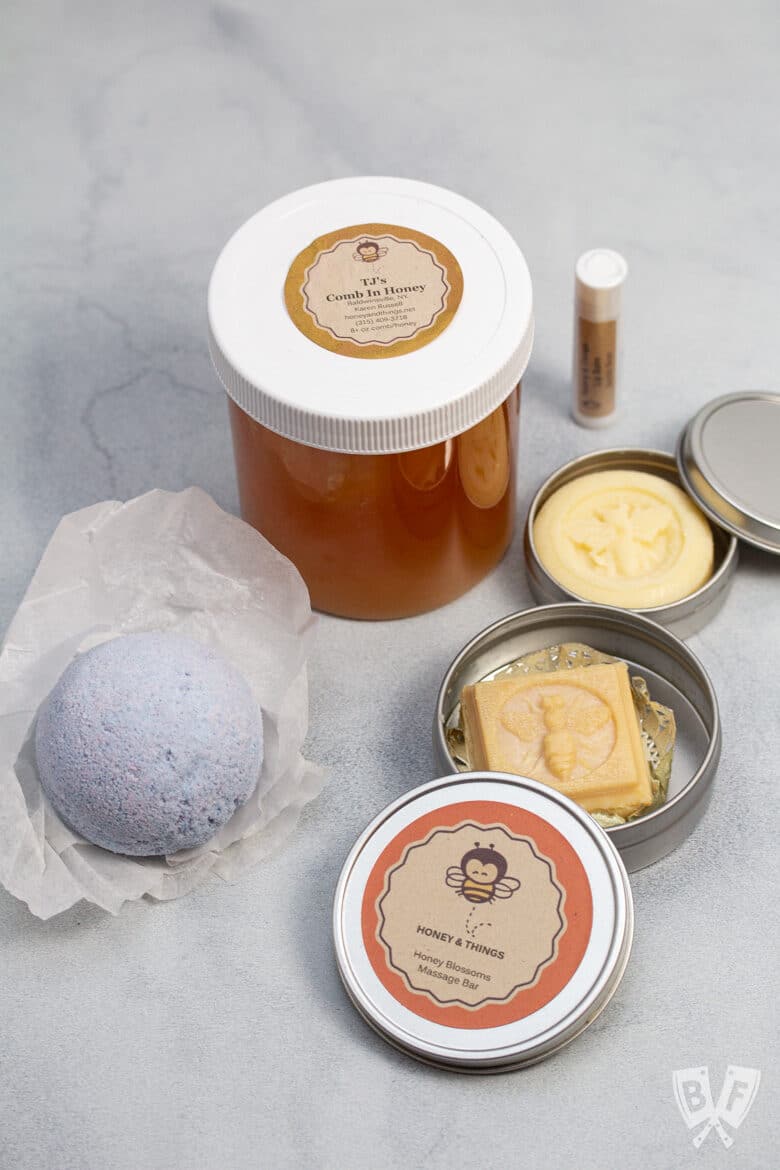 Looking for something sweet to go with all that cheese? My friend Amanda's aunt is a beekeeper in Upstate New York who sells honey and gift items made with beeswax over at Honey & Things.
Karen Russell and Theresa Jeffers started Honey & Things and have been in business for about 3 years.
They started out beekeeping and producing honey and have since branched out to making beautiful items with their beeswax, including hand-dipped taper candles, lip balm, and lotion bars.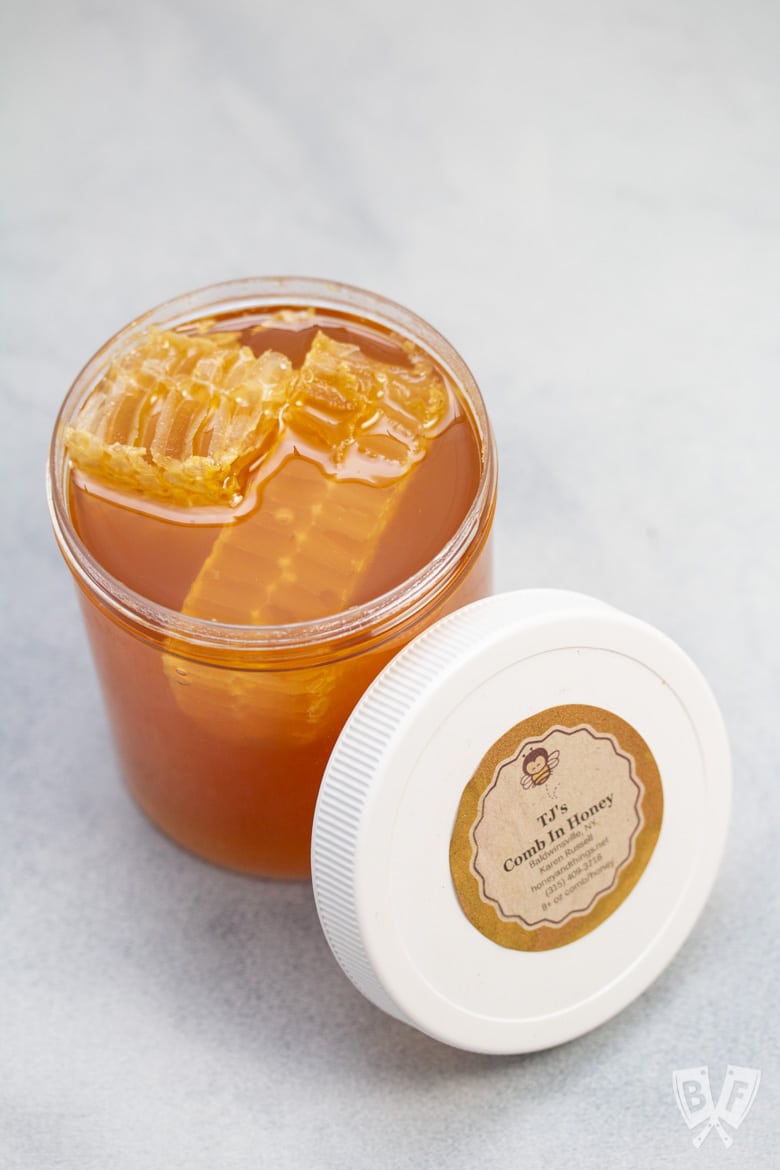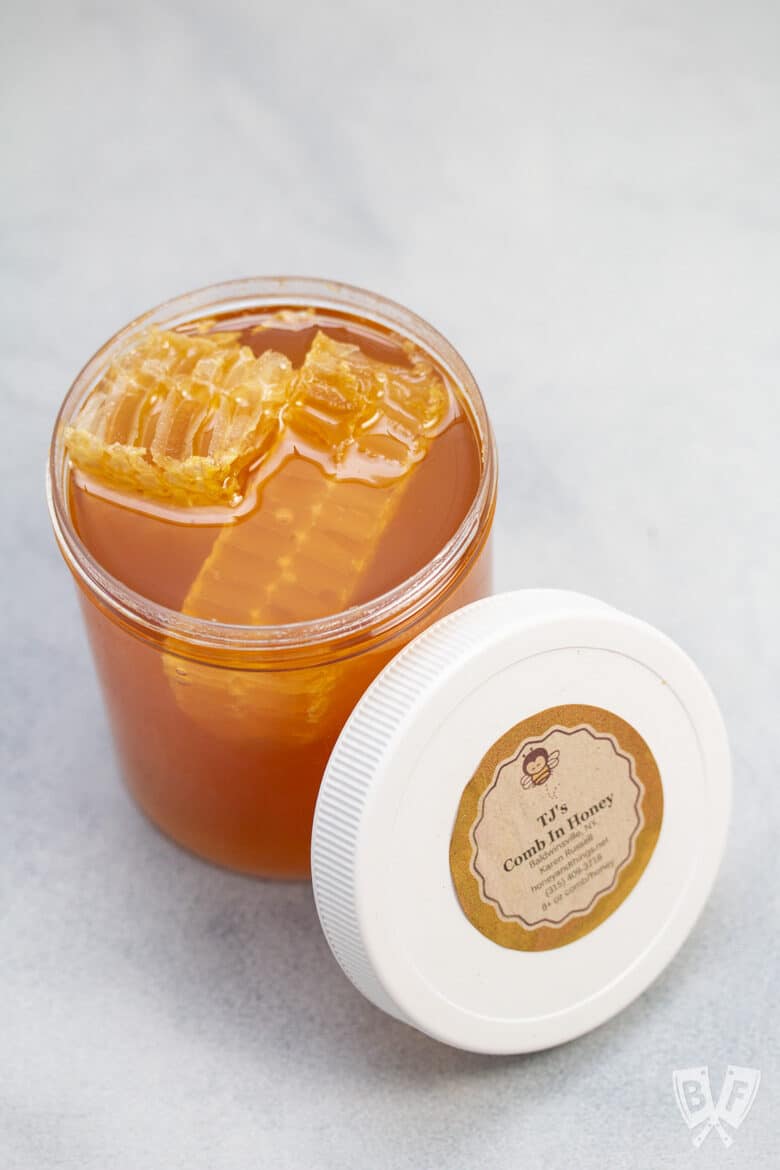 I can't wait to add some of this honeycomb to a cheeseboard. How gorgeous is it?!
I've enjoyed honey for lots of things in the past, but it hadn't occurred to me that there was so much that could be done with beeswax!
This vanilla bean lip balm has been on heavy rotation in my house lately. My son loves it, too!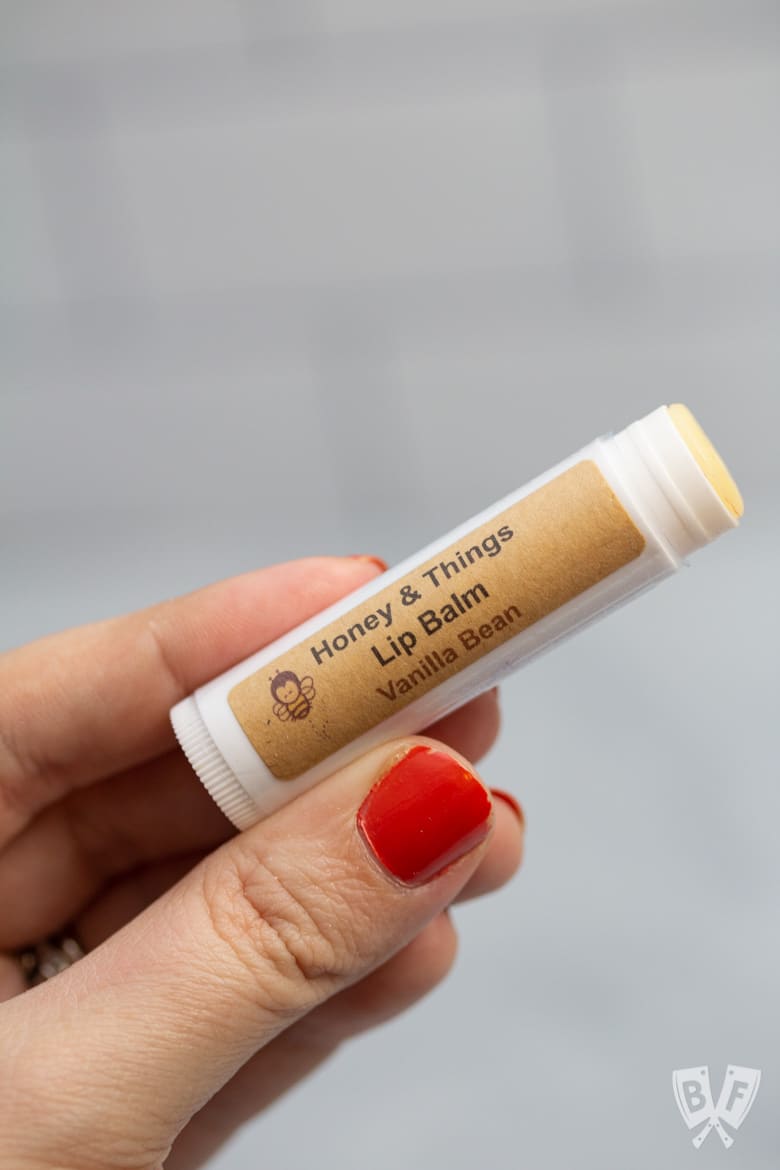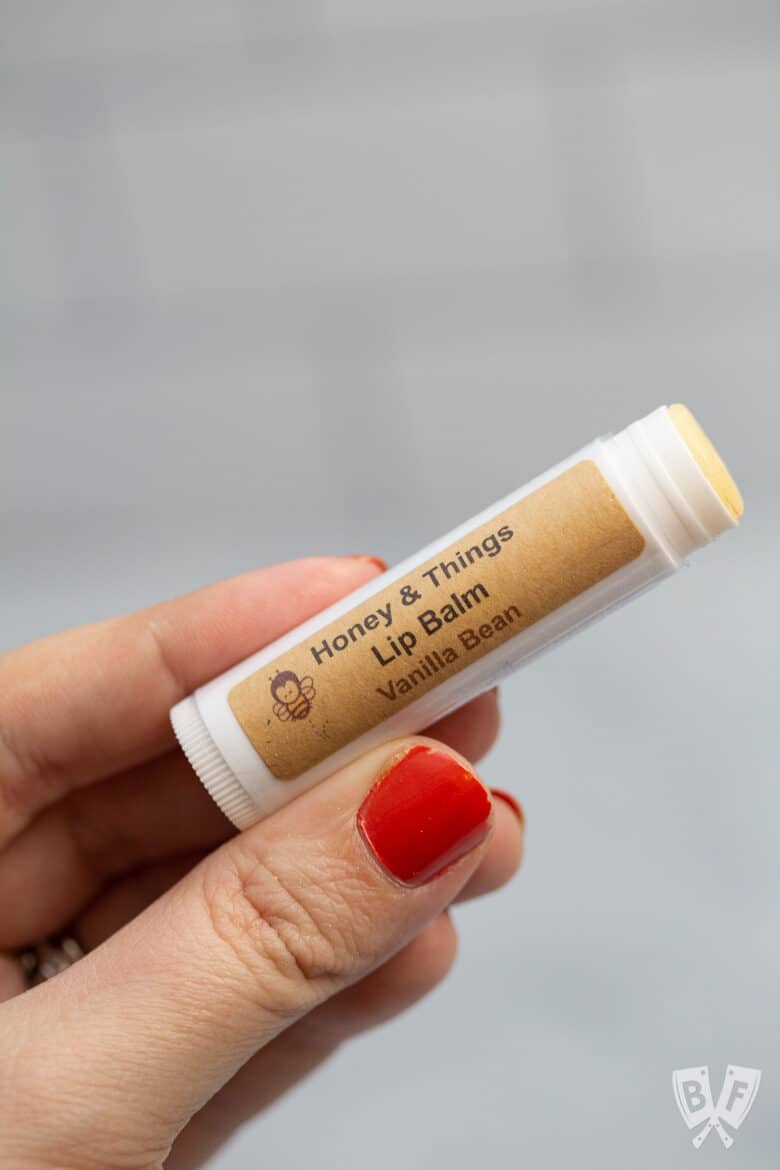 This past year Karen & Theresa developed a soap line and added bath bombs to their offerings.
Honey & Things also sells loose teas, teapots, teacups, and other tea accessories as well as an assortment of gift baskets.
All of their products are available online at honeyandthings.net.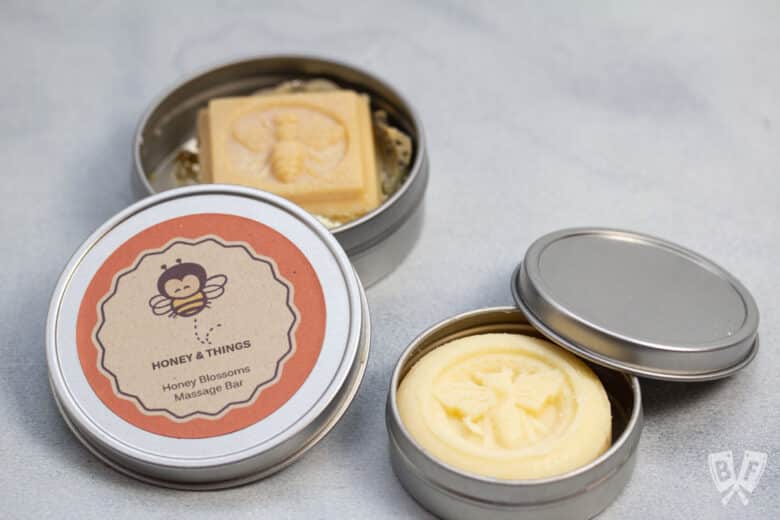 Uncle Tom's Cabin Moon Gulch Hot Chocolate Mix
This last one is one of my very favorite holiday gifts to give. It's a homemade gift that comes together quickly and is guaranteed to bring a smile to any recipient's face.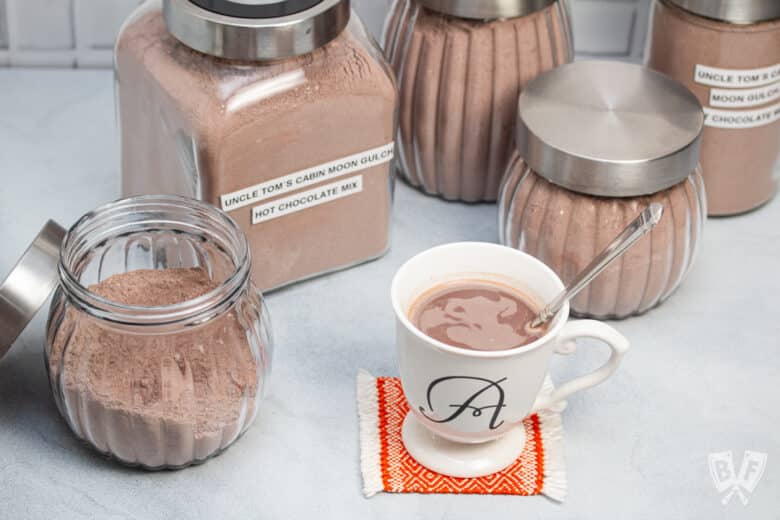 I recently updated a post that was posted well over a decade ago here on Big Flavors from a Tiny Kitchen for my very favorite way to enjoy hot cocoa.
The recipe for Uncle Tom's Moon Gulch Hot Chocolate Mix is super simple and absolutely delicious.
I learned to make it from a teacher in middle school and you can read more about why it was so meaningful to me in this post.
For gifting, a festive bag or glass jar is all you need! The recipe makes a LOT of mix, so you can divvy it up and gift it to several people.
I like including a little note that says "Fill mug ¼- to ⅓ of the way with hot cocoa mix, then stir in boiling water." and attach that to the package.
To go a step above, you could add a bag of mini marshmallows or candy canes to go alongside your hot cocoa mix.
You could also take it to the next level with a hot cocoa board! If you want to learn how to assemble one of these epic spreads, I have a live virtual class coming up on Monday, December 21st to show you how. You can register here.
An on-demand replay will be available afterward, and I'll post that here once it's available.
Thank you again for considering shopping small and helping out independent businesses. Your support means the world to them, and there are so many great ones to choose from!
I hope the rest of 2020 treats you well, friends! I'm looking forward to lots more deliciousness here in 2021!