This post may contain affiliate links, which won't change your price but will share some commission.
Part 2 of this year's gift guide is sliding in just a few days before Christmas. If you missed part 1 of my 2018 holiday gift guide, you can check that out here.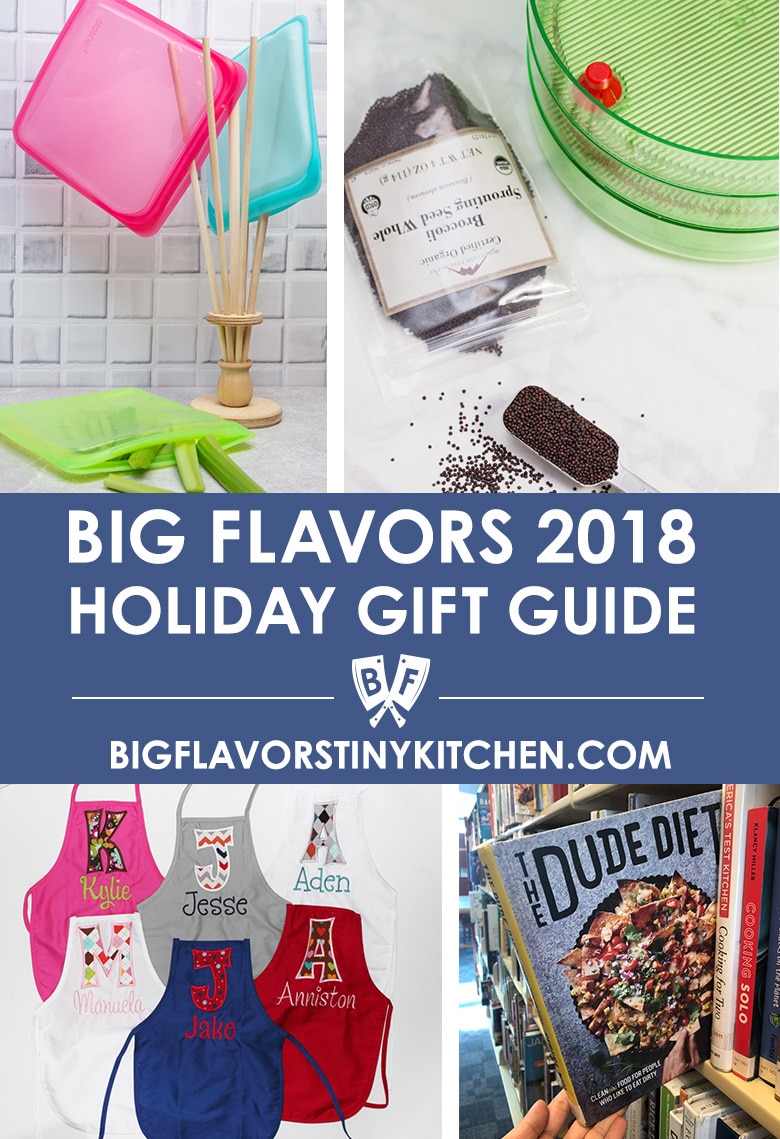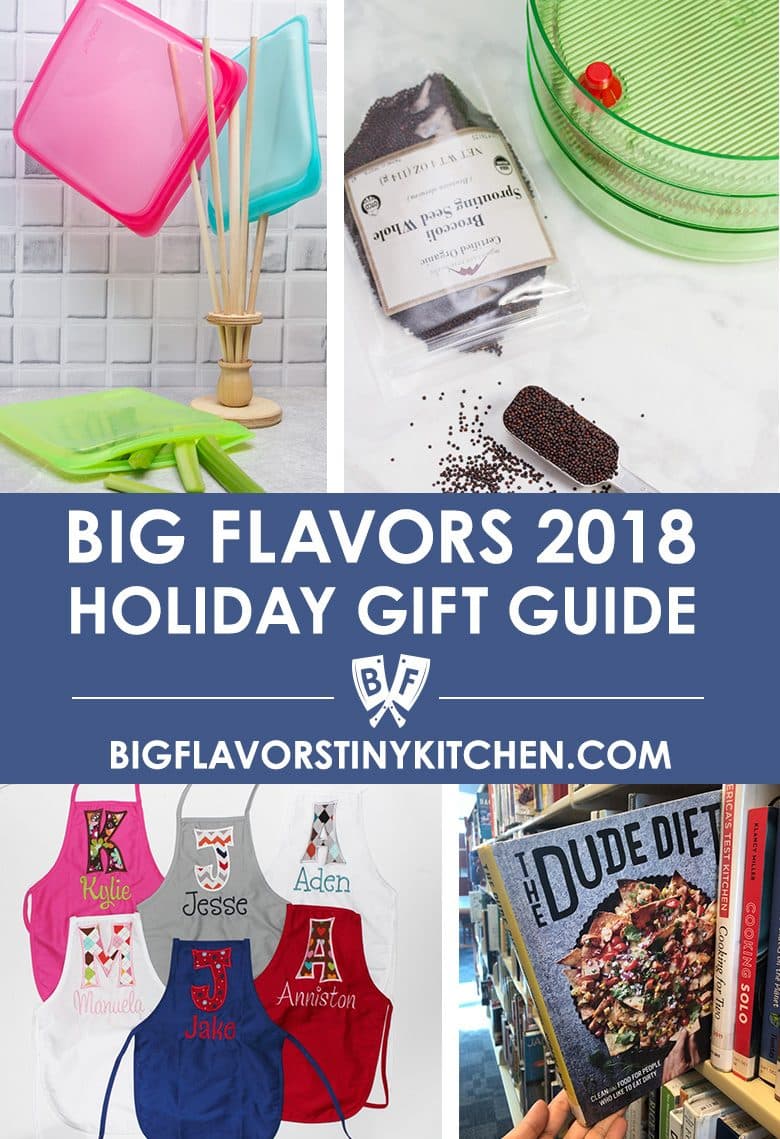 This post may contain affiliate links.
First up is my latest green kitchen obsession - Stasher Bags. These reusable, non-toxic storage bags are made of 100% pure platinum grade silicone, which is a higher grade than food grade.
They're a great way to reduce the amount of disposable plastic that you use. And there's so much more to Stasher Bags than other types of reusable bags!
Stasher Bags are safer, more flexible and sustainable than plastic. They're free of BPA, BPS, lead, latex, and phthalates. They're made of nonporous silicone that helps inhibit bacterial growth, mold, and germs.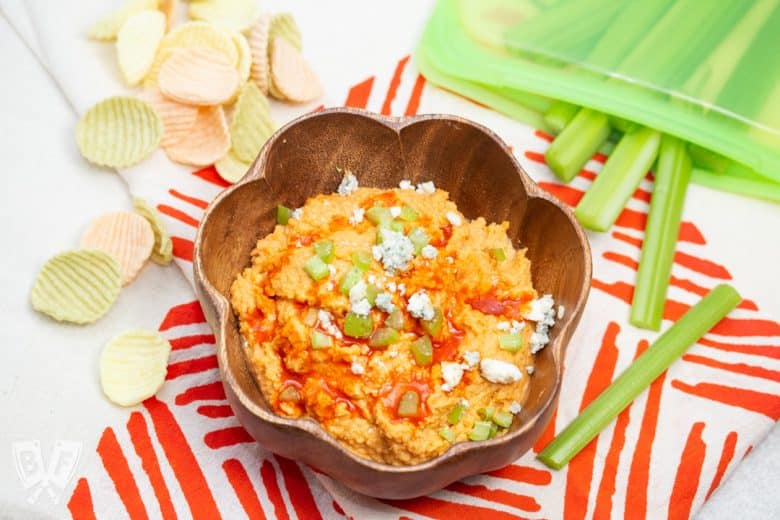 Aside from being used to store leftovers and snacks, you can freeze and even cook right in these bags!
That's right - Stasher Bags are safe for use in the microwave, cooking sous vide, in a standard oven, or in a pot of boiling water - all up to 400°F.
Here are some of the many ways that you can use Stasher bags:
Storing partially used produce - I frequently store half lemons, onions, and avocados in mine. The avocados seem to stay green longer when stored in them!
Bringing snacks out and about - I love using mine for cut up fruits and veggies, trail mix, muffins, cheese, and more.
Meals on the go - on days when my son has swim lessons, I pack up dinner for my husband and use Stasher Bags for some or all of the components so he can eat while we sit on the bleachers during the class. After he finishes up, he puts his dirty utensils and cloth napkin in the Stasher Bag, seals it up, and we can bring the dirty stuff home without making a mess in transit!
Smoothie prep - stash ingredients away in the perfect proportions so that your favorite smoothie flavor combos are ready to go when you are.
Heating tortillas - place a stack of flour tortillas in the bag and microwave it for 15-30 seconds. You can pull them out as you need them while the rest stay warm. Perfect for fajitas, taco nights, and more!
Making popcorn - I haven't tried this one yet, but I'm very intrigued!
Keeping your herbs fresh - check this post out for tips on how to use Stasher Bags to keep your herbs fresher, longer!
Gift giving - ditch the disposable wrapping paper and give a gift in a Stasher Bag! There are so many fun DIY gift ideas out there, too!
Cooking in your Stasher Bag - there are lots of different ways that you can cook in a Stasher Bag. Plenty of ideas over on the Stasher site!
Cooking sous vide - if you have an immersion circulator for cooking sous vide, you can replace the disposable plastic bags with reusable ones to cut down on kitchen waste! I haven't tried this yet but I'm looking forward to doing so SOON!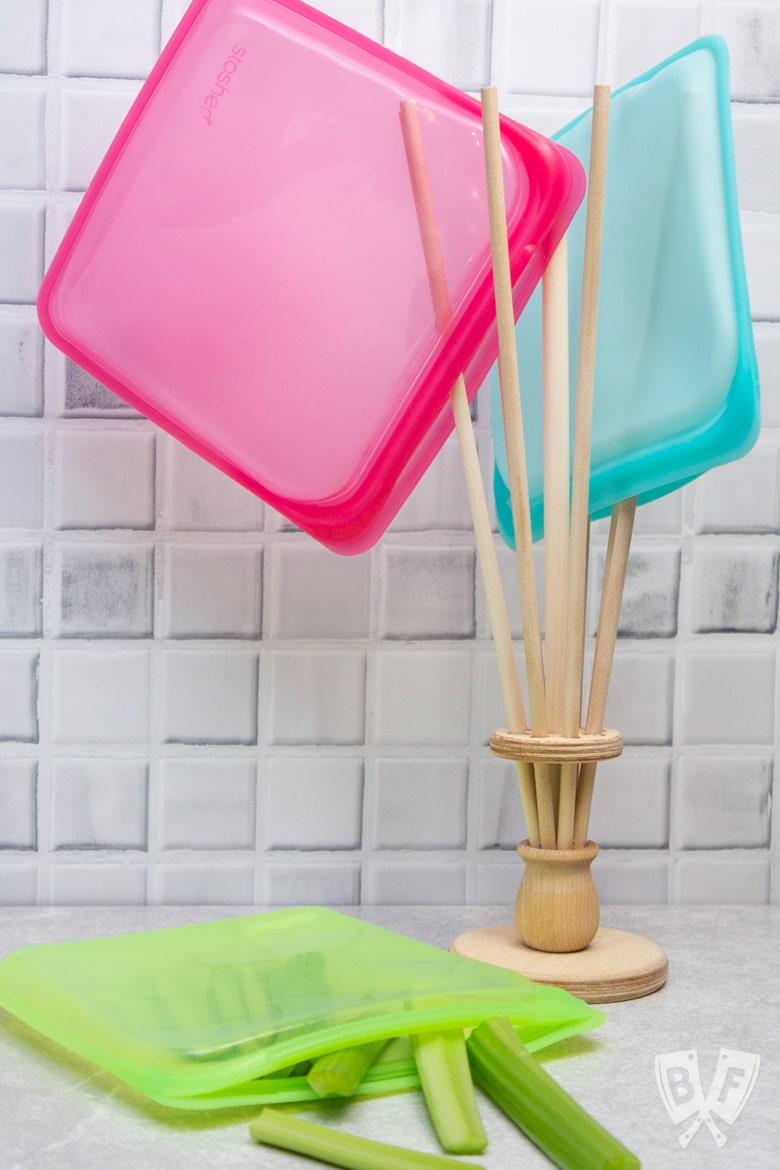 Cleaning Stasher Bags is easy - I usually just hand wash them and dry them on a rack like this one, but they're also top-rack dishwasher safe.
They currently come in 3 sizes: snack bags (9.9 ounces), sandwich bags (15 ounces), and storage bags (64.2 ounces). They also sell combo packs with more than one of the same size or several different sizes.
There are lots of different colors of Stasher Bags available, and they keep adding more. They also send out some pretty great coupons if you subscribe to their email list. It makes it easy to find good times to stock up!
Next up is one of my favorite finds from this past year - a vertical sprouting kit!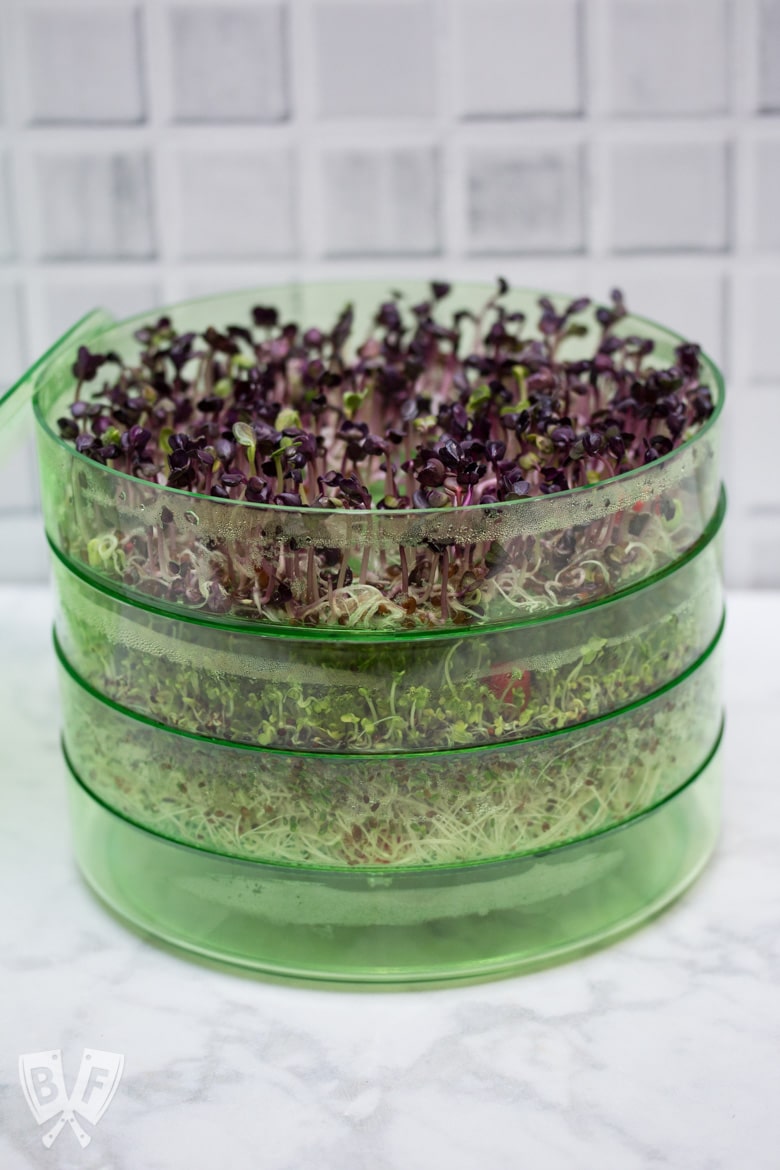 I have an entire post dedicated to exactly how to grow sprouts in your own home using 3 different methods. This vertical canister kit from Mountain Rose Herbs was by far my favorite of the bunch.
Here's a quick refresher on the benefits of growing your own sprouts, in case you're wondering why you'd want to start your own sprouting adventures:
Affordability! Seeds can multiply 7-15 times their weight – a single package of sprouting seeds can provide you with so many batches of fresh sprouts. A comparable amount of store-bought sprouts would cost much, much more.
Growing is quick! Most sprouts will be ready in just 5-8 days!
Quality! You can grow your own organic sprouts – no chemicals, soil, bugs, or questionable ingredients, or growing practices involved.
Freshness! Picking your sprouts the day you want to eat them means there's no loss of nutrients.
Year-round availability! Since you're growing indoors, you can enjoy fresh sprouts at any time of year – even in the dead of winter!
Minimal space required! As someone with limited space, I like that none of these growing options require too much countertop real estate.
Portability! You can bring your sprouting gear on vacation with you and enjoy fresh sprouts anytime, anywhere!
Variety! No need to rely on what the store has in stock. You can keep a variety of sprouting seeds at home and grow one or several any time you want!
Family fun! My 6-year-old got really into watching the process of how sprouts grow and helping to take care of the sprouts at every stage. It's a fun kind of edible experiment!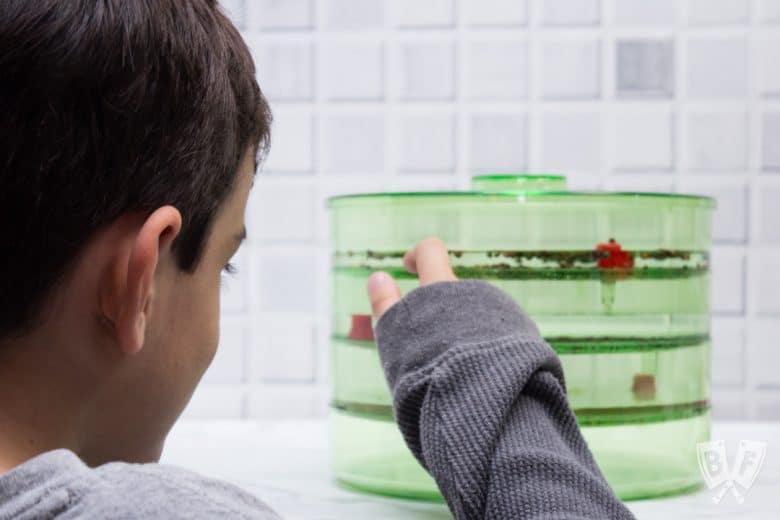 A kit like this is great for anyone who enjoys gardening. It's even great for those with less than stellar green thumbs - using a sprouting canister kit requires minimal maintenance (you water it twice a day - that's pretty much it!) and allows you to have fresh greens all year round.
I have some broccoli seeds sprouting right now. There are tons of different types of sprouting seeds out there, so have fun experimenting!
Doing some shopping for the kiddos in your life? These personalized aprons from First Crush Designs are by far one of my favorite gifts to give!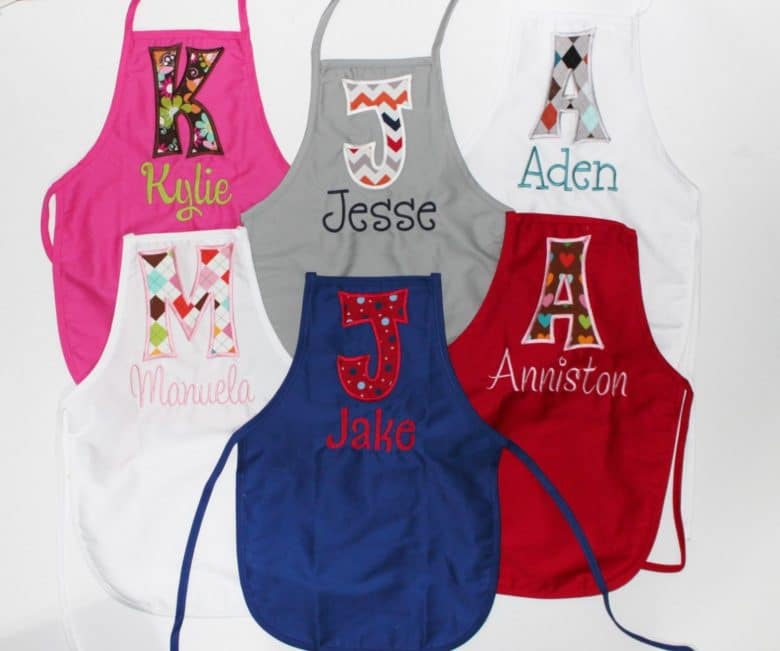 I've been ordering aprons from the First Crush Designs Etsy shop since 2014. The shop is based in Denver, Colorado, and offers lots of different personalized, embroidered items.
I fell in love with these aprons back when I ordered one for my son when he was a toddler. Back then, the aprons didn't have pockets, but now they come standard. Woo!
You can choose between 12 different fonts for embroidery and 92 fabric options for the initial on the front of the apron. The aprons currently come in blue, gray, red, pink, and white. You can also pick the color of thread you want for the name embroidery.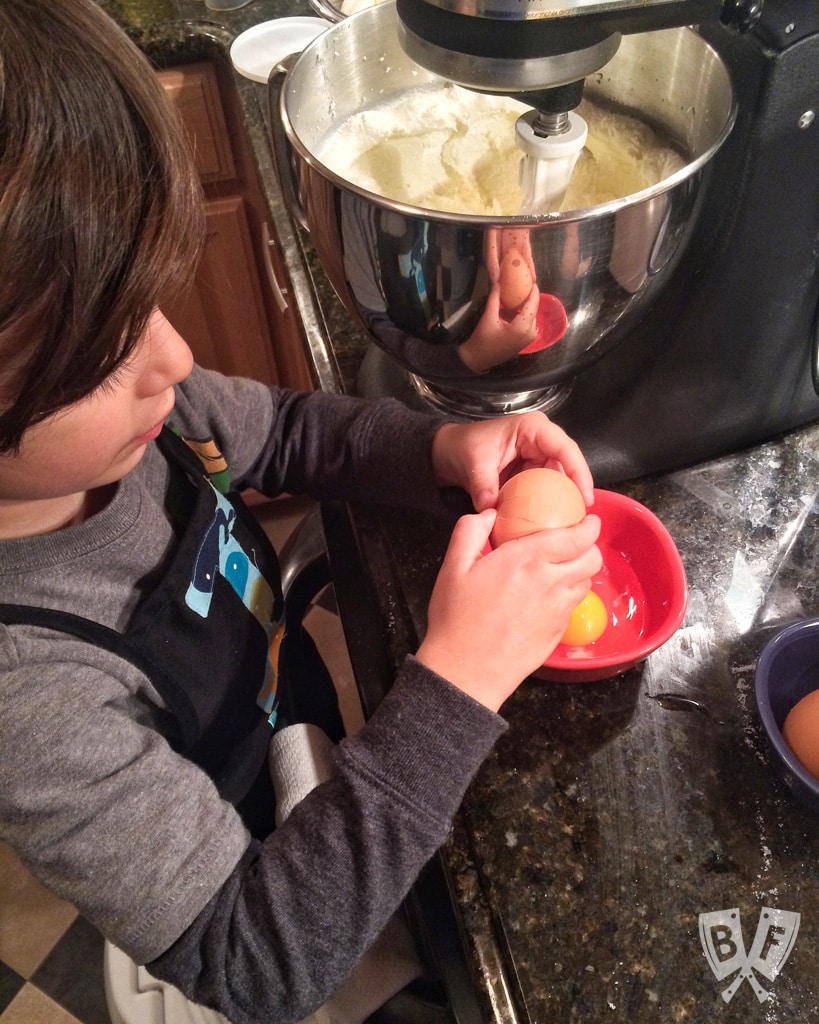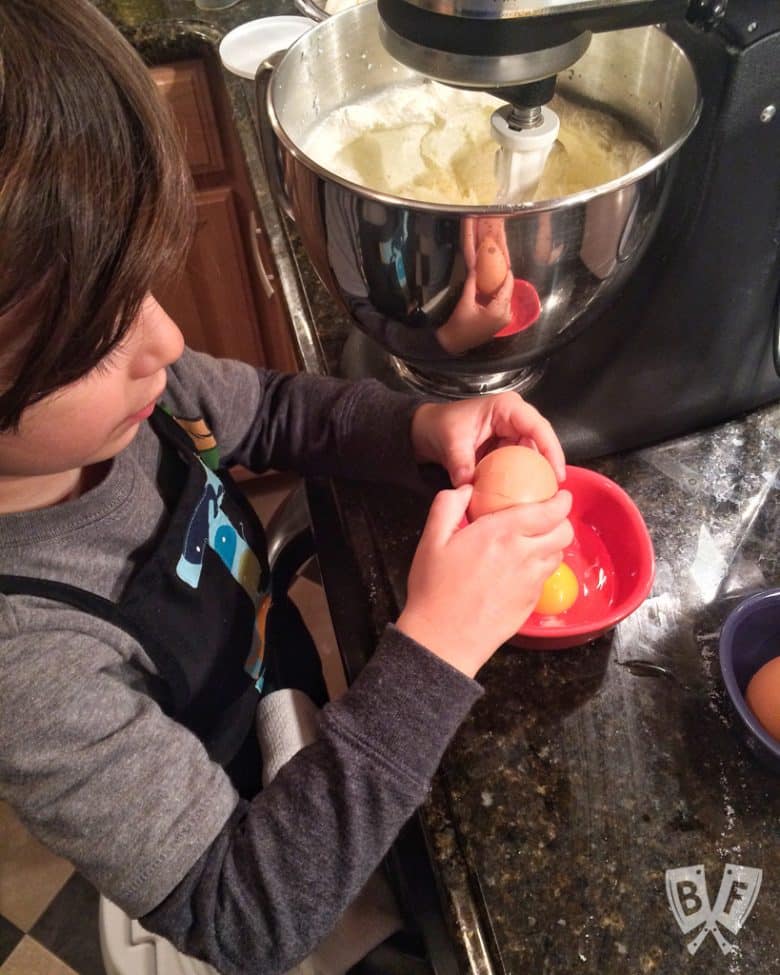 I've bought these as gifts for so many of our friends' kids over the years. They're incredibly well-made, and the customer service is top notch if you have any questions or concerns.
My son's apron has held up well for many, many years now. First Crush Designs also offers chef hats with names embroidered on them, which is available as a really cute gift set with an apron.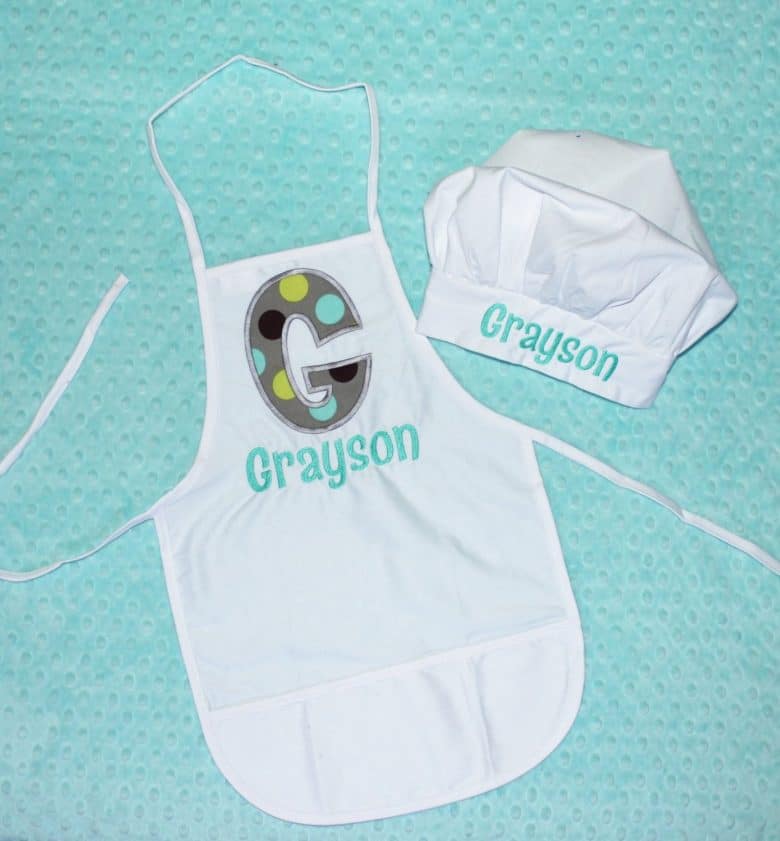 This is such a fun way to encourage kids to get in the kitchen and cook. It'd be even better paired with a set of my favorite kids' cooking tools!
Last up for this year's recommendations is The Dude Diet by Serena Wolf.
You can see me flip through this gorgeous cookbook and chat about it if you skip to the 14:45ish mark on the video below:
This cookbook ROCKED MY WORLD when I checked it out from my local library a few months ago. The book lives up to its claim as "Clean(ish) Food for People Who Like to Eat Dirty".
The recipes in The Dude Diet are healthier takes on a lot of "guy food" classics. Serena packs major flavor in these recipes, and you don't feel like you're missing out on "the good stuff" at all.
The first thing that caught my eye was her Magic Faux-Tisserie Chicken. She has a method for making a "rotisserie" chicken at home in a standard oven that will knock.your.socks.right.off. It takes some time but it's almost entirely hands-off, and well worth the wait.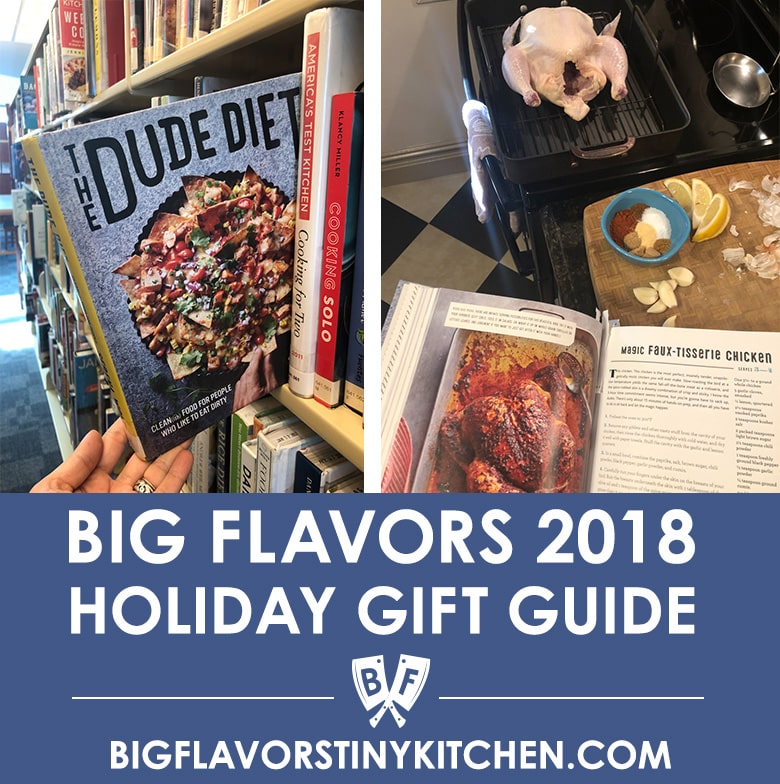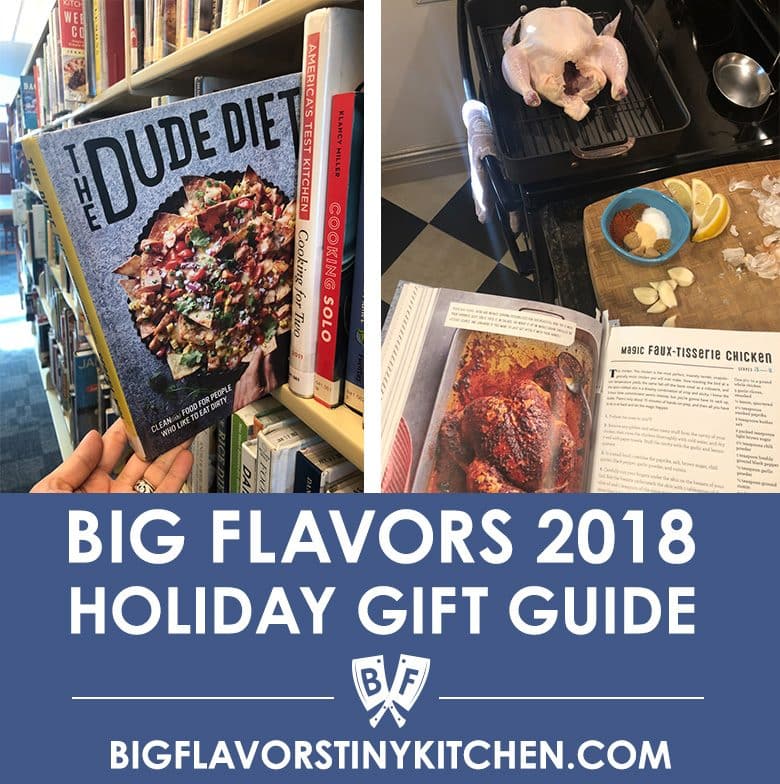 This chicken was a HUGE hit with my family, as were all of the other recipes I've made from her cookbook. And there's a Dude Diet 2 in the works that's due out next fall. I plan to preorder that bad boy!
Serena's writing is hilarious (as is her Instagram page - her stories are GOLD) and she breaks things down and explains them in an easy to understand manner, no matter what your skill level in the kitchen.
Other recipes that I've made from this cookbook so far are her Epic Meat Loaf (which uses a mix of ground beef, ground turkey, cooked quinoa, and sautéed veggies for a gorgeously tender texture), served with the suggested Cauliflower Purée with Parmesan and Chives.
I'm also looking forward to making her spin on Taco Bell Beef Tacos. Those were a childhood favorite of mine, but I'm definitely anxious to try them without any mystery ingredients.
I also have the Stovetop-Parmesan Ranch Popcorn on my roster to make soon.
This book is full of recipes for all occasions, including happy hour - all with less guilt. It's without a doubt my top cookbook pick for the year.
For more on this and the other cookbooks I recommended during National Cookbook Month this year, you can check out the pinned highlighted story from my takeover of the Ossining Public Library's Instagram account.
Need more inspiration? Check out my other gift guides:
Doing some online shopping? Check out my Amazon Shop page for recommendations!