This post may contain affiliate links, which won't change your price but will share some commission.
Looking for funny stocking stuffers + holiday gift ideas for the food lovers in your life? This collection of 25 food + drink items is sure to be a hit!

This post contains affiliate links.
I was having a deliciously productive breakfast meet-up/work session at a local coffee shop last week with my friend Jen (from Cuddles and Chaos) when the topic of holiday gift guides came up.
We've both done gift guides in the past - you can find my full roster of gift guides by clicking here.
While we were discussing this year's holiday picks, we started talking about funny gifts and white elephant gift exchanges. Have you ever participated in one?
I love a good gift swap. At my last office job, I was the (voluntary!) organizer for anyone who wanted to get in on the holiday gift exchange fun.
Jen and I did a little digging online to see what the majority of people called this type of gift exchange - it mostly came down to white elephant or Yankee swap.
We decided to go with white elephant and looked into the history of the name. It's actually pretty interesting - according to whiteelephant.info:
The origin of the name "White Elephant" comes from the Thai phrase: "Chang Samkhan", but in Thai language white in this instance is not a reference to the color, but rather desirability. The direct translation is referring to "purity" and the actual translation is "Auspicious Elephant" thus confirming the desirability of these rare animals for the rulers of these lands in ancient times.
Whatever you decide to call it, a gift exchange that includes ridiculously over-the-top, quirky, silly, pun-tastic gifts is always a good time. I personally enjoy throwing at least one silly gift under the Christmas tree or as a stocking stuffer each year, too.
And now, without further ado, here are my 25 picks for funny gifts that are perfect for the food and beverage enthusiasts in your life.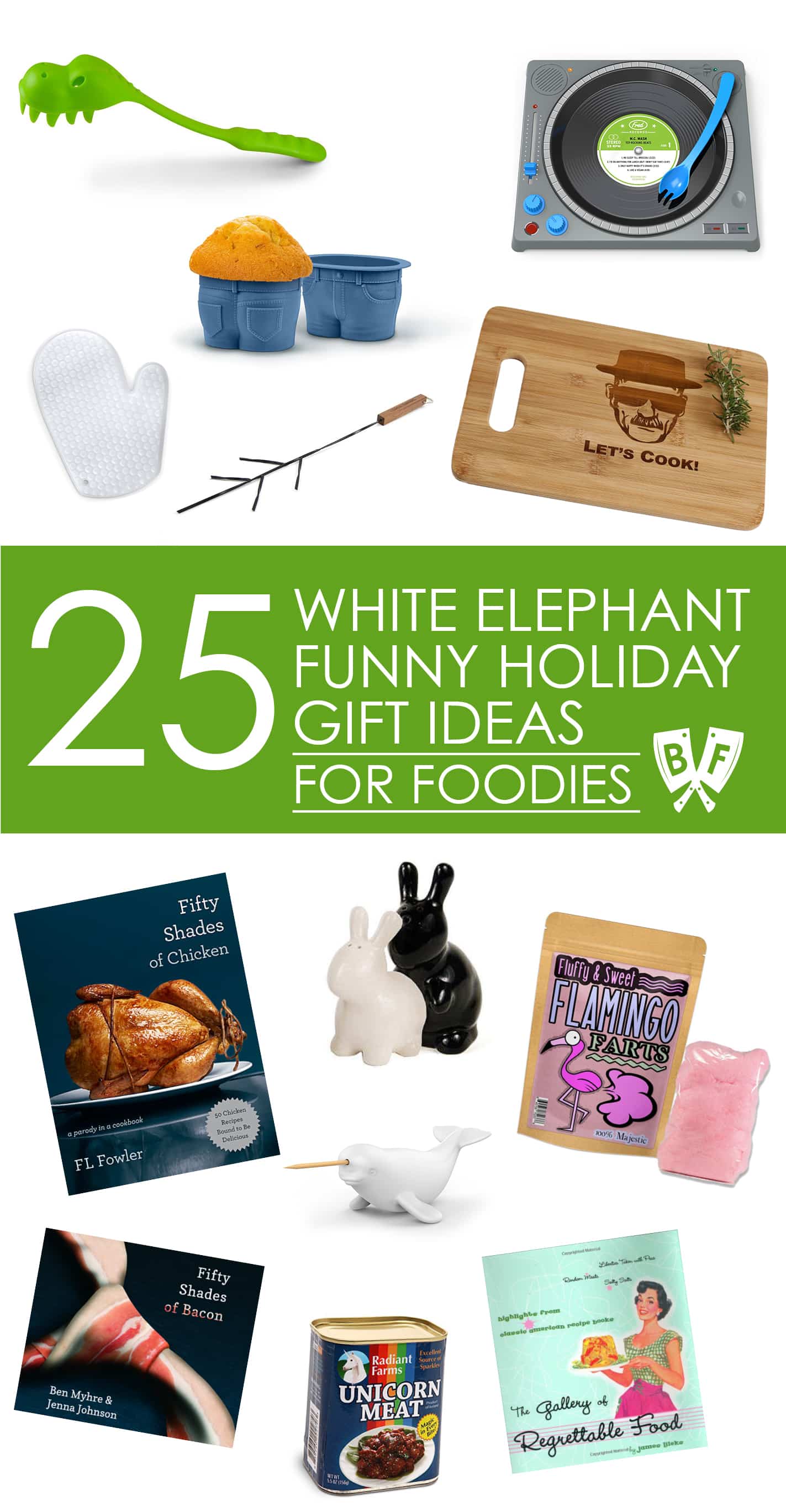 1. PASTASAURUS - this pasta server features a dinosaur-shaped head with "pasta-snagging teeth". It has eye holes and nostrils that are used to drain cooking liquid away from your pasta. And it's top-rack dishwasher safe, just like most dinosaurs. Rawr.
2. DINNER DJ - this interactive kids' dining set has a record-style spinning plate, "tone arm" spork, and moveable knobs and levers. It's a fun way to play with your food without getting in trouble! My son would love this set, though at the moment he takes sooooo long to eat his dinner that I'd be afraid he'd be stuck at the table all day trying to make it through each and every meal.
3. Muffin Tops Denim-Style Baking Cups - I first saw these yeeeears ago and I still crack up every time I come across them. "As Muffin Tops bake, they develop that little extra bulge around the middle... Eat up, it's just a little more to love."
4. Silicone Bubble Wrap Oven Mitt - un-poppable and legitimately functional for pulling hot items out of the oven. If I owned this I'd giggle every.single.time I used it.
5. Charcoal Companion Non-Stick Marshmallow Twig Skewer - this would be so much fun to take on a camping trip upstate to my uncle's hang gliding and paragliding park. You can really maximize the number of marshmallows you roast at once and upgrade your s'mores game big time!
6. Breaking Bad Cutting Board - a laser engraved bamboo cutting board for the Breaking Bad fans in your life. Ready? Let's Cook!
7. Fifty Shades of Chicken - this parody cookbook was actually the main point of inspiration for this gift guide. I had picked it up from the library a few years ago because the title and cover art cracked me up. I made a few of the recipes and they ended up being absolutely delicious! I personally can vouch for the Roasted Chicken with Bacon and Sweet Paprika and Roast Chicken with Brandy-Vanilla Butter. With recipe titles like Dripping Thighs, Sticky Chicken Fingers, and Bacon-Bound Wings, this book is sure to tantalize your senses.
8. Bunny Rabbit Salt & Pepper Shaker Set - my brother & sister-in-law have these on their stove. We like to refer to them as the "doin' it bunnies" because... well... you get the idea. You may have spied them in the background of some of my Instagram photos when I was out in Indiana cooking for them over the summer. I had a few people ask where they could find them, so I figured they'd fit in perfectly this snarky holiday gift guide.
9. Flamingo Farts Cotton Candy - this would be a perfect stocking stuffer. The packaging claims that it's fluffy & sweet. Nothing like a little cute-yet-crude humor to get you through the holidays, right?
10. POLAR PICKS Ceramic Toothpick Dispenser - I never want a toothpick delivered to me by any other method than narwhal from here on out. Please and thank you.
11. Fifty Shades of Bacon - another funny cookbook that's billed as, "...an erotic cookbook that delves into the full bacon experience. Ok, it is not erotic at all, but it is a tongue in cheek delivery of some great bacon recipes.". It contains 50 bacon-tastic recipes. (And if you're looking for my own collection of bacon recipes, you can check them out here!)
12. Bag of Unicorn Farts - this is a bag of cotton candy that claims "a rainbow of smiles inside". There used to be a great canned unicorn product that came in a SPAM-like tin can, but now it's just a regular can of unicorn meat (without a description of what's actually in the can, so who can be sure??).
13. The Gallery of Regrettable Food - this is another item that I actually own. It was a gift from my mom and it is hysterically terrible. The back of the book warns, "This is not a cookbook. You'll find no tongue-tempting treats within -- unless, of course, you consider Boiled Cow Elbow with Plaid Sauce to be your idea of a tasty meal." It's a hilarious assortment of poorly photographed food from the 1940s, '50s, and '60s. Expect lots of Jello molds and aspic. SO much aspic.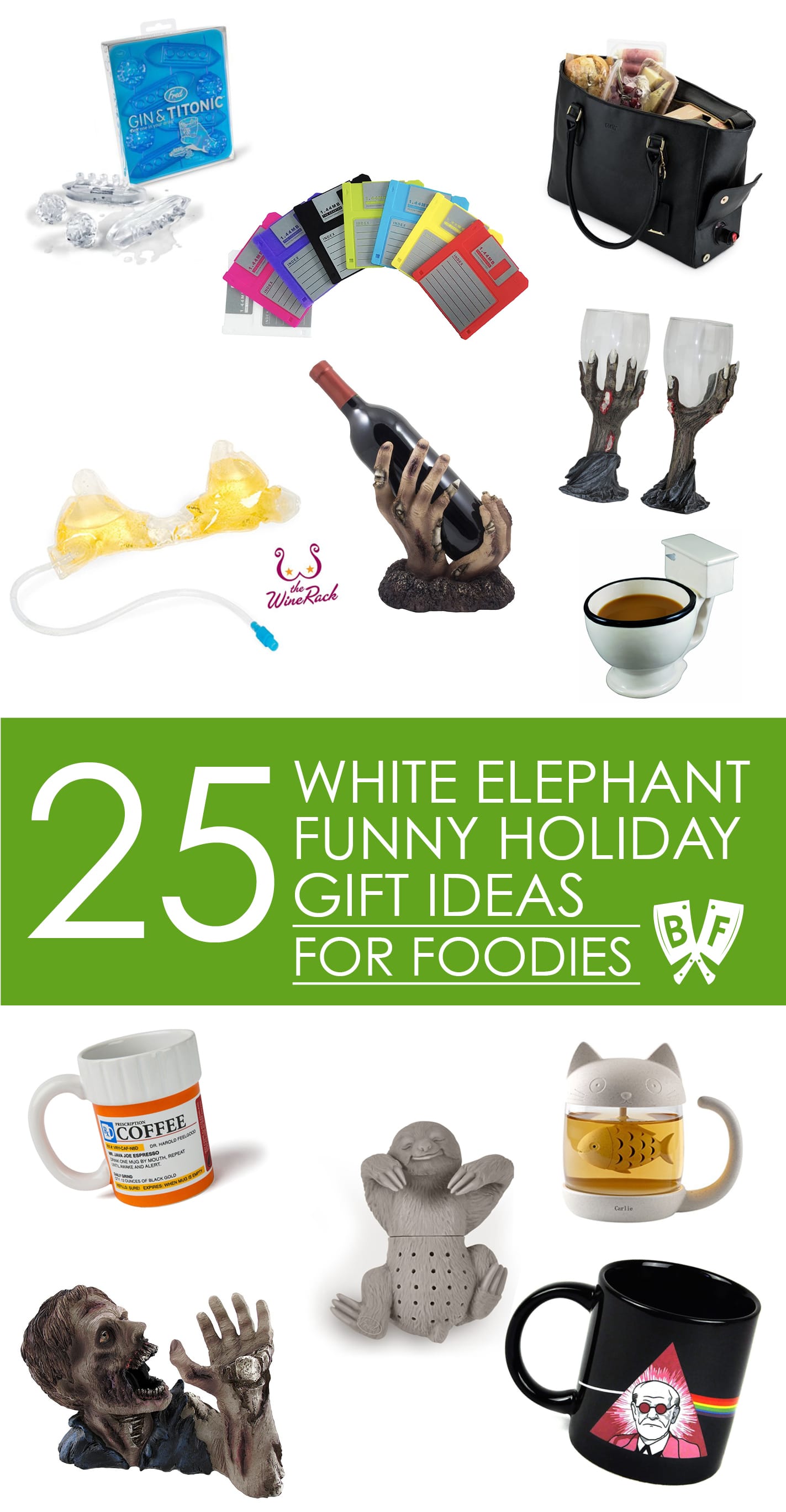 14. Gin and Titonic Ice Cube Tray - because nothing ups your G&T game like floating ocean liners and icebergs. Just add Leo DiCaprio, Kate Winslet, and get ready to draw me like one of your French girls.
15. Floppy Disk All-weather Coasters - boring coasters are a thing of the past! These retro coasters are dishwasher safe and good for indoor or outdoor use.
16. Insulated Wine Tote Bag with Key chain Bottle Opener - sneak your drink with this covert accessory. This handbag holds a full bottle of wine under a divider and includes a magnetic closure flap that hides access to spigot for easy wine pouring. You can even use it with ice packs to keep your wine cold for hours. I can think of several upcoming occasions where this would come in VERY handy.
17. The WineRack - OK now this item cracked me up more than any other item on my list. It's a legit sports bra that you can fill with wine. It comes with polyurethane bladder that holds 25 ounces of your favorite beverage and fits anything from size 34A through 34D. It has a long drinking tube with easy-to-use on/off valve to control the flow. Reading some of the customer reviews here is hilarious, too.
18. Zombie Rising up From the Grave Wine Bottle Holder - why keep the Halloween decorations restricted to October? This piece depicts a zombie rising up from the grave to deliver a bottle of your finest vintage.
19. Toast of the Zombie Sculptural Goblets - because apparently we've been doing it wrong while toasting during episodes of The Walking Dead up till now. Dead wrong. (I'll show myself out...)
20. Toilet Mug - like potty humor? This mug looks like a toilet and holds up to 12 ounces of your favorite beverage. You can also use it as a candy dish. Just don't forget to wash your hands after using it.
21. The Prescription Coffee Mug - I actually bought this for my step-sister a few years ago as a graduation gift when she finished nursing school. This mug holds up to 12 ounces of the world's best medicine – coffee!
22. SLOW BREW Sloth Tea Infuser - a heat resistant silicone tea infuser hangs patiently inside your mug while you brew the perfect cup of tea.
23. Cat Glass Cup Tea Mug with Fish Tea Infuser Strainer Filter - this mug will help you raise through the ranks on your way to becoming the ultimate crazy cat lady.
24. Elixer of the Undead Zombie Wine Bottle Holder - I actually have a few friends who would love to have this piece in their homes. It's made of resin and the zombie's hands and mouth will securely hold most 750 milliliter wine bottles at an angle (to help preserve the life of the cork).
25. Pink Freud Mug - another hit from the Unemployed Philosophers Guild (home of so many of my favorite gifts to date), this mug depicts Freud's portrait in Flamingo-pink as part of the iconic artwork from Pink Floyd's Dark Side of the Moon. "Is There Anybody Out There? Nobody's as out-there as this mug."
OK, that's all I have for now. I had so much fun compiling this list. I'd love to hear about your favorite gag gifts in the comments section below!
Still looking for more ideas? Head over to Cuddles and Chaos to check out Jen's list of funny white elephant gift ideas, too! And while you're at it, check out her new podcast, Majestically Awkward. She refers to it as, "...an amusing exploration of awkwardness that will get better with age." and it has been a phenomenal addition to my podcast repertoire.
Looking for more gift guides? You can check out other gift guides I've compiled by clicking here.
Need a cocktail to go with your online holiday shopping? Here are a few recommendations: