This post may contain affiliate links, which won't change your price but will share some commission.
Wow your friends & family with these tasty edible (and drinkable!) holiday gifts. You can find part 1 here.
This year's gift guide is extra special to me, as I'm including several small batch, artisan products that have really wowed me over the past year.
There are lots of tempting items included – everything from stocking stuffers to new kitchen appliances. And they're all guaranteed to bring more deliciousness into your life!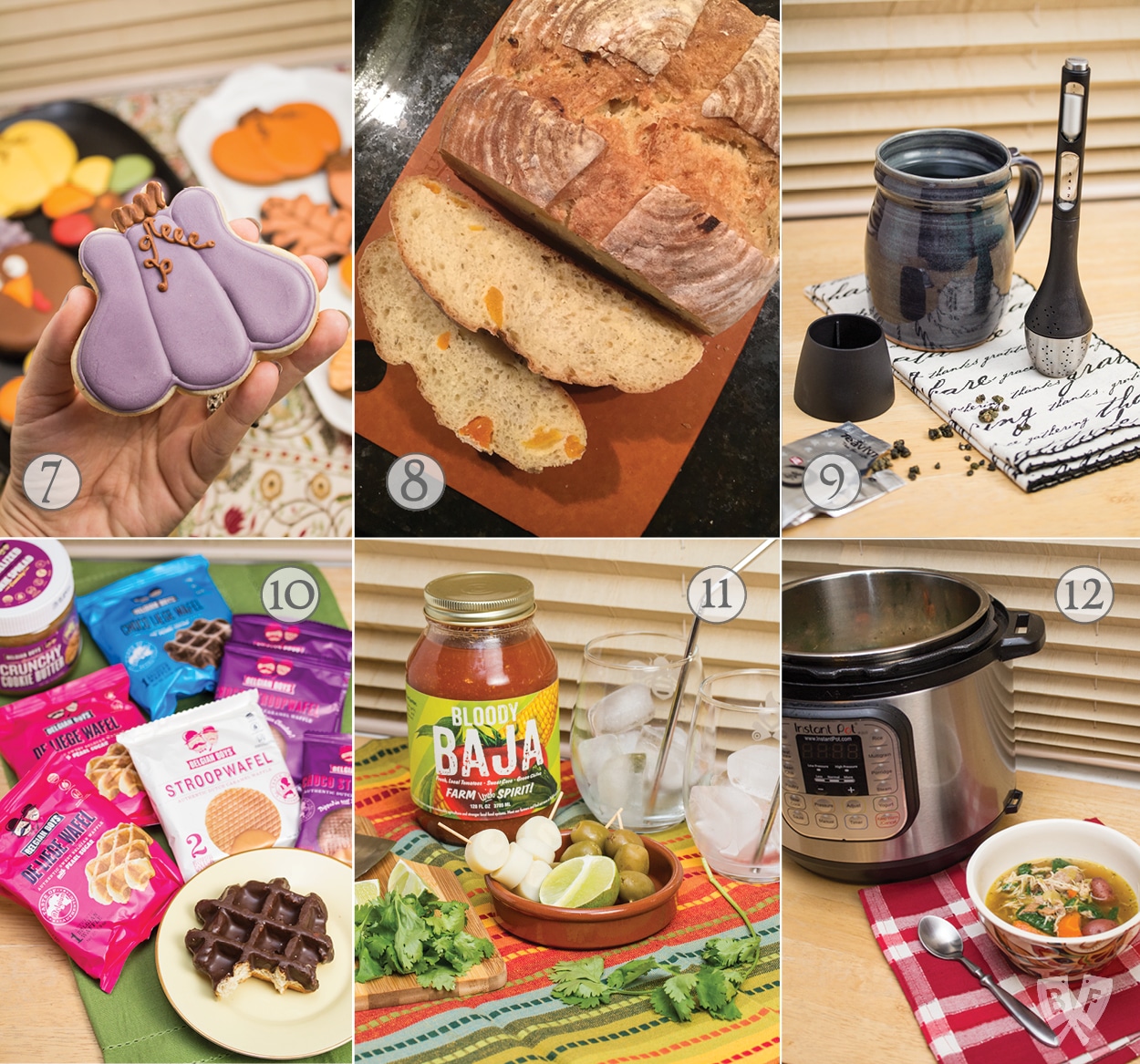 7. When I saw the homemade, hand-decorated gingerbread cookies from Baked by Kristen Z at a local farmers market, I.Was.Floored. Her cookies are ridiculously adorable, and the designs are executed flawlessly. And they're delicious, to boot! A batch of holiday-themed cookies would be absolutely perfect tucked into stockings or nestled among the branches of any Christmas tree.
And if you're ever in the market for custom cookies, she makes (and ships!) ANY cookie for ANY occasion. I loved the assorted fall/Thanksgiving ones that I got to try. How cute are this pumpkin pie cookie, these winter woodland creatures, and these snowmen?! I've totally been stalking following her creations online ever since. You can order her gorgeous cookies online, and you can also find her at the Hudson Valley Hospital's Holiday Farmers' Market on Tuesday, December 20th from 11am-5pm. If you're in the area, stop by, say hi, and scoop up some of the cutest cookies you'll ever see! Bonus fun fact: she recently got engaged to the farmer who runs my local farm. Talk about a power couple!
8. Give the gift of gluten! Speaking of artisan goods baked right here in the Hudson Valley, I'm obsessed with Journeyman, a community supported bakery (CSB) located in Peekskill, New York. All bread is baked by Westchester resident Michael Sellers, who is focused on preserving the ancient tradition of bread baking while exploring the role that bread plays in sustaining a community.
I picked up this semolina, fennel & apricot bread from the farmers' market a few weeks ago and have been dreaming of it ever since. You can really taste the love that goes into his breads, and each variety I've tried has been so beautifully balanced. His online store has both individual products and bread subscriptions. How perfect would it be to get such a quality bread delivered right to your door every single (or every other) week? Pure. Carb. Heaven.
9. I've used my share of tea infusers, but this Magnetic Hourglass Tea Timer and Infuser from UncommonGoods is by far the best one I've tried. I love that it's easy to open and close, has a wide opening for loose teas, and comes with a base to catch any drips. The little hourglass on top has a magnet on each side that you can flip over to start a new timer - no need to worry about over-steeping your teas ever again!
And I know I've mentioned them before, but I really do enjoy the wide variety of premium loose teas from Teavivre. They have so many varieties, and they all come with a brew guide for proper steeping. I had the Taiwan Jin Xuan Milk Oolong Tea last night (that's the one pictured above) and it totally hit the spot.
10. Get your stretchy pants ready for an adventure with Belgian Boys! The self-proclaimed Troublemakers of Taste  make some of my favorite, deviantly delicious, Belgian desserts. When I first saw their De Leige Wafels in the store, I was ridiculously excited. My father-in-law grew up in Belgium and had been talking about the waffles from the city of Liège for yeeeears, and how much he had been missing them. So I scooped up some of them and totally made his (and my!) day.
They have a huge line of treats (spoiler alert: they're all addictive!) that would make perfect stocking stuffers. Or, you know, snacks for while you're writing up a holiday gift guide.
Ahem.
11. Give your happy hour the ultimate upgrade with Bloody Mary mixers from Back Pocket Provisions. This is my good friend Jen's company, and I have to say, she's a bloody genius! Her small batch mixers are made with fresh tomatoes grown locally on farms in Virginia. The ingredients are carefully selected, and each batch contains the perfect blend of ingredients to give you the best Bloody Mary you've ever tasted. You can taste the freshness, and it's absolutely incredible.
Last year, I set up a Bloody Mary bar with Bloody Brilliant (her take on the classic) and Bloody Bangkok (a Thai-inspired spin that packs a spicy punch). Both varieties rocked our worlds, so I was thrilled to get to try out the Bloody Baja earlier this week. It's infused with smoked paprika, local green chilies and Certified Organic, non-GMO sweet corn. Holy moly. I made the Este Guey recipe that was on the jar (helloooo, tequila!) and garnished it with blue cheese-stuffed olives and hearts of palm, along with the recommended cilantro-rimmed glass. It. Was. Everything. I can't pick a favorite, and I'm so glad I don't have to!
And if you're looking to upgrade your bar game even further, consider getting reusable straws! I've been loving these stainless steel ones that I picked up from Zicome on Amazon a while back. No need to waste disposable straws, and they even come with their own little cleaning brush!
12. Guys. GUYS. I've been all about my Instant Pot since I got it for my birthday back in July. I've talked it up to anyone and everyone who asks about it (and even to some who don't!). I haven't gotten all of the recipes I've made in it written up yet, but I have tons in the works! It has been a total game changer in my kitchen.
It's basically a slow cooker, pressure cooker, rice cooker (and so much more) all in one. And the price is great - you get a lot of bang for your buck! What I love most about it is that I can sear or sauté food right in the insert, then add liquid and any other ingredients to it, seal it, and let it slow cook or pressure cook all in the same vessel. No need to dirty up a million pots and pans or spend oodles of time cooking. It has saved me on numerous weeknights. And I'm all about pressure cooking eggs for batches of hard or soft boiled eggs in minutes. Easy peasy!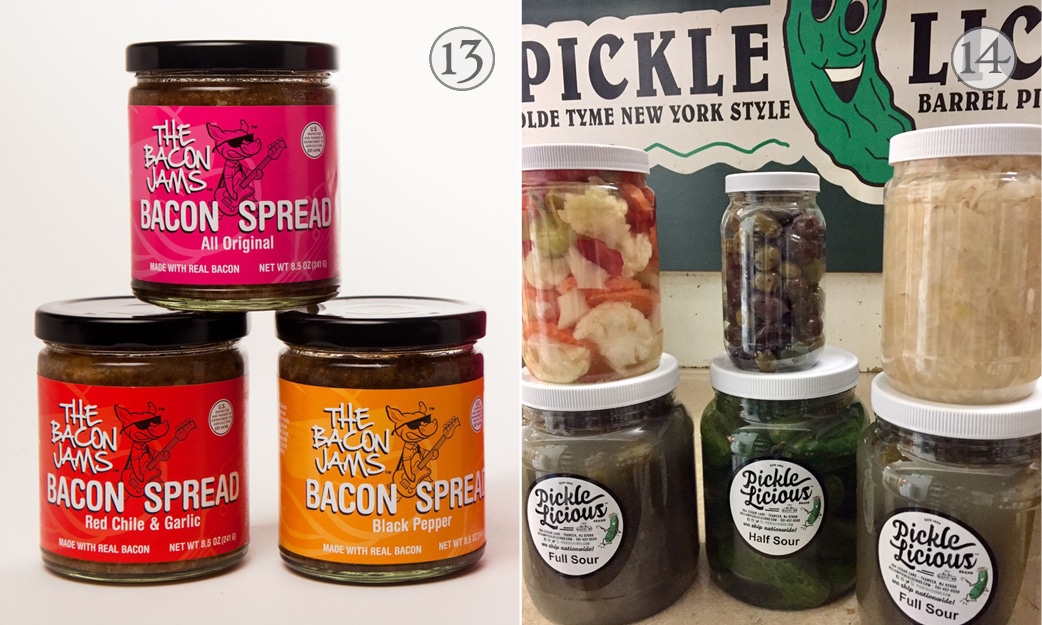 13. Do you really need an excuse to give the gift of spreadable bacon? I love the goodies from The Bacon Jams. It's like having deliciously smoky bacon ready to eat 24/7 without having to fry (or bake!) it up. This stuff can be used in so many different ways. My family absolutely adored the Cheesy Bacon + Apple Croissants I made a while back, and it's wonderful spread on toast underneath a runny egg, too. Yum!
They have other bacon-y goodness on their site, too, including an Emergency Bacon Kit that would make a really cute gift for the bacon lover in your life. Their Taste of Philly crate looks fun as well - it's stocked with some of PA's finest gourmet foods.
14. And last but certainly not least, let's talk pickles. I've been shopping at the Pickle Licious stand at the local farmers market for yeeeeears now. If you've seen photos of my kiddo with a pickle on a stick (just $1!) at the market on my Instagram account, I can guarantee you it was at Pickle Licious (and likely one of their New Pickles, our personal favorite variety). In fact, while I was pregnant, I ended up buying several giant containers of different types of their pickles and had to laugh at myself while I was making room for them all in my refrigerator. Of course, that's something I tend to do anyway, it was just extra funny with a big ol' pregnant belly.
Anyhow, Pickle Licious is a New Jersey based company that serves a pretty large area in New York as well. They have an online store now, too, but when I found out that they had a Pickle & Olive of the Month Subscription, I literally squealed with glee. The quality of their pickles and olives are top notch, and this is a really fun and unique gift idea that is sure to be a hit.