This post may contain affiliate links, which won't change your price but will share some commission.
Dry brining poultry isn't just for Thanksgiving! This flavorful seasoning mix brings big flavor and crispy skin to both turkey and chicken.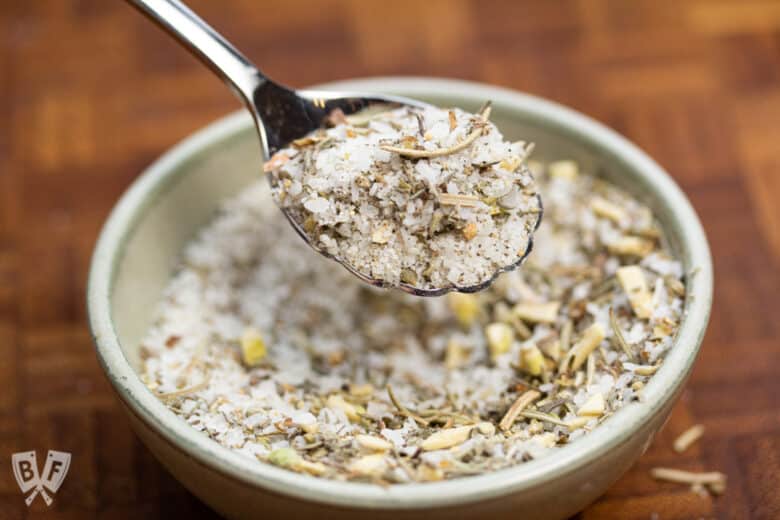 Why we love to use a dry brine
Dry brining turkey or chicken keeps the skin crispy.
The spice blend has more of a direct impact on flavoring the meat.
You get a deep, rich, natural turkey or chicken flavor that injected saline solutions often mask.
You can make a big batch of the spice blend and let it hang out in the pantry so it's ready when you are.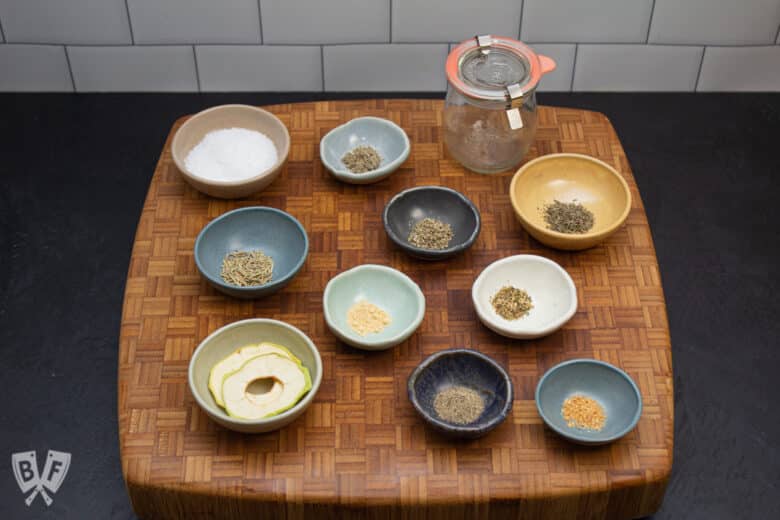 For years, I never made a Thanksgiving turkey. My father-in-law, Settino, was a phenomenal cook, and he always prepared the turkey for our family's holiday celebration.
I always made lots of appetizers, side dishes, and desserts but didn't touch the turkey prep.
When he started getting really sick, me and my husband took over the rest of the Thanksgiving meal prep, including the turkey.
Our preferred method of turkey prep
When trying to figure out the best way to prepare our holiday turkey, we quickly decided that spatchcocking (cutting the backbone out of the turkey and flattening it before roasting) was the most time-efficient way of cooking it.
Spatchcocking allows the white and dark meat to be cooked properly in roughly the same amount of time.
This means both the light and dark meat can be juicy and tender. Less chance of dry, overcooked breast meat!
I have another post (coming soon!) on how to do the spatchcocking process, but for this post, I'm focusing on a dry brine spice blend that you can use for both turkey or chicken.
Choosing a turkey
When you're shopping for poultry to brine, be sure it isn't one that has already been injected with saline solution. If you use turkey that already has added salt, your final cooked meat will be much too salty.
You can also check out this article from Serious Eats on how to brine a turkey or chicken (they cover both wet brining and dry brining).
Know that a lot of stores carry turkeys that are frozen. You'll need to be sure to calculate thawing time in when planning your meal.
The dry brining process adds an additional 1 to 4 days. This isn't a last-minute meal, but it is mostly unattended time.
🧂 A Note About Salt
This recipe uses kosher salt which can be found in your grocery store located in the baking aisle.
For my cooking, I use Morton coarse kosher salt. The other popular brand is Diamond Crystal kosher salt.
There's no right or wrong kosher salt to use, but the type you use can cause big differences in your recipe results.
Due to the difference in flake size, Diamond Crystal and Morton need to be measured differently.
Morton flakes are smaller, meaning more of that salt can fit in the same measure as Diamond Crystal.
The general rule of thumb is that you should use 1.5 times the amount of Diamond Crystal as you would Morton.
So if a recipe calls for 1 cup of Morton kosher salt, it should be changed to 1 ½ cups if you're using Diamond Crystal.
You can read more about the differences in salt types in this post from Taste of Home.
---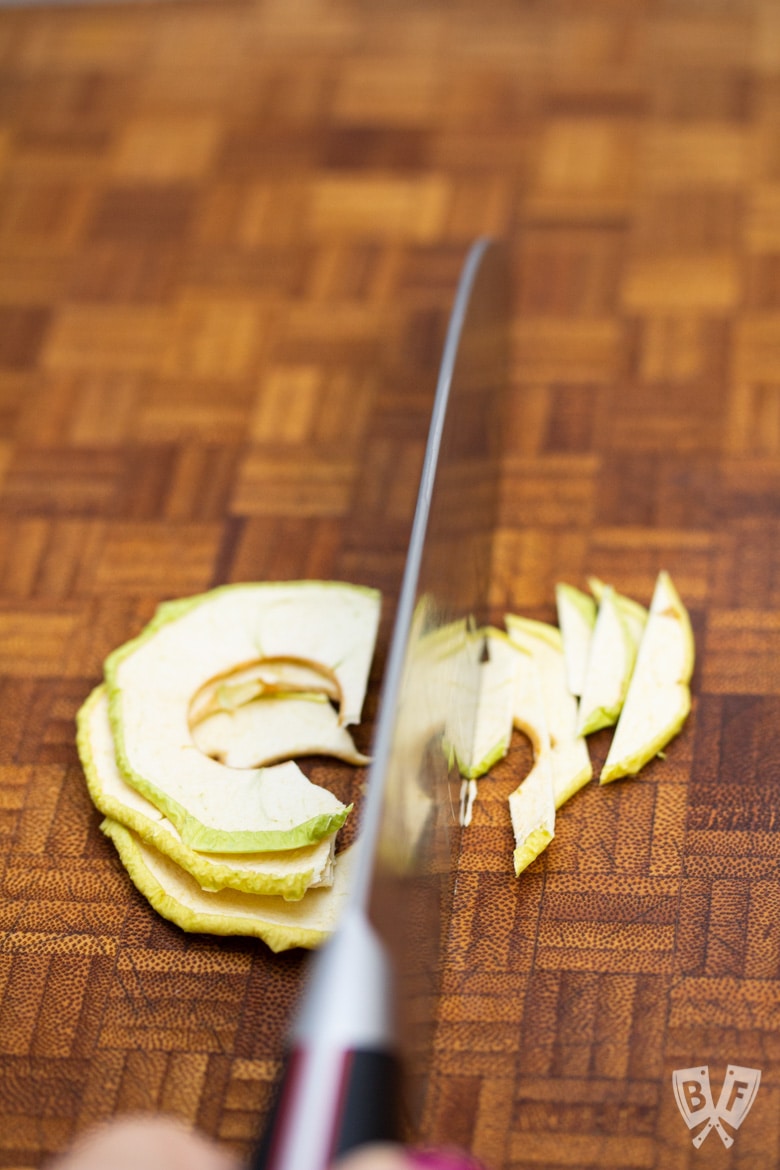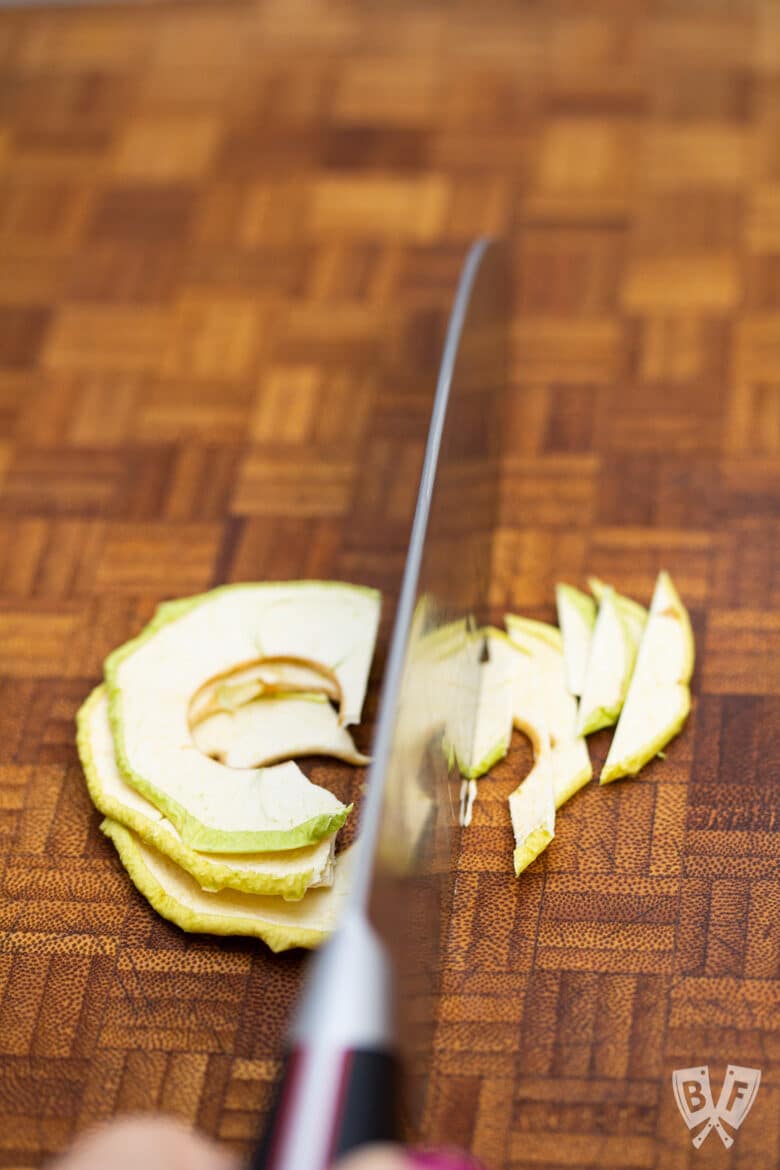 ---
How to make this dry brine seasoning blend
Chop up dehydrated or freeze-dried apples. Note: If you're dehydrating your own apples, core them and slice ⅛-inch thick, preferably with a mandoline, then use your dehydrator. For me this took about 7 hours at 135°F.
Mix chopped apples with kosher salt (see note below!) and remaining herbs and spices together.
Store in a cool location in an airtight container.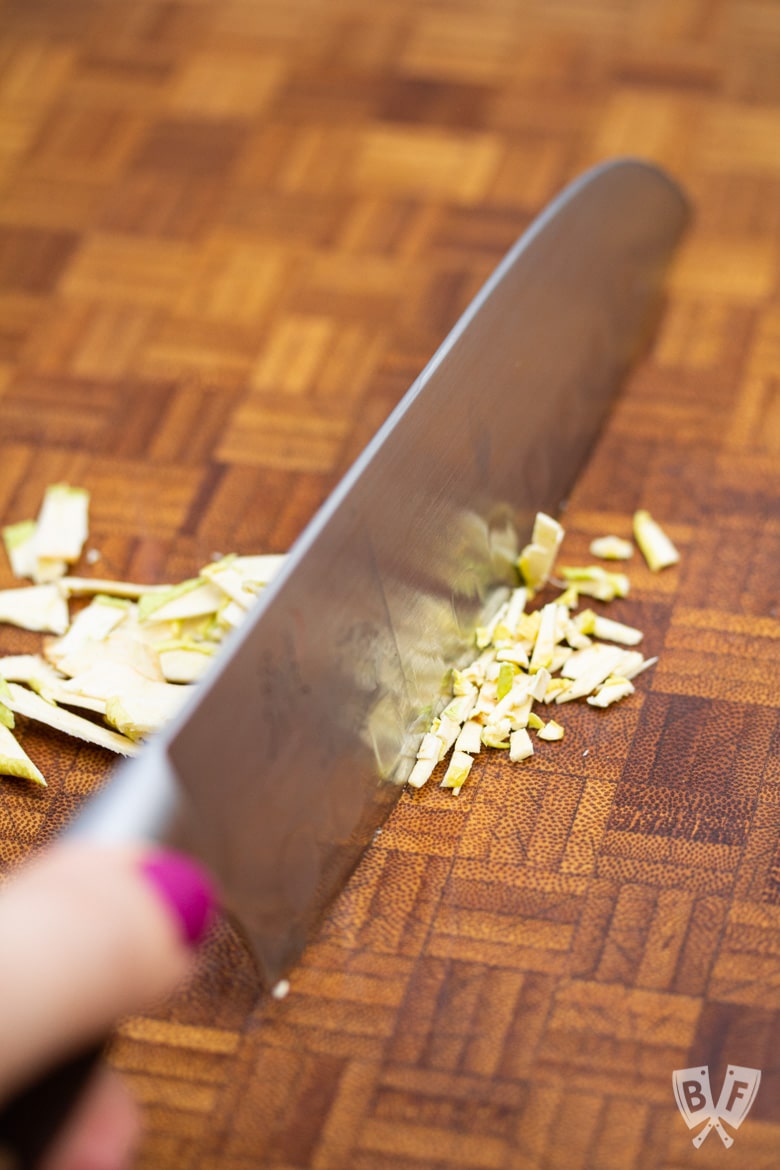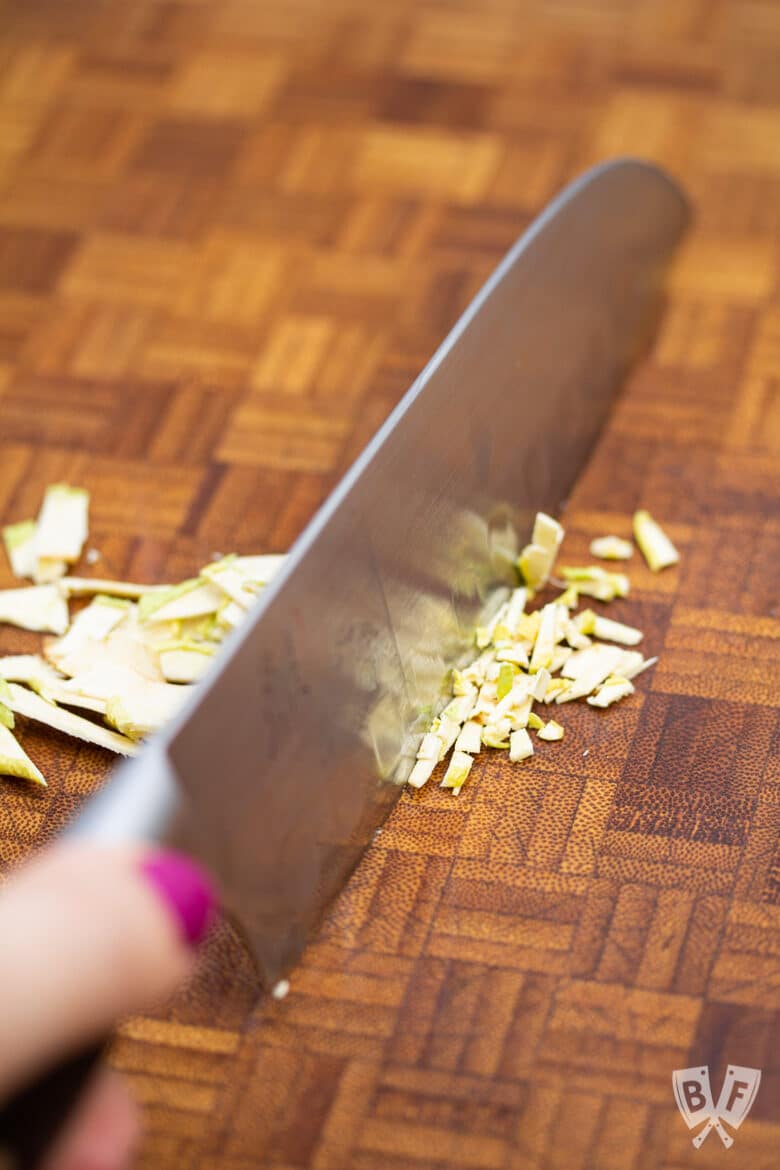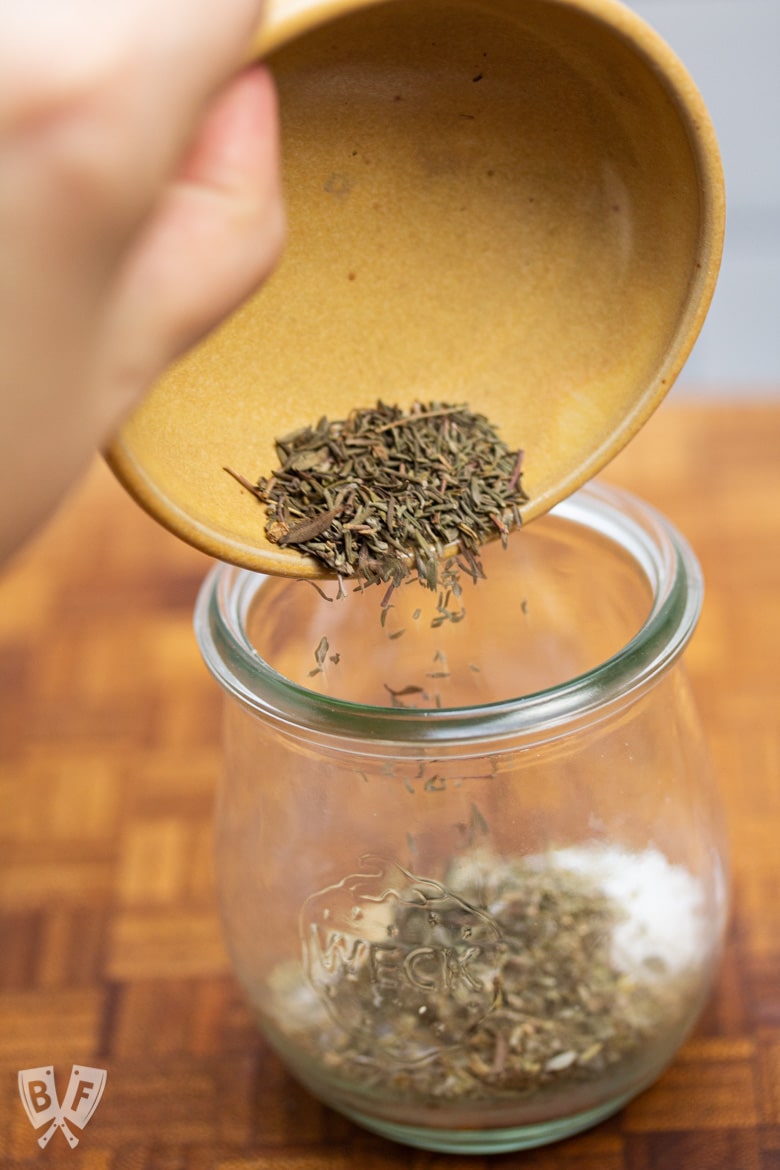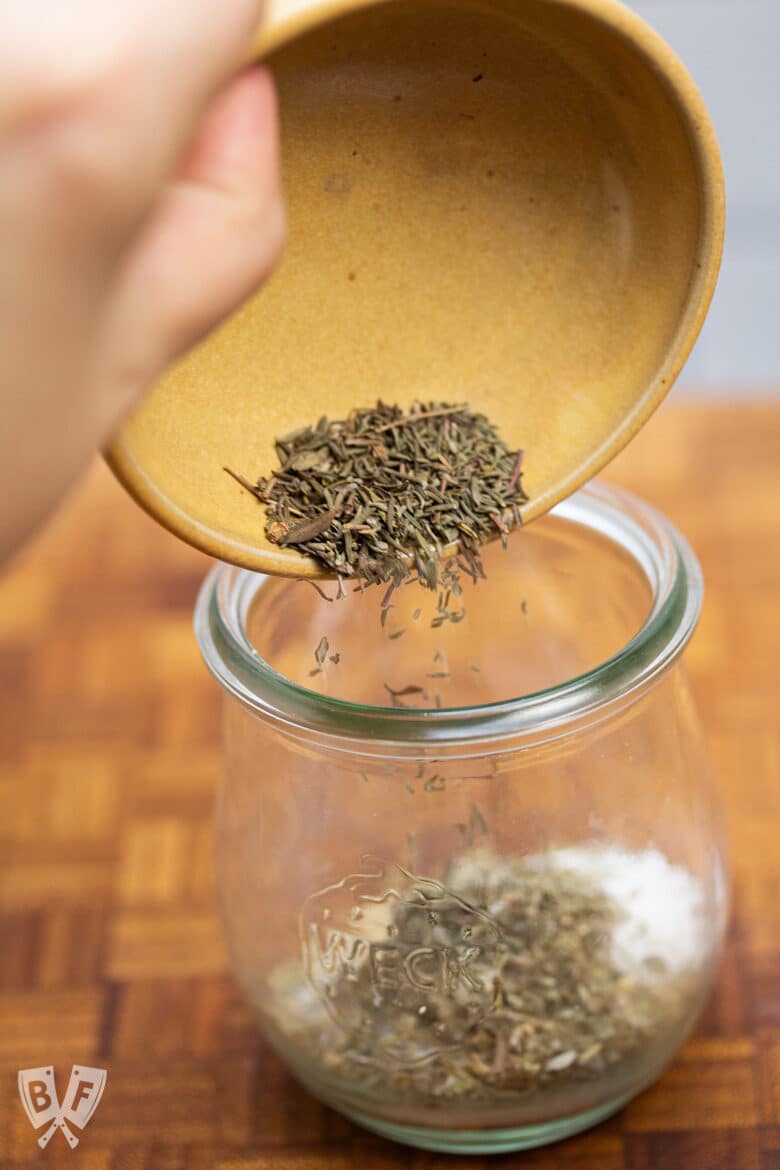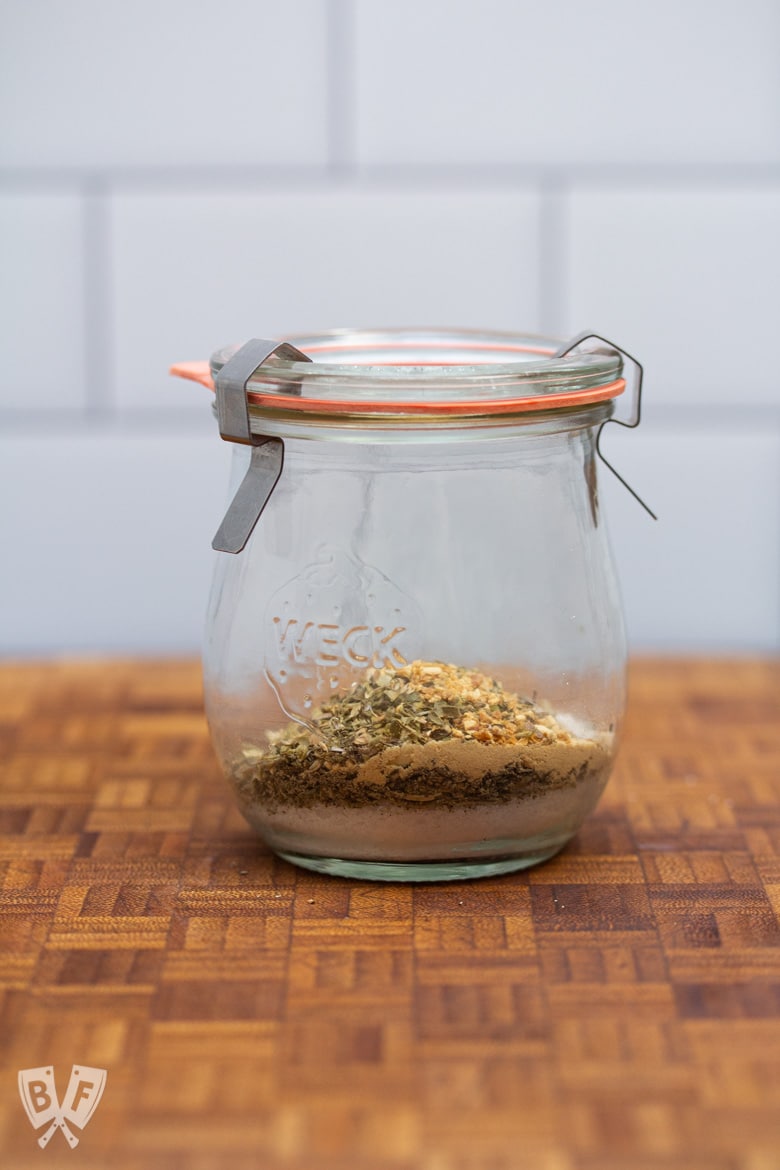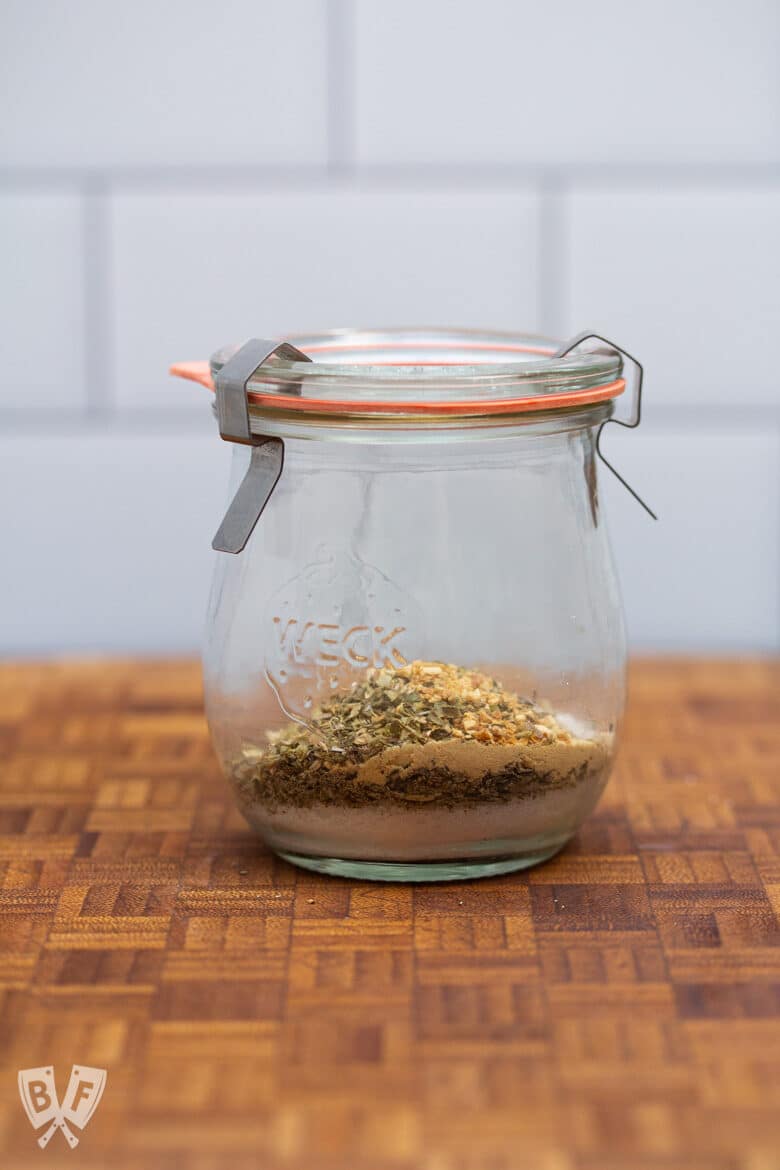 ---
🌱 Ingredient Spotlight: Sage
Sage is a perfect addition to Thanksgiving recipes like turkey, stuffing, dressing, and gravy.
With its bold flavor, sage is a good candidate for hearty, comfort food recipes.
Fresh sage leaves are soft and a bit fuzzy, and are a delicious addition to your cooking repertoire.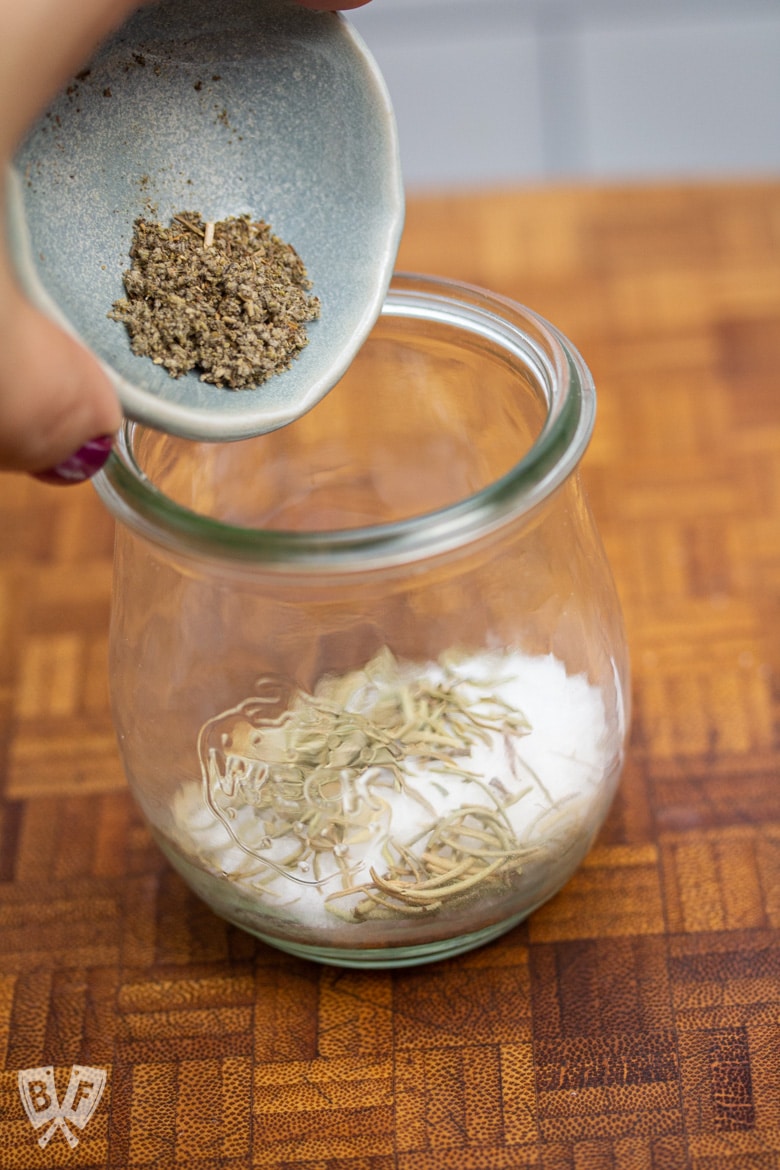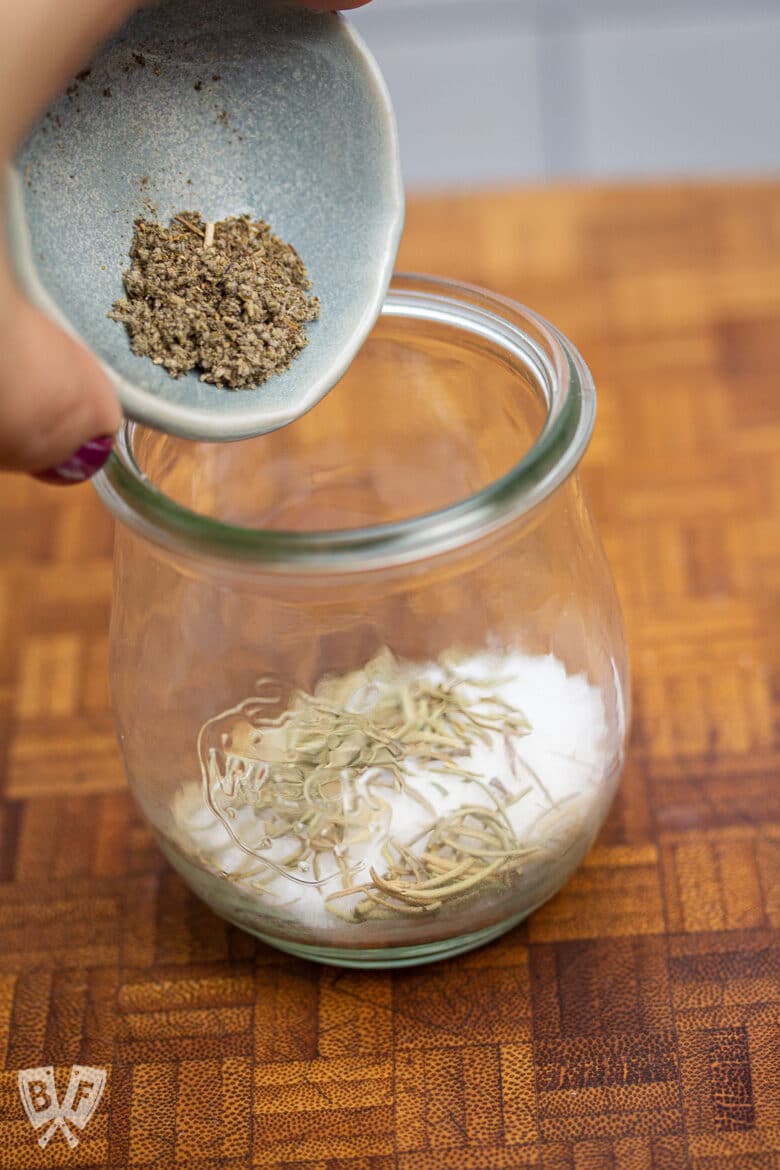 This recipe uses rubbed sage which can be found in your grocery store located in the baking aisle.
Rubbed sage has a light, fluffy texture. It is less dense than ground sage, so if you're substituting here, use half the amount of ground sage.
Looking for more homemade seasoning blends? Some of the most used in our house are this homemade grill seasoning recipe and this homemade fajita seasoning blend.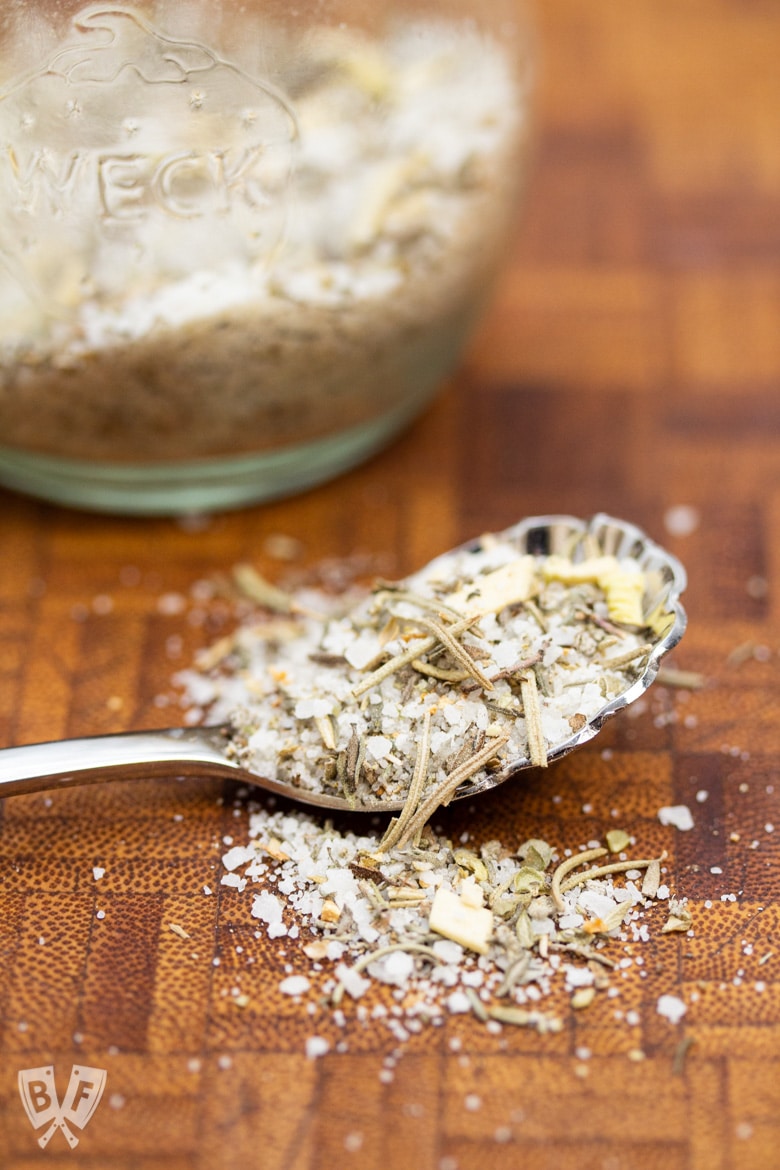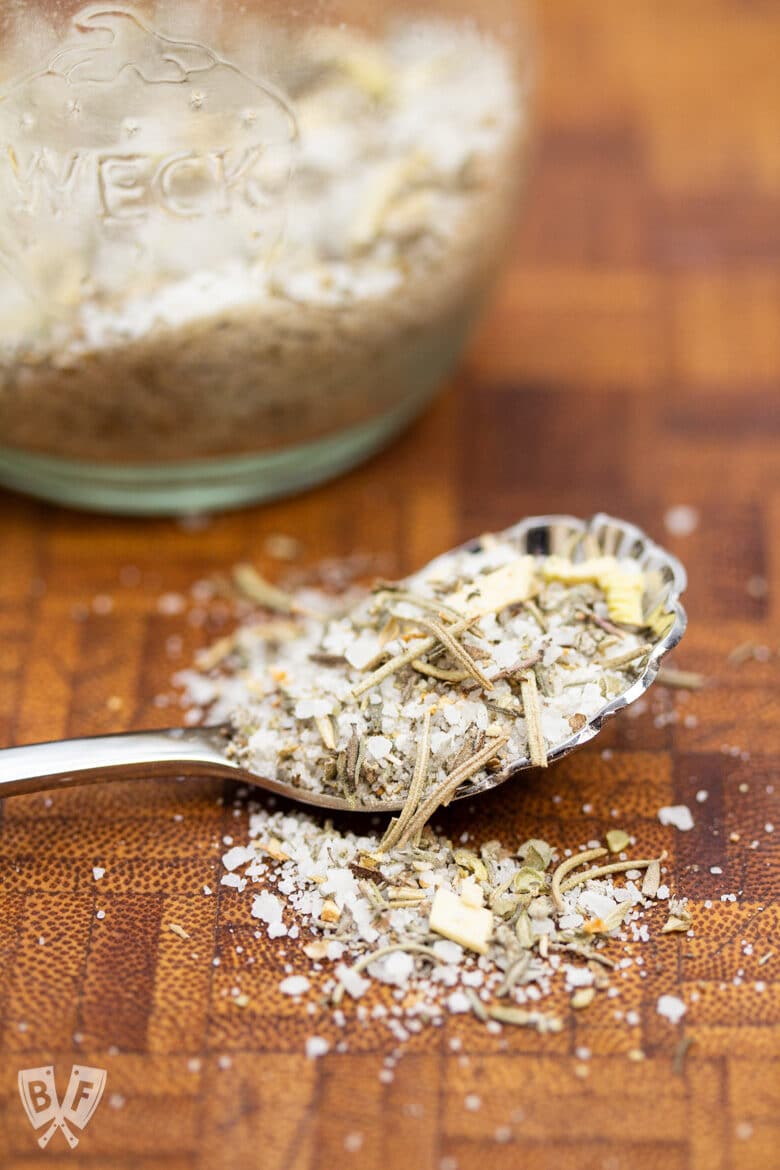 Using the dry brine seasoning blend
This dry brine seasoning blend is great to keep on hand for whenever you're craving skin-on chicken or turkey.
The basic directions for using it for turkey are to pat the skin dry, then rub some of the spice mix underneath the skin.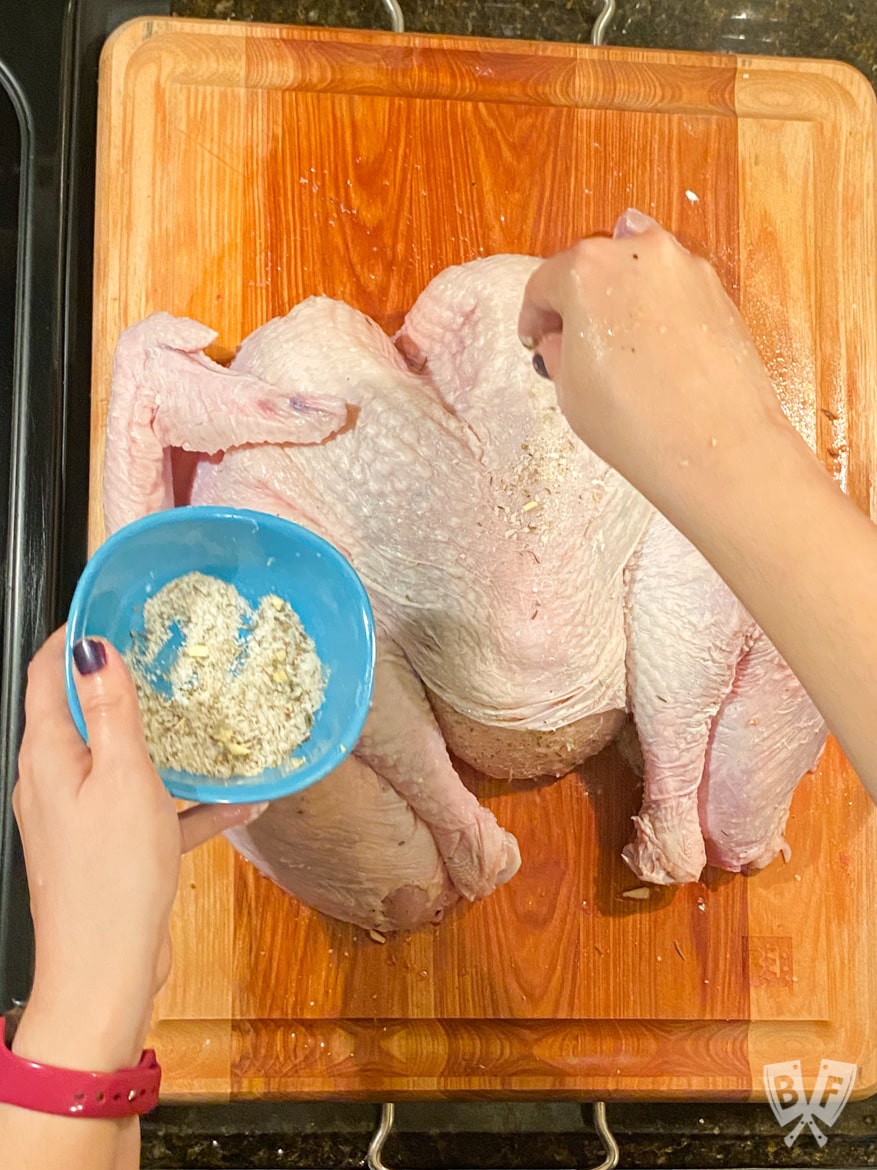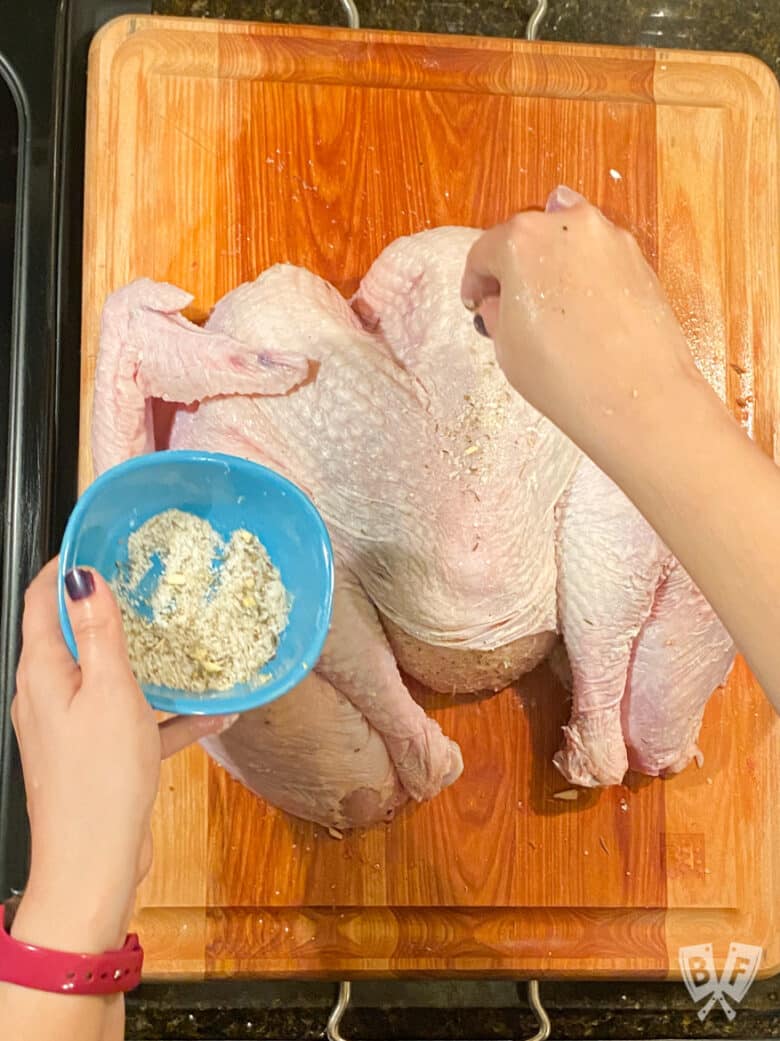 Pat dry again and sprinkle a teaspoon of baking powder all over the skin and rub to spread it out. This aids in getting that perfectly crispy skin once you roast the turkey.
Follow this with more of the spice blend on top of the baking powder-coated skin.
You'll then place the turkey in your refrigerator to let the dry brining happen by leaving it to chill for anywhere from 1-4 days.
During this process, excess moisture is removed from the meat and the dry brine flavor is concentrated, reabsorbing back into the meat. You can read more about dry-brining here.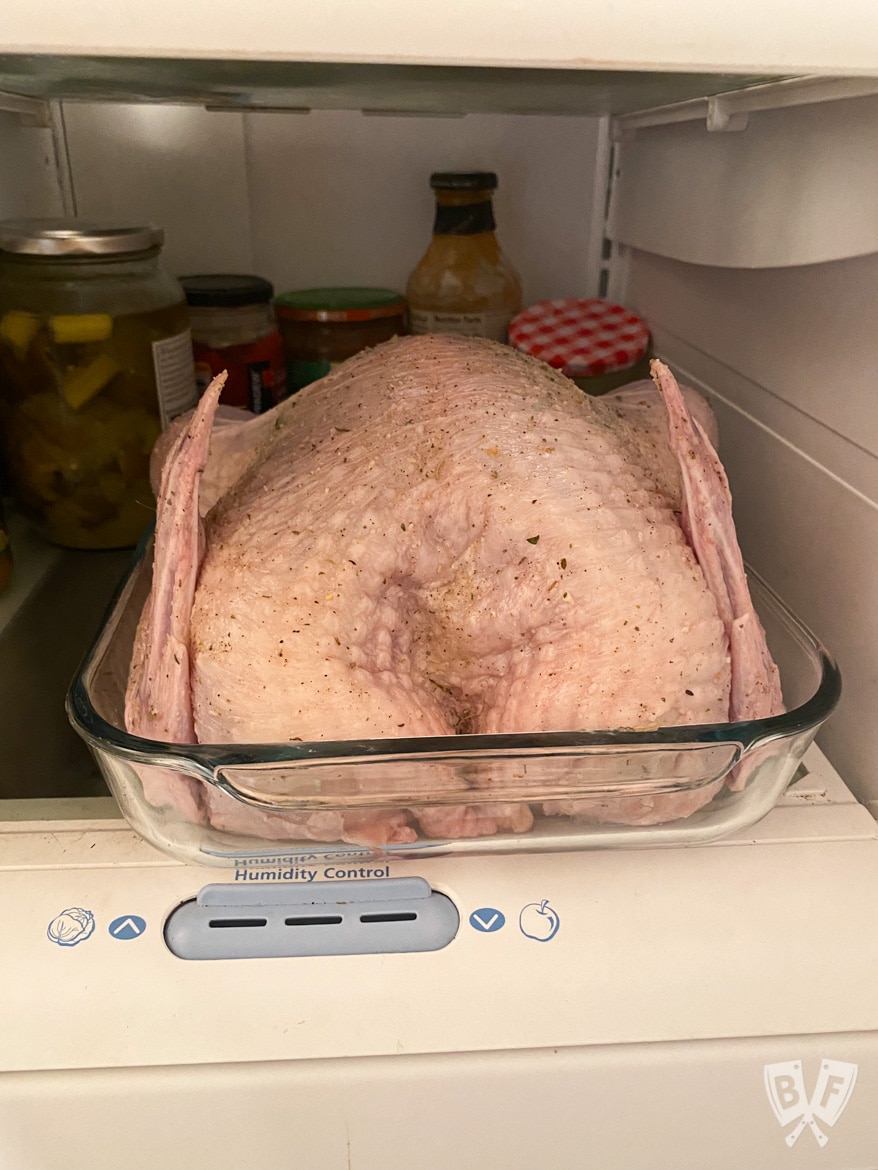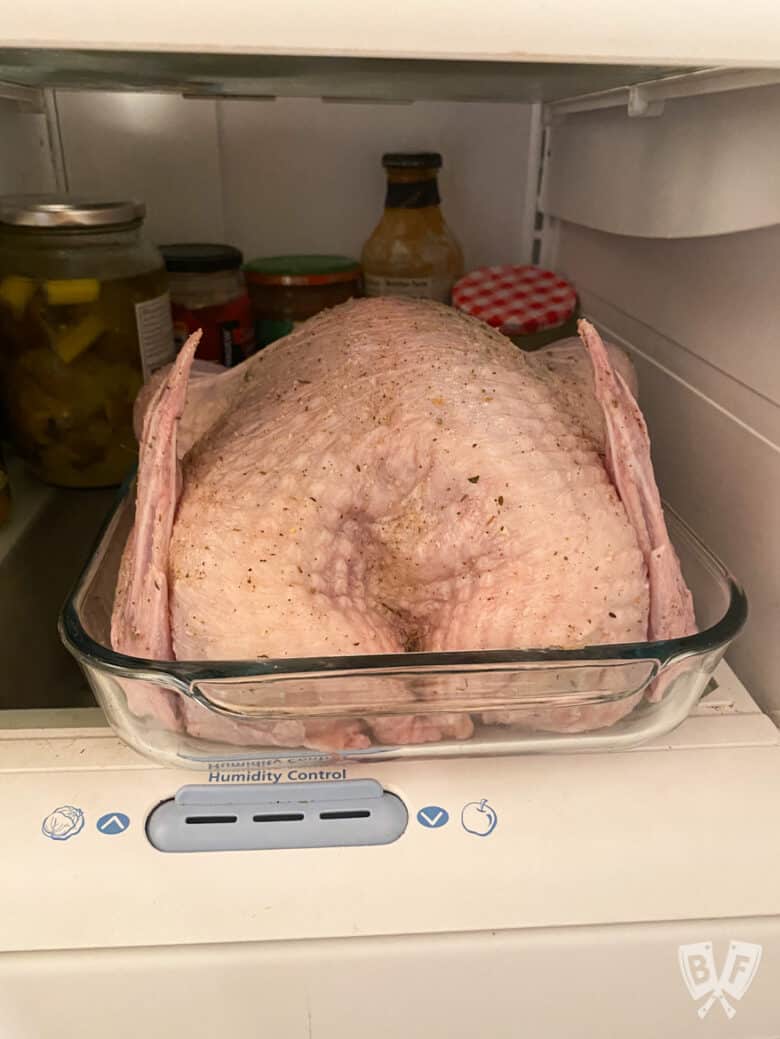 Is leaving poultry uncovered in the refrigerator safe?
This process is similar to dry-aging steak and is done with the meat uncovered in the refrigerator.
You need to make sure you have plenty of space around the turkey for this process to take place without the worry of contaminating other things in your refrigerator.
As long as the turkey isn't touching anything, all should go well.
But if the thought of leaving poultry out in the open in your refrigerator is worrisome, you can cover the turkey with cheesecloth. This way it can still get the air circulation while it brines.
The last time we made this, our turkey was 12.5 pounds and we used just over 3 tablespoons of the dry brine seasoning mix total.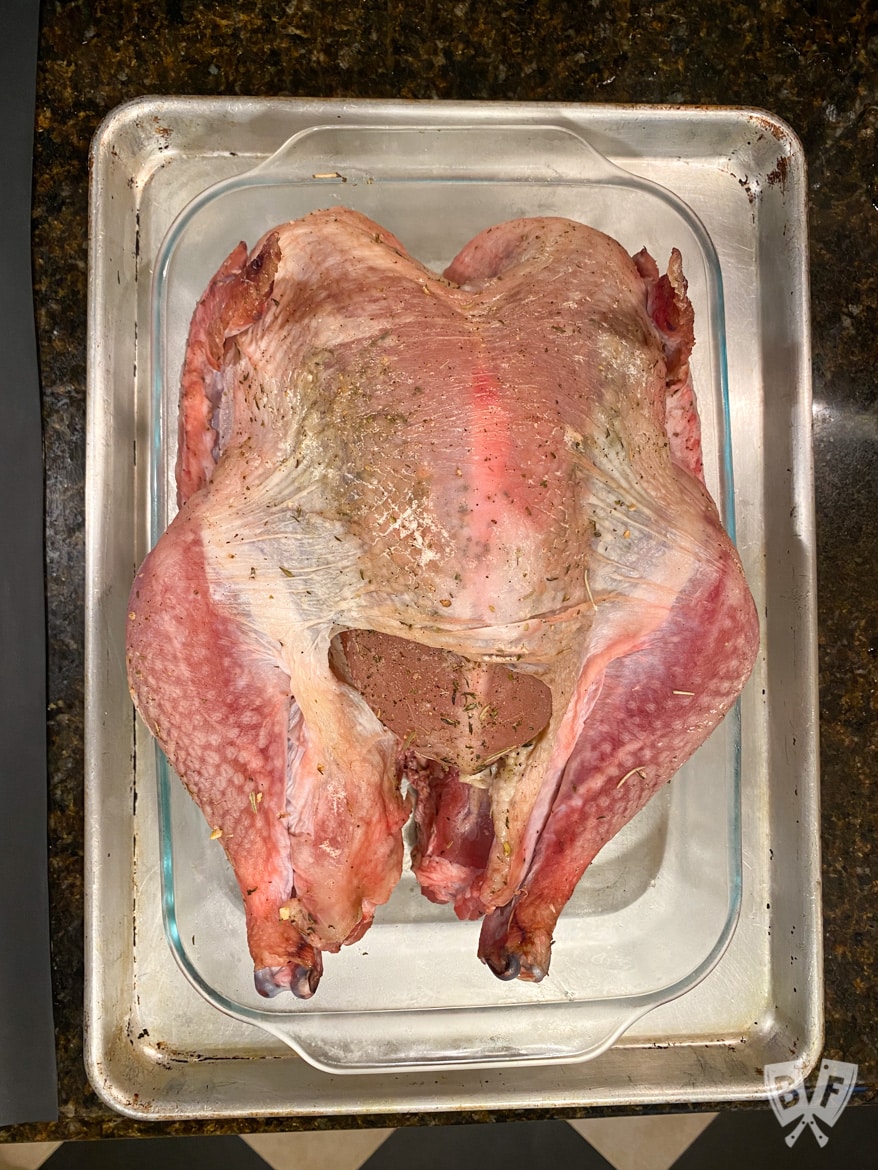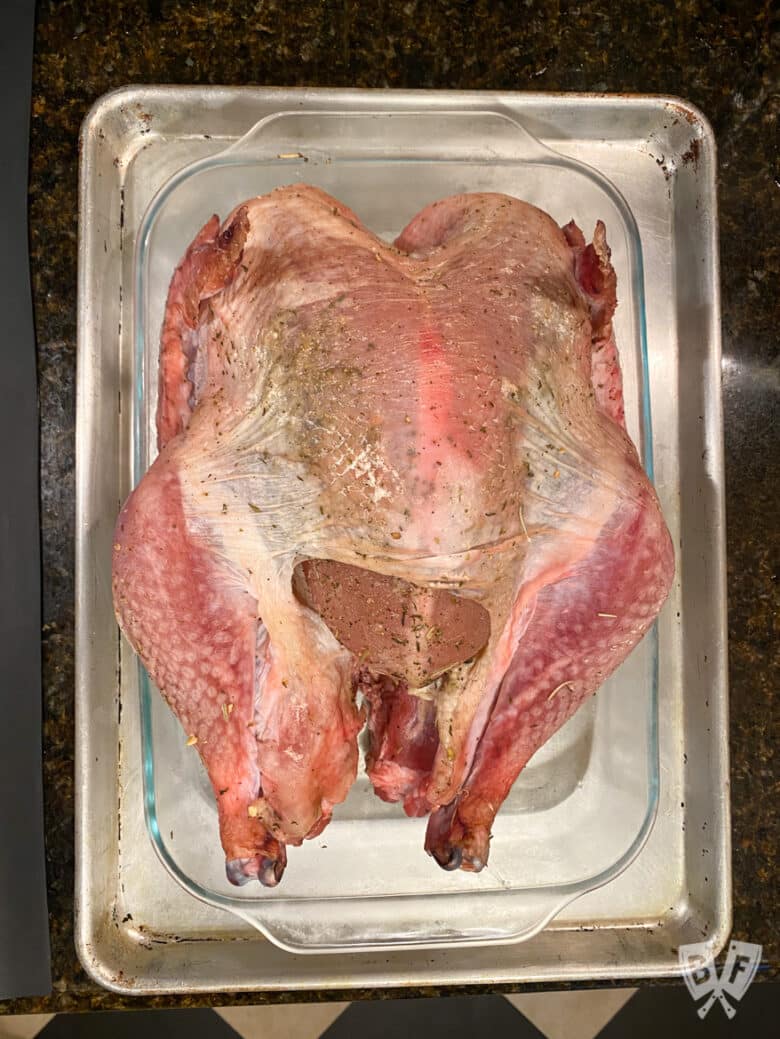 It looks a little crazy when it comes out, but trust me - this process really does wonders for the flavor and texture of turkey!
I have a full post on how to do the whole spatchcocking process, as well as dry brining a turkey (coming soon).
I hope you'll try this method out - it really does take Thanksgiving dinner to the next level!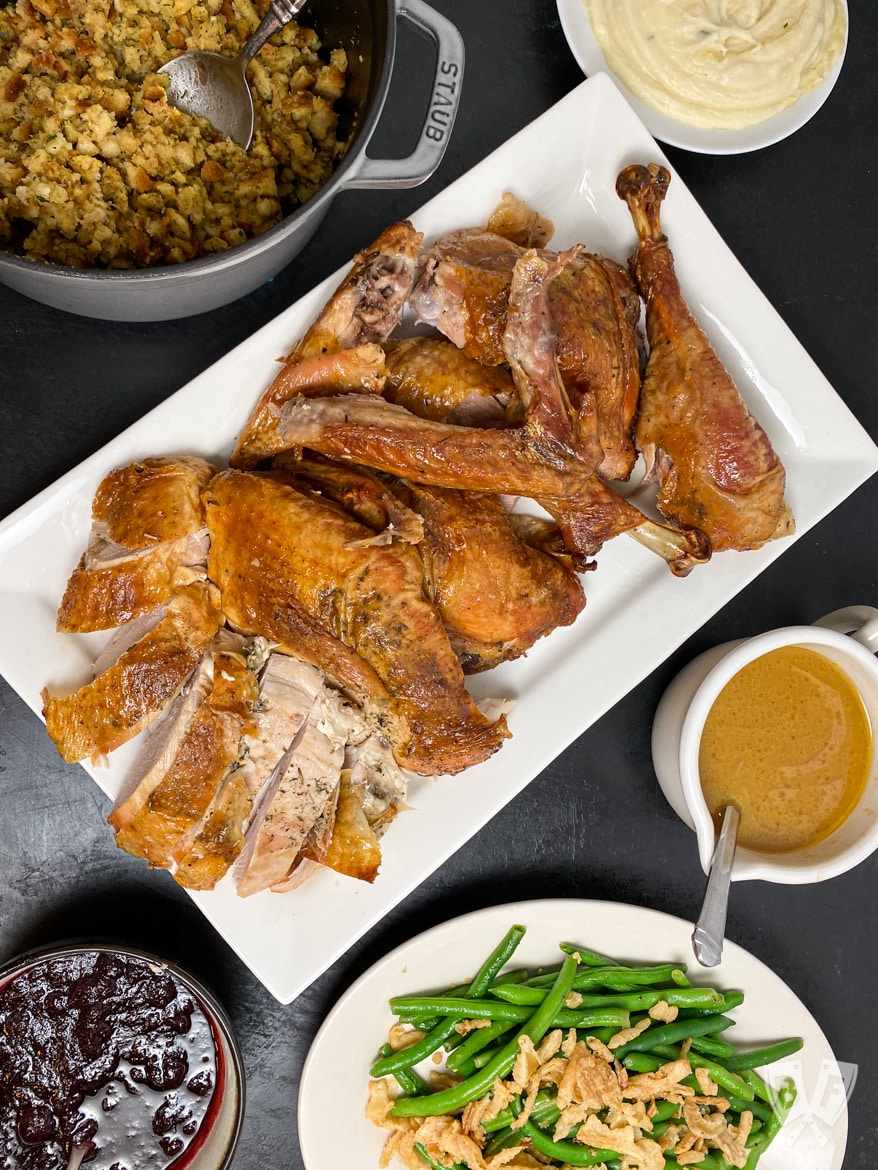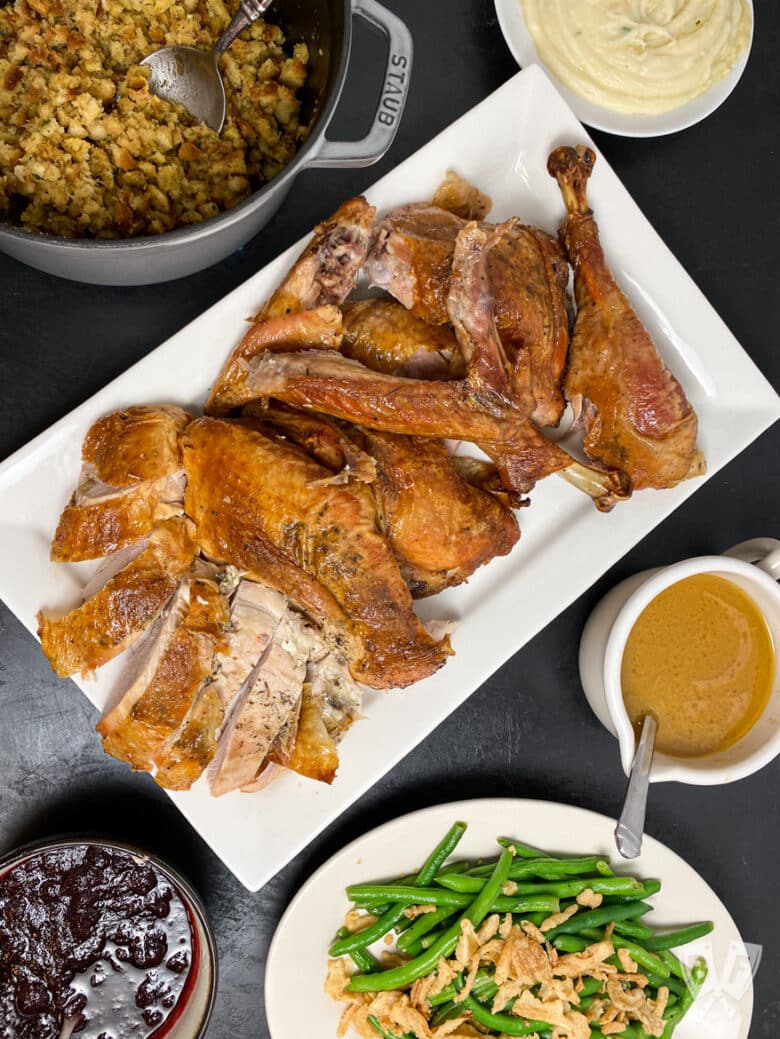 Still hungry? You may also like...
Doing some online shopping? Check out my Amazon shop page for recommendations!
---
Print
📖 Recipe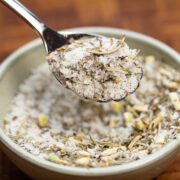 Dry Brine Seasoning Blend for Turkey and Chicken
Author:

Prep Time:

5 minutes

Cook Time:

0 minutes

Total Time:

5 minutes

Yield:

About

1 ½ cups

seasoning

1

x

Category:

Spice Blend

Method:

No Cook

Cuisine:

American
---
Description
Dry brining poultry isn't just for Thanksgiving! This flavorful seasoning mix brings big flavor and crispy skin to both turkey and chicken.
---
---
Instructions
Mix all ingredients together and store in an airtight container until ready to use. When you go to apply your brine, note that you'll only need one tablespoon per 4 pounds of meat.
---
---
Notes
This recipe is for much more than you'll need for one turkey. I used just over 3 tablespoons for a 12.5-pound turkey and around ¼ cup for a 16-pound turkey. Do not use all of this mixture on one bird.
Brining is best for turkeys that haven't been previously injected with a saline solution. Those turkeys will be too salty if you do a brine on them. Read the label carefully before buying!
Recipe for my Spatchcocked Roasted Turkey with Homemade Dry Brine coming soon!
Keywords: Thanksgiving, turkey, dry brine
Recipe Card powered by
Check out my latest posts...