This post may contain affiliate links, which won't change your price but will share some commission.
Oh yes I did...
This recipe looked too irresistible, so I made it for my parents when they were in town. Chicken is slathered in a orange zest-paprika oil, then topped with a bacon lattice, which adds a beautiful saltiness to the tender meat.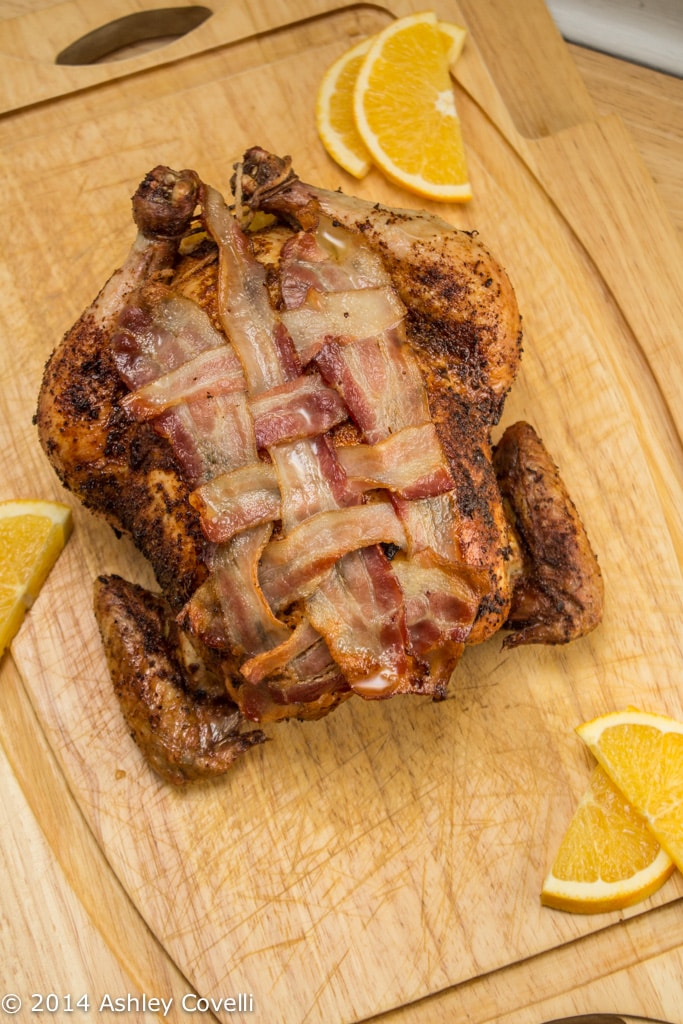 The flavors work really well together, and the bacon is a fun twist. I recommend assembling the bacon on a cutting board before you put it on top of the partially roasted chicken so you don't burn your fingers.
My chicken was really large and took quite a bit longer than the recipe suggested to cook through, but the meat was succulent and delicious. It was a big hit at the dinner table!
This was one of my most popular Instagram photos - I almost didn't post it, because raw bacon... but apparently the people loved it! Bacon lovers UNITE!
Roasted Chicken with Bacon and Sweet Paprika
50 Shades of Chicken - F.L. Fowler
1 orange
1 tablespoon sweet paprika
1 ½ teaspoons coarse kosher salt
1 teaspoon freshly ground black pepper
1 teaspoon extra-virgin olive oil
1 (3 ½- to 4-pound) chicken, patted dry with paper towels
4 ounces bacon (about 4 strips)
1 .Preheat the oven to 400°F. Finely grate the zest of the orange into a bowl. Stir in the paprika, salt, and pepper.
2. Massage the oil all over the skin of the chicken. Sprinkle some of the paprika mixture into the cavity; massage the remaining mixture all over the bird (you'll know you've done a good job if your hand begins to redden). Cut the orange into quarters and thrust the fruit deep into the cavity of the bird.
3. Move the chicken to a rack set over a roasting pan. Roast for 45 minutes, basting with any pan juices occasionally. Crisscross the bacon over the breasts. Continue to roast until the chicken is cooked through and the bacon is crisp, about 20 minutes longer. Let rest 10 minutes before carving.
Big Flavors Rating: 5 Stars