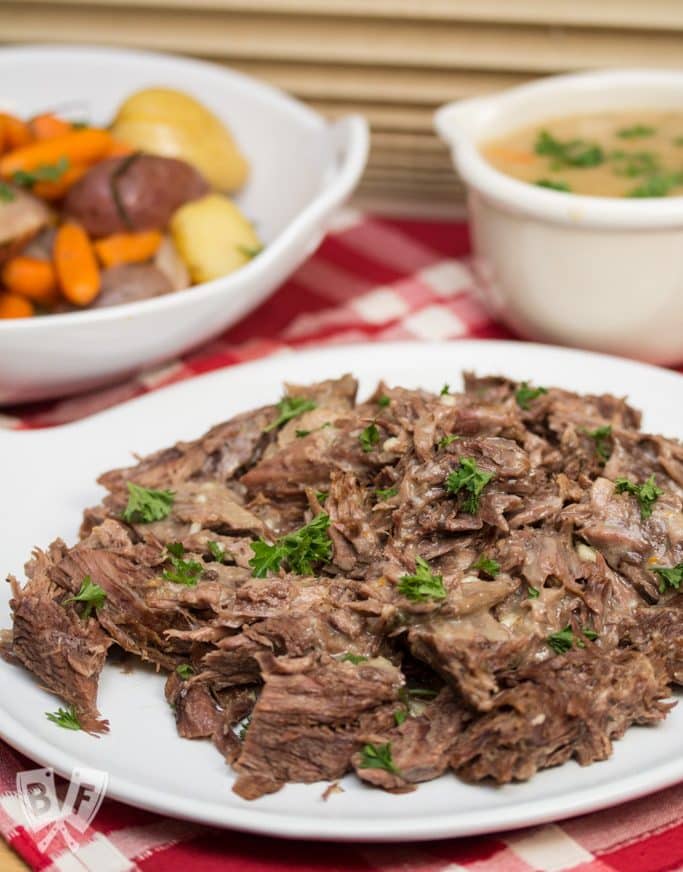 Instant Pot Herbed Pot Roast
This post may contain affiliate links. Thank you for supporting the brands that keep me creative in my tiny kitchen!
An electric pressure cooker makes this family favorite comfort food meal possible in a fraction of the time!
This post may contain affiliate links.
I told my husband that I reeeeeeeally wanted an Instant Pot for my birthday this year. I had been talking it up for months since our rice cooker has been on its way out for quite a while now.
I have a separate slow cooker, stove top pressure cooker and rice cooker, but this thing can do all of those and more? And with such a small amount of storage space in my tiny kitchen, having something that can take the place of several appliances more open space that I'll be tempted to fill with other gadgets, linens, dishes, etc.
Ah, zen.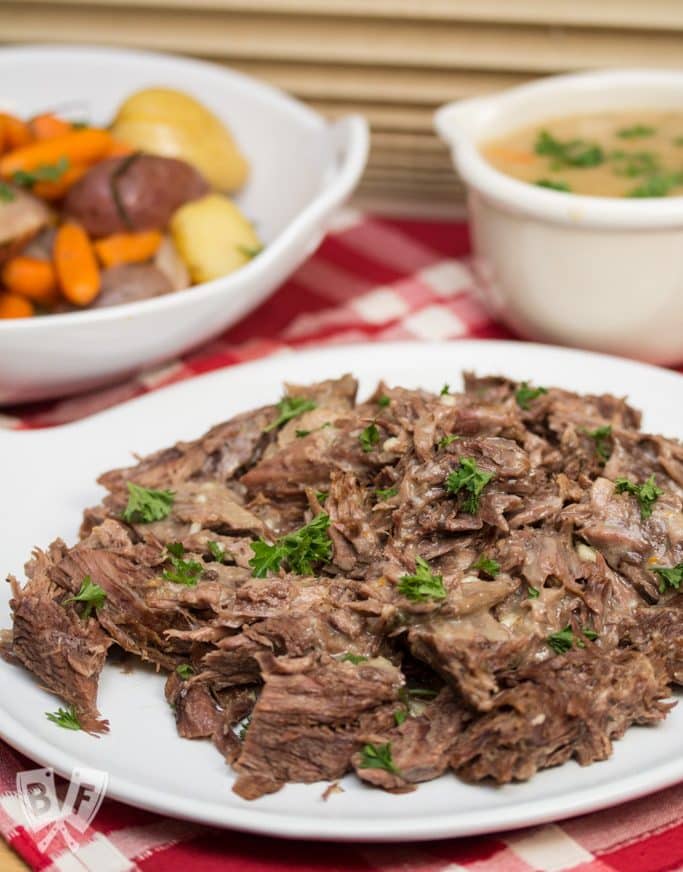 Anyhow, one of my faaaaavorite comfort food meals is my Mom's Pot Roast. The torturous thing about it is that it takes all day to cook, and it makes the house smell good all day, but you can't eat it for houuuuuuurs.
So, I figured this would be the perfect inaugural meal for my Instant Pot, which I have dubbed "Tina".
Come on… by now you know I have to name all of my new family members appliances.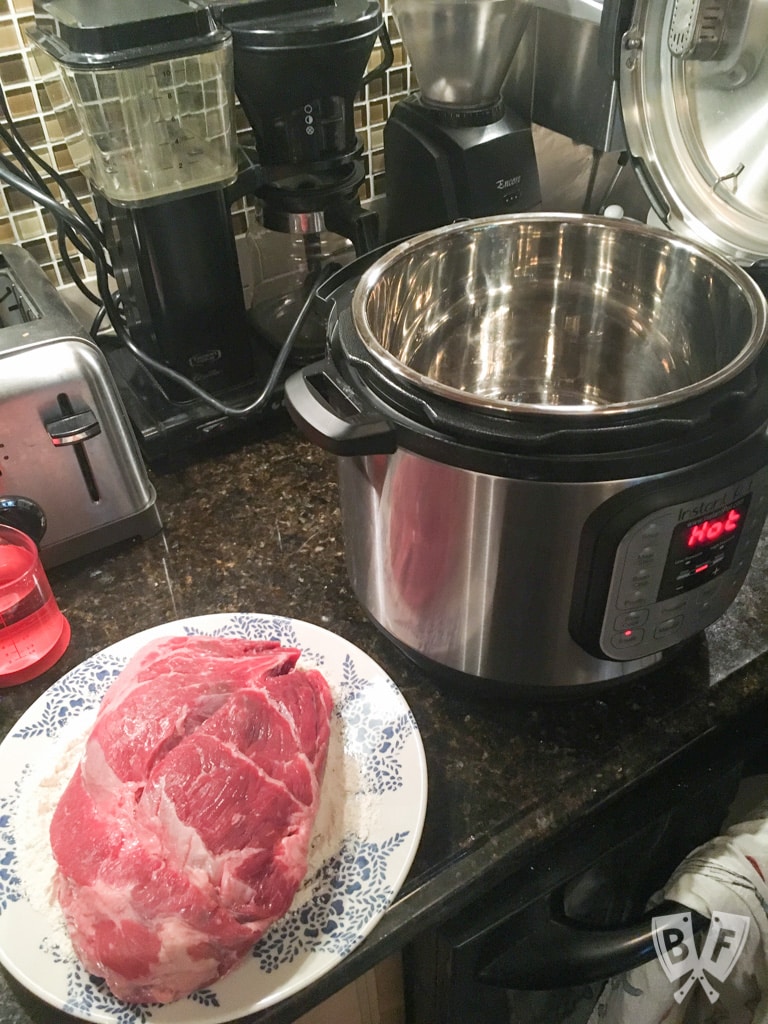 One of the major selling points for the Instant Pot is that you can sear right in it. So I heated some oil right in it while I coated my roast with seasoned flour.
Once I seared it on both sides, I poured in a little water, some fresh herbs from my garden, and a few cloves of smashed garlic and set it to pressure cook.
I like my pot roast shred-able, so I hit the "Meat/Stew" button and added some time so it would cook for 55 minutes once it reached pressure. (I used to do 45 minutes, but found it often needed a little more time to get tender, so 55 has been my new go-to cook time here). This normally takes 3 hours in the oven!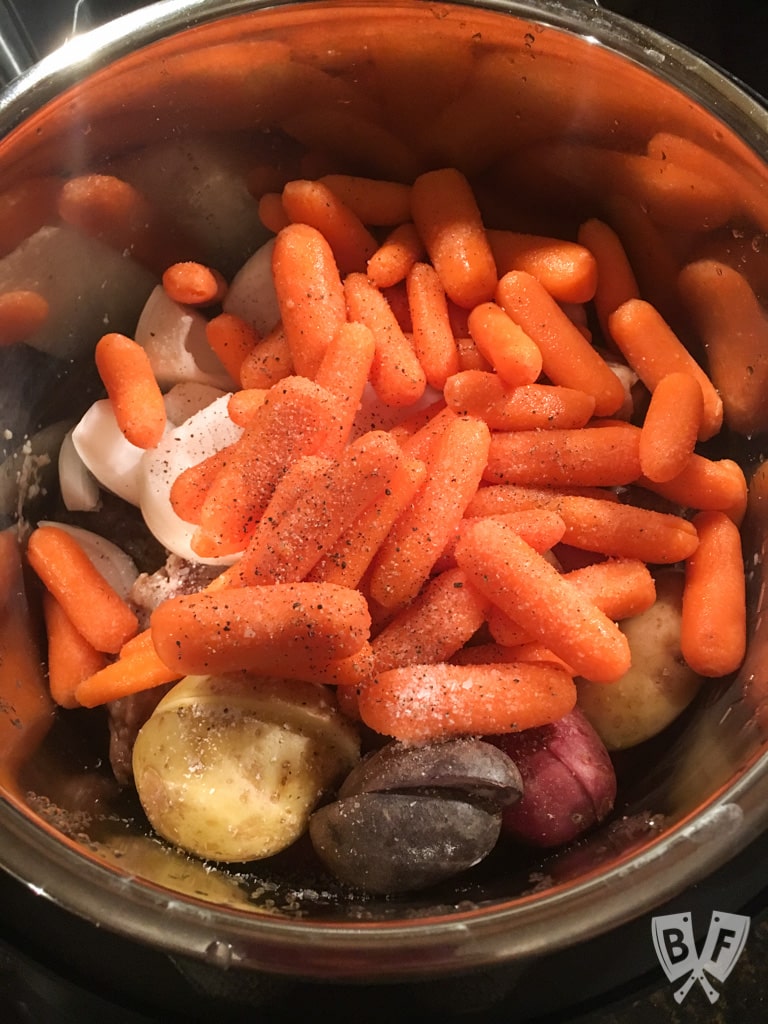 After the meat cooked, I added the veggies on top and pressure cooked it all for another 10 minutes.
Everything was cooked beautifully! The potatoes were nice and tender, and the meat was perfectly tender.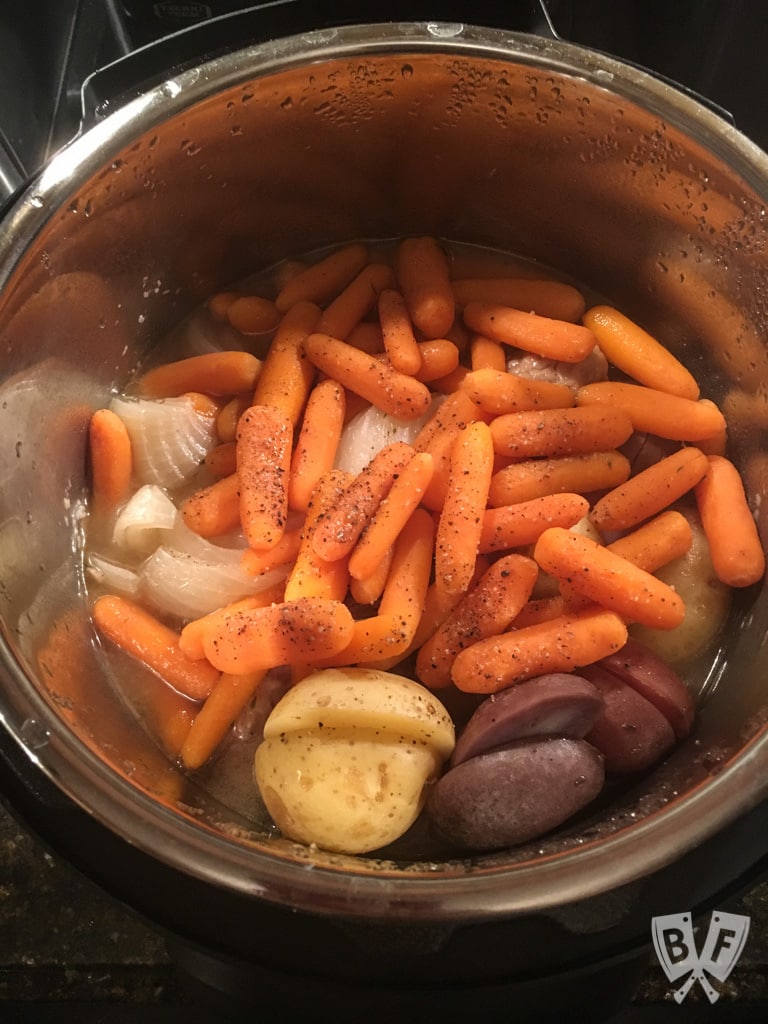 I then took all of the meat and veggies out and arranged them on a few platters. I used the drippings that were left in the pot to make gravy, which I usually have to dirty another pan for. But not anymore!
I sprinkled some flour, salt and pepper right into the pot to thicken up (using the "Sauté" function again). Note that you could also place the flour in a small bowl and whisk in a few tablespoons of the hot liquid to make a slurry before pouring that all back into the Instant Pot to thicken. This would help prevent lumps in the gravy – but it dirties an extra dish, so it's up to you! I was going for minimal dishes that night.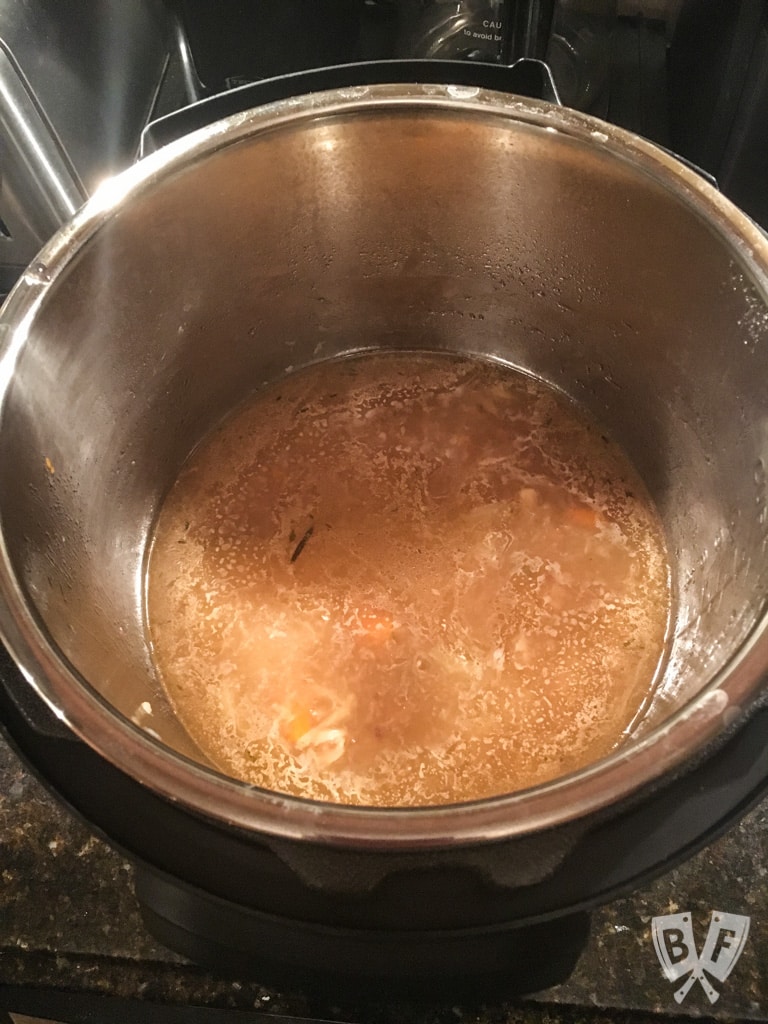 This meal turned out so well. It's perfect comfort food in a fraction of the time. I served this with some homemade Cracked Pepper, Parmesan + Scallion Biscuits that I milled fresh flour to make (recipe coming soon).
If you're interested in learning about milling your own grains, you can see a review that I did of the Mockmill stand mixer attachment over in this post.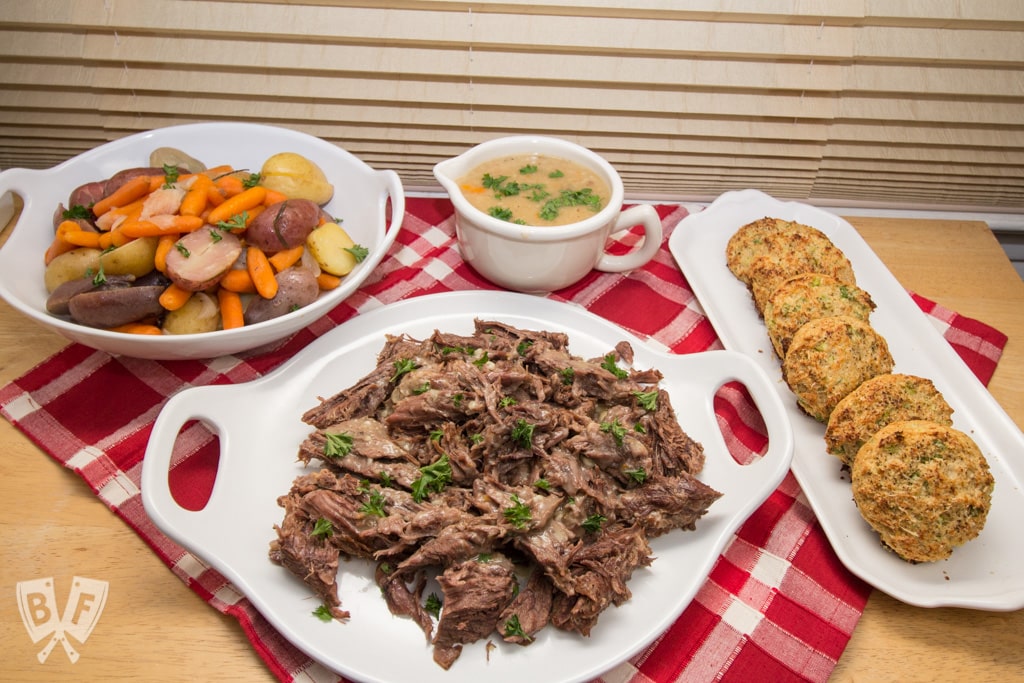 This meal totally hit the spot, and I can see it being on regular rotation in my house, especially with the cooler weather coming up soon (I hope!).
I've been absolutely loving my Instant Pot. I have so many more fun recipes to share in the coming weeks. Thanks again to my hubby for the awesome birthday gift (that I picked out). I'm pretty sure he's happy that I have it, too. Ha!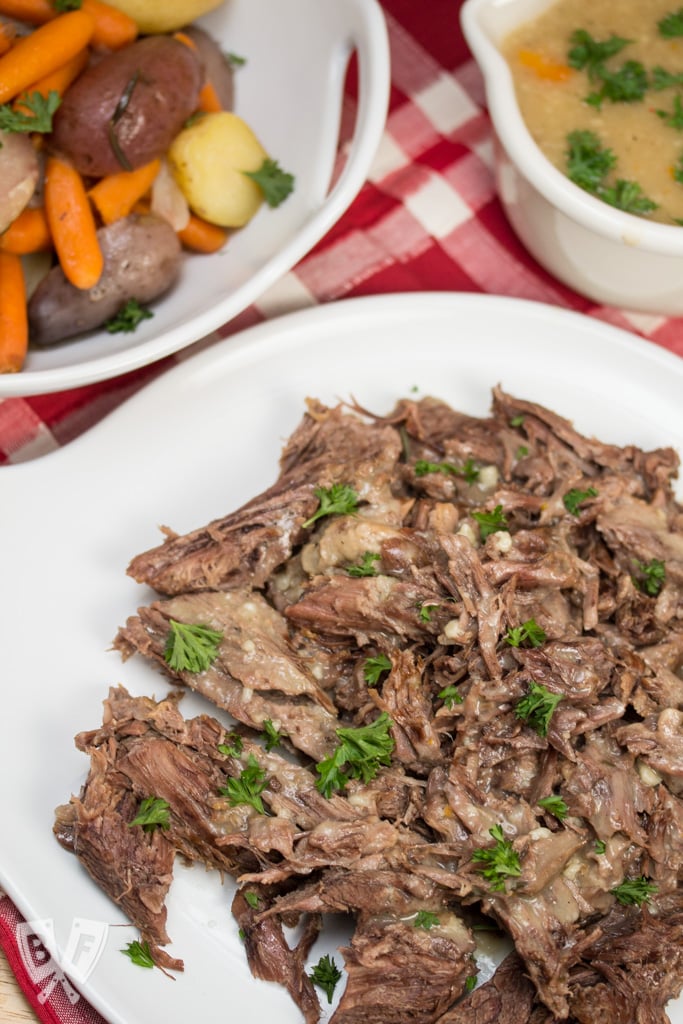 Looking for more ways to use your Instant Pot? It's my favorite way to make pulled pork – you can check out the recipe that's part of my Waffle Pulled Pork Eggs Benedict by clicking here. The pulled pork is phenomenal on its own, and super impressive served with thick, fluffy waffles and topped with poached eggs and hollandaise sauce.
Another family favorite is my Instant Pot "Baked" Beans recipe. Bacon and molasses make it incredibly rich and flavorful. And so simple to make in the Instant Pot!
Other hits in our house have been making shredded chicken to fill my Chicken Quesadillas with Chipotle Ranch Dip and Instant Pot Chicken, Bacon, and Potato Soup.
I use my Instant Pot several times per week. I love making hard or soft boiled eggs in it, cooking rice and quinoa in it, and making quick meat dishes. I've also made yogurt in it once, and am planning to try steel cut oats soon.
There's a lot more experimenting to be done, and I'll be sure to report back when I have successes with it!
Do you have any favorite Instant Pot recipes? I'd love to hear about them in the comments section below!
Print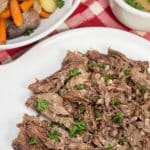 Instant Pot Herbed Pot Roast
---
---
---
---
Recipe Card powered by
Note: This post includes affiliate links for items that I genuinely enjoy. Big Flavors will receive a tiny commission from purchases made through affiliate links on this site at no added cost to you. This allows us to cover site-related expenses and helps to keep us cooking up a storm!