This post may contain affiliate links, which won't change your price but will share some commission.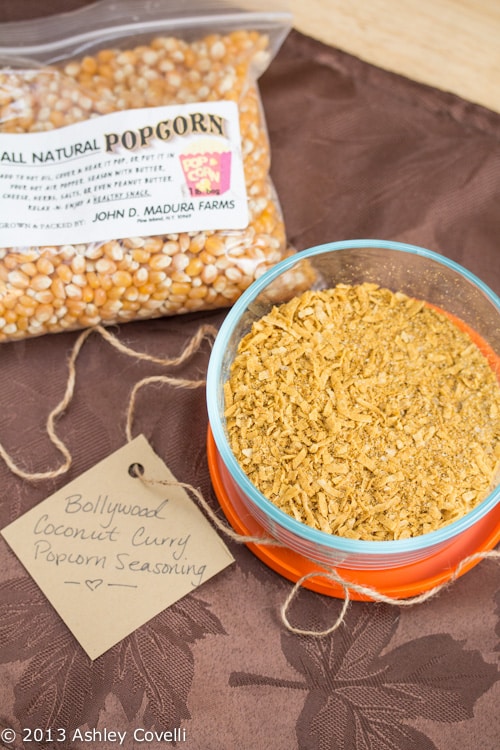 I've been following Joanne's blog, Eats Well With Others, for several years now. We had plans to finally meet up and cook and eat together, and I wanted to give her some sort of food gift. I've had Gifts Cooks Love: Recipes for Giving by Diane Morgan for a while now, but haven't made anything from it. So who better to make a foodie gift for than another food blogger?! I had a few recipes flagged, but decided on this one after I almost burnt down my kitchen and didn't want to do any more cooking. This spice blend smells wonderful! It made a bunch, so I have some for myself, too. I paired it with some popcorn kernels from my local Farmers' Market, and a mason jar of Chile-Infused Vodka from my other project, The Domestic Mixologist. I hope she likes it!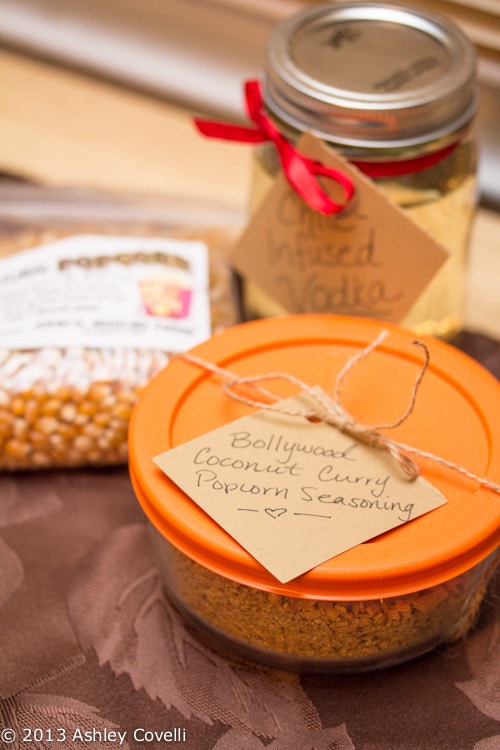 Bollywood Coconut Curry Popcorn Seasoning
Gifts Cooks Love - Sur La Table
Prep Time: 20 Minutes
Makes about 2 cups popcorn seasoning, enough to fill three (5- to 6-ounce) spice jars
1 ¾ cups sweetened shredded coconut
7 tablespoons Madras curry powder
3 ½ teaspoons granulated sugar
2 tablespoons kosher or sea salt
1 ¾ teaspoons ground ginger
1 ¾ teaspoons ground cinnamon
1 teaspoon cayenne pepper
1 teaspoon garlic powder
Food Processor, Measuring Cups and Spoons, Three Spice Jars or Tins
1. In a food processor, fitted with the metal blade, pulverize the coconut into tiny bits, 1 to 2 minutes. Add the curry powder, sugar, salt, ginger, cinnamon, cayenne and garlic powder. Pulse to combine.
2. Divide into ¾-cup portions and transfer to jars or tins with tight-fitting lids.
Storing: Store the popcorn seasoning away from heat and light for up to 4 months.
Gift card: This Bollywood Coconut Curry Popcorn Seasoning was blended on [give date] and can be enjoyed for up to 4 months. Generously sprinkle it over freshly popped popcorn coated with melted butter. It can also be tossed with microwave popcorn; just be sure to drizzle it with melted butter so the seasoning clings to each kernel!
Gift-giving tips: Tie each jar or tin with raffia or ribbon and attach a gift card. To turn this into a gift basket, consider including popcorn kernels. To make the gift more elaborate, see page 173 for a Retro Popcorn Gift Kit idea.
Big Flavors Rating: 4 Stars