This post may contain affiliate links, which won't change your price but will share some commission.
This recipe takes some time, but it is beyond worth it! These pecans are out of this world - they're crunchy, sweet and pack a bit of a kick. I don't have a nonstick baking sheet, so I used a Silpat, and that worked out great, although it was pretty annoying to clean up since some of the butter went underneath it. It was totally worth all of the work. They need quite a bit of hands-on time while they're cooking, but it's necessary to ensure that they cook evenly and get nice and golden and crunchy. I served these with some Moonlight Chaource (an amazing ash covered goat cheese from my local Farmers' Market), red grapes and crackers. It was a perfect way to start the evening during the snow storm.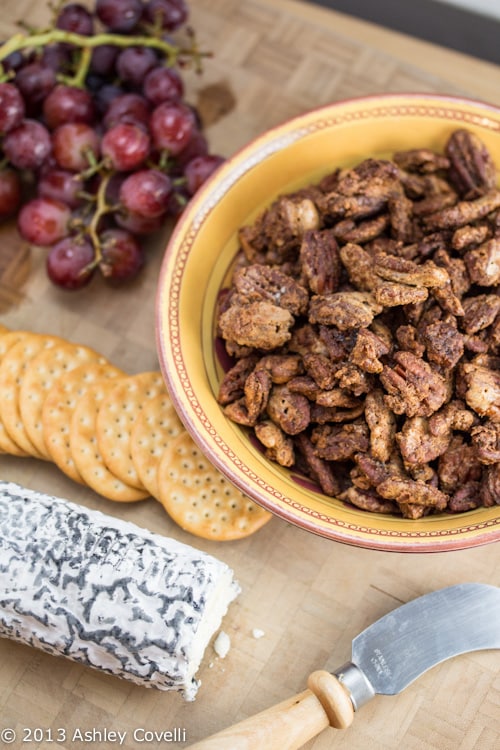 Chipotle Chile Candied Pecans
Gifts Cooks Love - Sur La Table
Prep Time: 20 minutes
Active Bake Time: about 1 ¼ hours, stirring every 15 minutes
Makes 1 pound nuts, portioned into four (¼-pound) packages
½ cup (1 stick) unsalted butter
1 teaspoon ground chipotle chile powder
1 cup packed light brown sugar
1 teaspoon pure vanilla extract
2 large egg whites, at room temperature
¾ teaspoon kosher or sea salt
1 pound large or jumbo pecan halves
Large Rimmed Nonstick Baking Sheet, Measuring Cups and Spoons, Small Bowl, Stand Mixer with Whip Attachment or Hand Mixer, Rubber Spatula
1. Position a rack in the center of the oven. Preheat the oven to 300°F. Have ready a large rimmed baking sheet, preferably nonstick for easier cleanup.
2. Melt the butter on the baking sheet in the oven. Be careful not to let the butter brown. Set aside.
3. Combine the chile powder and brown sugar in a small bowl. Pour the vanilla over the brown sugar. Set aside.
4. In the bowl of a stand mixer fitted with the whisk attachment, beat the egg whites on medium speed until foamy. Add ¼ teaspoon of salt and beat on medium-high speed until soft peaks form. Add the sugar mixture 2 tablespoons at a time, beating on high speed to form a strong, shiny meringue. Remove the bowl from the mixer and use a rubber spatula to gently fold in the nuts until they are well coated.
5. Gently tip the rimmed baking sheet so the butter coats the bottom of the pan. Using a rubber spatula, spread the nuts over the butter, without stirring, to form an even layer without deflating the meringue.
6. Bake the nuts for 20 minutes. Remove them from the oven and stir the nuts with a spatula, moving the nuts at the center of the pan to the edges and the nuts at the edges closer to the center. Return the pan to the oven, bake the nuts for 15 minutes longer, and stir them again. Sprinkle the nuts with the remaining ½ teaspoon of salt.
7. Continue baking, stirring every 15 minutes, until the nuts are separated, have absorbed all the butter and glisten, and are beautifully browned, 45 minutes to 1 hour longer.
8. Immediately turn the nuts out onto a counter lined with a long sheet of aluminum foil, spread them out, and let cool completely.
Recipe card: Create a card to package with gift
Chipotle Chie Candied Pecan, Dried Cranberry, and Crumbled Blue Cheese Salad
Combine a handful of these candied pecans, along with ¼ cup of sweetened dried cranberries and ½ cup blue cheese, with 8 cups of loosely packed mesclun greens. Toss with your favorite vinaigrette and serve Add thin slices of crisp apples or ripe pears, if desired.
Storing: Store in a tightly covered tin or covered glass container. The nuts will keep for up to 3 weeks.
Big Flavors Rating: 5 Stars