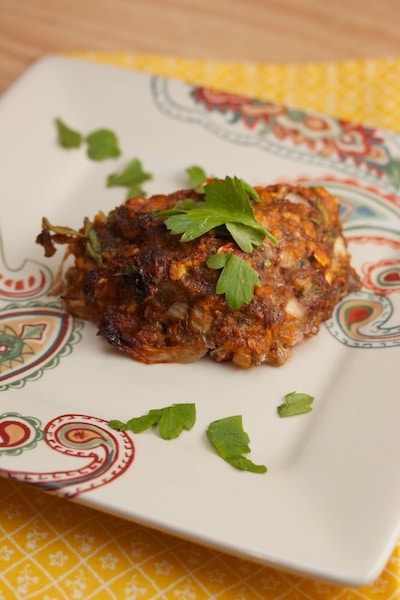 This post may contain affiliate links. Thank you for supporting the brands that keep me creative in my tiny kitchen!
This is one of our favorite recipes, and I hadn't made it for a while (so long, actually, that it's on my livejournal location!). This was the first time I made it with lamb, and it was great! The flavors in this meatloaf are different from the American version. The hint of cinnamon adds a warmness, and the celery leaves really enhance the flavors. I adapted it this time around to cook the way that I like other meatloaf recipes – free form on a pan. This lets the fat escape from the meat, and makes it cook faster. I also used oatmeal instead of bread soaked in water, because I prefer that consistency. This is a must try recipe!! We made a little mixture of ketchup and hot sauce to dip some bites of our meatloaf in, which kicked up the flavors even more!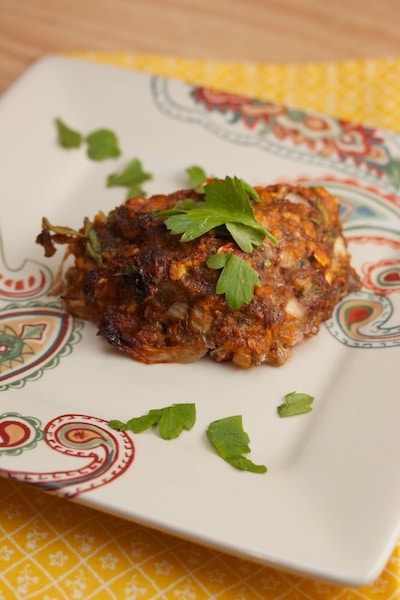 Persian Meatloaf
Adapted from In a Persian Kitchen: Favorite Recipes from the Near East
Serves 4
1 ½ pound ground lamb or beef
1 large onion, grated
¼ cup green onion, finely chopped
¼ cup parsley, chopped
¼ cup celery leaves, finely chopped
1 teaspoon salt
¼ teaspoon cinnamon
½ teaspoon black pepper
2 eggs
¼ cup tomato paste
1 tablespoon lemon juice
½ cup oatmeal
Put ingredients into a large bowl. Mix well until thoroughly mixed. Form into a rectangular loaf, around 2 inches high, in the center of a baking sheet. Bake at 350°F for 45 minutes to an hour.
Big Flavors Rating: 5 Stars