This post may contain affiliate links, which won't change your price but will share some commission.
I've been drooling over my latest cookbook purchase for a few weeks now, and when I saw pomegranate arils at the store, I knew that it was the perfect time to make the beautiful cover recipe. I don't take a whole lot of shortcuts in the kitchen, but not having to whack a pomegranate for the garnish of this recipe was way too tempting. This dish has such wonderful flavor - rich, smoky eggplant that just melts in your mouth, along with a creamy yogurt and buttermilk sauce, topped with tangy pomegranate. Wowza. It was great! I didn't have lemon thyme, so I used regular thyme and at the end, added a little bit of grated lemon zest. It was perfect. One major note here - the smallest eggplant I could find was pretty big, and it just would.not.cook. So I ended up cranking the oven to 350°F and cooking it for MUCH longer than suggested. I wanted that soft, creamy, smoky eggplant flavor, and it did not happen quickly. I think this would be nice to do with some baby eggplant, as it would come together a lot faster, and would be a cute appetizer. This is the dish that I made some homemade za'atar to go with, and it worked out really well!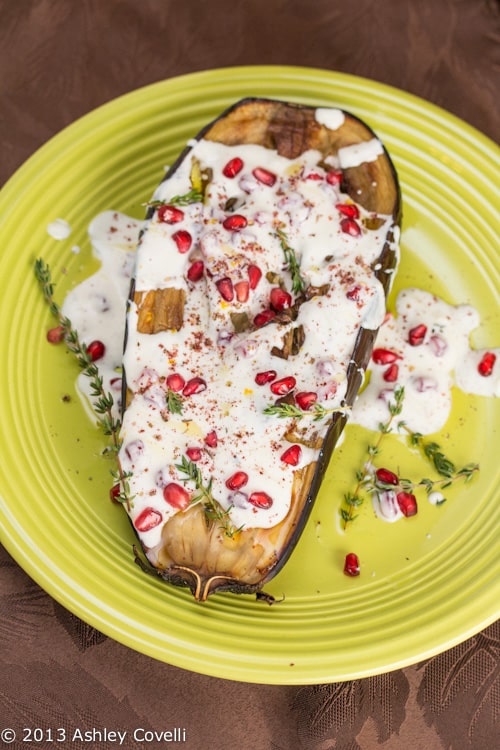 Eggplant with Buttermilk Sauce
Plenty - Yotam Ottolenghi
Makes 4 as a starter
2 large and long eggplants
⅓ cup olive oil
1 ½ teaspoon lemon thyme leaves, plus a few whole sprigs to garnish
Maldon sea salt and black pepper
1 pomegranate
1 teaspoon za'atar
Sauce:
9 tablespoon buttermilk
½ cup Greek yogurt
1 ½ tablespoon olive oil, plus a drizzle to finish
1 small garlic clove, crushed
Pinch of salt
Preheat the oven to 200°F. Cut the eggplants in half lengthways, cutting straight through the green stalk (the stalk is for the look; don't eat it). Use a small sharp knife to make three or four parallel incisions in the cut side of each eggplant half, without cutting through to the skin. Repeat at a 45-degree angle to get a diamond-shaped pattern.
Place the eggplant halves, cut-side up, on a baking sheet lined with parchment paper. Brush them with olive oil—keep on brushing until all of the oil has been absorbed by the flesh. Sprinkle with the lemon thyme leaves and some salt and pepper. Roast for 35 to 40 minutes, at which point the flesh should be soft, flavorful and nicely browned. Remove from the oven and allow to cool down completely.
While the eggplants are in the oven, cut the pomegranate into two horizontally. Hold one half over a bowl, with the cut side against your palm, and use the back of a wooden spoon or a rolling pin to gently knock on the pomegranate skin. Continue beating with increasing power until the seeds start coming out naturally and falling through your fingers into the bowl. Once all are there, sift through the seeds to remove any bits of white skin or membrane.
To make the sauce. Whisk together all of the ingredients. Taste for seasoning, then keep cold until needed.
To serve, spoon plenty of buttermilk sauce over the eggplant halves without covering the stalks. Sprinkle za'atar and plenty of pomegranate seeds on top and garnish with lemon thyme. Finish with a drizzle of olive oil.
Big Flavors Rating: 5 Stars