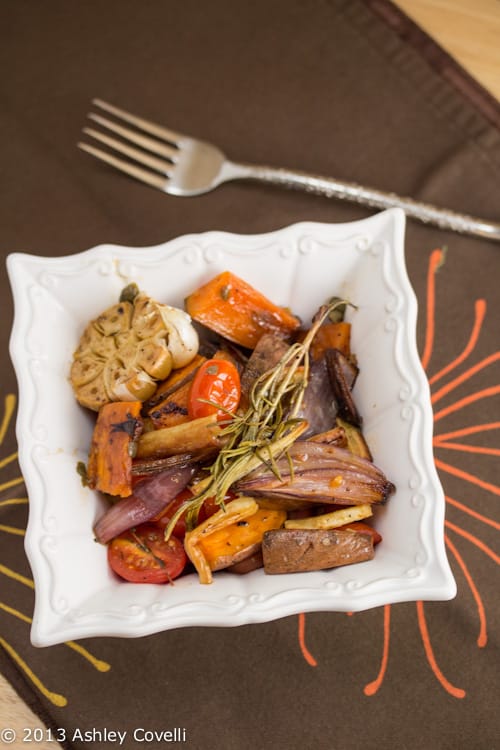 Roasted Parsnips and Sweet Potatoes with Caper Vinaigrette
This post may contain affiliate links, which won't change your price but will share some commission.
I bought Plenty a while back, and this is the second recipe I've made from it. The first was Eggplant with Buttermilk Sauce, which was so good, that I had high hopes for my second recipe attempt. Let me tell you – this did NOT disappoint! Dino actually said, "this is the best vegetable dish I've ever eaten. EVER!" as he was eating his second helping of these beautiful roasted veggies. The parsnips got nice and caramelized from the long roasting time, and the sweet potatoes were nice and tender. The acidity from the tomatoes went perfectly, and tossing the caper vinaigrette on top at the end allows the hot veggies to absorb all of the salty, tangy goodness. It was phenomenal! I did notice that the recipe that I found already typed out online is a bit different from the way it's written in the cookbook (the one in my book uses lemon juice and maple syrup instead of white wine vinegar), so I'm tempted to try it out that way, too. I went by the one I saw online while I was cooking. I completely forgot to add the toasted sesame seeds at the end, but it was so perfect that I don't even know how it would have been better. We will definitely be having this dish again and again. It was outstanding!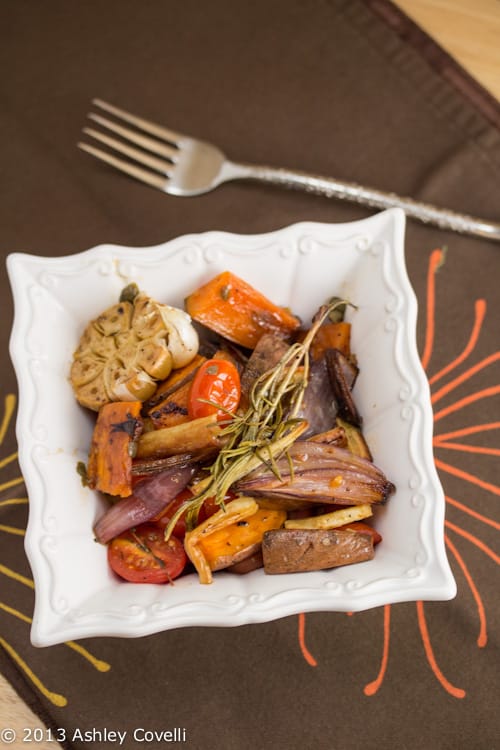 Roasted Parsnips and Sweet Potatoes with Caper Vinaigrette
Plenty – Yotam Ottolenghi (via The Guardian)
The addition of vinaigrette to freshly roasted vegetables gives them a freshness and juiciness they don't normally have; the acidity brings out new shades of flavour, too. The combinations are endless – try adding yam or salsify, or celeriac and beetroot. Furthermore, the dressing can easily take a sweet note, if you prefer – just omit the capers and add honey or maple syrup. Fold in some fresh herbs, such as basil or oregano, chopped at the last moment, and a little grated lemon zest to take it even further. Just try. Serves four.
4 parsnips (around 700g in total)
2 red onions
90ml olive oil
4 sprigs of thyme
2 sprigs of rosemary
1 head garlic, cut in half horizontally
Salt and black pepper
2 sweet potatoes (around 600g)
20 cherry tomatoes, halved
2 tbsp white-wine vinegar
2 tbsp baby capers (or larger ones roughly chopped)
1 tsp mustard
1 tbsp toasted sesame seeds
Preheat the oven to 180C/350F/ gas mark 4. Peel the parsnips and cut them into two or three segments, depending on their lengths. Cut each piece lengthways into two or four – you want pieces that are roughly 5cm long and 1.5cm wide. Top and tail the onions, peel them and cut each into six wedges.
Place the parsnips and onions in a large mixing bowl and add 60ml of olive oil, the thyme, rosemary, garlic, a teaspoon of salt and some pepper. Mix and spread out on a large roasting tin. Roast for 35 minutes.
While the parsnips are cooking, top and tail the sweet potatoes. Cut them (with their skins) into two widthways and then cut each half into six wedges. Add the potatoes to the tray with the parsnips and onions, stir and return to the oven for another 35-45 minutes.
Once all the vegetables are cooked through and golden brown, stir in the halved tomatoes and return to the oven for another 10 minutes.
Whisk together the vinegar, capers, mustard, 30ml of oil and half a teaspoon of salt, and pour over the roasting vegetables the moment they come out of the oven. Stir, taste and adjust the seasoning as necessary. Scatter the sesame seeds over the top and serve straight from the tin.
Big Flavors Rating: 5 Stars