This post may contain affiliate links, which won't change your price but will share some commission.
We came across this blog a while back, and fell in love with the beautiful recipes. Dino's family is from Calabria, and I was excited to find such a great resource of authentic recipes. For Christmas, Dino got me a copy of her cookbook, and I couldn't wait to dive in! This is the first recipe I've tried from it, and it was fantastic! The flavors meld together beautifully, and the texture is silky. Butternut squash is something that I really don't like peeling, so I bought 2 halves at the store that were already peeled and seeded. It saves a lot of time and frustration, because those things are tricky! In the notes before the recipe, Rosetta says that most Clabrians don't eat the pieces of garlic in this dish, they just use them for flavor. It takes a bit of time to fry all of the squash, but it's well worth it. I'll definitely be making this again!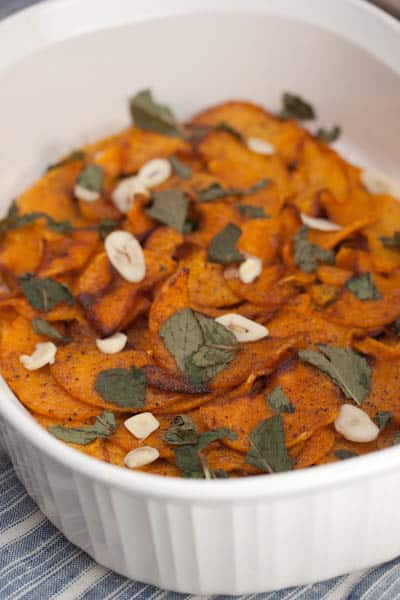 Zucca Gialla con la Menta (Butternut Squash Marinated with Garlic and Mint)
My Calabria - Rosetta Costantino
Serves 4 to 6
2 pounds (900 grams) butternut squash
1 cup (250 milliliters) extra virgin olive oil
Kosher salt and freshly ground black pepper
⅓ cup (80 milliliters) red wine vinegar
¼ cup fresh mint leaves, torn into smaller pieces
4 garlic cloves, very thinly sliced crosswise
Cut off the stem end of the butternut squash, then peel the squash with a vegetable peeler or a knife. You may find it easier to peel it if you first cut it crosswise where the slender neck swells into a bulbous base. Cut the peeled squash in half lengthwise and scrape out the seeds. Slice each piece into 3/16-inch-thick (4 ½-millimeter-thick) slices crosswise. You will get half moons from the neck portion and half-rings from the base, where the seed cavity is.
Choose a serving dish or deep platter that will allow you to make three layers of squash once it's fried. An oval gratin dish about 8 inches (20 centimeters) wide and 13 inches (33 centimeters) long is perfect.
Heat the oil in a 12-inch (30-centimeter) skillet over high heat. Fry the sliced squash in batches, turning once with tongs, until the slices develop golden-brown markings on each side, 2 to 3 minutes total. As they are done, transfer them to the serving dish or platter. When you have a layer that covers the bottom of the dish, season it with salt and pepper, sprinkle it with wine vinegar, and scatter the mint and garlic evenly, using about one-third of each ingredient. Continue frying, layering, and seasoning the squash until you have used all the squash and the seasonings.
Let the squash marinate at room temperature for at least 4 hours before serving, or refrigerate it overnight and serve it the following day, bringing it to room temperature before serving.
Big Flavors Rating: 5 Stars