This post may contain affiliate links, which won't change your price but will share some commission.
Black beans and rice is one of my favorite side dishes. It's nice and hearty and super simple to prepare. When I bought Gwyneth Paltrow's book, It's All Good, this black bean recipe was one that immediately stood out to me. It claimed to deliver that restaurant quality flavor without hours of soaking and cooking. So I gave it a try tonight, and let me tell you - these beans are really surprisingly tasty for the little effort that's involved! The garlic and cilantro really permeate the beans nicely, and they get nice and thick from allowing the liquid to cook down a bit. This is a great and simple way to prepare beans that I'll definitely repeat. I can definitely see why she named it "Go-To Black Beans"!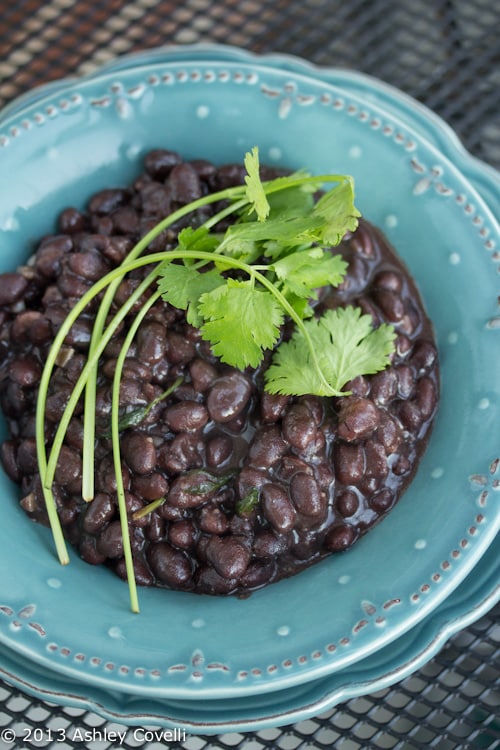 Go-To Black Beans
It's All Good – Gwyneth Paltrow
Serves 4 as a side dish
2 tablespoons extra virgin olive oil
1 garlic clove, finely chopped
A 15 ½-ounce can black beans
4 sprigs of cilantro
A pinch of coarse sea salt
Heat the olive oil in a small pot set over medium heat. Add the garlic and cook, stirring, until just fragrant, 1 or 2 minutes. Add the cilantro, and the entire can of beans (including the liquid), and the salt and turn the heat to high. Once the beans begin to boil, turn the heat to low and simmer until the beans have lost their tin can flavor and aren't too watery, about 15 minutes. Remove the cilantro before serving.
Big Flavors Rating: 4 Stars