This post may contain affiliate links, which won't change your price but will share some commission.
I was immediately intrigued when I saw this recipe for vegetarian meatballs in one of my favorite cookbooks. This recipe takes a bit of time, but it is beyond worth it. The "meatballs" are super fluffy and tender, and the outside gets nice and crispy.
A few notes - I didn't use fresh breadcrumbs. I used store-bought ones and it worked beautifully. Also, I should have gone with my gut and not used olive oil for frying these.
Olive oil doesn't have a high smoke point, and it's not good for stuff like this. I get it, olive oil is Italian...but it's just not appropriate here.
So, after I took my cast iron skillet full of smoking olive oil off of the stovetop, I let out a sigh of relief that I didn't start a kitchen fire, and started a new skillet with vegetable oil. Much better.
Peanut oil would also work well here. Just not olive oil. Nope. Anyway, these went beautifully with some angel hair pasta and Sugo di Pomodoro (Quick Tomato Sauce).
We will definitely be having these again. I bet they freeze great, too!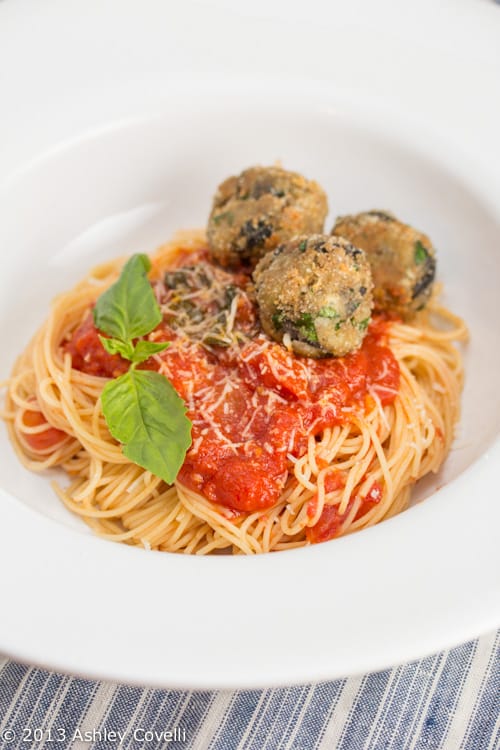 Polpette di Melanzane (Crispy Eggplant Meatballs)
My Calabria - Rosetta Costantino
1 large eggplant, about 1 pound (450 grams), unpeeled
Kosher salt
1 cup (80 grams) fresh breadcrumbs (page 127), or more if needed
¼ cup (25 grams) freshly grated pecorino cheese
2 tablespoons minced flat-leaf parsley
1 garlic clove, minced
Freshly ground black pepper
1 large egg, lightly beaten
⅓ cup (50 grams) fine dry breadcrumbs (page 127)
Extra virgin olive oil for frying
Cut the eggplant into 1-inch (2 ½-centimeter) to 1 ½ inch (4-centimeter) cubes. Bring 2 quarts (2 liters) of water and 1 tablespoon of salt to a boil in a 4-quart (4-liter) pot over high heat and add the eggplant. Boil uncovered until the eggplant is soft, about 10 minutes. The cubes want to float, so you will need to push them down into the water repeatedly with a wooden spoon. Drain in a colander and let cool, then press on the eggplant with a wooden spoon to remove excess water. The eggplant should be as dry as possible. Very finely chop by hand.
In a bowl, combine the eggplant, fresh breadcrumbs, cheese, parsley and garlic. Blend the ingredients gently with a fork, then season to taste with salt and pepper. Mix the egg in thoroughly. In a small skillet lightly coated with olive oil, fry a tablespoon of the mixture and taste for seasoning.
Working with a little of the mixture at a time, roll between your palms into small balls about 1 inch (2 ½ centimeters) in diameter and set them on a tray. If the mixture is too moist to roll easily, stir in a few more fresh breadcrumbs. Put the fine breadcrumbs in a small bowl, roll each ball in the crumbs to coat evenly, then set the coated balls aside on a clean tray.
Pour olive oil into a 10-inch (25-centimeter) skillet to a depth of ½ inch (12 millimeters). Don't skimp on the oil or the meatballs won't fry properly. Turn the heat to medium. When the oil begins to shimmer, put a test ball in the skillet; it should sizzle immediately. If not, let the oil heat a little longer. When the oil is ready, carefully place half the balls in the skillet. They should fit in a single layer without crowding.
Fry the balls, turning gently with a spoon so as not to break them, until deeply browned all over, about 3 minutes total. With a slotted spoon, transfer the balls as they are done to a tray lined with paper towels. Repeat with the remaining balls. Let cool for about 10 minutes, then serve.
Makes about thirty-two 1-inch (2 ½-centimeter) meatballs
Big Flavors Rating: 5 Stars