This post may contain affiliate links, which won't change your price but will share some commission.
Green tea, raw cashews, kiwis and blueberries team up in this simple, delicious smoothie bowl. A vegan treat to start (or end!) any day of the week.
This post may contain affiliate links.
Last year I was at a conference where fellow blogger and food lover Carissa Bonham (of Creative Green Living) was part of a panel on stepping up your Instagram game (have you seen her Instagram? It's gorgeous!).
She mentioned that she had a book in the works that was all about smoothie bowls and I was stoked to get my hands on a copy!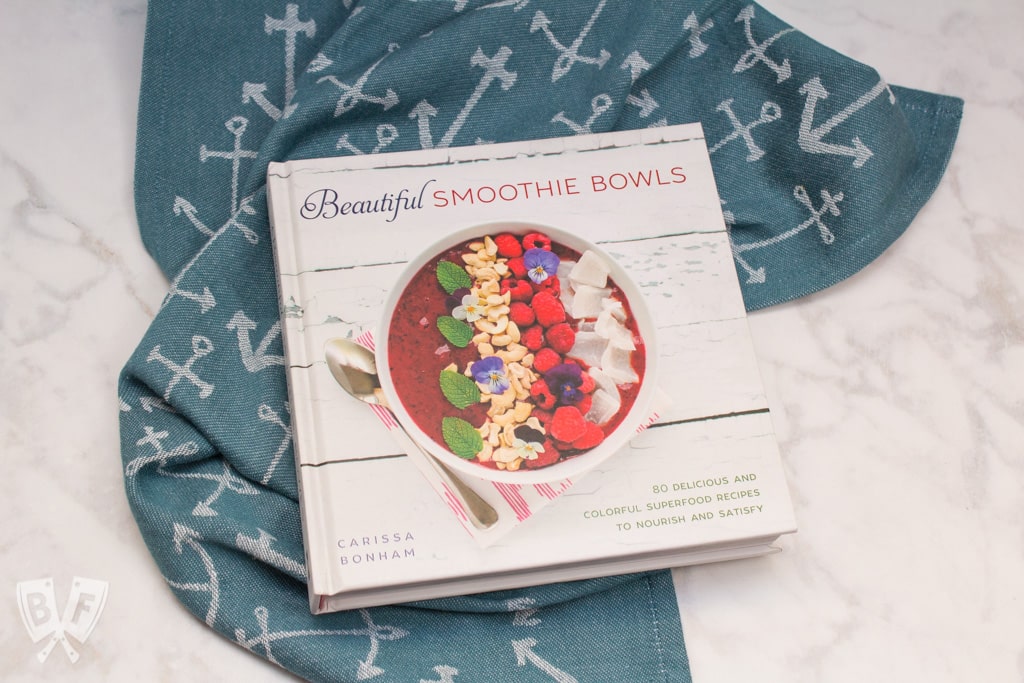 Carissa sent over a copy of the finished book earlier this summer for me to review, and I've been absolutely loving it!
Beautiful Smoothie Bowls is a collection of 80 recipes that are bursting with colorful, naturally delicious ingredients. The recipes come from Carissa herself along with several of her favorite healthy food bloggers and Instagrammers from around the world.
Every recipe in the book has labels to indicate which ones are vegan, paleo, gluten free, and dairy free. It comes in handy, especially if you want to make a smoothie bowl for someone with dietary restrictions.
In fact, my friend Teri was over at my house earlier this week and spotted the book on my dining room table and was immediately floored that the recipes looked so good and fit with her current restrictions.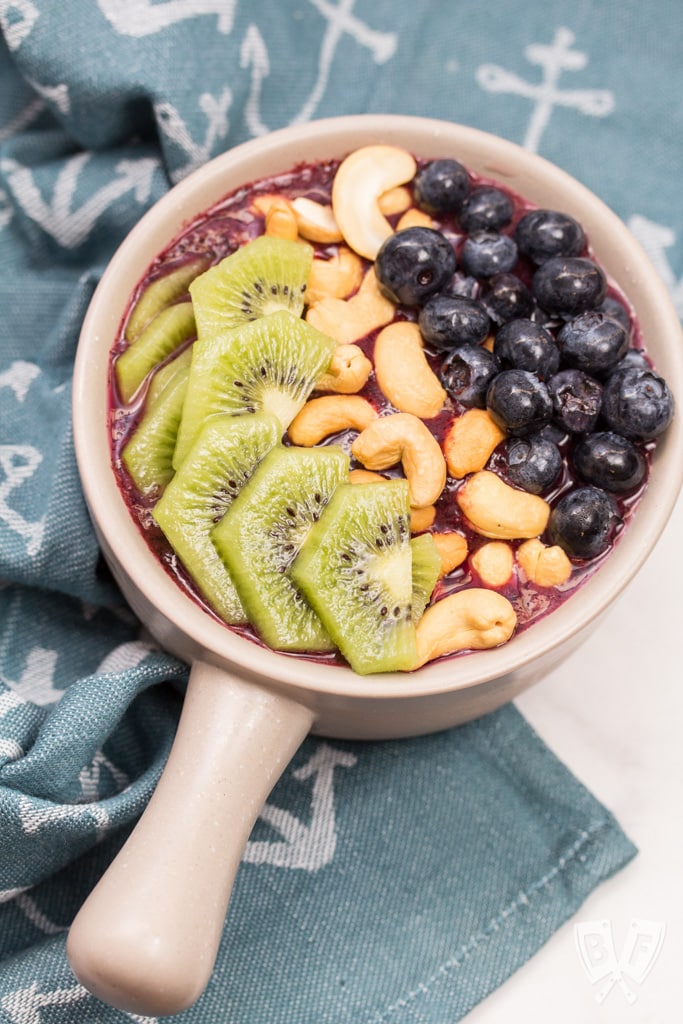 The book has lots of great introductory info on different superfood ingredients, equipment you should use to be successful in your smoothie bowl making. She also has tips on what to freeze yourself vs. what to buy already frozen, how to prep the ingredients, and how to get your freezer ready for your new smoothie bowl habit.
It also has a great chart on troubleshooting for those instances where something goes awry and you need to fix it (is your smoothie too runny or your ingredients are sinking to the bottom? Blend in more frozen fruit or ice cubes!)
One of the things that stood out to me in Carissa's approach, versus some others that I've seen, is that she makes it really approachable - even for the not-so-green types. She really wants everyone to be able to enjoy these gorgeous, wholesome recipes.
There really is an art to the presentation of a smoothie bowl. As she points out in the book,
Anyone can dump a smoothie into a bowl. The real fairy dust that elevates a smoothie poured into a bowl to the status of "smoothie bowl" is the toppings.
You don't have to get super fancy with it, but you certainly can! Smoothie bowls are very adaptable to the time and ingredients you have on hand.
It was hard for me to choose which recipe I wanted to make first, so I took a peek in my fridge/freezer/pantry to see if I had anything that stood out as something I should use sooner than later.
I had a whole bunch of kiwis and a pint of blueberries in the fridge, so I turned to the Surf Rider (page 198). I would have never thought to pair kiwi with cashews before, but they worked really well together!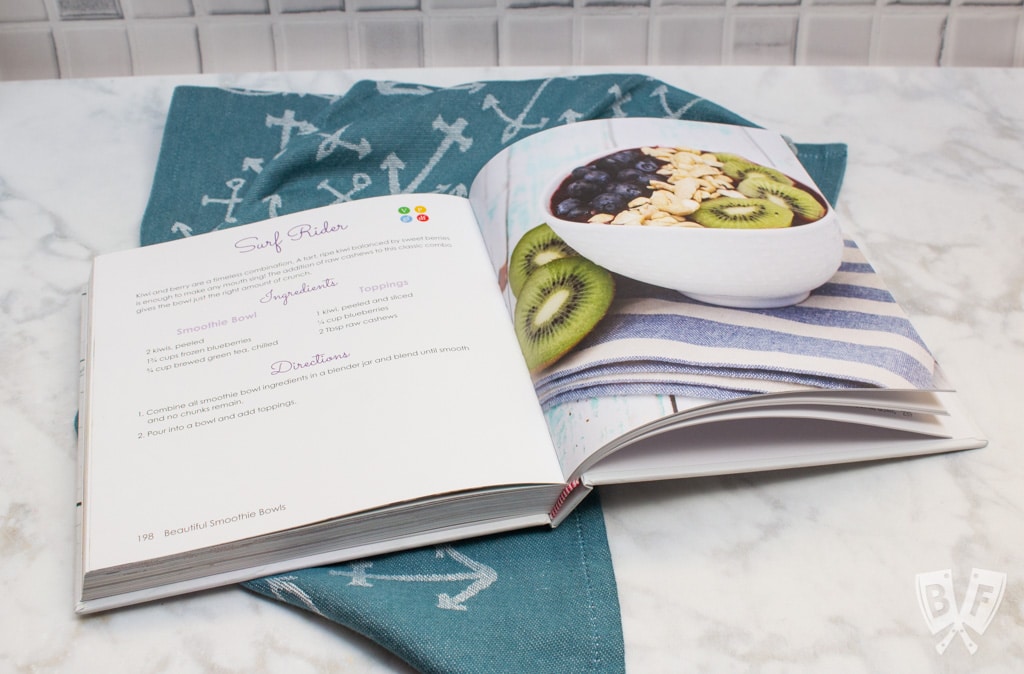 I loved that this only needed a few ingredients and that it called for brewed green tea as well.
This smoothie bowl came together in a snap and was nice and filling. I really enjoyed the extra crunch of cashews on top.
The texture was so thick and luscious - more than most other smoothie bowls I've made. You can tell she spent a lot of time getting the ingredient amounts just right.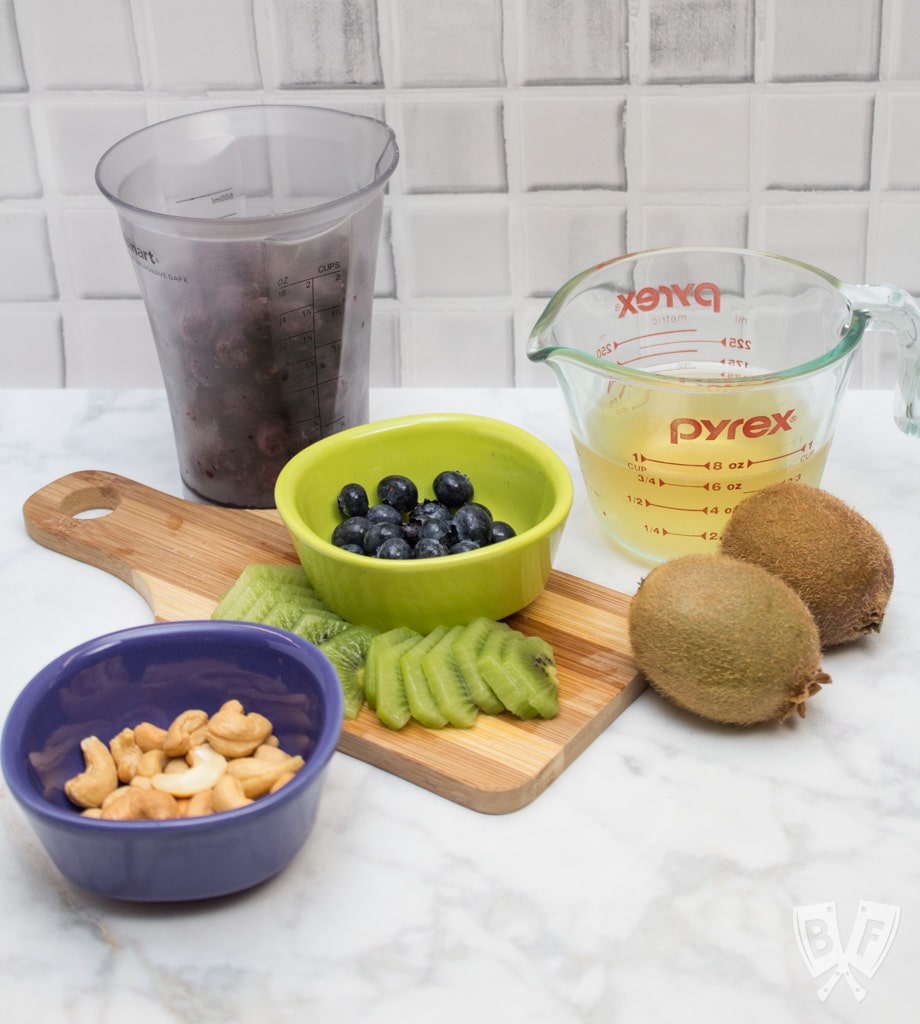 Another thing stood out in this book was the inclusion of vegetables in a lot of the recipes.
I really enjoy adding veggies to my fresh juices, but hadn't thought to put anything outside of leafy greens in my smoothies before.
I'm totally eyeing the Island Sunrise (page 114) which contains a carrot, along with orange, pineapple, peach, strawberry, coconut, and flaxseed) for my next smoothie bowl.
I like giving my kiddo the toppings separate when I make his smoothie bowls so he can have fun and be creative with the presentation. Interactive food is always more fun, right?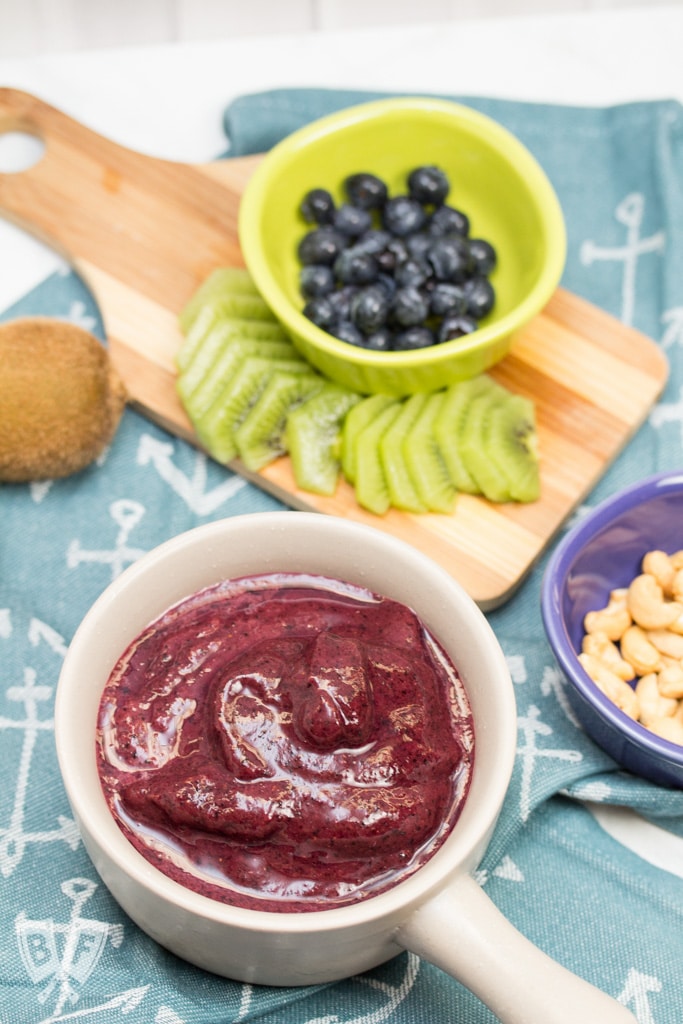 Carissa was kind enough to spend some time answering a few questions for me to share here, as well as giving some bonus tips on smoothie bowl success!
Big Flavors: How did you get into cooking?
Carissa: When I was in 8th grade, I announced I was becoming a vegetarian. In response, my mom told me that was fine but she wasn't going to make special meals for me. That meant I had to make my own meals (or at least the main course) most of the time. I ate a lot of omelettes and mac and cheese!
College was when I really starting digging into cooking healthier foods, cooking from scratch and smoothies. That was almost 15 years ago now but I just kept experimenting and trying new things!
Big Flavors: Do you have any tips for getting people into the habit of making healthier food choices?
Carissa: Start small so you don't feel overwhelmed!
If you change nothing else, I recommend switching to organic produce and grain products when feasible. This is going to reduce your exposure to pesticides that mess with your hormones and in some cases can cause cancer.
Another easy thing to do is to add more fruits and veggies. Add an extra serving of plants to your lunch or dinner by adding a salad or swapping out your regular lunch for a smoothie bowl. You can also exchange your ice cream habit for a nice cream habit - which will reduce your sugar and preservative intake as well as increase the amount of fruits and veggies you eat.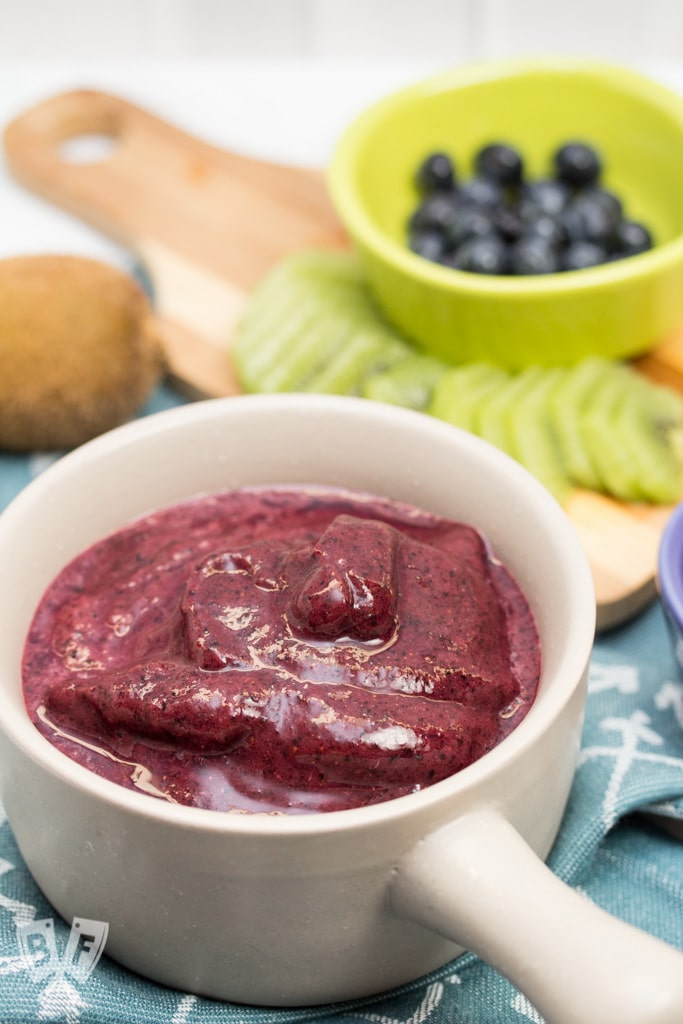 Big Flavors: What is a good starting point for someone who is overwhelmed with the plethora of superfood ingredient options that are available?
Carissa: "Superfood" sounds scary but I think people will be surprised by how many superfoods they are already familiar with - blueberries, carrots, and peaches for example. For superfoods you aren't familiar with, get a good cookbook (like Beautiful Smoothie Bowls!) where someone can hold your hand by giving you recipes showing you exactly how to prepare them. Once you are comfortable with it, you will start branching out on your own to try your own combinations and ways to prepare them!
Big Flavors: I can totally relate to the "I'm still hungry syndrome" when it comes to standard smoothies. Which smoothie bowl recipes would you recommend for someone who wants to feel like they've had a substantial meal?
Carissa: Most of the bowls in the book are going to fill you up as-is but if you are the kind of person who really likes heartier things, try one of the recipes that use oats like Blueberry Muffin (page 177), Carrot Cake (page 129) or Cherry Cobbler (page 77).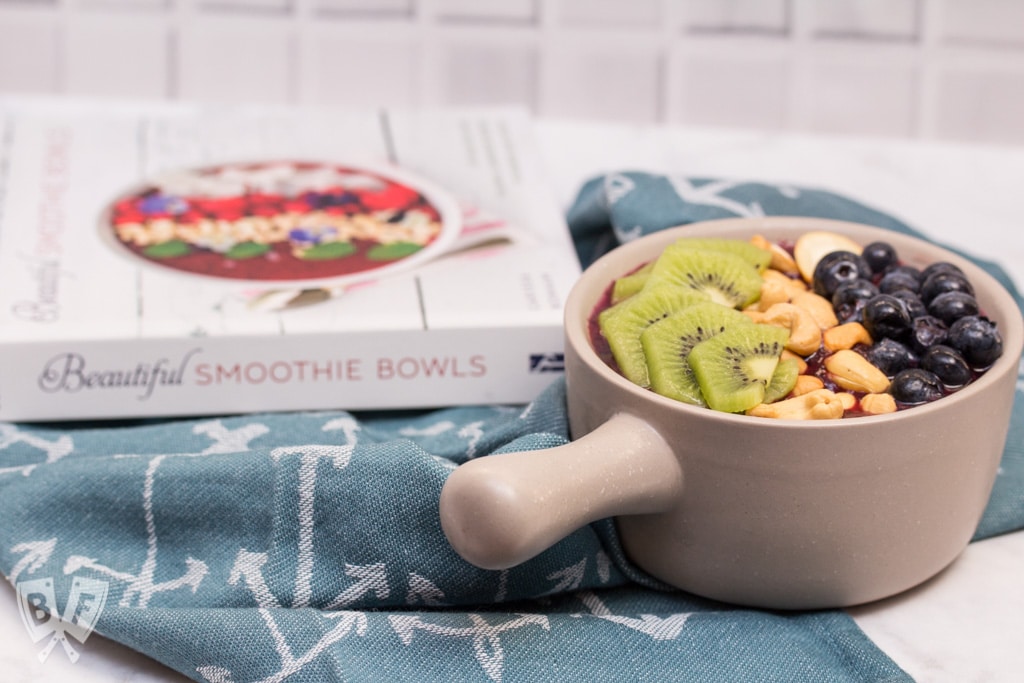 Big Flavors: What's a surprising flavor combination that works really well in smoothie bowl form? And were there any that you tried that just didn't work out?
Carissa: Zucchini with cherries and lime! I realize this sounds crazy but the zucchini is so mild tasting that what it really brings to this combination is texture. Zucchini definitely isn't an ingredient most people add to their smoothies!
While I was making recipes I really struggled to find spirulina combinations that used enough spirulina to make it beneficial nutritionally but did not taste like dirt! The two recipes in the book that ended up with spirulina in them really just add it for color.
Big Flavors: What are your family's favorite recipes from Beautiful Smoothie Bowls?
Carissa: My favorite, hands down, is the Piña Colada Nice Cream. The fresh coconut meat really gives it an amazing flavor.
My husband's favorite is Carrot Cake (page 129). My kids love just about everything but my oldest especially likes Piña Colada Nice Cream - I think because he is obsessed with cracking open fresh coconuts.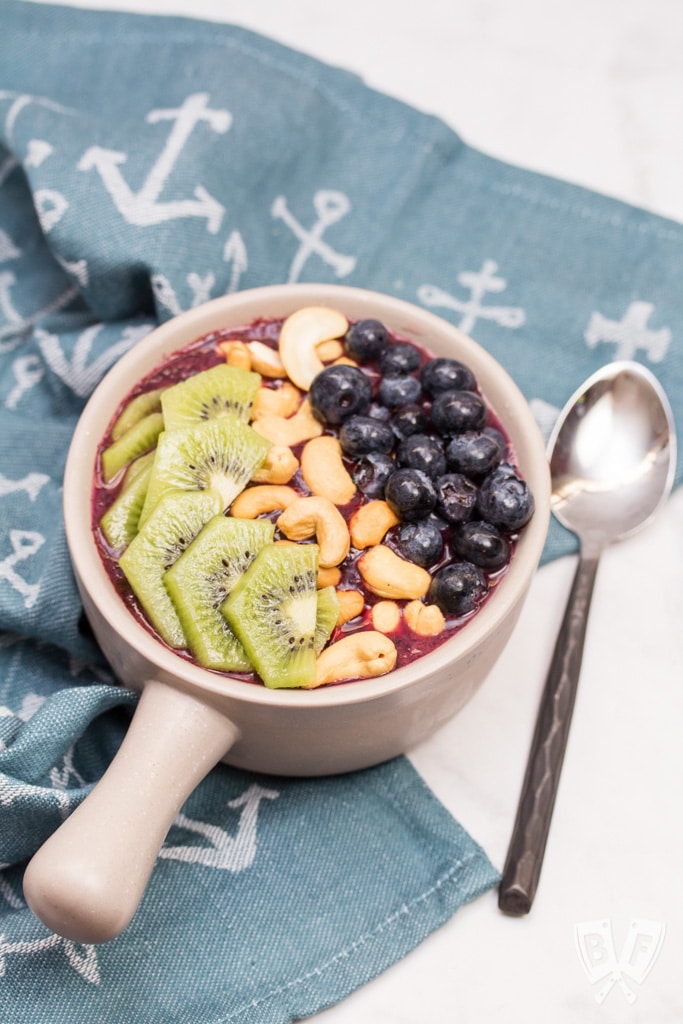 Big Flavors: Are there plans for a third cookbook, or any other big projects on the horizon?
Carissa: Beautiful Smoothie Bowls is coming out in Spanish in December as Deliciosos Smoothie Bowls -  so it's almost like having a third book (but without all the work)! For now, though, I'm focusing on my website, Creative Green Living, and will decide in 2018 if I want to work on a new book.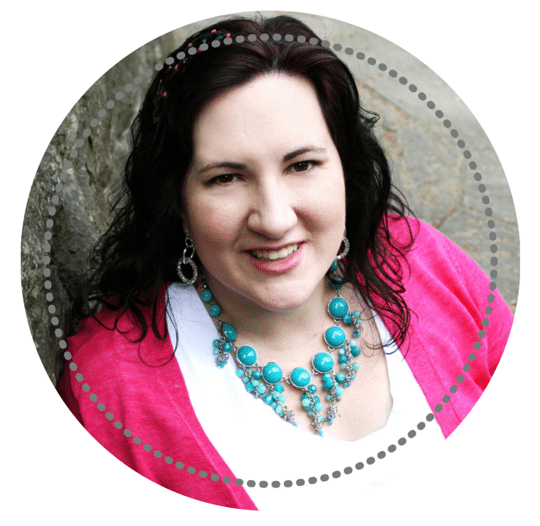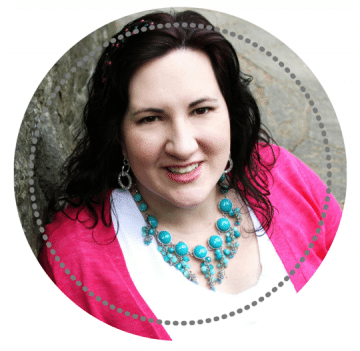 You can find Carissa over at the Creative Green Living website, or on Facebook, the Creative Green Living Instagram, the Creative Green Kitchen Instagram, Pinterest, YouTube, or Twitter.
Looking for more smoothie favorites? Check out some of our favorite recipes:
Print
📖 Recipe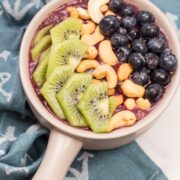 Surf Rider Smoothie Bowl + Beautiful Smoothie Bowls Review
Prep Time:

5 minutes

Cook Time:

0 minutes

Total Time:

5 minutes

Yield:

1

Smoothie Bowl

1

x

Category:

Breakfast

Method:

Blender

Cuisine:

American
---
Description
Kiwi and berry are a timeless combination. A tart, ripe kiwi balanced by sweet berries is enough to make any mouth sing! The addition of raw cashews to this classic combo gives the bowl just the right amount of crunch.
---
Smoothie Bowl:
2

kiwis, peeled

1 ¾ cups

frozen blueberries

¾ cup

brewed green tea, chilled
Toppings:
1

kiwi, peeled and sliced

¼ cup

blueberries

2 tablespoons

raw cashews
---
Instructions
1. Combine all smoothie bowl ingredients in a blender jar and blend until smooth and no chunks remain.
2. Pour into a bowl and add toppings.
---
Nutrition
Serving Size:
Calories:

463

Sugar:

58.9 g

Sodium:

17.1 mg

Fat:

10.6 g

Saturated Fat:

1.7 g

Carbohydrates:

95.1 g

Fiber:

17.2 g

Protein:

8.8 g

Cholesterol:

0 mg
Keywords: smoothie bowl, kiwi, cashews
Recipe Card powered by