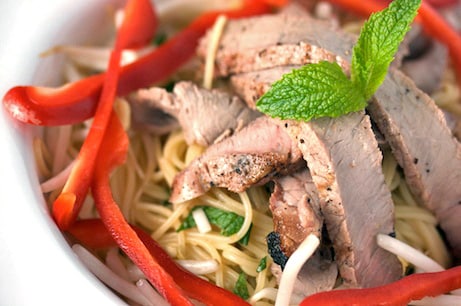 Vietnamese-Style Grilled Steak with Noodles
This post may contain affiliate links. Thank you for supporting the brands that keep me creative in my tiny kitchen!
I couldn't find any shell steaks, so I got strip steaks and asked Dino to grill them up while I got the rest of the dish ready. The flavors in this dish are amazing! The spice from the red pepper flakes works so well with the refreshing flavor of mint, and the bean sprouts and bell pepper add a nice cool crunch to the dish. This is a definite keeper, and we'll be making it again and again! It would also be great with tofu or chicken on top. Yum!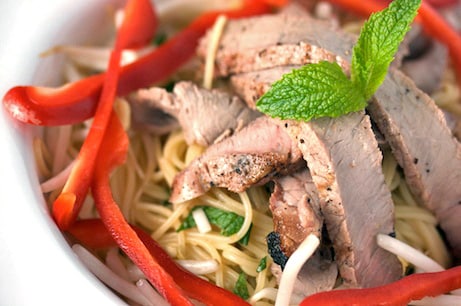 Vietnamese-Style Grilled Steak with Noodles
Gourmet June 1991
yield: Serves 2
Can be prepared in 45 minutes or less.
6 ounces capellini, or other thin spaghetti
3 tablespoons white-wine vinegar
1 ½ tablespoons soy sauce
2 garlic cloves, minced
4 teaspoons sugar
¼ teaspoon dried hot red pepper flakes
¼ teaspoon salt
⅛ teaspoon anchovy paste
¼ cup packed fresh mint leaves, shredded, or 1 teaspoon dried, crumbled, plus 2 mint sprigs for garnish
two 3/4-inch-thick boneless shell steaks (about 1 pound)
¾ cup fresh bean sprouts, rinsed and drained
½ red bell pepper, cut into julienne strips
In a kettle of boiling salted water boil the capellini until it is just tender and drain it in a colander. Rinse the capellini under cold water and drain it well. While the noodles are boiling, in a blender blend the vinegar, 1 tablespoon water, the soy sauce, the garlic, the sugar, the red pepper flakes, the salt, and the anchovy paste until the sauce is smooth. In a bowl toss the noodles with the sauce and the shredded mint.
Heat a well-seasoned ridged grill pan over moderately high heat until it is hot and in it grill the steaks, patted dry and seasoned with salt and pepper, for 3 to 4 minutes on each side, or until they are springy to the touch, for medium-rare meat. (Alternatively the steaks may be grilled on an oiled rack set 4 to 5 inches over glowing coals for the same amount of time.) Transfer the steaks to a cutting board and let them stand for 5 minutes. Cut the steaks into thin slices.
Divide the noodles between 2 plates, mounding them, arrange the slices of steak on them, and surround the noodles with the bean sprouts and the bell pepper. Garnish each serving with a mint sprig.
MacGourmet Rating: 5 Stars