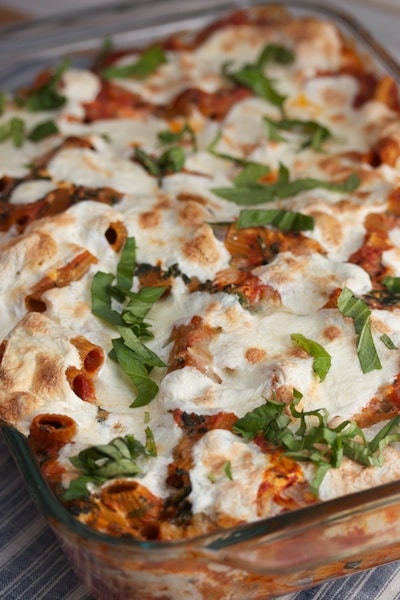 Supper Club: Tofu Rigatoni Casserole
This post may contain affiliate links. Thank you for supporting the brands that keep me creative in my tiny kitchen!
Our Supper Club was on hiatus for a few months, but now we're back in action, and this time around, the theme was Vegetarian. I kind of cheated and made a dish I've made many times before – Tofu Rigatoni Casserole. I like making new dishes when we have these events, but I wanted to stick to one that we love this time around.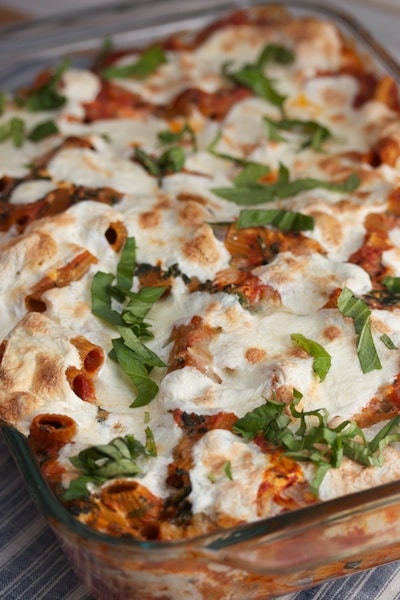 Tim and Liza Goodell's Tofu Rigatoni Casserole
cookiemag.com
1⁄4 cup extra-virgin olive oil, plus more for drizzling
1⁄2 onion, finely chopped
3 cloves garlic finely chopped
28-ounce can crushed tomatoes
1 pinch dried oregano
1 12- to 14-ounce package firm tofu, drained
1 large egg
1 pinch grated nutmeg
Salt and freshly ground black pepper to taste
10-ounce package frozen spinach, defrosted and drained
1-pound box rigatoni, cooked al dente and drained
1 lb. fresh mozzarella, grated (about 4 cups)
3 ounces grated Parmesan (about 3⁄4 cup)
1. Preheat oven to 350° F.
2. Heat the oil in a saucepan over medium-high heat. Add the onion. Sauté for 3 minutes, then add the garlic and cook until the onion is translucent, about 2 minutes more.
3. Add the tomatoes and oregano. Reduce heat and simmer, stirring occasionally, for 15 minutes. Meanwhile, in a blender, process the tofu, egg, nutmeg, salt, and pepper until smooth.
4. Transfer the mixture to a bowl and fold in the spinach, cooked rigatoni, tomato sauce, 1 cup of the mozzarella, and 1⁄2 cup of the Parmesan.
5. Drizzle a coating of olive oil into a 13-by-9-inch baking pan. Add the pasta mixture and sprinkle the remaining cheeses over the top. Bake until golden and bubbling, 35 to 40 minutes. Let cool for 10 minutes before slicing. Serves 8 – 10.
Big Flavors Rating: 5 Stars