This post may contain affiliate links, which won't change your price but will share some commission.
Grab your favorite hot cocoa mug and cozy up to this homemade hot chocolate mix! Perfect for holiday gift giving!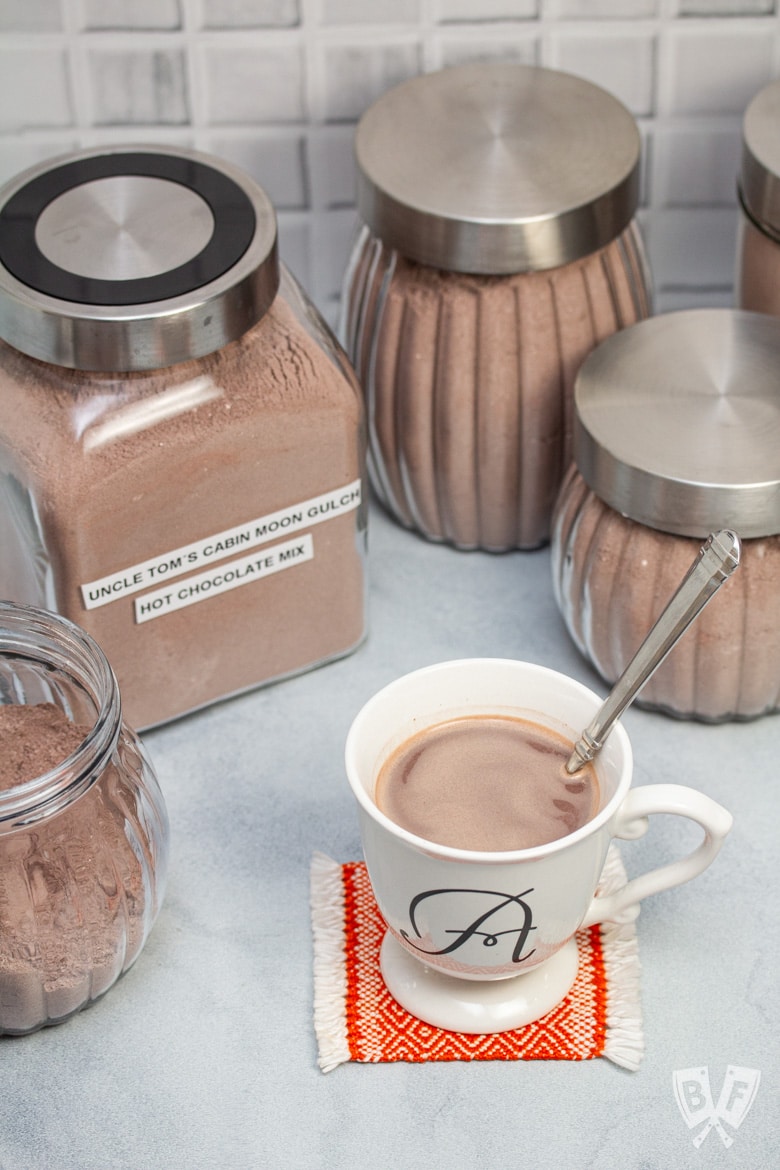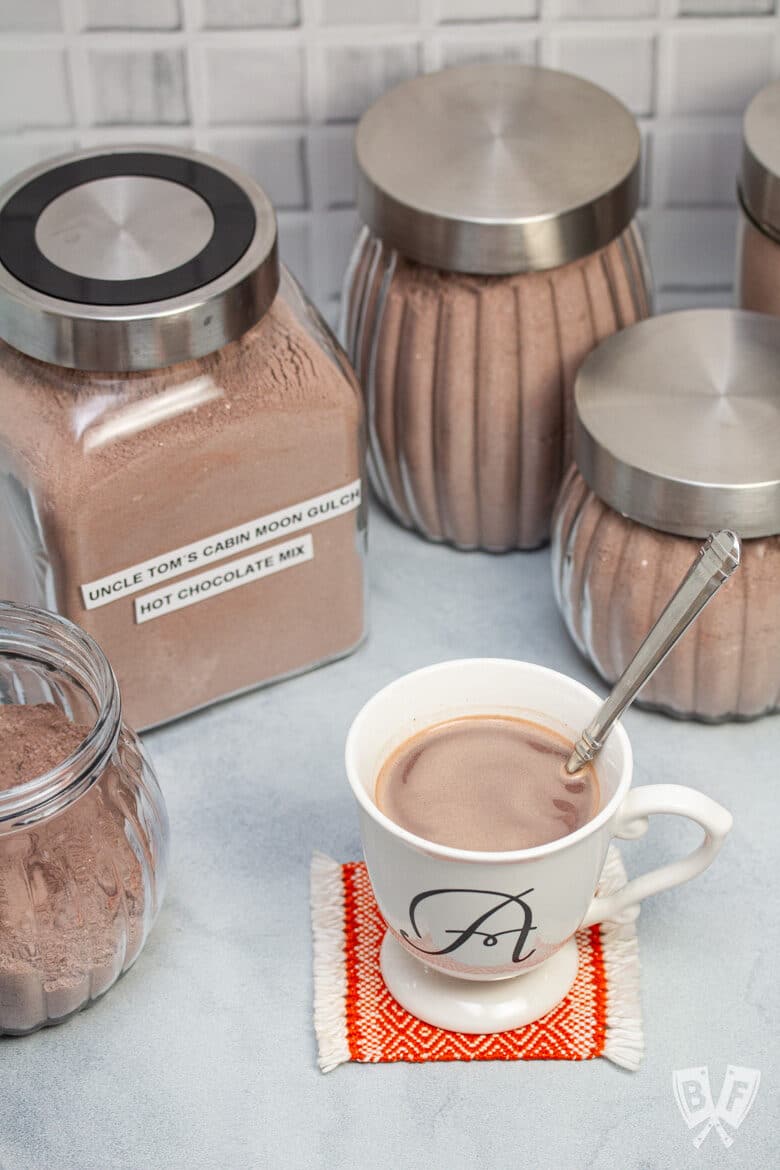 This post is a revamped version of a hot chocolate recipe that I posted waaaay back in 2007. It's a recipe that I've been making since I was in middle school back in Fort Wayne, Indiana.
Homemade hot cocoa mix is one of my all-time favorite homemade holiday gifts to make for people. It's a lot of fun to make with kids and is a hit with adults, too.
I love that it only takes a few ingredients, and they're all readily accessible at the grocery store or online.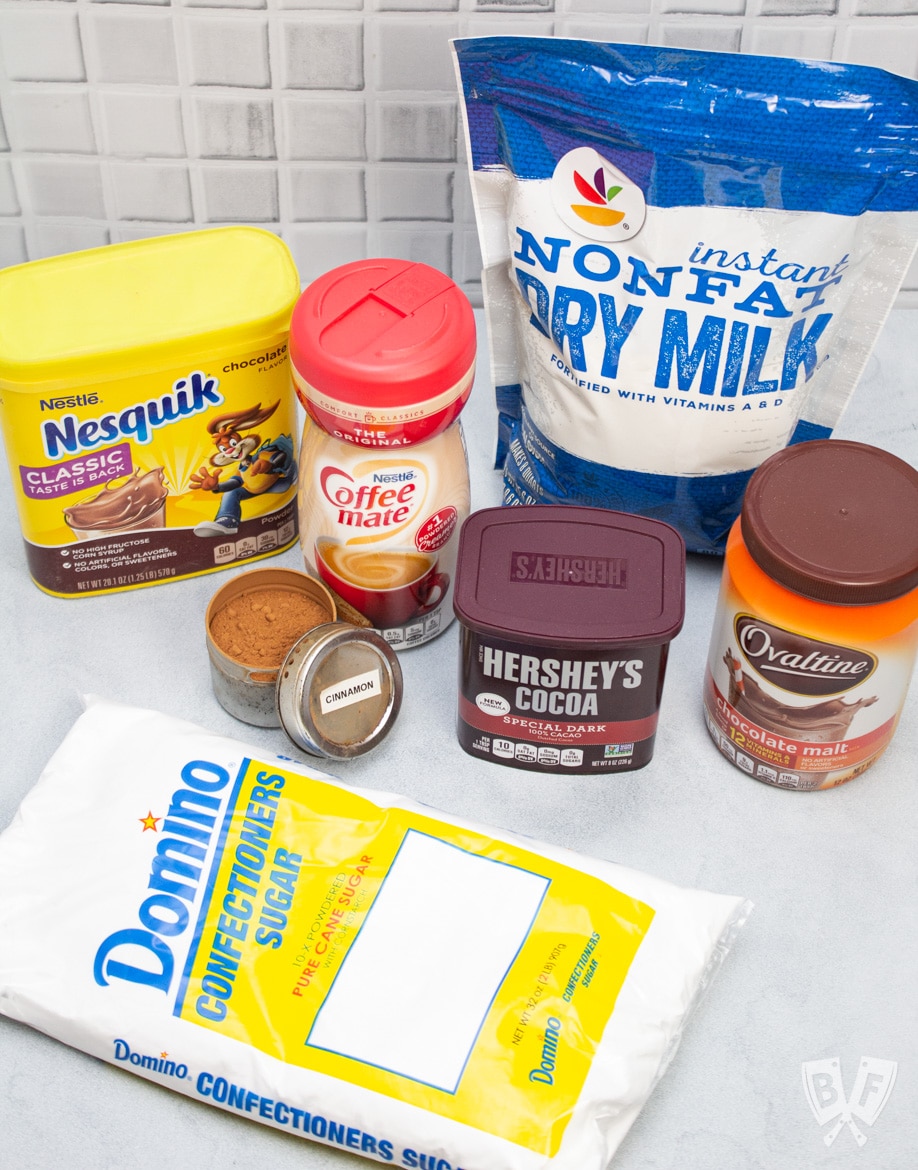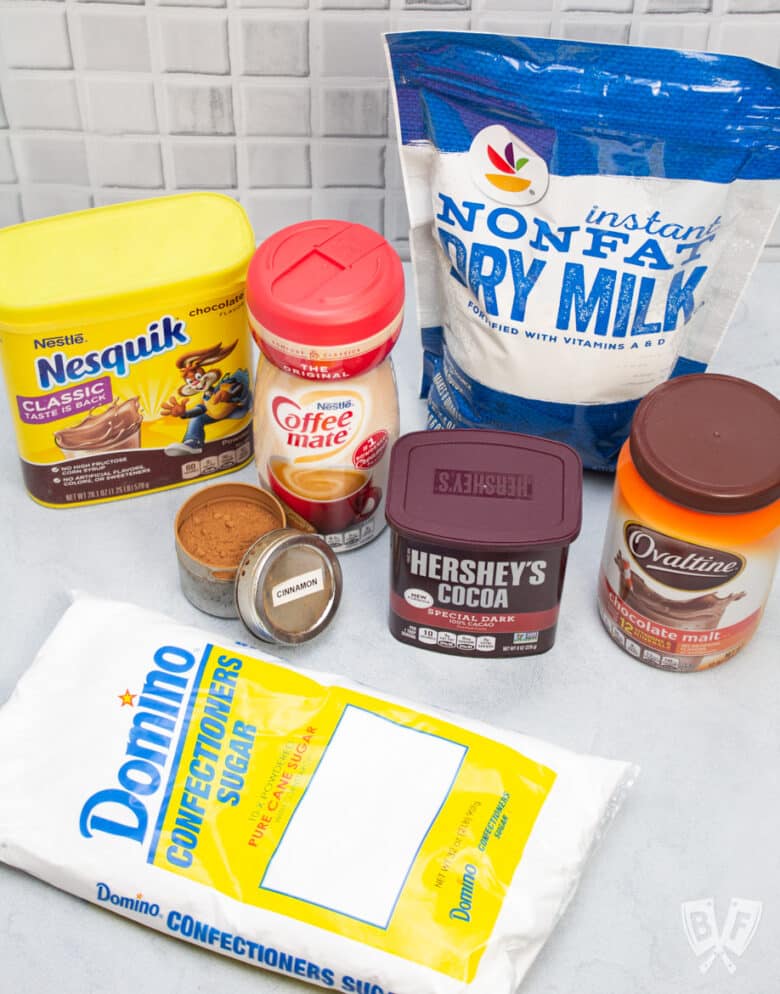 Gifting homemade hot cocoa mix is easy! Just find some cute jars or containers, divvy up the hot chocolate mix, and be sure to include directions for how to mix it up (see the recipe card below).
I love giving this mix to friends and family around the holidays. It also makes a sweet thank you treat for teachers, hospital staff, postal workers, maintenance people, etc.
It also makes a superb addition to an (optionally boozy) hot cocoa board! I had such a great response to this board on Instagram that I'm working on putting together a virtual class on how to make your own. Stay tuned!
Speaking of teachers, I want to share a bit about the teacher that brought this recipe into my life and why it made such an impact on me.
When I was in middle school, there was a lot going on. My parents divorced and my mom and I were gearing up to move from Fort Wayne, Indiana up to Waukesha, Wisconsin.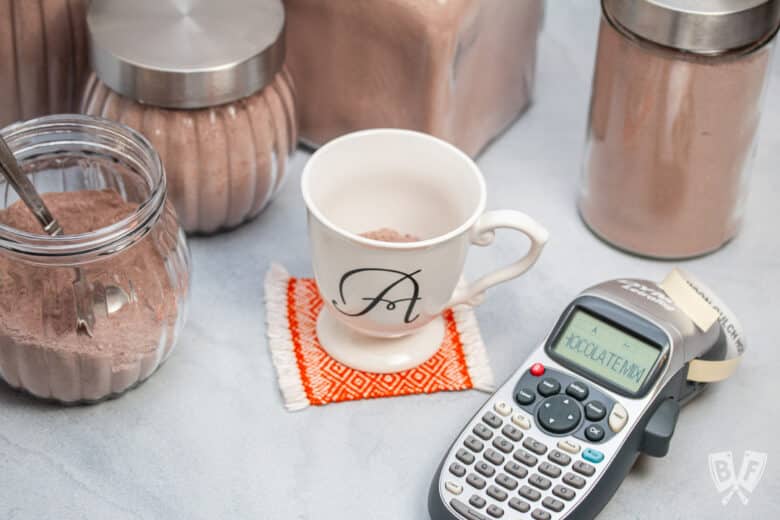 Being a child of multiple divorces, there was a lot of shuffling going on at home. I changed schools several times throughout my life, so making long-lasting connections was a bit tricky.
One of my only big memories of 6th grade was when Christmas was approaching and my history teacher let us spend an entire class period making (and enjoying!) homemade hot chocolate.
We broke into groups and Mr. C. gave each of us our own copy of a recipe for Uncle Tom's Cabin Moon Gulch Hot Chocolate Mix.
What's with the name, you may ask?
I tinkered this recipe into its present, ambrosia-like state when I lived alone in an old log cabin in the Roosevelt National Forest in Colorado from February to August of 1978. My niece, Heather, called it "Uncle Tom's cabin."

-Tom Cashen
One of the most memorable parts of it was that we mixed each batch in a large, clean, garbage bag.
Yep, that's right, we poured all of the ingredients into a big ol' trash bag, sealed it, then took turns shaking it up like mad to get all of the ingredients to combine.
My classmates and I all loved the "dust storm" that came when we'd open the bag after mixing all of the hot chocolate ingredients together in the bag.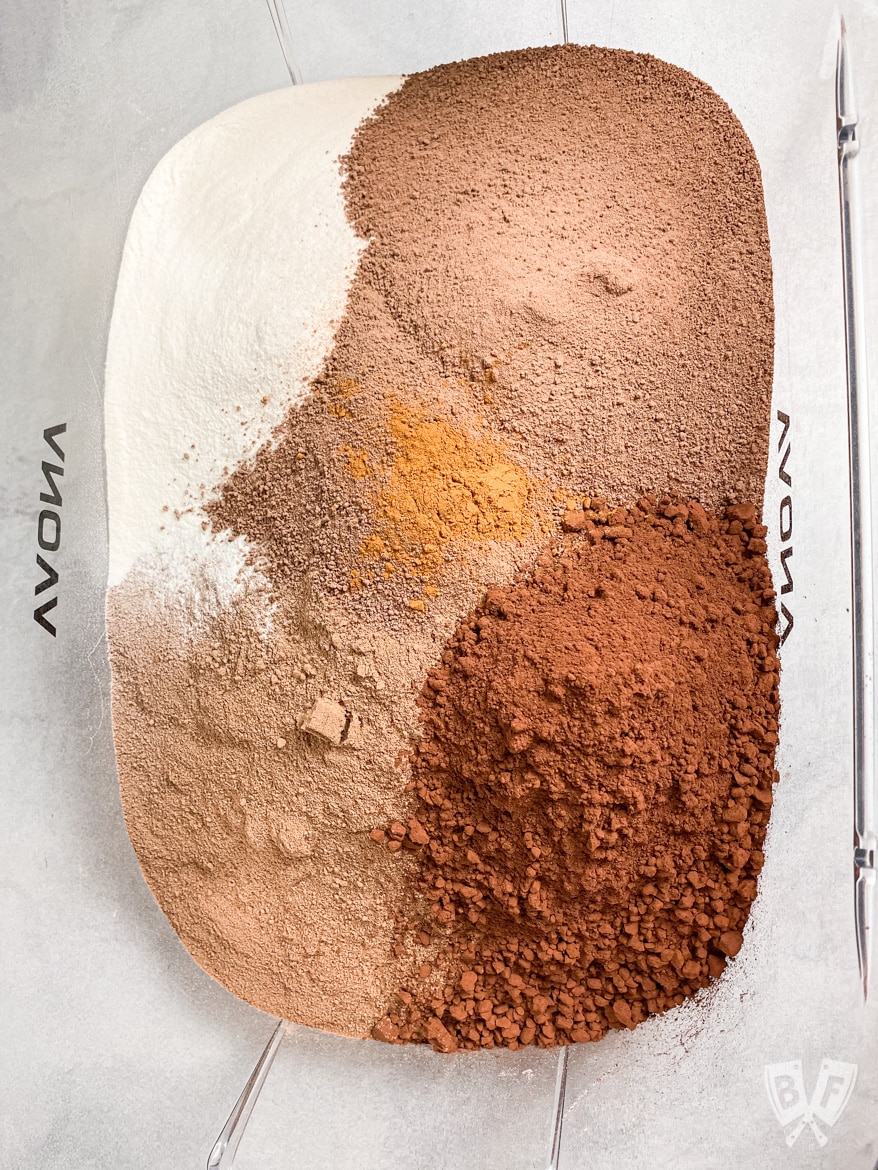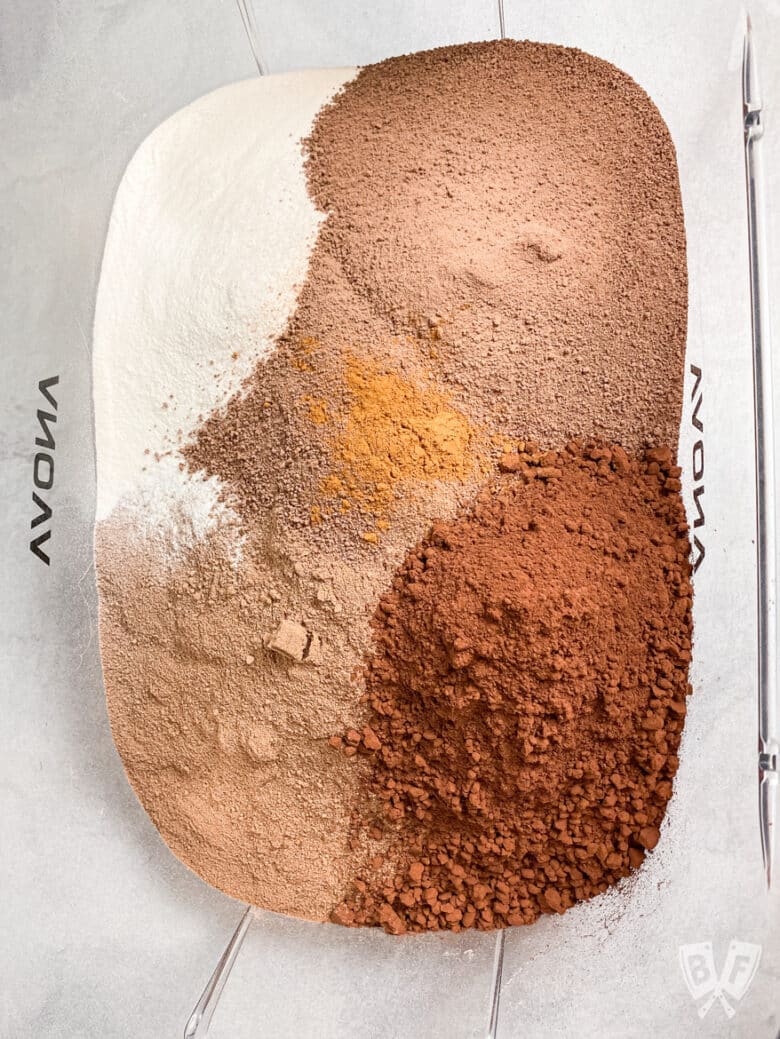 We were able to enjoy a piping hot mug of cocoa in his classroom whenever we wanted to from there on out. He gave us all a recipe card and told us we could enjoy making it with our families.
I was anxious to make a batch of Uncle Tom's Cabin Moon Gulch Hot Chocolate Mix with my mom after I got home. We made a tradition out of finding fun jars each Christmas season so we could gift homemade hot cocoa mix to friends and family.
Mr. C.'s kindness and unique teaching style really stuck with me and left a lasting impact on my life and how sharing acts of kindness can be an incredibly meaningful way to connect with others.
After that class, me and my mom would make a batch of his hot cocoa mix every year to package up and give it out as holiday gifts to family and friends.
It became a wonderful holiday tradition, both in making something together and spreading joy by passing it out as holiday gifts.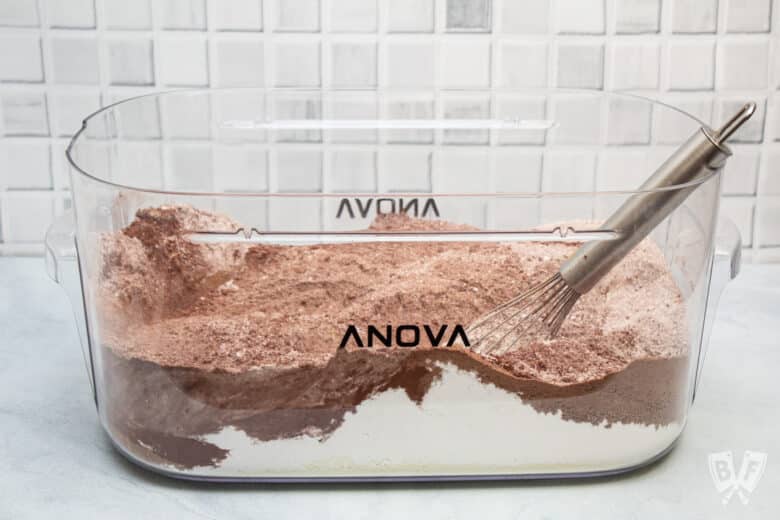 Back when I originally posted this recipe (13 years ago!), I couldn't remember the name of the teacher who created Uncle Tom's Cabin Moon Gulch Hot Chocolate Mix.
Over the years, I'd occasionally hear from other people who also had him as a teacher and loved this tradition as well.
I had tried to track down the teacher online for years so I could give him proper credit and also thank him for such a great memory. I reached out to the school district, tried Facebook, and all sorts of things and had all but given up last year.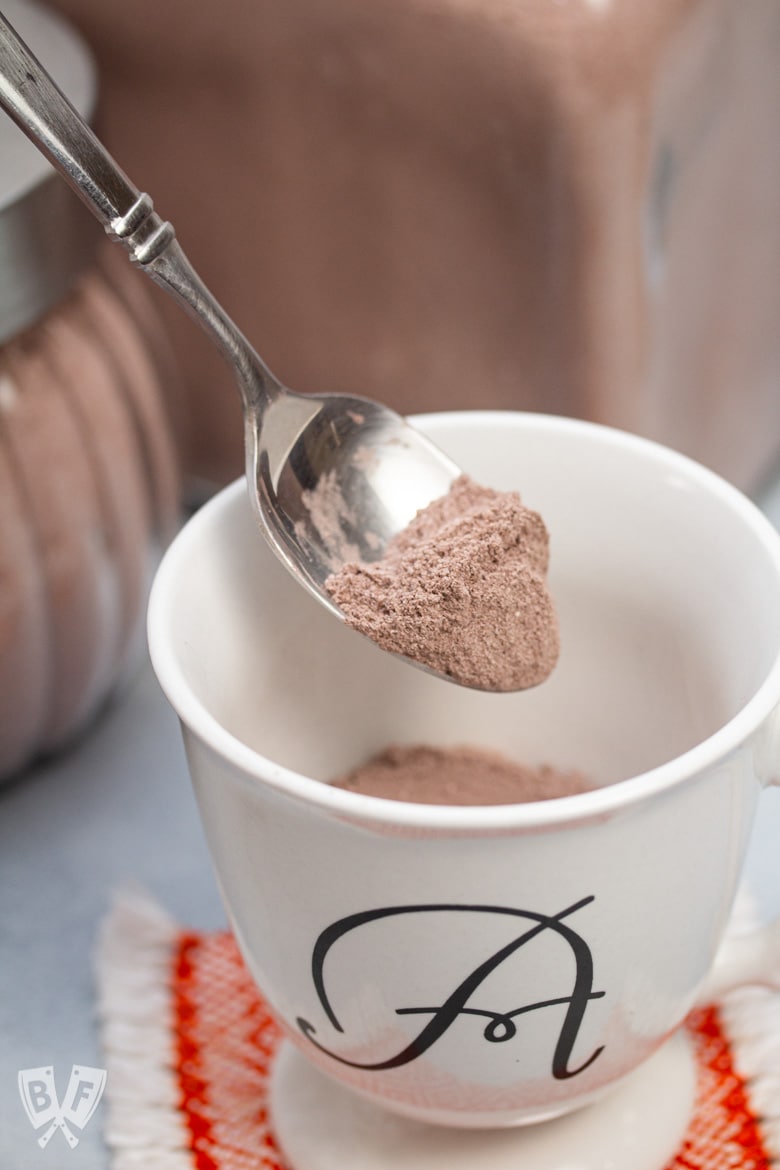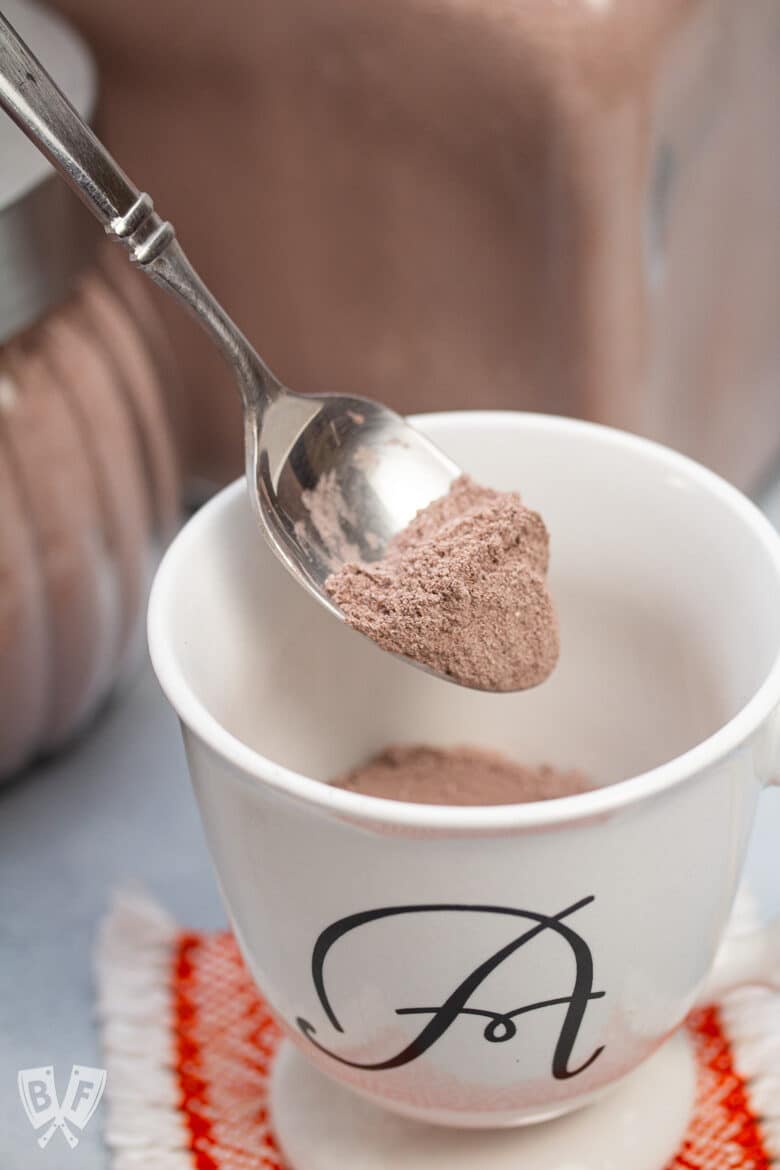 A few months ago, I got an email from someone who came across my post - it was my teacher's daughter! She shared my post with her dad and I sent her my contact info so I could get in touch with her dad.
Long story short(ish), Mr. Cashen and I have been enjoying getting reacquainted with each other online. It's been so wonderful to have been able to thank him for making such an impact on me as a kid, and also to learn about his life and family.
He was thrilled to hear that I've been making his recipe for so many years, and even sent me a revamped version that he has been working on lately.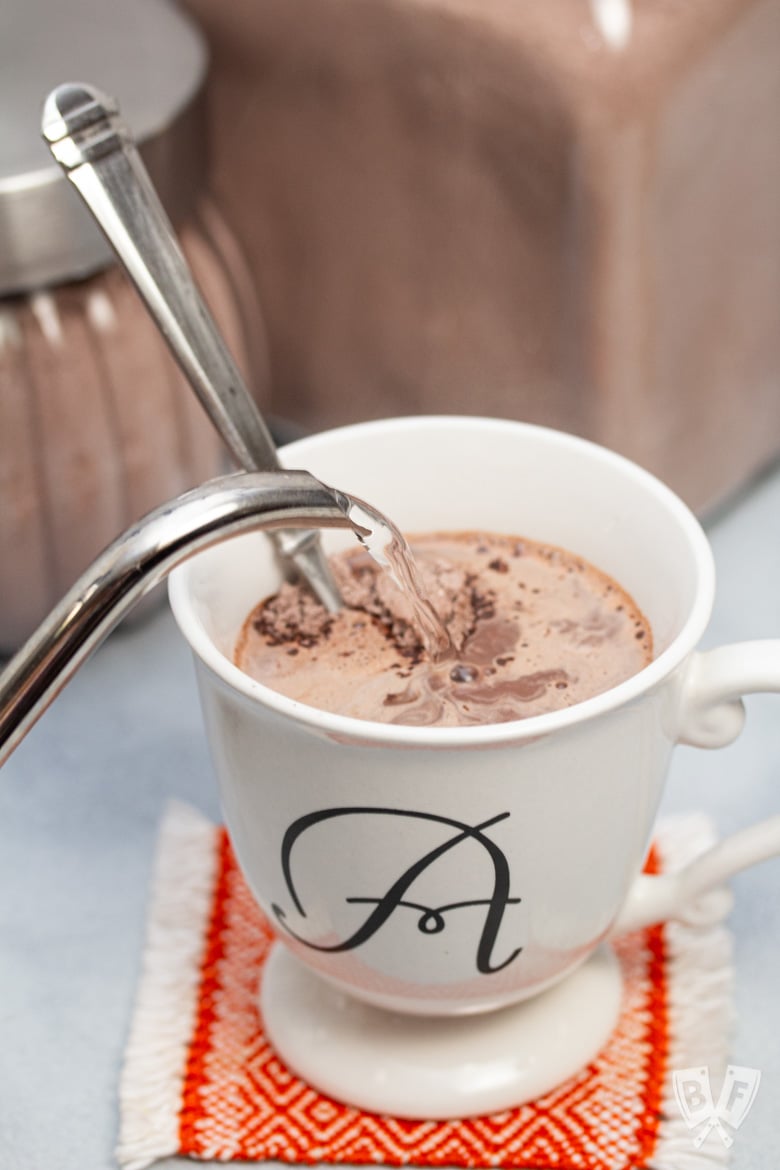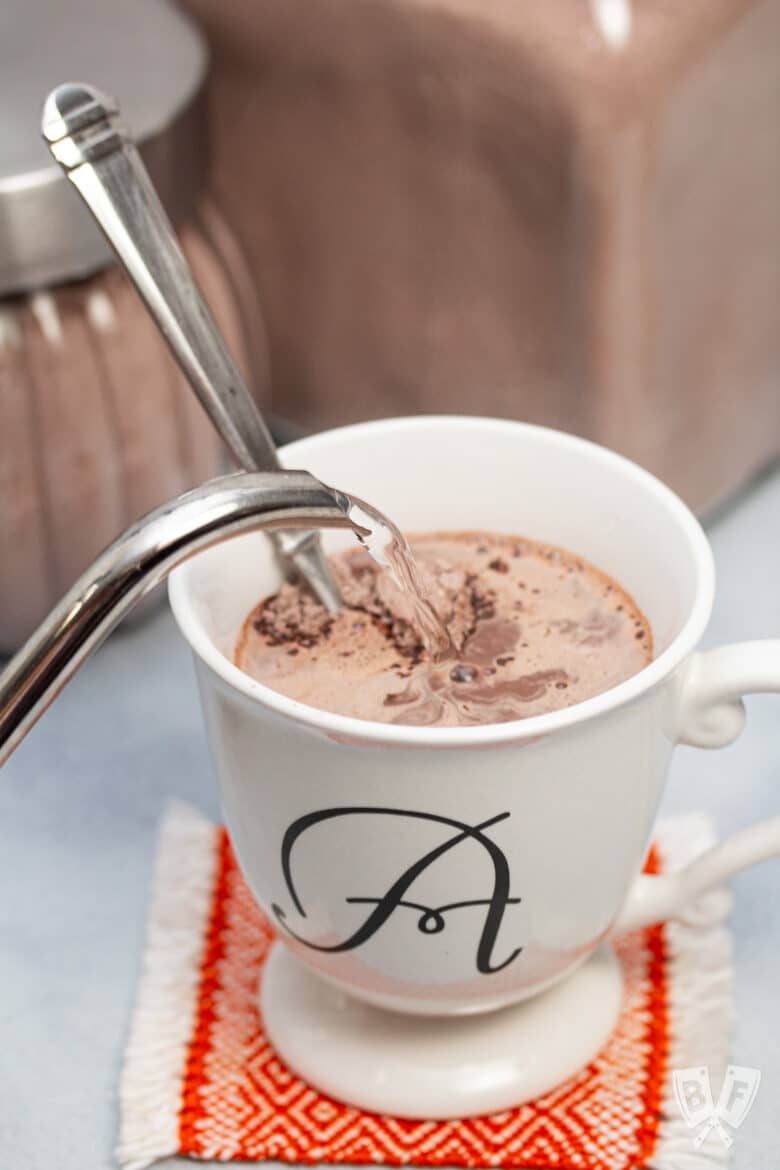 His version had a few changes from the original, including a significantly reduced quantity of powdered sugar, dark cocoa powder, and the optional addition of a can of Private Selection Cherry Cordial cocoa that he finds at Kroger.
I haven't found the cherry cordial out here, but I've made the revised recipe several times now and can say that it is indeed better than ever!
Because his recipe calls for items by sizes like "can" and "large box", I decided to make notes of exact quantities for the products I'm able to find currently in the grocery store.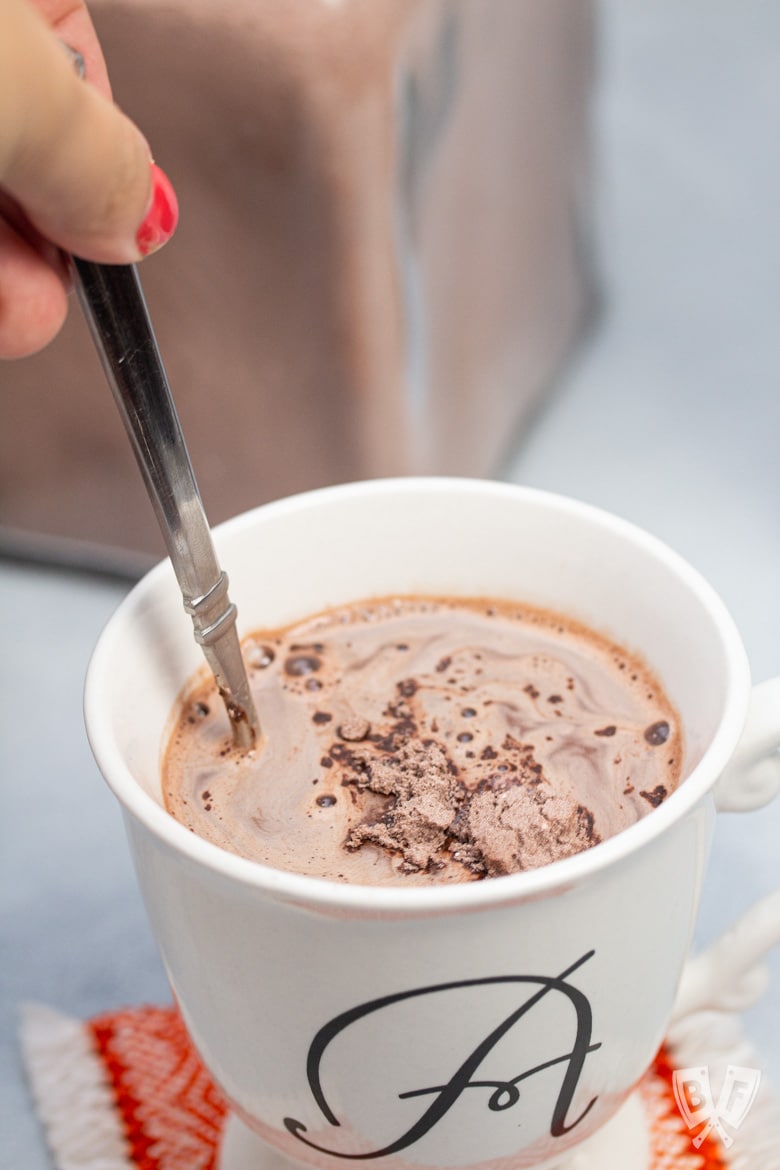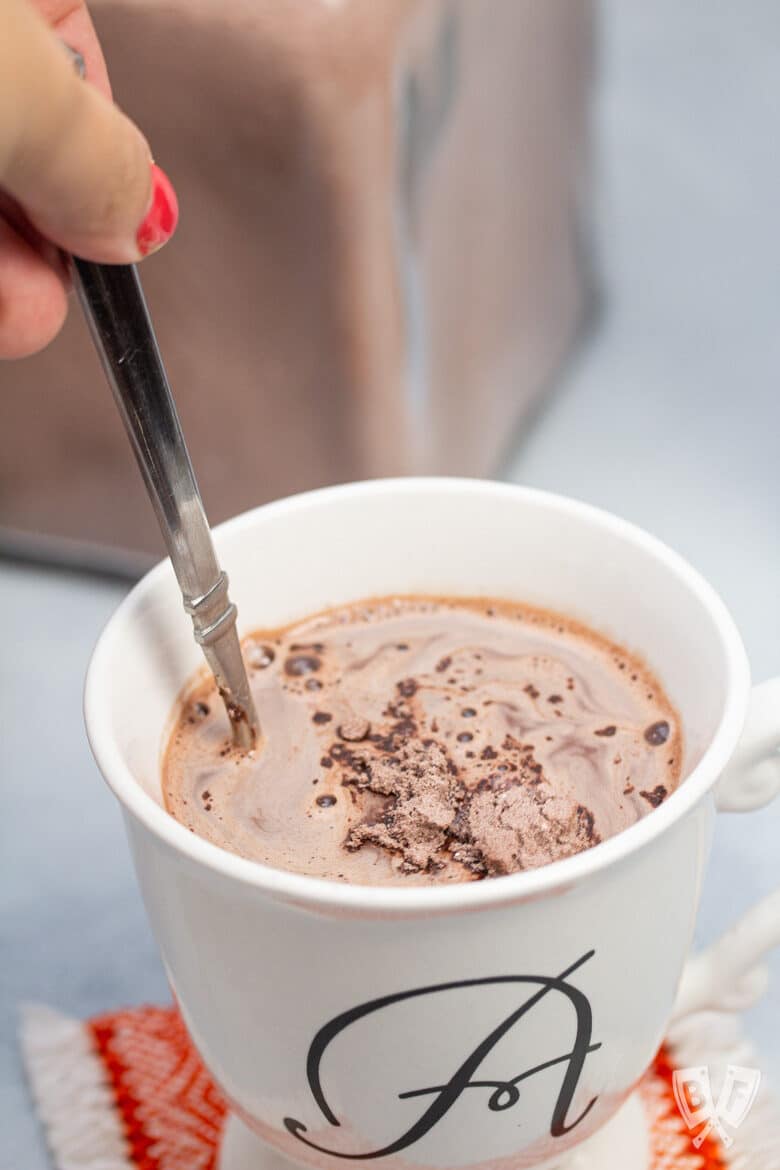 The amounts are for the package sizes shown in the photos in this post, and they're fairly close to the original amounts. If you're able to come close, that's fine.
I think brands change their packaging fairly often, so this recipe tends to change a bit as the years go by.
He does warn about using different brands for items where the brand name is specified - the formulations are specific, and changing them up will impact the flavor. Experiment at your own risk!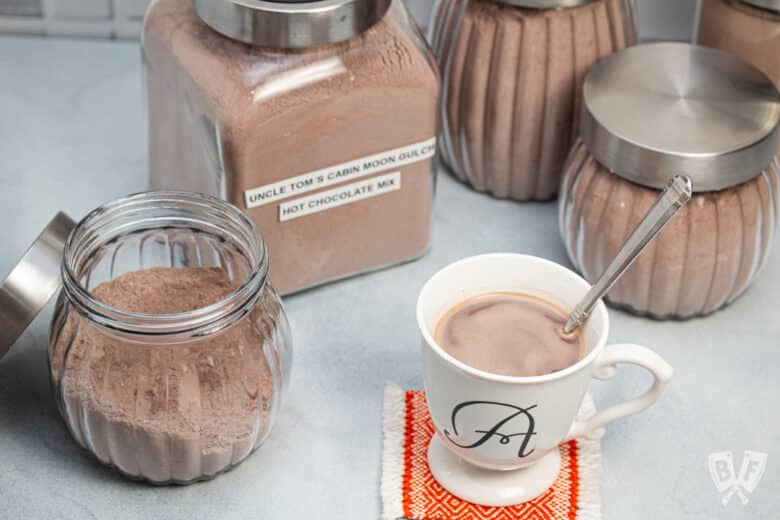 This holiday season, make a big ol' batch of homemade hot cocoa mix and pack it up to give as gifts. I promise it'll bring smiles all around!
I packaged up a big batch of this hot chocolate mix and put it in large glass jars that I got from the dollar store, then used my label maker to add the recipe title to each jar. I dropped them off at my son's school, along with a letter about Mr. Cashen and how much teachers matter.
Teachers, we see you. We are so grateful for you. You make a lasting impact on your students beyond what you may see here today.
Happy holidays!
Feeling suddenly parched? Here are some of our favorite beverage recipes:
---
Featured Links powered by
Print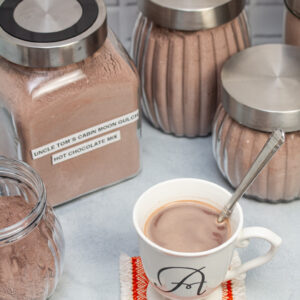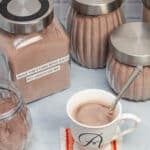 Uncle Tom's Cabin Moon Gulch Hot Chocolate Mix
Author:

Prep Time:

10 minutes

Total Time:

10 minutes

Yield:

60

servings

1

x

Category:

Beverage

Method:

No Cook

Cuisine:

American
---
Description
Grab your favorite mug and cozy up to this homemade hot cocoa mix! This recipe makes a large batch - perfect for holiday gift giving!
---
---
Instructions
Carefully pour all ingredients into a large container. Mix well to fully combine all of the ingredients.

Store hot cocoa mix in airtight containers.

To serve, fill mug ¼- to ⅓ of the way with hot cocoa mix, then stir in boiling water.
---
Notes
We like to use our Anova 16L sous vide container to do the mixing but any large plastic food storage container will do. Back in school, we used a clean, unscented garbage bag!
For a fun change-up, stir hot cocoa mix into a cup of hot coffee instead of water!
This makes about 15 cups of hot cocoa mix, which should make anywhere from 45-60 cups of hot chocolate, depending how strong you make it.
Nutrition
Serving Size:
Calories:

157

Sugar:

23.4 g

Sodium:

71.7 mg

Fat:

3.4 g

Saturated Fat:

3.2 g

Carbohydrates:

32.7 g

Fiber:

1.9 g

Protein:

2 g

Cholesterol:

0.2 mg
Keywords: holiday gift, hot cocoa, chocolate recipes
Recipe Card powered by