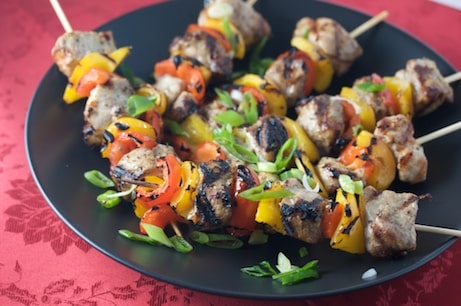 This post may contain affiliate links. Thank you for supporting the brands that keep me creative in my tiny kitchen!
This was a great weeknight meal – the marinade is really quick, and the pork is super juicy and delicious. I used a cast iron grill pan, so I ended up tenting it with foil after flipping so the pork would cook through. It was easy to put together and different from other kebabs I've made.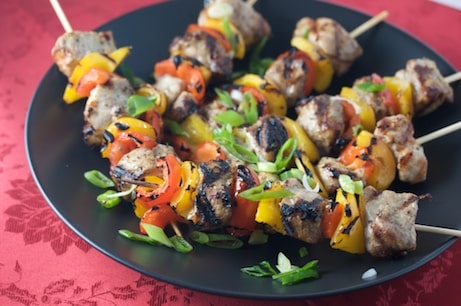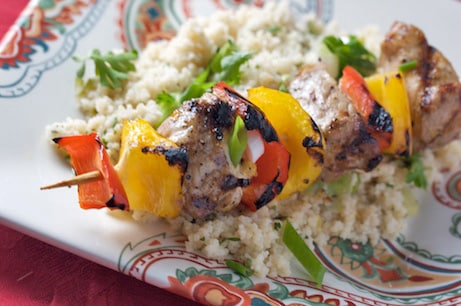 Tuscan Pork Kebabs
Cooking Light August 2009
Coming in at under 200 calories per serving, this colorful grilled summer dish is perfect for a light picnic on the patio. Sautéed chard makes a simple side.
Yield: 4 servings (serving size: 2 kebabs)
4 teaspoons olive oil
1 tablespoon grated lemon rind
1/2 teaspoon salt
1/2 teaspoon freshly ground black pepper
2 garlic cloves, crushed
1 pound pork tenderloin, trimmed and cut into 1-inch cubes
16 (1-inch) pieces red bell pepper
16 (1-inch) pieces yellow bell pepper
Cooking spray
1. Prepare grill to medium-high heat.
2. Combine olive oil, grated lemon rind, salt, pepper, and crushed garlic in a large bowl, stirring well. Add pork; marinate at room temperature 15 minutes, tossing occasionally.
3. Thread pork and bell peppers alternately onto each of 8 (8-inch) skewers. Place skewers on a grill rack coated with cooking spray; grill 10 minutes or until pork is done, turning occasionally.
Sautéed chard: Heat a large skillet over medium-high heat. Add 1 tablespoon olive oil to pan, and swirl to coat. Add 8 cups chopped stemmed Swiss chard, 1 tablespoon minced garlic, and 1/8 teaspoon salt; sauté for 5 minutes or until chard wilts.
Nutritional Information
Calories: 198
Fat: 8.8g (sat 2.1g,mono 4.9g,poly 0.9g)
Protein: 24.7g
Carbohydrate: 4.5g
Fiber: 1.5g
Cholesterol: 67mg
Iron: 1.6mg
Sodium: 346mg
Calcium: 15mg
MacGourmet Rating: 4 Stars