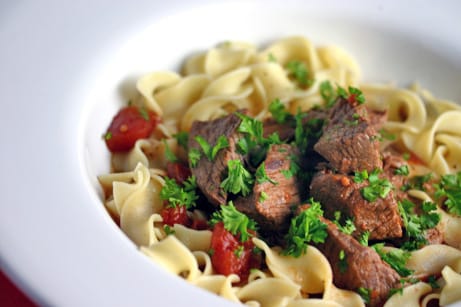 This post may contain affiliate links. Thank you for supporting the brands that keep me creative in my tiny kitchen!
I picked this recipe out from Rachael Ray's website because I wanted to make something in my pressure cooker this week. I didn't realize that I had made it before until I got home and uploaded my photos. We rated it 4 stars both times, so hey…consistency is key! It's really flavorful, and it's great to make on a weeknight if you do it in a pressure cooker. I only simmered it for 20-25 minutes and it tasted like it was cooking all day! Yum!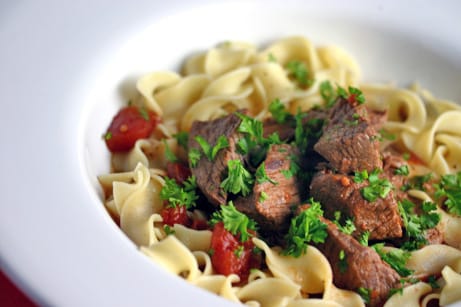 Turkish Beef Stew
Every Day with Rachael Ray October 2007
FOUR SERVINGS
Prep Time: 5 min
Cook Time: 1 hr 10 min
3 ½ tablespoons butter
1 ½ lbs. beef chuck cubes
1 cup canned chopped tomatoes with their juice
1 cup beef broth
1 tablespoon white wine vinegar
⅛ teaspoon ground cinnamon
⅛ teaspoon ground cloves
Pepper
½ lb. wide egg noodles*
Salt
¼ cup finely chopped flat-leaf parsley
1. In a large saucepan, melt 1 tablespoon butter over medium heat, add half of the beef and cook, stirring occasionally, until browned, about 5 minutes. Transfer with a slotted spoon to a plate. Repeat with another tablespoon butter and the remaining beef. Set aside.
2. Stir the tomatoes and beef broth into the saucepan, reduce the heat to low and stir, scraping up any browned bits. Add the reserved beef, the vinegar, cinnamon, cloves and 1/8 teaspoon pepper; bring to a simmer over low heat. Cover and cook until the meat is fork-tender, about 1 hour.
3. About 10 minutes before the stew is ready, cook the egg noodles according to the package directions. Toss with the remaining 1 1/2 tablespoons butter and season to taste with salt and pepper. Stir the parsley into the stew and serve with the noodles.
*Optional: use Gluten Free
MacGourmet Rating: 4 Stars