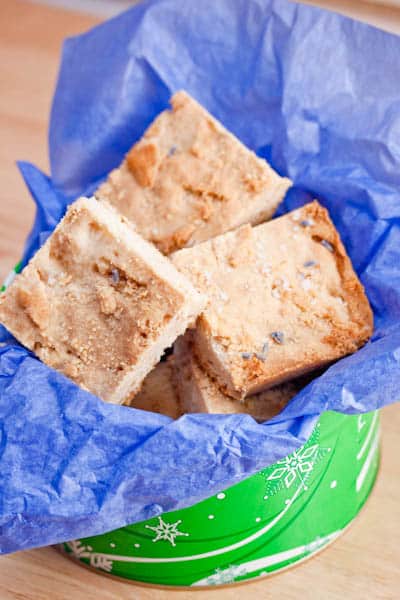 Supper Club: Salted Honey Lavender Shortbread
This post may contain affiliate links. Thank you for supporting the brands that keep me creative in my tiny kitchen!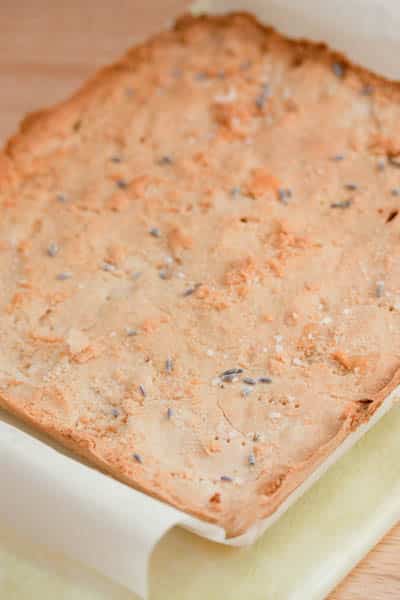 I saw this post over at Spache The Spatula, and just knew that this would be a perfect treat to make for our annual Supper Club cookie swap. These turned out great! A really unique combination of flavors that we really enjoyed.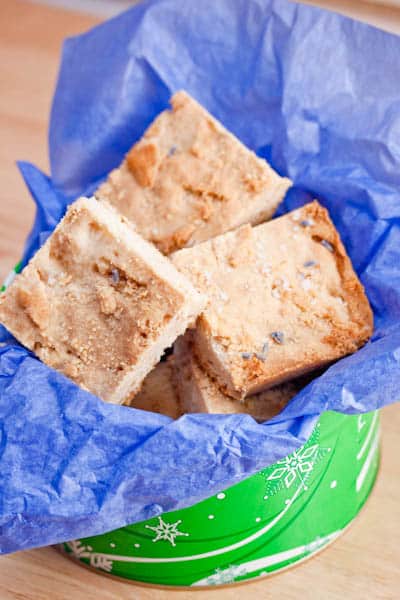 Salted Honey Lavender Shortbread
Spache The Spatula (originally from here)
makes 16 cookie bars
ingredients:
7 1/4 ounces (2 1/2 cups) all-purpose flour
2 tbsp corn starch
2 1/4 ounces (1/3 cup) granulated sugar
1 tsp culinary lavender
6 1/2 ounces (3/4 cup or 1 1/2 sticks) unsalted butter, cut into small pieces
1 tsp sea salt + more to top the cookies (I used Cyprus Flake Sea Salt which is pyramid-shaped, but any flaky salt would work i.e. fleur de sel)
3 tbsp honey
1. Preheat oven to 350 degrees. Grease an 8″x8″baking tin with butter or non-stick spray. Line with parchment paper and grease the parchment paper as well (make sure there is enough overhang of the parchment paper so that you can easily lift the cookies out of the tin). Set aside.
2. (This step is optional but I find it distributes the lavender better.) In a food processor whir together the sugar and lavender for about a minute until the lavender buds are chopped and distributed throughout the sugar and the sugar has a purple hue (careful, it gets quite powdery).
3. In the bowl of an electric mixer fitted with the paddle attachment, combine all of the ingredients and mix in low speed until combined (it's fine if the dough is crumbly).
4. Press the dough into the prepared tin. With a fork, poke the surface of the dough all over.
5. Bake for 30-40 minutes, or until golden brown and the cookies feel firm when lightly pressed mine baked for 30 minutes).
6. After you remove to cookies from the oven, sprinkle the tops with sea salt. Allow to fully cool in the pan before removing and slicing into 16 equal squares.
Big Flavors Rating: 4 Stars